Shopping Cart
Your Cart is Empty
There was an error with PayPal
Click here to try again
Thank you for your business!
You should be receiving an order confirmation from Paypal shortly.
Exit Shopping Cart
Calling Scotland's 841,000 Catholics to unite as one voice
My dear brothers and sisters in Christ
I have decided that, from now on in the Archdiocese of Glasgow, the Confirmation of baptised children will take place around age 11 when children are in P7, their final year of Primary School.
This decision was motivated principally by pastoral concerns. It seemed sensible to prolong the period of sacramental initiation of baptized children to make the best of the efforts of Catholic teachers and parish catechists. I felt too that Confirmation will mean more to children who are a little older. And I imagine that most people would agree that it will be spiritually more satisfying to celebrate Confirmation at Mass when the newly-confirmed children can receive our Lord in Holy Communion.
It is also very helpful that the new RE Syllabus for our Catholic schools, This is Our Faith, fully allows for children to receive the Sacrament of Confirmation at P7, P6 and P4, with age-appropriate learning. In fact, the material on Confirmation for P7 in This is Our Faith is of a very high order. Our P7 Children and their teachers will thus be able to access the appropriate material within the very syllabus which is currently being used in our schools.
So, I would envisage that the Mass of Confirmation will be celebrated each year in P7 in the time from Easter until around the Feast of the Sacred Heart (usually mid-June). Since the bishop is the ordinary minister of Confirmation (and since I love doing Confirmations!), I will celebrate as many of these Confirmation Masses as I can. Since at the moment we have 90+ parishes, I certainly will not be able to do them all, and Parish Priests will obviously be delegated to celebrate Masses of Confirmation, as they are now for the Rite of Confirmation.
So the next general period for the Confirmation of baptized children in the Archdiocese of Glasgow will be in the final term of school year 2016-17, which gives us 3-4 years to prepare for this small change to our sacramental practice for baptised children, and we should be able to put all the practical arrangements in place in that time.
The timings of First Confession at P3 and of First Holy Communion at P4 remain unchanged.
Having heard the Council of Priests on this matter, and having consulted many people, priests, parents and teachers, I am hopeful that this new arrangement for Confirmation, which I have seen in practice, will enhance our efforts to transmit the faith to our children and young people, and to evangelize families, parishes and school communities.
Yours devotedly in the Lord,
†Philip Tartaglia
Archbishop of Glasgow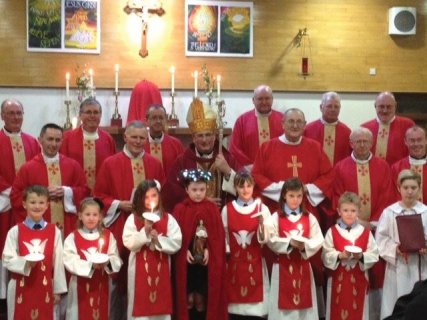 The Catholic parish of St Lucy's, Cumbernauld shone brightly on Friday night as it celebrated its 40th anniversary.

Philip Tartaglia, Archbishop of the Archdiocese of Glasgow, was the principal celebrant of the Mass.  He was joined by parish priest Father Joseph McAuley, former parish priests, and other dignatories and religious including local MSP Jamie Hepburn, local Councillor Elizabeth Irvine and Reverand David Nicholson of Kildrum Parish Church.  
The congregation enjoyed every moment of the occasion, as they sang as one in joyous song, giving praise to God and showing gratitude for the 40 years of parish life that had gone before.

Speaking during the Mass, Archbishop Tartaglia used the example of St Lucy, commenting on how young she was when she was martyred.  He held up her love and devotion to Jesus as being an inspiration to all people, especially children.
The Archbishop also took some time to remember the many priests and parishioners who had "built up" St Lucy's over the years, including the first parish priest, Father Anthony McHugo.
 
The Mass ended with a beautiful candlelit procession, led by a number of young children of the parish, including some of the those who had recently received the Sacrament of Confirmation.  They walked around the Church, showing a deep reverence and respect that defied their tender years.  As they walked the congregation belted out Santa Lucia in honour of their patron; their singing ably assisted by beautiful music from the parish's own choir and music group.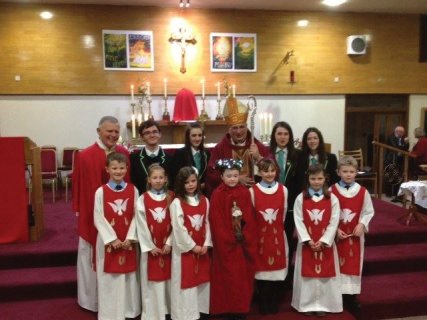 The congregation, priests and dignatories then gathered in the hall for some tea, coffee and no small amount of tasty treats in order to continue the festivities!  A big screen TV entertained those gathered with photographs depicting every generation of parish life, with images of many people, young and old, enjoying the life of the Church as the centre of community life.
 
The importance of events like this for both the local and wider Church simply cannot be overstressed.  Our parishes must be beacons of light, shining through the community, leading people firstly to God, and secondly, being a source of light and hope for the whole community, particularly the poor and vulnerable.

 

Through the photographs shown to us it was evident St Lucy's has achieved this and more throughout the last 40 years.  The hope must be that this will continue and that fresh energy can be found to take the parish on for another 40 years.  The number of young people in attendance, both from St Lucy's Primary School and Our Lady's High School, is a source of great hope for all. 

0

/