Shopping Cart
Your Cart is Empty
There was an error with PayPal
Click here to try again
Thank you for your business!
You should be receiving an order confirmation from Paypal shortly.
Exit Shopping Cart
Calling Scotland's 841,000 Catholics to unite as one voice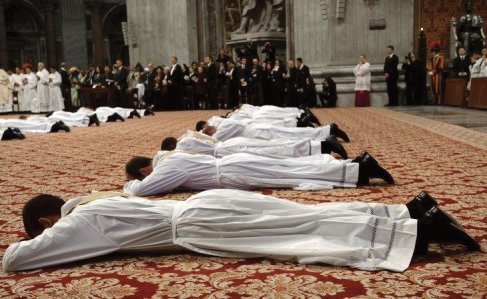 Is God calling you?
Catholic Parishes throughout Scotland will be receiving copies of a new magazine this week, aimed at encouraging young men to consider the Priesthood. A total of 15,000 copies of the magazine which focuses on young men who are currently studying for the Priesthood at the Scots College in Rome, will be available in all parishes by next weekend 4/5th February 2017.
The A4 publication titled 'Priests for Scotland' will be distributed free to all of Scotland's 500 parishes. Commenting on the launch, Bishop John Keenan, the President of the Church's national Vocations Agency, 'Priests for Scotland' said:
"As I go round our parishes, schools and youth events I see, every day, young or single men who'd make ideal priests and I'm sure God is calling many of them to be priests for Scotland.  But they won't come forward unless they hear God's call. Today God calls them through modern media so I want everyone to take a copy of Priests for Scotland and put it in the hands of a man you think might be being called.  You just might have found Scotland a new priest and God won't forget it!"
Father John Morrison, Assistant Director of Priests for Scotland, said "We wanted to let people know that there are still men who are being drawn to the Priesthood. We wanted to communicate some of the joy and happiness they have felt in responding positively to that call." The free magazine will be available at parishes throughout Scotland.
Priests for Scotland website: http://priestsforscotland.org.uk/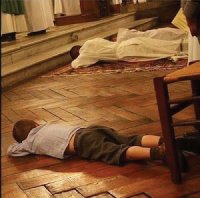 (text from the Scottish Catholic Media Office)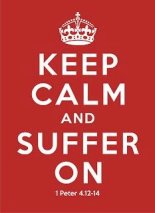 Last Sunday's Gospel (Mark 8:27-35):
'Jesus and his disciples left for the villages round Caesarea Philippi. On the way he put this question to his disciples, 'Who do people say I am?' And they told him. 'John the Baptist,' they said 'others Elijah; others again, one of the prophets.' 'But you,' he asked 'who do you say I am?' Peter spoke up and said to him, 'You are the Christ.' And he gave them strict orders not to tell anyone about him.
And he began to teach them that the Son of Man was destined to suffer grievously, to be rejected by the elders and the chief priests and the scribes, and to be put to death, and after three days to rise again; and he said all this quite openly. Then, taking him aside, Peter started to remonstrate with him. But, turning and seeing his disciples, he rebuked Peter and said to him, 'Get behind me, Satan! Because the way you think is not God's way but man's.'
He called the people and his disciples to him and said, 'If anyone wants to be a follower of mine, let him renounce himself and take up his cross and follow me. For anyone who wants to save his life will lose it; but anyone who loses his life for my sake, and for the sake of the gospel, will save it.'
Jesus was swift to chastise Peter because of his failure to understand God's grand plan for humanity. What Peter failed to understand is that suffering was a necessary part of salvation.  Peter's crime is to let the ways of man creep into his mind so that he tries to resist any notion of suffering.  It's natural to try to resist suffering, especially in today's society with the significant advances being made in science and healthcare.  But as Christians we are called to accept suffering as part of God's Divine plan for our salvation. 
Consider Christ's words immediately after he rebukes Peter: "If anyone wants to be a follower of mine, let him renounce himself and take up his cross and follow me."  To follow Christ will entail suffering.  There is simply no getting away from it.  If we want to be true Christian people and followers of Christ then we must be prepared to take up our cross and accept any suffering that comes our way, trusting that God will use that suffering for the overall good of His kingdom and for the overall good of humanity.
Christ's lesson is indeed rather timely when you consider the current predicament of the Catholic Church in Scotland, with a lack of priests and lack of vocations to the priesthood.  Parishes are now in a situation where they need to look at alternative models if they are to continue serving their local community; otherwise, they face the sad reality of closure.  The ways of man allow ourselves to become accustomed to having a priest at our beck and call 24/7 and to be used to having such 'pleasures' as daily Mass and daily Confession.  We despair at the thought of our parish closing or of having to share a priest with another nearby church.  We, like Peter, become upset at the thought of having to suffer.
But we must resist the temptation to think as men do and instead trust the Father, knowing that any suffering He asks us to endure is for the greater good of all people.  We must be prepared to think big and accept the cross of suffering with open arms.  To delight in suffering is a crazy concept to mere mortals, but then we aren't mere mortals.  We are a people made in the image and likeness of God, a people destined for bigger and better things.
We must listen to Jesus and not think as men do but trust completely in God's plan for us.  The next time we suffer let us turn to God, and with the helplessness and trust of a little child, let us say: "Father, let thy will be done."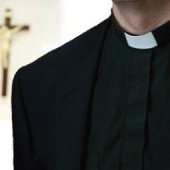 Sunday's Gospel (Mark 6:7-13):
'Jesus summoned the Twelve and began to send them out in pairs giving them authority over the unclean spirits. And he instructed them to take nothing for the journey except a staff – no bread, no haversack, no coppers for their purses. They were to wear sandals but, he added, 'Do not take a spare tunic.' And he said to them, 'If you enter a house anywhere, stay there until you leave the district. And if any place does not welcome you and people refuse to listen to you, as you walk away shake off the dust from under your feet as a sign to them.' So they set off to preach repentance; and they cast out many devils, and anointed many sick people with oil and cured them.'
Isn't it sad that priests are no longer able to 'go round the houses' as much as they used to?  I recall the days when our parish priest would simply pop by for a cup of tea and a natter as I was dragged away from whatever I happened to be doing so that the entire family was present before our holy visitor.  Now sadly, and mostly down to a lack of vocations, priests are simply too busy to be able to undertake such visits and the once common practice has all but disappeared.
That said; it's not beyond the realms of possibility that your priest could spare an hour or so to be in the company of your family in your home.  Have you ever thought about inviting your priest round for a cup of tea or even a meal?  Might it be the case that we ourselves have forgotten about our own responsibilities towards those who tend to our faith lives?  Have we become so cocooned in our own little world that we forget to include our priest as a critical member of our family?  When we consider whether or not to invite a priest to our home do we become embroiled in how it might adversely affect us rather than what it might mean to him?  Remember, the shepherd must also be loved, fed, watered and cared for.
So let us consider inviting our priest round to our homes to spend some time in his company and to make him feel like he is part of the family.  And let us be sure to extend a loving welcome to him and to listen to him so that when he leaves he is not inclined to shake the dust from under his feet.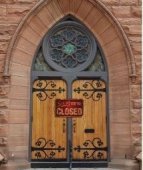 Archbishop Tartaglia, writing in this month's Flourish Newspaper, has confirmed that the preliminary phase of the process of planning for future parish provision is now complete.
The Archbishop said that he has "not found this reflection simple or easy" but feels that the preliminary phase was "successful in highlighting the challenge that faces us to make our parish communities sustainable into the future and in initiating a diocesan conversation about the issues involved."
The Archbishop suggests five questions for consideration:
1. Where are the people?
2. How many parishes do we need?
3. How many churches can we support?
4. How many priests and deacons will there be?
5. What kind of communities do we want?
While many people may be nervous about the future of their own parish in all of this there have been some encouraging words coming out of the latest meeting of the Council of Priests on 11th June.  The Council stated that it had "little appetite for a detailed plan of parish mergers or closures based on [the] current deanery configuration" and, as a result, "an approach based on clustering parishes may be more realistic and may bear better results."
While this doesn't necessarily mean there won't be mergers or closures in the years ahead, the words will offer much encouragement to parishes on the fringes who may have feared the sound of the wrecking ball coming up the street.
The Archbishop has confirmed that he now sees the planning process moving forward according the following strategy:
1. Solving issues of parish provision that require attention in the short term according to the dispositions of Canon Law
2. Finding suitable priests from wherever to provide pastoral care of the parish communities which we have
3. Proposing to parishes and deaneries the method of clustering as a new step towards preparing for future new communities – as soon as possible, therefore, a project of possible parish clusterings will be offered for consideration."
The Archbishop summed up his report by saying: "Evangelisation remains our one and only mission.  The spirit of the age is inimical to evangelisation but paradoxically also calls for it.  These are undoubtedly testing times for the Church.  In these circumstances, we need always to look with the eyes of faith to Jesus who tells us that we must not be afraid and who calls us to trust in him."
One thing is certain, this is not simply about the lack of priests.  It is also about the lack of numbers attending Mass and getting involved in the life of the parish and the wider community.  This, in turn, creates an economic imbalance meaning certain parishes cannot sustain themselves and they quickly become a drain on the provisions of the Archdiocese. 
Yes, it is crucially important that we pray hard for vocations to the priesthood and it is important that we are not afraid to encourage our young men to seriously consider this vocation.  But similarly, we need to be out there selling the faith to people and encouraging them to enter into a relationship with Jesus Christ.  We need to take our duty to save souls seriously so that as many people as possible rely on the love, mercy, and compassion of the Catholic Church.  The Church that Christ promised to be with until the end of time.
Catholic Answers' director of apologetics Tim Staples considers the question of women priests in the Catholic Church and reveals seven reasons why this is not possible.
The seven reasons are:
1. The Church has definitively declared it
2. The Church's constant Tradition for 2,000 years cannot err
3. The attitude of Christ
4. The practice of the Apostles
5. The permanent value of the attitude of Jesus Christ and the Apostles
6. The ministerial priesthood in the light of the mystery of Christ
7. The ministerial priesthood as illustrated by the mystery of the Church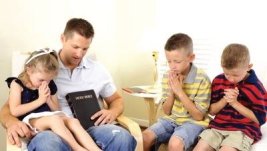 Pope Francis wants more good fathers
Pope Francis, in his weekly general audience, has called on fathers to spend more time with their families.
The Pope's words are critically important to the future of the family and indeed the future of our society.  The role of fathers has gradually been chipped away in recent years, particularly in western secular societies where the role of father is seen as something that is no longer necessarily critical to the development of children.
This degrading of fatherhood has also been keenly felt within Christianity and Catholicism where a lack of strong fathers and leaders in faith has led to a significant decline in Church attendances.  Young people often no longer have an example of faith in their home to guide them in the ways of faith and to show them how to live a good, holy life.  While this isn't always the case - indeed many fathers and mothers provide a beautiful example of how to live a life of faith - there can be little doubt that a father with no keen interest in the faith could lead children to seek something other than God.
In addition to a weak faith, the absence of a father due to other commitements such as work only exacerbates the problem.  And while this is often inevitable because of a need to ensure the family can eat and have a roof over their head, it doesn't always need to be the case.
Pope Francis, who refers to this absence as 'the crisis of fatherhood', said that: "without father figures, young people often feel 'orphaned', left adrift at a critical moment in their growth and development." 
He then called on fathers to be more responsible for their children, saying that fathers are necessaary as examples and guides for our children in wisdom and virtue.
The Pope then invited all people to ask Jesus "to deepen and renew our appreciation of fatherhood and to raise up good fathers for the benefit of our families, our Church and our world."
The importance of fatherhood stretches way beyond the four walls of our family home.  It is a fundamental part of our society.  God gave us all a father and a mother.  It is His will that every child have a father and a mother because both bring different qualities to the family unit.  There is a great need today for strong fathers, particularly in the Catholic Church.  It is the father who must lead his family in faith and all for the greater glory of God.  It is God who has entrusted fathers with this crucially important role and it is God who has entrusted fathers with the care of His very own children. 
For all fathers, consider yourself to be a savings account into which God has deposited something very, very precious and valuable.  That precious thing is a child.  And while God delights in that child at the very moment He entrusts them to your care, He wants some interest on His investment.  He wants a child that will follow the ways of Christ, living a life of love, mercy and compassion for every human being; a life that is consistent with His Commandments; a life that glorifies Him and gives Him praise at every turn.  These are just some of the qualities God wants to see in each of us.  This is the kind of interest God wants in return for the gift of a beautiful little child.  The role of the parent is to build up that interest as much as possible by setting an example by which that child can live a life of love and ultimately enter into the glory of Heaven to be reunited with the Father of all Fathers.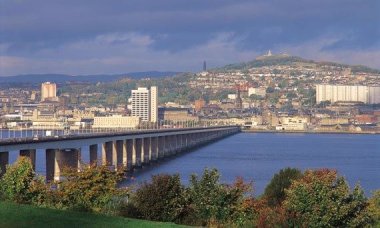 The Little Sisters have been in Dundee for over 150 years
Report by Scottish Catholic Media Office:
The Little Sisters of the Poor order have today announced that they will be leaving Dundee in 2015. The Sisters are making every effort to ensure continuity of care at the "Wellburn Care Home" which they operate and are actively negotiating with various parties at present, in the hope of securing a new operator for the facility.
Commenting on the decision, the Provincial of the order, Sister Joseph said; "It is with great sadness and regret that the Little Sisters of the Poor have decided that they will be leaving Dundee in 2015. This has been a very painful decision for us, but due to a decrease in the number of Vocations to the Congregation and the age of the sisters, they now feel that they are unable to continue their mission here."
Sister Joseph added;
"The Little Sisters have been in Dundee since 1863 and last year celebrated 150 years of service to the elderly in the city, in the footsteps of their foundress St Jeanne Jugan. The sisters are immensley grateful for the support they have been given by the people of Dundee, Bishop Emeritus Vincent Logan, Bishop Stephen Robson, the priests and religious in the Diocese of Dunkeld and by the City Council and they are thankful to God for all that they received from their benefactors and friends."
Reacting to the decision, Bishop Stephen Robson said; "While I am saddened by this decision, I understand completely the challenges which the Sisters face and sympathise with the circumstances they find themselves in. I have always had and continue to have the highest regard for the Little Sisters of the Poor and the work that they do. They have made an immeasurable contribution to the life of the City of Dundee over the past 150 years. I share their hope that the "Wellburn Care Home" will continue to providing much needed care to some of the most vulnerable elderly people in our community."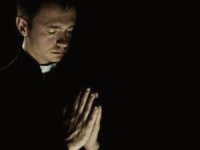 Over the next three days we will be looking at common difficulties encountered in the faith journey of many people across the world. 
These are: difficulties with your priest, the length of the Mass, and struggling with scripture.
This list is of course not exhaustive.  However, it was felt that these were among the most common issues arising out of conversations with Catholic people on their faith.
Part 1 - Difficulties with a Priest
While a priest - our shepherd charged with the task of leading us ever closer to God and increasing our faith - is important, we must not use him as an excuse to reject God.
While confidence among clergy is at an all time low following the discovery of child abuse at the hands of sick men who should have known so much better, not every priest should be judged against this standard of behaviour.
In addition, not every priest can be expected to fit into our own personal image of what we feel they should be and how we feel they should carry out their priestly duties.
It is true that a priest should be welcoming and approachable and must work hard to look after the faith interests of his flock.  Yet this must be done within the framework of the Church.  This framework, which includes the Commandments of God, the life of Christ, sacred scripture, the precepts of the Church, the Catechism, encyclicals by countless popes, and so on, forms the rules and traditions by which we are expected to live out our faith.
It is within this framework that the priest must preach to his congregation.  It is within this framework that the priest must care for his flock.
We must remember that a priest's job is not restricted to simply saying Mass and preaching through a homily.  He must also tend to the sick, tend to the dying, comfort those in mourning, hear confessions, take the Blessed Sacrament to the housebound, study the faith, look after the administrative aspects of the parish, deal with numerous ministries, attend meetings, and, of course, spend countless hours each day praying for his parish and for his flock.
While a priest's character may be important, it is also important for those who lend themselves to the persistent interrogation of a priest to consider all that goes on behind the man who stands up to preach on a Sunday morning. 
His entire life is, in my view, devoted to two things: serving the Father, and serving his flock.
Yes, many priests don't fit into our personal ideal.  But is that really their fault?  Are we perhaps setting the bar too high for these fellow human beings?  Do we appreciate the countless hours they are putting in each day for our good?  Do we appreciate the challenges they face in working within a complicated framework in order to ensure that our relationship with Jesus is developed, giving us the best possible chance of eternal happiness in Heaven? 
Our parish priest may well have his flaws (don't we all?), but one of his primary tasks is to get us to Heaven.  He devotes much time to this task.
So, while some people spend endless hours discussing the negative points of their priest, often criticising him, he is spending endless hours in prayer for those same people.
Check out our blog tomorrow for 'Part 2 - The Length of the Mass'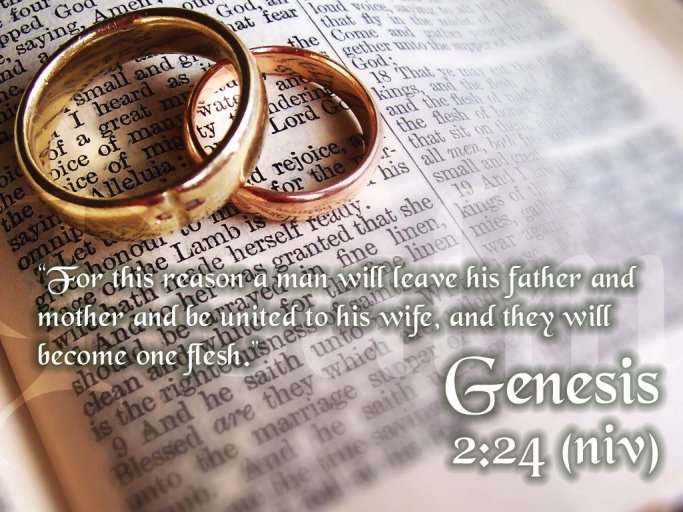 Why is marriage indissoluble?

Marriage is triply indissoluble: first, because the essence of love is mutual self-giving without reservation; second, because it is an image of God's unconditional faithfulness to his creation; and third, because it represents Christ's devotion to his Church, even unto death on the Cross.

At a time when 50 percent of marriages in many places end in divorce, every marriage that lasts is a great sign - ultimately a sign for God. On this earth, where so much is relative, people ought to believe in God, who alone is absolute. That is why everything that is not relative is so important: someone who speaks the truth absolutely or is absolutely loyal. Absolute fidelity in marriage is not so much a human achievement as it is a testimony to the faithfulness of God, who is there even when we betray or forget him in so many ways. To be married in the Church means to rely more on God's help than on one's own resources of love.

What threatens marriages?

What really threatens marriages is sin; what renews them is forgiveness; what makes them strong is prayer and trust in God's presence.
Conflict between men and women, which sometimes reaches the point of mutual hatred in marriages, of all places, is not a sign that the sexes are incompatible; nor is there such a thing as a genetic disposition to infidelity or some special psychological disability for lifelong commitments. Many marriages, however, are endangered by a lack of communication and consideration. Then there are economic and societal problems. The decisive role is played by the reality of sin: envy, love of power, a tendency to quarrel, lust, infidelity, and other destructive forces. That is why forgiveness and reconciliation, in confession as well, is an essential part of every marriage.
(From the Catholic Youth Catechism questions 263-264)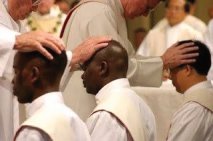 Today's Gospel (Mark 6:7-13):
'Jesus summoned the Twelve and began to send them out in pairs giving them authority over the unclean spirits. And he instructed them to take nothing for the journey except a staff – no bread, no haversack, no coppers for their purses. They were to wear sandals but, he added, 'Do not take a spare tunic.' And he said to them, 'If you enter a house anywhere, stay there until you leave the district. And if any place does not welcome you and people refuse to listen to you, as you walk away shake off the dust from under your feet as a sign to them.' So they set off to preach repentance; and they cast out many devils, and anointed many sick people with oil and cured them.'
Jesus sends out his disciples to bring God's forgiveness to the world and to cure people of their ills.  What an honour; to be chosen by God to serve Him in this way; to be the face of Jesus to people and to bring the Good News to the world. 
For most young men in our world today the priesthood is not a vocation that is often considered.  And with all of the tragedy and turmoil surrounding abusive clergy it is little wonder young men are finding it increasingly difficult to see themselves as serving God in this way.  Yet we cannot lose sight of this crucial aspect of the priesthood.  That is, to put oneself at the service of God and at the service of God's people.  It is putting God first, others second, and you third.  For those who have sinned in the most horrific manner through the abuse of vulnerable children and adults they have failed this fundamental principle of priestly vocation.  They have put themselves first at the expense of those people they are called to serve and, ultimately, at the expense of God. 
Yet we are blessed to have so many wonderful priests, doing the work of God on a daily basis.  Priests serve us in saying the Mass, they constantly strive to bring people closer to God, they facilitate the forgiveness of God through the sacrament of Reconciliation, they visit the sick and vulnerable, they put themselves on the front line when death comes, providing crucial emotional and spiritual support at a difficult time.  They put in unimaginable hours of prayer and devotion to God in order to boost their reserves, giving them the spirit and energy to guide and serve their flock.  They put God first, others second, and themselves third.  They heed the call of God and they sacrifice their lives to serve Him and serve His people.
Yes, the call to celibacy is undoubtedly difficult.  Yet it is a difficulty God knows can be overcome by those He has chosen. 
What is important is that we are open to God's call.  Here in Scotland we are blessed to have an opportunity for discernment thanks to our priests.  This is an opportunity for young men to consider whether or not the priesthood is something that they may be interested in.  They may well have heard God's call already or they may just be interested to know more about the priesthood.  One way or the other, it is a fantastic opportunity to simply find out more without any obligation to commit. There are evenings of discernment on the second Friday of each month in Glasgow and full details can be found at the
Archdiocese of Glasgow website
(the details are two thirds the way down the page).
/