Shopping Cart
Your Cart is Empty
There was an error with PayPal
Click here to try again
Thank you for your business!
You should be receiving an order confirmation from Paypal shortly.
Exit Shopping Cart
Calling Scotland's 841,000 Catholics to unite as one voice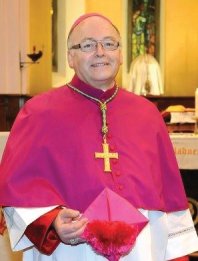 The current Auxiliary Bishop of the Archdiocese of St Andrews and Edinburgh, Stephen Robson (pictured), was today appointed by Pope Francis as the new Bishop of Dunkeld.  Bishop Robson, who was born in Carlisle, will replace Bishop Vincent Logan who has been in post for almost thirty years and has stepped down on health grounds.
The Diocese of Dunkeld, which covers the city of Dundee and is the oldest Diocese in Scotland, will have its new Bishop installed early in the new year.
Bishop Robson, who is 62, has stated that he is looking forward to "living and working [in the diocese of Dunkeld], getting to know the clergy, religious and laity and accompanying them on their Christian journey.  I look forward to trying to build up the people of God in the Faith and in the confidence of being Catholic in a challenging world." 
The new Bishop also said that he is especially looking forward to "helping the young and families to live the Gospel and to serve Christ in the Church." 
One of the priorities of the new Bishop will be to nurture an increased interest in the priesthood.  He said: "A big priority must also be to encourage vocations to the priesthood and religious life."
Let us remember to pray for the new Bishop and his flock.  And let us hope that his desire to bring about new vocations will bear much fruit for the Church.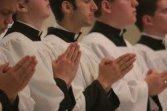 Many places are experiencing a dearth of vocations to the priesthood and consecrated life. This is often due to a lack of contagious apostolic fervour in communities which results in a cooling of enthusiasm and attractiveness. Wherever there is life, fervour and a desire to bring Christ to others, genuine vocations will arise. Even in parishes where priests are not particularly committed or joyful, the fraternal life and fervour of the community can awaken in the young a desire to consecrate themselves completely to God and to the preaching of the Gospel. This is particularly true if such a living community prays insistently for vocations and courageously proposes to its young people the path of special consecration.
On the other hand, despite the scarcity of vocations, today we are increasingly aware of the need for a better process of selecting candidates to the priesthood. Seminaries cannot accept candidates on the basis of any motivation whatsoever, especially if those motivations have to do with affective insecurity or the pursuit of power, human glory or economic well-being.
/