Shopping Cart
Your Cart is Empty
There was an error with PayPal
Click here to try again
Thank you for your business!
You should be receiving an order confirmation from Paypal shortly.
Exit Shopping Cart
Calling Scotland's 841,000 Catholics to unite as one voice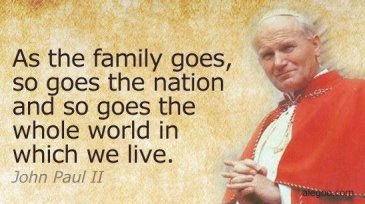 The prophetic words of John Paul II
It's a real wake up call. Jesus is losing his influence in Europe. Christianity is dying out.
We've known for some time now that Christianity is on the decline in Europe, but recent data released by the
Pew Research Center
reveals just how stark that decline is.
Indeed, it is the only decline in any religion in any part of the world between 2010 and 2015. But for Christianity's decline in Europe, every religion across all continents witnessed an increase in numbers, including Christianity itself, which is growing rapidly in Sub-Saharan Africa and Latin America. Islam is also growing rapidly in Sub-Saharan Africa as well as Asia Pacific.
But it is in Europe where the real story lies. An astonishing drop of 5.6 million Christian births to deaths has seen the religion plummet across the continent. There are many reasons for this, not least a much greater prevalence of lukewarm Christianity and an increasingly secular culture.
Across the world Islam will continue to grow in greater numbers than Christianity, with a fertility rate of 2.9 compared to 2.6 for Christians. Islam also has the youngest median age in terms of adherents to the faith, at just 24. Hindus are at 27 with Christians at 30.
We have known for some time that Islam would eventually catch up with Christianity in terms of numbers, and within twenty years births to women of Islamic faith will outnumber Christian births. But it is in Europe where there must be deep concern for Christians. Why is the faith struggling so much in that continent?
For European Christians there is undoubtedly a crisis when it comes to the family. Europe's secular influence, with its liberal laws around contraception, abortion and marriage, has chipped away at the hearts and minds of the faithful, giving them an excuse to focus on the self and to set aside the call of Christ to first and foremost love God and neighbour. Families now come in all different shapes and sizes; their constitution often based on the ideological whim of selfish individuals. The idea that a young man and a young woman can look lovingly into one another's eyes, establish a firm and beautiful friendship that leads to the great sacrament of marriage and the bearing of fruit through the birth of new life is dumbed down by the culture of want. And we have all bought into it. It is a sad reflection on our lack of faith.
As Pope John Paul II said, "As the family goes, so goes the nation and so goes the whole world in which we live."
We Christians have let down the family, and Europe is the nation Pope John Paul refers to. It is going and if we don't reclaim it the world will eventually go with it.

Europe, to coin a famous song, is most definitely losing its religion and losing Christ. If it is to recover, radical change in attitude is required. Starting with the family.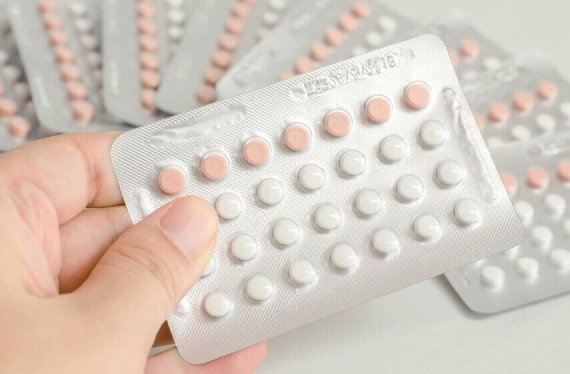 The Pill causes depression
New research involving one million people has found that women are at higher risk of depression when taking the contraceptive pill.  The research also confirms that adolescent girls are particularly sensitive to hormonal contraception.
It is reported that around half of women of reproductive age use the Pill, including more than a third of older teenagers.  The Danish research team who carried out the study found that an astonishing 23% of women taking the Pill were more likely to suffer depression.  In fact, this figure is as high as 40% in the first few months after starting the Pill.  It also found that the risk of depression was magnified the younger they were.
Interestingly, Ojvind Lidegaard of the University of Copenhagen, who led the study, said that: "I've seen couples who have been close to divorce and then removed hormonal contraception and the marriage recovered." 
It would appear that pressure is continuing to mount on governments and the giant pharmaceutical companies who produce contraceptives in terms of the clear dangers posed by taking the contraceptive pill.  Increased blood pressure and blood clots are among the most serious risks associated with taking the Pill, and this was never more tragically evident than in the
case of Fallan Kurek
, a 21 year old teaching assistant from Tamworth.  Miss Kurek died in May 2015 after suffering two cardiac arrests from a massive pulmonary embolism on her lung.  The coroner concluded that Miss Kurek's death was as a result of her taking the contraceptive pill.
The dangers of the Pill are evident and many have also claimed that it can cause breast cancer. 
I suspect that if any other drug was known to cause depression, increased blood pressure, blood clots, and even death, there would be an immediate cessation of prescribing or selling the dangerous drug.  You would expect governments to put pressure on pharmaceutical companies to provide adequate and indisputable evidence that there was no serious risk to health, and to ensure that only drugs that were safe were made available to people.  It is wrong to allow for the continued use of hazardous drugs that could result in serious health consequences, including death, for those who take them.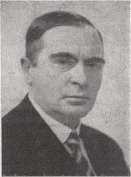 If only there were more Dr Halliday Sutherlands today.  Perhaps he would have the courage to stand up for the rights of those who are under threat from the increasing prevalence of assisted suicide in our world.  Perhaps he would have the courage to stand up for the rights of the preborn child under threat of death by abortion.
Dr Halliday Sutherland, born in Glasgow in 1882, was a man who stood up for the people society felt unworthy of life.  He lived in a time when the middle and upper classes of Britain fought for the legal right to sterilise the poor and the seemingly unworthy.  The rich felt more and more threatened by the higher birth rate among the poorer classes compared to their deteriorating birth rate.  They also felt threatened by the seeming prevalence of tuberculosis among the poor.  There was even talk of using a lethal chamber at one stage.
According to
this article
, Sutherland was "appalled by the popularity of eugenics among Britain's middle and upper classes" and set about fighting for the rights of the vulnerable.  He argued with the Professor of Eugenics at London University who claimed that tuberculosis was primarily caused by heredity and argued that the disease be cured by breeding out those considered to be at risk (the poor).  In a speech made in 1917, Sutherland called Britain's eugenists "race breeders with the souls of cattle breeders" and argued that "in preventing disease you are not preserving the weak but conserving the strong." 
Sutherland also decried the actions of a eugenist who, in 1921, began dispensing 'pro-race' contraceptives to women in poorer parts of London.  Sutherland described this as a social "experiment" that would lead to a "servile state".  He also argued that 'if ordinary Britons were legally prevented from having children, they would have no societal role other than to work.'
Marie Stopes was also criticised by Sutherland after she revealed her eugenic vision for society in 1921.  She revealed details of her "ardent dream" of "human stock represented only by well-formed, desired and well-endowed beautiful men and women."  The dangers of this frightening and callous point of view are obvious.
Halliday Sutherland would be appalled at the direction of travel of western society today.  Not only have we cow-towed to the contraceptive mentality, completely ignoring any notion of the true meaning of our sexuality, but we now routinely kill our own preborn children through abortion and threaten the vulnerable with a premature death by way of assisted suicide.
We need more Halliday Sutherlands in our world today.  We need more people to stand up for the poor, the marginalised, and the vulnerable.  Dr Sutherland was a Catholic and it is important that we as a Church follow his example and be absolutely clear on the wrongs of abortion and assisted suicide.  Not only that, but we must also resist the assumption that contraception is a simple and harmless solution that allows people to have sexual relations without the 'threat' of new life.  As a Catholic people we value life from the very moment it starts right up until its natural conclusion on death.  Contraception interrupts the natural process by killing off new life.  It also encourages people to use others as objects of desire, their sole purpose being to satisfy their own selfish cravings devoid of the threat of responsibility for a new life.   
We have lost the true meaning of the sexual encounter and we have lost the meaning of the value of life.  Our world needs to hear that there is an alternative to the throwaway culture of death; an alternative that values all life and that gives the sexual act the respect it truly deserves.  Dr Halliday Sutherland would be willing to speak up for these values.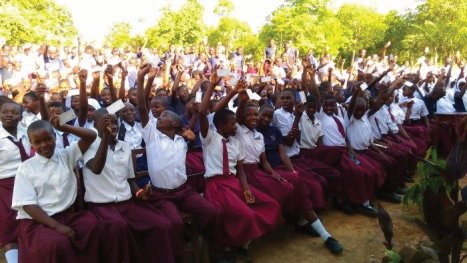 These youngsters have taken the chastity pledge
The World Health Organisation has, in its latest report, confirmed that 25% of worldwide pregnancies ended in abortion between 2010 and 2014. The report also states that "around 22 million unsafe abortions are estimated to take place worldwide each year, almost all in developing countries."
While this news must be greeted with great sadness at the millions of lives lost in an incredibly short period of time, the WHO has a solution.  It states that: "Almost every abortion death and disability could be prevented through sexuality education, use of effective contraception, provision of safe, legal induced abortion, and timely care for complications." 
It's interesting that the WHO avoids any talk of chastity or abstinence in their report.  This, as we know, is the most effective means by which to prevent a pregnancy if indeed that is what someone desires.  Contraception has been heralded as the saviour when it comes to having sexual relations without the 'nuisance' of a child.  But, in reality, contraception has merely become a 'get out of jail free card' for individuals - mostly men - who simply want to use and abuse a member of the opposite sex for their own selfish desires.  Contraception encourages people to engage in the most intimate manner with another human being and then to discard them once the deed is done.  There is no account for feelings, no account for wellbeing.  It is simply the act of using another for selfish desires.  And while not all people can be accused of using another individual through the use of contraception, there is no denying that in using contraception a person is not giving themselves entirely to the other.  It is a way of saying "I love you, but I'm not giving you 100% of my love".  Is this the kind of love we want for our children?
While it is natural for secular organisations like the WHO to raise unsafe abortion as an issue, the distinction between safe and unsafe abortions is inherently flawed.  This is because it is only concerned with the wellbeing of one party in order to distinguish whether an abortion is safe or unsafe.  Abortion, as we know and as science affirms, involves two distinct human beings.  When abortion results in the injury or death of one of those human beings it must be considered unsafe.  Therefore all abortions are unsafe.  There is no such thing as safe abortion.
While more must be done to ensure people are educated on sexual matters there is a real need to ensure that such education is not simply a pandering to the increasingly wayward sexual revolution and the deep pockets of huge, influential pharmaceutical companies.  Increased availability of 'safe' abortion is not the answer.  Nor is the increased availability of contraception.  These remedies simply take us down another road of self-destruction in our society and they quite clearly fail to solve the big issue, which is the widely held view that sex is a basic right to be enjoyed by anyone, with anyone and without the very natural consequence that is another human being.
In many African countries there is a growing movement (University Chastity Education or UCE Missionaries of Chastity) among young adults where they sign a pledge card, pledging a vow of chastity until they meet that special someone and marry them.  This is not the stuff of fairy-tales.  This is real life.  Isn't this a much more appropriate, measured, and natural solution to the pregnancy 'problem' than those proposed by the World Health Organisation?  Doesn't this solution encourage the kind of love you desire for your son or daughter?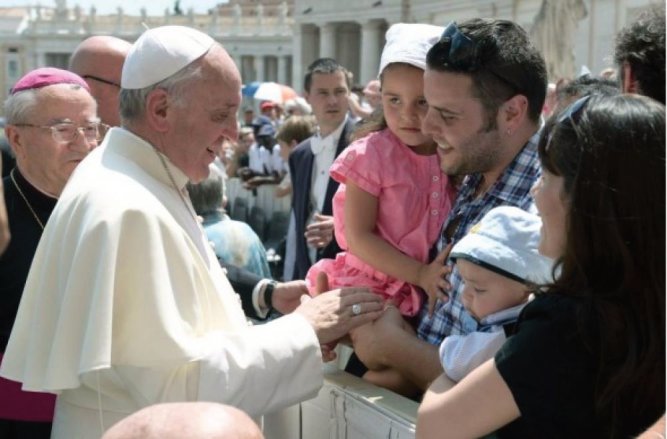 In his new exhortation,
Amoris Laetitia (The Joy of Love),
 Pope Francis has expressed the need to view the family unit as an opportunity rather than a problem, and has encouraged the Church to be more understanding and compassionate towards those who experience difficulties in family life.  There is a real sense of challenge in the document; a challenge to a deeper, less self-centred love towards all people, coupled with a deeper sense of humility.
The document, which runs to 264 pages, also speaks highly of the value of children and the need for married couples to be open to the prospect of new life.  It emphasises the need to see the family unit as a church and provides insight into the various reasons that have contributed to the breakdown of the family in our world today.  He was also critical of those who are narcissistic and irresponsible in relationships saying: "We treat affective relationships the way we treat material objects and the environment: everything is disposable; everyone uses and throws away, takes and breaks, exploits and squeezes to the last drop. Then, goodbye. Narcissism makes people incapable of looking beyond themselves, beyond their own desires and needs. Yet sooner or later, those who use others end up being used themselves, manipulated and discarded by that same mind-set."
As expected, the pope has not made any moves to change Church teaching and matters such as contraception, same-sex marriage, abortion and holy communion for the divorced and remarried have not been given the liberal treatment that many media outlets had hoped for.  This, of course, was never in doubt. 
However, Francis has encouraged the Church to give consideration to how it can best serve those who do not live in accordance with Church teaching, especially when it comes to reconciling them to God.  Bishops, priests and Catholic lay people are all being challenged to be the merciful face of Christ to those in difficult situations, while ensuring that the beautiful teaching of the Church is preserved.  There is also a challenge to be more positive about Church doctrine, to present it in a way that reveals its true beauty and goodness.
While we are not yet in a position to go into detail on the exhortation we will be posting a number of related content on our Facebook and Twitter feeds over the coming days.  We also expect to publish more posts here on our blog so please do check it regularly.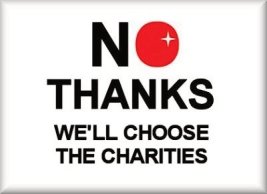 Comic Relief and its spin off Sport Relief certainly do get the nation's charitable juices flowing at this time of year.  It also causes much debate among Catholics as to whether or not we should be contributing to such a charity and allowing our schools and children to participate in the fund raising frenzy.  It seems that every year we face the same dilemma, yet the goalposts haven't moved for years.  Comic Relief (and Sport Relief) is a charity that gives great cause for concern when it comes to Catholic morality.
Firstly, Comic Relief is a bucket fund.  This means that the organisation's hierarchy decides how the money raised is spent, including which charitable organisations and causes it wishes to give cash to.  We can never be certain where our cash will go and this itself creates a significant degree of risk for those who would rather their donation went to a specific cause or charity.  Secondly, Comic Relief has been known to pass on funds to charities involved in the provision of abortion services.  Consider its grant of £374,694 to the International Planned Parenthood Federation (IPPF) in January 2011 for work in Swaziland, Ethiopia and Mozambique.  IPPF's own report confirmed that they had carried out over 1.5 million abortion procedures that same year.  Money donated to Comic Relief may very well have been used to provide those abortion services.
Another charity known for its abortion links is, rather ironically, Save the Children, which also promotes the use of contraception.  Did you know that Barnardo's recommends abortion provider Marie Stopes on its 'links' page and provides free condoms to youngsters, or that Childline promotes abortion as a 'legitimate choice'?  Did you know that the British Heart Foundation has assisted in raising £12m for stem cell research involving human embryos?  And did you know that UNICEF promotes chemical and surgical abortion and provides confidential sexual and reproductive health information and services to children from 10 years of age?
Thankfully there are a number of charities out there that are not bucket funds and so are clear on the charitable activities they undertake.  They are also in line with Catholic moral teaching. 
A list can be found here
.
Please do give serious consideration to all of the charities you donate to and explore precisely where your money will go and whether this compromises basic principles such as the right to life.  Remember, there are always charities out there that will not spend your money on contraception, abortion, the destruction of human embryos, and other immoral activities.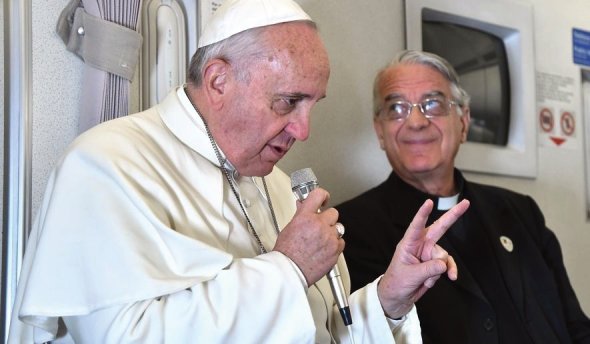 Another in-flight interview, yet another media frenzy.  It seems that every time Pope Francis takes to the skies there is more and more controversy, particularly from those who seem to have a strange interest in changing Church teaching.
This time one of the more interesting comments from the Holy Father was on the subject of contraception.  The pope was asked a question about the Zika virus and whether abortion [as the lesser of two evils] or avoiding pregnancy would be acceptable courses of action for women to take.  In response the pope stated that "Abortion is not the lesser of two evils. It is a crime. It is to throw someone out in order to save another. That's what the Mafia does. It is a crime, an absolute evil."  So that is pretty clear.
But it's what he then went on to say that may be a cause for concern for some.  He said: "Paul VI, a great man, in a difficult situation in Africa, permitted nuns to use contraceptives in cases of rape."  He added later: "avoiding pregnancy is not an absolute evil. In certain cases, as in this one, or in the one I mentioned of Blessed Paul VI, it was clear."  Francis is, of course, referring to Pope Paul VI, one of the greatest and most outspoken proponents of Catholic teaching on sexuality.  So is the pope suggesting that the use of contraceptives is okay? 
In order to tackle this question it is perhaps best to give due consideration to Church teaching on the matter.  Firstly, by referring to 'avoiding pregnancy not being an absolute evil' the pope isn't necessarily referring to contraception.  For some time the Church has accepted the use of natural family planning by married couples.  This is where a couple recognise their own pattern of fertility and use this knowledge to plan a family in order to give them the opportunity to raise their children in the best environment possible.  Natural family planning is not contrary to the teaching of the Church in the same way as contraception because, unlike contraception, natural family planning is still open to new life during each sexual encounter and the couple also give themselves completely to the other.  With contraception there is a clear barrier between the man and woman which prevents one giving him or herself completely to the other and there is also a distinct lack of openness to new life.          
As Catholics we are called to give ourselves completely to the other in marriage.  And as sexual union is part of our marriage then we must be prepared to give ourselves completely to the other each time we embrace that act. We have to be a gift to our spouse.  Totally and unconditionally.  If we do not do this i.e. by using contraception, then we are acting contrary to Church teaching.  This is why contraception is immoral. 
So what about the nuns in Africa?  In these cases there would have been no voluntarily act of self-giving on the part of the nuns.  The nuns did not desire to participate in this sexual encounter.  As a result the use of birth control in this instance is not viewed as being an immoral barrier between the self-giving love of one spouse to another with the accompanying openness to new life.  Rather it is seen as an act of self-defence on the part of someone upon whom a criminal act is being perpetrated.  Further, the sexual encounter in this case was not within the realm of marriage i.e. it was not conjugal.  Therefore, it actually falls outwith Church teaching on the issue (
an issue tackled by Jimmy Akin here
).  This, I expect, is why Pope Paul VI sanctioned their use in these circumstances.
This, of course, is entirely different from the situation surrounding the Zika virus.  Here we are talking about women who are voluntarily engaging in sexual relations but who are using contraceptives to prevent new life.  This is clearly immoral and contrary to Church teaching.  These women do, however, have recourse to natural family planning, which is very much in accordance with the Church and is not immoral.
Let's be clear, Church teaching on contraception is not about to change. 

Following a recent discussion on our Facebook page I thought it might be useful to draft up a short note on our Catholic faith and homosexuality.  It is intentionally brief.  For a more in-depth article on the matter please
click this link
.
Our Catholic faith tells us that homosexual acts are wrong. I think it's hard for us to hear this in such an abrupt way in today's world but this is what we are taught by faith. The reason such acts are wrong is that God has ordered us male and female for the authentic union that is marriage between man and woman and to be completely open to the precious gift of new life. Homosexual acts are not ordered in this way and are thus sinful. There are many sinful acts so this isn't necessarily a singling out of homosexual people. Consider sex outside marriage between a man and a woman, which is also wrong, as is the use of contraception.
It's absolutely critical to also bear in mind that having same-sex attraction is different to homosexual acts. Mere attraction is not of itself sinful. It is only when these feelings are acted upon where it is deemed to be wrong.  This is something that many people get confused about.
I think it's also important to see the positive side of the Church's teaching on homosexuality. It seeks to protect humanity by promoting the love between a man and a woman for the sake of giving new life to the world and raising this new life in marriage, which throughout history has been the best place for kids to thrive. The Church doesn't say a man can't love a man or a woman can't love a woman. Indeed, such a notion is completely contrary to Church teaching. It simply states that it is wrong to interfere with God's clear and natural plan for humanity.
It's not about hating homosexuals as many people wrongly think. It's actually about loving everyone and calling them all to live in accordance with God's plan. That too is a form of love though it is often hard for this society to see it in this modern age of relativism.  In my time running the Scots Catholic website and social media accounts I have often been corrected for straying out of line with respect to Church teaching.  I have learned so much in terms of my faith and I am grateful to those who have offered their generous help.  For me, they are simply doing God's work.  They are doing what Jesus did and are challenging me, and I shouldn't be afraid to be challenged.  
In fairness to anyone who abides by the teaching of Christ and his Church on this matter, they are simply trying to live out their lives as God intended and they are well within their rights to stay true to God no matter what the world may tell them.  Jesus and the Apostles were ridiculed and even put to death for going against the tide and remaining faithful to God's teaching. But they remained faithful. And we are called to do the same.
It is also very important to note that there are many, many gay people living out their Catholic faith chastely in the Church. Their call to chastity is no different to the call to chastity of single people in the Church.
And we must remember, the Church is open to all people and she loves all people, especially those of us who sin. That's why I'm a member.
Many people query whether the Church might change its stance with respect to homosexual acts. This is highly unlikely given the wrongs of homosexual acts is contained in scripture, the Word of God. It's also entrenched in nature itself and the ability of man and woman to procreate (something the Church wants to protect for the sake of the family). I appreciate this is a difficult teaching for some, especially in today's society, but the Church can't fit around the whims of society. First and foremost, the Church can't stray from the Truth it has protected for 2000 years. And secondly, it would be impossible to satisfy everyone all of the time.  The Church, like Jesus, is here to challenge us with the Truth.  It is not here so that we can abuse it for our own ends.
The Church is also here to bring God's mercy to us through the
Sacrament of Reconciliation
.  There is no sin we can commit that is too great that we can't reconcile ourselves to God.  He loves us like no other.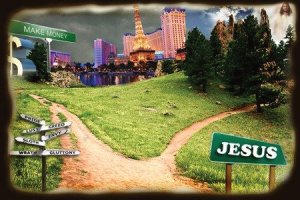 We must take the narrow path to Christ
Today's First Reading (1 Timothy 6:2-12):
'This is what you are to teach the brothers to believe and persuade them to do. Anyone who teaches anything different, and does not keep to the sound teaching which is that of our Lord Jesus Christ, the doctrine which is in accordance with true religion, is simply ignorant and must be full of self-conceit – with a craze for questioning everything and arguing about words. All that can come of this is jealousy, contention, abuse and wicked mistrust of one another; and unending disputes by people who are neither rational nor informed and imagine that religion is a way of making a profit. Religion, of course, does bring large profits, but only to those who are content with what they have. We brought nothing into the world, and we can take nothing out of it; but as long as we have food and clothing, let us be content with that. People who long to be rich are a prey to temptation; they get trapped into all sorts of foolish and dangerous ambitions which eventually plunge them into ruin and destruction. 'The love of money is the root of all evils' and there are some who, pursuing it, have wandered away from the faith, and so given their souls any number of fatal wounds.
But, as a man dedicated to God, you must avoid all that. You must aim to be saintly and religious, filled with faith and love, patient and gentle. Fight the good fight of the faith and win for yourself the eternal life to which you were called when you made your profession and spoke up for the truth in front of many witnesses.'
It's hard for Catholic people to remain true to Jesus Christ and the Traditions of the Catholic Church, especially in this day and age when religion is often frowned upon for one reason or another.  Yet that doesn't make it any less true or relevant.
St Paul's letter to Timothy encourages us to remain true to Christ and his teaching and to remain true to the teaching of the Church he himself founded; the Roman Catholic Church which continues to exist to this very day.
St Paul warns us about those who stray from this teaching, and in true St Paul style, he doesn't mince his words!  He says that those who do things differently to that taught by Christ and his Church are "simply ignorant and must be full of self-conceit – with a craze for questioning everything and arguing about words."  Isn't it interesting that St Paul should specifically refer to arguments about words?  Consider the abortion debate and how pro-choice activists often try to use words and phrases to argue that abortion is okay. They use (albeit wrongly) terms such as 'embryo', 'foetus', 'collection of cells' and 'personhood' to try to make their point. Consider how Pope Francis' words are so often used against him by those who misinterpret him or those who fail to understand his bigger message.  Other examples of this can be found in debates around contraception and the redefinition of marriage.
The tragedy of all this is that Catholic people, including myself, continually stray from Christ's teaching and the teaching of his Church.  I fall into the traps of the secular relativist society and I become that ignorant person full of self-conceit that St Paul is referring to. But thankfully Christ and his Church give me the Sacrament of Reconciliation where I can go and be forgiven for straying from the Truth.
At the end of the day, there will be many times in our lives when we will stray from the right path. But the key is to turn back, as the prodigal son did, into the loving arms of the Father.  While we may turn our back on Him there will never be a time when He turns His back on us.  He is always standing there, watching and waiting for us to return; to return to the path of Truth which He himself created when He gave us His only Son and gave us His Church.
Brother and sisters, we must do as St Paul says and "Fight the good fight of the faith" by speaking up for the truth with love, patience and gentleness before all people, even when it makes us feel a little uncomfortable.  Remember, it is unlikely we will ever be made to feel as uncomfortable as the early disciples who suffered immeasurable pain, including death, in standing up for the Truth.   
And even though we may well feel a little uncomfortable we must remember that we were not made for this world; that our destiny is in Heaven to be one with the Father, with Christ our Saviour, our Blessed Mother Mary, and with all the Saints and Angels.  Surely that is worth fighting for?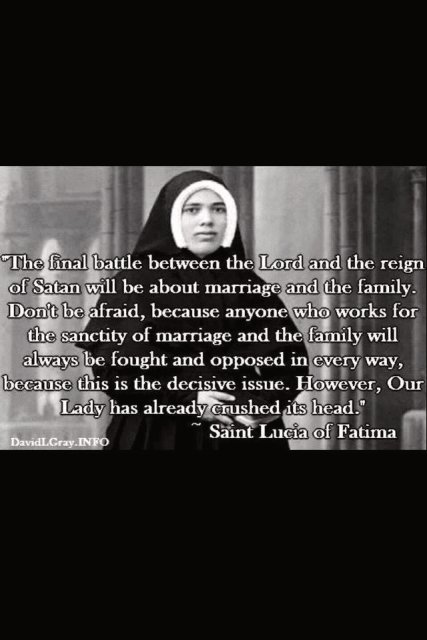 Sister Lucia dos Santos
As we approach the second and final part of the Synod on Marriage and Family Life it is important for us to remember these words of Sister Lucia of Fatima, one of three children who were visited by Our Blessed Mother Mary during the twentieth century.
Lucia describes how the final battle between the Lord and Satan will be about marriage and the family, but that anyone who stands for the sanctity of marriage and the family should not fear as "Our Lady has already crushed its head".
It should be no surprise to us to hear that there is an ongoing battle with the father of lies over marriage and family life.  Just consider contraception, abortion and the redefinition of marriage and you can see precisely where the devil is attacking God's divine plan for mankind. 
We are, in all respects, in the battlefield for the very last battle between the devil and the Lord.  But which side are we on?  Are we with the world; a world that is increasingly subject to the contol of the devil with all his lies and attacks on our faith?  Or are we with Christ and his Church, standing firm to the Truth and God's divine plan with which comes the promise eternal salvation?
/