Shopping Cart
Your Cart is Empty
There was an error with PayPal
Click here to try again
Thank you for your business!
You should be receiving an order confirmation from Paypal shortly.
Exit Shopping Cart
Calling Scotland's 841,000 Catholics to unite as one voice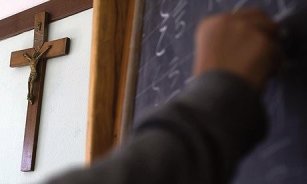 It's what so many of us have been saying for years.  With a distinct lack of evidence to support the view of a vociferous minority, the government is on the verge of committing itself to the view that denominational (or faith) schools do not cause sectarianism.
While other countries with faith schools have known this all along we in Scotland have, for some reason, fumbled our way to this conclusion over a great many years.
The Advisory Group on Tackling Sectarianism in Scotland, set up by the Scottish Government, was tasked with debating the issue of sectarianism in Scotland with a view to tackling the problem in the most effective manner.  It focused primarily on the specific form of sectarianism arising from Catholic-Protestant tensions which, as the report states, 'are part of the historic legacy of Scotland'.  
There are a number of issues tackled in the report, including marches and parades, and also sectarianism at football matches.  But perhaps the most interesting statement comes at section 28 and under the banner of education. It states: 'We do not believe that sectarianism stems from, or is the responsibility of, denominational schooling, or, specifically, Catholic schools, nor that sectarianism would be eradicated by closing such institutions.'
For many, many years I have wondered why so many people are obsessed with the idea that Catholic schools cause sectarianism.  As a kid who attended a Catholic school I never had any difficulty mixing and playing with friends from different schools and different backgrounds.  I know of many other people who had the same experience.  And in my adult life I continue to mix with people from a different background to my own. 
Thankfully, the government has now recognised that denominational schools are not the problem.  And why would they be?  Sectarianism in Scotland existed BEFORE denominational schooling was introduced.  Logically speaking, sectarianism will continue to exist AFTER denomination schools are removed.  Thankfully, however, this is not something we need to worry about given the content of this report.
We should be delighted at the way our children are educated in Scotland.  We have produced many, many talented people over the years for such a small country and both our denominational and non-denomination schools have contributed to this great achievement.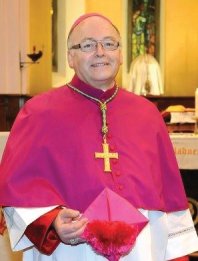 The current Auxiliary Bishop of the Archdiocese of St Andrews and Edinburgh, Stephen Robson (pictured), was today appointed by Pope Francis as the new Bishop of Dunkeld.  Bishop Robson, who was born in Carlisle, will replace Bishop Vincent Logan who has been in post for almost thirty years and has stepped down on health grounds.
The Diocese of Dunkeld, which covers the city of Dundee and is the oldest Diocese in Scotland, will have its new Bishop installed early in the new year.
Bishop Robson, who is 62, has stated that he is looking forward to "living and working [in the diocese of Dunkeld], getting to know the clergy, religious and laity and accompanying them on their Christian journey.  I look forward to trying to build up the people of God in the Faith and in the confidence of being Catholic in a challenging world." 
The new Bishop also said that he is especially looking forward to "helping the young and families to live the Gospel and to serve Christ in the Church." 
One of the priorities of the new Bishop will be to nurture an increased interest in the priesthood.  He said: "A big priority must also be to encourage vocations to the priesthood and religious life."
Let us remember to pray for the new Bishop and his flock.  And let us hope that his desire to bring about new vocations will bear much fruit for the Church.
Have your say in this interesting survey on faith in Scotland.  It only takes around 10-15 minutes to complete and the results are to be published in the spring of 2014.
Click here to take the survey:
/