Shopping Cart
Your Cart is Empty
There was an error with PayPal
Click here to try again
Thank you for your business!
You should be receiving an order confirmation from Paypal shortly.
Exit Shopping Cart
Calling Scotland's 841,000 Catholics to unite as one voice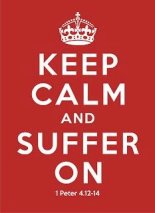 Last Sunday's Gospel (Mark 8:27-35):
'Jesus and his disciples left for the villages round Caesarea Philippi. On the way he put this question to his disciples, 'Who do people say I am?' And they told him. 'John the Baptist,' they said 'others Elijah; others again, one of the prophets.' 'But you,' he asked 'who do you say I am?' Peter spoke up and said to him, 'You are the Christ.' And he gave them strict orders not to tell anyone about him.
And he began to teach them that the Son of Man was destined to suffer grievously, to be rejected by the elders and the chief priests and the scribes, and to be put to death, and after three days to rise again; and he said all this quite openly. Then, taking him aside, Peter started to remonstrate with him. But, turning and seeing his disciples, he rebuked Peter and said to him, 'Get behind me, Satan! Because the way you think is not God's way but man's.'
He called the people and his disciples to him and said, 'If anyone wants to be a follower of mine, let him renounce himself and take up his cross and follow me. For anyone who wants to save his life will lose it; but anyone who loses his life for my sake, and for the sake of the gospel, will save it.'
Jesus was swift to chastise Peter because of his failure to understand God's grand plan for humanity. What Peter failed to understand is that suffering was a necessary part of salvation.  Peter's crime is to let the ways of man creep into his mind so that he tries to resist any notion of suffering.  It's natural to try to resist suffering, especially in today's society with the significant advances being made in science and healthcare.  But as Christians we are called to accept suffering as part of God's Divine plan for our salvation. 
Consider Christ's words immediately after he rebukes Peter: "If anyone wants to be a follower of mine, let him renounce himself and take up his cross and follow me."  To follow Christ will entail suffering.  There is simply no getting away from it.  If we want to be true Christian people and followers of Christ then we must be prepared to take up our cross and accept any suffering that comes our way, trusting that God will use that suffering for the overall good of His kingdom and for the overall good of humanity.
Christ's lesson is indeed rather timely when you consider the current predicament of the Catholic Church in Scotland, with a lack of priests and lack of vocations to the priesthood.  Parishes are now in a situation where they need to look at alternative models if they are to continue serving their local community; otherwise, they face the sad reality of closure.  The ways of man allow ourselves to become accustomed to having a priest at our beck and call 24/7 and to be used to having such 'pleasures' as daily Mass and daily Confession.  We despair at the thought of our parish closing or of having to share a priest with another nearby church.  We, like Peter, become upset at the thought of having to suffer.
But we must resist the temptation to think as men do and instead trust the Father, knowing that any suffering He asks us to endure is for the greater good of all people.  We must be prepared to think big and accept the cross of suffering with open arms.  To delight in suffering is a crazy concept to mere mortals, but then we aren't mere mortals.  We are a people made in the image and likeness of God, a people destined for bigger and better things.
We must listen to Jesus and not think as men do but trust completely in God's plan for us.  The next time we suffer let us turn to God, and with the helplessness and trust of a little child, let us say: "Father, let thy will be done."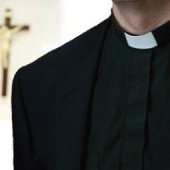 Sunday's Gospel (Mark 6:7-13):
'Jesus summoned the Twelve and began to send them out in pairs giving them authority over the unclean spirits. And he instructed them to take nothing for the journey except a staff – no bread, no haversack, no coppers for their purses. They were to wear sandals but, he added, 'Do not take a spare tunic.' And he said to them, 'If you enter a house anywhere, stay there until you leave the district. And if any place does not welcome you and people refuse to listen to you, as you walk away shake off the dust from under your feet as a sign to them.' So they set off to preach repentance; and they cast out many devils, and anointed many sick people with oil and cured them.'
Isn't it sad that priests are no longer able to 'go round the houses' as much as they used to?  I recall the days when our parish priest would simply pop by for a cup of tea and a natter as I was dragged away from whatever I happened to be doing so that the entire family was present before our holy visitor.  Now sadly, and mostly down to a lack of vocations, priests are simply too busy to be able to undertake such visits and the once common practice has all but disappeared.
That said; it's not beyond the realms of possibility that your priest could spare an hour or so to be in the company of your family in your home.  Have you ever thought about inviting your priest round for a cup of tea or even a meal?  Might it be the case that we ourselves have forgotten about our own responsibilities towards those who tend to our faith lives?  Have we become so cocooned in our own little world that we forget to include our priest as a critical member of our family?  When we consider whether or not to invite a priest to our home do we become embroiled in how it might adversely affect us rather than what it might mean to him?  Remember, the shepherd must also be loved, fed, watered and cared for.
So let us consider inviting our priest round to our homes to spend some time in his company and to make him feel like he is part of the family.  And let us be sure to extend a loving welcome to him and to listen to him so that when he leaves he is not inclined to shake the dust from under his feet.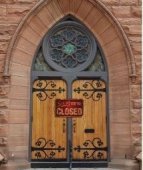 Archbishop Tartaglia, writing in this month's Flourish Newspaper, has confirmed that the preliminary phase of the process of planning for future parish provision is now complete.
The Archbishop said that he has "not found this reflection simple or easy" but feels that the preliminary phase was "successful in highlighting the challenge that faces us to make our parish communities sustainable into the future and in initiating a diocesan conversation about the issues involved."
The Archbishop suggests five questions for consideration:
1. Where are the people?
2. How many parishes do we need?
3. How many churches can we support?
4. How many priests and deacons will there be?
5. What kind of communities do we want?
While many people may be nervous about the future of their own parish in all of this there have been some encouraging words coming out of the latest meeting of the Council of Priests on 11th June.  The Council stated that it had "little appetite for a detailed plan of parish mergers or closures based on [the] current deanery configuration" and, as a result, "an approach based on clustering parishes may be more realistic and may bear better results."
While this doesn't necessarily mean there won't be mergers or closures in the years ahead, the words will offer much encouragement to parishes on the fringes who may have feared the sound of the wrecking ball coming up the street.
The Archbishop has confirmed that he now sees the planning process moving forward according the following strategy:
1. Solving issues of parish provision that require attention in the short term according to the dispositions of Canon Law
2. Finding suitable priests from wherever to provide pastoral care of the parish communities which we have
3. Proposing to parishes and deaneries the method of clustering as a new step towards preparing for future new communities – as soon as possible, therefore, a project of possible parish clusterings will be offered for consideration."
The Archbishop summed up his report by saying: "Evangelisation remains our one and only mission.  The spirit of the age is inimical to evangelisation but paradoxically also calls for it.  These are undoubtedly testing times for the Church.  In these circumstances, we need always to look with the eyes of faith to Jesus who tells us that we must not be afraid and who calls us to trust in him."
One thing is certain, this is not simply about the lack of priests.  It is also about the lack of numbers attending Mass and getting involved in the life of the parish and the wider community.  This, in turn, creates an economic imbalance meaning certain parishes cannot sustain themselves and they quickly become a drain on the provisions of the Archdiocese. 
Yes, it is crucially important that we pray hard for vocations to the priesthood and it is important that we are not afraid to encourage our young men to seriously consider this vocation.  But similarly, we need to be out there selling the faith to people and encouraging them to enter into a relationship with Jesus Christ.  We need to take our duty to save souls seriously so that as many people as possible rely on the love, mercy, and compassion of the Catholic Church.  The Church that Christ promised to be with until the end of time.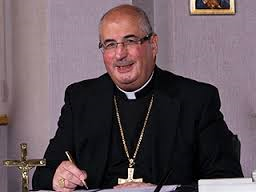 Archbishop Philip Tartaglia
Pope Francis has confirmed that Archbishop Philip Tartaglia's request for an auxiliary bishop has been granted. 
The Archbishop made the request following his health scare at the beginning of the year and it is expected the new auxiliary will be in place around Easter 2016. 
Archbishop Tartaglia has requested nominations for the new role and this process will continue until the end of the summer when the Apostolic Nuncio, Archbishop Antonio Mennini, will recommend three names to Rome.
Please remember to pray for all our clergy.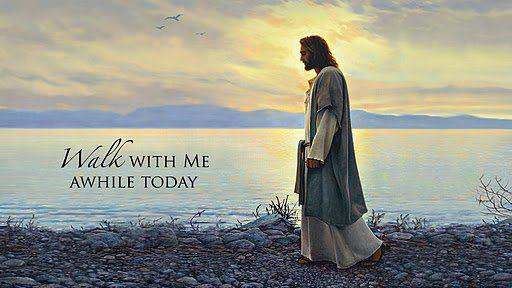 Lent is now upon us and we can all hopefully look forward to spending much time reflecting on our faith and our relationship with Jesus as we embark on a journey of prayer, fasting and almsgiving.
And while we have the option to develop our relationship with Jesus all year round, there is perhaps no better time than Lent to spend a little more time in the presence of Christ; one to one.  This Lent we are invited to get up and walk a while with our Saviour.  We are asked to pray more often than normal; to fast more; and to give more freely to those in need.  All of this can be achieved with the help of Christ.  If we take up his offer to walk with him he will give us the graces we need to make the most of this special season of Lent.
But what if you are far from the Church or have fallen away from the faith?  If this applies to you I would ask you to just consider taking a little time out this Lent to speak to Jesus.  It might be a prayer; it might be a question; it might be a concern or worry; or it might even be a simple hello!  The truth is, anything goes.  Jesus wants to give you the floor so that you can tell him everything that is on your mind.  The most important thing for Jesus is that you need him.  He wants to be the perfect friend; one who doesn't judge, who doesn't argue, and who doesn't impose any conditions on your friendship. 
Consider popping into a Church this Lent and spending some quality time with Jesus.  He is right there waiting for you in the tabernacle.  It's no illusion, no trick; he exists right there and he is waiting for you to come home to him.
And if your lack of faith relates to the Church, remember that the Church is a hospital for sinners not a club for saints.  If you feel disgruntled or even distrust towards the Church, remember that it is Christ who founded it and it is Christ who waits for you.  He is the most important element of our faith.  It is through him that we will learn to love God, to love one another, to become better people and, ultimately, to be united with the Father in Heaven.
This Lent, as you give up chocolate or alcohol, consider spending some quality time with your Saviour.  He has so much love to give and this love has your name written all over it.  Nobody can give the perfect love and peace that Christ can. 
Make a special effort this Lent to attend a very special appointment in your local Church.  You may not know it but Jesus already has your name in his diary.  The only question is, will you turn up....?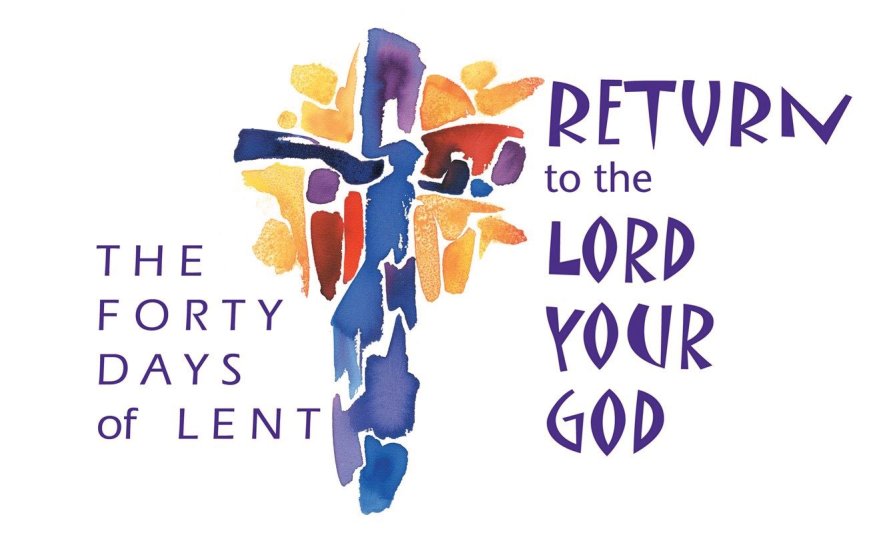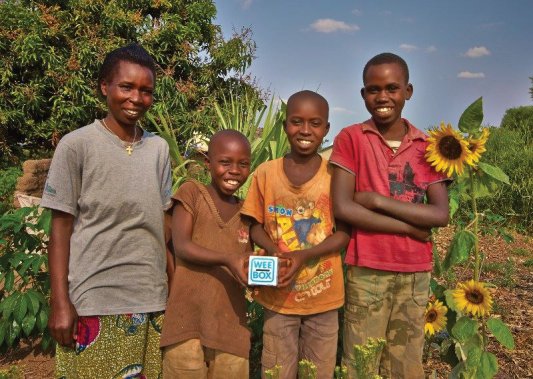 Picture: sciaf.org.uk
It's almost time for the SCIAF Wee Box to make its annual appearance in our local parishes and this year is going to be a bumper year for the charity, as it celebrates its 50th anniversary.
This year the UK Government will double all proceeds to SCIAF, ensuring the charity will be able to help even more people affected by poverty.  It is a gesture which should not be understated and it is an opportunity which should not be missed! 
Please remember to pick up your SCIAF Wee Box this year and keep it in your home.  You may even want to consider taking one to your workplace to raise money.  It's all going to a good cause and it's all going to be doubled!  And remember, if you can't get to a local Catholic parish, you can simply click the link at the bottom of this article to donate online.
SCIAF is the official aid and international development charity of the Catholic Church in Scotland.  In 2012 it spent an incredible £2.9 million on development programmes in countries across Africa, Latin America and Asia.  It provides clean water to millions of people and provides care for families living with AIDS and HIV. 
Click this link to visit SCIAF's website and find out more about the great things they do with the money you donate:
http://www.sciaf.org.uk/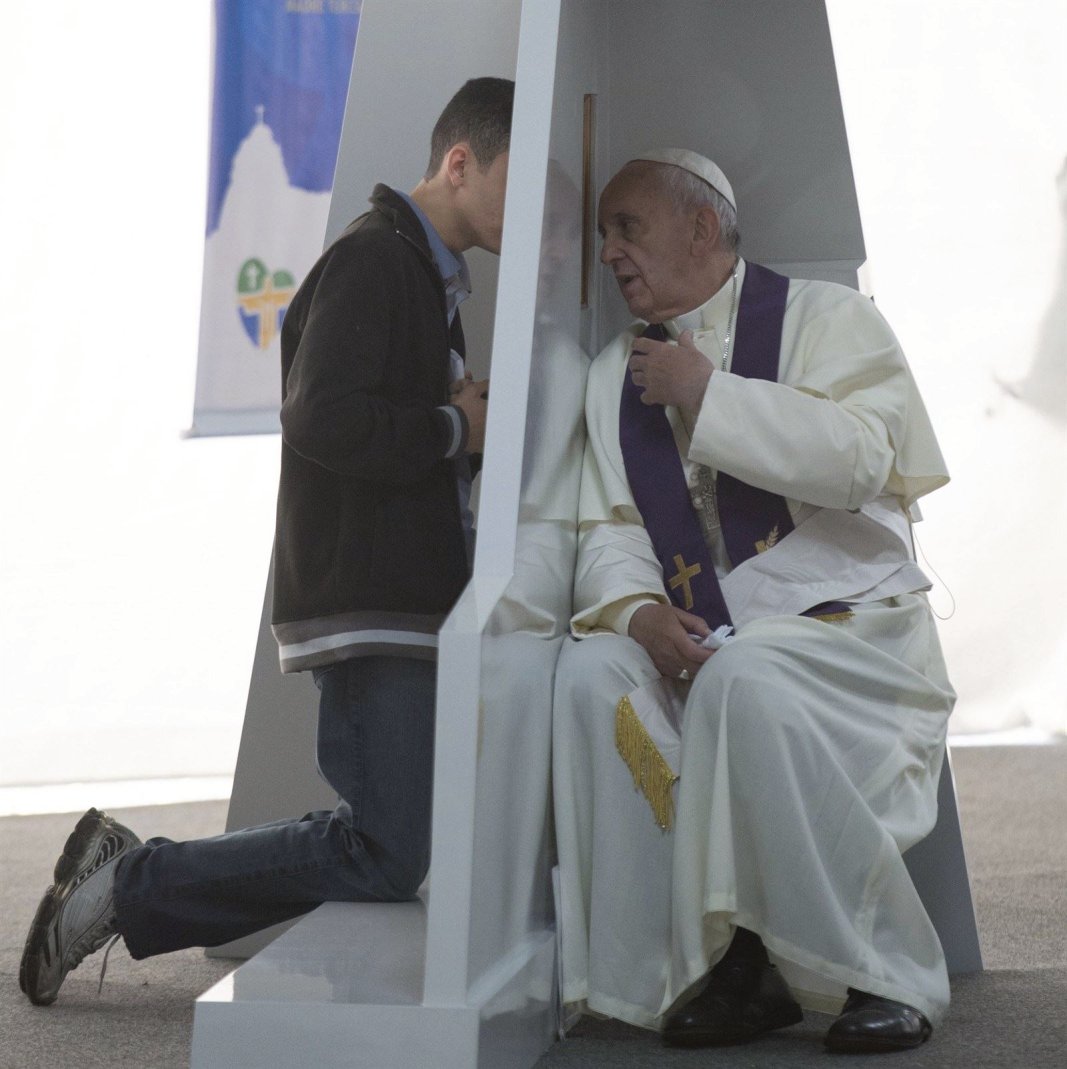 Pope Francis hears a young man's confession
Pope Francis has invited parishes around the world to dedicate a full 24 hours to the Sacrament of Reconciliation during Lent. The initiative, which started in 2014 and takes place on the fourth Sunday of Lent, has already been enthusiastically received by dioceses and parishes around the world.  It is hoped that it will encourage people to come to Confession and to meet the Lord.  It is also hoped that parishes will ensure the initiative coincides with Eucharistic Adoration.
If your parish doesn't yet have any plans to take part then approach your parish priest and encourage him to do so.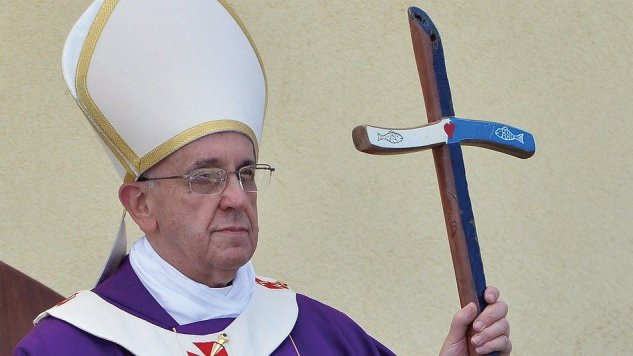 Pope Francis, in his 2015 Lenten message, has warned people to avoid indifference to God and indifference to the plight of our neighbour.
The Pope said: "God is not indifferent to our world; he so loves it that he gave his Son for our salvation. In the Incarnation, in the earthly life, death, and resurrection of the Son of God, the gate between God and man, between heaven and earth, opens once for all. The Church is like the hand holding open this gate, thanks to her proclamation of God's word, her celebration of the sacraments and her witness of the faith which works through love (cf. Gal5:6). But the world tends to withdraw into itself and shut that door through which God comes into the world and the world comes to him. Hence the hand, which is the Church, must never be surprised if it is rejected, crushed and wounded. God's people, then, need this interior renewal, lest we become indifferent and withdraw into ourselves. To further this renewal, I would like to propose for our reflection three biblical texts."
The Pope then outlines three biblical texts for reflection, each relating to an aspect of Christian living; the Church, parishes and communities, and individual Christians.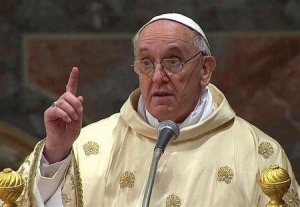 Pope Francis, in his general audience of 27th August, has once again warned the faithful about gossiping, especially where it occurs in our parishes.
The pope has continually warned people not to gossip; stating that it is a sin and that we simply must not do it.
During the audience the pope said: "Everyone can fall into the traps of gossip.  Just think about all the gossiping that goes on in parishes.  Is this good?  Is it?  If someone is elected president of an association, he's criticised.  If someone is elected head of catechesis, they are also targeted.  This is not the Church.  This shouldn't happen."
While the pope uses the example of specific parish groups, the message is no doubt directed at all types of gossip.  All gossip is simply unacceptable and must not happen.
The pope has previously commented on how damaging gossip can be in our lives.  If we stop and think about it for a few moments we can be left in no doubt about the dangers of gossip and the damage it causes.  It causes cynicism, division, even hatred.  It festers in the mind and even one simple 'throwaway' comment can cause an unnecessary rift in relations.
The pope also said that division is a "grave sin" that is the "work of the devil, who is by definition the one who separates."
As we consider the words of our Holy Father it is abundantly clear that both gossip and division should not be tolerated if we are to live like Christ and be one with the Church.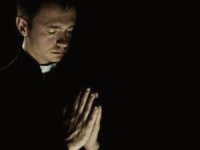 Over the next three days we will be looking at common difficulties encountered in the faith journey of many people across the world. 
These are: difficulties with your priest, the length of the Mass, and struggling with scripture.
This list is of course not exhaustive.  However, it was felt that these were among the most common issues arising out of conversations with Catholic people on their faith.
Part 1 - Difficulties with a Priest
While a priest - our shepherd charged with the task of leading us ever closer to God and increasing our faith - is important, we must not use him as an excuse to reject God.
While confidence among clergy is at an all time low following the discovery of child abuse at the hands of sick men who should have known so much better, not every priest should be judged against this standard of behaviour.
In addition, not every priest can be expected to fit into our own personal image of what we feel they should be and how we feel they should carry out their priestly duties.
It is true that a priest should be welcoming and approachable and must work hard to look after the faith interests of his flock.  Yet this must be done within the framework of the Church.  This framework, which includes the Commandments of God, the life of Christ, sacred scripture, the precepts of the Church, the Catechism, encyclicals by countless popes, and so on, forms the rules and traditions by which we are expected to live out our faith.
It is within this framework that the priest must preach to his congregation.  It is within this framework that the priest must care for his flock.
We must remember that a priest's job is not restricted to simply saying Mass and preaching through a homily.  He must also tend to the sick, tend to the dying, comfort those in mourning, hear confessions, take the Blessed Sacrament to the housebound, study the faith, look after the administrative aspects of the parish, deal with numerous ministries, attend meetings, and, of course, spend countless hours each day praying for his parish and for his flock.
While a priest's character may be important, it is also important for those who lend themselves to the persistent interrogation of a priest to consider all that goes on behind the man who stands up to preach on a Sunday morning. 
His entire life is, in my view, devoted to two things: serving the Father, and serving his flock.
Yes, many priests don't fit into our personal ideal.  But is that really their fault?  Are we perhaps setting the bar too high for these fellow human beings?  Do we appreciate the countless hours they are putting in each day for our good?  Do we appreciate the challenges they face in working within a complicated framework in order to ensure that our relationship with Jesus is developed, giving us the best possible chance of eternal happiness in Heaven? 
Our parish priest may well have his flaws (don't we all?), but one of his primary tasks is to get us to Heaven.  He devotes much time to this task.
So, while some people spend endless hours discussing the negative points of their priest, often criticising him, he is spending endless hours in prayer for those same people.
Check out our blog tomorrow for 'Part 2 - The Length of the Mass'
/