Shopping Cart
Your Cart is Empty
There was an error with PayPal
Click here to try again
Thank you for your business!
You should be receiving an order confirmation from Paypal shortly.
Exit Shopping Cart
Calling Scotland's 841,000 Catholics to unite as one voice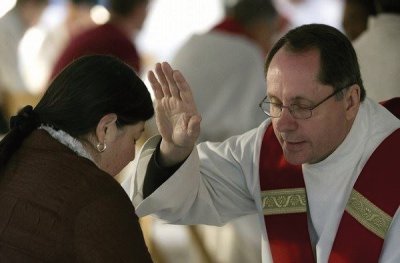 Hearing Confession is just one of a priest's many duties
From today's Gospel (John 13:16-20):
'I tell you most solemnly,
whoever welcomes the one I send welcomes me,
and whenever welcomes me welcomes the one who sent me.'
In this Gospel passage we can clearly see Jesus referring to his disciples. 
Yet, fast forward two thousand years to today and Jesus would be talking about our priests and bishops.  So let us ask ourselves this question….how do I treat my parish priest?  Do I welcome him to my home?  Do I treat him with the respect Jesus suggests he deserves?  Do I appreciate the work he puts in to his ministry, in saying Mass, in hearing Confessions, in tending to the sick, in tending to the dying, in tending to the bereaved, in putting in hour after hour of deep and meaningful prayer for my benefit, in dealing with parish politics? 
Remember that your priest has been chosen by God to be in your parish, to minister to you and your fellow parishioners.  God has put him in that very place at this very time and He wants you to welcome His servant in the same way that you welcome Jesus in the Eucharist.
Yes, it is the task of the parish priest to serve his parishioners and to lead them in faith.  But it is not a one way street.  We too are called to support our priest and assist him in whatever way we can to help him in his ministry.  And from these close, supportive relationships between priest and parishioner we can build up strong, faithful parish communities ready to announce the Good News to the world.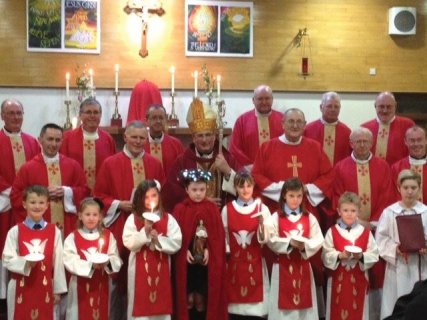 The Catholic parish of St Lucy's, Cumbernauld shone brightly on Friday night as it celebrated its 40th anniversary.

Philip Tartaglia, Archbishop of the Archdiocese of Glasgow, was the principal celebrant of the Mass.  He was joined by parish priest Father Joseph McAuley, former parish priests, and other dignatories and religious including local MSP Jamie Hepburn, local Councillor Elizabeth Irvine and Reverand David Nicholson of Kildrum Parish Church.  
The congregation enjoyed every moment of the occasion, as they sang as one in joyous song, giving praise to God and showing gratitude for the 40 years of parish life that had gone before.

Speaking during the Mass, Archbishop Tartaglia used the example of St Lucy, commenting on how young she was when she was martyred.  He held up her love and devotion to Jesus as being an inspiration to all people, especially children.
The Archbishop also took some time to remember the many priests and parishioners who had "built up" St Lucy's over the years, including the first parish priest, Father Anthony McHugo.
 
The Mass ended with a beautiful candlelit procession, led by a number of young children of the parish, including some of the those who had recently received the Sacrament of Confirmation.  They walked around the Church, showing a deep reverence and respect that defied their tender years.  As they walked the congregation belted out Santa Lucia in honour of their patron; their singing ably assisted by beautiful music from the parish's own choir and music group.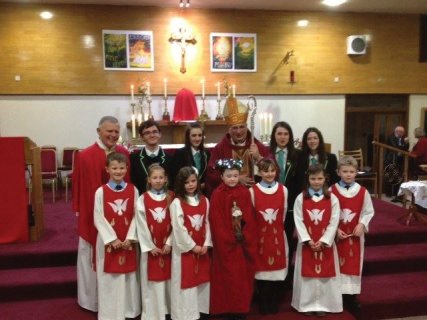 The congregation, priests and dignatories then gathered in the hall for some tea, coffee and no small amount of tasty treats in order to continue the festivities!  A big screen TV entertained those gathered with photographs depicting every generation of parish life, with images of many people, young and old, enjoying the life of the Church as the centre of community life.
 
The importance of events like this for both the local and wider Church simply cannot be overstressed.  Our parishes must be beacons of light, shining through the community, leading people firstly to God, and secondly, being a source of light and hope for the whole community, particularly the poor and vulnerable.
Through the photographs shown to us it was evident St Lucy's has achieved this and more throughout the last 40 years.  The hope must be that this will continue and that fresh energy can be found to take the parish on for another 40 years.  The number of young people in attendance, both from St Lucy's Primary School and Our Lady's High School, is a source of great hope for all.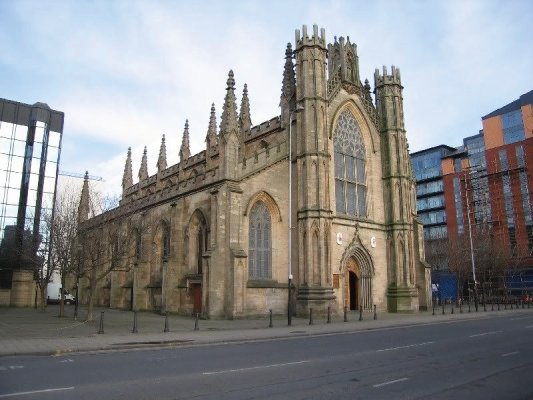 St Andrew's Cathedral, Glasgow
The Scottish Catholic Observer (SCO) has reported that the Archbishop of Glasgow, Philip Tartaglia, is to consult the Catholic people of Glasgow on the future of all parishes within the Archdiocese.  The SCO reports that the consultation leaflet contains tough questions about falling congregations and the way congregations are served at parish level.
There will, of course, be fears for the future of some parishes; however, this cannot simply be viewed as a precursor to the closure of churches across Glasgow.  This is a possibility but it cannot be assumed that the solution in each case will be the closure of a parish. 
Indeed, many recent reports suggest there is an increase in congregations across Scotland, probably as a direct result of the Year of Faith and the Pope Francis 'effect'.  This, however, does not tackle the problem of a lack of vocations to the priesthood and this is a problem that will need to be considered in great depth.
This opportunity for people of the Archdiocese to have their say cannot be underestimated.  Please look out for the leaflet at your parish in the coming weeks.
/