Shopping Cart
Your Cart is Empty
There was an error with PayPal
Click here to try again
Thank you for your business!
You should be receiving an order confirmation from Paypal shortly.
Exit Shopping Cart
Calling Scotland's 841,000 Catholics to unite as one voice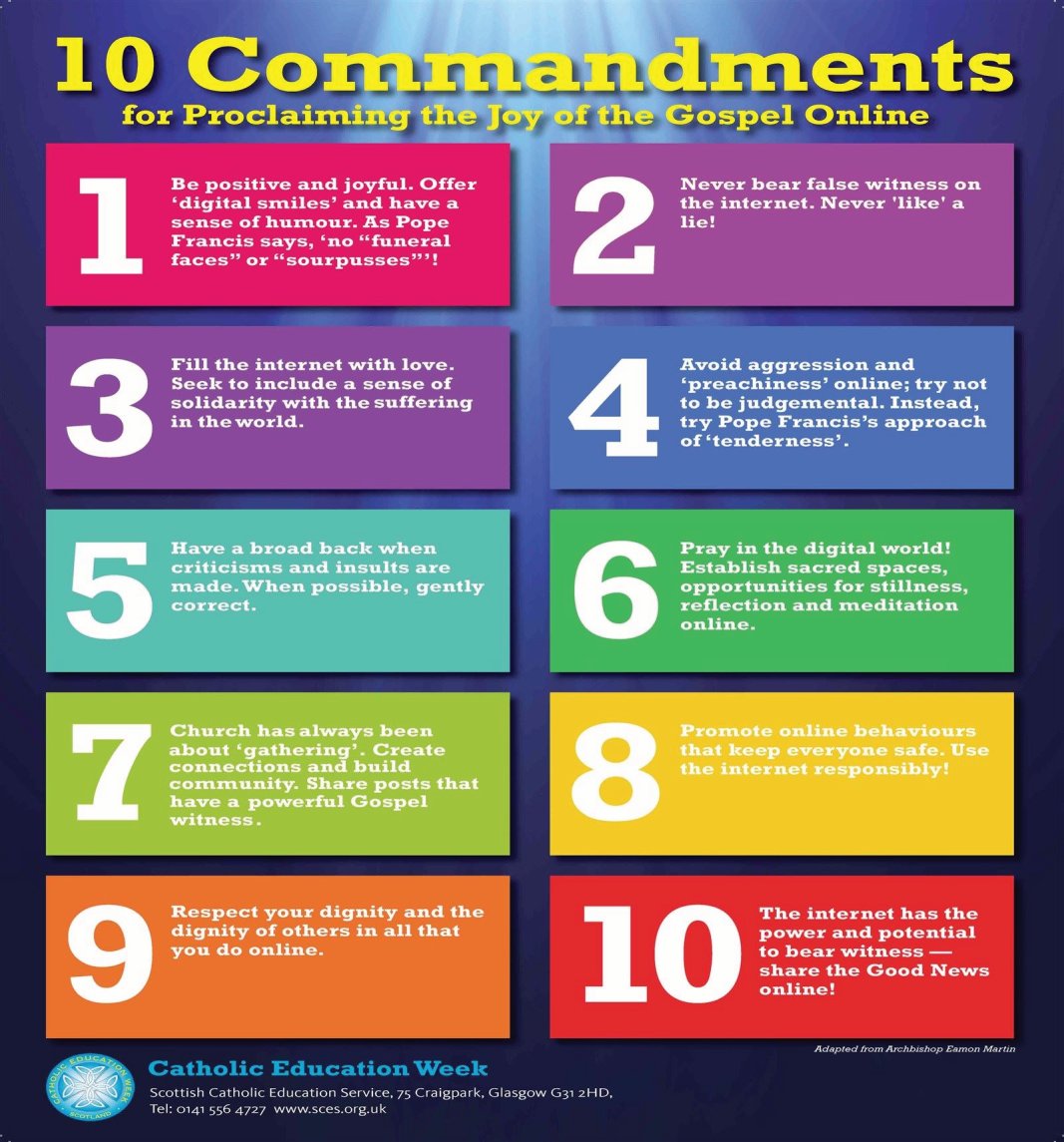 The Scottish Catholic Education Service (SCES) has produced a new poster detailing the "10 Commandments for Proclaiming theJoy of the Gospel on-line".  In what appears to be a spin-off from Pope Francis encyclical letter, Evangelii Gaudium (the Joy of the Gospel),SCES is encouraging young people to behave responsibly, and in a manner befitting of their Catholic faith, whilst they use the internet and social media. The poster will be officially launched during Catholic Education Week in February.
The SCES website states: 'To encourage responsible and respectful use of the Internet for "Proclaiming the Joy of the Gospel", the Scottish Catholic Education Service (SCES) has produced a poster to illustrate the "10 Commandments for Proclaiming the Joy of the Gospel on-line". It is hoped that these will encourage both young people and adults to use the opportunity provided by social media to tell the 'Good News' of Christ.''
The commandments, produced by Martin McMahon of Taylor High School in Motherwell, are as follows:
1.      Be positive and joyful.  Offer 'digital smiles' and have a sense of humour.  As Pope Francis says, no funeral faces or sourpusses.
2.      Never bear false witness on the internet. Never 'like' a lie.
3.      Fill the internet with love.  Seek to include a sense of solidarity with others in the world.
4.      Avoid aggression and 'preachiness' online.  Try not to be judgmental.  Instead try Pope Francis's approach of tenderness.
5.      Have a broad back when criticisms and insults are made.  When possible, gently correct.
6.      Pray in the digital world!  Establish sacred spaces, opportunities for stillness, reflection and meditation online.
7.      The Church has always been about gathering.  Create connections and build community.  Share posts that have a powerful Gospel witness.
8.      Promote online behaviours that keep everyone safe.  Use the internet responsibly.
9.      Respect your dignity and the dignity of others in all that you do online.
10.  The internet has the power and the potential to bear witness – share the Good News online.
While the Ten Commandments given to us by God can never be replaced nor replicated, these commandments for appropriate online behaviour should definitely be encouraged among our young people.  And while SCES should be applauded for their efforts to promote these online commandments, it will ultimately be down to parents and families of young people to make sure that these commandments are followed. 
Perhaps it would be useful for us to all consider having a copy of these commandments alongside the Ten Commandments of God somewhere in our home to remind our children, and indeed ourselves, of how we should behave on the internet and social media as well as how we should make best use of it.

The Good News - too good to keep to yourself!
From today's Gospel (Mark 8:34-9:1):
'…For if anyone in this adulterous and sinful generation is ashamed of me and of my words, the Son of Man will also be ashamed of him when he comes in the glory of his Father with the holy angels.'
Do you talk about your faith to others?  Are you joyful in your faith to the point that you just can't help but shout about it and share it on your Facebook page or Twitter feed? 
It's an interesting thought.  But don't think about it too long because Jesus is on your case!  In today's Gospel Jesus warns us that we should not be ashamed of him and his words.  If we are ashamed, he warns us that he will be similarly ashamed of us when he comes again at the end of the world. 
While humility is an essential quality of any Catholic Christian it should never compromise our call to reach out to the world, to spread the Word of God, and to evangelise.  We must have a sense of mission, as encouraged by Pope Francis in his recent exhortation letter Evangelii Gaudium.  And part of that mission is to spread the Good News with joy, to all people.  And we must not confine ourselves to spreading the Good News to those we feel comfortable with.  Rather, we should be indiscriminate in our mission, revealing the glory and splendour of God in the risen Christ, to all people.
We need to consider what is more important to us.  Do I want to listen to Jesus and heed is call to spread the Good News, or do I want to remain secure in my comfort zone, never daring to do God's work for fear of reprisals?  Jesus is asking us to commit ourselves to the former, safe in the knowledge that he will be by our side in the face of any attacks or insults we may be subjected to as a result.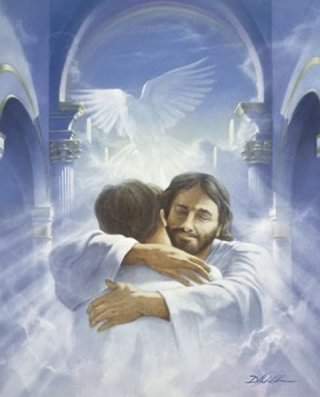 Today's Gospel (Mark 2:1-12):
'When Jesus returned to Capernaum, word went round that he was back; and so many people collected that there was no room left, even in front of the door. He was preaching the word to them when some people came bringing him a paralytic carried by four men, but as the crowd made it impossible to get the man to him, they stripped the roof over the place where Jesus was; and when they had made an opening, they lowered the stretcher on which the paralytic lay. Seeing their faith, Jesus said to the paralytic, 'My child, your sins are forgiven.' Now some scribes were sitting there, and they thought to themselves, 'How can this man talk like that? He is blaspheming. Who can forgive sins but God?' Jesus, inwardly aware that this was what they were thinking, said to them, 'Why do you have these thoughts in your hearts? Which of these is easier: to say to the paralytic, "Your sins are forgiven" or to say, "Get up, pick up your stretcher and walk"? But to prove to you that the Son of Man has authority on earth to forgive sins,' – he turned to the paralytic – 'I order you: get up, pick up your stretcher, and go off home.' And the man got up, picked up his stretcher at once and walked out in front of everyone, so that they were all astounded and praised God saying, 'We have never seen anything like this.''
How can we align this Gospel passage with our daily lives?  What parallels can we draw with this Gospel and what it means to be Catholic today?
Consider yourself as being one of those who brings the paralytic man to Jesus.  Could this not be our role in society today....to bring people to Jesus?  In his recent exhortation Pope Francis called on all of us to have a sense of mission in evangelising our world.  Bringing people closer to Jesus is fundamental to that mission.  We must, in living out our lives, endeavour to bring Jesus into the lives of people and, thus, take them closer to Christ. 
Or do we consider ourselves to be the paralytic....in need of forgiveness?  Only Jesus can forgive our sins.  We cannot go straight to God in order to be forgiven for our wrongdoings.  This passage shows us that we must seek that forgiveness through Christ and Christ alone.  The Church is blessed with the sacrament of Reconciliation where, through the priest, we can ask Jesus to forgive us our sins.  
Confessing our sins may seem daunting, especially if you haven't been to confession for many years.  In truth, however, this sacrament is all about being washed with the limitless, unconditional, true love of Christ.  It is immersing oneself in the open arms of Christ and becoming lost in his love for you.  Not his love for anyone else.  His love for you.  No sin is unworthy of Christ's forgiveness.  Every sin, no matter how big or how small it may seem, is capable of forgiveness.
Jesus, with his arms outstretched on the Cross, is ready to forgive you.  He is ready to take you into his arms and love you like you have never been loved before.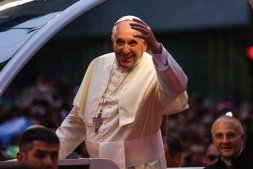 Pope Francis on the youth of our world:
'The rise and growth of associations and movements mostly made up of young people can be seen as the work of the Holy Spirit, who blazes new trails to meet their expectations and their search for a deep spirituality and a more real sense of belonging.
How beautiful it is to see that young people are "street preachers" (callejeros de la fe), joyfully bringing Jesus to every street, every town square and every corner of the earth!'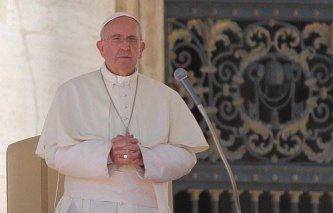 'We Christians should embrace with affection and respect Muslim immigrants to our countries in the same way that we hope and ask to be received and respected in countries of Islamic tradition.'
Pope Francis
Our relationship with the followers of Islam has taken on great importance, since they are now significantly present in many traditionally Christian countries, where they can freely worship and become fully a part of society. We must never forget that they "profess to hold the faith of Abraham, and together with us they adore the one, merciful God, who will judge humanity on the last day".198 The sacred writings of Islam have retained some Christian teachings; Jesus and Mary receive profound veneration and it is admirable to see how Muslims both young and old, men and women, make time for daily prayer and faithfully take part in religious services. Many of them also have a deep conviction that their life, in its entirety, is from God and for God. They also acknowledge the need to respond to God with an ethical commitment and with mercy towards those most in need.
We Christians should embrace with affection and respect Muslim immigrants to our countries in the same way that we hope and ask to be received and respected in countries of Islamic tradition. I ask and I humbly entreat those countries to grant Christians freedom to worship and to practice their faith, in light of the freedom which followers of Islam enjoy in Western countries! Faced with disconcerting episodes of violent fundamentalism, our respect for true followers of Islam should lead us to avoid hateful generalisations, for authentic Islam and the proper reading of the Koran are opposed to every form of violence.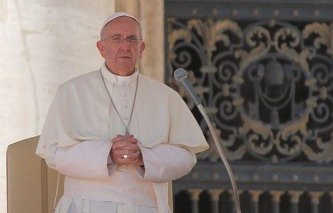 'As Christians, we cannot consider Judaism as a foreign religion; nor do we include the Jews among those called to turn from idols and to serve the true God (cf. 1 Thes 1:9). With them, we believe in the one God who acts in history, and with them we accept his revealed word.
Dialogue and friendship with the children of Israel are part of the life of Jesus' disciples. The friendship which has grown between us makes us bitterly and sincerely regret the terrible persecutions which they have endured, and continue to endure, especially those that have involved Christians.'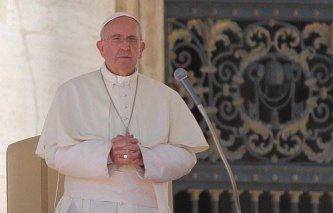 Pope Francis on Christian Unity:
'We must never forget that we [Christians] are pilgrims journeying alongside one another. This means that we must have sincere trust in our fellow pilgrims, putting aside all suspicion or mistrust, and turn our gaze to what we are all seeking: the radiant peace of God's face.
How many important things unite us! If we really believe in the abundantly free working of the Holy Spirit, we can learn so much from one another! It is not just about being better informed about others, but rather about reaping what the Spirit has sown in them, which is also meant to be a gift for us.'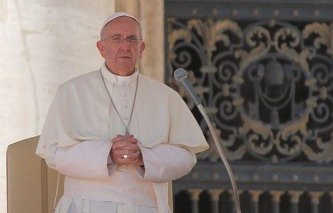 'Christ "is our peace"'
Pope Francis
Here is what Pope Francis says in Evangelii Gaudium:
'Peace in society cannot be understood as pacification or the mere absence of violence resulting from the domination of one part of society over others. Nor does true peace act as a pretext for justifying a social structure which silences or appeases the poor, so that the more affluent can placidly support their lifestyle while others have to make do as they can. Demands involving the distribution of wealth, concern for the poor and human rights cannot be suppressed under the guise of creating a consensus on paper or a transient peace for a contented minority. The dignity of the human person and the common good rank higher than the comfort of those who refuse to renounce their privileges. When these values are threatened, a prophetic voice must be raised.
Nor is peace "simply the absence of warfare, based on a precarious balance of power; it is fashioned by efforts directed day after day towards the establishment of the ordered universe willed by God, with a more perfect justice among men" (Pope Paul VI). In the end, a peace which is not the result of integral development will be doomed; it will always spawn new conflicts and various forms of violence.
Christ "is our peace" (Eph 2:14).
The message of peace is not about a negotiated settlement but rather the conviction that the unity brought by the Spirit can harmonize every diversity. It overcomes every conflict by creating a new and promising synthesis. Diversity is a beautiful thing when it can constantly enter into a process of reconciliation and seal a sort of cultural covenant resulting in a "reconciled diversity".
The Gospel has an intrinsic principle of totality: it will always remain good news until it has been proclaimed to all people, until it has healed and strengthened every aspect of humanity, until it has brought all men and women together at table in God's kingdom.
For the Church today, three areas of dialogue stand out where she needs to be present in order to promote full human development and to pursue the common good: dialogue with states, dialogue with society – including dialogue with cultures and the sciences – and dialogue with other believers who are not part of the Catholic Church. In each case, "the Church speaks from the light which faith offers" (Pope Benedict XVI), contributing her two thousand year experience and keeping ever in mind the life and sufferings of human beings.'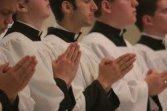 Many places are experiencing a dearth of vocations to the priesthood and consecrated life. This is often due to a lack of contagious apostolic fervour in communities which results in a cooling of enthusiasm and attractiveness. Wherever there is life, fervour and a desire to bring Christ to others, genuine vocations will arise. Even in parishes where priests are not particularly committed or joyful, the fraternal life and fervour of the community can awaken in the young a desire to consecrate themselves completely to God and to the preaching of the Gospel. This is particularly true if such a living community prays insistently for vocations and courageously proposes to its young people the path of special consecration.
On the other hand, despite the scarcity of vocations, today we are increasingly aware of the need for a better process of selecting candidates to the priesthood. Seminaries cannot accept candidates on the basis of any motivation whatsoever, especially if those motivations have to do with affective insecurity or the pursuit of power, human glory or economic well-being.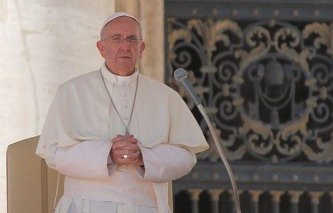 'Jesus left us his mother to be our mother. Only after doing so did Jesus know that "all was now finished" (Jn 19:28).
At the foot of the cross, at the supreme hour of the new creation, Christ led us to Mary.'
Pope Francis
Here is what Pope Francis says about Mary:
'With the Holy Spirit, Mary is always present in the midst of the people. She joined the disciples in praying for the coming of the Holy Spirit (Acts 1:14) and thus made possible the missionary outburst which took place at Pentecost. She is the Mother of the Church which evangelizes, and without her we could never truly understand the spirit of the new evangelization.
Jesus left us his mother to be our mother. Only after doing so did Jesus know that "all was now finished" (Jn 19:28).
At the foot of the cross, at the supreme hour of the new creation, Christ led us to Mary.
"…Christ dwelt for nine months in the tabernacle of Mary's womb. He dwells until the end of the ages in the tabernacle of the Church's faith. He will dwell forever in the knowledge and love of each faithful soul". Blessed Isaac of Stella
As she did with Juan Diego, Mary offers them maternal comfort and love, and whispers in their ear: "Let your heart not be troubled… Am I not here, who am your Mother?"
We implore her maternal intercession that the Church may become a home for many peoples, a mother for all peoples, and that the way may be opened to the birth of a new world.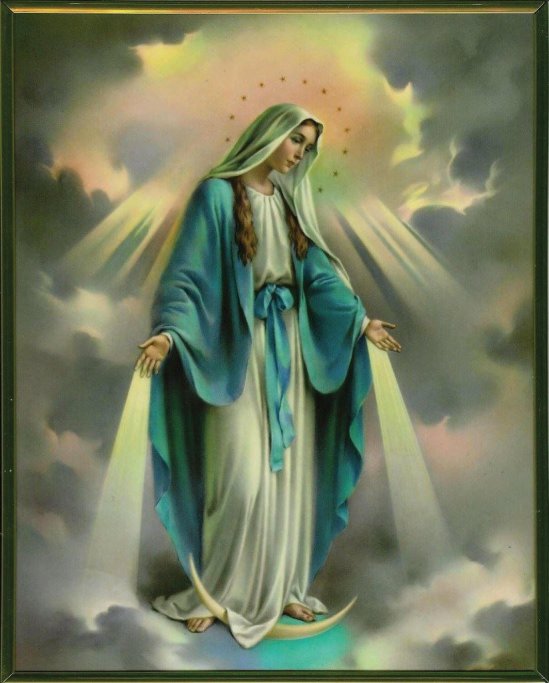 With Mary we advance confidently towards the fulfilment of this promise, and to her we pray:
Mary, Virgin and Mother,
you who, moved by the Holy Spirit,
welcomed the word of life
in the depths of your humble faith:
as you gave yourself completely to the Eternal One,
help us to say our own "yes"
to the urgent call, as pressing as ever,
to proclaim the good news of Jesus.
Filled with Christ's presence,
you brought joy to John the Baptist,
making him exult in the womb of his mother.
Brimming over with joy,
you sang of the great things done by God.
Standing at the foot of the cross
with unyielding faith,
you received the joyful comfort of the resurrection,
and joined the disciples in awaiting the Spirit
so that the evangelizing Church might be born.
Obtain for us now a new ardour born of the resurrection,
that we may bring to all the Gospel of life
which triumphs over death.
Give us a holy courage to seek new paths,
that the gift of unfading beauty
may reach every man and woman.
Virgin of listening and contemplation,
Mother of love, Bride of the eternal wedding feast,
pray for the Church, whose pure icon you are,
that she may never be closed in on herself
or lose her passion for establishing God's kingdom.
Star of the new evangelization,
help us to bear radiant witness to communion,
service, ardent and generous faith,
justice and love of the poor,
that the joy of the Gospel
may reach to the ends of the earth,
illuminating even the fringes of our world.
Mother of the living Gospel,
wellspring of happiness for God's little ones,
pray for us.
Amen. Alleluia!'
/