Shopping Cart
Your Cart is Empty
There was an error with PayPal
Click here to try again
Thank you for your business!
You should be receiving an order confirmation from Paypal shortly.
Exit Shopping Cart
Calling Scotland's 841,000 Catholics to unite as one voice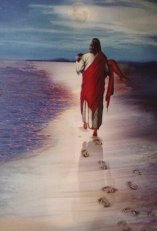 Following Jesus will satisfy the longings of our heart
First Reading (Daniel 7:9-10,13-14):
'As I watched:
Thrones were set in place
and one of great age took his seat.
His robe was white as snow,
the hair of his head as pure as wool.
His throne was a blaze of flames,
its wheels were a burning fire.
A stream of fire poured out,
issuing from his presence.
A thousand thousand waited on him,
ten thousand times ten thousand stood before him.
A court was held
and the books were opened.
And I saw, coming on the clouds of heaven,
one like a son of man.
He came to the one of great age
and was led into his presence.
On him was conferred sovereignty,
glory and kingship,
and men of all peoples, nations and languages became his servants.
His sovereignty is an eternal sovereignty
which shall never pass away,
nor will his empire ever be destroyed.'
There have been many interpretations of this passage through the years and two of the most common are that the passage relates to either Christ's Ascension to Heaven or to his Second Coming. The Church, through the Catechism, believes that the latter part of the passage is referring to Christ's Ascension.
But whatever way this passage is interpreted there can be absolutely no doubt about the incredible power and majesty of that which it reveals. It simply never fails to knock me sideways! It is a glimpse of the reality of Heaven and it is a further glimpse of the reality of God beyond that which we have already learned in the person of Jesus Christ. I suppose the big question for us is: are we ready to be a part of it all?
I always think that this passage clears some of the mist which comes from cynical views of the Church, especially when it comes to the Sacrament of Reconciliation and the reality of Purgatory. Many people don't see a need for the forgiveness of sins, yet when we read this passage we can see that it makes complete sense to be completely clean and free of all sin before we are graced with the presence of God. The enormity of being in the presence of God is something we will only appreciate if we are granted the grace to experience it. But, at the end of the day, we have an inherent need to experience it because it is that moment, and that moment alone, which will satisfy all the desires and longings of our heart.
We roam around the world endlessly seeking that which will completely satisfy our hearts; be it in relationships, through material goods, or perhaps in traveling to other parts of the globe. But we are never truly satisfied. Our hearts always seem to be longing for something else, no matter what we may achieve or accomplish in life. And the truth is, we will never be completely satisfied, not until we are face to face with God. For God, who created each one of us, has etched in our hearts a desire to return to Him.
Our challenge, should we accept it, is to acknowledge God's desire for us to return to Him and to follow that path laid down by Jesus Christ. For it is the way of Christ that will lead us home.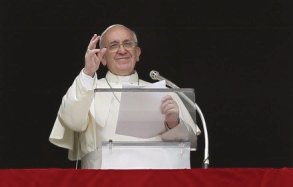 Pope Francis, at his Sunday Angelus in St Peter's Square, spoke of the dead and how they lie in cemeteries awaiting the final awakening; an awakening undertaken by Christ himself.
He urged the thousands gathered to pray for all the dead, "even those who no one remembers. We remember the victims of war and violence; the many "little ones" of the world crushed by hunger and poverty. We remember the anonymous who rest in common graves. We remember our brothers and sisters killed because they are Christians; and those who sacrificed their lives to serve others. We especially entrust to the Lord, those who have left over the last year."
The Pope then said this beautiful prayer:
God of infinite mercy,
we entrust to Your immense goodness all those who have left this world for eternity, where you await all humanity, redeemed by the precious blood of Christ Your Son, who died to save us from our sins. 
Look not Lord, at our poverty, misery and human weaknesses when we present ourselves before You to be judged in happiness or condemned.
Gaze upon us with pity, born of Your tender heart and help us to walk the path of purification.
May none of your children be lost to the eternal fires of hell, where repentance is no more. 
We entrust to You Lord, the souls of our beloved departed, of those who died without the comfort of the Sacraments or who did not have the opportunity to repent, not even at the end of their life.
May no one fear the encounter with You at the end of their earthly pilgrimage, in the hope of being welcomed within the embrace of your infinite mercy.  May sister death find us in prayerful vigilance, and full of all the good we have done during our existence, be it long or short.
Lord, may nothing distance us from you on this earth, may everything and everyone support us in our ardent hope to serenely and eternally rest in You.
Amen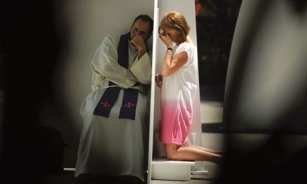 We find God's forgiveness in the Sacrament of Reconciliation
Today's Reading (Ezekiel 18:21-28):
'Thus says the Lord:
  'If the wicked man renounces all the sins he has committed, respects my laws and is law-abiding and honest, he will certainly live; he will not die. All the sins he committed will be forgotten from then on; he shall live because of the integrity he has practised. What! Am I likely to take pleasure in the death of a wicked man – it is the Lord who speaks – and not prefer to see him renounce his wickedness and live?
  'But if the upright man renounces his integrity, commits sin, copies the wicked man and practises every kind of filth, is he to live? All the integrity he has practised shall be forgotten from then on; but this is because he himself has broken faith and committed sin, and for this he shall die. But you object, "What the Lord does is unjust." Listen, you House of Israel: is what I do unjust? Is it not what you do that is unjust? When the upright man renounces his integrity to commit sin and dies because of this, he dies because of the evil that he himself has committed. When the sinner renounces sin to become law-abiding and honest, he deserves to live. He has chosen to renounce all his previous sins; he shall certainly live; he shall not die.''
I find this reading fascinating.  God certainly comes across as someone who is rather strict, as He is quite clear that people will die if they sin and fail to repent.
Yet, He doesn't do this lightly.  He explains that He takes no pleasure in seeing anyone die; that He would much rather they renounce their wrongdoings and live.  He even justifies His actions.  He recognises that people will think He is being unfair but He throws this back at the people who do wrong and asks them, 'is it not what you do that is unjust?'
And that is a question we must ask ourselves.  Why do we decry God when He decides to play the part of the strict Father?  Is it not for our own good that He wants us to avoid sin and repent any sins we do commit?  Of course it is for our own good!  If we follow His clear instructions we will live for eternity!  If we don't and we fail to repent then we run the risk of dying.  And what is dying?  It is complete separation from God.  Can you imagine complete separation from love itself?  Can you imagine not being loved?  Can you imagine living in a place where love just does not exist?
We all need love and we spend our whole lives constantly searching for more love.  It is God who can satisfy that longing and He wants us to be with Him forever.  But we must work very hard to avoid sin and we must ensure we repent of any sins we do commit through the Sacrament of Reconciliation.  We must also keep God's Commandments and, in particular, heed the call to love God above all else and love our neighbour as we love ourselves.  That way we choose God.  That way we choose life.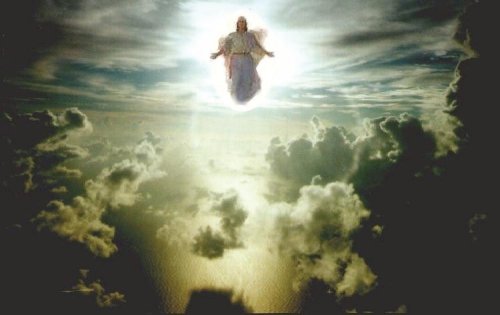 Taken from the Catechism of the Catholic Church
What happens when we die?
1021 Death puts an end to human life as the time open to either accepting or rejecting the divine grace manifested in Christ. The New Testament speaks of judgment primarily in its aspect of the final encounter with Christ in his second coming, but also repeatedly affirms that each will be rewarded immediately after death in accordance with his works and faith. The parable of the poor man Lazarus and the words of Christ on the cross to the good thief, as well as other New Testament texts speak of a final destiny of the soul -a destiny which can be different for some and for others.
1022 Each man receives his eternal retribution in his immortal soul at the very moment of his death, in a particular judgment that refers his life to Christ: either entrance into the blessedness of heaven-through a purification, or immediately, or immediate and everlasting damnation.
At the evening of life, we shall be judged on our love.
The Second Coming
1038 The resurrection of all the dead, "of both the just and the unjust," will precede the Last Judgment. This will be "the hour when all who are in the tombs will hear [the Son of man's] voice and come forth, those who have done good, to the resurrection of life, and those who have done evil, to the resurrection of judgment." Then Christ will come "in his glory, and all the angels with him .... Before him will be gathered all the nations, and he will separate them one from another as a shepherd separates the sheep from the goats, and he will place the sheep at his right hand, but the goats at the left.... and they will go away into eternal punishment, but the righteous into eternal life."
/