Shopping Cart
Your Cart is Empty
There was an error with PayPal
Click here to try again
Thank you for your business!
You should be receiving an order confirmation from Paypal shortly.
Exit Shopping Cart
Calling Scotland's 841,000 Catholics to unite as one voice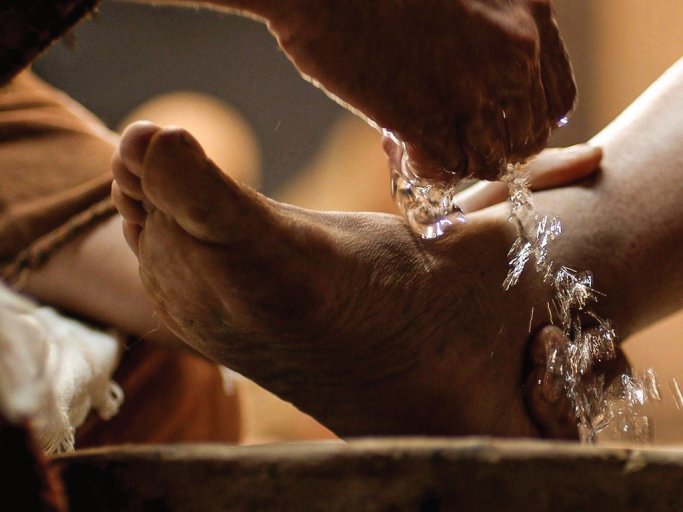 In today's Gospel we hear about the washing of the apostles' feet by Jesus.  Peter was very resistant to this as it seemed completely absurd to have Jesus do such a thing.  This was, after all, God made man, the Saviour of the world!  It should surely be the other way round would have been Peter's thinking.
Yet Jesus makes it clear that this is something he must do.  Firstly, he makes it clear that "unless I wash you, you will have no inheritance with me."  This is a clear link to our Baptism and its fundamental importance in our salvation.  It is also a link to the Sacrament of Reconciliation, where we are once again clothed in the white robe of our Baptism and brought to new life.  Our inheritance, it seems, is dependent on living in accordance with Christ's teaching, and this is achieved through our acceptance of and living in the Sacraments of his Church.
Christ's washing of the apostles' feet is also a sign that he is here to serve rather than be served.  It is also considered by many to be an important sign of the priesthood and its role in taking the love of God to all people.  And this is what I would like to focus on for a moment.  Despite being in the knowledge of the intolerable pain and suffering he was about to endure, Christ took time out to perform this simple but critical act of love.  And that is what we need to take from this special moment between Jesus and his apostles.  It was an act of selfless love; a visible sign of how man should treat man.  Jesus wanted to show this love to his apostles so that they would then do the same to others.
This Holy Week, are you prepared to wash the feet of those closest to you?  While we may participate in the washing of the feet during the Mass of the Lord's Supper we must also remember that our homes and families are small churches too.  So after tonight's Mass when you get home, consider washing the feet of your family and perhaps take turns doing so.  And while this is something that can be initiated by any member of the family, perhaps those of you who are fathers can take the lead.  Men are called to follow in the footsteps of Jesus and tend to their own flock in the same way that Jesus did.  And what better way to do this than to replicate Christ's actions and wash the feet of those closest to you?  While simple, this act of love carries with it an incredible power, the power of Christ who makes all things new.  And for those of you with children in your household, it will create a real sense of intrigue among them and they will no doubt want to learn more.  It's a great opportunity to explain to them, in simple terms and by action, just how much Jesus loves them and how much you love them too.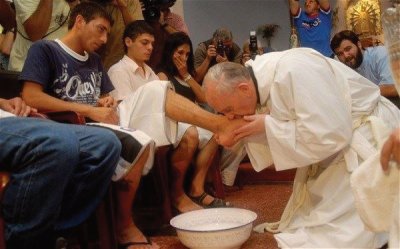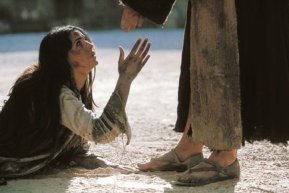 Jesus was compassionate but firm in the Truth
Pope Francis, during his Sunday Angelus, has spoken about the importance of Baptism and the role it plays in our lives.  Having earlier baptised 26 baby girls and boys at morning Mass, the pope was keen to impress upon the gathered faithful the critical nature of this sacrament.
The pope said that in Baptism the Holy Spirit "burns and destroys original sin, returning to baptism the beauty of divine grace."
The pope then stressed the importance of following Jesus and being obedient to the Truth whilst remaining true to Christ's qualities of tenderness and humility.  And here, I think, is the critical issue for us Christians today.  While we must speak the Truth we must do it in a spirit of tenderness and humility.  But similarly, while we must be tender and humble in our approach, we can never stray from the Truth.  It's not a balancing act because that would suggest compromising one or both aspects.  Instead we are called to deliver the Truth in its fullness and to do this in a fully humble and completely tender way.
In my experience people tend to be more inclined to do one more than the other.  For example, some people may reject certain elements of Christ's teaching with the aim of showing more compassion and tenderness to people.  This is because some elements of teaching are difficult to accept, especially set against the backdrop of an increasingly liberal and relativist society.  Others may be more determined to stick rigidly to the Truth but seem to lack that tenderness and humility, especially when they see a threat to Christ's teaching.
Ultimately we need to be firm in both elements.  We need to be firm in our faith, in the same way that Christ was and in the way that God calls us to be.  Jesus' disciples died unimaginable deaths because they were firm in their faith and didn't go along with the popular views of society.  They stuck to their beliefs even though everybody mocked them and thought they were talking nonsense.  They refused to reject the truth of Christ and the Church he established, preferring to invest their lives in being the men Jesus called them to be with the sure and certain hope of an eternal reward.  Similarly, we need to be firm in our tenderness and humility.  Jesus had an uncanny knack of being firm but also loving, gentle and kind.  When he prevented the prostitute from being stoned by the scribes and the Pharisees he was careful to tell her to "go and sin no more".  But he did this while telling her that he didn't condemn her.  He wanted her to stop sinning, to stick to the Truth.  But he also wanted her to know that she was loved and that mercy would be shown to her.
It's important for us to remain true to both aspects when it comes to our faith.  We must be true to Christ and his teaching and we must be tender and humble in remaining faithful to that teaching.  The Truth is what it is and it doesn't change.  It can be found in your copy of the
Catechism of the Catholic Church
.  And the tenderness and humility we need in order to take that Truth to others can be found in the loving person of Jesus Christ.
So, is it possible to be both faithful to the Truth and be tender and humble?  Yes.  Just look to the example of Jesus and in him you will find the perfection of fulfilling both aspects.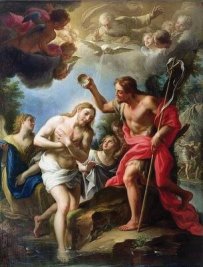 Sunday's Gospel (Mark 1:7-11):
'In the course of his preaching John the Baptist said, 'Someone is following me, someone who is more powerful than I am, and I am not fit to kneel down and undo the strap of his sandals. I have baptised you with water, but he will baptise you with the Holy Spirit.'
It was at this time that Jesus came from Nazareth in Galilee and was baptised in the Jordan by John. No sooner had he come up out of the water than he saw the heavens torn apart and the Spirit, like a dove, descending on him. And a voice came from heaven, 'You are my Son, the Beloved; my favour rests on you.''
Isn't baptism awesome?  Here we have Jesus himself being baptised in the Jordan with the Spirit descending on him and the voice of the Father saying: 'You are my Son, the Beloved; my favour rests on you.'
What a moment for John!  He knew that one greater than he was coming and this great voice from above confirms that Jesus is that great one.  John actually hears the voice of God speaking.  It's an incredible moment. 
Yet this moment is played out across the world each time someone is baptised.  Think of your own baptism and imagine the voice of the Father at that very moment proclaiming: 'This is my son/daughter, my favour rests on you.'
You are truly blessed by God through your baptism!  You have received immesurable graces through your baptism and God is delighted to proclaim this!  Many of these graces may not be known until you are one with the Father in Heaven but you have received them and He wants you to be pleased as He is pleased with you.
Remember, God loves you.  He delights in your being, in your very existence!  Perhaps now is a good time for us to thank Him for giving us life and for pouring out His graces upon us.  Perhaps it is a good time for us to just say a simple 'thank you' to our Father in Heaven and to let Him know that we acknowledge His love for us. 
He gives us His favour, the least we can do is say 'thank you'.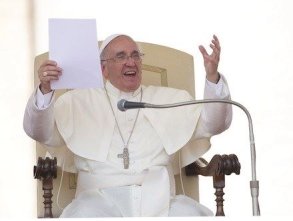 Dear Brothers and Sisters, Good Morning!
Here is Pope Francis' message from Wednesday's general audience in Rome:
Last Wednesday we started a brief cycle of catecheses on the Sacraments, beginning with Baptism. And on Baptism I would like to pause again today, in order to stress the important fruit of this Sacrament: it makes us members of the Body of Christ and of the People of God. St Thomas Aquinas states that whoever receives Baptism is incorporated in Christ, almost like one of his limbs, and becomes aggregated to the community of the faithful (cf. Summa Theologiae, III, q. 69, art. 5; q. 70, art. 1), that is, the People of God. In the school of the Second Vatican Council, we say today that Baptism allows us to enter the People of God, to become members of a People on a journey, a people on pilgrimage through history.
In effect, as from generation to generation life is transmitted, so too from generation to generation, through rebirth at the baptismal font, grace is transmitted, and by this grace the Christian People journeys through time, like a river irrigating the land and spreading God's blessing throughout the world. From the moment that Jesus said what we heard in the Gospel Reading, the disciples went out to baptize; and from that time until today there is a chain in the transmission of the faith through Baptism. And each one of us is a link in that chain: a step forward, always; like a river that irrigates. This is what the grace of God is like and our faith, which we must transmit to our sons and daughters, transmit to children, so that once adults, they can do the same for their children. This is what Baptism is. Why? Because Baptism allows us to enter this People of God that transmits the faith. This is very important. A People of God that journeys and hands down the faith.
In virtue of Baptism we become missionary disciples, called to bring the Gospel to the world (cf. Apostolic Exhortation Evangelii Gaudium, n. 120). "All the baptized, whatever their position in the Church or their level of instruction in the faith, are agents of evangelization.... The new evangelization calls for personal involvement" (ibid.) by everyone, the whole of the People of God, a new kind of personal involvement on the part of each of the baptized. The People of God is a disciple People – because they receive the faith - and a missionary People – because they transmit the faith. And this is what Baptism works in us: it gives us Grace and hands on the faith to us. All of us in the Church are disciples, and this we are forever, our whole lifelong; and we are all missionaries, each one of us in the place the Lord has assigned to us. Everyone: the littlest one is also a missionary; and the one who seems to be the greatest is a disciple. But one of you might say: "Bishops are not disciples, Bishops know everything; the Pope knows everything, he is not a disciple". No, the Bishops and the Pope must be disciples, because if they are not disciples, they do no good. They cannot be missionaries, they cannot transmit the faith. We must all be disciples and missionaries.
There exists an indissoluble bond between the mystical and the missionary dimension of the Christian vocation, both rooted in Baptism. "Upon receiving faith and Baptism, we Christians accept the action of the Holy Spirit who leads to confessing Jesus as Son of God and calling God 'Abba', Father,.... All of us who are baptized ... are called to live and transmit communion with the Trinity, for evangelization is a calling to participate in the communion of the Trinity" (Final Document of Aparecida, n. 157).
No one is saved by himself. We are the community of believers, we are the People of God and in this community we share the beauty of the experience of a love that precedes us all, but that at the same time calls us to be "channels" of grace for one another, despite our limitations and our sins. The communitarian dimension is not just a "frame", an "outline", but an integral part of Christian life, of witness and of evangelization. The Christian faith is born and lives in the Church, and in Baptism families and parishes celebrate the incorporation of a new member in Christ and in his Body which is the Church (cf. ibid., n.175b).
On the subject of the importance of Baptism for the People of God, the history of the Christian community in Japan is exemplary. It suffered severe persecution at the start of the 17 century. There were many martyrs, members of the clergy were expelled and thousands of faithful killed. No priest was left in Japan, they were all expelled. Then the community retreated into hiding, keeping the faith and prayer in seclusion. And when a child was born, the father or mother baptized him or her, because the faithful can baptize in certain circumstances. When, after roughly two and a half centuries, 250 years later, missionaries returned to Japan, thousands of Christians stepped out into the open and the Church was able to flourish again. They survived by the grace of Baptism! This is profound: the People of God transmits the faith, baptizes her children and goes forward. And they maintained, even in secret, a strong communal spirit, because their Baptism had made of them one single body in Christ: they were isolated and hidden, but they were always members of the People of God, members of the Church. Let us learn a great deal from this story!
It's not the first time the Pope has made this plea. Do you even know the date of your Baptism? If not try to find out and make sure you celebrate it and encourage your family members to do the same!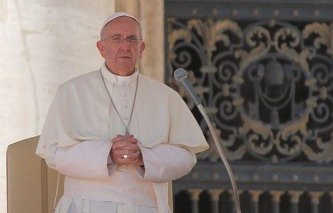 Pope Francis, at today's General Audience, spoke of the importance of Baptism, stating that "through the Sacrament, we are immersed spiritually in the death of Jesus Christ and we rise with him as a new creation."
Our Baptism is the day we are born in Christ to a new life.  Do you know the date of your Baptism?  Do you celebrate it in the same way you celebrate your birthday?  If not it is certainly something worth thinking about.
 Here are Pope Francis' words in English:
"Dear Brothers and Sisters: Today I would like to continue our catechesis on the Creed by turning to the Sacrament of Baptism. Each Sunday when making our Profession of Faith, we pray: I confess one Baptism for the forgiveness of sins. Let us look at each of these words. I confess – This solemn declaration highlights the importance of Baptism and affirms our identity as children of God. In the Sacrament, our faith is also linked to the remission of sins. When we confess our sins, we renew and strengthen our Baptismal identity. Baptism, then, is the point of departure for a lifelong journey of conversion sustained by the Sacrament of Penance. One Baptism – The word Baptism literally means immersion. Through the Sacrament, we are immersed spiritually in the death of Jesus Christ and we rise with him as a new creation. Regenerated by water and the Holy Spirit, we are illuminated by grace which dispels the darkness of sin. For the forgiveness of sins – Baptism forgives original sin and personal sin. The door to a new life is opened and the mercy of God enters our lives. But human weakness remains. The Church teaches us to confess our sins with humility, because only in forgiveness, received and given, do our restless hearts find peace and joy."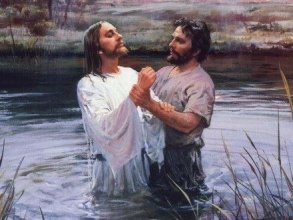 'Truly, truly, I say to you, unless one is born of water and the Spirit, he cannot enter the kingdom of God.' (John 3:5)

 

 

This passage is not part of today's Mass reading or Gospel but it is one which is of significant importance.  In fact, in terms of salvation, it could not be more important!  Jesus himself tells us that we must be born of water and of the Spirit if we are to enter Heaven. 

What is this 'born of water and the Spirit' that Jesus speaks of?  We simply need to turn to the time Jesus and John the Baptist gathered together in the River Jordan.  Jesus is baptised with water and the Spirit descends upon him. 

 

Baptism is essential for the kingdom of God; even Jesus says so. 

 

0

/