Shopping Cart
Your Cart is Empty
There was an error with PayPal
Click here to try again
Thank you for your business!
You should be receiving an order confirmation from Paypal shortly.
Exit Shopping Cart
Calling Scotland's 841,000 Catholics to unite as one voice
This is the Passion, death and Resurrection of Christ as you've never seen it before.  While depicting this earth shattering event using Lego may, on the face of it, seem inappropriate, this is certainly not the case.
Indeed this is a very useful way to show children the story of the Passion.  You may even want to watch it with your children now.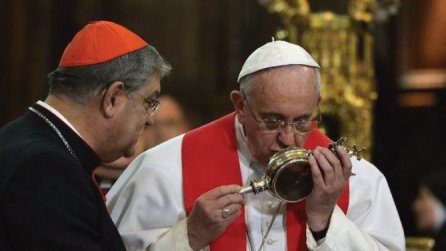 Pope Francis reacts to the miracle
Isn't it intriguing that the world pays little attention to supernatural miracles?  For example, if you were to put a no-hoper with the voice of a sick frog on the 'The Voice' and they ended up winning the coveted reality TV show's top prize, the world would proudly announce it to be a "miracle".  However, witnessing the sudden liquefying of the blood of a near 2,000 year old man or the sudden transformation of a communion wafer to real flesh is something that is given little attention.
Perhaps the most disappointing thing is that it is not only mainstream media and sceptics outside Catholicism who are guilty of ignoring such miracles.  Indeed the number of Catholic people who pay little heed to these miracles is quite voluminous.  It sadly means that God's visible intervention in our daily lives here on earth simply goes unnoticed.  Didn't that happen before, around 2,000 years ago?  You know, with the one they called Christ? 
Indeed, aren't those sceptics among us, especially the ones of a Catholic persuasion, simply following in the footsteps of the Sanhedrin in Jesus' time; rejecting any notion of God coming to earth and influencing our world.  They might ask: Why should I believe it?  God coming to earth to reveal Himself?  God making the scientifically impossible happen?  Are you mad?  But then, who would have thought a woman could conceive a child without sexual relations?  Who would have thought water could be turned to wine in an instant?  Who would have thought bread could be turned to flesh, and wine to blood?  Who would have thought a man could rise from the dead? 
God has been performing miracles for thousands of years, and He continues to perform them to this very day. In fact, you are a miracle!  You are a gift from God to this world. Without His intervention you wouldn't be here.  And without His intervention you wouldn't have the chance to take your place in Heaven for all eternity.  The Eucharist is another daily miracle given to us by God.  Indeed it is Jesus Christ truly present in all the tabernacles of the world; body, blood, soul and divinity! 
The reported miracle of St Januarius in Naples at the weekend is just one in a long list of God coming to earth to reveal His true power.  The fact that Pope Francis was present for the miracle has perhaps nudged it slightly more into the spotlight than would normally be the case (after all, this miracle of St Januarius has been taking place for years!).  But it gives us an opportunity to stop and consider how we feel about such miraculous events.  Why aren't we shouting from the rooftops and telling people about these great happenings? Why don't we tell the world that God has revealed Himself yet again and encourage them to believe?  Are we perhaps sceptical?  Does it just seem a bit too far-fetched?  If so, why?  Do we outright reject the supernatural?  Will we simply not be satisfied until we hear of authentic scientific evidence confirming that no scientific explanation can be given for the 'miracle'?
There are a lot of questions for us to consider when it comes to miracles such as this.  But consider this….what if the children of Fatima had simply rejected their vision of Our Lady as nonsense?  What if St Bernadette did the same at Lourdes?  And St Juan Diego in Guadalupe?  And what about the disciples when Jesus rose from the dead?  What if they simply considered it all to be scientifically impossible and thus false? 
Our role as Catholic people is to spread the Good News throughout the world.  This means taking the Gospel out into our daily lives and living out our faith in love for God and neighbour.  But it also means being full of joy, and what better excuse to be full of joy than to know that God still interacts with His people by performing miracles before our very eyes?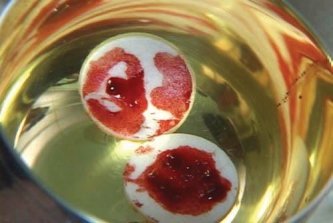 The Eucharistic miracle of Buenos Aires
Don't let the doubts creep into your mind.  Those doubts come from a sinister source; a source that does not want you to believe in God and His work.  Instead, be open to God's great power and just enjoy knowing that His presence is near!  Bask in the wonder of God's glory and His unbroken covenant with His people, with you!  He wants you to know that He is there for you!  Not one person is forgotten by God.  We are all His children and He wants us to experience His presence, His love.  It is for this reason that miracles happen.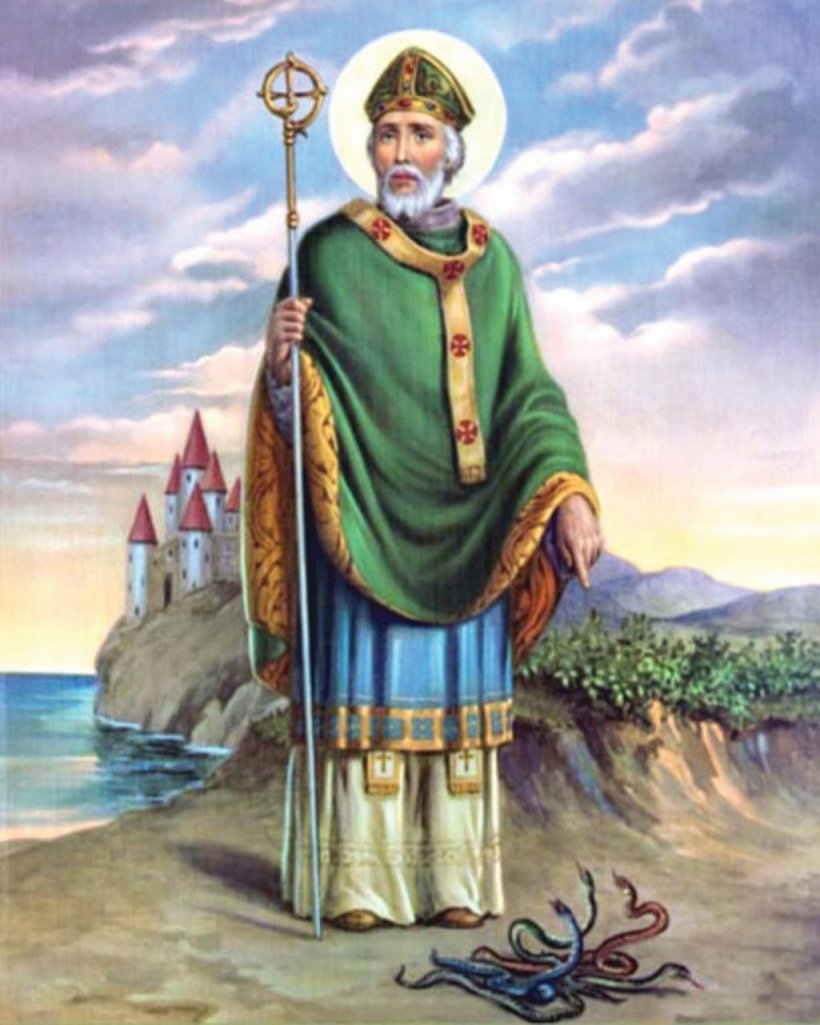 St Patrick, perhaps one of the most celebrated Saints in the world, was born in 387 in the little town of Kilpatrick near Dumbarton in Scotland.  He died in 461, aged 74, in Saul, Downpatrick, Ireland.
At the tender age of fourteen Patrick was taken from his family in Scotland to be a slave in Ireland, the country he would ultimately become patron saint of.  And it was during this time of captivity that he turned to God, praying fervently day and night and seeking the comfort of his heavenly Father.
At age twenty, Patrick had a dream in which he was told to go to the coast to escape his captors. He would heed this call, and by the grace of God some sailors picked him up and took him home to Scotland so that he could be reunited with his family.
However, he had another dream not long after, where he experienced the people of Ireland calling him back to them.  Not one to shy away from God's call, young Patrick once again set off, and it wasn't long before he set out on the road to the priesthood, eventually being ordained by the Bishop of Auxerre in France.  He returned to Ireland as a Bishop in 433 and settled in Slane, County Meath.  Patrick then preached the Gospel throughout Ireland for forty years, converting many to the Christian faith.  He worked many miracles throughout his life and he always put his love of God first in everything he did.  He was completely devoted to God and put all of his trust in Him. 
So what would St Patrick do today?  What would his reaction be to all of the excitement generated by his Feast day?  While he would undoubtedly enjoy some of the celebrations which take place in his honour, he would never have lost sight of the real meaning of the day.  St Patrick would have put God first before anything else.  So while he might enjoy a little celebratory dance with friends, he wouldn't do this until after he had spent some time praying to God.  He might even enjoy a little tipple, but again, he would only do it after spending sometime with God. 
If St Patrick walked among us today as we celebrate his Feast he would, without a shadow of a doubt, want us to celebrate his day; but he would want us to praise God for it. And what better way to give praise to God than to enjoy the gift of His Son Jesus Christ in the Eucharist at Holy Mass?  This is the kind of celebration St Patrick would want.
And while St Patrick is clearly a remarkable man, the truth is….he shouldn't be.  Why?  Because we are all called to be like St Patrick.  We are all called to be holy, to love God, to put God first at all times, and to take the Gospel message to the four corners of the earth.  To be holy should be the rule not the exception. Yet St Patrick is remarkable because he is very much the exception in today's world.  But we can change this.  We can be just like him if we are prepared to put God first at all times and trust completely in His love for us.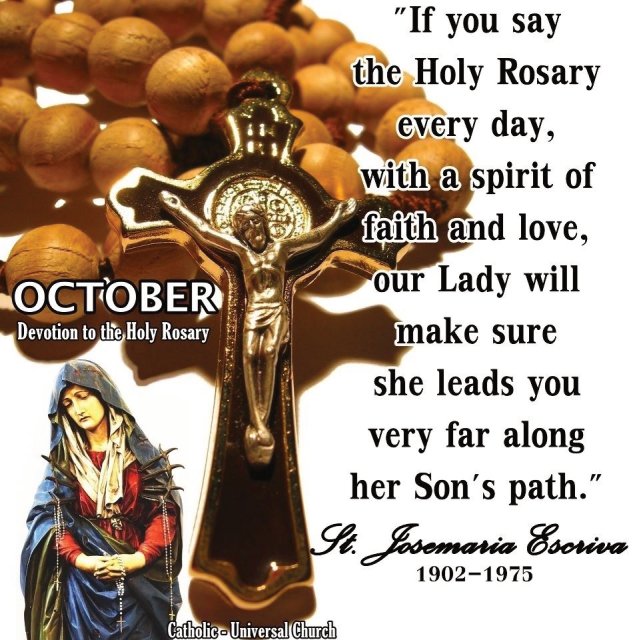 While we should always strive to say the Rosary as often as we can (daily if possible) it is not always so easy to do.  Thankfully the Church gives us the month of October to get our act together!
The month of October is the month of the Holy Rosary and must be seen as an opportunity to develop our knowledge of this most precious devotion and to develop our relationship with Jesus, our Saviour, and Mary, our mother.  Personally, I cannot overstate the graces received as a result of saying the Rosary.  It genuinely works miracles.
If you don't know what the Rosary is or are unsure how to say it, then look no further than our own brief introduction to walk you through the devotion.  You can find it by
clicking this link
.
Please consider picking up your Rosary beads today and enjoy taking the hand of your mother and journey with her as you contemplate the mysteries of her Son's life.  The graces will soon begin to flow....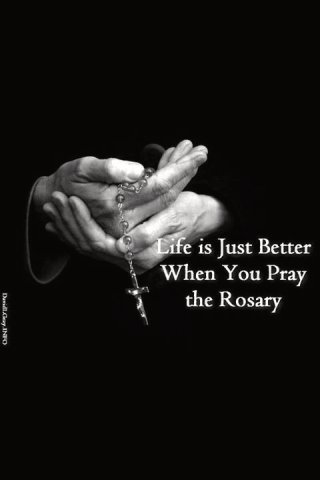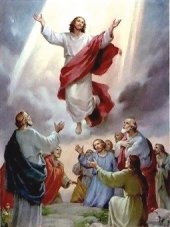 From today's Gospel (Matthew 28:16-20):
'Go, therefore, and make disciples of all the nations; baptise them in the name of the Father and of the Son and of the Holy Spirit, and teach them to observe all the commands I gave you.  And know that I am with you always; yes, to the end of time.'
These words of Jesus must have been a great comfort to the disciples.  Not only does he give them specific instructions to convert all people and nations to the Christian faith, he also tells them that he will be with them to the end of time.  
Think of the disciples not only as a group of individual men, but as a body.  Together, they are a body.  Together, they are the Church!  And in this short passage, Jesus tells us that he will be with the Church until the end of time.
Through trials and tribulations, and through dark times, we must always remember that Jesus is with us, he is with his Church and he will never abandon it.  On this day of the Ascension, a Holy Day of obligation where all Catholic people must attend Holy Mass, take some time to ponder these words of Jesus.  And if you aren't sure about whether or not you are really going to go to Mass today remember that where the Church is, Jesus is.

Today's Gospel (Luke 1:26-38):
'The angel Gabriel was sent by God to a town in Galilee called Nazareth, to a virgin betrothed to a man named Joseph, of the House of David; and the virgin's name was Mary. He went in and said to her, 'Rejoice, so highly favoured! The Lord is with you.' She was deeply disturbed by these words and asked herself what this greeting could mean, but the angel said to her, 'Mary, do not be afraid; you have won God's favour. Listen! You are to conceive and bear a son, and you must name him Jesus. He will be great and will be called Son of the Most High. The Lord God will give him the throne of his ancestor David; he will rule over the House of Jacob for ever and his reign will have no end.' Mary said to the angel, 'But how can this come about, since I am a virgin?' 'The Holy Spirit will come upon you' the angel answered 'and the power of the Most High will cover you with its shadow. And so the child will be holy and will be called Son of God. Know this too: your kinswoman Elizabeth has, in her old age, herself conceived a son, and she whom people called barren is now in her sixth month, for nothing is impossible to God' 'I am the handmaid of the Lord,' said Mary 'let what you have said be done to me.' And the angel left her.'
Nothing is impossible with God.  Mary, despite being a virgin, found herself to be with child.  And not any old child; Mary was pregnant with the 'Son of the Most High' as described by the angel Gabriel.  The impossible had suddenly become possible.  The surreal had become real.
And then the Saviour of the world was born.  Jesus, the Lord, came to save us from our sins and to give us the gift of eternal life.  Yet none of this would have been possible had Mary not said 'yes' to God. 
How many of us would say yes to God as Mary did?  Are we prepared to put God and others first before ourselves for the greater good, as Mary did?  Are we prepared to sacrifice our lives in service to God and to others, as Mary did?  Do we have a deep, unconditional love for God as well as a child-like trust which means we are always ready to say 'yes' to Him when he calls us to do His work, as Mary did?
Mary is our guiding light.  It is Mary who shows us the way to complete faith in God.  It is Mary who shows us the type of unconditional love and trust we must have in God.  It is Mary who shows us the way to that deep humility in our daily lives; always putting God and others first.  It is Mary who shows us how we should live our lives; respecting others and ensuring we are never boastful of our achievements.  Mary never boasted that she gave birth to the Son of God.  How then can we ever boast about our achievements?   
Mary is our light.  On this great Solemnity of the Annunciation let us ask Mary to show us the way to Jesus.  Let us ask Mary to intercede for us so that we too can have the grace to say 'yes' when God is calling us to do His work.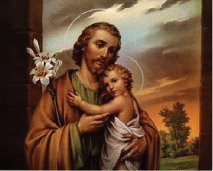 Today's Gospel (Matthew 1:16,18-21,24):
'Jacob was the father of Joseph the husband of Mary; of her was born Jesus who is called Christ.
  This is how Jesus Christ came to be born. His mother Mary was betrothed to Joseph; but before they came to live together she was found to be with child through the Holy Spirit. Her husband Joseph; being a man of honour and wanting to spare her publicity, decided to divorce her informally. He had made up his mind to do this when the angel of the Lord appeared to him in a dream and said, 'Joseph son of David, do not be afraid to take Mary home as your wife, because she has conceived what is in her by the Holy Spirit. She will give birth to a son and you must name him Jesus, because he is the one who is to save his people from their sins.' When Joseph woke up he did what the angel of the Lord had told him to do.'
Isn't Joseph such an inspiration to all?  When Mary was found to be with child Joseph's first thought was to spare Mary the indignity of public outrage about her pregnancy.  He wanted to protect his wife, to make sure she would not be judged and persecuted for being pregnant after having taken a vow of perpetual virginity. 
And then, when the angel appeared to him to tell him that Mary had conceived by the Holy Spirit and that he should still take her as his wife, what then did he do?  He did precisely what the angel told him!  He didn't think I must be going crazy or this is ridiculous; he did exactly what the angel told him.  With his great faith Joseph knew he had been visited by an angel of the Lord and that he must do as the angel says.  He didn't hesitate to do the Will of God.
And that is our challenge; to become less hesitant in doing the Will of God.  Can we be more like Joseph and trust in God, always reacting positively to the little signs He puts before us?  Are we prepared to put our own interests to one side and focus on the needs of others around us, just as Joseph did with Mary and the child Jesus in her womb?  Joseph was a real man!  He put his family first and made sure they were safe.  Yet this wasn't any old family, this was the Holy Family.  This family included Jesus Christ, God made man!  It included Mary, the Mother of God and Mother of all!  What strength in faith must Joseph have had to carry this huge responsibility? 
To all the dads and would-be dads out there: look to St Joseph as you set about the task of raising and looking after your family.  He had a very simple way of looking at life.  He put God first, others second, and himself third.  That way he gave his family the best chance of surrendering to God's plan for their lives.  Our job is to help our families recognise God's plan for us and to submit ourselves to that plan.  Dads, your family needs you to be strong in faith; your family needs you to lead them to holiness here on earth so that your eternal home will be in Heaven with the Father of all.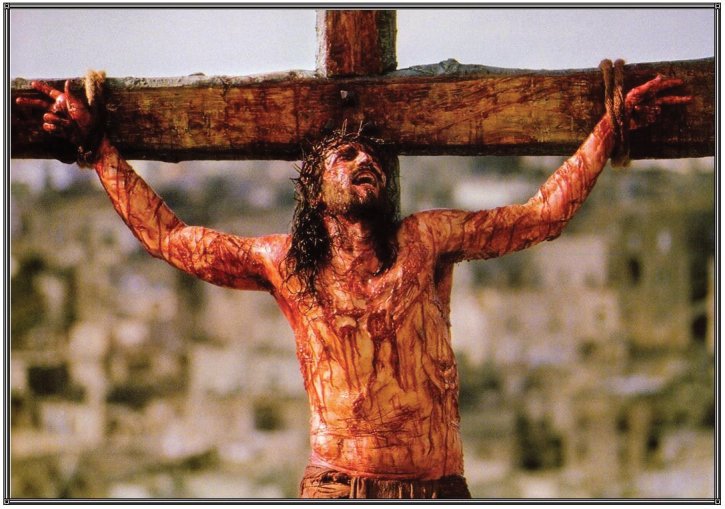 Jesus has already given his whole self on the Cross
Today's Gospel (Mark 8:1-13):
'The Pharisees came up and started a discussion with Jesus; they demanded of him a sign from heaven, to test him. And with a sigh that came straight from the heart he said, 'Why does this generation demand a sign? I tell you solemnly, no sign shall be given to this generation.' And leaving them again and re-embarking, he went away to the opposite shore.'
The Pharisees were always trying to test Jesus; always trying to force him into a corner to perform tricks for them.  But there intentions weren't exactly good.
Why did they need a sign when the Son of Man was right there in front of them?  Why did they need him to perform another miracle when he had already been curing people of serious illness?
We don't need a 'sign' from Jesus or from Heaven.  He has already shown the world the Power of God by being raised up from the dead.  That's the only sign we have ever needed and ever will need.  And yet we have been given the great gift of the Eucharist to receive Jesus 'body, blood, soul and divinity' each and every time we go to Mass.  Yet even with this, people in our society will still ask for 'signs'.
It is time to get real.  It is time to trust and believe in Jesus, not put him to the test by asking him to give us more when he has already given us his whole self on the Cross.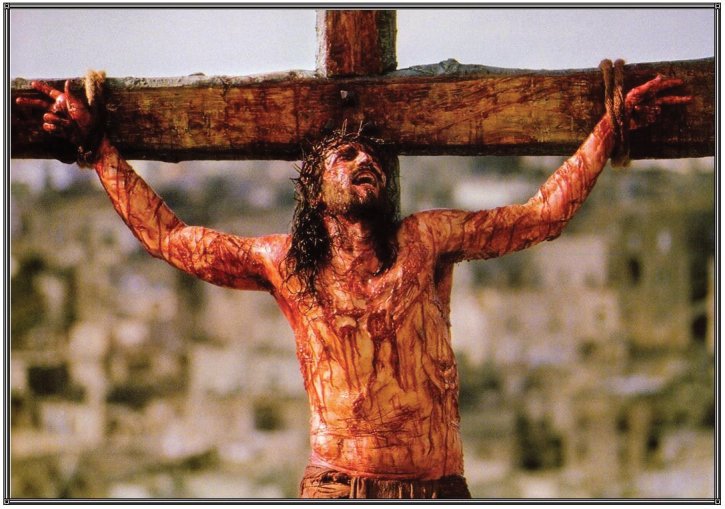 Today's Gospel (Mark 6:53-56):
'Having made the crossing, Jesus and his disciples came to land at Gennesaret and tied up. No sooner had they stepped out of the boat than people recognised him, and started hurrying all through the countryside and brought the sick on stretchers to wherever they heard he was. And wherever he went, to village, or town, or farm, they laid down the sick in the open spaces, begging him to let them touch even the fringe of his cloak. And all those who touched him were cured.'
It's quite disappointing when I think of the many disaffected Catholic people living in our world today.  There are a myriad of reasons for this disaffection, be it a simple lack of faith, lack of time, or perhaps a lack of trust in clergy or the Church as a whole.
Yet we shoudl not use any of these reasons to turn away from Christ. 
By turning away from the Church we are turning away from Christ as it was he who formed the Church (Matthew 16:18) and it is he who will be with the Church until the end of time (Matthew 28:20).  No lack of faith should ever come between us and Christ.  No lack of time should ever come between us and Christ.  No sins of those within the Church should ever become between us and Christ; for it is Christ who can help us.
The only time Christ was helpless was when he was on the Cross, as he suffered and died for us.  At that moment he was trusting completely in the Father and, in doing so, he was raised to Heaven on the third day.  And now, in our helplessness, Christ is asking us to turn to him just as he turned to the Father.  He wants us to turn to him in our moments of need; to trust in him.  Only he has the power to save us.
We, like those in the Gospel passage, can touch Jesus so that he can cure us.  Jesus is present in our world today in the Eucharist.  He is waiting for us to come to him, and he wants us to receive him.  Yet even the presence of Christ in the Eucharist is a matter of great uncertainty, even among Catholic people.  So for those who are uncertain about the real presence of Christ in the bread and wine, please read this article on the
'Miracle of Lanciano'
.
May God bless you and all of your family and friends on this beautiful day.
/