Shopping Cart
Your Cart is Empty
There was an error with PayPal
Click here to try again
Thank you for your business!
You should be receiving an order confirmation from Paypal shortly.
Exit Shopping Cart
Calling Scotland's 841,000 Catholics to unite as one voice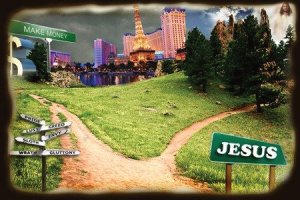 We must take the narrow path to Christ
Today's First Reading (1 Timothy 6:2-12):
'This is what you are to teach the brothers to believe and persuade them to do. Anyone who teaches anything different, and does not keep to the sound teaching which is that of our Lord Jesus Christ, the doctrine which is in accordance with true religion, is simply ignorant and must be full of self-conceit – with a craze for questioning everything and arguing about words. All that can come of this is jealousy, contention, abuse and wicked mistrust of one another; and unending disputes by people who are neither rational nor informed and imagine that religion is a way of making a profit. Religion, of course, does bring large profits, but only to those who are content with what they have. We brought nothing into the world, and we can take nothing out of it; but as long as we have food and clothing, let us be content with that. People who long to be rich are a prey to temptation; they get trapped into all sorts of foolish and dangerous ambitions which eventually plunge them into ruin and destruction. 'The love of money is the root of all evils' and there are some who, pursuing it, have wandered away from the faith, and so given their souls any number of fatal wounds.
But, as a man dedicated to God, you must avoid all that. You must aim to be saintly and religious, filled with faith and love, patient and gentle. Fight the good fight of the faith and win for yourself the eternal life to which you were called when you made your profession and spoke up for the truth in front of many witnesses.'
It's hard for Catholic people to remain true to Jesus Christ and the Traditions of the Catholic Church, especially in this day and age when religion is often frowned upon for one reason or another.  Yet that doesn't make it any less true or relevant.
St Paul's letter to Timothy encourages us to remain true to Christ and his teaching and to remain true to the teaching of the Church he himself founded; the Roman Catholic Church which continues to exist to this very day.
St Paul warns us about those who stray from this teaching, and in true St Paul style, he doesn't mince his words!  He says that those who do things differently to that taught by Christ and his Church are "simply ignorant and must be full of self-conceit – with a craze for questioning everything and arguing about words."  Isn't it interesting that St Paul should specifically refer to arguments about words?  Consider the abortion debate and how pro-choice activists often try to use words and phrases to argue that abortion is okay. They use (albeit wrongly) terms such as 'embryo', 'foetus', 'collection of cells' and 'personhood' to try to make their point. Consider how Pope Francis' words are so often used against him by those who misinterpret him or those who fail to understand his bigger message.  Other examples of this can be found in debates around contraception and the redefinition of marriage.
The tragedy of all this is that Catholic people, including myself, continually stray from Christ's teaching and the teaching of his Church.  I fall into the traps of the secular relativist society and I become that ignorant person full of self-conceit that St Paul is referring to. But thankfully Christ and his Church give me the Sacrament of Reconciliation where I can go and be forgiven for straying from the Truth.
At the end of the day, there will be many times in our lives when we will stray from the right path. But the key is to turn back, as the prodigal son did, into the loving arms of the Father.  While we may turn our back on Him there will never be a time when He turns His back on us.  He is always standing there, watching and waiting for us to return; to return to the path of Truth which He himself created when He gave us His only Son and gave us His Church.
Brother and sisters, we must do as St Paul says and "Fight the good fight of the faith" by speaking up for the truth with love, patience and gentleness before all people, even when it makes us feel a little uncomfortable.  Remember, it is unlikely we will ever be made to feel as uncomfortable as the early disciples who suffered immeasurable pain, including death, in standing up for the Truth.   
And even though we may well feel a little uncomfortable we must remember that we were not made for this world; that our destiny is in Heaven to be one with the Father, with Christ our Saviour, our Blessed Mother Mary, and with all the Saints and Angels.  Surely that is worth fighting for?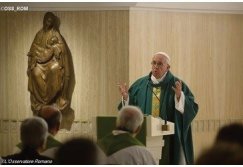 It's a pretty basic point: you can't be Christian unless you are prepared to forgive.  It's something that is abundantly clear in Christ's teaching and we can be left in no doubt that we are all expected to forgive one another if we are to be true to Jesus.
Yet this call is seemingly never put into practice.  We are often prepared to talk the talk when it comes to forgiveness, but we are rarely prepared to walk the walk.  It is in this sense that the Pope's words are timely.  As Christians we undoubtedly need to be reminded of Christ's call to forgive all people, even when they have committed the worst crimes and atrocities against us.  This is, of course, very hard for us.  That is not in doubt.  But then Christian living is a challenge!  Living as a Christian goes against the grain of modern society and modern living.  It requires us to protect life from conception until natural death, it requires us to love all people without exception, and it requires us to forgive no matter what.
As the pope says: "If you can't forgive, you are not a Christian.  You may be a good man, a good woman….but you are not doing what our Lord did. What's more, if you can't forgive, you cannot receive the peace of the Lord.  And every day when we pray the 'Our Father': forgive us as we have forgiven those….it is a condition." 
The pope also urged priests to make sure they are merciful otherwise they shouldn't be hearing Confession. He said: "If you are a priest and you can't manage to be merciful, tell your bishop who will give you a job in administration, but please don't go into the confessional box!  A priest who is not merciful does a lot of harm in the confessional box!"
He then encouraged more humility among Christians saying: "Which of us can say this, that the other person is more of a sinner than me?  None of us can say this!  Only our Lord knows this."
Put bluntly, there should be nothing that is incapable of forgiveness, and there should be no person who is not entitled to receive our forgiveness.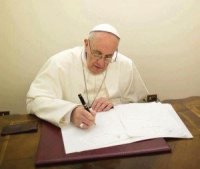 The pope has today announced changes to the procedures for those seeking annulments, making the process easier, more simplified and less expensive.
There is no longer a requirement for a twofold process in coming to a decision on marital nullity. The first decision, which is the responsibility of the Diocesan Bishop, shall be considered sufficient and binding and there will no longer be a second stage (known as 'automatic appeal') in the decision making process.  The outcome of the decision may still be appealed but it will not be automatic and there will be new rules built around the appeals process to ensure a party doesn't simply use it as a delaying tactic.
It isn't reform on a grand scale and it does not remove or water down the Church's teaching on the indissolubility of marriage, but it is a small change which will make the process easier for people seeking annulments in the future.  It is important to note that the changes don't necessarily mean that more annulments will be granted.
Here is the full report from the Vatican News website:
Pope Francis issued two Apostolic Letters motu proprio on Tuesday, by which he introduced reforms to the legal structures of the Church, which deal with questions of marital nullity. One of the Letters motu proprio, known by its Latin title, Mitis Iudex Dominus Iesus – or "The Lord Jesus, Clement Judge" – reforms the Code of Canon Law (CIC) governing the Latin Church, while the other, Mitis et misericorsIesus or "Clement and merciful Jesus" – reforms the Code of Canon Law for Oriental Churches (CCEO).
According to the prefatory remarks attached to both Letters, the reforms are the result of an expert group appointed to study the current state of law and practice in the Church as far as marriage law is concerned. The Holy Father goes on in the preface to explain that the reforms are guided by seven specific criteria, ample excerpts of which Vatican Radio offers below in its own unofficial English translation:
That there be only one sentence in favor of executive nullity – It appeared opportune, in the first place, that there no longer be required a twofold decision in favor of marital nullity, in order that the parties be admitted to new canonically valid marriages: the moral certainty reached by the first judge according to law should be sufficient.
A single judge under the responsibility of the Bishop – The constitution of a single judge in the first instance, who shall always be a cleric, is placed under the responsibility of the Bishop, who, in the pastoral exercise of his own proper judicial power shall guarantee that no laxity be indulged in this matter.
The Bishop is judge – In order that the teaching of the II Vatican Council be finally translated into practice in an area of great importance, the decision was made to make evident the fact that the Bishop is, in his Church – of which he is constituted pastor and head – is by that same constitution judge among the faithful entrusted to him. It is desired that, in Dioceses both great and small, the Bishop himself should offer a sign of the conversion of ecclesiastical structures, and not leave the judicial function completely delegated to the offices of the diocesan curia, as far as matters pertaining to marriage are concerned.
Increased brevity in the legal process – In fact, beyond making the marriage annulment process more agile, a briefer form of trying nullity cases has been designed – in addition to the documentary process already approved and in use – which is to be applied in cases in which the accusation of marital nullity is supported by particularly evident arguments. In any case, the extent to which an abbreviated process of judgment might put the principle of the indissolubility of marriage at risk, did not escape me [writes Pope Francis – ed.]: thus, I have desired that, in such cases the Bishop himself shall be constituted judge, who, by force of his pastoral office is with Peter the greatest guarantor of Catholic unity in faith and in discipline.
Appeal to the Metropolitan See – It is fitting that the appeal to the Metropolitan See be re-introduced, since that office of headship of an Ecclesiastical province, stably in place through the centuries, is a distinctive sign of the synodality of the Church.
The proper role of the Bishops' Conferences – The Bishops' Conferences, which must be driven above all by the anxious apostolic desire to reach the far-off faithful, should formally recognize the duty to share the aforesaid conversion, and respect absolutely the right of the Bishops to organize judicial power each within his own particular Church.
The re-establishment of vicinity between the judge and the faithful, in fact, shall not be successful if the stimulus does not come from the Conferences to the single Bishops, along with the necessary assistance, to put into practice the reform of the marital nullity process.
Appeal to the Apostolic See – It is fitting that the appeal to the ordinary Tribunal of the Apostolic See, i.e. the Roman Rota, be maintained: this, in respect of a most ancient juridical principle, so that the bond between the See of Peter and the particular Churches be reinforced – having care, in any case, in the discipline of the use of said appeal, to contain any and all abuse of right, in order that the salvation of souls be given no cause for harm.
Indeed, the prefatory remarks make clear from the very start, that thesingle most important principle guiding the Holy Father's action and the workof reform undertaken, is that of salus animarum – the salvation of souls– which is the suprema Ecclesiae lex – the supreme law of the Church.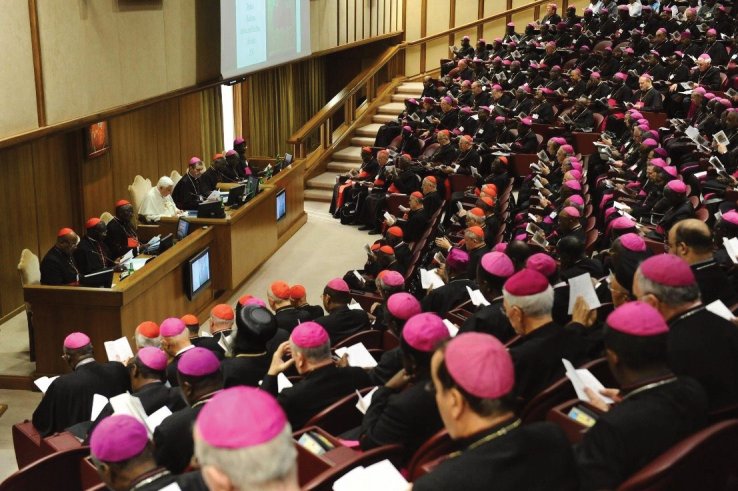 The TFP Student Action Group has set up a petition asking Pope Francis to reinforce Church teaching on marriage and the family at the upcoming Synod in Rome.
The petition has been started in response to some Bishops and also the mainstream media who are trying to force through change to fit with what society perceives as truth, as opposed to what Christ and his Church teaches as Truth.
Attacks on the family have been coming thick and fast over the last fifty or sixty years and this most basic yet most cherished aspect of life which has served us so well for so long is slowly being eroded to nothing.  Consider contraception, a moral evil which has perhaps served as the catalyst for so much evil that has followed since.  Consider abortion, where millions of innocent lives are destroyed every year across the world, all in the name of 'choice'.  And then there is the redefinition of marriage, a recent phenomenon where God's very own definition of marriage between one man and one woman has been torn up and thrown to the wind.  Add to that the ever increasing push to remove terms such as 'father' and 'mother' out of circulation and you have the most horrifying and testing time for the family unit since time began.
And what have we done about it?  What do we have to show for our efforts to stop these evils?  Pretty much nothing.  Nada.  1.2 billion Catholic people supposedly live on this earth and yet we struggle to uphold some of God's most basic truths, His most basic instructions. 
And the worst of it?  So many of our own brothers and sisters are defying God's Truth and supporting these concepts.  Contraception is seen as a necessity, abortion is seen as someone else's choice, and the redefinition of marriage just seems like the right thing to do. They say: 'to hell with what God and the Church might think, Jesus was a nice guy and he would want us to give the thumbs up to preventing procreation, to killing innocent babies and condoning sexual activity between people of the same sex.'   
Yes, Jesus would just love to see the ruination of the family unit; after all he didn't care a jot about his stepfather Joseph and his mother Mary!
No, Jesus is God.  And Jesus held firm to the Truth he himself gave to the world.  His manner of holding firm to the Truth is something we can and should take note of; full of love, compassion and kindness.  But also firm and determined.  Firm in the Truth he came to earth to reveal to us and which he subsequently entrusted to his Church, and determined to never let the devil have his way by destroying that Truth.
Brothers and sisters, please consider joining hundreds of thousands of Catholics who, like Jesus, are determined to hold firm to the Truth.  Will you be strong in your faith and reject any notion of allowing evil to creep into our society?  Are you prepared to let nothing stand in the way of you being true to God, just as the saints did? 
Let us rise determinedly as one body in Christ to protect his Truth and to allow the family to flourish.  Mother, father, brother, sister; this is God's divine plan.  
Please join a growing list of religious and civil leaders by signing the petition and let's encourage the Holy Father and the Bishops to remain faithful to God and His Church.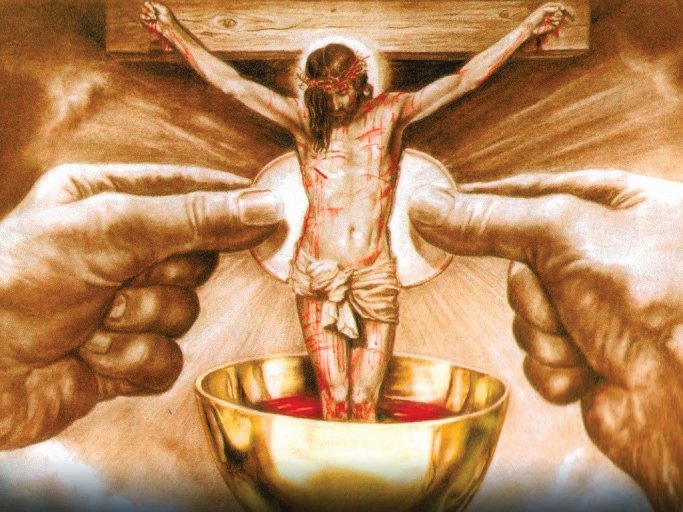 From Sunday's Gospel (John 6:24-35):
'Jesus answered:
'I tell you most solemnly,
it was not Moses who gave you bread from heaven,
it is my Father who gives you the bread from heaven,
the true bread;
for the bread of God
is that which comes down from heaven
and gives life to the world.'
'Sir,' they said 'give us that bread always.'
Jesus answered:
'I am the bread of life.
He who comes to me will never be hungry;
he who believes in me will never thirst.''
Reading this Gospel passage and, in particular, the words of Jesus leave us in no doubt.  He is the bread of life.  He is the way, the truth, and the life.  He is the only way to God.  Yes it is true!  In the Eucharist we receive Jesus Christ body, blood, soul and divinity!  Just as the bread came from Heaven in order to feed the Israelites so Jesus comes to us in the form of bread to feed, nourish and sustain us.
Jesus is offering himself to all of us.  He is offering us the chance of eternal life with him in Heaven.  Will we be like the disciples and say to Jesus: 'Sir, give us that bread always'?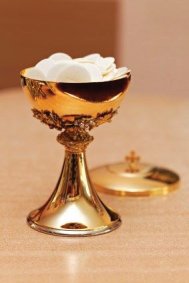 Sunday's Gospel (John 6: 1-15):
'Jesus went off to the other side of the Sea of Galilee – or of Tiberias – and a large crowd followed him, impressed by the signs he gave by curing the sick. Jesus climbed the hillside, and sat down there with his disciples. It was shortly before the Jewish feast of Passover.
Looking up, Jesus saw the crowds approaching and said to Philip, 'Where can we buy some bread for these people to eat?' He only said this to test Philip; he himself knew exactly what he was going to do. Philip answered, 'Two hundred denarii would only buy enough to give them a small piece each.' One of his disciples, Andrew, Simon Peter's brother, said, 'There is a small boy here with five barley loaves and two fish; but what is that between so many?' Jesus said to them, 'Make the people sit down.' There was plenty of grass there, and as many as five thousand men sat down. Then Jesus took the loaves, gave thanks, and gave them out to all who were sitting ready; he then did the same with the fish, giving out as much as was wanted. When they had eaten enough he said to the disciples, 'Pick up the pieces left over, so that nothing gets wasted.' So they picked them up, and filled twelve hampers with scraps left over from the meal of five barley loaves. The people, seeing this sign that he had given, said, 'This really is the prophet who is to come into the world.' Jesus, who could see they were about to come and take him by force and make him king, escaped back to the hills by himself.'
Did you know that a barley loaf was considered to be the bread of the poor?  God chose the food of the poor in order to satisfy the hunger of His created people.  He could have chosen to feed them with a grand banquet fit for a king but no, he chose a simple loaf of bread.
Yet this simple loaf represents something truly great; something more satisfying than a grand banquet.  It is the means by which God has chosen to come to us and to develop His relationship with us. 
Through a simple piece of bread God shows His great love for us and showers us with graces.  Why He decided to do this is a great mystery and it is a mystery that may well be revealed to us one day.  But the intricacies of this mystery is not something we need concern ourselves with right now.  Our concern must be the bread with which He feeds us….the Eucharist.  It is through the Eucharist, given to us in Holy Mass, that we are truly satisfied.  It is through the Eucharist that we receive the graces we need to live our daily lives. It is through the Eucharist that God comes to us in love, inviting us to an ever deeper relationship with Him, and encouraging us to never tire of trusting in Him.  And it is through the Eucharist that we will be saved; saved by the blood of Christ who sacrificed himself on a Cross so that we may live forever.
Yet even though we receive this great gift from God, there are still many basketfulls left over.  Our job, brothers and sisters, is to go out to the world and find a home for this bread.  God doesn't just want a few willing participants to come to Him and receive Him in the Eucharist.  He wants all of His created people to take part!  There are so many basketfulls of bread left over after we receive the Eucharist!  Let us find more homes for God to shine His great light in our world.  Let us be open to speaking highly of this great gift of God so that others may come to share in it.
Catholic Answers' director of apologetics Tim Staples considers the question of women priests in the Catholic Church and reveals seven reasons why this is not possible.
The seven reasons are:
1. The Church has definitively declared it
2. The Church's constant Tradition for 2,000 years cannot err
3. The attitude of Christ
4. The practice of the Apostles
5. The permanent value of the attitude of Jesus Christ and the Apostles
6. The ministerial priesthood in the light of the mystery of Christ
7. The ministerial priesthood as illustrated by the mystery of the Church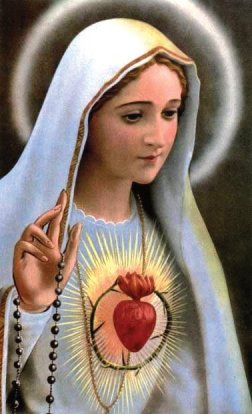 The First Saturday Devotion to the Immaculate Heart of Mary is an incredibly rich, and ultimately rewarding, devotion to Our Blessed Mother Mary. 
Please try to participate in this most incredible act of devotion and allow Jesus to pour his abundant graces upon you.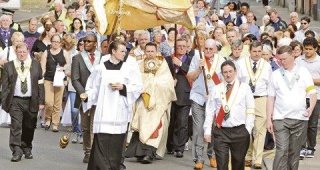 The West End Corpus Christi procession has grown in recent years
This Sunday the Church celebrates the great solemnity of Corpus Christi.  It is an occasion for us to celebrate the beauty and truth of the Eucharist; the real body and blood of our Lord Jesus Christ.
The solemnity is often marked by a procession led by the Blessed Sacrament and Catholics around the country are encouraged to join in.  In Glasgow the West End Corpus Christi Procession has become increasingly popular in recent years with hundreds participating.  This year the procession will leave from the University of Glasgow and travel to St Peter's, Partick.  Events start at 11.30am with Holy Mass in the University's Turnbull Hall. 
If you are unable to attend one of the larger processions please try to join in one in your local area.  Your parish might even be having one so check your bulletin or ask your parish priest.
The importance of the Eucharist cannot be overstated.  It is the centre of our faith.  It is Jesus, truly present among us.  Please try to support a Corpus Christi procession in your area this Sunday, and encourage others to do the same.  Let us be witnesses to our faith and let us be witnesses to Christ crucified, Christ risen, and Christ present in the Blessed Sacrament.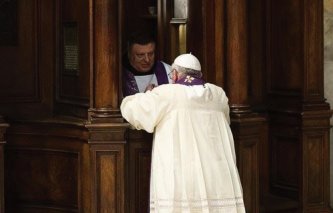 From Sunday's First Reading (Acts 3:13-15,17-19):
'Now you must repent and turn to God, so that your sins may be wiped out.'
Peter, in the short passage from Sunday's first reading, gives a clear and incredibly simple instruction to the people who put Christ to death.  He tells them to repent of their sins and turn to God; and the result of this according to Peter?  Their sins will no longer exist.  It's very simple stuff!  It's also incredibly merciful when you consider what the people did to Jesus; how they ridiculed him, abused him, spat on him and beat him.  Yet here is one of Jesus' most trusted friends telling them that all is forgiven, if they just say they are sorry. 
But is there anything more we can add to this instruction from Peter?  Let's consider Sunday's second reading from St John:
Sunday's Second Reading (1 John 2:1-5):
'I am writing this, my children,
to stop you sinning;
but if anyone should sin,
we have our advocate with the Father,
Jesus Christ, who is just;
he is the sacrifice that takes our sins away,
and not only ours,
but the whole world's.
We can be sure that we know God
only by keeping his commandments.
Anyone who says, 'I know him',
and does not keep his commandments,
is a liar,
refusing to admit the truth.
But when anyone does obey what he has said,
God's love comes to perfection in him.'
Here John puts a little more meat on the bones of Peter's instruction to repent and turn to God.  He gives a similar instruction to turn to Christ if we should sin.  But it is the next part which is the challenge and it is along similar lines to Jesus' call to the woman at the well to "go and sin no more".  Here John the Evangelist tells us that we must keep God's Commandments, and he also states that keeping God's Commandments is the only way to 'know God'.  But what does it mean to 'know God'?  The clue is in the last sentence of the passage.  God's love will come to perfection in us if we keep His Commandments; that is, the perfect love of God will shine through us and out of us to the world if we do as He says.  We will become beacons of love, mercy, peace and hope for all.
This is in keeping with the recent
Papal Bull of Indiction
where Pope Francis revealed a jubilee Year of Mercy from 8 December 2015 (the Solemnity of the Immaculate Conception).  Our call is to go out to the world and to show mercy to everyone.  No exceptions.  But in order to be a merciful people we first need to receive God's mercy and we must keep His Commandments.  Only if our own house is in order will we be in a fit and proper state to administer to others.  Think of a doctor or a lawyer.  Professionals in these fields need to satisfy annual training requirements and receive an annual certificate authenticating their ability to practice.  If they don't fulfil these requirements they are not considered to be fit and proper persons with respect to their work and they cannot diagnose patients' ills or advise clients on legal problems.  They are essentially deemed unfit and incapable of carrying out their job.
And so it is with God.  Unless we first seek His forgiveness for our own wrongdoings and thereafter keep His Commandments, we are deemed unfit to administer to those around us.  Only God gives us true love, true mercy, true peace and true hope.  And if we want to care for those around us and give them a real and proper love, unconditional mercy, perfect peace and a sure and certain hope, we must seek God in the Sacrament of Reconciliation, because it is in that Sacrament where we will find all of these things and much more besides.  And it is this Sacrament which gives us the graces we need to go forth into the world with God's Commandments firmly in heart and mind, to bring God's perfect love, mercy, peace and hope to all people. No exceptions.
/