Shopping Cart
Your Cart is Empty
There was an error with PayPal
Click here to try again
Thank you for your business!
You should be receiving an order confirmation from Paypal shortly.
Exit Shopping Cart
Calling Scotland's 841,000 Catholics to unite as one voice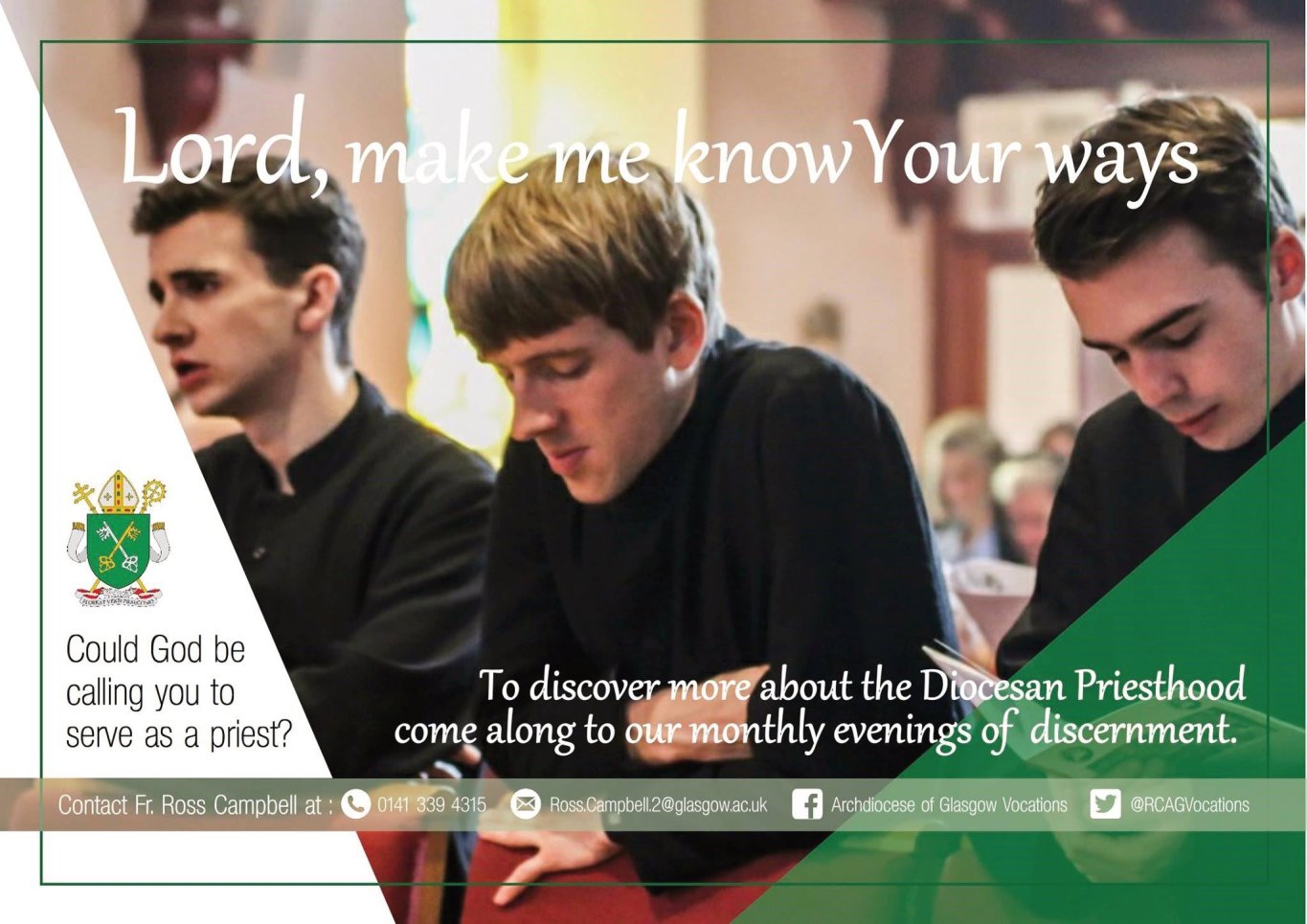 The Archdiocese of Glasgow appears to be reaping the rewards of a fresh new drive for vocations to the priesthood.  The September edition of Flourish, the Archdiocese's journal, has highlighted the increasing popularity of monthly evenings of discernment hosted by Father Ross Campbell, who is the Archdiocese's vocations director and Catholic chaplain to the University of Glasgow.
Six men have already signed up for the first evening of discernment taking place on Friday 14 October and it is hoped that more will join.  The evenings of discernment usually take place on the second Friday of each month and are designed to allow men to take a "gentle, first step into the waters of the priesthood, without any initial firm commitment."
We must pray that these men, and hopefully many more, will respond positively to God's call for them to be shepherds of His people.
For more details of these evenings of discernment please contact Fr Ross Campbell at
[email protected]
or call 0141 339 4315.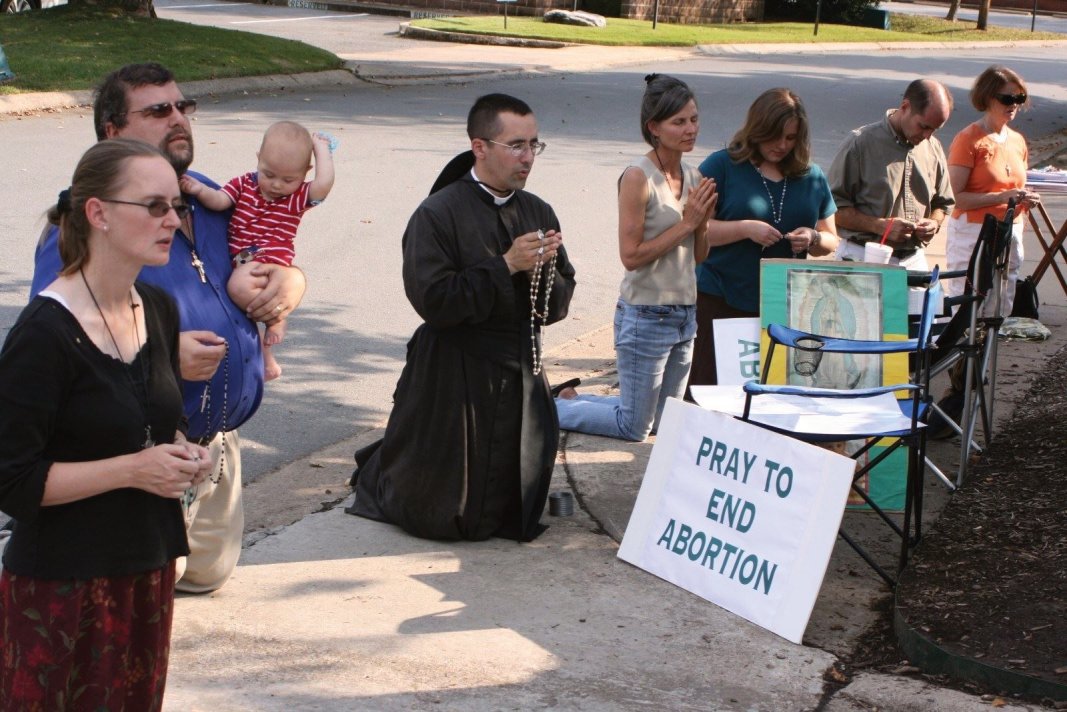 40 Days for Life is coming to Scotland
As we prepare to participate in 40 Days for Life for the first time here in Glasgow it is important to bear in mind a few home truths.  Some sections of the media and other groups in favour of abortion have had their say on the event in recent days and, not surprisingly, their view on 40 Days for Life is extremely negative.  
I would be careful not to take too much note of the negativity expressed by these groups and individuals.  Remember that their interest in this matter is the polar opposite of ours.  They believe that abortion should remain legal and that any individual or group claiming otherwise needs to be silenced.  That has been their tactic for a long time and it continues to be their tactic.  But we must not be put off and we must remember why we are doing this. We are doing this because we want to stop the killing of innocent, defenceless children and we want to help young women cope with the life changing reality of a new child.
And despite reports to the contrary we must be careful to remember that this will be a peaceful, prayerful vigil.  It will not be a violent protest with hecklers screaming from the rooftops, shouting at young women as they enter hospital grounds.  While it would be correct to say that there have been incidents involving over-zealous pro-life supporters in the United States, these reports have been significantly over inflated by those in favour of abortion.  The idea is that pro-life supporters will be put off attending the event, preferring to steer clear of perceived fundamentalism.  They want to paint a picture of nasty, violent religious fanatics who want to push their beliefs onto others.  It is another classic tactic of the pro-choice lobby.    
But there is hope!  The lies are coming thick and fast and this can mean only one thing: the pro-choice lobby is worried. I have long wished for this day; the day that the abortion debate would really come to the fore in Scotland, propelling itself into the public square and the public mind. It's now happening and I pray fervently for the strength and the faith to persevere in what will be a tough debate. But we must never lose sight of who this is really for. The time for the little ones to have a fair hearing in our country has come. 
And remember, you don't need to worry too much about changing the hearts and minds of the biased media and the vociferous pro-choice activists you may see at counter protests. Their minds will not be changed. But the minds of the huge silent majority can be changed.  These are the people who don't get involved in the public debate but who, from afar, can appreciate the need to protect all life and who can appreciate true equality.  It is they who will be watching us as we pray in silence for the innocents, and for their mums, dads and grandparents.  By our peaceful, prayerful actions we can be a witness to the indisputable beauty of life.
While millions of Scotland's sons and daughters have perished through abortion since it was made legal in 1967, their deaths need not be in vain.  Let their untimely and needless deaths be the catalyst for a new era of true equality of life for all in our country.  If we desire to make Scotland a welcoming place for Syrian refugees, we can surely make Scotland a welcoming place for each and every one of her own precious children.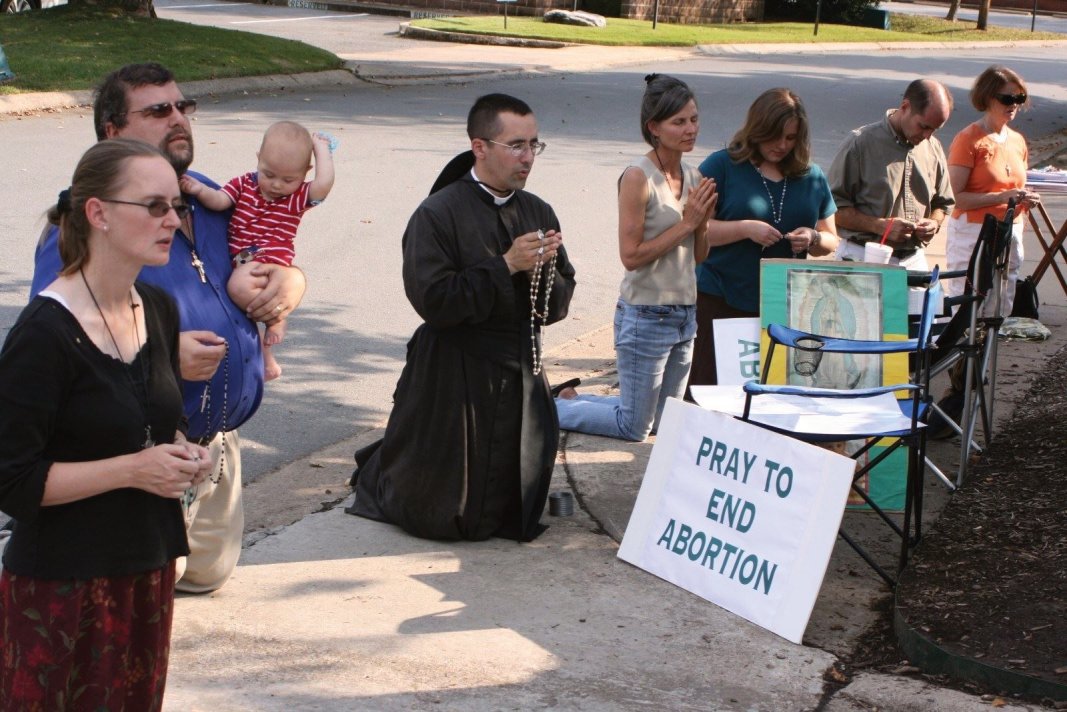 40 Days for Life vigil in Little Rock, US
The 40 Days for Life initiative is coming to Glasgow!  Between 10th February and 20th March (during the season of Lent) pro-life advocates and supporters are invited to commit to a prayerful vigil outside the Queen Elizabeth University Hospital, where abortions are known to take place. 
The vigil will be one of quiet, peaceful prayer, without graphic imagery and without any attempts to approach people, unless they approach us.
The initiative, which started in the United States in 2005, has helped a reported 10,000 women to choose life over abortion and has witnessed the closure of over 60 abortion centres.  It is now in operation across 25 countries worldwide, with Scotland being the latest addition to the ever increasing list.
This opportunity cannot be overstated.  It is a phenomenal opportunity for a public witness to the sanctity of all human life and a very real opportunity to change the hearts and minds of women seeking abortion. 
Please spare an hour (or possibly more) between 10th February and 20th March to join us in this beautiful witness to life.  You can commit to a slot by clicking the image, below: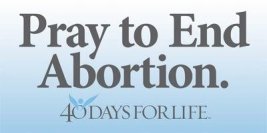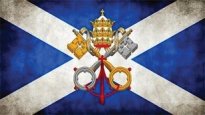 A year-long research project commissioned by Transforming Scotland has found that a majority of Scots have a positive view of the Christian faith. 
Despite the most recent Scottish Household Survey suggesting that a fairly large minority of 47.3% of Scottish people have no faith, the view of Christianity is broadly positive. Alan McWilliam of Transforming Scotland said: "The research has shown that a significant number of the Scottish public think the church is a good thing for a community, because it strengthens and cares for those within it, and acts as a positive influence for young people.  The fact that people still see the church as a positive contribution to society is hugely encouraging."
In the South of Scotland 67% of people had a favourable impression of Christianity.  In the Lothians this figure was 54% with 62% stating that they believe Christianity has good principles and good values.  In Glasgow 54% had a favourable impression of Christianity with 49% saying it was a faith they respect.
Bizarelly, in covering the outcome of this report the Herald saw fit to ask the Scottish Secular Society for its opinion. Knowing the Scottish Secular Society and what it stands for I'm amazed the Herald would stoop so low as to ask them for an opinion on this report.  They are an organisation which continually spews out deeply bigoted views, particularly in relation to Christianity, and most of what they produce on their website and social media pages is nothing short of hatred as they lay out attack after attack on all things Christian.  I'm now certain that they do not represent the views of most secular people in Scotland, something that this report seems to prove.  Indeed members of the group have recently discussed whether or not they need to change their ways in order to be more appealing.  We can but hope and pray that they will one day join the majority of our Scottish brothers and sisters in seeing Christianity as a positive thing for our country. 
Thankfully most of Scotland does appreciate what Christianity brings to the table and are willing to admit that this is the case.  Christianity is without doubt a cause for good and something incredibly positive. It is the light which can bring us all out of the darkness.  While Scotland may have said no to independence, it most certainly says yes to Christianity.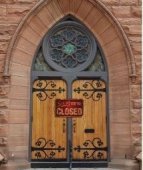 Archbishop Tartaglia, writing in this month's Flourish Newspaper, has confirmed that the preliminary phase of the process of planning for future parish provision is now complete.
The Archbishop said that he has "not found this reflection simple or easy" but feels that the preliminary phase was "successful in highlighting the challenge that faces us to make our parish communities sustainable into the future and in initiating a diocesan conversation about the issues involved."
The Archbishop suggests five questions for consideration:
1. Where are the people?
2. How many parishes do we need?
3. How many churches can we support?
4. How many priests and deacons will there be?
5. What kind of communities do we want?
While many people may be nervous about the future of their own parish in all of this there have been some encouraging words coming out of the latest meeting of the Council of Priests on 11th June.  The Council stated that it had "little appetite for a detailed plan of parish mergers or closures based on [the] current deanery configuration" and, as a result, "an approach based on clustering parishes may be more realistic and may bear better results."
While this doesn't necessarily mean there won't be mergers or closures in the years ahead, the words will offer much encouragement to parishes on the fringes who may have feared the sound of the wrecking ball coming up the street.
The Archbishop has confirmed that he now sees the planning process moving forward according the following strategy:
1. Solving issues of parish provision that require attention in the short term according to the dispositions of Canon Law
2. Finding suitable priests from wherever to provide pastoral care of the parish communities which we have
3. Proposing to parishes and deaneries the method of clustering as a new step towards preparing for future new communities – as soon as possible, therefore, a project of possible parish clusterings will be offered for consideration."
The Archbishop summed up his report by saying: "Evangelisation remains our one and only mission.  The spirit of the age is inimical to evangelisation but paradoxically also calls for it.  These are undoubtedly testing times for the Church.  In these circumstances, we need always to look with the eyes of faith to Jesus who tells us that we must not be afraid and who calls us to trust in him."
One thing is certain, this is not simply about the lack of priests.  It is also about the lack of numbers attending Mass and getting involved in the life of the parish and the wider community.  This, in turn, creates an economic imbalance meaning certain parishes cannot sustain themselves and they quickly become a drain on the provisions of the Archdiocese. 
Yes, it is crucially important that we pray hard for vocations to the priesthood and it is important that we are not afraid to encourage our young men to seriously consider this vocation.  But similarly, we need to be out there selling the faith to people and encouraging them to enter into a relationship with Jesus Christ.  We need to take our duty to save souls seriously so that as many people as possible rely on the love, mercy, and compassion of the Catholic Church.  The Church that Christ promised to be with until the end of time.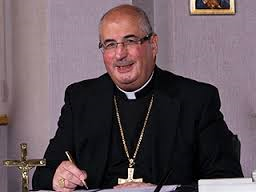 Archbishop Philip Tartaglia
Pope Francis has confirmed that Archbishop Philip Tartaglia's request for an auxiliary bishop has been granted. 
The Archbishop made the request following his health scare at the beginning of the year and it is expected the new auxiliary will be in place around Easter 2016. 
Archbishop Tartaglia has requested nominations for the new role and this process will continue until the end of the summer when the Apostolic Nuncio, Archbishop Antonio Mennini, will recommend three names to Rome.
Please remember to pray for all our clergy.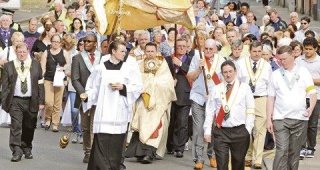 The West End Corpus Christi procession has grown in recent years
This Sunday the Church celebrates the great solemnity of Corpus Christi.  It is an occasion for us to celebrate the beauty and truth of the Eucharist; the real body and blood of our Lord Jesus Christ.
The solemnity is often marked by a procession led by the Blessed Sacrament and Catholics around the country are encouraged to join in.  In Glasgow the West End Corpus Christi Procession has become increasingly popular in recent years with hundreds participating.  This year the procession will leave from the University of Glasgow and travel to St Peter's, Partick.  Events start at 11.30am with Holy Mass in the University's Turnbull Hall. 
If you are unable to attend one of the larger processions please try to join in one in your local area.  Your parish might even be having one so check your bulletin or ask your parish priest.
The importance of the Eucharist cannot be overstated.  It is the centre of our faith.  It is Jesus, truly present among us.  Please try to support a Corpus Christi procession in your area this Sunday, and encourage others to do the same.  Let us be witnesses to our faith and let us be witnesses to Christ crucified, Christ risen, and Christ present in the Blessed Sacrament.

Scots Catholic would like to congratulate John Deighan on his appointment to the post of Chief Executive of
SPUC Scotland
.
The Parliamentary Officer for the Bishops' Conference of Scotland will take up his new role next month.
The Bishops of Scotland have thanked John for his "resolute and dedicated service" and Archbishop Philip Tartaglia said: "John has provided dedicated and energetic service to the church in Scotland for sixteen years and we wish him well in his new role.  His ability to skilfully analyse political development and track legislative changes has been immensely helpful to the Bishops' Conference." 
He added: "The links between the church and the SPUC in Scotland are already strong, but they will be strengthened and renewed as a result of John's appointment."
Please keep John in your prayers as he embarks on this new role and also keep the great work of the SPUC in your prayers as they continue to promote the sanctity of all life.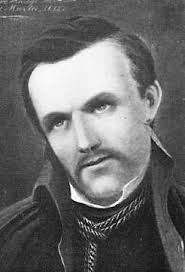 Pope Francis has sent a special envoy to Glasgow to celebrate a special Mass for the 400th anniversary of St John Ogilvie's martyrdom.
The Mass will take place in St Andrew's Cathedral on Tuesday 10th March at 7.30pm and the pope will be represented by Cardinal Cormac Murphy O'Connor, the former Archbishop of Westminster.
In his homily, Archbishop Philip Tartaglia will tell the congregation that: "St John Ogilvie and the martyrs remind us that there is a line that they will not cross and that faithfulness to Christ is non-negotiable even at the cost of their lives."
The Archbishop, in a call for Christian unity, will also recall the words of Blessed Pope Paul VI, who canonised St John Ogilvie in Rome in 1976, when he said: "St John Ogilvie will help us to resolve religious disputes in the direction of mutual respect, serene study and of faithful adherence to the Truth so as to recover that longed-for unity of faith and love which Christ taught us as the highest expression of his Gospel."
The Mass is tonight at 7.30pm in St Andrew's Cathedral, Clyde Street, Glasgow.  All are welcome to attend.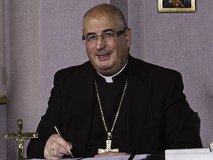 It has been confirmed that Archbishop Philip Tartaglia of the Archdiocese of Glasgow has suffered a heart attack in Salamanca, Spain.
It is understood that the Archbishop is now recovering in hospital.
Below is the press release issued today by the Bishops of Scotland:
After feeling unwell, Archbishop Philip Tartaglia was admitted to hospital in Salamanca on Thursday 22 January.
Following initial treatment and tests at the University hospital in Salamanca it has been confirmed that he has suffered a heart attack.
 
The Scottish Bishops are currently attending an in-service week at the Scots College in Salamanca, Archbishop Tartaglia is President of the Bishops'Conference of Scotland.
 
Archbishop Tartaglia is conscious today (Friday) and in good spirits, he has been visited by other Scots bishops attending the meeting. 

The Archbishop will remain in hospital in Spain until he is well enough to return home. Further medical updates will be released if any change in the Archbishop's condition takes place.
 
Catholic parishes in the Archdiocese of Glasgow have been informed of the Archbishop's illness and special prayers will be said this weekend throughout the Archdiocese for his recovery.
The prayers and good wishes of Scots Catholic are with the Archbishop at this time.
/