Shopping Cart
Your Cart is Empty
There was an error with PayPal
Click here to try again
Thank you for your business!
You should be receiving an order confirmation from Paypal shortly.
Exit Shopping Cart
Calling Scotland's 841,000 Catholics to unite as one voice
My dear brothers and sisters in Christ
I have decided that, from now on in the Archdiocese of Glasgow, the Confirmation of baptised children will take place around age 11 when children are in P7, their final year of Primary School.
This decision was motivated principally by pastoral concerns. It seemed sensible to prolong the period of sacramental initiation of baptized children to make the best of the efforts of Catholic teachers and parish catechists. I felt too that Confirmation will mean more to children who are a little older. And I imagine that most people would agree that it will be spiritually more satisfying to celebrate Confirmation at Mass when the newly-confirmed children can receive our Lord in Holy Communion.
It is also very helpful that the new RE Syllabus for our Catholic schools, This is Our Faith, fully allows for children to receive the Sacrament of Confirmation at P7, P6 and P4, with age-appropriate learning. In fact, the material on Confirmation for P7 in This is Our Faith is of a very high order. Our P7 Children and their teachers will thus be able to access the appropriate material within the very syllabus which is currently being used in our schools.
So, I would envisage that the Mass of Confirmation will be celebrated each year in P7 in the time from Easter until around the Feast of the Sacred Heart (usually mid-June). Since the bishop is the ordinary minister of Confirmation (and since I love doing Confirmations!), I will celebrate as many of these Confirmation Masses as I can. Since at the moment we have 90+ parishes, I certainly will not be able to do them all, and Parish Priests will obviously be delegated to celebrate Masses of Confirmation, as they are now for the Rite of Confirmation.
So the next general period for the Confirmation of baptized children in the Archdiocese of Glasgow will be in the final term of school year 2016-17, which gives us 3-4 years to prepare for this small change to our sacramental practice for baptised children, and we should be able to put all the practical arrangements in place in that time.
The timings of First Confession at P3 and of First Holy Communion at P4 remain unchanged.
Having heard the Council of Priests on this matter, and having consulted many people, priests, parents and teachers, I am hopeful that this new arrangement for Confirmation, which I have seen in practice, will enhance our efforts to transmit the faith to our children and young people, and to evangelize families, parishes and school communities.
Yours devotedly in the Lord,
†Philip Tartaglia
Archbishop of Glasgow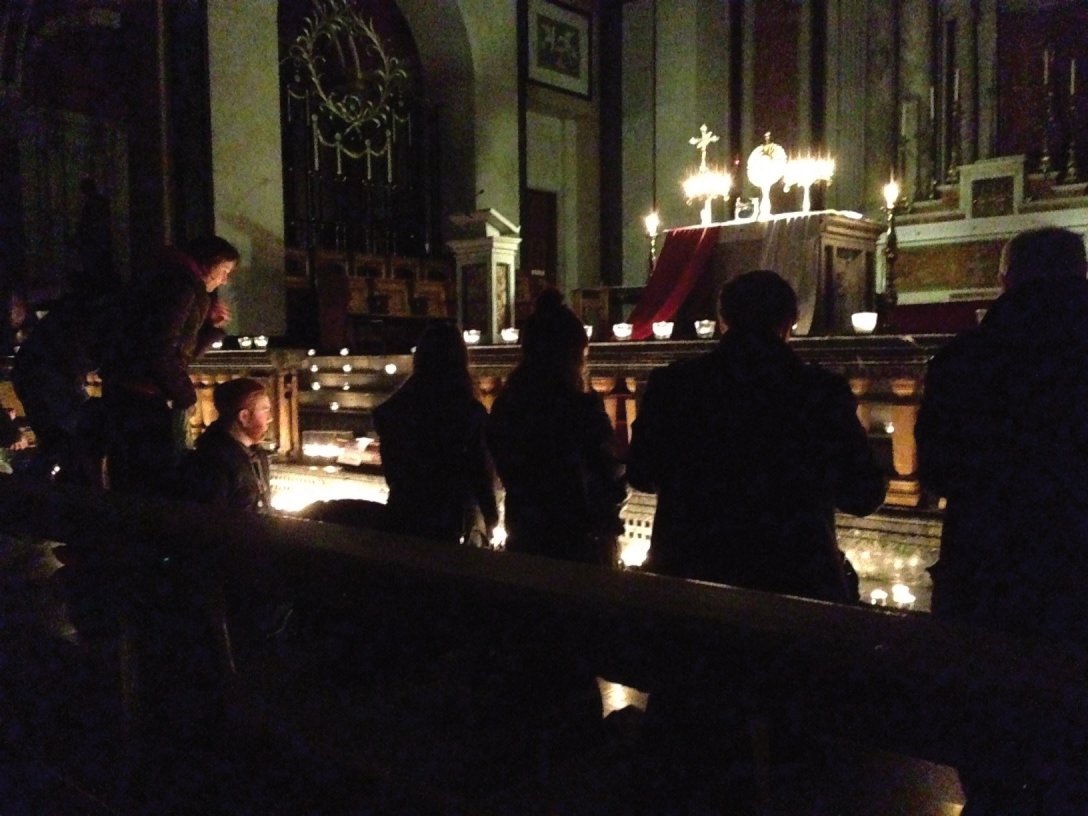 Nightfever is back at St Aloysius Church in Glasgow on Saturday 1st February and organisers need your help!
This special event has been running in Glasgow for over a year now and has proved to be an incredible success, bringing people from the busy centre streets of Glasgow into the Church.
The event is organised by young people from across the Archdiocese of Glasgow and beyond and starts at 5.45pm with Holy Mass.  The Blessed Sacrament is then placed on the altar and the Church, lit only by candles, is plunged into profound adoration of the Eucharist until 11pm.  Adoration is accompanied by beautiful music and singing and there is also an opportunity for confession at the back of the Church.
It really is an inspiring event and, if you have never experienced it before, you are bound to be stunned by the number of people coming in off the streets to see what Nightfever is all about.
However, for Nightfever to continue, the organisers need more help.  If you are interested in helping, and getting to know other people of great faith in the process, then please 
click this link
 to find out more about Nightfever and how you can help.  Remember to check out the great You Tube video while you are there!
See you on the 1st February!!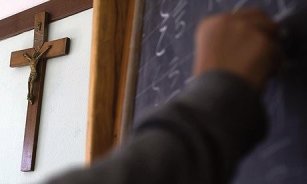 It's what so many of us have been saying for years.  With a distinct lack of evidence to support the view of a vociferous minority, the government is on the verge of committing itself to the view that denominational (or faith) schools do not cause sectarianism.
While other countries with faith schools have known this all along we in Scotland have, for some reason, fumbled our way to this conclusion over a great many years.
The Advisory Group on Tackling Sectarianism in Scotland, set up by the Scottish Government, was tasked with debating the issue of sectarianism in Scotland with a view to tackling the problem in the most effective manner.  It focused primarily on the specific form of sectarianism arising from Catholic-Protestant tensions which, as the report states, 'are part of the historic legacy of Scotland'.  
There are a number of issues tackled in the report, including marches and parades, and also sectarianism at football matches.  But perhaps the most interesting statement comes at section 28 and under the banner of education. It states: 'We do not believe that sectarianism stems from, or is the responsibility of, denominational schooling, or, specifically, Catholic schools, nor that sectarianism would be eradicated by closing such institutions.'
For many, many years I have wondered why so many people are obsessed with the idea that Catholic schools cause sectarianism.  As a kid who attended a Catholic school I never had any difficulty mixing and playing with friends from different schools and different backgrounds.  I know of many other people who had the same experience.  And in my adult life I continue to mix with people from a different background to my own. 
Thankfully, the government has now recognised that denominational schools are not the problem.  And why would they be?  Sectarianism in Scotland existed BEFORE denominational schooling was introduced.  Logically speaking, sectarianism will continue to exist AFTER denomination schools are removed.  Thankfully, however, this is not something we need to worry about given the content of this report.
We should be delighted at the way our children are educated in Scotland.  We have produced many, many talented people over the years for such a small country and both our denominational and non-denomination schools have contributed to this great achievement.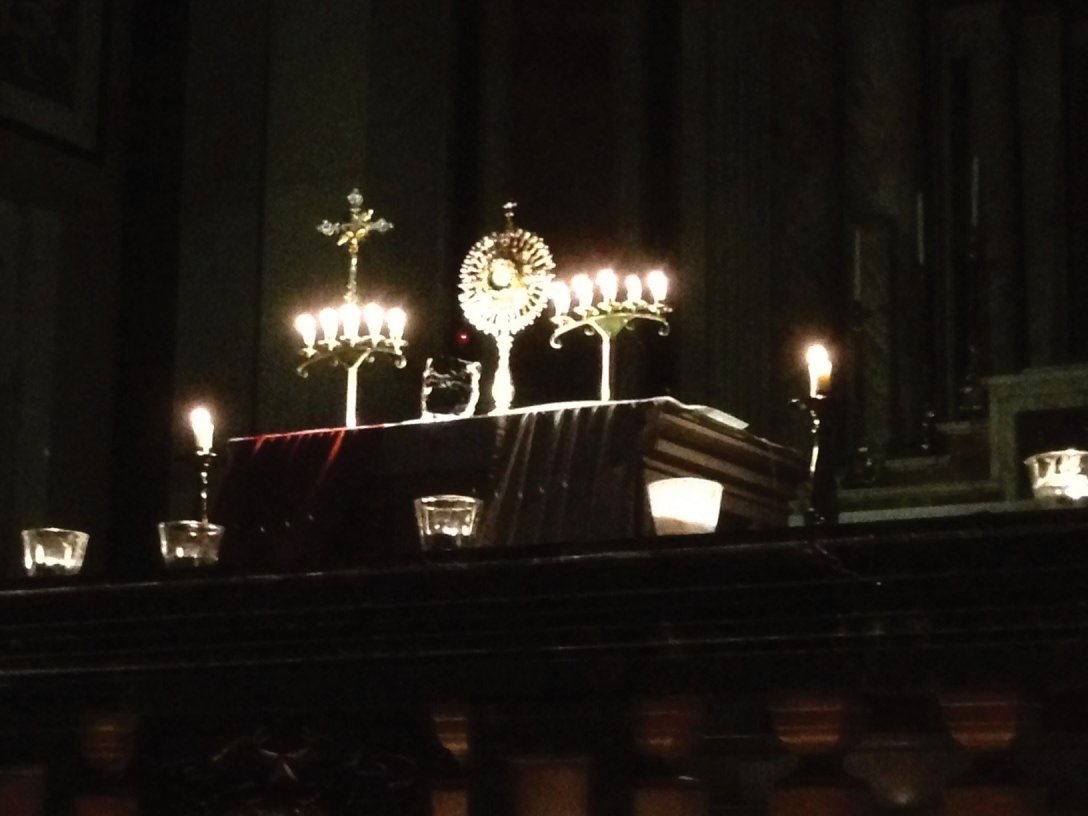 Nightfever Glasgow hit the heights on Saturday night with yet another beautiful night of adoration to the Blessed Sacrament.
The music was beautiful, the singing perfect, and the public participation was significant!
So many people came off the busy streets of Glasgow to join in and to honour Christ in the Blessed Sacrament. This included what seemed to me to be a record number of young children; all coming forward and showing reverence to our Lord in their own little way. It gave me goosebumps! 
Well done once again to the organisers, volunteers and to St Aloysius for everything they put in.
Looking forward to the next one!!  Keep checking our
Events Diary
so that you don't miss the next instalment of Nightfever.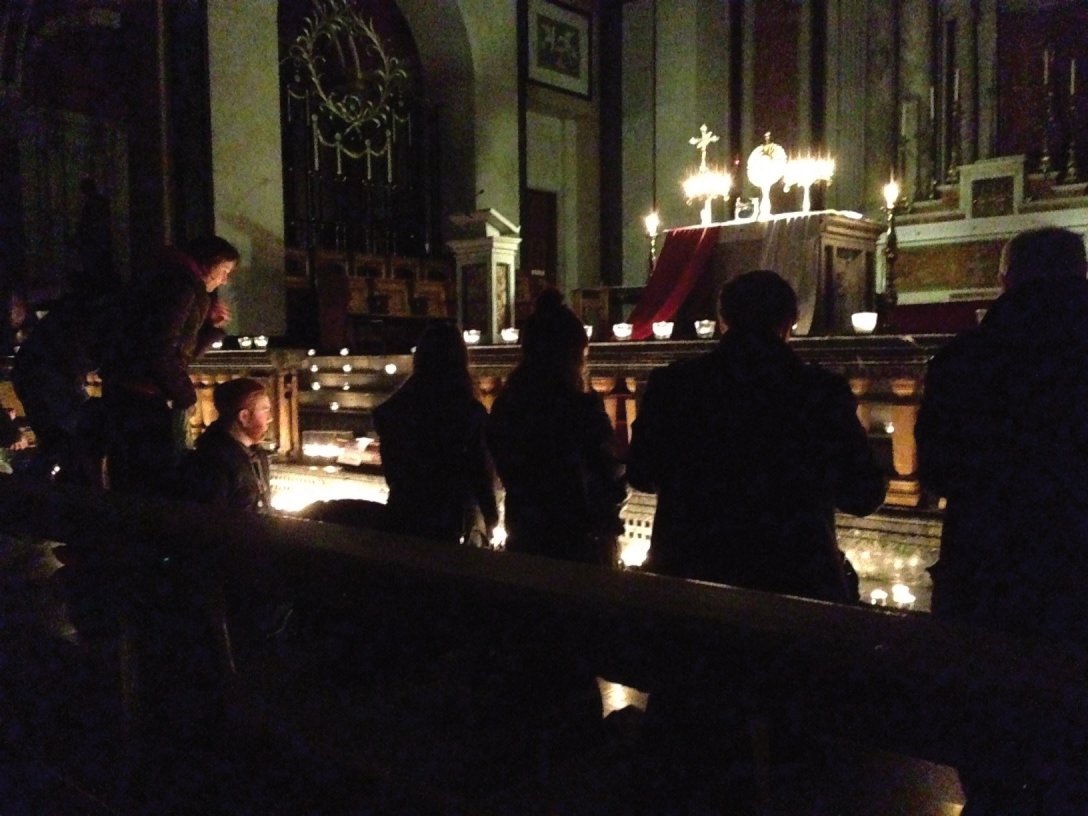 Have your say in this interesting survey on faith in Scotland.  It only takes around 10-15 minutes to complete and the results are to be published in the spring of 2014.
Click here to take the survey: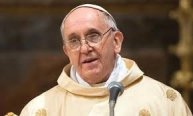 Pope Francis has sent a message of sympathy to Archbishop Philip Tartaglia and the people of Glasgow through the Papal Nuncio Archbishop Antonio Mennini following Friday night's tragic accident at the Clutha Vaults pub in the city centre.
The Pope's message states: "I assure you of my prayers for those who have tragically lost their lives or have been injured as well as their relatives. May the Lord grant eternal rest to those who have died and comfort their relatives and the entire community of Glasgow in these moments of distress and sadness."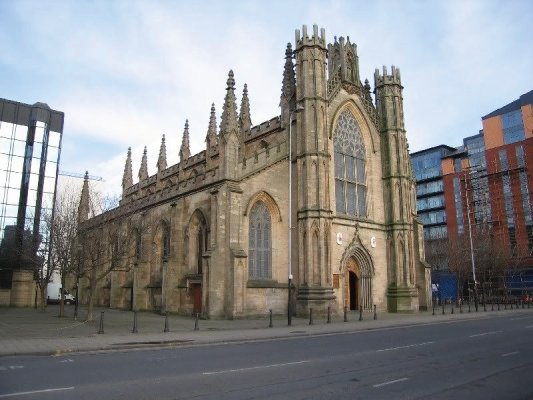 St Andrew's Cathedral, Glasgow
The Scottish Catholic Observer (SCO) has reported that the Archbishop of Glasgow, Philip Tartaglia, is to consult the Catholic people of Glasgow on the future of all parishes within the Archdiocese.  The SCO reports that the consultation leaflet contains tough questions about falling congregations and the way congregations are served at parish level.
There will, of course, be fears for the future of some parishes; however, this cannot simply be viewed as a precursor to the closure of churches across Glasgow.  This is a possibility but it cannot be assumed that the solution in each case will be the closure of a parish. 
Indeed, many recent reports suggest there is an increase in congregations across Scotland, probably as a direct result of the Year of Faith and the Pope Francis 'effect'.  This, however, does not tackle the problem of a lack of vocations to the priesthood and this is a problem that will need to be considered in great depth.
This opportunity for people of the Archdiocese to have their say cannot be underestimated.  Please look out for the leaflet at your parish in the coming weeks.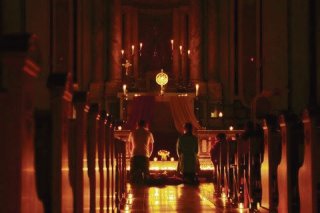 Health Warning: this event will be detrimental to the health of those who are convinced the Catholic Church is either dead or in terminal decline in Scotland!
This Saturday sees the return of Nightfever to the city of Glasgow.
If you haven't yet experienced this uplifting event then you must take a little time out of your Saturday night to pop into St Aloysius Church on Rose Street (just off Sauchiehall Street ). (
Click here for a map
)
The Church will be plunged into darkness except for the runway of candles the length of the centre aisle leading all the way up to the altar where the main attraction, Jesus in the Blessed Sacrament, waits for his children to approach.
There will be uplifting music tugging at your emotions and an opportunity for confession. Cushions will be neatly placed in front of the altar to allow people to sit or kneel comfortably in prayerful contemplation of the Eucharist and whatever else happens to come to mind.
And all the while the Nightfever volunteers will be out on the city streets inviting people into the Church. Those who accept the invitation are given a candle to take to the altar and light it, with an opportunity to pray for their own intentions before Jesus in the Sacrament. They can even write their intention down on a piece of paper and leave it in front of the altar.  They come to the altar to open themselves up to receive the unconditional love of Jesus our Lord and Saviour, and to give as much as they can in return.
Having attended a number of these events it is quite incredible to see so many people, mostly youth, coming into the Church from the street, many of them dolled up for a night out.  To say it is heartening is a massive understatement.
Everyone is welcome to pop into the Church.  Everyone.
Nightfever is a phenomenon.  It is beautiful.  It is uplifting.  It is awesome.  It is inspiring.  It is right here, in Glasgow.
Be warned….this event will change your life.
Mass starts at 5.45pm followed by Eucharistic Adoration, Confession and Music until 11pm.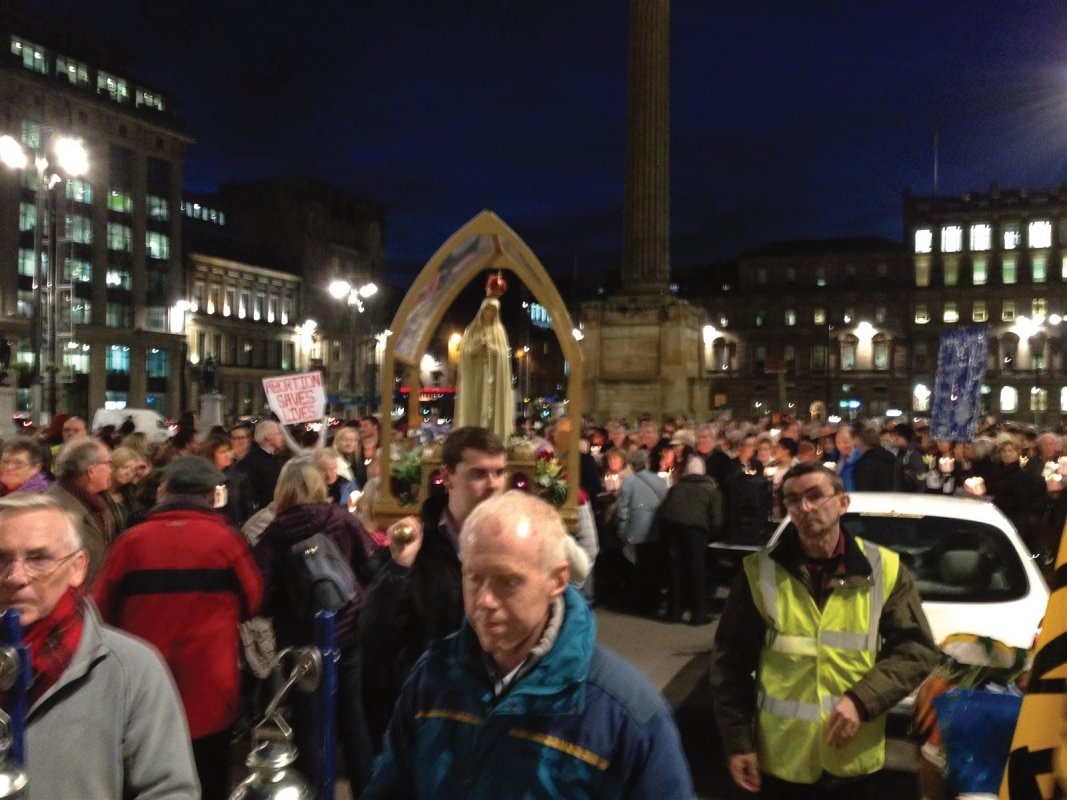 Our Lady's statue is carried through Glasgow
Last night the centre of Glasgow witnessed the joy and splendour of life, wrapped up in a beautiful Rosary, dignified procession, and passionate celebration of the Mass.
It was pro-life night and the people of Glasgow took to the streets to spread the Good News of life.  Around 300 people were present in George Square and it was evident that numbers were slightly up on last year which was encouraging. 
The Rosary, led by Father John Keenan of the University of Glasgow and St Patrick's, Anderston, was a beautiful show of devotion and honour to Our Blessed Mother whose statue, held ably aloft by two young volunteers, looked lovingly over the crowd as it prayed.  Candles lit the faces of pro-life people from around the country, as they held their Rosary beads firmly in their hands.  There were babies, schoolchildren, priests, nuns, people with disabilities, people with special needs, the elderly, and, of course, the youth element which seems to be growing at a pace in Scotland these days.  I mention all of these groups individually not to differentiate them from the normal because that is not the case.  I mention them to highlight the various characters who make up the pro-life movement, many of whom may not be here had their parents not been pro-life.  Thank God for that grace that they are given the opportunity to live, an opportunity we have ALL experienced.  We are all alive today because we were not aborted.  Yet many are not afforded such an opportunity in today's culture of death.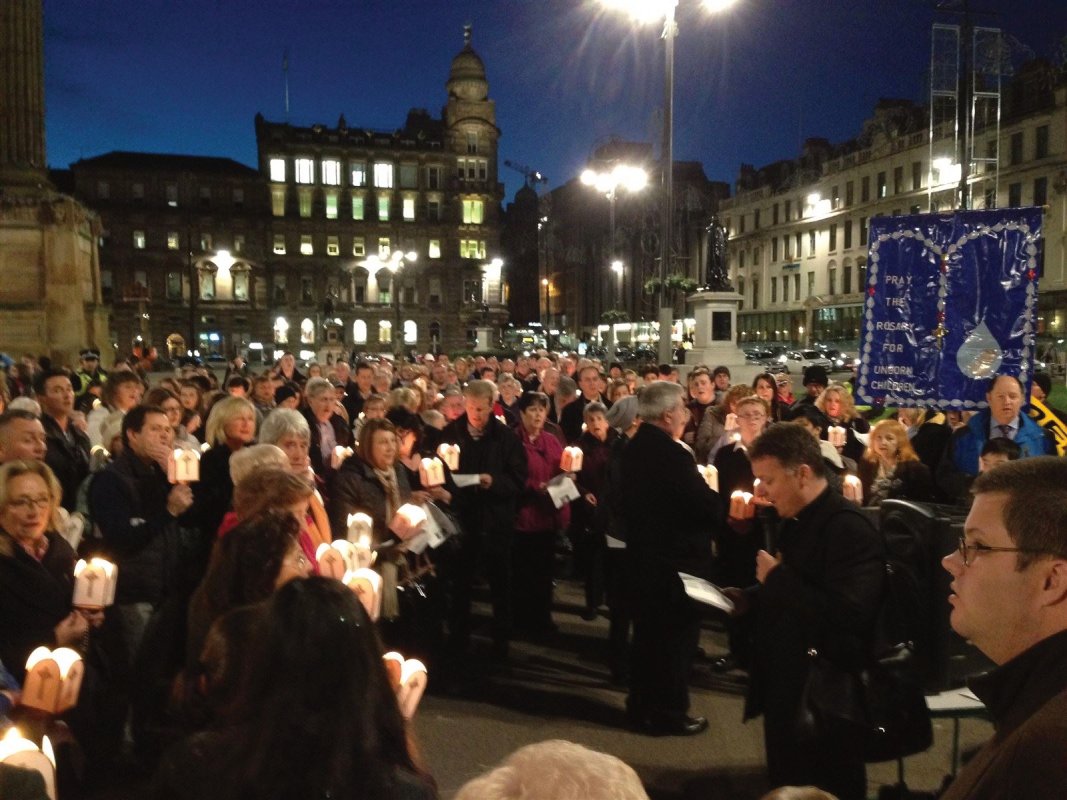 Father Keenan leads the Rosary 
As we were told prior to the Rosary, 200,000 babies have been aborted in the last year since the last such event in 2012.  In one day 500 babies are aborted in the UK.  Do we really take in these figures?  I mean, do we REALLY take them in?  Some people argue that this is justified in the name of women's rights.  Yet these people disregard the single most natural, amazing and precious gift a woman can have and give....another life!   
Either side of the Rosary there was beautiful singing of hymns and during the Rosary the Fatima 'Ave' was belted out with real passion and fervour.  The group then proceeded to walk gently and reverently to the Cathedral on Clyde Street, blazing a trail of fire behind Our Lady's statue at one point spanning the full length of Glassford Street.  It was a beautiful time, an opportunity to reflect on what we were really doing here.  Praying for an end to abortion.  Praying for all affected by this sad and barbaric attack on defenceless children and vulnerable women.  Praying for the fathers, many of whom don't have a say.  Praying for the grandparents, aunts, and uncles, for cousins and close family friends.  Praying for the medics, the doctors and midwives who carry out abortions on a daily basis.  Praying for those who are pro-abortion for them to be enlightened to the beauty and splendour of new life, and to trust in God's providence.  Praying for our governors that they may be similarly enlightened.  And, of course, praying for the pro-life movement, that it will continue to stand for life and never tire of fervently praying for the innocents.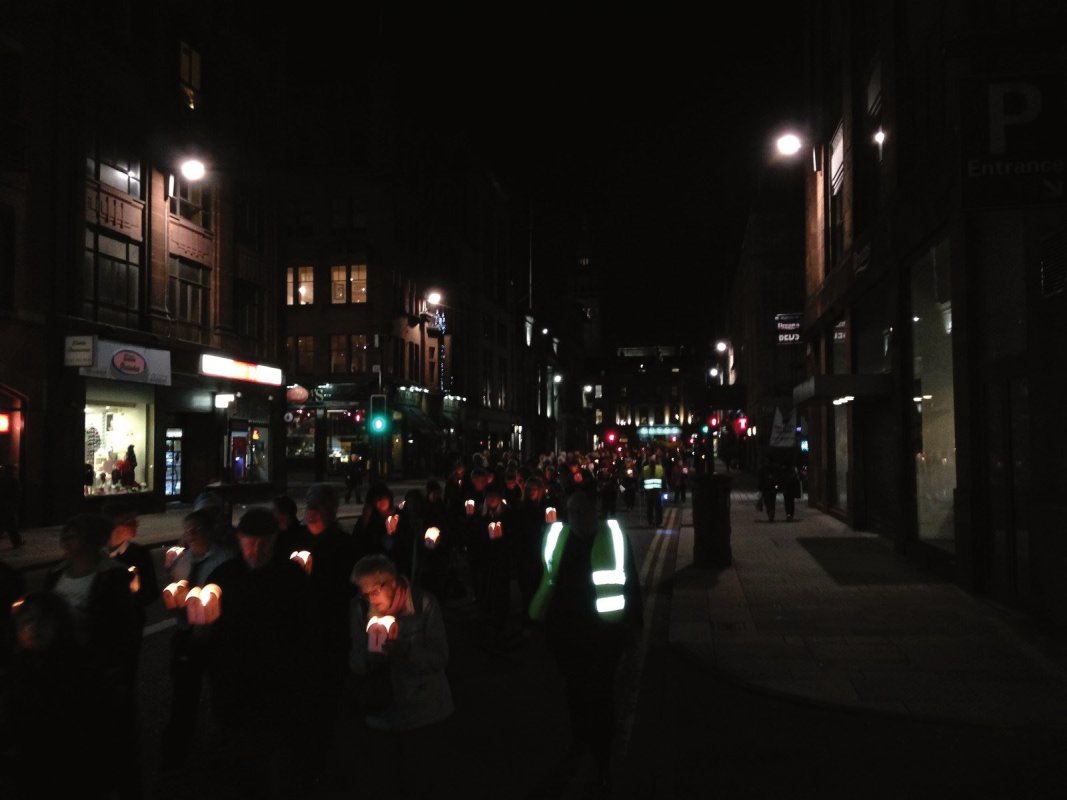 The pro-life movement blaze a trail through Glasgow 

 

At the Cathedral, the gathered faithful were treated to a beautiful Mass, interspersed with beautiful music and singing from the St Ninian's choir, and a roof-raising homily by Father Keenan.  It was around 15-20 minutes long and I have to admit that I hung on to EVERY word.  The Reading and Gospel of the day didn't perhaps, at first glance, appear to be a fit for the occasion.  But God never lets us down and Father Keenan made sure we were left in no doubt that these readings were perfect for the pro-life cause.

 

In his letter to the Romans St Paul talks about putting 'your bodies at the service of vice and immorality' and how we must instead 'put them at the service of righteousness for sanctification.'  In George Square a small group of pro-abortion protesters continually chanted about "my body, my choice".  There were a few other expletives in among these chants but the general theme was one of 'my body, my choice'.  As Father Keenan suggested, it is always "me, me, me".

So what is our view on the other side of the fence?  What is the pro-life stance?  Father Keenan pointed us in the direction of Mary suggesting that Mary holds the key to what we must do.  When confronted by the Angel Gabriel and told that she would conceive a child, the Son of God, Mary said, "Let it be done to me according to your word".  Mary did not selfishly state that it was her body and reject the child she was suddenly to bear!  Mary accepted God's Will and God's Divine Plan.  It was an act of complete faith.  It was true love.  It was Mary saying "My body, for you".  Not 'my body, my choice' but 'my body, for you'!

 

And this is the Christian message.  We don't live for ourselves.  We live for God and for others!  Everyone else comes before us.  That is the way we must live and that is why we are pro-life.  God's Will grants mothers the grace to bear His children.  We must have the faith of Mary and bear these children, and present them back to God, by raising them to glorify Him and to put Him and others first.  What an amazing world we would live in if everybody did this!!  What love!! 

 

Father Keenan then turned to the Gospel and spoke about how Jesus wished the earthly fire were "blazing already"!  The witness last night, out on the busy streets of Glasgow, was the fire.  That public witness is the blaze Jesus is speaking of.  Witnessing to the faith on the streets!  As Father Keenan suggested, "many people are pro-life on the brain" but they don't do anything about it.  That isn't good enough!  Jesus wants us to get out there to witness for these little ones!  What good is keeping the pro-life cause to ourselves?  It is no good!  Nothing will change if we keep it to ourselves. 

 

Father Keenan challenged everyone present in the Cathedral to bring another person with them next year.  That way our numbers will double.  That is the challenge to the pro-life people of Scotland, particularly those in the Glasgow area.  The recent census in 2011 confirmed that there are around 841,000 Catholic people in Scotland (an increase on the 2001 census), with the vast majority of them in the Glasgow, Lanarkshire and Inverclyde areas!!  Is 300 people representative of this huge number?  I think not.  It's hugely disappointing.  So the challenge is being thrown down right here, right now.  The same event will be taking place at the same time next year and we want to AT LEAST double our numbers.  This isn't just about Catholic people marching through the streets of our city.  This is about life.  It is about affording little babies the same opportunity we are all so blessed to have received, the opportunity to live.     

 

 

 

0

/