Shopping Cart
Your Cart is Empty
There was an error with PayPal
Click here to try again
Thank you for your business!
You should be receiving an order confirmation from Paypal shortly.
Exit Shopping Cart
Calling Scotland's 841,000 Catholics to unite as one voice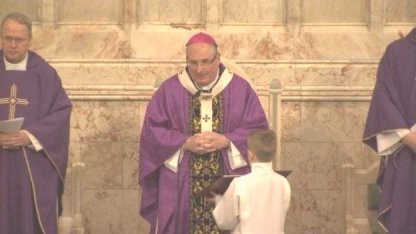 Picture: bbc.co.uk
The Archbishop of Glasgow, Philip Tartaglia, has encouraged the people of the city to turn to God in their grief as they come to terms with the tragic loss of six lives in Monday's road accident in George Square. 
The Archbishop presided over Mass at the city's St Andrew's Cathedral as government ministers, council executives and officials from other faith groups gathered to remember the dead. 
Archbishop Tartaglia, in referring to today's scripture readings, suggested that, despite all the sadness and suffering we are currently experiencing, we must remember that we are not alone.  He said: "Do not be afraid, God is with us.  Believe in Him and support our suffering people." 
The Archbishop also spoke of his time with the family of Erin McQuade, and Jack and Lorraine Sweeney, all members of the one family who lost their lives along with Stephenie Tait, Gillian Ewing and Jacqueline Morton. 
He said: "The distressed woman to whom I was speaking had seen her daughter and her own parents killed almost right in front of her. Can you imagine the horror?
"I tried to console them and comfort them. We spoke and we cried and we were silent before the abyss of their loss and the random meaninglessness of what had happened." 
Archbishop Tartaglia said the bereaved family "openly spoke of their faith, but their faith was sorely tried", adding: "I commended them silently to God that the Lord would find the way to bring them comfort."
The Apostolic Nuncio, Archbishop Antonio Mennini, sent his condolences to the families and the city and, speaking on behalf of Pope Francis, said that all can be certain of his continuing prayers at this difficult time.
The Mass, which was so well attended that it was eventually standing room only, was a beautiful offering to God of the lives of the six people who had died.  It was also a beautiful offering of the suffering being endured by those close to them and all those affected by the tragedy.  We must hope and pray that all is not lost in God's divine plan and that He, in His love and infinite mercy, will unite those families again in His heavenly kingdom.
Again, we pray...
Eternal rest grant unto them O Lord, and let perpetual light shine upon them, may the rest in peace. Amen.
May their souls and the souls of all the faithful departed, through the mercy of God, rest in peace. Amen. 
And for the bereaved, the injured and those suffering from witnessing the incident or from providing emergency assistance...
Hail Mary, full of grace, the Lord is with thee. Blessed art thou among women, and blessed is the fruit of thy womb, Jesus.
Holy Mary, Mother of God, pray for us sinners now, and at the hour of our death. Amen.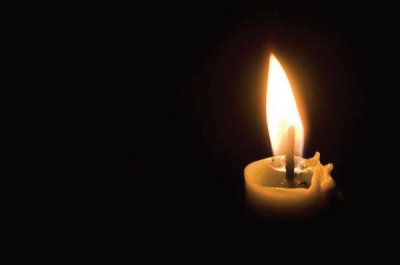 We at Scots Catholic would like to offer our condolences to all affected by Monday's tragic events in Glasgow city centre. 
We offer our prayers for those who lost their lives and for those they leave behind.  We also pray for the injured and all involved in responding to the tragedy.
For the dead, we entrust their souls to the mercy of God:
Eternal rest grant unto them O Lord, and let perpetual light shine upon them, may they rest in peace, amen. 
May their souls and the souls of all the faithful departed, through the mercy of God, rest in peace, amen.
For families and friends, and all others affected by the tragedy, we entrust their needs to our Blessed Mother: 
Hail Mary, full of grace, the Lord is with thee.  Blessed art thou among women and blessed is the fruit of thy womb Jesus.  Holy Mary, Mother of God, pray for us sinners now and at the hour of our death, amen.
Archbishop Philip Tartaglia of Glasgow will say a special Mass for the dead at 1pm on Wednesday 24th December in St Andrew's Cathedral, Clyde Street, Glasgow. 
We also understand other parishes around the country are offering up Masses for this intention.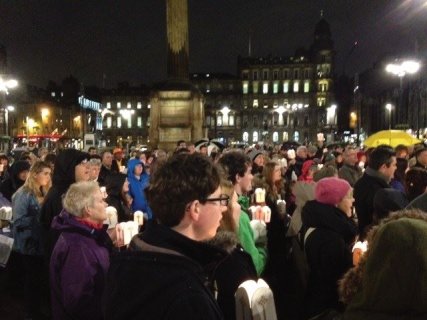 Hundreds braved the cold to stand up for life
Glasgow once again bore witness to the pro-life movement as the annual pro-life torchlight procession took to its streets on Thursday night. 
At least 300 people attended this year's event which is slightly more than last year and must be seen as a positive step in the right direction.  Perhaps the most pleasing thing about the event was the number of young people in attendance.  I have suggested before that there is an undercurrent of Catholic and pro-life youth steadily growing in Scotland, and this was very much in evidence at this event.
The event, which takes place every October, marks the passing of the Abortion Act 1967 and encourages those in attendance to pray for its repeal.
Once again, as in previous years, there was a beautiful recitation of the Rosary in George Square followed by a solemn procession through the busy city streets to St Andrew's Cathedral on Clyde Street .  And while I don't want to go into too much detail about the beauty of the event in George Square, as I believe people should just get off their backsides (health and other commitments permitting) and experience it for themselves, the sound of 'Immaculate Mary' echoing through the centre of Glasgow was an incredible and uplifting experience.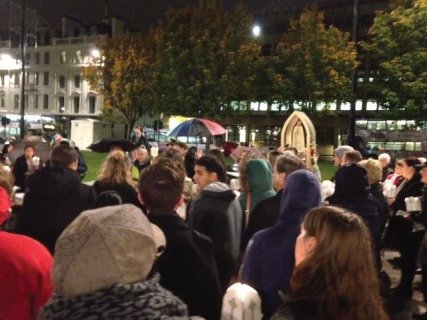 A statue of Our Lady of Fatima was carried through the city streets 
After last year's battle cry from Bishop John Keenan it was left to another priest from the Diocese of Paisley, Monsignor John Tormey, to lead the celebration of Mass in the Cathedral.  Monsignor Tormey was careful to acknowledge the difficulties experienced by people in and around abortion and how a new life can sometimes be seen as a threat and can bring about fear, especially for younger women.  Yet, while abortion is one solution, Monsignor Tormey wanted to make it clear that 'we suggest an alternative solution'.
That alternative solution is, of course, life, but it relies on one very important thing.  It relies on the availability of support for mother and baby and extended family.  If we can ensure that support is available then we can put forward life as a real alternative solution to abortion for many hundreds of women.  As a Catholic people we must embrace our mission to spread the Gospel of Life and to be prepared to debate it with others.  But we must be able do this with great confidence in the support available for mothers encountering the most difficult decision they will ever face. 
Thankfully, and by the Grace of God, there is help available.  Even in Glasgow there are dedicated resources for mothers, as well as fathers and other family members, struggling with pregnancy and the thought of a little child in their lives.  Please be sure to check out our Abortion page by
clicking this link
.  There you will find a number of resources for people who may find themselves struggling with the decision of whether to abort or whether to keep their baby. 
Now, in the days leading up to Thursday's pro-life event in Glasgow, I set out a pro-life challenge to try and encourage people to attend.  While numbers were up we still fell way short of what I know we can achieve.  However, what's done is done and we can only hope that next year our numbers will increase again.  But before that, it's time for another challenge.  In the year ahead we may well come across someone who is considering having an abortion.  You may hear of it from the mother herself or from her partner or perhaps just a family friend.  Whatever the circumstances, please consider your mission to stand up for life.  Suggest that there is an alternative solution and that help is available.  Point them in the direction of the organisations listed on our Abortion page.  Tell them that there are people willing to listen to their problems and difficulties, whatever they may be.  Just give them that alternative.  And then pray; pray very hard for them.  Pray that their hearts may soften to the opportunity of new life in their lives.  It may be that your gentle nudge in the direction of help and support allied with your prayer brings a new life into the world and creates a loving family full of joy.
Please, do not feel limited as to what you can achieve in the cause of life.  Every little prayer helps.  And even your own positive witness to the great joys of life can change hearts and minds.  Don't waste an opportunity to help someone who is considering abortion, you might just save a life.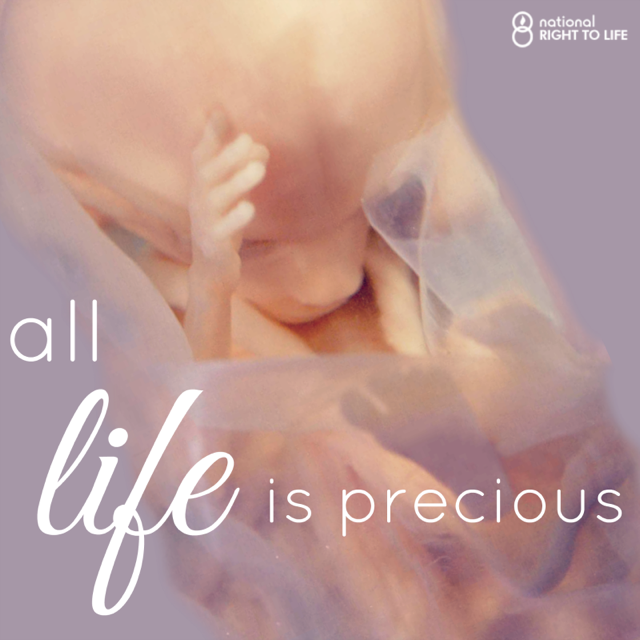 Thursday 23 October sees the return of the annual pro-life Rosary, procession and Mass in Glasgow.  This annual event organised by LIFE and assisted by the Knights of St Columba is one of the most beautiful witnesses to the sanctity and value of human life.
The event marks the passing of the Abortion Act 1967 and seeks to raise awareness of the millions of lives lost since that date.  It also seeks to raise awareness of the ongoing threat of abortion to innocent children and the threat it poses to the mother, father, other family members and wider society.
As Catholic people we should be acutely aware of the need to protect all human life from conception to natural death.  It is a tenet of our faith and we are called to defend it to the end.  Indeed Pope Francis has been quoted as saying 'Defend the unborn against abortion even if they persecute you, calumniate you, set traps for you, take you to court or kill you.'
This is a very powerful call.  And now we in Scotland have an opportunity to be witnesses to that call.  We can pray for these innocent lives.  We can pray for their mothers, fathers and grandparents.  We can pray for all affected by abortion.  We can pray that abortion will end so that all people are given the chance to live, just in the same way that we have all been afforded that chance.  And we can pray for this together, as one, in George Square, Glasgow on the evening of 23rd October.  What a beautiful opportunity for us!  To pray together and to take our petitions to Christ in the Eucharist at Mass in the Cathedral!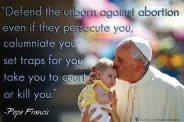 For those in attendance at last year's event, you will not have failed to notice the alternative viewpoint being offered by another group in George Square.  Yet, despite their best efforts we managed to maintain a beautiful, prayerful witness throughout our Rosary and subsequent procession.  The difference in the two camps was incredibly stark and, to be honest, it was a blessing to be on the side seeking the intercession of our Blessed Mother, Mary as we contemplated the mysteries of her son, Jesus Christ. 
Indeed for those present at last year's event, the words of Bishop John Keenan's homily should still be ringing in our ears.  Bishop Keenan encouraged all present to 'bring a friend' in 2014 so that we could double our number.  Have you invited a friend along to this year's gathering? 
Further, Bishop Keenan spoke of how he believed many people were 'pro-life on the brain' but never did anything about it.  Well, for those people, this is your chance!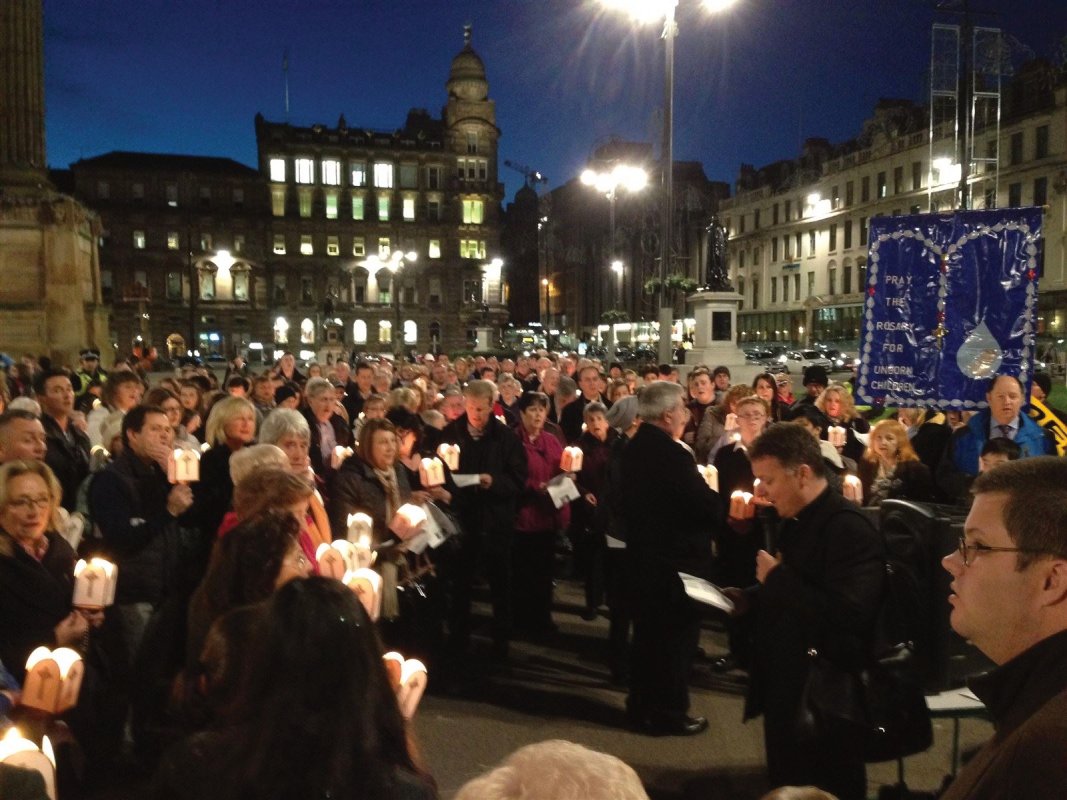 George Square, Glasgow in 2013 
The 2011 census in Scotland revealed that there were 841,000 Catholic people in this country.  Yet last year we managed to muster the support of around 250 – 300 of them.  That's no more than 0.03% of Catholic people in Scotland who are willing to stand up for one of the most fundamental aspects of our faith; the right to life.  And while many of those 841,000 Catholics couldn't possibly attend the event, I hardly think that 0.03% is sufficiently representative of our pro-life values.  I see no reason why we can't build up a gathering of a few thousand over the coming years to mirror similar events in the United States, Spain, Ireland and England.
We have recently witnessed pro-independence gatherings in George Square , the latest of which managed to amass around 6,000 supporters.  What an embarrassment that we can only attract a fraction of that number in defence of life.
We are a pro-life people.  We are a pro-life nation.  Please, please join us in George Square and witness to life, and please remember to encourage your parish priest to mention the event at Mass and to include it in your parish bulletin.  The truth is, we desperately need your support.  The challenge is for you to get to George Square and to witness to life.  Are you up for it? 
The event begins with a recitation of the Rosary in George Square, followed by a solemn candlelit procession to St Andrew's Cathedral on Clyde Street where Mass is celebrated.  Please ensure you arrive at George Square for no later than 6.30pm when the recitation of the Rosary will begin.  The procession will begin at 7pm with Mass at 7.30pm.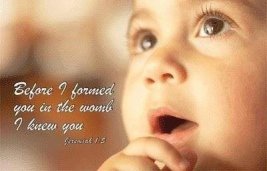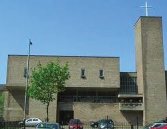 Our Lady of Consolation Church (part of the parish of Holy Cross) in Glasgow will be closing its doors next Monday.  The Church will be closing after serving the local community since 1966 (when the building – then a cinema – was bought for £8000).  The church has also served as the Archdiocese youth pastoral centre for many years.
There will be a celebratory Mass of Thanksgiving on Monday 8 September at 7.30pm.  It will no doubt be a sad occasion as well as one of celebration.  The principal celebrant will be Archbishop Philip Tartaglia.
For those who attend the monthly pro-life Mass organised by the Gospel of Life Sisters, this will now take place in Blessed John Duns Scotus Church in Ballater Street (check our
events diary
for more details).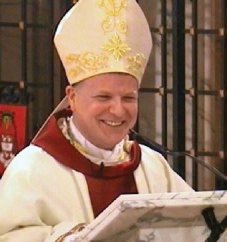 This Thursday, the Ogilvie Centre in Glasgow will host a talk by the recently appointed Bishop of Paisley, John Keenan (pictured).
Bishop Keenan, a highly thought of and respected priest, was formerly the chaplain to the University of Glasgow and parish priest of St Patrick's, Anderston. 
The talk, on 'Marriage and Theology of the Body', is bound to be one of real interest with valuable thoughts and lessons for today's society.  Theology of the Body is, for me, the jewel in the Catholic Church's crown.  Starting off as a series of talks by Pope John Paul II, Theology of the Body has become renowned in Catholic circles for grasping the true meaning of love in the context of the human body.  Unfortunately, the talks have not penetrated any further and the world at large remains untouched by the beauty and truth of John Paul's teachings.
The importance, therefore, of this opportunity to immerse oneself in the splendour of Theology of the Body cannot be underestimated.  At Scots Catholic we are hoping to commit a short series on Theology of the Body to our website in the coming months, to try and bear witness to this great jewel in our crown.
In the meantime, please seriously consider attending this unique opportunity to hear a Scottish Bishop talking about these crucially important matters.  Marriage, much maligned and abused in our world today, must be cherished for the sacrament it really and truly is.  And our sexuality must also be cherished for what it really is according to Pope John Paul's teaching.  People need to hear some good news.  This is a unique opportunity to do so.
The talk, organised by the Knights of St Columba, takes place this Thursday 14th August at 7pm in the Ogilvie Centre, 25 Rose Street, Garnethill, Glasgow G3 6RE.
A new service for those affected by the pain of abortion has launched in Glasgow.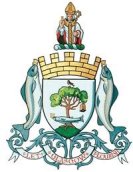 Glasgow City Crest
Did you know......the city of Glasgow motto "Let Glasgow Flourish", registered at the Lyon Court in 1866, is a curtailment of the text incribed on the bell of the Tron Church cast in 1631 - "Lord let Glasgow flourish through the preaching of thy Word and praising thy name."
So the proper Glasgow motto refers to the preaching of the Word of God and praising His name.
That's the real Glasgow!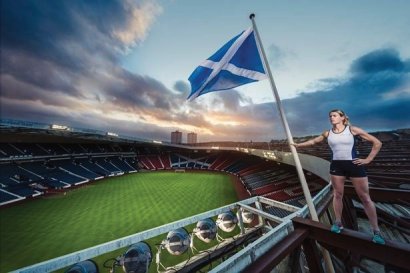 The Commonwealth Games come to Glasgow on 23rd July
Pope Francis has sent his good wishes and prayers to athletes and theologians gathering at a conference in Glasgow on the eve of the Commonwealth Games. The "Celebrating the Gift in Sport" conference takes place on Thursday 17 July at Blessed John Duns Scotus church hall in the Gorbals, Glasgow.
 
Hosted by the Archdiocese of Glasgow, Celebrating the Gift in Sport will explore how sport and faith can combine to champion the gifts of each person – especially people with disabilities – while promoting values of solidarity and respect. 
 
It will be opened by the Archbishop of Glasgow, Philip Tartaglia, who said: "With his message for our Conference, Pope Francis has shown himself close to all athletes and to everyone who enjoys sport as a means of celebrating the sheer joy of the gift of life and of promoting the dignity and potential of the human person."
 
The Archbishop added: "The Glasgow Commonwealth Games is an ideal opportunity for us to celebrate that gift and proclaim the dignity, respect and purpose that God bestows on all people, no matter their ability or nationality."
 
Speakers at the conference include 2004 Olympic sprint relay champion Jason Gardener, Special Olympian Leanne Peter, paralympian Frank McGuire, former British Taekwondo champion-turned broadcaster John Cullen, Gordon McCormack chair of Scottish Disability Sport, and Professor John Swinton and Christina Gangemi of the Kairos Forum at the University of Aberdeen.
 
Members of the Cornerstone Community will tell how sport has changed their life, building up their confidence and providing opportunities to influence wider society.
Celebrating the Gift in Sport takes place on Thursday 17 July from 9.30am to 5.00pm at Blessed John Duns Scotus church hall, 270 Ballater Street, Gorbals G5 0YT.  For details contact Monsignor Paul Conroy at
[email protected]
or on 0141 226 5898.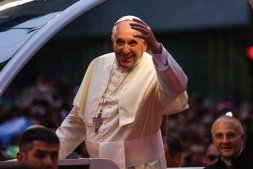 Could Pope Francis be coming to Glasgow?
The Archbishop of Glasgow, Philip Tartaglia, has written to Pope Francis,
inviting him to the city in order to mark the 400th anniversary of St John Ogilvie, who was executed at Glasgow Cross on 10th March 1615.
The Archbishop, in his letter, said: "It would be wonderful if you could come to Glasgow for a day for this unique event" and said he envisages the visit as being of "purely religious-pastoral nature".
The letter continues: "I know this is short notice for the visit of a Pope....I present this request to you without any expectations or sense of entitlement.  I do not even know if it is practical!  However a visit would be such a grace."
How great it would be to have Pope Francis in our dear green city of Glasgow!  Please pray for a positive response to our Archbishop's invitation!
/