Shopping Cart
Your Cart is Empty
There was an error with PayPal
Click here to try again
Thank you for your business!
You should be receiving an order confirmation from Paypal shortly.
Exit Shopping Cart
Calling Scotland's 841,000 Catholics to unite as one voice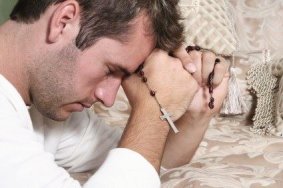 A call to Catholic men to right the wrongs of a broken society
Here's a question for Catholic men: did you know that you have the power to mend our broken society?  All the sadness and despair, the lies and deceit, the selfishness and infidelity; you have the answer to all of these problems.  The future of our world; a future of beauty, goodness and truth is in your hands! 
Confused?  Don't be.  Consider for a moment when the perfect world God created changed.  It was in the Garden of Eden, when Eve was tempted by the serpent to eat the fruit from the tree of the knowledge of good and evil, and both she and Adam ate the fruit.  This is the moment everything started to go wrong.  This is the moment sin and death entered into our world.  But what if you could help to right the wrong? 
Jesus, through his passion and Resurrection, redeemed that fatal mistake made by our forefathers in Eden, yet too many in the world reject the redemption Jesus offers them; preferring to ignore it and to continue buying into the relativist culture that tells them anything goes.  A culture that encourages selfishness for the sake of one's own wants and desires.
So is there something we Catholic men can do to bring people to accept Christ's redemption on the Cross?  How can we play a part in helping to heal the wounds of the single biggest mistake made by humanity?  A good starting point is to identify Adam's first mistake.  If we take ourselves back to the Garden of Eden, at the very moment the serpent persuades Eve to eat the fruit and she obliges.  Where is Adam at this point?  Why is he not protecting his wife from the cunning serpent and telling her to do as God instructed and not eat the fruit from the tree? 
This example of Adam failing to protect and care for his wife is all too prevalent in our world today.  And such a failure has serious repercussions.  Adam, after eating the fruit, suddenly realised that he and his wife were naked and he no longer saw her as God intended him to see her.  Rather, it was her body alone that he could see.  His eyes could no longer appreciate Eve's purity in her soul, that part of her which is the very core of her being.  Instead he looked upon her as an object for pleasure and gratification.  Does this ring any bells?  Is this not an accurate reflection of how many men view women in our world today?  Adam, created to have dominion over all the animals of the world and to be protector-in-chief of God's creation, including his wife, had gone from a soldier for God to a man of weakness; a wretch with no backbone.
And so it is with us men today.  Instead of protecting our wives and ensuring their safety and security in this world of sin, we have let them become the object of our own selfish desires and gratification.  We, like Adam, have taken our eye off the ball and have failed our women.  We have failed them badly.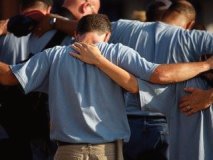 Catholic men can rebuild our broken society
Everywhere we turn there is infidelity, adultery, divorce, pornography, selfishness, violence, hate and intolerance.  The world is in ruins because of relativist ideals, especially those borne out of the sexual revolution.  But we Catholic men have been charged with making something out of those ruins; to take them and to build a pillar of love for the whole world to see.  We are called to succeed where Adam failed.  We have a duty to carry out God's original plan for His Creation; that is to serve, protect and defend all that God has entrusted to our care, especially our wives and children.
We must see our wives as God intended; with a perfect love.  That is, the same perfect love we witness when we see Christ hanging from the Cross.  This, brothers, is the love we are called to show our wives.  It is not lustful, it is not selfish.  It is pure sacrifice.  We, like Christ, must be prepared to lay down our lives for our wives and our children, putting their needs before our own.  Only in living out this kind of love will we be able to repair the wounds in our society; a society that is broken, having lost all sense of what it really means to be in love. 
Our world today is full of love built on sand.  We have love built on lies, we have love built on selfish desires, we have love built on one night stands, and we have love built on adultery.  The result of this is broken relationships, broken families, and ultimately broken children who have never experienced the love they need in order to thrive.  Society needs strong leaders in love.  It needs an authentic, unselfish and unconditional love that is free from the horrid pain of selfishness and lies.  The sexual revolution encourages people to dip in and out of relationships as and when they please.  There is no attempt to encourage staying power, no attempt to encourage true fidelity.  It is every man and woman for themselves.  Yet as Catholic men we are called to be much better than this, much better!  We are called to be soldiers for God, bringing His perfect love to the world by living it out in our homes and in our everyday lives, setting an example for our broken society.  God is looking down at the earth and asking "Where have all my Catholic men gone?  Where are my soldiers?  Where are the men my Son died for?"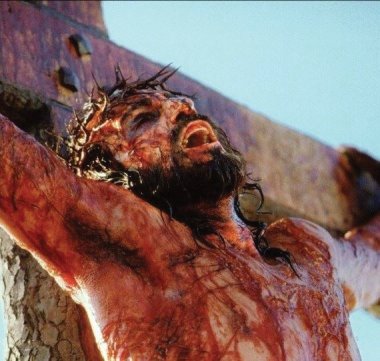 Christ's broken body is the example we are called to follow 
Brothers, let us be true.  True to God, true to our wives, true to our children, and true to our world.  Let us use our call to greatness, our call to be saints, to make a real difference to our world.  Let us never tire of striving to show the kind of love that Christ showed on the Cross, when he gave everything he had, shedding every last drop of blood for his people.  We too are called to give everything we have.  So, with a deep sense of prayer and trust in the Holy Spirit, let us go forth and be true protectors of God's creation.  Let us be sure to love our wives and families with that perfect love so unselfishly evidenced by the broken body of Jesus Christ hanging on the Cross.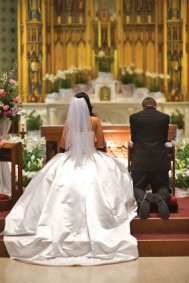 In this time of persistent and often radical sexual revolution it is hard to know where to look for some semblance of normality and a more authentic love.  In her latest Catholic Answers article, Jennifer Roback Morse encourages all people to look to the Catholic Church in these difficult times, even those who don't identify as Catholic.
As Jennifer says: "What the Catholic Church does is important to everyone, no matter their faith. The Catholic Church is the largest institution still standing against the ideological fraud known as the sexual revolution. Everyone who is trying to deal with the fallout from this massive social upheaval has a stake in what the Catholic Church says and does."
Pope Francis, through his recent Exhortation
Amoris Laetitia
, is asking the whole of humanity to trust in the teaching of Christ and his Church for our future.  He wants all people to experience an authentic love, particularly through the Sacrament of Marriage, and to find out for themselves that the sexual revolution does not satisfy our longings.  Rather, it inhibits us and restricts our freedom; enslaving us in an endless cycle of pain, misery and hurt. 
But the Church offers us hope, and by writing this Exhortation Pope Francis is building the foundations of a solid response to the sexual revolution.  It is a response that invites all people to an encounter with Christ and his Church in order to experience the true meaning of a real, authentic and free love. 
The Church has the answer, we just need to believe in it.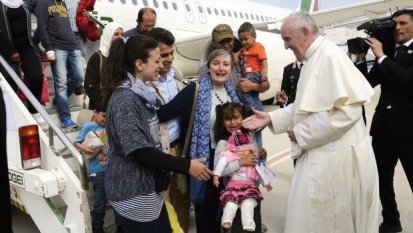 Pope Francis welcomes some of the migrants to Rome
Pope Francis has once again thrust the Catholic Church into the spotlight; this time by bringing a group of twelve Syrian migrants from the island of Lesbos to live in Rome.  The families travelled with the pope back to Italy after he made a visit to the small Greek island last weekend.  It is understood the three families, all Muslim, were fully prepped for the move ahead of the pope's visit.
The finer details of how all of this will pan out remain to be seen, but the gesture itself is one of great love and generosity on the part of Francis.  It is dynamic, reactive, and challenging.  In many respects it bears the hallmarks of Christ himself.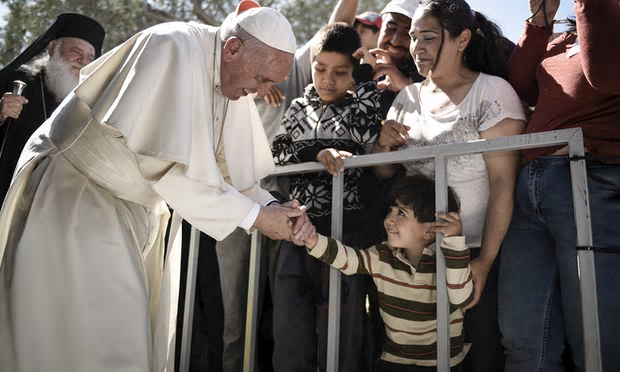 And while he had to leave huge numbers of migrants behind in Lesbos, Francis left them in no doubt that he loves each and every one of them as he told them: "you are not alone".  He later followed this up with a call to Western leaders to do more to accommodate the migrants.   
Yet the challenge set down by the pope is not just for political leaders.  Each one of us is called to rise to his challenge and to show similar love and compassion to the poor and needy in our communities.  So before we criticise others for their failure to act, we need to think about what we ourselves are doing for the good of humanity.  It might only be small gestures of love or kindness, but remember, each little gesture creates another building block for the Kingdom of God.
For all of the criticism Pope Francis attracts, particularly from his own household, he has the knack of showing great love to all people, especially to those in great need.  In all honesty, I wish I could have even a tiny percentage of the compassion, mercy and humility that this man clearly has in abundance.  He is, in many respects, a world leader in love.  Isn't that precisely what God's representative on earth should be?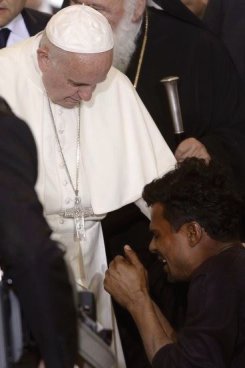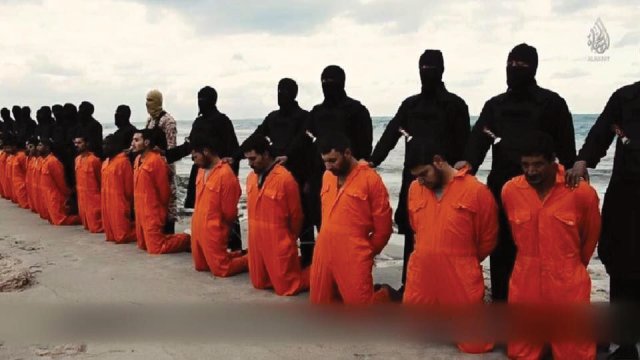 When will the West listen?
A motion is to be put before the UK Parliament next week calling on the House to recognise that Christians and other minority groups in the Middle East are facing genocide.
The terror being wrought by ISIS is well known to all, though the fact that it is mainly targeted towards Christians is not so well documented in the West.
This is an opportunity for the UK government to take a stand against ISIS by declaring their actions to be a genocide against Christians, Yazidis and other religious minorities.  As Pope Francis said: "It is wrong to look the other way, and remain silent."  We all know the situation in the Middle East, and now is our chance to act and to speak up.
Please, please contact your MP today and encourage them to take part in this debate which will take place in Parliament next Wednesday 20th April.  Aid to the Church in Need UK has helpfully drafted up a letter and included a link to obtain the contact details of your MP.  You can find it all by clicking
here
.
We can no longer allow innocent blood to flow under our feet while we do nothing.  We need to act to stop this murder.  Please, help the helpless and write to your MP today.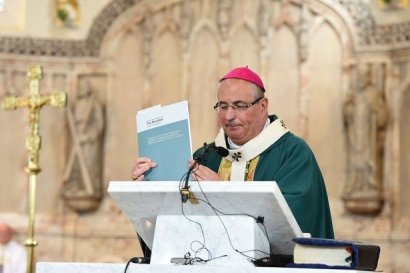 The Church will implement all recommendations
from the McLellan Report

Peter Kearney, Director of the Scottish Catholic Media Office, has called for fairness by the media in reporting the issue of child abuse in the Catholic Church. 
Mr Kearney suggests that official figures show that the problem in the Church is tiny compared to the problem as a whole across Scotland.  Indeed, it is believed that only 0.3% of abuse complaints over the past ten years were against Catholic clergy and volunteers.  Yet, despite this figure, the media appear determined to castigate the Church as offender in chief when it comes to the awful reality of child abuse.
As Peter Kearney says, the "robust attention" of the media around this issue is to be "welcomed" as it "serves to strengthen the resolve of those working within the Church to be as transparent and accountable as possible.  Survivors deserve that."  But there appears to be a disproportionate focus on the Church, especially when you consider the figures quoted.
As we have said before, the Catholic Church in Scotland should now be the safest place for children given the work it is doing to ensure that deplorable mistakes from the past are not repeated.  Following the McLellan Commission's report last year the Church accepted all eight recommendations of the Commission in relation to the safeguarding of children and vulnerable persons and expects all eight to be fully implemented by the end of 2017.   
Perhaps one of the biggest moves by the Church has been to release an annual audit of all abuse allegations against its clergy and volunteers.  This is made public thus ensuring transparency and easy access to the figures for the media and the general public, all of whom have a vested interest in this issue.  Sadly, such transparency is not forthcoming from other churches in Scotland.  Indeed, no other organised church in Scotland releases data in this way.  And they are not alone.  The NHS, Police Scotland, local authorities and national youth and voluntary groups have thus far failed to step up to the plate and release audits of abuse allegations.
As Peter Kearney says, "All abuse is utterly wrong and must always be condemned", but "narratives suggesting the Catholic Church has a disproportionate problem and wider society hasn't, is a terrible deception.  Survivors deserve better."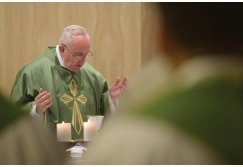 Pope Francis has urged people to more consistent in their faith, even to the point of martyrdom.  During his morning homily at Casa Santa Marta on Thursday the pope described the true Christian witness as someone who is "consistent" in what he says, what he does, and what he has received, namely the Holy Spirit. 
He continued: "It is the witness of our martyrs today – so many! – chased out of their homeland, driven away, having their throats cut, persecuted: they have the courage to confess Jesus even to the point of death.  It is the witness of those Christians who live their life seriously, and who say: 'I can't do this; I cannot do evil to another; I cannot cheat; I cannot lead life halfway, I have to give my witness'.  And the witness consists in saying what has been seen and heard in faith, namely the Risen Jesus, with the Holy Spirit that has been received as a gift."
The pope then went on to say that the Church today "needs witnesses, martyrs.  These are the witnesses, that is, the saints, the saints of everyday, of ordinary life, but life [lived with] consistency; and also the witness 'to the end', even to death.  These are the lifeblood of the Church; these are the ones that carry the Church forward, the witnesses who attest that Jesus is risen, that Jesus is alive, and they bear witness through the consistency of their life, with the Holy Spirit they received as a gift."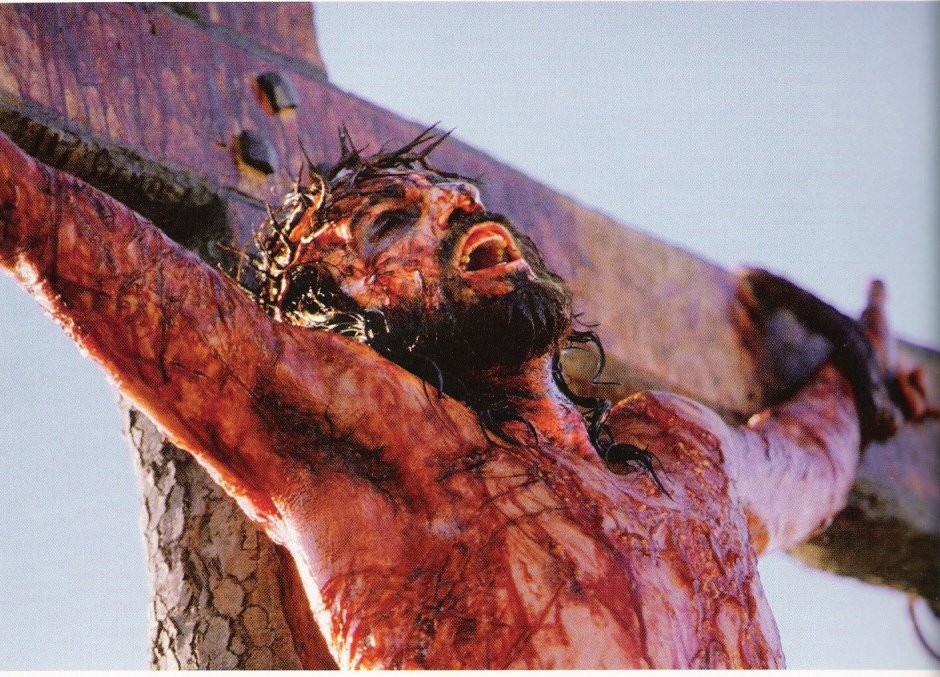 As we journey with Christ through his Passion and Crucifixion it is worth bearing in mind some of the little things we as human beings are drawn to but that are contrary to God's desire for our lives.
The intolerable pain and suffering taken on by Jesus as he was abused, spat upon, mocked, and beaten is something we must all think about over these next few days.  Having large nails driven into your hands and feet and being attached to a cross is something we simply can't imagine. 
Jesus' suffering and crucifixion was not some kind of crazy act designed to impress.  It was essential.  It was needed in order to reconcile each and every human being to God.  Each and every sin against God is represented by a drop of blood shed by Christ or by a nail driven into his bones.  Yet was it really worth it?  Do we really appreciate the freedom Christ gave us when he undertook this most loving, selfless act?   
Consider this…
Jesus didn't suffer so that I could hate.
Jesus didn't suffer so that I could be violent or persecute.

Jesus didn't suffer so that I could hold grudges.
Jesus didn't suffer so that I could gossip, complain or criticise.
Jesus didn't suffer so that I could lie and be unfaithful.
Jesus didn't suffer so that I would forget about him and never talk to him in prayer.
Jesus didn't suffer so that I would rather do something else than spend time with him at Holy Mass and the Sacraments.
Jesus didn't suffer for a select few.  He suffered for me.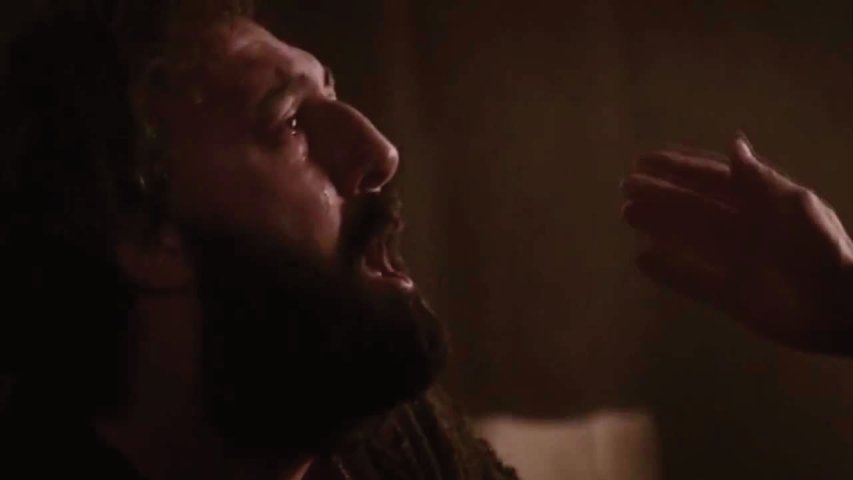 From today's Gospel:
'Simon Peter said, 'Lord, where are you going?' Jesus replied, 'Where I am going you cannot follow me now; you will follow me later.' Peter said to him, 'Why can't I follow you now? I will lay down my life for you.' 'Lay down your life for me?' answered Jesus. 'I tell you most solemnly, before the cock crows you will have disowned me three times.''
This small passage from today's Gospel follows on nicely from our reflection on yesterday's Gospel when we compared the simple love Mary had for Jesus in needing to be close to him with Martha's need to be on the go.  In being so preoccupied Martha missed out on precious quality time with Jesus, a mistake Mary was not prepared to make.
And today we have Peter, one of Jesus' closest disciples, claiming that he would lay down his life for Jesus.  That, you would think, is a step up from the love shown by Mary.  And it is.  And Peter would, of course, eventually become a martyr for Christ in Rome.  But for now Jesus has an unfortunate surprise for Peter.  He tells him that he is going to deny him.  Imagine your best friend, or even your spouse, telling you that they know you will betray them in some way.  You, like Peter, would be very disappointed to hear such news!  But then don't we betray people every day, denying their true value as fellow human beings and children of God?  Don't we gossip, complain and criticise other people behind their back on a regular basis?  These are human weaknesses and no human is exempt from them.  Even St Peter fell into this trap!  So, in that sense, we are in good company.
But, like St Peter, we are called to greater things.  We are called to overcome our human weakness and realise the hurt caused by some of our actions.  How can we forget the look on Peter's face in Mel Gibson's The Passion of The Christ when he heard the cock crow?  How can we forget the way he then rushed to the feet of Mary and sobbed uncontrollably as he clung to her garment, realising how foolish and weak he had been?
We are all capable of moments of weakness in our lives, even to the point of mistreating or even denying those most precious to us.  The next time you fall into this trap look for the comforting arms of your mother Mary, just as Peter did, and seek reconciliation with Jesus in the Sacrament of Confession.  This is how we can overcome our weakness and become saints.  If Peter can do it, so can we.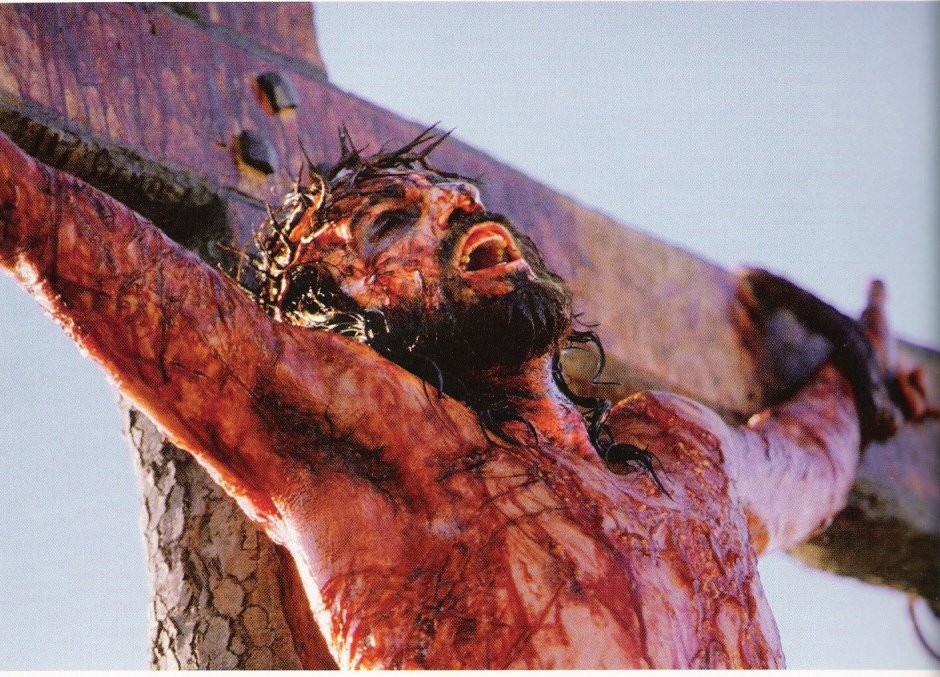 As we embark on another Holy Week we cast our hearts and minds back to Christ's persecution at the hands of his executioners.  Jesus' Passion was a horrific and exhausting episode filled with hate, violence, abuse, blood and gore.  All directed at one person.
The culmination of this hatred and violence was death on a cross.  Left to hang in shame, to be gawped at by the very people he loved and was sent to save.
But thankfully, this death on a cross was not the end.  Christ was to overcome the power of death to rise again and give all of us hope for eternal life.  He gave us proof that death need not be the end.
This Lent, keep it simple.  Praise and thank Jesus for the love he showed you and your family when he bore unimaginable abuse and violence in being beaten to the point of death. 
Praise and thank him for the love he showed you and your family when he carried the Cross through the streets of Jerusalem, struggling under its weight, in front of countless people who had once love him but who now hated him. 
Praise and thank Jesus for the love he showed you and your family when he had nails driven into his hands and feet and was left to hang on a cross to suffer the most excruciating death at the hands of people he loved. 
And finally, praise and thank Jesus for his determination to overcome death when he got on his feet, rolled back the tomb stone and walked out to eternal life.
This Lent, keep it simple: praise and thank a real hero in Jesus Christ.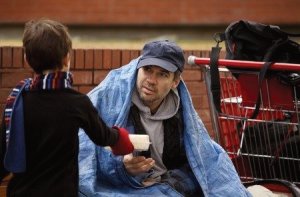 A number of weeks ago I saw a great post on Facebook about making up gift bags for the homeless.  I followed this up with my own post on the matter and it was warmly welcomed.  But as with a lot of these things the impetus faded and I never really got things properly off the ground.
But thank goodness for Lent!  The season for getting up off my backside and actually doing something positive for those in need is here and I feel the need to respond.  Our call to help the poor is, of course, a year round one but Lent is a great time to really kick-start a new initiative. 
So, I have set about making up a small, but hopefully useful, gift bag for some of the homeless around where I work.  And I wonder if you would like to do it too?  Now I appreciate we all have various commitments and there are so many of you out there who will already be giving so much of your time to the poor.  And I know that there are already countless wonderful people out in the streets on a daily basis doing incredibly selfless work for those in most need.  So this isn't for everybody.
But if you do feel the call to help, why not consider making up some bags of kindness and distributing them to a homeless person this Lent, and beyond?  I have decided to make up at least two each Friday during Lent and to take them out with me onto the streets, where I will hand it over to a couple of people in need.  All being well I will ask the person their name and introduce myself to them, so that I am not just thrusting a bag into their hand and saying 'see ya later'.  That seems a bit impersonal and rude.  It's nice to spend a bit of time with the homeless, even if it's just a minute or two.  Maybe they have something they would like to share with another person, or maybe they just need to feel loved.
Suggested items for your gift bag
Your gift bag will, of course, go a long way to making someone feel loved.  In terms of what to put in it, I have opted for the following:
Gloves, socks, toothbrush, toothpaste, deodorant, Kleenex tissues, water, cereal bar, chocolate, fruit, chewing gum, and a few pounds if you can spare it.
It's really up to you what you want to put in it.  The main thing is that you have gone to the effort of making it up and giving it to someone who needs it. 
And here's a thought….why not get your kids to help you?  It could be great fun to get the kids involved in making up the bags and perhaps they can assist you when you go out onto the streets.  It lets them see you engaging with the poor and encourages them to do the same as they get older.    
I fondly recall one of the first things Pope Francis said as pontiff, he said that we need to get close to the poor and "touch their wounds".  That has stuck with me ever since.  We need to "touch their wounds"!  That is an incredibly intimate and personal thing to do.  It's also frightening and distasteful for some.  But if we want to be like Jesus we need to get on our knees and we need to get the dirt on our hands.  We are the hope for our poor people, and this small act of love and kindness is a real opportunity to let Christ's love shine through us and out into the world.
/