Shopping Cart
Your Cart is Empty
There was an error with PayPal
Click here to try again
Thank you for your business!
You should be receiving an order confirmation from Paypal shortly.
Exit Shopping Cart
Calling Scotland's 841,000 Catholics to unite as one voice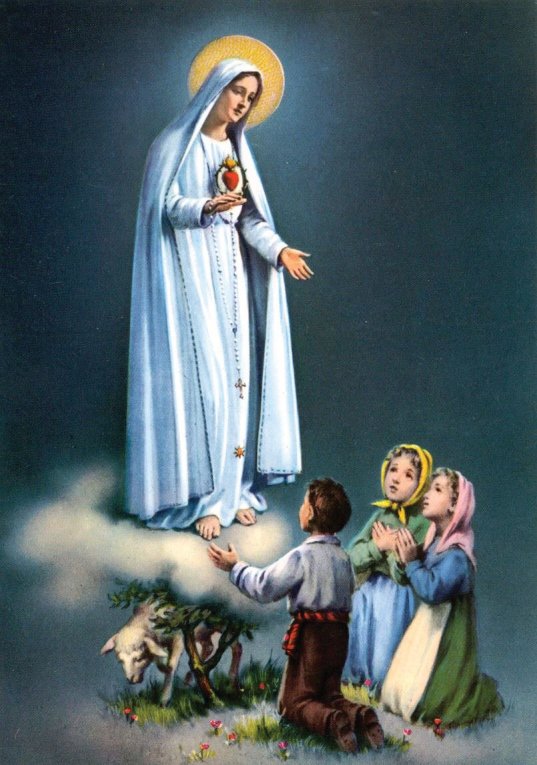 During Wednesday's General Audience Pope Francis reminded the gathered that Friday 13 May is the memorial of Our Lady of Fatima, stressing the importance of paying heed to Mary's words not to offend God any more than we already have and to focus our hearts and minds on abandoning ourselves to God's love and mercy.
The pope said: "In this apparition, Mary invites us once again to prayer, penitence and conversion. She asks us to offend God no more….She warns all humanity of the need to abandon itself to God, the wellspring of love and mercy. Following the example of St. John Paul II, a great devotee of Our Lady of Fatima, let us listen carefully to the Mother of God, and implore peace for the world."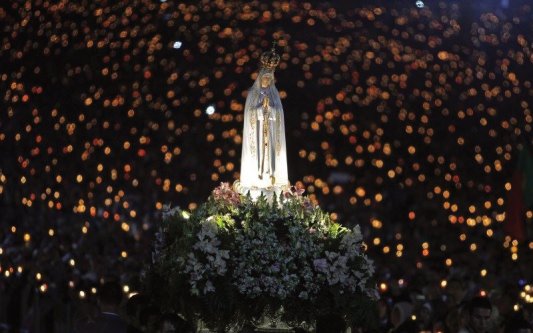 This, brothers and sisters, is our faith. 
These images from Fatima show the world what it means to be Catholic.  Why not share them with others and show them the deep sense of unity and love that exists in the Church; a Church that is open to all.
And as the month of Mary approaches, why not consider joining in the First Saturday Devotion to the Immaculate Heart of Mary?  You can find out more by clicking
here
.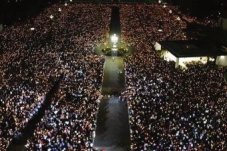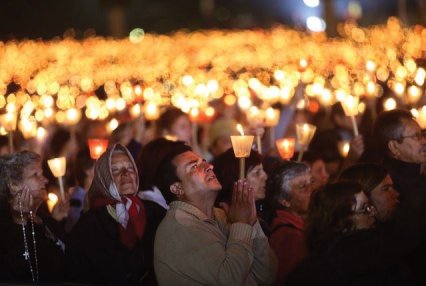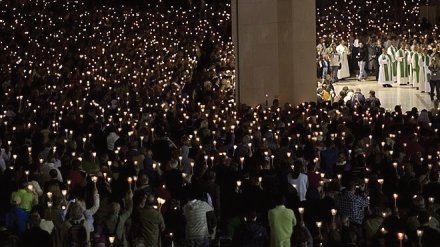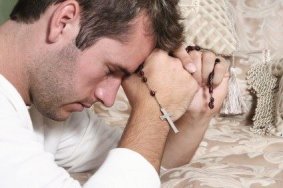 Guys: don't be afraid to pick up your Rosary beads
In our mixed up world of today we are frightfully obsessed with pitting men against women and women against men. For some strange reason the idea of men and women teaming up and complimenting each other has been lost in a society obsessed with competing with one another and forgetting our most basic call to love.
The Catholic Church is a great believer in the complimentary of the sexes and the need for man and woman to come together as one flesh. And why wouldn't it be? The whole of humanity hinges on it after all!
First we had Paul VI and his encyclical Humanae Vitae, then we had John Paul II and his talks on Theology of the Body. And now we have Bishop Olmsted of Phoenix giving his view on the matter, as he focuses on challenging Catholic men to be real men for the woman in their life. Too many Catholic husbands forget their marital obligation and fall into the trap of thinking that they are more important than their wife. Listen up guys....you are not more important than your wife. She is far more important than you!
The temptations of the world are put there by the devil to lure men away from the commitment they have made to their wives. He desperately prowls around laying traps to seduce men and take their gaze and attention away from their beloved.  And if he succeeds he will not only have lured those men from their wives, he will also have lured them away from God. And that is his main aim.
The sexual act is at the very centre of God's plan for humanity. His first instruction to mankind was to "be fruitful and multiply". Why do you think sex has become so distorted? Because it's critical to God's divine plan and is thus the devil's favourite point of attack!
With this in mind the call of Bishop Olmsted is one that is most timely and it is a call that all men would do well to take on board. While it may be hard to believe, the future of our society depends so much on strong men, especially strong Christian men rooted in Christ.  The Bishop suggests all Catholic men do the following on a daily basis: pray, go to Mass (where possible), read the Bible, and examine your conscience before bed.  He also suggests that men go to Confession on a monthly basis. All of this coupled with an unconditional and dedicated commitment to our wives would put the evil one well and truly on the back-foot. There is nothing satan hates more than a committed Catholic man, dedicated to his wife and family, who has every intention of sticking to God's divine plan.
The priority of every Catholic husband must be to ensure his wife and children get to Heaven. Everything else must take second place.  And so, in the words of St Paul, let us "put on the armour of God [and] stand firm against the tactics of the devil."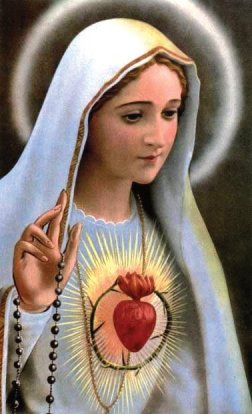 The First Saturday Devotion to the Immaculate Heart of Mary is an incredibly rich, and ultimately rewarding, devotion to Our Blessed Mother Mary. 
Please try to participate in this most incredible act of devotion and allow Jesus to pour his abundant graces upon you.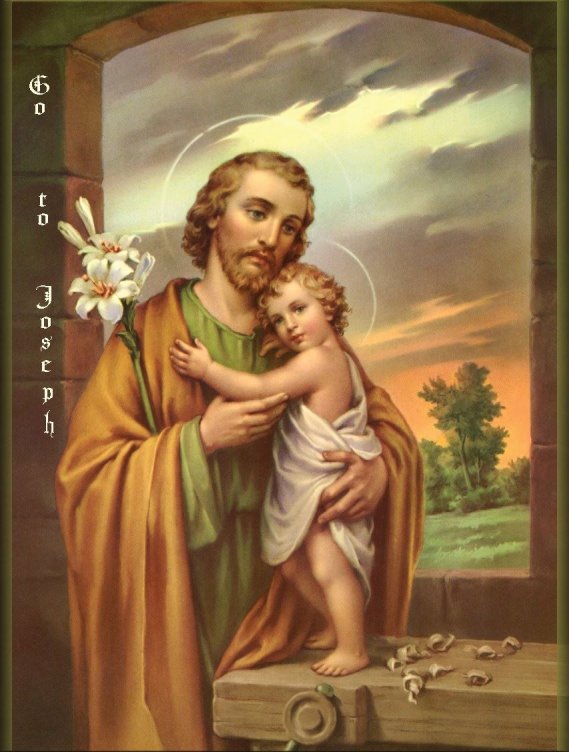 As we celebrate the Solemnity of St Joseph Scots Catholic is kickstarting a year of prayer for Catholic fathers. 
Our aim is to discover what it truly means to be a Catholic father and the role we play in the lives of our families and wider society.
And what better day to kick things off than the solemnity of St Joseph, step-father to Jesus Christ?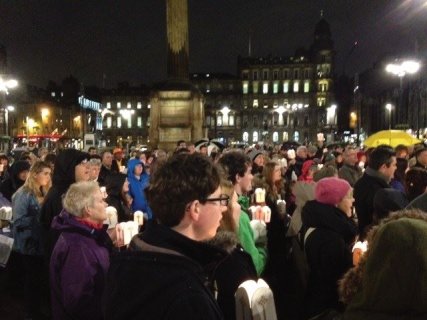 Hundreds braved the cold to stand up for life
Glasgow once again bore witness to the pro-life movement as the annual pro-life torchlight procession took to its streets on Thursday night. 
At least 300 people attended this year's event which is slightly more than last year and must be seen as a positive step in the right direction.  Perhaps the most pleasing thing about the event was the number of young people in attendance.  I have suggested before that there is an undercurrent of Catholic and pro-life youth steadily growing in Scotland, and this was very much in evidence at this event.
The event, which takes place every October, marks the passing of the Abortion Act 1967 and encourages those in attendance to pray for its repeal.
Once again, as in previous years, there was a beautiful recitation of the Rosary in George Square followed by a solemn procession through the busy city streets to St Andrew's Cathedral on Clyde Street .  And while I don't want to go into too much detail about the beauty of the event in George Square, as I believe people should just get off their backsides (health and other commitments permitting) and experience it for themselves, the sound of 'Immaculate Mary' echoing through the centre of Glasgow was an incredible and uplifting experience.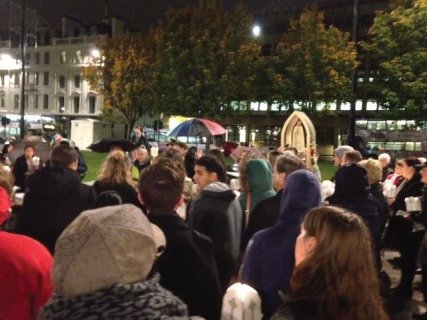 A statue of Our Lady of Fatima was carried through the city streets 
After last year's battle cry from Bishop John Keenan it was left to another priest from the Diocese of Paisley, Monsignor John Tormey, to lead the celebration of Mass in the Cathedral.  Monsignor Tormey was careful to acknowledge the difficulties experienced by people in and around abortion and how a new life can sometimes be seen as a threat and can bring about fear, especially for younger women.  Yet, while abortion is one solution, Monsignor Tormey wanted to make it clear that 'we suggest an alternative solution'.
That alternative solution is, of course, life, but it relies on one very important thing.  It relies on the availability of support for mother and baby and extended family.  If we can ensure that support is available then we can put forward life as a real alternative solution to abortion for many hundreds of women.  As a Catholic people we must embrace our mission to spread the Gospel of Life and to be prepared to debate it with others.  But we must be able do this with great confidence in the support available for mothers encountering the most difficult decision they will ever face. 
Thankfully, and by the Grace of God, there is help available.  Even in Glasgow there are dedicated resources for mothers, as well as fathers and other family members, struggling with pregnancy and the thought of a little child in their lives.  Please be sure to check out our Abortion page by
clicking this link
.  There you will find a number of resources for people who may find themselves struggling with the decision of whether to abort or whether to keep their baby. 
Now, in the days leading up to Thursday's pro-life event in Glasgow, I set out a pro-life challenge to try and encourage people to attend.  While numbers were up we still fell way short of what I know we can achieve.  However, what's done is done and we can only hope that next year our numbers will increase again.  But before that, it's time for another challenge.  In the year ahead we may well come across someone who is considering having an abortion.  You may hear of it from the mother herself or from her partner or perhaps just a family friend.  Whatever the circumstances, please consider your mission to stand up for life.  Suggest that there is an alternative solution and that help is available.  Point them in the direction of the organisations listed on our Abortion page.  Tell them that there are people willing to listen to their problems and difficulties, whatever they may be.  Just give them that alternative.  And then pray; pray very hard for them.  Pray that their hearts may soften to the opportunity of new life in their lives.  It may be that your gentle nudge in the direction of help and support allied with your prayer brings a new life into the world and creates a loving family full of joy.
Please, do not feel limited as to what you can achieve in the cause of life.  Every little prayer helps.  And even your own positive witness to the great joys of life can change hearts and minds.  Don't waste an opportunity to help someone who is considering abortion, you might just save a life.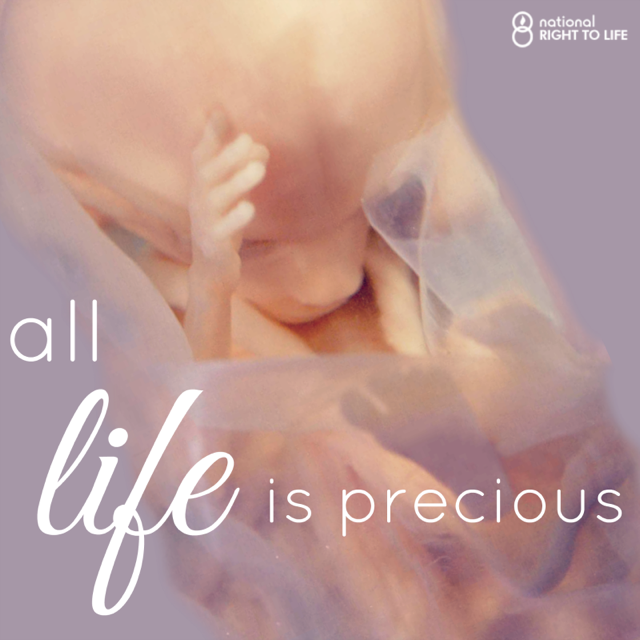 Thursday 23 October sees the return of the annual pro-life Rosary, procession and Mass in Glasgow.  This annual event organised by LIFE and assisted by the Knights of St Columba is one of the most beautiful witnesses to the sanctity and value of human life.
The event marks the passing of the Abortion Act 1967 and seeks to raise awareness of the millions of lives lost since that date.  It also seeks to raise awareness of the ongoing threat of abortion to innocent children and the threat it poses to the mother, father, other family members and wider society.
As Catholic people we should be acutely aware of the need to protect all human life from conception to natural death.  It is a tenet of our faith and we are called to defend it to the end.  Indeed Pope Francis has been quoted as saying 'Defend the unborn against abortion even if they persecute you, calumniate you, set traps for you, take you to court or kill you.'
This is a very powerful call.  And now we in Scotland have an opportunity to be witnesses to that call.  We can pray for these innocent lives.  We can pray for their mothers, fathers and grandparents.  We can pray for all affected by abortion.  We can pray that abortion will end so that all people are given the chance to live, just in the same way that we have all been afforded that chance.  And we can pray for this together, as one, in George Square, Glasgow on the evening of 23rd October.  What a beautiful opportunity for us!  To pray together and to take our petitions to Christ in the Eucharist at Mass in the Cathedral!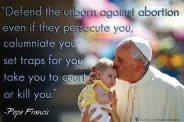 For those in attendance at last year's event, you will not have failed to notice the alternative viewpoint being offered by another group in George Square.  Yet, despite their best efforts we managed to maintain a beautiful, prayerful witness throughout our Rosary and subsequent procession.  The difference in the two camps was incredibly stark and, to be honest, it was a blessing to be on the side seeking the intercession of our Blessed Mother, Mary as we contemplated the mysteries of her son, Jesus Christ. 
Indeed for those present at last year's event, the words of Bishop John Keenan's homily should still be ringing in our ears.  Bishop Keenan encouraged all present to 'bring a friend' in 2014 so that we could double our number.  Have you invited a friend along to this year's gathering? 
Further, Bishop Keenan spoke of how he believed many people were 'pro-life on the brain' but never did anything about it.  Well, for those people, this is your chance!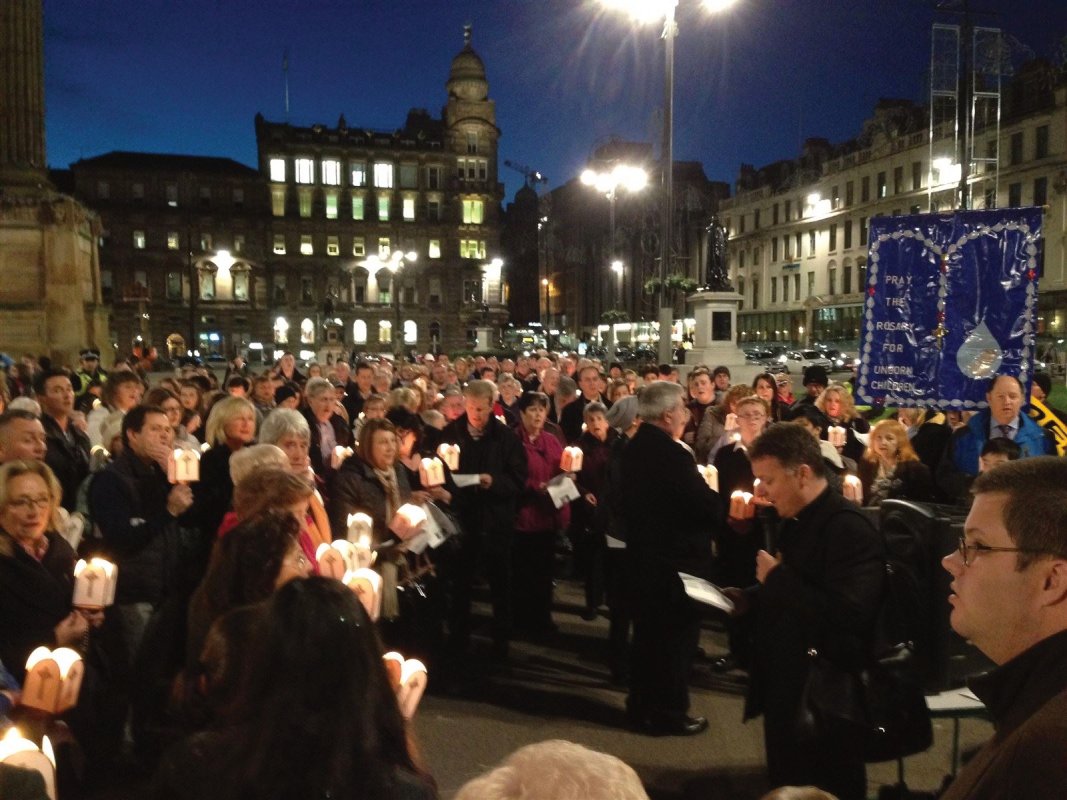 George Square, Glasgow in 2013 
The 2011 census in Scotland revealed that there were 841,000 Catholic people in this country.  Yet last year we managed to muster the support of around 250 – 300 of them.  That's no more than 0.03% of Catholic people in Scotland who are willing to stand up for one of the most fundamental aspects of our faith; the right to life.  And while many of those 841,000 Catholics couldn't possibly attend the event, I hardly think that 0.03% is sufficiently representative of our pro-life values.  I see no reason why we can't build up a gathering of a few thousand over the coming years to mirror similar events in the United States, Spain, Ireland and England.
We have recently witnessed pro-independence gatherings in George Square , the latest of which managed to amass around 6,000 supporters.  What an embarrassment that we can only attract a fraction of that number in defence of life.
We are a pro-life people.  We are a pro-life nation.  Please, please join us in George Square and witness to life, and please remember to encourage your parish priest to mention the event at Mass and to include it in your parish bulletin.  The truth is, we desperately need your support.  The challenge is for you to get to George Square and to witness to life.  Are you up for it? 
The event begins with a recitation of the Rosary in George Square, followed by a solemn candlelit procession to St Andrew's Cathedral on Clyde Street where Mass is celebrated.  Please ensure you arrive at George Square for no later than 6.30pm when the recitation of the Rosary will begin.  The procession will begin at 7pm with Mass at 7.30pm.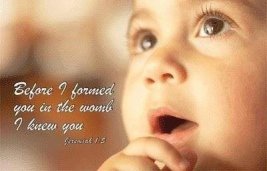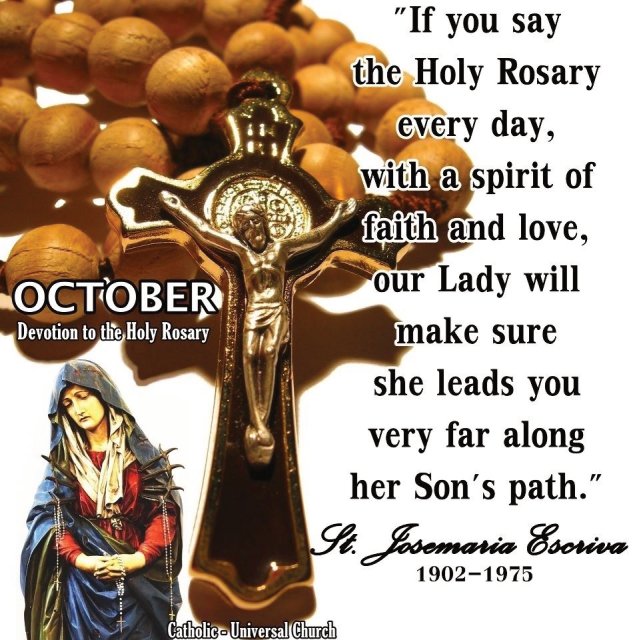 While we should always strive to say the Rosary as often as we can (daily if possible) it is not always so easy to do.  Thankfully the Church gives us the month of October to get our act together!
The month of October is the month of the Holy Rosary and must be seen as an opportunity to develop our knowledge of this most precious devotion and to develop our relationship with Jesus, our Saviour, and Mary, our mother.  Personally, I cannot overstate the graces received as a result of saying the Rosary.  It genuinely works miracles.
If you don't know what the Rosary is or are unsure how to say it, then look no further than our own brief introduction to walk you through the devotion.  You can find it by
clicking this link
.
Please consider picking up your Rosary beads today and enjoy taking the hand of your mother and journey with her as you contemplate the mysteries of her Son's life.  The graces will soon begin to flow....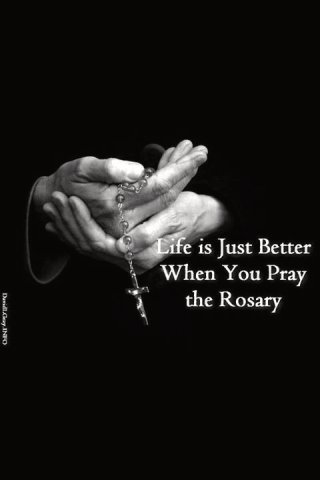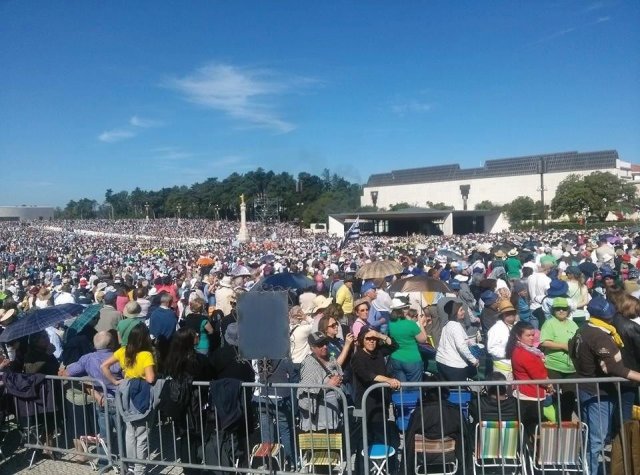 Sheep following the Good Shepherd in Fatima today
From today's Gospel (John 10:22-30):
'The sheep that belong to me listen to my voice;
I know them and they follow me.
I give them eternal life;'
In today's Gospel Jesus is once again emphasising the great gift he has given us: the gift of himself so that we may have eternal life.  Jesus was crucified, died and rose again to save us from sin and to show us that he really is the Son of God.  Those who listen to him and believe in him are truly blessed.  Look at St Paul who, on the road to Damascus where he fully intended to persecute Christians, was met by Christ and suddenly realised that he was wrong to deny the Christian faith.  In that moment St Paul became one of Christ's sheep and was granted the gift of eternal life. 
Do we consider ourselves sheep belonging to Christ?  Are we prepared to listen to his voice and follow him? 
We are so blessed to have so many ways to interact with Jesus.  We have the glory of Holy Mass, we have prayers and devotions, we have the Word of God, and we have simple quiet time in the presence of Jesus, especially in the Blessed Sacrament.  These are all opportunities to interact with Jesus and to listen to his voice. 
Listen and follow….two simple acts of witness to Christ.  We are asked today to listen to Jesus and to follow him and in so doing we may be blessed with the gift of eternal life.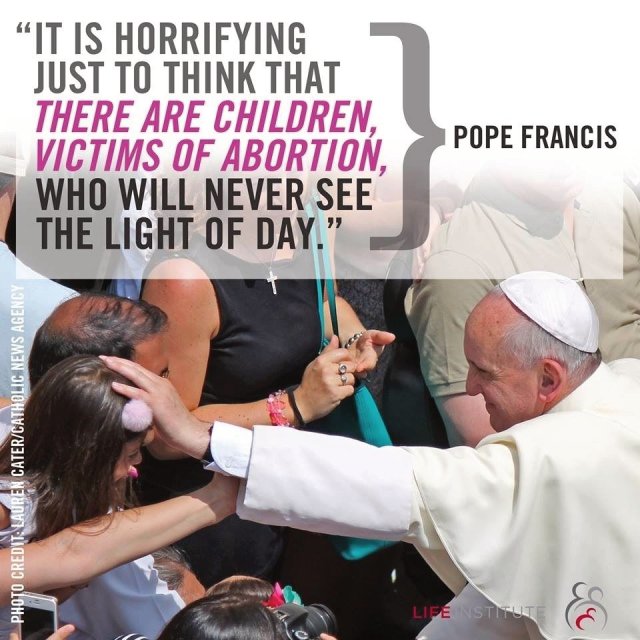 Today's Gospel (Mark 3:1-6):

 

'Jesus went again into a synagogue, and there was a man there who had a withered hand. And they were watching him to see if he would cure him on the sabbath day, hoping for something to use against him. He said to the man with the withered hand, 'Stand up out in the middle!' Then he said to them, 'Is it against the law on the sabbath day to do good, or to do evil; to save life, or to kill?' But they said nothing. Then, grieved to find them so obstinate, he looked angrily round at them, and said to the man, 'Stretch out your hand.' He stretched it out and his hand was better. The Pharisees went out and at once began to plot with the Herodians against him, discussing how to destroy him.'

 

 

It is appropriate that this Gospel passage should appear on this day.  Today is the day when abortion was effectively legalised across the United States following the landmark ruling in the case of Roe v Wade in 1973.

 

Thousands of people will descend on the US capital Washington DC today protesting against abortion and arguing for the cause of life.

 

Jesus also makes an argument for the cause of life in today's Gospel passage.  He makes the distinction between good and evil and then draws parallels with these terms, suggesting that to save a life is to do good and killing is to do evil.  This should be obvious to everyone.  Yet given the number of deaths as a result of abortion, this is clearly not the case.

 

Human beings are dying every day in our world because society has made them so easy to dispense with.  How can this be happening?  What are we doing to our children?  In the UK we afford more protection to baby birds as they grow in their eggs than we do to unborn human beings.  And this is no exaggeration.

 

Jesus, in front of the Pharisees in the synagogue, was not afraid to heal the man with the withered hand.  He was not afraid to speak up for life in the face of criticism.  Today, thousands of people will march for life and speak up for it as Jesus did.  Each day in our world there is a growing number of young people standing up for the cause of life.  In the UK and Ireland organisations such as Abort67, SPUC, and Youth Defence are standing up for little children who just never get the chance.  The chance to live.  If we cannot stand up for that, then what can we stand for?

 

If you are able, please spare a prayer today (or even better, a Rosary) for those unborn children.  Spare a prayer for their mothers, their fathers, and their families.  Spare a prayer for the medical staff who are involved in abortions.  Spare a prayer for our governors, that they may be moved to give life a chance.  And spare a prayer for those who are marching in Washington and who, across the world, are working hard to fight for justice for those little ones who have done no wrong.

 

In addition, if you feel compelled to get involved in one of the above groups or other pro-life campaigns then please do so!  You will find you are not alone.  The worldwide pro-life campaign is on a charge and it is growing by the day.  We will win this.  We will win the right to life for the little ones.  

 

Jesus, in today's passage, has given us a choice: we can either save life, or we can kill it.  What is your choice? 

 

0

/