Shopping Cart
Your Cart is Empty
There was an error with PayPal
Click here to try again
Thank you for your business!
You should be receiving an order confirmation from Paypal shortly.
Exit Shopping Cart
Calling Scotland's 841,000 Catholics to unite as one voice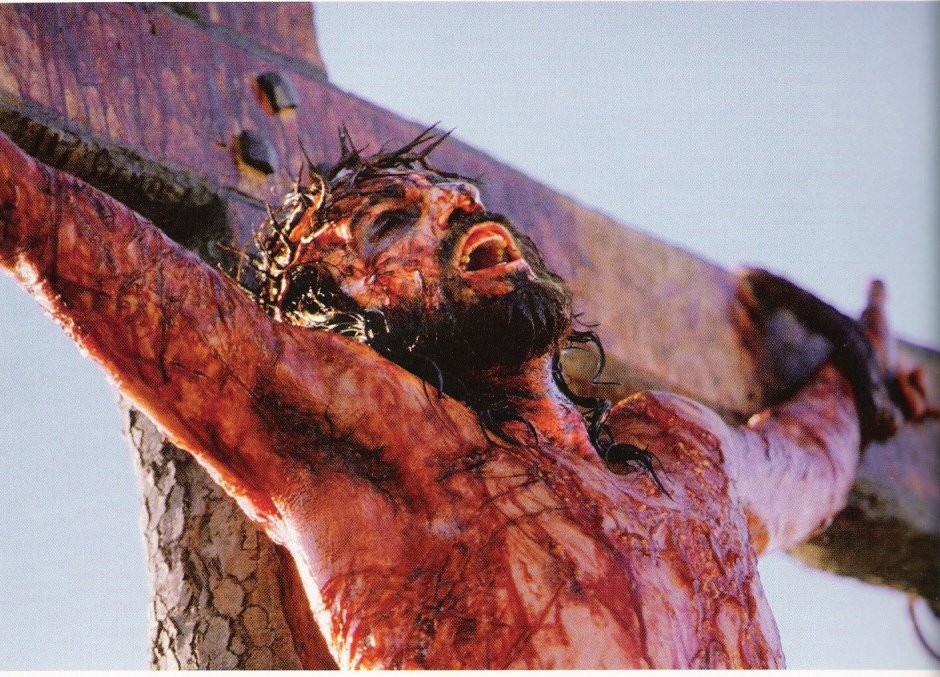 As we embark on another Holy Week we cast our hearts and minds back to Christ's persecution at the hands of his executioners.  Jesus' Passion was a horrific and exhausting episode filled with hate, violence, abuse, blood and gore.  All directed at one person.
The culmination of this hatred and violence was death on a cross.  Left to hang in shame, to be gawped at by the very people he loved and was sent to save.
But thankfully, this death on a cross was not the end.  Christ was to overcome the power of death to rise again and give all of us hope for eternal life.  He gave us proof that death need not be the end.
This Lent, keep it simple.  Praise and thank Jesus for the love he showed you and your family when he bore unimaginable abuse and violence in being beaten to the point of death. 
Praise and thank him for the love he showed you and your family when he carried the Cross through the streets of Jerusalem, struggling under its weight, in front of countless people who had once love him but who now hated him. 
Praise and thank Jesus for the love he showed you and your family when he had nails driven into his hands and feet and was left to hang on a cross to suffer the most excruciating death at the hands of people he loved. 
And finally, praise and thank Jesus for his determination to overcome death when he got on his feet, rolled back the tomb stone and walked out to eternal life.
This Lent, keep it simple: praise and thank a real hero in Jesus Christ.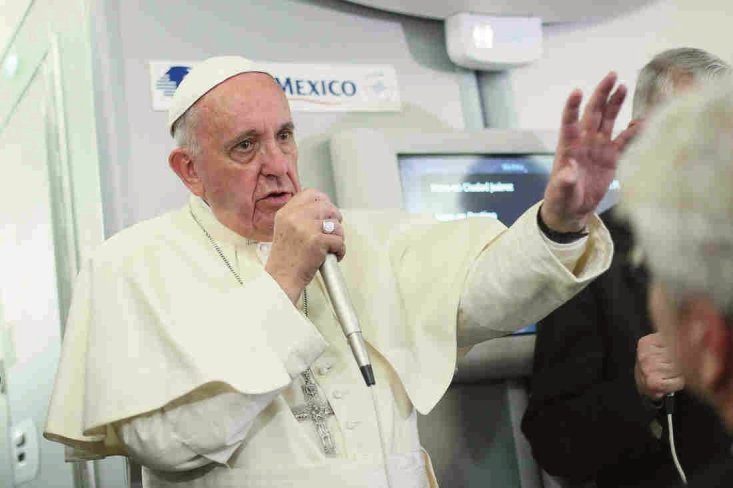 Pope Francis didn't just talk about Donald Trump's value as a Christian and contraception on his latest flight home to Rome.  There is so much more that the mainstream media has failed to cover.  So here it is....the stuff you probably haven't yet heard about:
Pope Francis on paedophilia in the Church and the part played by Pope Benedict XVI to eradicate it:
"First, a bishop who moves a priest to another parish when a case of pedophilia is discovered is a reckless [inconsciente] man and the best thing he can do is to present his resignation. Is that clear?
Cardinal Ratzinger deserves an applause. Yes, an applause for him. He had all of the documentation. He's a man who as the prefect of the Congregation for the Doctrine of the Faith had everything in his hands. He conducted all the investigations, and went on, went on, went on, until he couldn't go any further. But, if you remember, 10 days before the death of St. John Paul II, in that Via Crucis of Holy Friday, he said to the whole Church that it needed to clean up the dirt of the Church. And in the Pro-Eligendo Pontefice Mass, despite knowing that he was a candidate, he wasn't stupid, he didn't care to "make-up" his answer, he said exactly the same thing. He was the brave one who helped so many open this door. So, I want to remember him because sometimes we forget about this hidden works that were the foundations for "taking the lid off the pot."
And, the final thing I would like to say that it's a monstrosity, because a priest is consecrated to lead a child to God, and he eats him in a diabolical sacrifice. He destroys him."


Pope Francis on same-sex unions and adoption by same-sex couples:
"I think what the Church has always said about this. "
"On people of the same sex, I repeat what I said on the trip to Rio di Janeiro. It's in the Catechism of the Catholic Church."


Pope Francis on abortion:

"Abortion is not the lesser of two evils. It is a crime. It is to throw someone out in order to save another. That's what the Mafia does. It is a crime, an absolute evil.
Abortion is not a theological problem, it is a human problem, it is a medical problem. You kill one person to save another, in the best-case scenario. Or to live comfortably, no?  It's against the Hippocratic oaths doctors must take. It is an evil in and of itself, but it is not a religious evil in the beginning, no, it's a human evil. Then obviously, as with every human evil, each killing is condemned."


Pope Francis on the European Union:
"I like this idea of the re-foundation of the European Union, maybe it can be done, because Europe — I do not say is unique, but it has a force, a culture, a history that cannot be wasted, and we must do everything so that the European Union has the strength and also the inspiration to make it go forward. That's what I think."


Pope Francis on the reintegration into the Church of re-married persons:
"Integrating in the Church doesn't mean receiving Communion. I know married Catholics in a second union who go to church, who go to church once or twice a year and say I want communion, as if joining in Communion were an award. It's a work towards integration, all doors are open, but we cannot say, "from here on they can have Communion." This would be an injury also to marriage, to the couple, because it wouldn't allow them to proceed on this path of integration. And those two were happy. They used a very beautiful expression: we don't receive Eucharistic Communion, but we receive communion when we visit hospitals and in this and this and this. Their integration is that. If there is something more, the Lord will tell them, but it's a path, a road."

On Pope John Paull II's friendship with Ana Teresa Tymieniecka:
"In my own experience, including when I ask for advice, I would ask a collaborator, a friend, I also like to hear the opinion of a woman because they have such wealth. They look at things in a different way. I like to say that women are those who form life in their wombs — and this is a comparison I make — they have this charism of giving you things you can build with. A friendship with a woman is not a sin. [It's] a friendship. A romantic relationship with a woman who is not your wife, that is a sin. Understand?
But the Pope is a man. The Pope needs the input of women, too. And the Pope, too, has a heart that can have a healthy, holy friendship with a woman. There are saint-friends — Francis and Clare, Teresa and John of the Cross — don't be frightened. But women are still not considered so well; we have not understood the good that a woman do for the life of a priest and of the church in the sense of counsel, help of a healthy friendship."

And finally, what did the pope ask for in Guadalupe?
"I asked for the world, for peace, so many things. The poor thing ended up with her head like this (raises arms around head). I asked forgiveness, I asked that the Church grows healthy, I asked for the Mexican people. And another thing I asked a lot for: that priests to be true priests, and sisters true sisters, and bishops true bishops. As the Lord wants. This I asked a lot for, but then, the things a child tells his mother are a bit of a secret."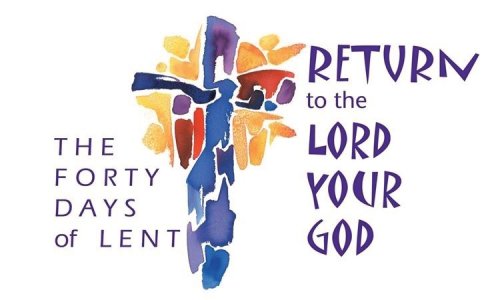 Lent is now upon us and we can all hopefully look forward to spending much time reflecting on our faith and our relationship with Jesus as we embark on a journey of prayer, fasting and almsgiving.
And while we have the option to develop our relationship with Jesus all year round, there is perhaps no better time than Lent to spend a little more time in the presence of Christ; one to one.  This Lent we are invited to get up and walk a while with our Saviour.  We are asked to pray more often than normal; to fast more; and to give more freely to those in need.  All of this can be achieved with the help of Christ.  If we take up his offer to walk with him he will give us the graces we need to make the most of this special season of Lent.
But what if you are far from the Church or have fallen away from the faith?  If this applies to you I would ask you to just consider taking a little time out this Lent to speak to Jesus.  It might be a prayer; it might be a question; it might be a concern or worry; or it might even be a simple hello!  The truth is….anything goes.  Jesus wants to give you the floor so that you can tell him everything that is on your mind.  The most important thing for Jesus is that you need him.  He wants to be the perfect friend; one who doesn't judge, who doesn't argue, and who doesn't impose any conditions on your friendship that you can't handle.   
Consider popping into a Church this Lent and spending some quality time with Jesus.  He is right there waiting for you in the tabernacle.  It's no illusion, no trick; he exists right there and he is waiting for you to come home to him.
And if your lack of faith relates to the Church, remember that the Church is a hospital for sinners not a club for saints.  If you feel disgruntled or even distrust towards the Church, remember that it is Christ who founded it and it is Christ who waits for you.  He is the most important element of our faith.  It is through him that we will learn to love God, to love one another, to become better people and, ultimately, to be united with the Father in Heaven. 
This Lent, as you give up chocolate or alcohol, consider spending some quality time with your Saviour.  He has so much love to give and this love has your name written all over it.  Nobody can give the perfect love and peace that Christ can.   
Make a special effort this Lent to attend a very special appointment in your local Church.  You may not know it but Jesus already has your name in his diary.  The only question is: will you turn up....?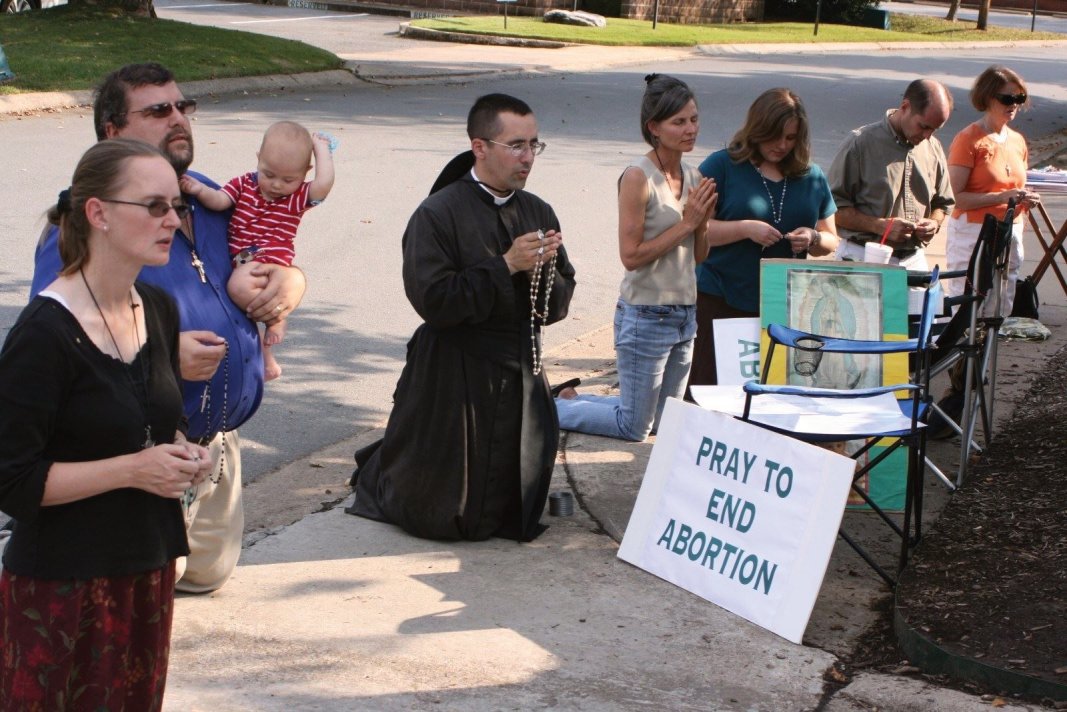 40 Days for Life is coming to Scotland
As we prepare to participate in 40 Days for Life for the first time here in Glasgow it is important to bear in mind a few home truths.  Some sections of the media and other groups in favour of abortion have had their say on the event in recent days and, not surprisingly, their view on 40 Days for Life is extremely negative.  
I would be careful not to take too much note of the negativity expressed by these groups and individuals.  Remember that their interest in this matter is the polar opposite of ours.  They believe that abortion should remain legal and that any individual or group claiming otherwise needs to be silenced.  That has been their tactic for a long time and it continues to be their tactic.  But we must not be put off and we must remember why we are doing this. We are doing this because we want to stop the killing of innocent, defenceless children and we want to help young women cope with the life changing reality of a new child.
And despite reports to the contrary we must be careful to remember that this will be a peaceful, prayerful vigil.  It will not be a violent protest with hecklers screaming from the rooftops, shouting at young women as they enter hospital grounds.  While it would be correct to say that there have been incidents involving over-zealous pro-life supporters in the United States, these reports have been significantly over inflated by those in favour of abortion.  The idea is that pro-life supporters will be put off attending the event, preferring to steer clear of perceived fundamentalism.  They want to paint a picture of nasty, violent religious fanatics who want to push their beliefs onto others.  It is another classic tactic of the pro-choice lobby.    
But there is hope!  The lies are coming thick and fast and this can mean only one thing: the pro-choice lobby is worried. I have long wished for this day; the day that the abortion debate would really come to the fore in Scotland, propelling itself into the public square and the public mind. It's now happening and I pray fervently for the strength and the faith to persevere in what will be a tough debate. But we must never lose sight of who this is really for. The time for the little ones to have a fair hearing in our country has come. 
And remember, you don't need to worry too much about changing the hearts and minds of the biased media and the vociferous pro-choice activists you may see at counter protests. Their minds will not be changed. But the minds of the huge silent majority can be changed.  These are the people who don't get involved in the public debate but who, from afar, can appreciate the need to protect all life and who can appreciate true equality.  It is they who will be watching us as we pray in silence for the innocents, and for their mums, dads and grandparents.  By our peaceful, prayerful actions we can be a witness to the indisputable beauty of life.
While millions of Scotland's sons and daughters have perished through abortion since it was made legal in 1967, their deaths need not be in vain.  Let their untimely and needless deaths be the catalyst for a new era of true equality of life for all in our country.  If we desire to make Scotland a welcoming place for Syrian refugees, we can surely make Scotland a welcoming place for each and every one of her own precious children.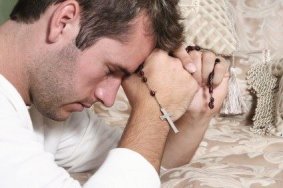 Guys: don't be afraid to pick up your Rosary beads
In our mixed up world of today we are frightfully obsessed with pitting men against women and women against men. For some strange reason the idea of men and women teaming up and complimenting each other has been lost in a society obsessed with competing with one another and forgetting our most basic call to love.
The Catholic Church is a great believer in the complimentary of the sexes and the need for man and woman to come together as one flesh. And why wouldn't it be? The whole of humanity hinges on it after all!
First we had Paul VI and his encyclical Humanae Vitae, then we had John Paul II and his talks on Theology of the Body. And now we have Bishop Olmsted of Phoenix giving his view on the matter, as he focuses on challenging Catholic men to be real men for the woman in their life. Too many Catholic husbands forget their marital obligation and fall into the trap of thinking that they are more important than their wife. Listen up guys....you are not more important than your wife. She is far more important than you!
The temptations of the world are put there by the devil to lure men away from the commitment they have made to their wives. He desperately prowls around laying traps to seduce men and take their gaze and attention away from their beloved.  And if he succeeds he will not only have lured those men from their wives, he will also have lured them away from God. And that is his main aim.
The sexual act is at the very centre of God's plan for humanity. His first instruction to mankind was to "be fruitful and multiply". Why do you think sex has become so distorted? Because it's critical to God's divine plan and is thus the devil's favourite point of attack!
With this in mind the call of Bishop Olmsted is one that is most timely and it is a call that all men would do well to take on board. While it may be hard to believe, the future of our society depends so much on strong men, especially strong Christian men rooted in Christ.  The Bishop suggests all Catholic men do the following on a daily basis: pray, go to Mass (where possible), read the Bible, and examine your conscience before bed.  He also suggests that men go to Confession on a monthly basis. All of this coupled with an unconditional and dedicated commitment to our wives would put the evil one well and truly on the back-foot. There is nothing satan hates more than a committed Catholic man, dedicated to his wife and family, who has every intention of sticking to God's divine plan.
The priority of every Catholic husband must be to ensure his wife and children get to Heaven. Everything else must take second place.  And so, in the words of St Paul, let us "put on the armour of God [and] stand firm against the tactics of the devil."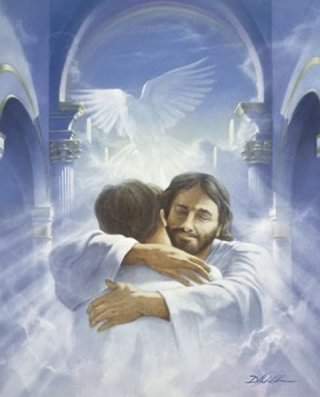 This guy really, really loves you!
Sunday's Second Reading (Hebrews 4:14-16):
'Since in Jesus, the Son of God, we have the supreme high priest who has gone through to the highest heaven, we must never let go of the faith that we have professed. For it is not as if we had a high priest who was incapable of feeling our weaknesses with us; but we have one who has been tempted in every way that we are, though he is without sin.
Let us be confident, then, in approaching the throne of grace, that we shall have mercy from him and find grace when we are in need of help.'
It's hard to admit that we did wrong and to apologise to the person we have wronged.  It's also hard to ask other people for help.  But while this may be the case in our day-to-day dealings with the average joe on the street, this needn't be the case when it comes to Jesus.  St Paul, in this letter to the Hebrews, is urging us to be confident when we approach Christ for forgiveness and help.
You see, we aren't dealing with your run-of-the-mill human being when it comes to Jesus.  We are dealing with a God brimming with infinite mercy and compassion. He is the Creator of all things and He loves you like nobody else does.  There is no hidden agenda, no points to be scored, and no harsh judgements.  He desires and wants to forgive you and help you in every which way possible. He is a God who has experienced the temptations, trials and troubles of every day life just like us, so He knows how difficult life can be. 
He is the ultimate best friend and he will always be there for us when we need him. Can you spare five minutes today to let him show you just how much he loves you and how much you matter to him?  Call out to him and he will respond.
A migrant crawls along a Spanish beach in front of holidaymakers
The most senior Catholic in England and Wales has urged the UK to be more "generous" in the way it deals with the current refugee crisis in Europe. Cardinal Vincent Nichols, speaking to ITV News said that the British public had told him "it was a disgrace that we were letting people die and seeing bodies on the beaches when together Europe is such a wealthy place." 
The Cardinal continued: "It's people who are desperate for the sake of their families, their elderly, their youngsters, their children, and the more we see that the more the opportunity for a political response that's a bit more generous is growing.  What is screaming out is the human tragedy of this problem."
The Cardinal's comments are most welcome and I completely agree with him that our response to this must be more generous.  We are, in many respects, a wealthy country, and we are blessed by not having to cope with the fear of wars and widespread violence. 
Our parish was blessed recently with the presence of a Nigerian priest who covered our parish while our own priest was on pilgrimage and on holiday.  I recall that in one of his homilies he spoke about the great joy he and his people would feel when they woke up in the morning, simply because they were still alive. Their country is beset by violent clashes and the threat of Boko Haram is an ongoing fear for all, especially Christians.
In Syria and in North Africa there is the threat of ISIS who are persecuting Christians and driving people from their homes.  And now, in Europe, we are starting to see the sad consequences of these wars as people arrive on our shores desperate for safety and to give their children a chance. And this, I feel, is the nub of it. Can we really deny people a place of safety?  Can we really deny little children a chance to live?
The horrific reality of this crisis
Our own resources are finite and we must try to ensure our country remains financially stable.  We get this.  But greater than this, much greater than this, is our call to love our neighbour. Our brothers and sisters are in dire need of our comfort and love.  They beg us to give them a place of safety.  They are on their knees, in the frozen waters of our shores, desperately pleading to each and every one of us to give them even just a little of what we have.
I sincerely hope the words of Cardinal Nichols will be heard and taken seriously by our governors (both in the UK and across all of Europe) and indeed by each one of us.  I hope we all find it in our hearts to be more generous and to give more people a chance. We have the power and we have the resources.  Now all we need is the will.
Here are four ways we can help:
And of course, pray. Please pray for all refugees, perhaps by saying one Hail Mary and asking Our Blessed Mother to intercede with the Father on their behalf.

Ashley Madison proudly enourages people to 'have an affair'
Poor Ashley Madison. There they are just trying to make a few quid out of the adulterous behaviour of millions of people and some smart whiz kids come along to spoil the fun by releasing the details of millions of willing adulterers. 
"Some journalists have turned the focus of the criminal act against Ashley Madison inside out, attacking us instead of the hackers" the company says.
Cut the sob story guys. Do you really think you deserve the sympathy of joe public for being targeted in this way?  If you do perhaps we need to consider the countless families put at risk because of this online adultery platform you operate.  Do you stop to think of the little child innocently sleeping in their bed and cuddling their teddy while daddy is out having sex with someone other than their mummy?  Doesn't that bother you?  Doesn't it matter to you?
We as a society have a duty to roundly criticise the type of behaviour encouraged by Ashley Madison. It doesn't just cause 'issues' or 'difficulties' in families.  It completely destroys them.  It says that this husband, that wife, those children, they don't matter.  All that matters is me.  All that matters is what I want.
For Christians it is the complete opposite of Christ's teaching to love one another.  We simply cannot subscribe or condone the type of service Ashley Madison provides and the type of behaviour it so proudly encourages. Yet you don't need to be Christian to appreciate the horrible nature of Ashley Madison's business.  It's disgusting.  It makes you feel sick to the pit of your stomach that people could facilitate the cheating and lying, the deceit and dishonesty, and of course the complete disregard for the wellbeing of children.
The behaviour of the adulterers is disgusting enough, but to actually encourage it and make money from it is frankly incomprehensible.
Don't be fooled by Ashley Madison and their bleating about being the 'victim'.  Don't be taken in by many of the mainstream media outlets who have conveniently disregarded the adulterous behaviour encouraged by Ashley Madison only to focus on the actions of the hackers.  Ashley Madison and others involved in the facilitation of adultery are disgusting organisations.  They do not deserve sympathy.  At best they deserve our prayers, so that they may be open to seeing the damage they are doing to society.  The only victims in this scandal are those poor men and women at home alone while their other halves please themselves in the arms of a stranger. The only victims are the poor innocent children whose mummy or daddy couldn't care less for their wellbeing or the wellbeing of their family unit.
Shame on you Ashley Madison, you wretched excuse for a company.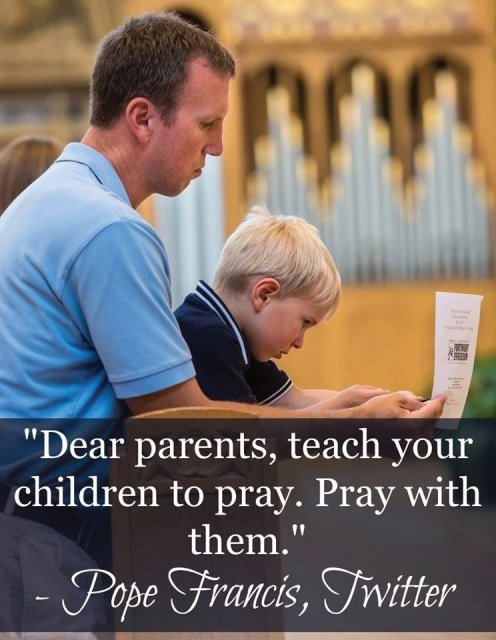 Pope Francis has urged parents to teach their children to pray, saying that children should learn prayer with the same spontaneity as when they learn to say "daddy" and "mummy". The pope made the remarks during his latest General Audience in St Peter's Square on Wednesday.
He said: "There are children who have not learned to make the Sign of the Cross.  You, mother, father: teach your children how to pray, how to make the Sign of the Cross."
The pope continued: "It is beautiful when mothers teach their little children to blow a kiss to Jesus or to Our Lady.  What tenderness there is in this.  In that moment, the child's heart is transformed into a place of prayer.  And this is a gift of the Holy Spirit."
The pope also encouraged families to pray the Gospel every day.
While it is easy for us to become lazy when it comes to prayer, it is surely an injustice to deprive our children of it.  There are so many material things used by society to entertain our children, whether it's the latest toy or gadget, the television, or even social media.  And while these may very well have a role to play, they cannot give our children true joy, nor can they give them eternal life; and surely eternal life is what we ultimately want for our children?
The importance of building a lasting relationship between our children and Jesus cannot be overstated.  We have a duty to bring our children to the Truth of Christ's teaching and to raise them in Christ's own Church where they will receive the Sacraments.  It is mothers, fathers, grandparents, aunts, uncles, cousins who will lay the foundations of every child's relationship with Christ.  And even if our own relationship with Christ has floundered, do we really want to compromise the relationship our children could have with the saviour of the world?
We have a duty to set a holy example to our kids. If a child sees someone else kneeling in prayer, saying grace before meals, kissing a Crucifix, or going to Confession regularly, how much more likely are they to do the same?
Helping to build our childrens' relationship with Jesus is the most important thing we can do for them. It will set them out on the road to eternal life.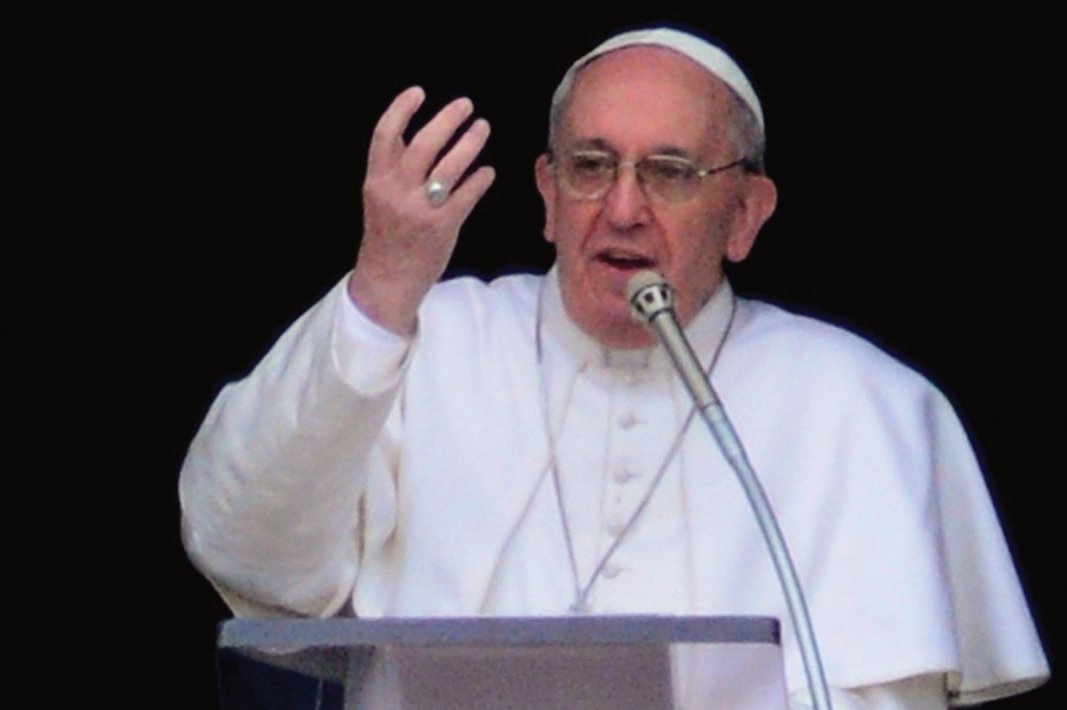 Pope Francis, at his weekly General Audience on Wednesday, urged the faithful not to be slaves to their work but instead to master it.  The pope said, "We must never be slaves to work but rather its master." However, he added that "we know that millions of men and women, even children, are slaves to work.  The obsession with economic profit and technical efficiency puts the human rhythms of life at risk."
The pope then focussed on the need to rest, especially on Sundays, saying "Moments of rest, especially on Sunday, are sacred because in them we find God."
The pope concluded his General Audience with a prayer: "May we always recognise the family as the privileged place to understand, guide and sustain the gifts which arise from our celebrations, especially the Sunday Eucharist."
/