Shopping Cart
Your Cart is Empty
There was an error with PayPal
Click here to try again
Thank you for your business!
You should be receiving an order confirmation from Paypal shortly.
Exit Shopping Cart
Calling Scotland's 841,000 Catholics to unite as one voice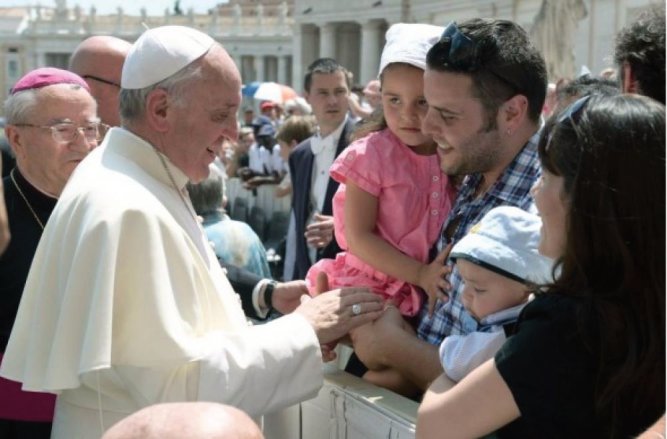 Tim Stanley, in his latest blog post, gets to the heart of post-Synod exhortation Amoris Laetitia, bypassing all the drama and criticism, and appreciating the document for what it truly is: 'a wise lecture on the meaning of love that is built entirely on Catholic teaching'.
He sums it up saying: 'there's an ideal family, there's a broken reality and the bridge between the two must be the Catholic Church'.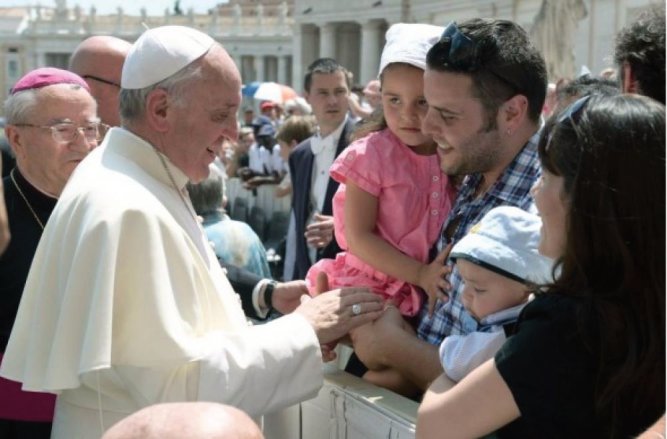 In his new exhortation,
Amoris Laetitia (The Joy of Love),
 Pope Francis has expressed the need to view the family unit as an opportunity rather than a problem, and has encouraged the Church to be more understanding and compassionate towards those who experience difficulties in family life.  There is a real sense of challenge in the document; a challenge to a deeper, less self-centred love towards all people, coupled with a deeper sense of humility.
The document, which runs to 264 pages, also speaks highly of the value of children and the need for married couples to be open to the prospect of new life.  It emphasises the need to see the family unit as a church and provides insight into the various reasons that have contributed to the breakdown of the family in our world today.  He was also critical of those who are narcissistic and irresponsible in relationships saying: "We treat affective relationships the way we treat material objects and the environment: everything is disposable; everyone uses and throws away, takes and breaks, exploits and squeezes to the last drop. Then, goodbye. Narcissism makes people incapable of looking beyond themselves, beyond their own desires and needs. Yet sooner or later, those who use others end up being used themselves, manipulated and discarded by that same mind-set."
As expected, the pope has not made any moves to change Church teaching and matters such as contraception, same-sex marriage, abortion and holy communion for the divorced and remarried have not been given the liberal treatment that many media outlets had hoped for.  This, of course, was never in doubt. 
However, Francis has encouraged the Church to give consideration to how it can best serve those who do not live in accordance with Church teaching, especially when it comes to reconciling them to God.  Bishops, priests and Catholic lay people are all being challenged to be the merciful face of Christ to those in difficult situations, while ensuring that the beautiful teaching of the Church is preserved.  There is also a challenge to be more positive about Church doctrine, to present it in a way that reveals its true beauty and goodness.
While we are not yet in a position to go into detail on the exhortation we will be posting a number of related content on our Facebook and Twitter feeds over the coming days.  We also expect to publish more posts here on our blog so please do check it regularly.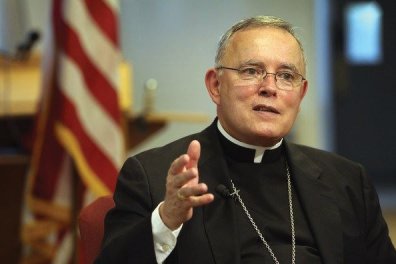 Archbishop Charles J Chaput
Archbishop Charles J Chaput speaking about the Synod on the Family:
"Truth without love is bitter and can drive the wounded away; and love without truth isn't love at all, but a comfortable form of lying.
"There can be no real mercy, since mercy is an expression of love, without first grounding it in the truth about God's will for humanity.  His will includes marriage and the family.  And the source for understanding his truth in God's own Word and the Chuch his Son founded."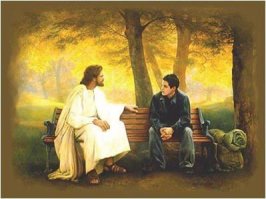 We need to listen to Jesus
From Sunday's Gospel (Mark 10:17-30):
'Jesus was setting out on a journey when a man ran up, knelt before him and put this question to him, 'Good master, what must I do to inherit eternal life?' Jesus said to him, 'Why do you call me good? No one is good but God alone. You know the commandments: You must not kill; You must not commit adultery; You must not steal; You must not bring false witness; You must not defraud; Honour your father and mother.''
It's always difficult to listen to someone telling you what to do and to do so with an open mind and an open heart.  Goodness knows I have struggled with it many times in my life!  But what if that person was Jesus?  Would it change your attitude?  
In this Gospel Jesus reminds us of some of the Commandments as he tries to steer a man towards the Kingdom of Heaven and eternal life.  He speaks with great clarity and no little authority as he tells us not to kill, not to commit adultery, not to steal, not to lie, not to deceive, and to honour our parents.
As the Synod on the Family in Rome closes its first week of meetings and discussions, we are called to remind ourselves of these words of Christ, especially when we think about hot topics like abortion, contraception, marriage and, of course, the family.  While people may surmise the potential for change or reform in the Church, the Church fathers will always turn to the one who knows best….Jesus.
There is a need for all of us to get back to basics on issues such as abortion, contraception and marriage.  That's why we need to listen to Jesus and take in what he is telling us.  Only then, with the Truth embedded in our hearts and minds, can we build a better world.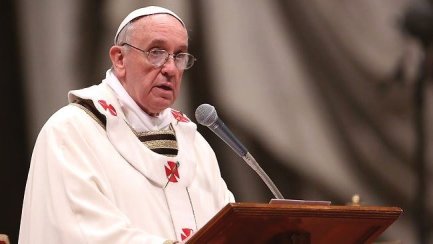 You may not have heard it on the news, but Pope Francis this weekend reaffirmed the truth of marriage as being between one man and one woman.  He also reaffirmed his conviction that all life is worthy of protection.
It's the kind of chat that will dampen the spirits of those who see so called 'progression' on these fundamental areas of Catholic doctrine.  It's also the kind of chat that will delight Catholics who hold true to their faith and who value marriage between one man and one woman as decreed by God Himself, and who value the sanctity of life from its very beginning.
It's too easy to read the mainstream media headlines and stories about Pope Francis and ignore the sources that really matter.  The Pope's affirmation of Catholic teaching on marriage and abortion outlined above didn't come on some flight aboard the papal plane or at a grandiose meeting with a political heavyweight but from the sanctuary during his homily at the Mass which heralded the opening of the secondpart of the Synod on the Family.
All too often we fail to listen when it really matters.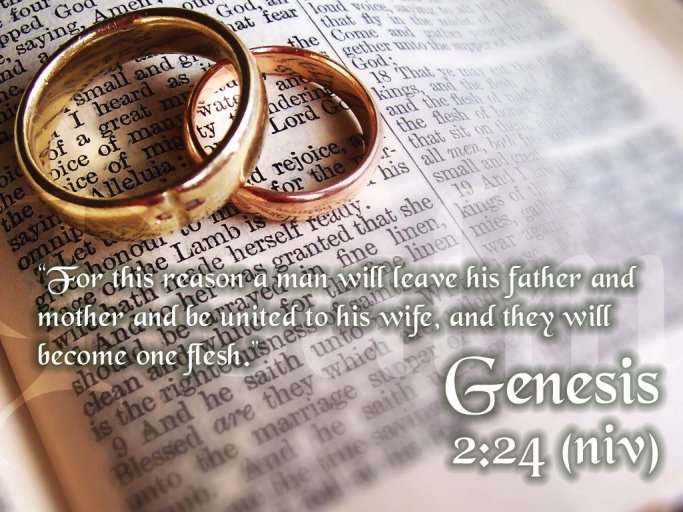 The plenary assembly of the Council of European Episcopal Conferences which recently met in the Holy land has reinforced the Church's view that marriage is between one man and woman.
The official text from the Bishops states: "The Church strongly believes in the family founded on marriage between a man and a woman: it is the basic cell of society and of the Christian community itself. It is difficult to see why different situations of coexistence should be treated in the same way."
The Bishops' statement is timely when you consider the second part of the Synod on Marriage and Family Life is just weeks away.  The statement is also most welcome in a society which is becoming increasingly confused on matters related to marriage.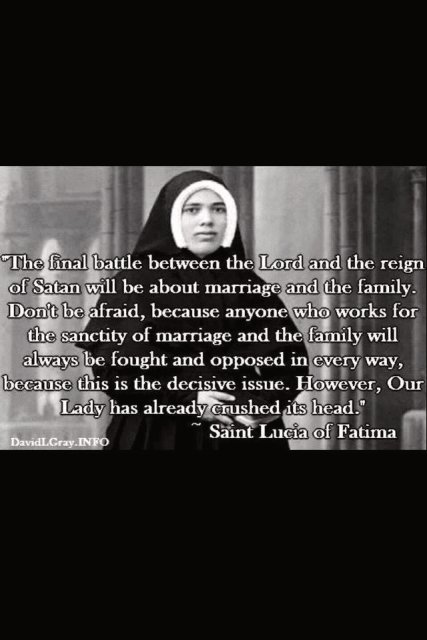 Sister Lucia dos Santos
As we approach the second and final part of the Synod on Marriage and Family Life it is important for us to remember these words of Sister Lucia of Fatima, one of three children who were visited by Our Blessed Mother Mary during the twentieth century.
Lucia describes how the final battle between the Lord and Satan will be about marriage and the family, but that anyone who stands for the sanctity of marriage and the family should not fear as "Our Lady has already crushed its head".
It should be no surprise to us to hear that there is an ongoing battle with the father of lies over marriage and family life.  Just consider contraception, abortion and the redefinition of marriage and you can see precisely where the devil is attacking God's divine plan for mankind. 
We are, in all respects, in the battlefield for the very last battle between the devil and the Lord.  But which side are we on?  Are we with the world; a world that is increasingly subject to the contol of the devil with all his lies and attacks on our faith?  Or are we with Christ and his Church, standing firm to the Truth and God's divine plan with which comes the promise eternal salvation?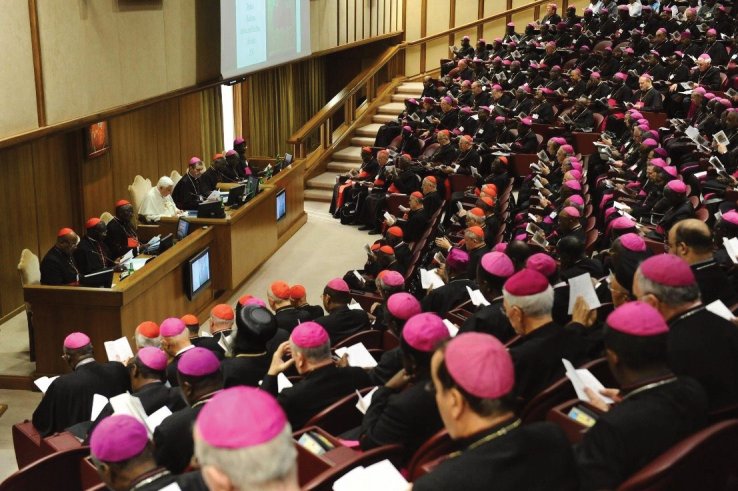 The TFP Student Action Group has set up a petition asking Pope Francis to reinforce Church teaching on marriage and the family at the upcoming Synod in Rome.
The petition has been started in response to some Bishops and also the mainstream media who are trying to force through change to fit with what society perceives as truth, as opposed to what Christ and his Church teaches as Truth.
Attacks on the family have been coming thick and fast over the last fifty or sixty years and this most basic yet most cherished aspect of life which has served us so well for so long is slowly being eroded to nothing.  Consider contraception, a moral evil which has perhaps served as the catalyst for so much evil that has followed since.  Consider abortion, where millions of innocent lives are destroyed every year across the world, all in the name of 'choice'.  And then there is the redefinition of marriage, a recent phenomenon where God's very own definition of marriage between one man and one woman has been torn up and thrown to the wind.  Add to that the ever increasing push to remove terms such as 'father' and 'mother' out of circulation and you have the most horrifying and testing time for the family unit since time began.
And what have we done about it?  What do we have to show for our efforts to stop these evils?  Pretty much nothing.  Nada.  1.2 billion Catholic people supposedly live on this earth and yet we struggle to uphold some of God's most basic truths, His most basic instructions. 
And the worst of it?  So many of our own brothers and sisters are defying God's Truth and supporting these concepts.  Contraception is seen as a necessity, abortion is seen as someone else's choice, and the redefinition of marriage just seems like the right thing to do. They say: 'to hell with what God and the Church might think, Jesus was a nice guy and he would want us to give the thumbs up to preventing procreation, to killing innocent babies and condoning sexual activity between people of the same sex.'   
Yes, Jesus would just love to see the ruination of the family unit; after all he didn't care a jot about his stepfather Joseph and his mother Mary!
No, Jesus is God.  And Jesus held firm to the Truth he himself gave to the world.  His manner of holding firm to the Truth is something we can and should take note of; full of love, compassion and kindness.  But also firm and determined.  Firm in the Truth he came to earth to reveal to us and which he subsequently entrusted to his Church, and determined to never let the devil have his way by destroying that Truth.
Brothers and sisters, please consider joining hundreds of thousands of Catholics who, like Jesus, are determined to hold firm to the Truth.  Will you be strong in your faith and reject any notion of allowing evil to creep into our society?  Are you prepared to let nothing stand in the way of you being true to God, just as the saints did? 
Let us rise determinedly as one body in Christ to protect his Truth and to allow the family to flourish.  Mother, father, brother, sister; this is God's divine plan.  
Please join a growing list of religious and civil leaders by signing the petition and let's encourage the Holy Father and the Bishops to remain faithful to God and His Church.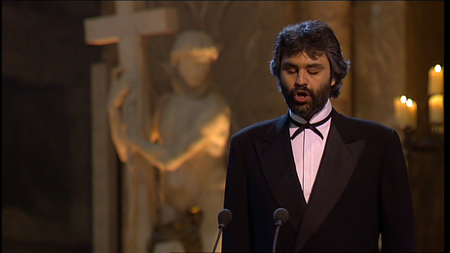 Andrea Bocelli is a man of great faith
Famed for having one of the most incredible voices on the planet, Andrea Bocelli is also well known for being a man of great faith and devotion to God.
Bocelli, who was born with congenital glaucoma and has been blind since a young age, is only alive because his mother rejected the advice of doctors that he be terminated.  This decision not only brought about a beautiful son, grandson, nephew and so on for their family, but it also brought about a genius musician with a voice to rival all others.  A voice the world could enjoy.
It is no surprise then, given his mother's sacrificial love, that Bocelli is a real family man.  With a wife and three children of his own he openly states that "family is such an important thing".  So much so that he is in the process of finalising his latest work titled 'The Great Mystery: The Gospel of the Family, School of Humanity for Our Times'.  The work will be performed at various venues throughout the world, most notably in the Basilica of the Holy Family in Barcelona on 28 May and then in Philadelphia during the World Congress of the Families on September 26.  It is part of a Vatican initiative leading up to the second phase of the Synod on the Family in October.
The Vatican has confirmed that the initiative contains two aspects, singing in the cathedrals and in the squares.  And Bocelli has confirmed that, whenever he is in Church, the music will be exclusively sacred music. This, he said, was very important to him.
While we shall all look forward to hearing Andrea's wonderful and powerful voice once more, his message about the importance of the family should bring into focus once again the need for us to play our part in protecting the sacred institution of the family and the parts which make it; father, mother and child. 
/