Shopping Cart
Your Cart is Empty
There was an error with PayPal
Click here to try again
Thank you for your business!
You should be receiving an order confirmation from Paypal shortly.
Exit Shopping Cart
Calling Scotland's 841,000 Catholics to unite as one voice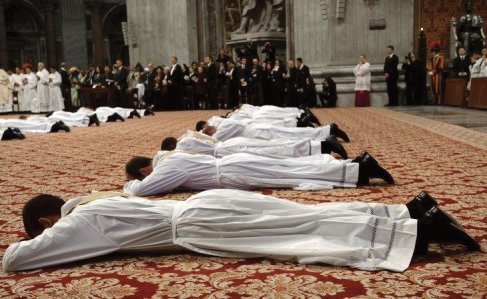 Is God calling you?
Catholic Parishes throughout Scotland will be receiving copies of a new magazine this week, aimed at encouraging young men to consider the Priesthood. A total of 15,000 copies of the magazine which focuses on young men who are currently studying for the Priesthood at the Scots College in Rome, will be available in all parishes by next weekend 4/5th February 2017.
The A4 publication titled 'Priests for Scotland' will be distributed free to all of Scotland's 500 parishes. Commenting on the launch, Bishop John Keenan, the President of the Church's national Vocations Agency, 'Priests for Scotland' said:
"As I go round our parishes, schools and youth events I see, every day, young or single men who'd make ideal priests and I'm sure God is calling many of them to be priests for Scotland.  But they won't come forward unless they hear God's call. Today God calls them through modern media so I want everyone to take a copy of Priests for Scotland and put it in the hands of a man you think might be being called.  You just might have found Scotland a new priest and God won't forget it!"
Father John Morrison, Assistant Director of Priests for Scotland, said "We wanted to let people know that there are still men who are being drawn to the Priesthood. We wanted to communicate some of the joy and happiness they have felt in responding positively to that call." The free magazine will be available at parishes throughout Scotland.
Priests for Scotland website: http://priestsforscotland.org.uk/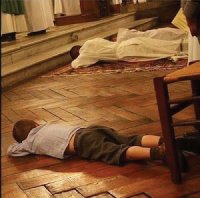 (text from the Scottish Catholic Media Office)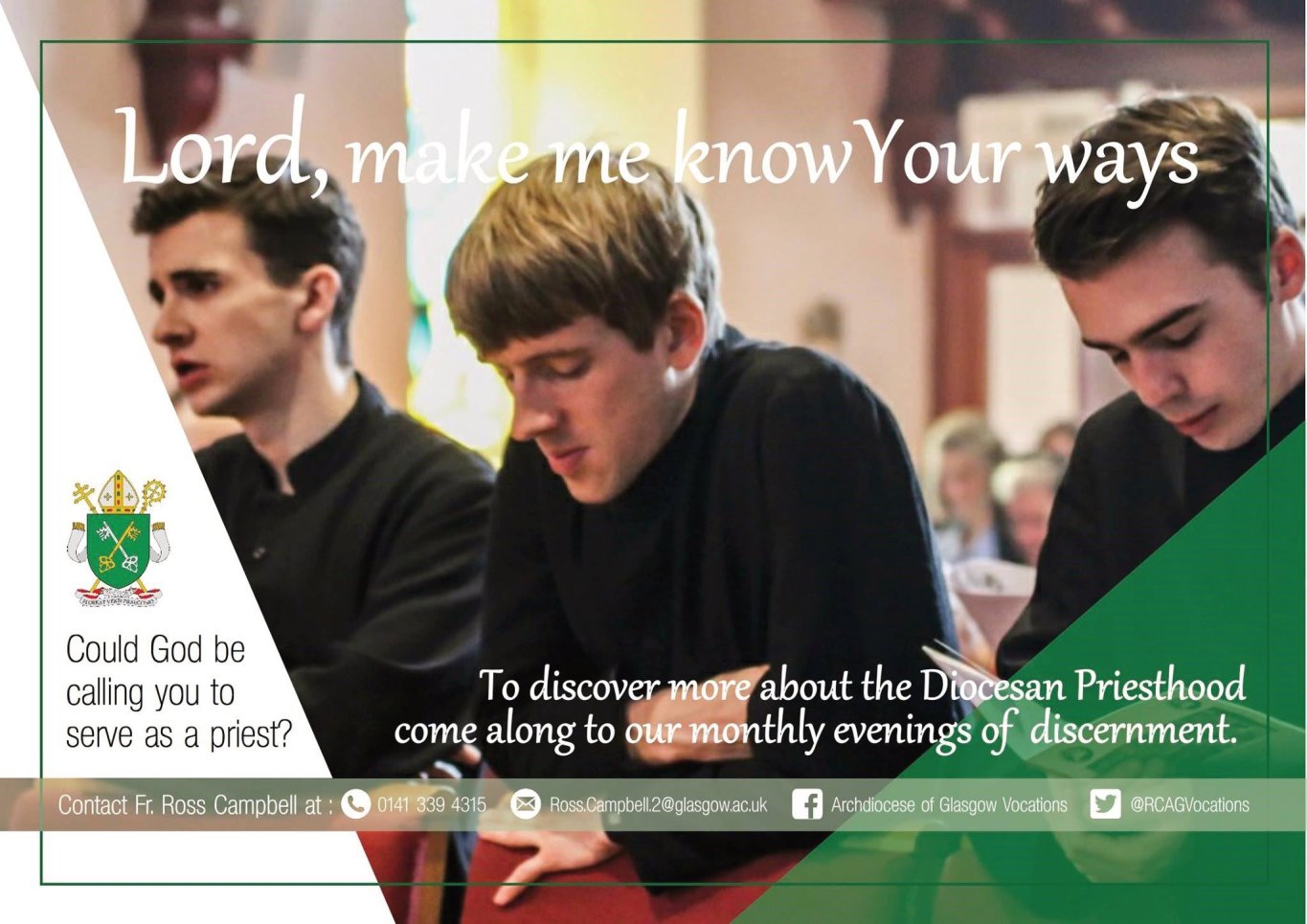 The Archdiocese of Glasgow appears to be reaping the rewards of a fresh new drive for vocations to the priesthood.  The September edition of Flourish, the Archdiocese's journal, has highlighted the increasing popularity of monthly evenings of discernment hosted by Father Ross Campbell, who is the Archdiocese's vocations director and Catholic chaplain to the University of Glasgow.
Six men have already signed up for the first evening of discernment taking place on Friday 14 October and it is hoped that more will join.  The evenings of discernment usually take place on the second Friday of each month and are designed to allow men to take a "gentle, first step into the waters of the priesthood, without any initial firm commitment."
We must pray that these men, and hopefully many more, will respond positively to God's call for them to be shepherds of His people.
For more details of these evenings of discernment please contact Fr Ross Campbell at
[email protected]
or call 0141 339 4315.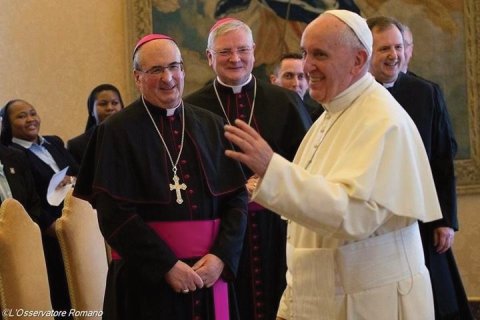 Pope Francis has addressed the members of the Scots College in Rome on the 400 anniversary of the college's founding.  Addressing the gathered, including Archbishop Philip Tartaglia and Archbishop Leo Cushley, the pope urged the seminarians to "have the same selfless spirit of their [martyr] predecessors".  He then urged the men to give themselves generously to their priestly formation so that "your years in Rome may prepare you to return to Scotland and to offer your lives completely".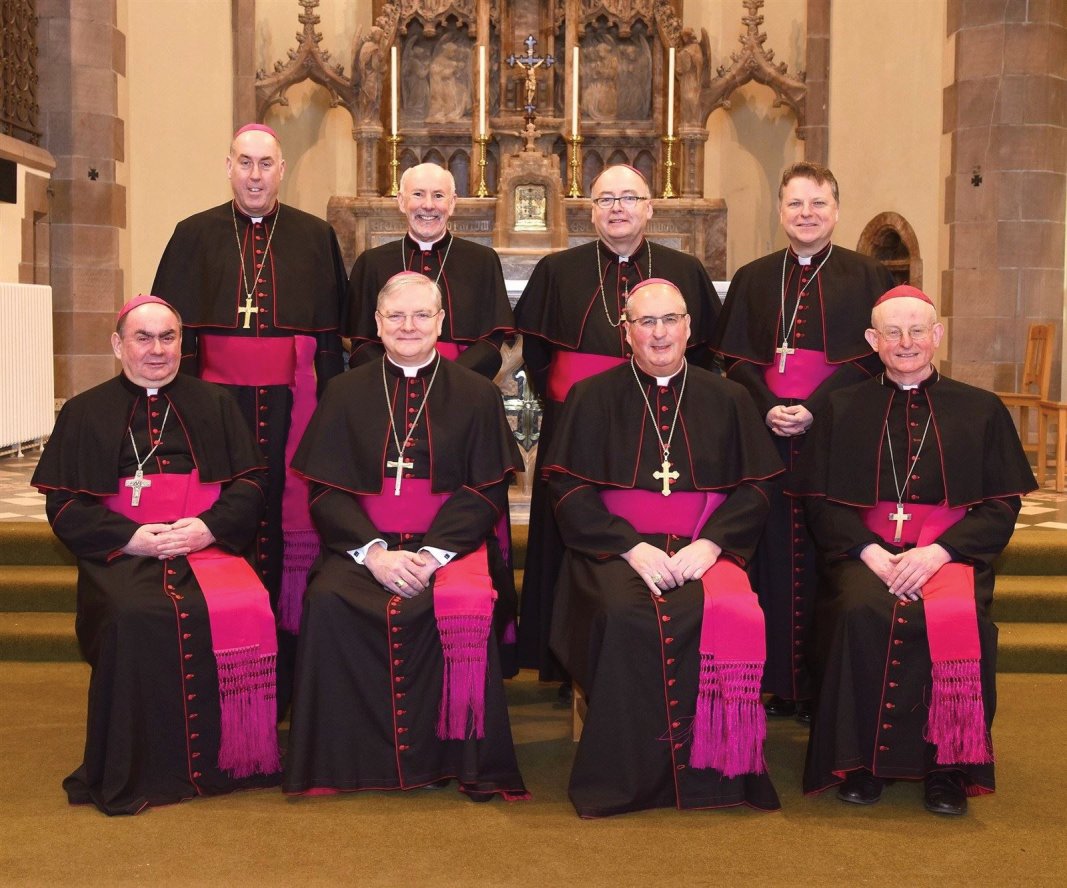 The Catholic Bishops of Scotland
The Catholic Bishops of both Scotland and Poland have been busy making a case for the protection of the unborn this week.  The Polish Bishops have been pushing for legislative change to bring about a total ban on abortions and they, along with the Polish government, appear to have mustered more than enough support to ensure the law is passed.
Meanwhile, in Scotland, the Catholic Bishops have released their traditional statement ahead of the May election for the Scottish Parliament.  In the letter, the Bishops encourage Catholics to vote with Christian values at the forefront of their minds, including the right to life from conception until natural death.  This encouragement is timely given that abortion is soon to be devolved to the Scottish Parliament from its current home in Westminster. 
Yet the motives of these holy men has been called into question by sceptics and much of the media, as they try to suggest something other than love of life and a desire to protect the most vulnerable is at play.  But let's be frank, while these men are devoutly Catholic and follow the teaching of the Church to the letter, they do not need to reference Church teaching in order to call for the protection of unborn babies.  It is something that is imprinted in each and every one of our DNA.  No decent, law-abiding citizen of planet earth wants or wills the destruction of other human beings.  It's a basic human quality and one we should be immensely proud of.
The Catholic Bishops of Scotland and Poland are speaking from the heart when they call for all unborn children to have the chance to live.  Yes their Church expects, and even demands, them to take this stance, but they do not need the Church to tell them that all human life is intrinsically valuable and worthy of protection.  They are not anti-woman and they are not anti-choice.  Neither are they religious fanatics.  They are simply human beings seeking the protection of the law for other, more vulnerable, human beings.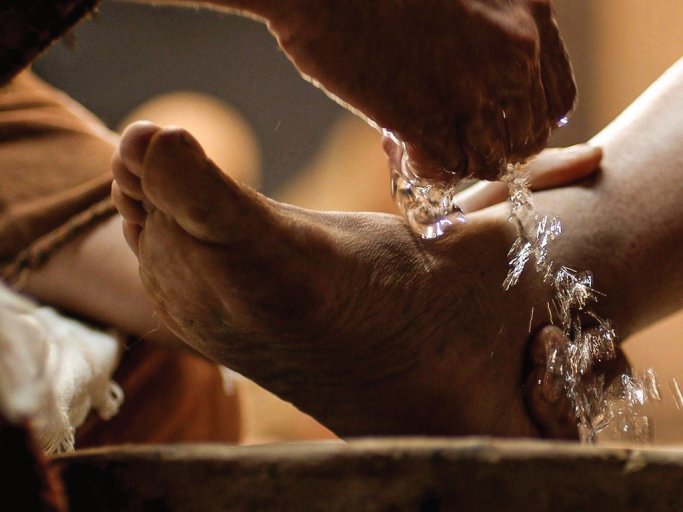 In today's Gospel we hear about the washing of the apostles' feet by Jesus.  Peter was very resistant to this as it seemed completely absurd to have Jesus do such a thing.  This was, after all, God made man, the Saviour of the world!  It should surely be the other way round would have been Peter's thinking.
Yet Jesus makes it clear that this is something he must do.  Firstly, he makes it clear that "unless I wash you, you will have no inheritance with me."  This is a clear link to our Baptism and its fundamental importance in our salvation.  It is also a link to the Sacrament of Reconciliation, where we are once again clothed in the white robe of our Baptism and brought to new life.  Our inheritance, it seems, is dependent on living in accordance with Christ's teaching, and this is achieved through our acceptance of and living in the Sacraments of his Church.
Christ's washing of the apostles' feet is also a sign that he is here to serve rather than be served.  It is also considered by many to be an important sign of the priesthood and its role in taking the love of God to all people.  And this is what I would like to focus on for a moment.  Despite being in the knowledge of the intolerable pain and suffering he was about to endure, Christ took time out to perform this simple but critical act of love.  And that is what we need to take from this special moment between Jesus and his apostles.  It was an act of selfless love; a visible sign of how man should treat man.  Jesus wanted to show this love to his apostles so that they would then do the same to others.
This Holy Week, are you prepared to wash the feet of those closest to you?  While we may participate in the washing of the feet during the Mass of the Lord's Supper we must also remember that our homes and families are small churches too.  So after tonight's Mass when you get home, consider washing the feet of your family and perhaps take turns doing so.  And while this is something that can be initiated by any member of the family, perhaps those of you who are fathers can take the lead.  Men are called to follow in the footsteps of Jesus and tend to their own flock in the same way that Jesus did.  And what better way to do this than to replicate Christ's actions and wash the feet of those closest to you?  While simple, this act of love carries with it an incredible power, the power of Christ who makes all things new.  And for those of you with children in your household, it will create a real sense of intrigue among them and they will no doubt want to learn more.  It's a great opportunity to explain to them, in simple terms and by action, just how much Jesus loves them and how much you love them too.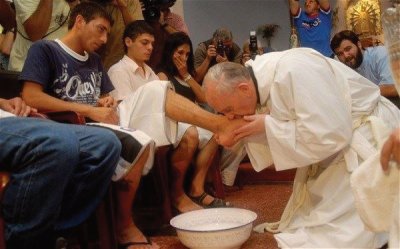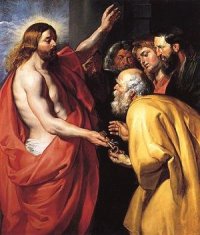 Today's Gospel (Matthew 16:13-19):
'When Jesus came to the region of Caesarea Philippi he put this question to his disciples, 'Who do people say the Son of Man is?' And they said, 'Some say he is John the Baptist, some Elijah, and others Jeremiah or one of the prophets.' 'But you,' he said 'who do you say I am?' Then Simon Peter spoke up, 'You are the Christ,' he said 'the Son of the living God.' Jesus replied, 'Simon son of Jonah, you are a happy man! Because it was not flesh and blood that revealed this to you but my Father in heaven. So I now say to you: You are Peter and on this rock I will build my Church. And the gates of the underworld can never hold out against it. I will give you the keys of the kingdom of heaven: whatever you bind on earth shall be considered bound in heaven; whatever you loose on earth shall be considered loosed in heaven.''
In 1870, Vatican I declared that this Gospel passage was clear biblical support for the primacy of Peter and successive popes.  The Council's interpretation touches on the following five points of doctrine:
The Magisterium built upon Peter is instituted by Jesus Christ;
Peter is given a unique role as chief teacher and ruler over the Church;
Peter is the visible head of the Church;
Peter's authority is passed on through successors; and
through Peter, Christ himself assures the infallible preservation of the gospel in the Church.
While it may sometimes be tough to be Catholic, especially in today's secular relativist world which seeks to discredit the Church at every turn, we still have every reason to be joyful.  Why?  Because this is a Church that was established by the saviour of the world, Jesus Christ!  Indeed, it is the only church established by Jesus Christ. 
But Jesus didn't leave it at that.  In addition to establishing a church he knew that the Church needed help from above to protect it from evil and to ensure its ongoing safety and wellbeing in protecting the gospel with which it is entrusted.  So he promised the Church that he will always be with it, ensuring that the gates of death, deception and destruction will never overcome it.  He then proceeds to give his close disciple Simon Peter the authority to make binding decisions with respect to the Church and gives him the keys to the kingdom of heaven.
Jesus, in just a few short sentences, establishes the Catholic Church, promises to sustain it, and even gives a mere mortal being the authority to be its chief teacher and chief administrator on earth.  So we can say with confidence that through the authority of Peter (often referred to as the 'Chair of Peter') and his successors, heaven governs the Church on earth. 
So be confident and joyful in your Church, and trust her authority always, for she is being guided by Christ who ensures her safe passage through time to that moment when he will come again on the clouds to be fully united with her.  And it is at that moment that our Lord will gather in his chosen people to take them to Paradise to be with him forever. 
The keys to Heaven are in the hands of the Church where they have been for the last 2000 years, from the moment Jesus entrusted them to Peter.  No matter how tough or testing it may sometimes feel to be part of the Catholic Church there is no denying that she is the surest way to Heaven and to Jesus.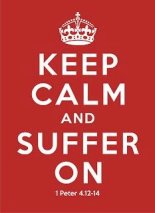 Last Sunday's Gospel (Mark 8:27-35):
'Jesus and his disciples left for the villages round Caesarea Philippi. On the way he put this question to his disciples, 'Who do people say I am?' And they told him. 'John the Baptist,' they said 'others Elijah; others again, one of the prophets.' 'But you,' he asked 'who do you say I am?' Peter spoke up and said to him, 'You are the Christ.' And he gave them strict orders not to tell anyone about him.
And he began to teach them that the Son of Man was destined to suffer grievously, to be rejected by the elders and the chief priests and the scribes, and to be put to death, and after three days to rise again; and he said all this quite openly. Then, taking him aside, Peter started to remonstrate with him. But, turning and seeing his disciples, he rebuked Peter and said to him, 'Get behind me, Satan! Because the way you think is not God's way but man's.'
He called the people and his disciples to him and said, 'If anyone wants to be a follower of mine, let him renounce himself and take up his cross and follow me. For anyone who wants to save his life will lose it; but anyone who loses his life for my sake, and for the sake of the gospel, will save it.'
Jesus was swift to chastise Peter because of his failure to understand God's grand plan for humanity. What Peter failed to understand is that suffering was a necessary part of salvation.  Peter's crime is to let the ways of man creep into his mind so that he tries to resist any notion of suffering.  It's natural to try to resist suffering, especially in today's society with the significant advances being made in science and healthcare.  But as Christians we are called to accept suffering as part of God's Divine plan for our salvation. 
Consider Christ's words immediately after he rebukes Peter: "If anyone wants to be a follower of mine, let him renounce himself and take up his cross and follow me."  To follow Christ will entail suffering.  There is simply no getting away from it.  If we want to be true Christian people and followers of Christ then we must be prepared to take up our cross and accept any suffering that comes our way, trusting that God will use that suffering for the overall good of His kingdom and for the overall good of humanity.
Christ's lesson is indeed rather timely when you consider the current predicament of the Catholic Church in Scotland, with a lack of priests and lack of vocations to the priesthood.  Parishes are now in a situation where they need to look at alternative models if they are to continue serving their local community; otherwise, they face the sad reality of closure.  The ways of man allow ourselves to become accustomed to having a priest at our beck and call 24/7 and to be used to having such 'pleasures' as daily Mass and daily Confession.  We despair at the thought of our parish closing or of having to share a priest with another nearby church.  We, like Peter, become upset at the thought of having to suffer.
But we must resist the temptation to think as men do and instead trust the Father, knowing that any suffering He asks us to endure is for the greater good of all people.  We must be prepared to think big and accept the cross of suffering with open arms.  To delight in suffering is a crazy concept to mere mortals, but then we aren't mere mortals.  We are a people made in the image and likeness of God, a people destined for bigger and better things.
We must listen to Jesus and not think as men do but trust completely in God's plan for us.  The next time we suffer let us turn to God, and with the helplessness and trust of a little child, let us say: "Father, let thy will be done."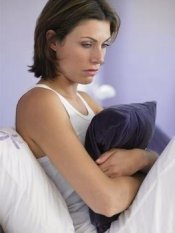 The Church recognises the tragedy of abortion
Pope Francis has asked priests not to withhold God's mercy to women who have had abortions and who seek forgiveness for it during the Church's upcoming Year of Mercy.
The pope, in a letter addressed to Archbishop Rino Fisichella, Archbishop of the Pontifical Council for the Promotion of the New Evangelisation, said that: "I have decided, notwithstanding anything to the contrary, to concede to all priests for the Jubilee Year the discretion to absolve of the sin of abortion those who have procured it and who, with contrite heart, seek forgiveness for it."
The pope also said: "May priests fulfil this great task by expressing words of genuine welcome combined with a reflection that explains the gravity of the sin committed, besides indicating a path of authentic conversion by which to obtain the true and generous forgiveness of the Father who renews all with his presence."
But is this really the headline grabbing story some are suggesting it is?  Not quite.  So what has changed, if anything?  Well, the big (and only!) change comes in the shape of who can forgive a woman who has procured an abortion.  Normally this is a matter for the local Bishop but the pope, in his letter, is allowing priests to do this.  That's the change heralded in the pope's letter.  Nothing more.  Indeed it's an even more insignificant change when you consider that Bishops already have the power to delegate such a power to priests in their diocese.  The net effect of the change is that absolution may be given on the spot in the confessional without the need for the priest to approach the Bishop about the matter.
Church teaching on abortion has not, and will not, change.  The Church believes that all human life, from the moment of conception until natural death, must be protected.  Since the very beginning the Church has denounced abortion as a moral evil, a teaching it states in the Catechism is 'unchangeable'. The Church teaches that abortion willed either as an end or a means is gravely contrary to the moral law.  It also states that formal cooperation in an abortion 'constitutes a grave offence'. 
In terms of the consequences of procuring abortion the Church is clear that such an offence 'incurs excommunication latae sententiae' (immediately on commission of the offence), yet it is the text that follows which is of most interest.  The Catechism states that 'the Church does not thereby intend to restrict the scope of mercy.  Rather, she makes clear the gravity of the crime committed, the irreparable harm done to the innocent who is put to death, as well as to the parents and the whole of society'.
In essence, the Church is open to the possibility of forgiveness for someone who has procured abortion, subject always to the Code of Canon Law which sets out the circumstances when a person cannot be guilty of a grave offence or who is guilty but with diminished responsibility for their actions.  An example of this would be a person who is unaware (through no fault of their own) of the Code of Canon Law or who was forced to commit the grave offence through fear. 
This actually fits in perfectly with something else the pope said in his letter to Archbishop Fisichella (the bit the mainstream media are leaving out): "The tragedy of abortion is experienced by some with a superficial awareness, as if not realizing the extreme harm that such an act entails. Many others, on the other hand, although experiencing this moment as a defeat, believe they have no other option. I think in particular of all the women who have resorted to abortion. I am well aware of the pressure that has led them to this decision. I know that it is an existential and moral ordeal. I have met so many women who bear in their heart the scar of this agonizing and painful decision. What has happened is profoundly unjust; yet only understanding the truth of it can enable one not to lose hope. The forgiveness of God cannot be denied to one who has repented, especially when that person approaches the Sacrament of Confession with a sincere heart in order to obtain reconciliation with the Father."
The Church has, and always will, provide those involved in abortion with the opportunity to confess their sins and have those sins forgiven.  This will always be the case and it is not true that the Church is suddenly offering women the chance of forgiveness for abortion during a one year 'window of opportunity', as has been reported by some media outlets.  The Church's doors are always open to those seeking God's forgiveness.  In that sense what the pope is doing is nothing radical.  However, his timing is interesting, getting the world talking about abortion at the same time as the Planned Parenthood scandal.  
It is also worth noting that, contrary to popular misconception, excommunication is, along with the other two censures of the Church (suspension and interdict), not so much a punishment but a medicine for the wellbeing of the soul.  It is ordered to help the person, not punish them.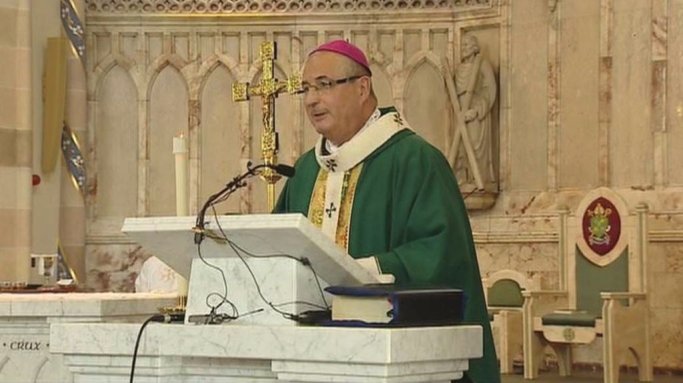 The Catholic Church in Scotland has made a profound apology to victims of abuse saying "We say sorry.  We ask forgiveness."
The apology coincides with the anticipated independent McLellan Commission Report into abuse in the Catholic Church in Scotland, a report which has today received widespread support from Church hierarchy who have committed to accepting its recommendations in full.
At Mass in St Andrew's Cathedral in Glasgow, Archbishop Philip Tartaglia formally responded to the contents of the report on behalf of the Bishops of Scotland.  He said: "As the president of the Bishops' Conference, and on behalf of all the bishops of Scotland, I want to offer a profound apology to all those who have been harmed and who have suffered in any way as a result of actions by anyone within the Catholic Church.
"Child abuse is a horrific crime. That this abuse should have been carried out within the church, and by priests and religious, takes that abuse to another level.
"Such actions are inexcusable and intolerable. The harm the perpetrators of abuse have caused is first and foremost to their victims, but it extends far beyond them, to their families and friends, as well as to the church and wider society."
He then told victims that the Bishops of Scotland were shamed and pained at their sufferings and again apologised, saying: "We say sorry. We ask forgiveness.
"We apologise to those who have found the church's response slow, unsympathetic or uncaring and reach out to them as we take up the recommendations of the McLellan Commission."
The report, a ninety nine page document, sets out a number of critical proposals, including: support for survivors of abuse to be a priority; a consistent approach to safeguarding across the whole Church; regular high quality training for those in the Church involved in safeguarding; and the Church to set out a theology of safeguarding.  The Bishops have accepted all recommendations set out in the report and will set to work on implementing these in the days ahead as well as ensuring that the positive steps already made with respect to safeguarding are maintained.
The report remarks that the Catholic Church worldwide has acknowledged the evil of abuse  within it and has promised to give primacy to the needs of those who have been abused.  In Scotland, all Bishops, priests and safeguarding advisers involved in providing evidence to the commission agreed that a culture of secrecy had been a very significant part of the response of the Church to allegations of abuse. They all vowed to ensure that this will not happen again in future.
Monsignor Oliver, who accompanied the Bishops of Scotland at their gathering in Salamanca in January stated that: "We did not listen to victims and underestimated the extent of the problem; we missed red flags and warning signs; we were conned by many offenders; and, believed often with professional advice that some offenders could be returned to ministry."
ArchbishopTartaglia's desire to rid the Church of such evil can be summed up in these words of his: "As the reality of the abuse of minors and vulnerable adults has been more and more uncovered in society and in the Church, and as safeguarding has become more embedded in the mindset and action of Catholic communities, tendencies to deny, make excuses, protect or cover up, while not yet eradicated, are gradually being seen as indefensible and will eventually be defeated."
The report highlights a 'striking improvement' in recent years in regard to the training of priests on safeguarding and there were favourable comments on the commitment of Church volunteers to ensure good practice when it comes to safeguarding.
There is no doubt that the words of Pope Francis when he said "There is no place in the Church's ministry for those who commit these abuses" are now being actioned in Scotland.  There is now a clear commitment to ensure that all allegations of abuse are dealt with properly and with a focus on the victim, rather than attempting to sweep the matter under the carpet or lay the blame elsewhere.
Beth Smith, Director of WithScotland, commented that: "The Church seems to be on the backfoot.  But it could be a leader and a pioneer in this field."  I agree.  This is an opportunity for the Church to lead the way in righting the wrongs of the past.  The pain and suffering of those victims of abuse will never go away completely and a lot of that is down to failures on the part of the Church.  But the Church now has an opportunity to do something for those people; not only does it have the opportunity to apologise and to meet them face to face, it has an opportunity to make damn sure it never, ever happens again.
A key element of the report is an Implementation Plan and this is expected to be published within the next three months, outlining how the Church is going to set about achieving the recommendations contained in the report. The eight key recommendations are as follows:
1. Support for the survivors of abuse must be an absolute priority for the Catholic Church in Scotland in the field of safeguarding. The Bishops' Conference of Scotland should make a public apology to all survivors of abuse within the Church.
 
2. The "Awareness and Safety" manual should be completely revised or rewritten.
 
3. There must be some external scrutiny and independence in the safeguarding policies and practices of the Catholic Church in Scotland.
 
4. Effectiveness and improvement must be measured at every level of safeguarding in the Church.
 
5. A consistent approach to safeguarding is essential: consistent across different parts of Scotland and consistent across different parts of the Church.
 
6. Justice must be done, and justice must be seen to be done, for those who have been abused and for those against whom allegations of abuse are made.

7. The priority of undertaking regular high-quality training and continuous professional development in safeguarding must be understood and accepted by all those involved in safeguarding at every level.
 
8. The Catholic Church in Scotland must set out a theology of safeguarding which is coherent and compelling, reflecting on Jesus' self-identification with children when he said "those who welcome the little ones welcome me."
We pray for all victims of abuse across the world that the Lord will bring comfort and healing to them.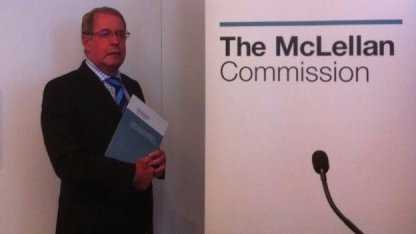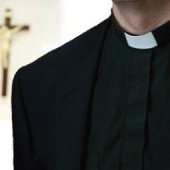 Sunday's Gospel (Mark 6:7-13):
'Jesus summoned the Twelve and began to send them out in pairs giving them authority over the unclean spirits. And he instructed them to take nothing for the journey except a staff – no bread, no haversack, no coppers for their purses. They were to wear sandals but, he added, 'Do not take a spare tunic.' And he said to them, 'If you enter a house anywhere, stay there until you leave the district. And if any place does not welcome you and people refuse to listen to you, as you walk away shake off the dust from under your feet as a sign to them.' So they set off to preach repentance; and they cast out many devils, and anointed many sick people with oil and cured them.'
Isn't it sad that priests are no longer able to 'go round the houses' as much as they used to?  I recall the days when our parish priest would simply pop by for a cup of tea and a natter as I was dragged away from whatever I happened to be doing so that the entire family was present before our holy visitor.  Now sadly, and mostly down to a lack of vocations, priests are simply too busy to be able to undertake such visits and the once common practice has all but disappeared.
That said; it's not beyond the realms of possibility that your priest could spare an hour or so to be in the company of your family in your home.  Have you ever thought about inviting your priest round for a cup of tea or even a meal?  Might it be the case that we ourselves have forgotten about our own responsibilities towards those who tend to our faith lives?  Have we become so cocooned in our own little world that we forget to include our priest as a critical member of our family?  When we consider whether or not to invite a priest to our home do we become embroiled in how it might adversely affect us rather than what it might mean to him?  Remember, the shepherd must also be loved, fed, watered and cared for.
So let us consider inviting our priest round to our homes to spend some time in his company and to make him feel like he is part of the family.  And let us be sure to extend a loving welcome to him and to listen to him so that when he leaves he is not inclined to shake the dust from under his feet.
/