Shopping Cart
Your Cart is Empty
There was an error with PayPal
Click here to try again
Thank you for your business!
You should be receiving an order confirmation from Paypal shortly.
Exit Shopping Cart
Calling Scotland's 841,000 Catholics to unite as one voice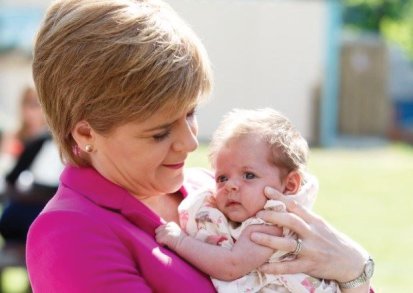 Nicola Sturgeon appreciating the beauty of new life
It is wonderful to hear Scotland's First Minister Nicola Sturgeon announce that, from Spring 2017, all pregnant women will receive free vitamins in order to help give their children the best possible start in life.
In addition to making vitamins freely available the Scottish Government will also be introducing the following initiatives:
Every newborn baby to receive a 'baby box' of essential items
500 more health visitors will be recruited to improve child health and wellbeing
The Family Nurse Partnership to be extended to support teenage mothers
Childcare will be doubled to 30 hours per week for all three and four year olds and vulnerable two year olds
Ms Sturgeon said that "every child deserves a fair and equal chance and offering all pregnant women vitamins sends a strong signal that, right from the very start of life, we are doing all we can to help.  There is strong evidence that taking vitamins in pregnancy improves both the mother and baby's health and providing free vitamins, to all pregnant women, has the widespread support of healthcare professionals."
Any government policy which seeks to assist women in pregnancy to look after both themselves and their baby must be welcomed.  It is a positive step by the Scottish government and it is hoped that many people will benefit from the new initiatives.
The introduction of free vitamins for all pregnant women is real and positive recognition by the Scottish Government of the importance of the unborn child.  The unborn child should be entitled to the same rights as any born child and this must include the right to the best possible health care and treatment.  While the rights of the unborn child are not yet fully protected in our country, primarily because of the availability of abortion, this type of initiative is a step in the right direction; a small but important step towards equality of rights for all children, irrespective of whether they happen to be inside or outside of the womb.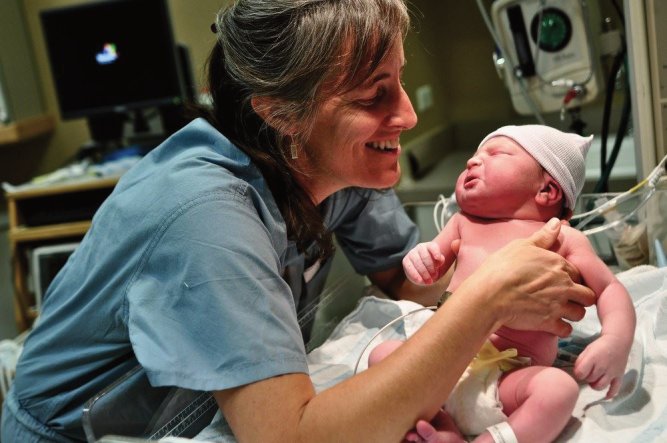 Children should be safe in the hands of midwives
The Chief Executive of the Royal College of Midwives (RCM) is facing calls to resign after announcing that the organisation supported the removal of the 24 week time limit for abortions in the UK.  Cathy Marwick has caused consternation among RCM members, many of whom have signed an online petition seeking to distance themselves from the RCM's stance.  They have also accused her of failing to consult on the issue. 
Marwick, who is the chair of the UK's biggest abortion provider BPAS (British Pregnancy Advisory Service), has not surprisingly been accused of a conflict of interest given her two roles.  One midwife from Northern Ireland said: 'Anyone advocating allowing abortion up to birth, I think is so sad and tragic, but to have my own representative body coming out in support of this extreme view is very disappointing. I know she's our chief, but there is clearly a conflict of interest. On something as big as this, she should have consulted us.'
Dr Peter Saunders, head of the Christian Medical Fellowship, said: 'It is bitterly ironic that the RCM, the supposed champion of safe childbirth and antenatal care, should be backing a campaign seeking to legalise the killing of unborn children up until birth. It is even more extraordinary that their chief executive, who also chairs BPAS, should be spearheading this initiative without apparently even consulting her membership. It is an extraordinary abuse of power.'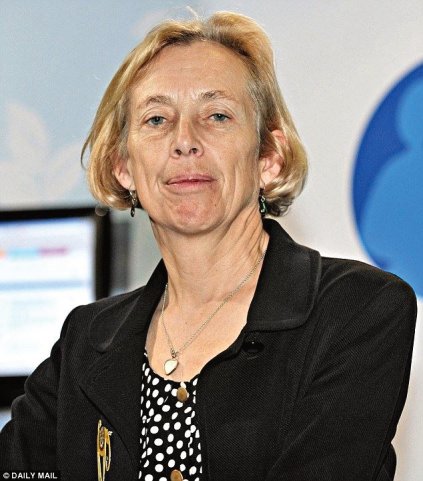 Cathy Marwick
Democratic Unionist MP, Jim Shannon, has vowed to raise the matter in Parliament this week.  He said: 'I will ask the Secretary of State for Health what discussions he has had, or will have, with the RCM and BPAS. My concern is that scrapping the 24-week cut-off would be absolutely disgraceful. I would have thought the RCM should be protecting unborn life. Its chief executive has this dual position and many people would say you can't have that.'
It is deeply disturbing that the very people who have for hundreds of years facilitated the safe passage of new life into our world are now being encouraged to compromise that ethos and be prepared to kill off that life.  Indeed, medical advances are strongly indicating that the abortion time limit should be reduced as a result of the increased survival rate of babies before the 24 week mark.  There is absolutely no indication that the abortion time limit should be increased, never mind scrapped altogether.  Any attempt to increase or abolish the 24 week limit flies in the face of scientific and medical fact, and it once again raises the question as to whether the wilful destruction of innocent human life by abortion should be allowed at all.
Our smallest, youngest, most vulnerable children should be safe in the hands of our midwives.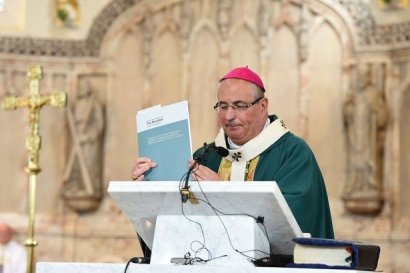 The Church will implement all recommendations
from the McLellan Report

Peter Kearney, Director of the Scottish Catholic Media Office, has called for fairness by the media in reporting the issue of child abuse in the Catholic Church. 
Mr Kearney suggests that official figures show that the problem in the Church is tiny compared to the problem as a whole across Scotland.  Indeed, it is believed that only 0.3% of abuse complaints over the past ten years were against Catholic clergy and volunteers.  Yet, despite this figure, the media appear determined to castigate the Church as offender in chief when it comes to the awful reality of child abuse.
As Peter Kearney says, the "robust attention" of the media around this issue is to be "welcomed" as it "serves to strengthen the resolve of those working within the Church to be as transparent and accountable as possible.  Survivors deserve that."  But there appears to be a disproportionate focus on the Church, especially when you consider the figures quoted.
As we have said before, the Catholic Church in Scotland should now be the safest place for children given the work it is doing to ensure that deplorable mistakes from the past are not repeated.  Following the McLellan Commission's report last year the Church accepted all eight recommendations of the Commission in relation to the safeguarding of children and vulnerable persons and expects all eight to be fully implemented by the end of 2017.   
Perhaps one of the biggest moves by the Church has been to release an annual audit of all abuse allegations against its clergy and volunteers.  This is made public thus ensuring transparency and easy access to the figures for the media and the general public, all of whom have a vested interest in this issue.  Sadly, such transparency is not forthcoming from other churches in Scotland.  Indeed, no other organised church in Scotland releases data in this way.  And they are not alone.  The NHS, Police Scotland, local authorities and national youth and voluntary groups have thus far failed to step up to the plate and release audits of abuse allegations.
As Peter Kearney says, "All abuse is utterly wrong and must always be condemned", but "narratives suggesting the Catholic Church has a disproportionate problem and wider society hasn't, is a terrible deception.  Survivors deserve better."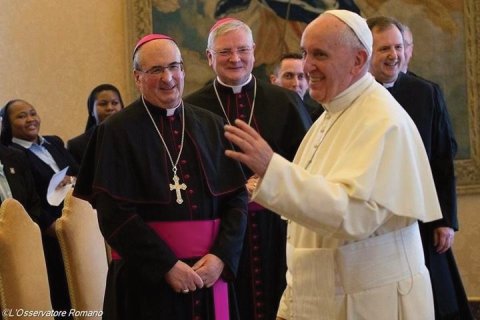 Pope Francis has addressed the members of the Scots College in Rome on the 400 anniversary of the college's founding.  Addressing the gathered, including Archbishop Philip Tartaglia and Archbishop Leo Cushley, the pope urged the seminarians to "have the same selfless spirit of their [martyr] predecessors".  He then urged the men to give themselves generously to their priestly formation so that "your years in Rome may prepare you to return to Scotland and to offer your lives completely".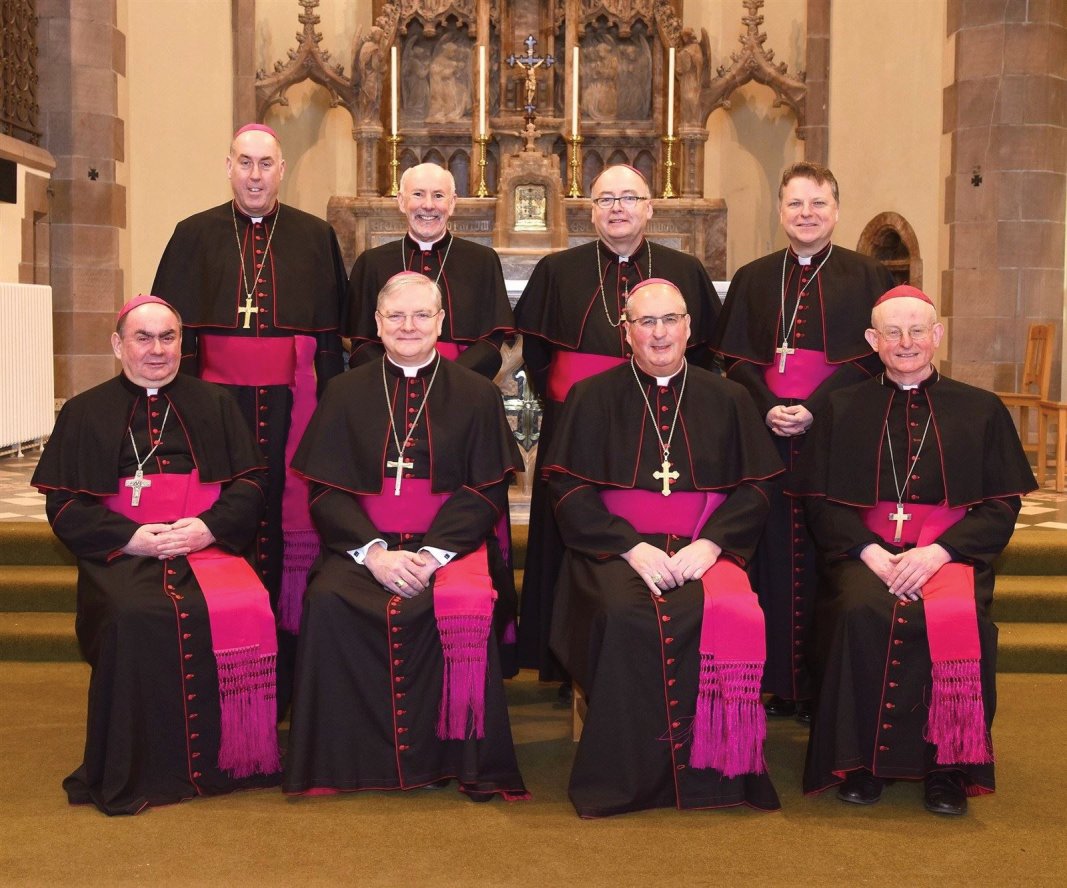 The Catholic Bishops of Scotland
The Catholic Bishops of both Scotland and Poland have been busy making a case for the protection of the unborn this week.  The Polish Bishops have been pushing for legislative change to bring about a total ban on abortions and they, along with the Polish government, appear to have mustered more than enough support to ensure the law is passed.
Meanwhile, in Scotland, the Catholic Bishops have released their traditional statement ahead of the May election for the Scottish Parliament.  In the letter, the Bishops encourage Catholics to vote with Christian values at the forefront of their minds, including the right to life from conception until natural death.  This encouragement is timely given that abortion is soon to be devolved to the Scottish Parliament from its current home in Westminster. 
Yet the motives of these holy men has been called into question by sceptics and much of the media, as they try to suggest something other than love of life and a desire to protect the most vulnerable is at play.  But let's be frank, while these men are devoutly Catholic and follow the teaching of the Church to the letter, they do not need to reference Church teaching in order to call for the protection of unborn babies.  It is something that is imprinted in each and every one of our DNA.  No decent, law-abiding citizen of planet earth wants or wills the destruction of other human beings.  It's a basic human quality and one we should be immensely proud of.
The Catholic Bishops of Scotland and Poland are speaking from the heart when they call for all unborn children to have the chance to live.  Yes their Church expects, and even demands, them to take this stance, but they do not need the Church to tell them that all human life is intrinsically valuable and worthy of protection.  They are not anti-woman and they are not anti-choice.  Neither are they religious fanatics.  They are simply human beings seeking the protection of the law for other, more vulnerable, human beings.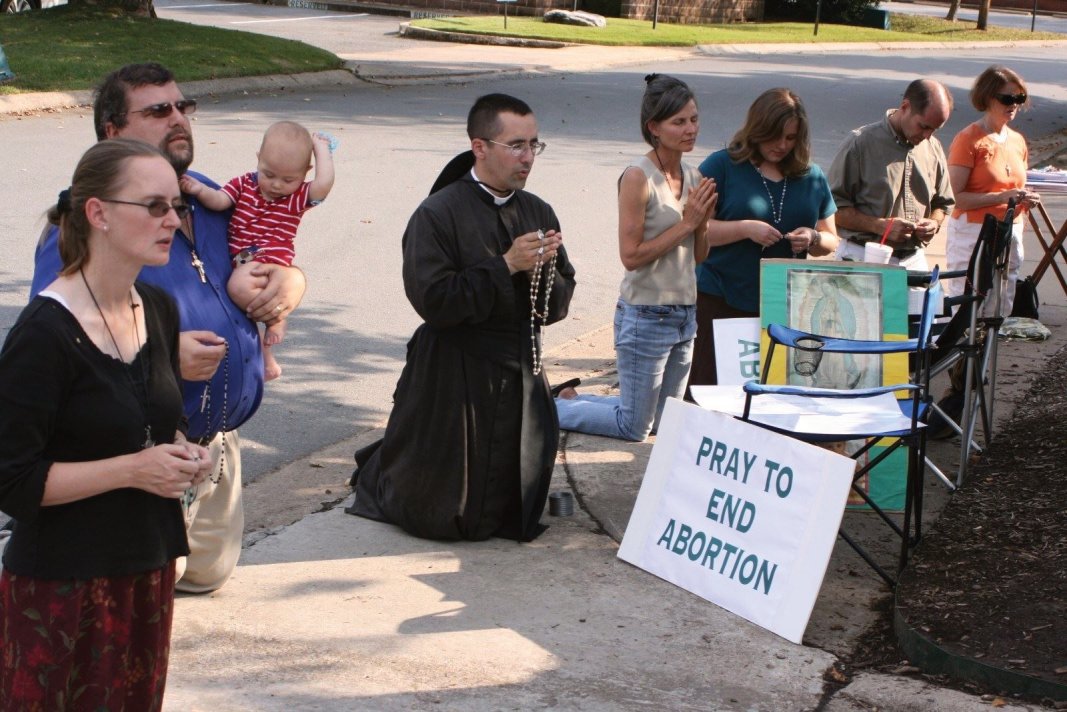 40 Days for Life is coming to Scotland
As we prepare to participate in 40 Days for Life for the first time here in Glasgow it is important to bear in mind a few home truths.  Some sections of the media and other groups in favour of abortion have had their say on the event in recent days and, not surprisingly, their view on 40 Days for Life is extremely negative.  
I would be careful not to take too much note of the negativity expressed by these groups and individuals.  Remember that their interest in this matter is the polar opposite of ours.  They believe that abortion should remain legal and that any individual or group claiming otherwise needs to be silenced.  That has been their tactic for a long time and it continues to be their tactic.  But we must not be put off and we must remember why we are doing this. We are doing this because we want to stop the killing of innocent, defenceless children and we want to help young women cope with the life changing reality of a new child.
And despite reports to the contrary we must be careful to remember that this will be a peaceful, prayerful vigil.  It will not be a violent protest with hecklers screaming from the rooftops, shouting at young women as they enter hospital grounds.  While it would be correct to say that there have been incidents involving over-zealous pro-life supporters in the United States, these reports have been significantly over inflated by those in favour of abortion.  The idea is that pro-life supporters will be put off attending the event, preferring to steer clear of perceived fundamentalism.  They want to paint a picture of nasty, violent religious fanatics who want to push their beliefs onto others.  It is another classic tactic of the pro-choice lobby.    
But there is hope!  The lies are coming thick and fast and this can mean only one thing: the pro-choice lobby is worried. I have long wished for this day; the day that the abortion debate would really come to the fore in Scotland, propelling itself into the public square and the public mind. It's now happening and I pray fervently for the strength and the faith to persevere in what will be a tough debate. But we must never lose sight of who this is really for. The time for the little ones to have a fair hearing in our country has come. 
And remember, you don't need to worry too much about changing the hearts and minds of the biased media and the vociferous pro-choice activists you may see at counter protests. Their minds will not be changed. But the minds of the huge silent majority can be changed.  These are the people who don't get involved in the public debate but who, from afar, can appreciate the need to protect all life and who can appreciate true equality.  It is they who will be watching us as we pray in silence for the innocents, and for their mums, dads and grandparents.  By our peaceful, prayerful actions we can be a witness to the indisputable beauty of life.
While millions of Scotland's sons and daughters have perished through abortion since it was made legal in 1967, their deaths need not be in vain.  Let their untimely and needless deaths be the catalyst for a new era of true equality of life for all in our country.  If we desire to make Scotland a welcoming place for Syrian refugees, we can surely make Scotland a welcoming place for each and every one of her own precious children.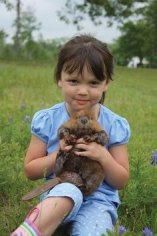 Do you think that preborn baby beavers are deserving of greater protection than preborn baby humans?  I for one don't, yet media headlines and public outcries suggest to me that I am in an increasing minority. 
Being a supporter of the right to life for all human beings, including the youngest and most vulnerable among us, I was deeply disturbed to see yet another public outcry by one of our mainstream media outlets seeking to further protect the lives of a species other than Homo sapiens.  It is an increasingly common occurrence here in Scotland and it continually drowns out the cries of the victims who really matter.
With an unashamedly deep anger I watched television on Sunday night and witnessed the BBC Scotland News headline claiming that the 'rights' of beavers on a Perthshire estate were somehow being violated to the point that they deserve further legal protection.  The furore has erupted because pregnant beavers were found to be among the carcasses of a number of the rodents killed in recent months.   I hear no such outcry for little human beings in the womb from the media and wider public.  It's far easier to stay in the comfort zone of fighting for the rights of animals than to step out and dare to suggest that preborn humans deserve protection, that the choice to kill a baby human is wrong.    
In all honesty we must be the only species who believe it is acceptable and justifiable to kill off our own creation.  It's absurd.  But what's worse is the rich fervour and persistent activism that fuels the call to protect other species such as beavers and rare birds, while some unborn babies languish in their mothers' womb waiting for the abortionist's knife.  There is no such widespread fervour or activism for innocent human beings other than from the usual and same old sources.  There is no media coverage of their plight.  There is no public outcry to change the law.   
I'm all for animal welfare, but then that is not the issue.  The issue here is the lack of protection for the most innocent and most vulnerable human beings, especially when set against the kind of protection the media, some MSPs, and many in the public want to afford to other species.  In the UK alone, 8.5 million babies have lost their lives by way of abortion since 1967.
People of Scotland, perhaps it is time for us to realign our priorities.  Perhaps we need to start focusing more on the rights of our own species rather than getting too caught up in the rights of others.  Perhaps it's time to focus on the bairns rather than the beavers.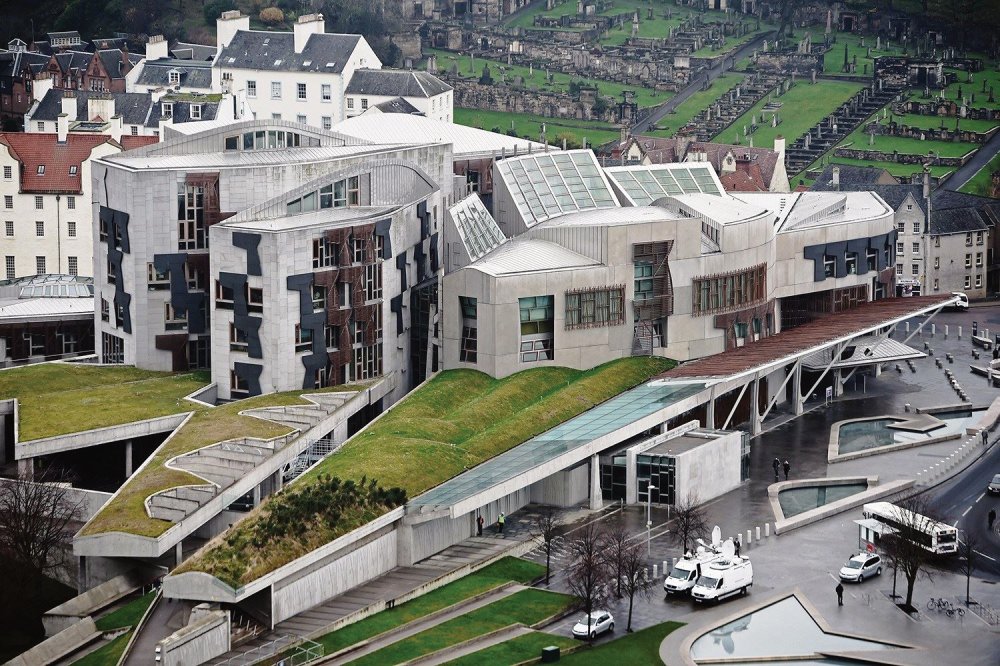 The petition will be debated in Holyrood
Scottish MSPs will today discuss a petition calling on the government to make incest legal between consenting adults over the age of 21. 
The petition, by Richard Morris, claims that the existing law is "inappropriate, unfair, ineffective and discriminatory" and suggests that public "prejudice and bigotry" about incest was caused by ignorance.  He has also apparently likened the issue to historical treatment of homosexuals.
The Catechism of the Catholic Church is clear on the matter of incest and states the following:
'2388Incest designates intimate relations between relatives or in-laws within a degree that prohibits marriage between them. St. Paul stigmatizes this especially grave offense: "It is actually reported that there is immorality among you . . . for a man is living with his father's wife. . . . In the name of the Lord Jesus . . . you are to deliver this man to Satan for the destruction of the flesh. . . . " Incest corrupts family relationships and marks a regression toward animality.'
We are left in no doubt by St Paul's words.  Incest is destruction of the flesh and is mortal sin.  Indeed all instances of sexual relations outside of marriage are sinful and must be avoided.  And look how St Paul uses the name of Jesus to hit home the severity of incest.  It is not in St Paul's name that an individual guilty of incest is to be delivered to the devil, but in the name of Jesus. 
It's interesting that the petitioner Mr Morris cites the treatment of homosexuals to support his case.  The Catholic Church's stance on homosexual acts is clear, and many people in the Church and indeed others who believe such acts to be wrong, have stated their concern that increased liberalism with respect to homosexuality will open wider the floodgates of a deeply disturbing and increasingly sickening new sexual revolution in our society.  I believe Mr Morris's petition is evidence of this.
Our Blessed Mother Mary, when she appeared to the children in Fatima in the early twentieth century, stated that more people go to hell for sins of the flesh than for any other sin.  That's the Mother of God speaking.  It's not the view of some radical religious nut, or priest, or bishop.  It's not even a pope speaking.  It's Mary, the Mother of our God and Queen of Heaven.
So let us pray that Mary's voice will be heard and that our MSPs decide to reject this petition and retain existing laws on incest in our country.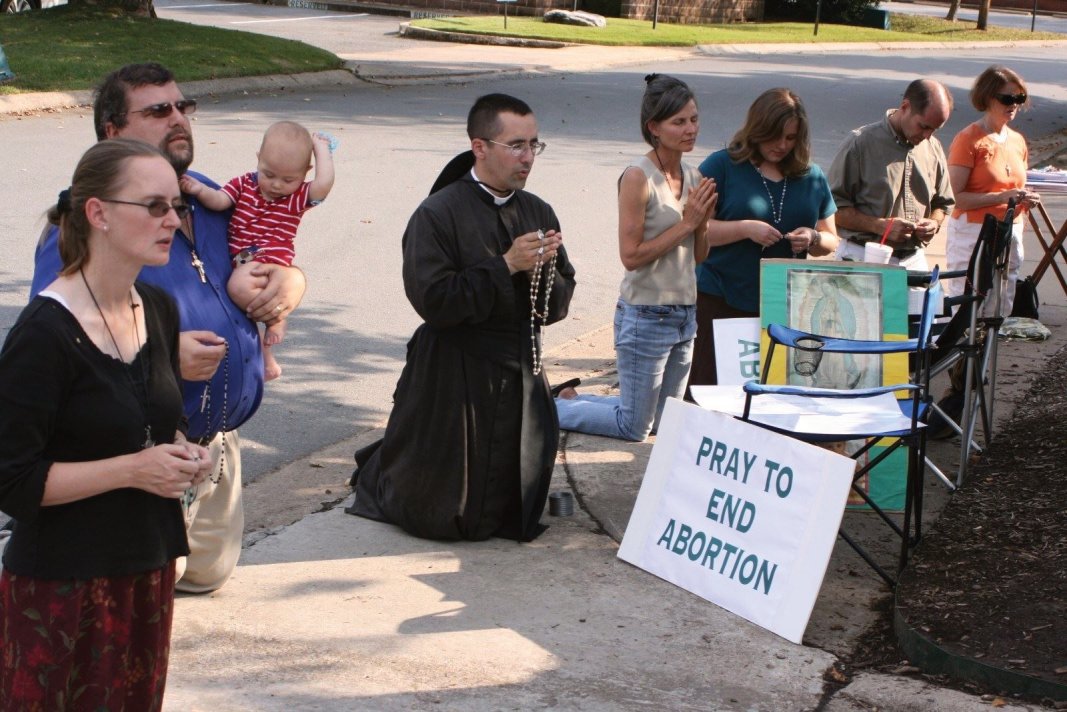 40 Days for Life vigil in Little Rock, US
The 40 Days for Life initiative is coming to Glasgow!  Between 10th February and 20th March (during the season of Lent) pro-life advocates and supporters are invited to commit to a prayerful vigil outside the Queen Elizabeth University Hospital, where abortions are known to take place. 
The vigil will be one of quiet, peaceful prayer, without graphic imagery and without any attempts to approach people, unless they approach us.
The initiative, which started in the United States in 2005, has helped a reported 10,000 women to choose life over abortion and has witnessed the closure of over 60 abortion centres.  It is now in operation across 25 countries worldwide, with Scotland being the latest addition to the ever increasing list.
This opportunity cannot be overstated.  It is a phenomenal opportunity for a public witness to the sanctity of all human life and a very real opportunity to change the hearts and minds of women seeking abortion. 
Please spare an hour (or possibly more) between 10th February and 20th March to join us in this beautiful witness to life.  You can commit to a slot by clicking the image, below: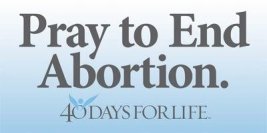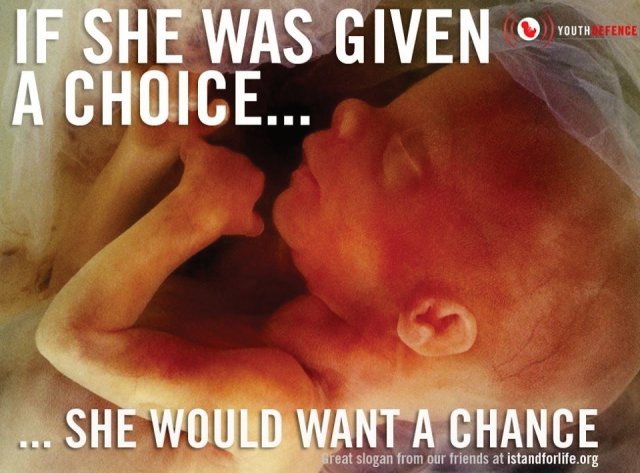 The campaign aims to tackle proposals to extend the abortion time limit
A group of organisations has launched a campaign aimed at countering an increasing public call to make abortion more widely available in Scotland.  The campaign, led by SPUC Scotland and supported by other groups including the Catholic Church and the Muslim Council of Scotland, comes just weeks after the decision of the Westminster Government to devolve the law relating to abortion to the Scottish Parliament.
The campaign, titled 'Don't Stop a Beating Heart', argues that abortion should not be made more widely available than the current 24-week time limit, countering the argument that the time limit should be extended.  Indeed, many of those involved in the campaign argue that abortion should not be available at all, a position we at Scots Catholic wholeheartedly agree with.
This is a bold and important move by those involved in the pro-life movement in Scotland.  But in order to really succeed it will need the buy-in of all of us who support the right to life of the unborn.  We can't just do the easy thing and leave others to 'get on with it'.  We all have a part to play in defending the rights of the most innocent and vulnerable human beings.  We all have a part to play in this campaign.
Archbishop of Glasgow and President of the Bishops Conference of Scotland Philip Tartaglia confirmed his support for the campaign, saying, "I wholeheartedly support the aims of the Don't Stop a Beating Heart campaign to defend and protect unborn human life and to call legislators not to further extend abortion time limits."
SPUC Scotland's Chief Executive John Deighan is the campaign's coordinator and he explained why the campaign is needed, saying: "The rights of the unborn child are facing new threats with the impending devolution of powers to the Scottish Parliament from Westminster.  Already, well in advance of the transfer of legislative authority, we are hearing a clamour for further extension of the existing excessively liberal law. This could see abortion legalised from the existing 24-week limit, in most cases, up until the point of birth.  In response to these deeply disconcerting demands, pro-life supporters from different backgrounds, people of faith and none, in addition to concerned organisations and individuals have decided that we must stand together in the face of this onslaught."
It is sad enough that around 8 million little girls and boys have been lost to abortion since it was legalised in the UK in 1967.  And to think that the abortion legislation was introduced with the aim of restricting the availability of abortions and to make the procedure safer.  Sadly this has not been the case, and the abortion procedure is now vigorously abused in the western world, to the point that fetal baby parts are being sold for profit (as has been the case in the United States with the Planned Parenthood scandal) and an astonishing 90% of babies with Down's Syndrome are aborted in the UK simply because they have the condition. 
While the Planned Parenthood example above is (hopefully) rare, there is no denying a very unfortunate callous and laissez faire attitude has developed in western society when it comes to the subject of abortion.  Those who are in favour of legalising the abortion procedure are increasingly ignoring the scientific evidence that a live human being exists from the point of conception, preferring to wrap everything up as the simple choice of the mother.  There are those who are not in favour of abortion but who think that it is none of their business to interfere with a mother's choice or are too frightened to raise the issue socially, preferring to keep their opinion to themselves.
All of this has added to an all too relaxed view on abortion in our society and a lack of realisation as to what the abortion procedure really entails.  If little children outside the womb were being killed because they were a financial burden or were a 'mistake' their killers would be processed through the criminal justice system.  Why then are those in the womb treated differently?
This campaign is an excellent opportunity for us to rise up in support of the life of the unborn child.  While we don't want abortion at all, putting a stop to any proposed extension of the time limit would be a victory and a step in the right direction.  It could lead to bigger things.  It could lead to millions of lives being saved. 
If you choose to support one thing in 2016, please choose to support the right to life of these little ones.  We were once like them, all cosy and tucked up inside our mother's womb.  It should be the safest place in the world for a baby, just like it was for each and every one of us.  The heart of an unborn child is too precious to be stopped. 
Please support this campaign.  Don't stop the beating of an innocent heart. 
For more details and to become involved please contact SPUC Scotland on 0141 221 2094
/