Shopping Cart
Your Cart is Empty
There was an error with PayPal
Click here to try again
Thank you for your business!
You should be receiving an order confirmation from Paypal shortly.
Exit Shopping Cart
Calling Scotland's 841,000 Catholics to unite as one voice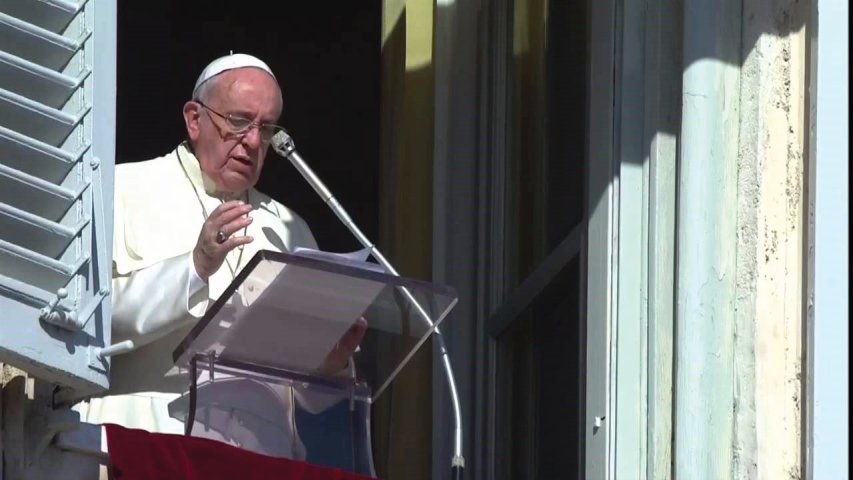 Pope Francis has spoken openly about his support for the Mexican bishops who, along with millions of people, have taken to the streets to protest against the legalisation of same-sex marriage and the serious threat it poses to family life.
The pope said: "I am very happy to associate myself with the bishops of Mexico, in supporting the commitment of the Church and of civil society in favour of the family and of life, which in this time require special pastoral and cultural attention in all the world."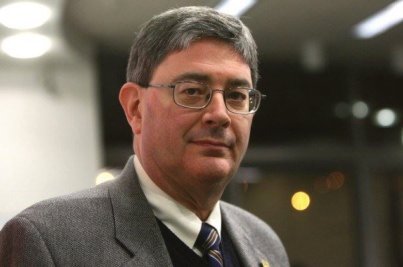 George Weigel, the Distinguished Senior Fellow of the Ethics and Public Policy Center, has claimed that democracy is likely to become brittle, crack and fail unless society consists of "men and women committed to the dignity of the human person as the first principle of just governance and dedicated to the pursuit of the common good." 
Weigel, in response to the assertion that those who believe that truths about the human person and human community are essential to democracy are actually on an authoritarian mission, says: "it is the radical moral relativists for whom there is no "truth," but only expressions of personal preference and will, who are busily enforcing their judgments on society in the name of "tolerance"."
At 7pm on Tuesday October 4th, George Weigel is speaking at St Mary's Metropolitan Cathedral in Edinburgh on the topic of "Converting the Culture: The New Evangelisation and the Future of the West". 
Read the full article in The Scotsman here: http://www.scotsman.com/news/opinion/is-faith-the-missing-ingredient-that-can-make-western-democracy-work-1-4240413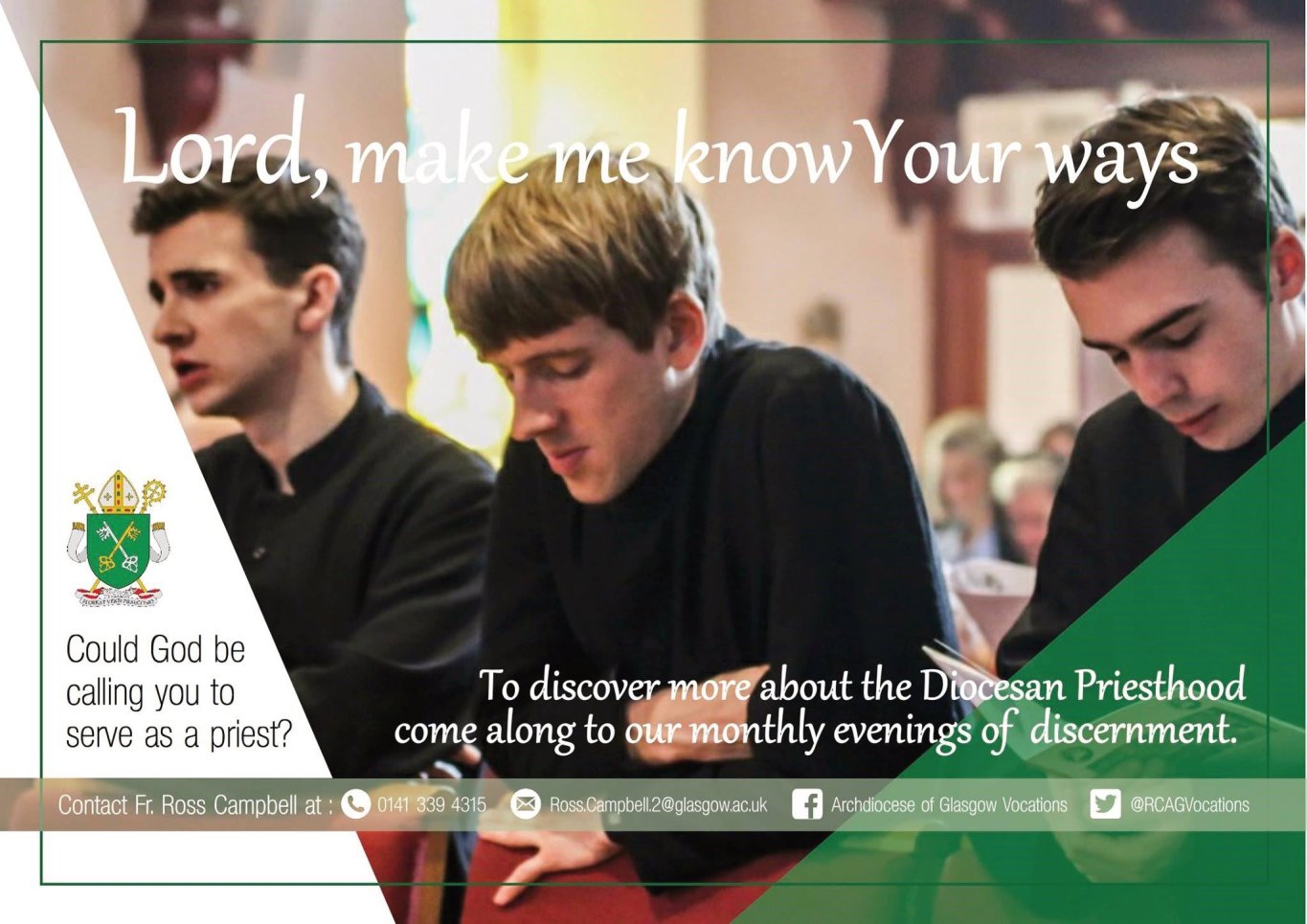 The Archdiocese of Glasgow appears to be reaping the rewards of a fresh new drive for vocations to the priesthood.  The September edition of Flourish, the Archdiocese's journal, has highlighted the increasing popularity of monthly evenings of discernment hosted by Father Ross Campbell, who is the Archdiocese's vocations director and Catholic chaplain to the University of Glasgow.
Six men have already signed up for the first evening of discernment taking place on Friday 14 October and it is hoped that more will join.  The evenings of discernment usually take place on the second Friday of each month and are designed to allow men to take a "gentle, first step into the waters of the priesthood, without any initial firm commitment."
We must pray that these men, and hopefully many more, will respond positively to God's call for them to be shepherds of His people.
For more details of these evenings of discernment please contact Fr Ross Campbell at
[email protected]
or call 0141 339 4315.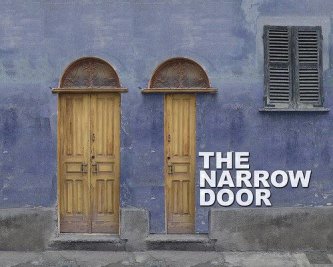 We must aim for the narrow door
'Through towns and villages Jesus went teaching, making his way to Jerusalem. Someone said to him "Sir, will there be only a few saved?" He said to them, "Try your best to enter by the narrow door, because, I tell you, may will try to enter and will not succeed"'
This year the pass rate for Higher Grades in Scotland was 77.2%. The chances of winning the UK National Lottery is 1 in 45 million. As humans, we love statistics and take comfort in them. They help us feel like we know where we stand, what the likelihood is that we will succeed and fail.  In today's Gospel passage Jesus is asked a seemingly straightforward question: what is the success rate of people getting to Heaven?  Wouldn't it be great to know the answer to that question?  Knowing the exact proportion of people who 'make it' might just give us the comfort we need to know that our future rests with God.  But the Lord, in His infinite wisdom, does not give an easy answer to the question posed to him as he makes his way to Jerusalem. Instead he uses it as a training opportunity; his message seems to be that we should not compare ourselves with others, and that we should focus and strive for the Kingdom, aiming for the narrow door.  We may tremble at the seemingly harsh and sobering reply Jesus gives; and so perhaps we should.  But a healthy fear of the Lord is important and a great virtue. We can also take comfort in today's second reading:
'My son, when the Lord corrects you, do not treat it lightly; but do not get discouraged when He reprimands you. For the Lord trains the ones He loves and He punishes all those that He acknowledges as His sons"'
It would do no good for an athlete to know the statistical chances of obtaining a gold medal in his or her sport, but instead a good coach would push them hard to reach that top prize regardless of statistics. Similarly, we need the same push to win the greatest prize of all. We should not fall into despair and resign ourselves to being one of those locked out of the Kingdom, and we should not doubt God's unfathomable mercy. But neither should we grow complacent and lazily take our salvation for granted. Jesus shows us the narrow door. He is the way we must follow, bearing our crosses and sufferings as He did, using them to shape us into saints, and all for God's glory.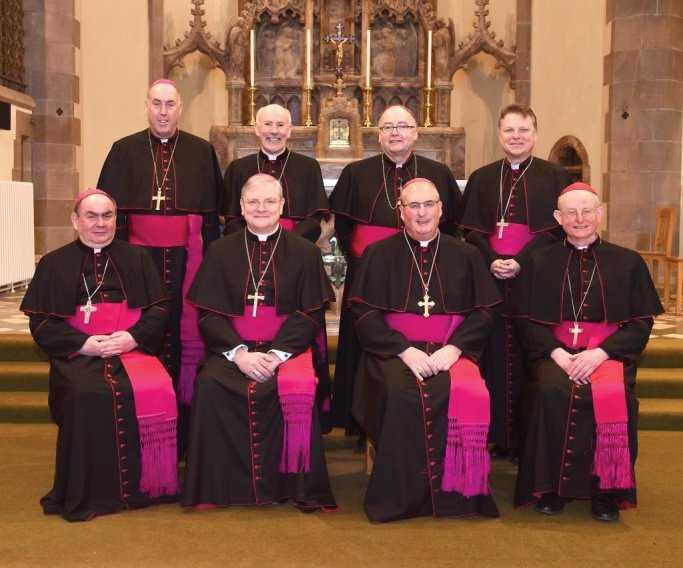 The eight Catholic Bishops of Scotland
Statement of the Catholic Bishops of Scotland on nuclear weapons:
The Bishops of Scotland have for a long time pointed out the immorality of the use of strategic nuclear weapons due to the indiscriminate destruction of innocent human life that their use would cause.
The renewal of Trident is questioned not just by those concerned with the morality of nuclear weapons themselves but also by those concerned about the use of scarce financial resources.
Lives are being lost now because money that could be spent on the needy and the poor is tied up in nuclear arsenals. We endorse the words of Pope Francis: "Spending on nuclear weapons squanders the wealth of nations".
The United Kingdom, permanent member of the UN Security Council and declared nuclear power, signed the Nuclear Non-Proliferation Treaty in 1968. That treaty binds signatories who do not have nuclear weapons not to acquire them, but it also binds those who do have nuclear weapons to work towards the disposing and elimination of all nuclear weapons. Britain should take more decisive and courageous steps to revive that aspect of the treaty and not seek to prolong the status quo.
Signed
+ Philip Tartaglia, President of the Bishops' Conference of Scotland, Archbishop of Glasgow+ Joseph Toal, Vice-President, Bishop of Motherwell+ Hugh Gilbert, Episcopal Secretary, Bishop of Aberdeen+ Leo Cushley, Archbishop of St Andrews and Edinburgh+ Stephen Robson, Bishop of Dunkeld+ John Keenan, Bishop of Paisley+ William Nolan, Bishop of Galloway+ Brian McGee, Bishop of Argyll and The Isles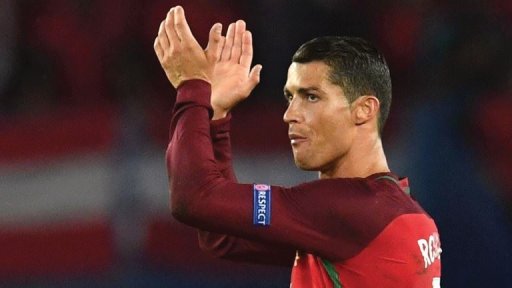 Cristiano Ronaldo
First it was Ronaldo encouraging team-mate Joao Moutinho to take a penalty and telling him that the outcome is "in God's hands".  Now we have Ronaldo and the Portugal head coach Fernando Santos thanking the Creator.
Ronaldo, who was stretchered off injured after just 25 minutes of the Euro 2016 final against France, told journalists after the game that he "asked God for another chance", a reference to previous failed attempts to win a major title with Portugal. 
Fernando Santos
His boss Santos was no less enthusiastic about God's part in Portugal's success, stating that "I'm very happy, of course.  First of all I would like to thank God for being with us, my wife, my mother, my grandson, my father - wherever he is, he is probably having a few beers."
This type of witness should never be underestimated.  God should always be on our minds, day in, day out, no matter what we are doing.  Whether we are in Church, sitting at our work desk, or even on a football pitch, He must always be first.  While I wouldn't pretend to know the depth of faith of these two men, one thing is clear: they both have God at the forefront of their minds and they aren't ashamed to admit it.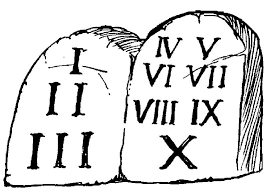 The Ten Commandments were written on two tablets of stone
Sunday's Gospel (Luke 10:25-37):
'There was a lawyer who, to disconcert Jesus, stood up and said to him, 'Master, what must I do to inherit eternal life?' He said to him, 'What is written in the Law? What do you read there?' He replied, 'You must love the Lord your God with all your heart, with all your soul, with all your strength, and with all your mind, and your neighbour as yourself.' 'You have answered right,' said Jesus 'do this and life is yours.'
But the man was anxious to justify himself and said to Jesus, 'And who is my neighbour?' Jesus replied, 'A man was once on his way down from Jerusalem to Jericho and fell into the hands of brigands; they took all he had, beat him and then made off, leaving him half dead. Now a priest happened to be travelling down the same road, but when he saw the man, he passed by on the other side. In the same way a Levite who came to the place saw him, and passed by on the other side. But a Samaritan traveller who came upon him was moved with compassion when he saw him. He went up and bandaged his wounds, pouring oil and wine on them. He then lifted him on to his own mount, carried him to the inn and looked after him. Next day, he took out two denarii and handed them to the innkeeper. "Look after him," he said "and on my way back I will make good any extra expense you have." Which of these three, do you think, proved himself a neighbour to the man who fell into the brigands' hands?' 'The one who took pity on him' he replied. Jesus said to him, 'Go, and do the same yourself.''
Eternal life in Heaven is where we all want to be.  And even for those who do not believe, the idea of living in comfortable and joyful surroundings forever is a fantastic thought! 
But how do we get there?  Well, Jesus gives us two very straightforward commands.  He tells us that we must love God with everything we've got and we must also love our neighbour.  Looks simple on paper doesn't it?  And in a way it is.  It is, however, important to avoid oversimplifying these commandments in order to suit our own busy lifestyles and agendas.  For example, we can't simply state that we love God and we love all other people and never follow this up with words and actions to support our claim.  If we are going to follow Jesus' commands we need to act upon them, and act with conviction; a conviction that tells the world: 'this guy really does love God and he really does love other people!'
Jesus' commandments are a perfect summing up of the Ten Commandments (or Decalogue) given to Moses by God.  They are not a watering down of the Ten Commandments and they are certainly not an attempt to abolish and replace the Ten Commandments.  What Jesus does is present to us the Ten Commandments in a new way in order to aid our understanding of them.  He invites us to rediscover the beauty and truth of God's perfect law.  It is worth remembering that the first three Commandments concern love of God and the other seven concern love of neighbour, hence Christ's summing up of them by referring to love of God and love of neighbour.  This is also why God presented the Commandments to Moses using two tablets of stone rather than one; so as to distinguish between the call to love God and the call to love our neighbour.
In order to obtain eternal life our words and actions must be in keeping with the Ten Commandments.  We must respect God's clear instructions and, in a spirit of humility and love, encourage others to do the same.
The Ten Commandments:
I am the LORD your God:
you shall not have
strange Gods before me.
You shall not take
the name of the LORD your God in vain.
Remember to keep holy the LORD'S Day.
Honour your father and your mother.
You shall not kill.
You shall not commit adultery.
You shall not steal.
You shall not bear false witness
against your neighbour.
You shall not covet
your neighbour's wife.
You shall not covet
your neighbour's goods.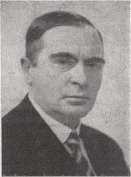 If only there were more Dr Halliday Sutherlands today.  Perhaps he would have the courage to stand up for the rights of those who are under threat from the increasing prevalence of assisted suicide in our world.  Perhaps he would have the courage to stand up for the rights of the preborn child under threat of death by abortion.
Dr Halliday Sutherland, born in Glasgow in 1882, was a man who stood up for the people society felt unworthy of life.  He lived in a time when the middle and upper classes of Britain fought for the legal right to sterilise the poor and the seemingly unworthy.  The rich felt more and more threatened by the higher birth rate among the poorer classes compared to their deteriorating birth rate.  They also felt threatened by the seeming prevalence of tuberculosis among the poor.  There was even talk of using a lethal chamber at one stage.
According to
this article
, Sutherland was "appalled by the popularity of eugenics among Britain's middle and upper classes" and set about fighting for the rights of the vulnerable.  He argued with the Professor of Eugenics at London University who claimed that tuberculosis was primarily caused by heredity and argued that the disease be cured by breeding out those considered to be at risk (the poor).  In a speech made in 1917, Sutherland called Britain's eugenists "race breeders with the souls of cattle breeders" and argued that "in preventing disease you are not preserving the weak but conserving the strong." 
Sutherland also decried the actions of a eugenist who, in 1921, began dispensing 'pro-race' contraceptives to women in poorer parts of London.  Sutherland described this as a social "experiment" that would lead to a "servile state".  He also argued that 'if ordinary Britons were legally prevented from having children, they would have no societal role other than to work.'
Marie Stopes was also criticised by Sutherland after she revealed her eugenic vision for society in 1921.  She revealed details of her "ardent dream" of "human stock represented only by well-formed, desired and well-endowed beautiful men and women."  The dangers of this frightening and callous point of view are obvious.
Halliday Sutherland would be appalled at the direction of travel of western society today.  Not only have we cow-towed to the contraceptive mentality, completely ignoring any notion of the true meaning of our sexuality, but we now routinely kill our own preborn children through abortion and threaten the vulnerable with a premature death by way of assisted suicide.
We need more Halliday Sutherlands in our world today.  We need more people to stand up for the poor, the marginalised, and the vulnerable.  Dr Sutherland was a Catholic and it is important that we as a Church follow his example and be absolutely clear on the wrongs of abortion and assisted suicide.  Not only that, but we must also resist the assumption that contraception is a simple and harmless solution that allows people to have sexual relations without the 'threat' of new life.  As a Catholic people we value life from the very moment it starts right up until its natural conclusion on death.  Contraception interrupts the natural process by killing off new life.  It also encourages people to use others as objects of desire, their sole purpose being to satisfy their own selfish cravings devoid of the threat of responsibility for a new life.   
We have lost the true meaning of the sexual encounter and we have lost the meaning of the value of life.  Our world needs to hear that there is an alternative to the throwaway culture of death; an alternative that values all life and that gives the sexual act the respect it truly deserves.  Dr Halliday Sutherland would be willing to speak up for these values.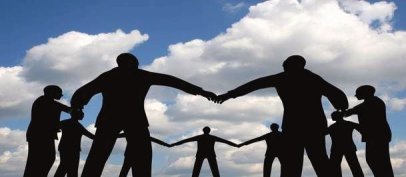 Sunday's Second Reading (Galatians 3:26-29):
'You are, all of you, sons of God through faith in Christ Jesus. All baptised in Christ, you have all clothed yourselves in Christ, and there are no more distinctions between Jew and Greek, slave and free, male and female, but all of you are one in Christ Jesus. Merely by belonging to Christ you are the posterity of Abraham, the heirs he was promised.'
This Sunday's second reading reveals a teaching that is fundamental to the Christian life, that of unity.  Jesus Christ unites.  He doesn't desire to separate or divide.  Rather, his intention is to bring all people together in his name so that he can one day bring them to share in the glory of the Kingdom of God.
Do we unify people?  Do we seek to be at one with others as we go about our daily lives?  Or do we create divisions through pride, selfishness and cynicism? 
Christ's love demands unity, not division.  If we love as Christ loves, we will unite.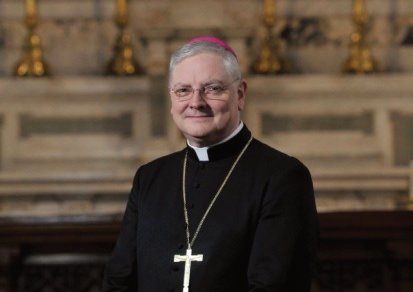 Archbishop of St Andrews and Edinburgh Leo Cushley celebrates the 125 anniversary of Pope Leo XIII's landmark encyclical 'Rerum Novarum'
Archbishop Leo Cushley has marked the 125 anniversary of the papal encyclical Rerum Novarum by re-proposing its social teaching for the common good of Scottish society.  The encyclical by Pope Leo XIII is arguably the Church's most important when it comes to social justice and the Archbishop can clearly see positives in once again bringing it to the forefront of our minds.
Writing in today's Scotsman Archbishop Cushley said: "At the foundation of Pope Leo's vision is an unshakeable belief in the intrinsic value of every man, woman and child.  The degree to which it threatened or enhanced the life and dignity of the human person", he says, "is the measure of any political, moral or economic order".  It is clear, therefore, that the encyclical has at its very core the belief that human life must be at the centre of all decisions made by authority.  It is about standing shoulder to shoulder with the most vulnerable in society, including the poor, the sick, the elderly, and the unborn.
Pope Leo, who rejected unbridled capitalism as well as state socialism, argued that neither central government nor larger society should substitute itself for the initiative and responsibility of individuals and intermediary bodies within civil society.  Archbishop Cushley cited the example of Fife, which has gone from having 82 councils in 1930 to just one today, to illustrate the renewed appetite to revisit the issue of local empowerment.
The Archbishop also referred to the importance of the family in society.  He said: "The twofold purpose of this [the family] micro-community is traditionally defined as the good of the spouses and the procreation and education of children.  For this reason, nearly all societies – not just those informed by Christianity – have founded family life upon marriage.  Even now, the best sociological evidence tends to suggest that children generally do best in life when they grow up with a mum and a dad who are married to each other.  The married family, if you like, is the first, best and cheapest department of health, welfare and education."  He then quoted Pope John Paul II as he tried to encapsulate the effect of the erosion of a marriage-based culture: "As the family goes, so goes the nation, and so goes the whole world in which we live."
However, the Archbishop also referred to Pope Francis' call to appreciate those people for whom the ideal family is not possible, saying that these people "achieve remarkable things in the most difficult of circumstances".  He then reiterated Pope Francis' call to sympathise with and support those in difficult circumstances.
In a world fraught with significant challenges to the family as we know it, the Archbishop's consideration of one of the great social encyclicals is timely.  As he said: "The Church does not seek to impose its social teaching upon Scottish society.  We can only propose it as our vision to anybody seeking new paths towards the common good."
Archbishop Cushley has proposed what he feels is the fundamental consideration for the common good of society and offered it to the people of Scotland.  It is now up to us lay Catholics to do the same.
/