Shopping Cart
Your Cart is Empty
There was an error with PayPal
Click here to try again
Thank you for your business!
You should be receiving an order confirmation from Paypal shortly.
Exit Shopping Cart
Calling Scotland's 841,000 Catholics to unite as one voice

Following a recent discussion on our Facebook page I thought it might be useful to draft up a short note on our Catholic faith and homosexuality.  It is intentionally brief.  For a more in-depth article on the matter please
click this link
.
Our Catholic faith tells us that homosexual acts are wrong. I think it's hard for us to hear this in such an abrupt way in today's world but this is what we are taught by faith. The reason such acts are wrong is that God has ordered us male and female for the authentic union that is marriage between man and woman and to be completely open to the precious gift of new life. Homosexual acts are not ordered in this way and are thus sinful. There are many sinful acts so this isn't necessarily a singling out of homosexual people. Consider sex outside marriage between a man and a woman, which is also wrong, as is the use of contraception.
It's absolutely critical to also bear in mind that having same-sex attraction is different to homosexual acts. Mere attraction is not of itself sinful. It is only when these feelings are acted upon where it is deemed to be wrong.  This is something that many people get confused about.
I think it's also important to see the positive side of the Church's teaching on homosexuality. It seeks to protect humanity by promoting the love between a man and a woman for the sake of giving new life to the world and raising this new life in marriage, which throughout history has been the best place for kids to thrive. The Church doesn't say a man can't love a man or a woman can't love a woman. Indeed, such a notion is completely contrary to Church teaching. It simply states that it is wrong to interfere with God's clear and natural plan for humanity.
It's not about hating homosexuals as many people wrongly think. It's actually about loving everyone and calling them all to live in accordance with God's plan. That too is a form of love though it is often hard for this society to see it in this modern age of relativism.  In my time running the Scots Catholic website and social media accounts I have often been corrected for straying out of line with respect to Church teaching.  I have learned so much in terms of my faith and I am grateful to those who have offered their generous help.  For me, they are simply doing God's work.  They are doing what Jesus did and are challenging me, and I shouldn't be afraid to be challenged.  
In fairness to anyone who abides by the teaching of Christ and his Church on this matter, they are simply trying to live out their lives as God intended and they are well within their rights to stay true to God no matter what the world may tell them.  Jesus and the Apostles were ridiculed and even put to death for going against the tide and remaining faithful to God's teaching. But they remained faithful. And we are called to do the same.
It is also very important to note that there are many, many gay people living out their Catholic faith chastely in the Church. Their call to chastity is no different to the call to chastity of single people in the Church.
And we must remember, the Church is open to all people and she loves all people, especially those of us who sin. That's why I'm a member.
Many people query whether the Church might change its stance with respect to homosexual acts. This is highly unlikely given the wrongs of homosexual acts is contained in scripture, the Word of God. It's also entrenched in nature itself and the ability of man and woman to procreate (something the Church wants to protect for the sake of the family). I appreciate this is a difficult teaching for some, especially in today's society, but the Church can't fit around the whims of society. First and foremost, the Church can't stray from the Truth it has protected for 2000 years. And secondly, it would be impossible to satisfy everyone all of the time.  The Church, like Jesus, is here to challenge us with the Truth.  It is not here so that we can abuse it for our own ends.
The Church is also here to bring God's mercy to us through the
Sacrament of Reconciliation
.  There is no sin we can commit that is too great that we can't reconcile ourselves to God.  He loves us like no other. 
Catholic Answers' director of apologetics Tim Staples considers the question of women priests in the Catholic Church and reveals seven reasons why this is not possible.
The seven reasons are:
1. The Church has definitively declared it
2. The Church's constant Tradition for 2,000 years cannot err
3. The attitude of Christ
4. The practice of the Apostles
5. The permanent value of the attitude of Jesus Christ and the Apostles
6. The ministerial priesthood in the light of the mystery of Christ
7. The ministerial priesthood as illustrated by the mystery of the Church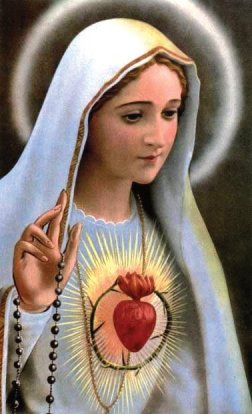 The First Saturday Devotion to the Immaculate Heart of Mary is an incredibly rich, and ultimately rewarding, devotion to Our Blessed Mother Mary. 
Please try to participate in this most incredible act of devotion and allow Jesus to pour his abundant graces upon you.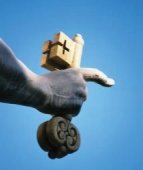 There are many wonderful stories of people converting to the Catholic faith and there are many reasons why people do this.  But for one Anglican priest it was the concept of authority which most influenced his decision to convert; for he found that only the Catholic Church had the authority of Christ. 
In his conversion story Father Dwight Longenecker reveals how the question of the ordination of women in the Anglican Church led him to a real consideration of authority in the Church and that this ultimately led him to understand and accept the authority of the Catholic Church.
Father Longenecker recalls a conversation he had with the Abbot of Quarr Abbey on the Isle of Wight on the subject of the ordination of women.  He said that what the Abbot said hit the nail on the head and was the catalyst for a deeper exploration of the authority of the Catholic Church.
The Abbot told Father Longenecker that 'Sometimes we have to deny some lesser good in order to affirm the greater good. I think you have to deny women's ordination in order to affirm the apostolic ministry. If the apostolic authority says no to women's ordination, then to affirm the greater good of apostolic authority you will have to deny the lesser good of women's ordination. Because if we deny the greater good, then eventually we will lose the lesser good as well.'
As he studied the history of the Catholic Church in more detail Father Longenecker discovered that there were twelve crucial traits of Church authority and while other Christian churches could lay claim to some of these traits, only the Catholic Church could evidence all twelve.
The twelve traits are:
Rooted in History
Adaptable
Objective
Flexible
Universal
Local
Intellectually Challenging
Accessible to the Uneducated
Visible
Invisible
Both Human and Divine
Built Upon the Rock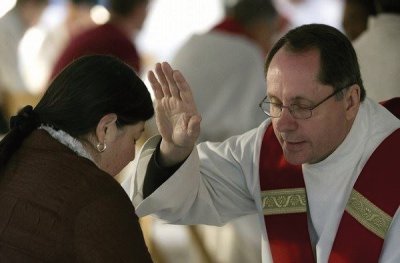 Have you ever thought it is easier to simply say sorry to God yourself and that this is enough to absolve you from your sins?  Why should you need to go to a priest when you can speak directly to Jesus and ask for forgiveness?
The answer is in Sacred Scripture and it is probably clearer than you think.  Tim Staples, Director of Apologetics at Catholic Answers, has tackled this very issue head on and provides us with a detailed scriptural basis for the Sacrament of Reconciliation and the need for priestly participation.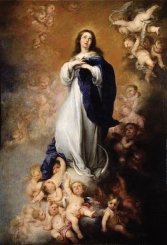 Catholic Answers Director of Apologetics and Evangelisation Tim Staples takes a fascinating look at the beautiful teaching that Mary was conceived without sin and considers the various links between the Old and New Testament with respect to our Blessed Mother.
Well okay, so the Catholic Church has never disputed the process of evolution (provided it is not based on a materialistic and atheistic foundation) and a Belgian Catholic priest by the name of Georges Lemaitre actually penned the Big Bang Theory.  But hey, why let the facts spoil a sensational headline that's just perfectly designed to get the secular juices flowing and make the Catholic Church look like it called it wrong?
Here is exactly what Pope Francis had to say on 'humanity in creation' (which was the proper title of his talk at the plenary session of the Pontifical Academy of Sciences):
"God and Christ walk with us and are also present in nature. When we read in Genesis the account of Creation, we risk imagining God as a magus, with a magic wand able to make everything. But it is not so. He created beings and allowed them to develop according to the internal laws that He gave to each one, so that they were able to develop and to arrive and their fullness of being. He gave autonomy to the beings of the Universe at the same time at which he assured them of his continuous presence, giving being to every reality. And so creation continued for centuries and centuries, millennia and millennia, until it became which we know today, precisely because God is not a demiurge or a conjurer, but the Creator who gives being to all things. The beginning of the world is not the work of chaos that owes its origin to another, but derives directly from a supreme Origin that creates out of love. The Big Bang, which nowadays is posited as the origin of the world, does not contradict the divine act of creating, but rather requires it. The evolution of nature does not contrast with the notion of Creation, as evolution presupposes the creation of beings that evolve".
The Pope continued, "With regard to man, instead, there is a change and something new. When, on the sixth day of the account in Genesis, man is created, God gives the human being another autonomy, an autonomy that is different to that of nature, which is freedom. And he tells man to name everything and to go ahead through history. This makes him responsible for creation, so that he might dominate it in order to develop it until the end of time. Therefore the scientist, and above all the Christian scientist, must adopt the approach of posing questions regarding the future of humanity and of the earth, and, of being free and responsible, helping to prepare it and preserve it, to eliminate risks to the environment of both a natural and human nature. But, at the same time, the scientist must be motivated by the confidence that nature hides, in her evolutionary mechanisms, potentialities for intelligence and freedom to discover and realise, to achieve the development that is in the plan of the Creator. So, while limited, the action of humanity is part of God's power and is able to build a world suited to his dual corporal and spiritual life; to build a human world for all human beings and not for a group or a class of privileged persons. This hope and trust in God, the Creator of nature, and in the capacity of the human spirit can offer the researcher a new energy and profound serenity. But it is also true that the action of humanity – when freedom becomes autonomy – which is not freedom, but autonomy – destroys creation and man takes the place of the Creator. And this is the grave sin against God the Creator".
The net effect of the Pope's words?  A simple reinforcing of long-held Catholic belief.  It is not news that the Catholic Church accepts the Big Bang Theory.  Nor is it news that the Church accepts the role of evolution in our world.
Perhaps now would be a good time for the mainstream media and others who are ignorant of Catholic teaching to take a crash course in Church teaching on these very issues.  I recommend the link, below, which will take you to an excellent article at Catholic Answers....
Some may also be interested to read more on the Vatican Observatory, one of the oldest astronomical research institutions in the world.  You can find out more by clicking this link which will take you to the Vatican Observatory website: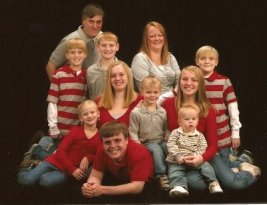 What is the significance of the child in a marriage?
A child is a creature and a gift of God, which comes to earth through the love of his parents. True love does not desire a couple to be self-contained. Love opens up in the child. A child that has been conceived and born is not something "made", nor is he the sum of his paternal and maternal genes. He is a completely new and unique creature of God, equipped with his own soul. The child therefore does not belong to the parents and is not their property.  
How many children should a Christian married couple have?
A Christian married couple has as many children as God gives them and as they can take responsibility for. All children whom God sends are a grace and a great blessing. That does not mean that a Christian couple is not supposed to consider how many children they can raise responsibly, given the health of each spouse and their economic or social situation. When a child comes "nevertheless", that child should be welcomed with joy and willingness and accepted with great love. By trusting in God, many Christian couples find the courage to have a large family.
May a Christian married couple regulate the number of children they have?
Yes, a Christian married couple may and should be responsible in using the gift and privilege of transmitting life. Sometimes social, psychological, and medical conditions are such that in the given circumstances an additional child would be a big, almost superhuman challenge for the couple. Hence there are clear criteria that the married couple must observe: Regulating births, in the first place, must not mean that the couple is avoiding conception as a matter of principle. Second, it must not mean avoiding children for selfish reasons. Third, it must not mean that external coercion is involved (if, for example, the State were to decide how many children a couple could have). Fourth, it must not mean that any and every means may be used.  
Why are all methods of preventing the conception of a child not equally good?
The Church recommends the refined methods of self-observation and natural family planning (NFP) as methods of deliberately regulating conception. These are in keeping with the dignity of man and woman; they respect the innate laws of the female body; they demand mutual affection and consideration and therefore are a school of love. The Church pays careful attention to the order of nature and sees in it a deep meaning. For her it is therefore not a matter of indifference whether a couple manipulates the woman's fertility or instead makes use of the natural alternation of fertile and infertile days. It is no accident that Natural Family Planning is called natural: it is ecological, holistic, healthy, and an exercise in partnership. On the other hand, the Church rejects all artificial means of contraceptionnamely, chemical methods ("the Pill"), mechanical methods (for example, condom, intra-uterine device, or IUD), and surgical methods (sterilization)since these attempt to separate the sexual act from its procreative potential and block the total self-giving of husband and wife. Such methods can even endanger the woman's health, have an abortifacient effect (cause a very early abortion), and in the long run be detrimental to the couple's love life.
What can a childless couple do?
Married couples who suffer from infertility can accept any medical assistance that does not contradict the dignity of the human person, the rights of the child to be conceived, and the holiness of the sacrament of Matrimony. There is no absolute right to have a child. Every child is a gift from God. Married couples to whom this gift has been denied, even though they have exhausted all permissible medical means of assistance, can take in foster children or adopt children or become socially involved in some other way, for instance, by caring for abandoned children.
(From the Catholic Youth Catechism)
/