Shopping Cart
Your Cart is Empty
There was an error with PayPal
Click here to try again
Thank you for your business!
You should be receiving an order confirmation from Paypal shortly.
Exit Shopping Cart
Calling Scotland's 841,000 Catholics to unite as one voice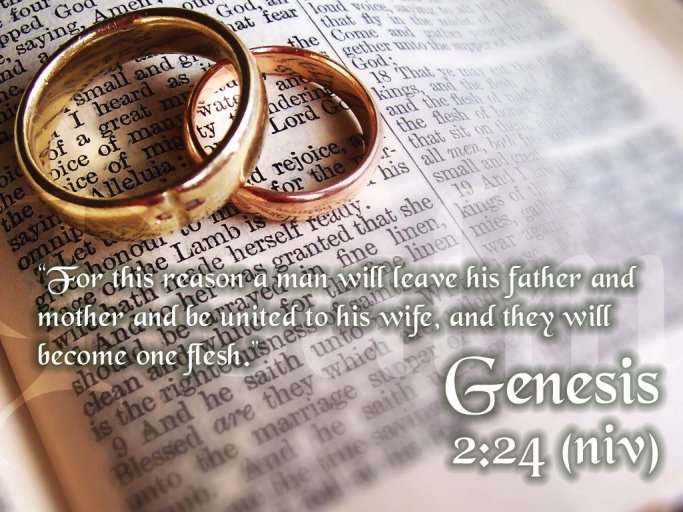 What are the essential elements of Christian marriage?
(1) Unity: Marriage is a covenant that by its very nature brings about bodily, intellectual, and spiritual union between a man and a woman;
(2) Indissolubility: Marriage lasts "until death do us part";
(3) Openness to offspring: Every marriage must be open to children;
(4) Commitment to the spouse's welfare.
If one of the two spouses deliberately excludes one of the four points listed above at the time of their wedding, the sacrament of Matrimony does not take place.
What significance does the sexual encounter have within marriage?
According to God's will, husband and wife should encounter each other in bodily union so as to be united ever more deeply with one another in love and to allow children to proceed from their love. In Christianity, the body, pleasure, and erotic joy enjoy a high status: "Christianity ... believes that matter is good, that God Himself once took on a human body, that some kind of body is going to be given to us even in Heaven and is going to be an essential part of our happiness, our beauty and our energy. Christianity has glorified marriage more than any other religion: and nearly all the greatest love poetry in the world has been produced by Christians. If anyone says that sex, in itself, is bad, Christianity contradicts him at once" (C. S. Lewis). Pleasure, of course, is not an end in itself. When the pleasure of a couple becomes self-enclosed and is not open to the new life that could result from it, it no longer corresponds to the nature of love.
(From the Catholic Youth Catechism)
Next week we will look in more detail at the role of children in Christian marriage...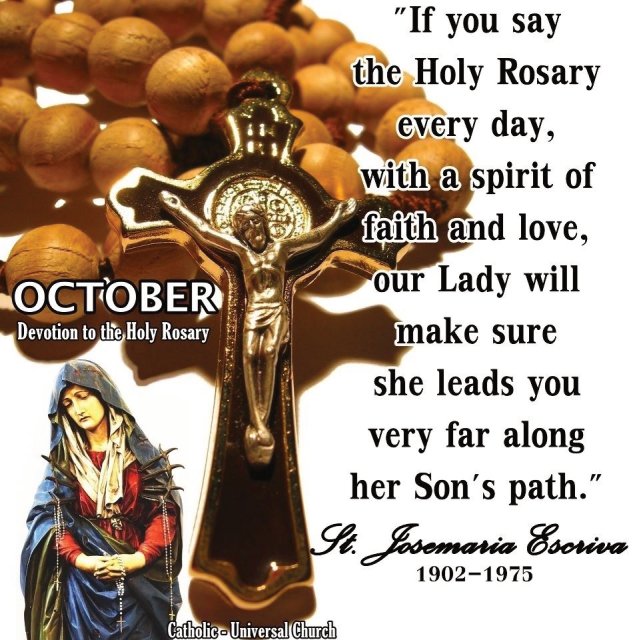 While we should always strive to say the Rosary as often as we can (daily if possible) it is not always so easy to do.  Thankfully the Church gives us the month of October to get our act together!
The month of October is the month of the Holy Rosary and must be seen as an opportunity to develop our knowledge of this most precious devotion and to develop our relationship with Jesus, our Saviour, and Mary, our mother.  Personally, I cannot overstate the graces received as a result of saying the Rosary.  It genuinely works miracles.
If you don't know what the Rosary is or are unsure how to say it, then look no further than our own brief introduction to walk you through the devotion.  You can find it by
clicking this link
.
Please consider picking up your Rosary beads today and enjoy taking the hand of your mother and journey with her as you contemplate the mysteries of her Son's life.  The graces will soon begin to flow....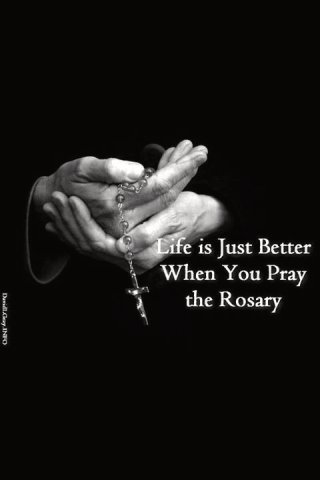 What does the Catholic Church say about using condoms to fight AIDS?
Apart from the fact that condoms provide no absolutely safe protection against contagion, the Church rejects their use as a one-sided, mechanical method of fighting AIDS epidemics and advocates above all a new culture of human relationships and a change in social consciousness. Only practicing fidelity and refraining from casual sexual contacts can provide lasting protection from AIDS and teach a holistic approach to love. Respect for the equal dignity of women and men, concern about the health of the family, responsibility in dealing with one's urges and desires, and also refraining (at appropriate times) from sexual union are all part of it. In the countries of Africa where societal campaigns have promoted such behavior, the rates of infection have decreased significantly. Besides that the Catholic Church does all she can to help people who are afflicted with AIDS.
(From the Catholic Youth Catechism, question 414)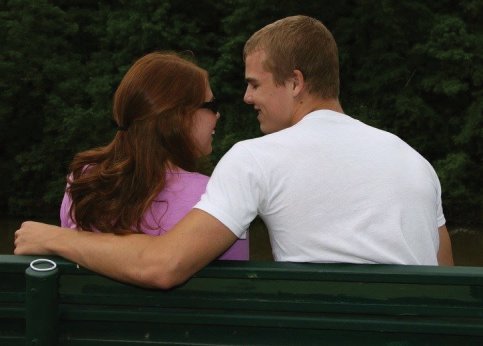 Why is the Church against premarital sexual relations?
Because she would like to protect love. A person can give someone else no greater gift than himself . "I love you" means for both: "I want only you, I want all that you are, and I want to give myself to you forever!" Because that is so, we cannot, even with our bodies, really say "I love you" temporarily or on a trial basis. Many people take their premarital relationships seriously. And yet there are two reservations involved that are incompatible with love: the "exit option" and the fear of a child. Because love is so great, so sacred, and so unique, the Church teaches young people the obligation to wait until they are married before they start to have sexual relations.
How can you live as a young Christian if you are living in a premarital relationship or have already had premarital relations?
God loves us at every moment, in every "complicated" situation, even in a state of sin. God helps us to seek the whole truth about love and to find ways to live it more and more unambiguously and decisively. In a conversation with a priest or a reliable, experienced Christian, young people can look for a way to live out their love with increasing integrity. They will learn that every life is a process and that, whatever has happened, they can make a new beginning with God's help.
(From the Catholic Youth Catechism, questions 407-408)
What is chaste love? Why should a Christian live a chaste life?
A chaste love is a love that defends itself against all the internal and external forces that might destroy it. That person is chaste who has consciously accepted his sexuality and integrated it well into his personality. Chastity and continence are not the same thing. Someone who has an active sex life in marriage must be chaste, too. A person acts chastely when his bodily activity is the expression of dependable, faithful love. Chastity must not be confused with prudishness. A person who lives chastely is not the plaything of his lusts but, rather, lives his sexuality deliberately, motivated by love, and as an expression of that love. Unchaste behaviour weakens love and obscures its meaning. The Catholic Church advocates a holisticecological approach to sexuality. This includes sexual pleasure, which is something good and beautiful; personal love; and fruitfulness, which means openness to having children. It is the understanding of the Catholic Church that these three aspects of sexuality belong together. Now if a man has one woman for sexual pleasure, a second to whom he writes love poetry, and a third with whom to have children, then he is exploiting all three and really loves none of them. (YOUCAT questions 403-404)
How can anyone live a chaste life? What can help?
Someone lives chastely when he is free to be loving and is not the slave of his drives and emotions. Anything, therefore, that helps one to become a more mature, freer, and more loving person and to form better relationships helps that person to love chastely, also. One becomes free to be loving through self-discipline, which one must acquire, practice, and maintain at every stage of life. It is helpful for me in this regard to obey God's commandments in all situations, to avoid temptations and any form of double life or hypocrisy, and to ask God for protection against temptations and to strengthen me in love. Being able to live out a pure and undivided love is ultimately a grace and a wonderful gift of God.
Does everybody have to be chaste, even married people?
Yes, every Christian should be loving and chaste, whether he is young or old, lives alone or is married. Not everyone is called to marriage, but everyone is called to love. We are destined to give our lives away; many do so in the form of marriage, others in the form of voluntary celibacy for the sake of the kingdom of heaven, others by living alone and yet being there for others. All human life finds its meaning in love. To be chaste means to love with an undivided heart. The unchaste person is torn and not free. Someone who loves authentically is free, strong, and good; he can devote himself in love. Thus Christ, who gave himself up completely for us and at the same time devoted himself completely to his Father in heaven, is a model of chastity, because he is the original model of strong love.
(From the Catholic Youth Catechism)
What is love?
Love is the free self-giving of the heart. To have a heart full of love means to be so pleased with something that one emerges from oneself and devotes oneself to it. A musician can devote himself to a masterpiece. A kindergarten teacher can be there wholeheartedly for her charges. In every friendship there is love. The most beautiful form of love on earth, however, is the love between man and woman, in which two people give themselves to each other forever. All human love is an image of divine love, in which all love is at home. Love is the inmost being of the Triune God. In God there is continual exchange and perpetual self-giving. Through the overflowing of divine love, we participate in the eternal love of God. The more a person loves, the more he resembles God. Love should influence the whole life of a person, but it is realized with particular depth and symbolism when man and woman love one another in marriage and become "one flesh" (Gen 2:24).
How is sexuality related to love?
Sexuality must not be separated from love; they must go together. The sexual encounter requires the framework of a true, dependable love. When sexuality is separated from love and is sought only for the sake of satisfaction, one destroys the meaning of the sexual union of man and woman. Sexual union is the most beautiful bodily, sensual expression of love. People who look for sex without love are lying, because the closeness of their bodies does not correspond to the closeness of their hearts. Someone who does not take his own body language at its word does lasting damage to body and soul. Sex then becomes inhuman; it is degraded to a means of obtaining pleasure and degenerates into a commodity. Only committed, enduring love in marriage creates a space for sexuality that is experienced in a human way and brings lasting happiness.
(From the Catholic Youth Catechism)
What is peace?
Peace is the consequence of justice and the sign of love put into action. Where there is peace, "every creature can come to rest in good order" (Thomas Aquinas). Earthly peace is the image of the peace of Christ, who reconciled heaven and earth. Peace is more than the absence of war, more than a carefully maintained balance of powers ("balance of terror"). In a state of peace, people can live securely with their legitimately earned property and freely exchange goods with one another. In peace the dignity and the right of self-determination of individuals and of peoples are respected. In peace human coexistence is characterized by brotherly solidarity.
How does a Christian deal with anger?
Paul says, "Be angry but do not sin; do not let the sun go down on your anger" (Eph 4:26). Anger is initially a natural emotion, a reaction to perceived injustice. If anger becomes hatred, however, and someone has ill-will toward his neighbor, this normal feeling becomes a serious offense against charity. All uncontrolled anger, especially thoughts of revenge, are detrimental to peace and destroy "the tranquility of order".  
What does Jesus think about nonviolence?
Jesus places a high value on nonviolent action. He commands his disciples: "Do not resist one who is evil. But if any one strikes you on the right cheek, turn to him the other also" (Mt 5:39). He rebukes Peter, who wants to defend him with force: "Put your sword into its sheath" (Jn 18:11). Jesus does not call his disciples to take up weapons. He remains silent before Pilate. His way is to take the part of the victims, to go to the Cross, to redeem the world through love, and to call the peacemakers blessed. Therefore the Church, too, respects people who for reasons of conscience refuse to be part of the armed services but place themselves at the service of society in some other way.
Must Christians be pacifists?
The Church strives for peace but does not preach radical pacifism. Indeed, no one can deny either the individual citizen or particular governments and alliances the fundamental right of armed self-defence. War is morally justifiable only as a last resort. The Church unmistakably says No to war. Christians should do everything possible to avoid war before it starts: They oppose the stockpiling of arms and trafficking in weapons; they fight against racial, ethnic, and religious discrimination; they work to put an end to economic and social injustice and thus promote peace. 
(From the Catholic Youth Catechism)
Christians treat the corpse of a dead person respectfully and lovingly, realizing that God has called him to the resurrection of the dead. It is a traditional part of Christian funeral customs for the remains of a dead person to be buried in a dignified manner in the earth and for the grave to be decorated and tended. Today the Church also accepts other funeral arrangements (for instance, cremation), as long as they are not interpreted in a way contrary to the belief in the resurrection of the dead.
(Catholic Youth Catechism, question 394)
Is organ donation important?

Donating organs can lengthen life or improve the quality of life, and therefore it is a genuine service to one's neighbor, provided no one is forced to do it. It must be certain that the donor during his lifetime gave his free and deliberate consent and that he was not killed for the purpose of removing the organ(s). Donation by living donors is also possible, for example, in bone marrow transplants or in the donation of one kidney. Organ donation from a cadaver presupposes a certain determination of death and the consent of the donor during his lifetime or else of his representative.
(Catholic Youth Catechism, question 391)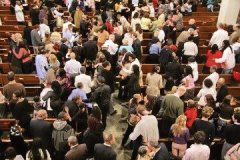 Scenes like this are to be avoided
The Vatican has issued a document, approved by Pope Francis, providing guidelines on the proper function and carrying out of the sign of peace at Mass.
This is a matter which affects all who attend Mass and the document should be read and the recommendations taken seriously.
The crucial recommendation is that people should avoid excess during the sign of peace (this includes singing of songs/hymns, excessive movement meaning people leave their pews, and offering congratulations to individuals on special occasions not relevant to the Mass).
/