Shopping Cart
Your Cart is Empty
There was an error with PayPal
Click here to try again
Thank you for your business!
You should be receiving an order confirmation from Paypal shortly.
Exit Shopping Cart
Calling Scotland's 841,000 Catholics to unite as one voice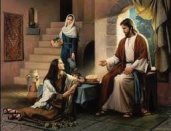 Today's Gospel: (John 12: 1-11)
'Six days before the Passover, Jesus went to Bethany, where Lazarus was, whom he had raised from the dead. They gave a dinner for him there; Martha waited on them and Lazarus was among those at table. Mary brought in a pound of very costly ointment, pure nard, and with it anointed the feet of Jesus, wiping them with her hair; the house was full of the scent of the ointment. Then Judas Iscariot – one of his disciples, the man who was to betray him – said, 'Why wasn't this ointment sold for three hundred denarii, and the money given to the poor?' He said this, not because he cared about the poor, but because he was a thief; he was in charge of the common fund and used to help himself to the contributions. So Jesus said, 'Leave her alone; she had to keep this scent for the day of my burial. You have the poor with you always, you will not always have me.'
Meanwhile a large number of Jews heard that he was there and came not only on account of Jesus but also to see Lazarus whom he had raised from the dead. Then the chief priests decided to kill Lazarus as well, since it was on his account that many of the Jews were leaving them and believing in Jesus.'
It's hard to imagine what went through Jesus' mind as he sat at table in the home of his friend Lazarus.  He was just days from that most horrific persecution, when his detractors would finally have their wicked way with him and he would be hung on a cross and left to die.  Yet here he is, sitting with his friend while the busy Martha scurries about waiting on them, and the more relaxed Mary pours an expensive fragrance over his feet.
The question often arises: are you a Martha or are you a Mary?  Would you be too busy rushing around to appreciate the King in your presence, or would you recognise him immediately and desire to be at his side?  Martha's role in this episode is not without purpose.  Her waiting on the Lord is a noble act and one deserving of praise.  Mary's actions are quite different.  There is something quite beautiful about the simplicity of Mary making a beeline for Jesus with the jar of expensive ointment.  Her focus is not so much to make everything perfect for Jesus as seems to be the case with Martha.  Rather, Mary's focus is to simply be by his side and spoil him with gifts. 
Mary simply wanted to be close to Jesus and to show him how much she loved him.  Martha undoubtedly loved Jesus too and she spent considerable effort in order to show this love.  But she didn't get close enough to him.  Perhaps she kept what she thought was a 'respectful' distance, only periodically getting close in order to serve him his meal.  But Jesus doesn't just want us to flit in and out of his life.  He wants something more concrete.  He wants the closeness shown by Mary.  If we are busy running around we perhaps forget the most important thing when it comes to our faith.  That is, being close to Jesus.  There is no need for a respectful distance.  While Jesus is a King, he is a King with a difference.  Unlike the many Kings and Queens of our world, Jesus does not care for pomp and ceremony in order for his people to get close to him.  He is accessible 24/7 and he wants all people to come to him, from the lowest of the low to the greatest.  We are all his children.
This Holy Week, think about your relationship with Jesus and how you can develop it for the better.  Don't get too caught up in the chores of the day at the expense of spending some time with Jesus, and be careful not to fall into the trap of thinking that Jesus isn't accessible to you.  He is right there by your side, right now!  So stop and talk to him.  Tell him what you think of him; tell him all your joys as well as your troubles and difficulties.  And if you haven't been to Mass for a while, consider coming back to be in the presence of Jesus in the Eucharist, where he is truly present…. body, blood, soul and divinity. 
Jesus loves you more than anyone else and he just wants a little love back.  So give him it.  Be more Mary.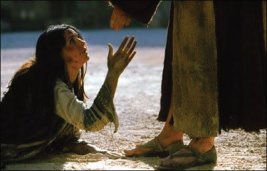 Sunday's Gospel (John 8:1-11):
'Jesus went to the Mount of Olives. At daybreak he appeared in the Temple again; and as all the people came to him, he sat down and began to teach them.
The scribes and Pharisees brought a woman along who had been caught committing adultery; and making her stand there in full view of everybody, they said to Jesus, 'Master, this woman was caught in the very act of committing adultery, and Moses has ordered us in the Law to condemn women like this to death by stoning. What have you to say?' They asked him this as a test, looking for something to use against him. But Jesus bent down and started writing on the ground with his finger. As they persisted with their question, he looked up and said, 'If there is one of you who has not sinned, let him be the first to throw a stone at her.' Then he bent down and wrote on the ground again. When they heard this they went away one by one, beginning with the eldest, until Jesus was left alone with the woman, who remained standing there. He looked up and said, 'Woman, where are they? Has no one condemned you?' 'No one, sir' she replied. 'Neither do I condemn you,' said Jesus 'go away, and do not sin any more.''
In the Jubilee Year of Mercy this particular passage of scripture stands out more than most.  It is a perfect example of the new world order that Jesus seeks to achieve.  It is a world of mercy, where no sin is incapable of forgiveness.  It is a world where hate, grudges, complaints and criticism reign no more. 
What Jesus wrote in the sand is a mystery.  But his message is abundantly clear.  We must be careful not to judge and condemn the goodness or otherwise of people when we ourselves are in a sinful state.  If we are aware of someone acting contrary to the Gospel we are called to be like Jesus and do two things.  First, we are called to show kindness, mercy and compassion and to put our arm around the person to show them that they are loved.  Second, we are called to encourage them to seek the forgiveness of God, to live in accordance with the Gospel, and to refrain from committing sin again. 
This is precisely how things are played out when we go to Confession.  Jesus welcomes us, puts his loving arms around us and forgives our sins.  He then asks us to go and sin no more.  And while we must take Jesus' call to refrain from further sin very seriously, he understands our weaknesses and the difficulties and struggles we experience in our world.  That is why he welcomes us again and again in Confession.  He never tires of pouring out his forgiveness.  He just needs us to be willing to make the effort to go to him.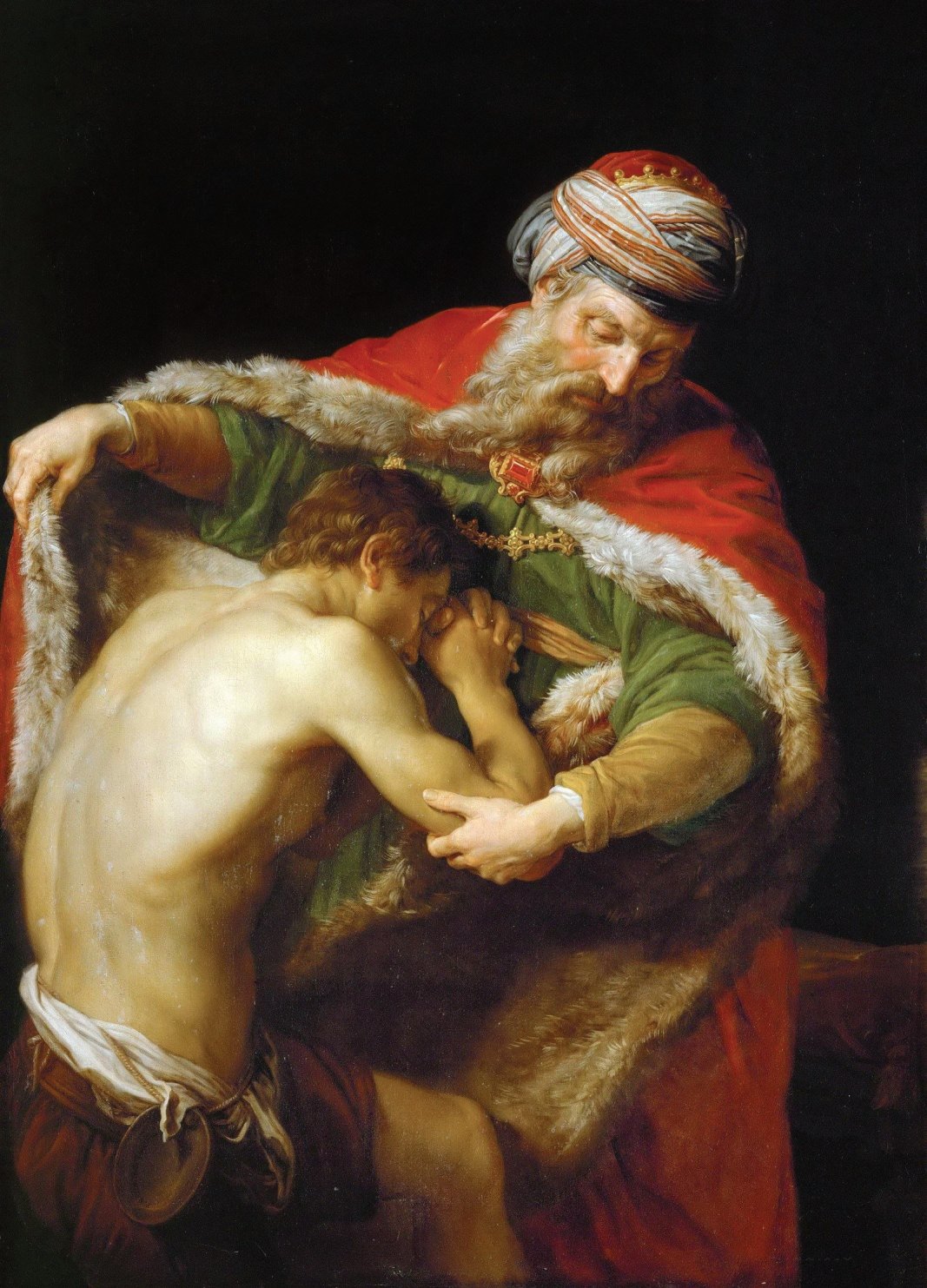 The Gospel you will hear at Mass this Sunday is perhaps one of the most well-known passages of sacred scripture.  It is often referred to as the parable of the prodigal son (though I personally prefer to refer to it as the parable of the merciful father).
It is an astounding parable and it brings home the reality of God's mercy.  No matter the sin, your Father is waiting for you to return to Him and seek his forgiveness.  Whatever you may have done or failed to do in terms of keeping God's commandments and living a good, holy life, never forget that forgiveness is just around the corner.
There is no doubting the availability of God's mercy.  But perhaps the biggest problem is within us, and our failure to acknowledge God as our Father and our failure to accept that He really does forgive us.  In order to reconcile ourselves to God we need to seek Him in the sacrament of reconciliation and it is in that sacrament that God really does pour out His forgiveness.  We need to accept this and then approach him, just as the son did in the parable.  The father couldn't forgive the son unless the son first sought the father's forgiveness.
That must be our challenge this Lent and thereafter.  We must be willing, like the son, to search out the Father and ask Him to forgive our failures, our sin.  God will never deny us His forgiveness.  But we must be prepared to ask for it.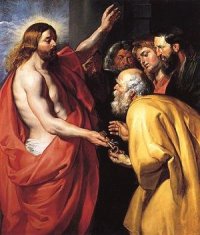 Today's Gospel (Matthew 16:13-19):
'When Jesus came to the region of Caesarea Philippi he put this question to his disciples, 'Who do people say the Son of Man is?' And they said, 'Some say he is John the Baptist, some Elijah, and others Jeremiah or one of the prophets.' 'But you,' he said 'who do you say I am?' Then Simon Peter spoke up, 'You are the Christ,' he said 'the Son of the living God.' Jesus replied, 'Simon son of Jonah, you are a happy man! Because it was not flesh and blood that revealed this to you but my Father in heaven. So I now say to you: You are Peter and on this rock I will build my Church. And the gates of the underworld can never hold out against it. I will give you the keys of the kingdom of heaven: whatever you bind on earth shall be considered bound in heaven; whatever you loose on earth shall be considered loosed in heaven.''
In 1870, Vatican I declared that this Gospel passage was clear biblical support for the primacy of Peter and successive popes.  The Council's interpretation touches on the following five points of doctrine:
The Magisterium built upon Peter is instituted by Jesus Christ;
Peter is given a unique role as chief teacher and ruler over the Church;
Peter is the visible head of the Church;
Peter's authority is passed on through successors; and
through Peter, Christ himself assures the infallible preservation of the gospel in the Church.
While it may sometimes be tough to be Catholic, especially in today's secular relativist world which seeks to discredit the Church at every turn, we still have every reason to be joyful.  Why?  Because this is a Church that was established by the saviour of the world, Jesus Christ!  Indeed, it is the only church established by Jesus Christ. 
But Jesus didn't leave it at that.  In addition to establishing a church he knew that the Church needed help from above to protect it from evil and to ensure its ongoing safety and wellbeing in protecting the gospel with which it is entrusted.  So he promised the Church that he will always be with it, ensuring that the gates of death, deception and destruction will never overcome it.  He then proceeds to give his close disciple Simon Peter the authority to make binding decisions with respect to the Church and gives him the keys to the kingdom of heaven.
Jesus, in just a few short sentences, establishes the Catholic Church, promises to sustain it, and even gives a mere mortal being the authority to be its chief teacher and chief administrator on earth.  So we can say with confidence that through the authority of Peter (often referred to as the 'Chair of Peter') and his successors, heaven governs the Church on earth. 
So be confident and joyful in your Church, and trust her authority always, for she is being guided by Christ who ensures her safe passage through time to that moment when he will come again on the clouds to be fully united with her.  And it is at that moment that our Lord will gather in his chosen people to take them to Paradise to be with him forever. 
The keys to Heaven are in the hands of the Church where they have been for the last 2000 years, from the moment Jesus entrusted them to Peter.  No matter how tough or testing it may sometimes feel to be part of the Catholic Church there is no denying that she is the surest way to Heaven and to Jesus.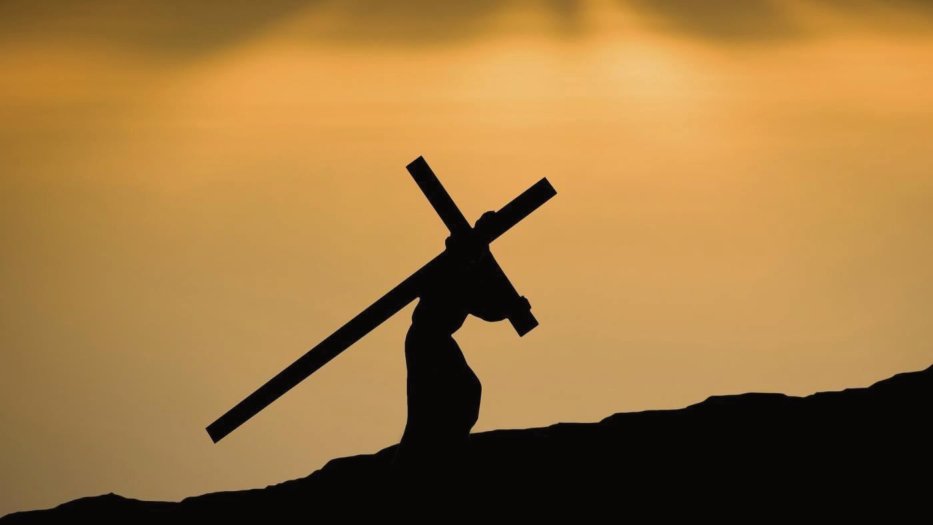 Today's Gospel (Luke 9:22-25):
'Jesus said to his disciples: 'The Son of Man is destined to suffer grievously, to be rejected by the elders and chief priests and scribes and to be put to death, and to be raised up on the third day.'

Then to all he said, 'If anyone wants to be a follower of mine, let him renounce himself and take up his cross every day and follow me. For anyone who wants to save his life will lose it; but anyone who loses his life for my sake, that man will save it. What gain, then, is it for a man to have won the whole world and to have lost or ruined his very self?''
Carrying a heavy, burdensome cross every day is a horrible thought, especially when you consider this in the context of a world that rejects suffering at every turn.  But Christ tells us that, in order to follow him, we need to do just that; we need to pick up our cross ever morning and carry it with us through the day.
Instead of lamenting our suffering perhaps we need to consider accepting the reality that suffering is essential to God's plan for salvation.  If He is prepared to send his only Son to suffer "grievously" then perhaps He expects a little suffering on our part too.  But our suffering need not be in vain.  Indeed suffering can bring much good.  When we see someone suffer it brings out our loving, caring and compassionate side.  As each of us carries our cross through the day we must look to one other with the love and compassion of Christ, offering a hand of help and solidarity.  And in this way the love of Christ is able to shine out in our world.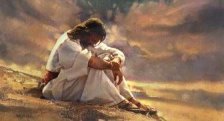 Do we take Jesus for granted?
Sunday's Gospel (Luke 4:21-30):
'Jesus began to speak in the synagogue: 'This text is being fulfilled today even as you listen.' And he won the approval of all, and they were astonished by the gracious words that came from his lips. They said, 'This is Joseph's son, surely?'
But he replied, 'No doubt you will quote me the saying, "Physician, heal yourself" and tell me, "We have heard all that happened in Capernaum, do the same here in your own countryside."' And he went on, 'I tell you solemnly, no prophet is ever accepted in his own country.
'There were many widows in Israel, I can assure you, in Elijah's day, when heaven remained shut for three years and six months and a great famine raged throughout the land, but Elijah was not sent to any one of these: he was sent to a widow at Zarephath, a Sidonian town. And in the prophet Elisha's time there were many lepers in Israel, but none of these was cured, except the Syrian, Naaman.'
When they heard this everyone in the synagogue was enraged. They sprang to their feet and hustled him out of the town; and they took him up to the brow of the hill their town was built on, intending to throw him down the cliff, but he slipped through the crowd and walked away.'
Familiarity breeds contempt.  It's quite a sinister saying but it does have some truth in it.  We have all felt that rush of excitement at something new and fresh in our lives, be it a new car or TV.  But those initial feelings of great excitement soon wear off, replaced by familiarity and a general malaise fuelled by an ever increasing willingness to take the item for granted.  What has happened is that the item has become a part of everyday life.  It's just another part of our routine.  It's not really that exciting any more.  The car, the TV, the tablet are all just items we pick up when we feel like it and drop when we get bored.
However, doing this with TVs and other material objects is not particularly damaging.  It's when we allow this familiarity and malaise to flow into our relationships with people and into our faith that the real damage is wrought.  Consider this: have we grown too familiar with Jesus in our lives?  Do we pick him up only when we think we need him, dropping him again when our needs are satisfied?  Do we only pray when death or serious illness strikes our families?  Do we attend Mass only periodically through the year?  Do we go to Confession once in a blue moon or not at all?  Do we avoid talking about Jesus in our daily lives, banishing him to the sidelines in order to avoid offending those who might not believe?
When Jesus said that 'no prophet is ever accepted in his own country' he wasn't just speaking in a geographical context.  He was also foreseeing the way he would be treated by the people who followed him and who fell silent at the critical moment of his arrest and subsequent torture.  Just think of St Peter, one of Jesus' most trusted friends and apostles.   Even he denied our Lord three times!
It is hard for us to stave off the onset of familiarity, as it takes away the newness and replaces it with a more run-of-the-mill feel.  We, like Peter, are only human and Jesus acknowledges our frailties and difficulties. 
But Jesus also makes 'all things new'.  So trust in him and resist the onset of familiarity when it comes to your relationships and your faith.  Don't be afraid to follow Jesus in every way.  Speak to him even when there is nothing on your mind.  Pick up your Bible when it is the last thing you want to do.  Consider attending Mass at a time other than a Sunday.  And never, ever be afraid to go to Confession.
Pope Francis told the youth in Brazil to "swim against the tide" of relativism and secularism.  Perhaps it's time for us to swim against the tide of familiarity and accept Jesus at all times and not just when feel like it.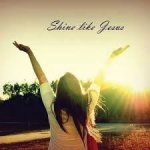 Surrender and let Jesus shine out of you
Sunday's (alternative) Second Reading (1 Corinthians 12:12-14,27):
'Just as a human body, though it is made up of many parts, is a single unit because all these parts, though many, make one body, so it is with Christ. In the one Spirit we were all baptised, Jews as well as Greeks, slaves as well as citizens, and one Spirit was given to us all to drink.
Nor is the body to be identified with any one of its many parts. Now you together are Christ's body; but each of you is a different part of it.'
Do you ever think of yourself being inextricably linked to Jesus?  We often talk about the ability of Jesus to be with us at every moment of the day, wherever we are, whatever we are doing.  We often imagine him by our side, walking with us through the trials and tribulations of life.  But today's reading gives us a slightly different perspective on our relationship with Jesus.
Today's reading tells us that we are actually a part of Jesus.  We are one with him.  Christ is often described as the head of the Church, and this reading confirms that truth.  Jesus is the head of the Church, and always will be.  And it is us, the people, who make up that Church.  Together, as the people of God, we are one with Christ.  It is the most beautiful union between the Creator and the created.  It is a link of unconditional pure and perfect love flowing from the one who was prepared to go through the agony of the Cross so that we would turn from sin and recognise and appreciate this powerful bond.
As we start another week perhaps we should consider taking some time out to contemplate this great bond with Jesus, remembering that each time we do wrong we are doing so in his presence.  But also remembering that each time we do good we are allowing him to take control.  There is a classic saying 'let go and let God'.  Maybe we should bear that in mind as we think about being one with Jesus. 
Perhaps it's time to let Jesus do a bit more in our lives.  Make it your goal this week to surrender to him and let him take over.  Let him take on your worries, troubles and daily difficulties.  What use being part of Jesus if you aren't prepared to use his perfect heart for love, his awesome mind for wisdom, and his most beautiful face to show how much you care?  What benefit is to be gained from receiving Christ in the Eucharist at Mass if we simply ignore the truth and goodness he brings to our very being?  You have the power to let Christ shine out of you, for you are one in him and he is one in you.  Be the loving Jesus.  Be the merciful Jesus.  Be the compassionate Jesus.  Be the Jesus who led others to the Truth.  Be the joyful Jesus!  Let it be.  Let Christ be.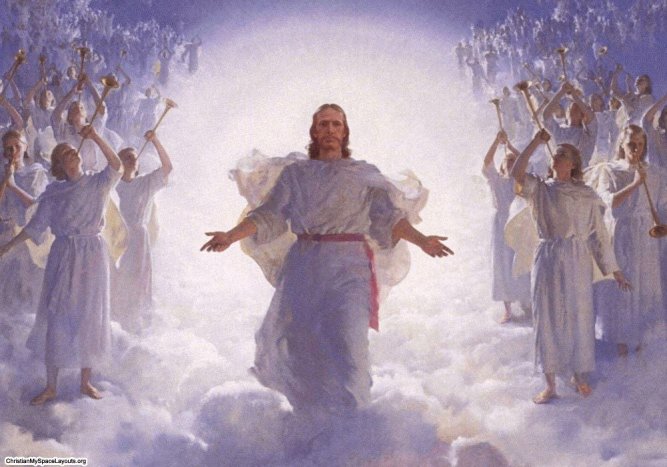 Today's Gospel (Luke 21:20-28):
'Jesus said to his disciples, 'When you see Jerusalem surrounded by armies, you must realise that she will soon be laid desolate. Then those in Judaea must escape to the mountains, those inside the city must leave it, and those in country districts must not take refuge in it. For this is the time of vengeance when all that scripture says must be fulfilled. Alas for those with child, or with babies at the breast, when those days come!
'For great misery will descend on the land and wrath on this people. They will fall by the edge of the sword and be led captive to every pagan country; and Jerusalem will be trampled down by the pagans until the age of the pagans is completely over.
'There will be signs in the sun and moon and stars; on earth nations in agony, bewildered by the clamour of the ocean and its waves; men dying of fear as they await what menaces the world, for the powers of heaven will be shaken. And then they will see the Son of Man coming in a cloud with power and great glory. When these things begin to take place, stand erect, hold your heads high, because your liberation is near at hand.''
Today's Gospel paints a really depressing picture.  The world, it seems, will one day succumb to an ultimate and deadly destruction, something that is hard to equate with a loving and merciful God. 
But our loving and merciful God always has an answer, and that answer is Jesus.  For Christ himself will come on the clouds to save those who trust in him and to set them free. 
We have everything to gain by trusting and believing in Christ and loving as he loves.  We have everything to lose by rejecting him.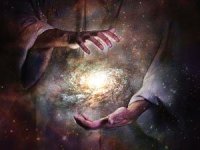 Today's First Reading (Wisdom 13:1-9):
'Naturally stupid are all men who have not known God
and who, from the good things that are seen, have not been able to discover Him-who-is,
or, by studying the works, have failed to recognise the Artificer.
Fire however, or wind, or the swift air,
the sphere of the stars, impetuous water, heaven's lamps,
are what they have held to be the gods who govern the world.
If, charmed by their beauty, they have taken things for gods,
let them know how much the Lord of these excels them,
since the very Author of beauty has created them.
And if they have been impressed by their power and energy,
let them deduce from these how much mightier is he that has formed them,
since through the grandeur and beauty of the creatures
we may, by analogy, contemplate their Author.
Small blame, however, attaches to these men,
for perhaps they only go astray
in their search for God and their eagerness to find him;
living among his works, they strive to comprehend them
and fall victim to appearances, seeing so much beauty.
Even so, they are not to be excused:
if they are capable of acquiring enough knowledge
to be able to investigate the world,
how have they been so slow to find its Master?'
It's easy to take God's Creation for granted, as this reading from the book of Wisdom alludes. Even looking in the mirror in the morning we fail to appreciate that we have been individually carved by God's own hands.  Isn't it an incredible thought?  At some point God has decided to create me!  He has then given me certain graces, qualities, attributes and, of course, foibles. He has then given me a family and has even made plans for my entire life, hoping that I will have the wisdom to use my free will to discern the path He has set out for me.
And what does He want in return?  That I acknowledge Him as being the One who made it all happen and that I love Him for it, desiring to return to Him at the end of my earthly life, and bringing others to know Him and love Him in the same way.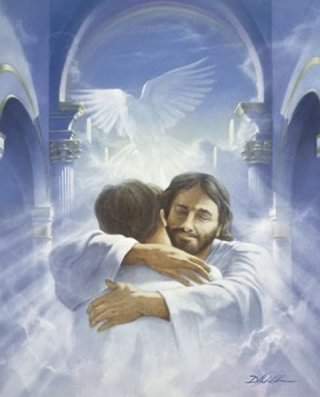 This guy really, really loves you!
Sunday's Second Reading (Hebrews 4:14-16):
'Since in Jesus, the Son of God, we have the supreme high priest who has gone through to the highest heaven, we must never let go of the faith that we have professed. For it is not as if we had a high priest who was incapable of feeling our weaknesses with us; but we have one who has been tempted in every way that we are, though he is without sin.
Let us be confident, then, in approaching the throne of grace, that we shall have mercy from him and find grace when we are in need of help.'
It's hard to admit that we did wrong and to apologise to the person we have wronged.  It's also hard to ask other people for help.  But while this may be the case in our day-to-day dealings with the average joe on the street, this needn't be the case when it comes to Jesus.  St Paul, in this letter to the Hebrews, is urging us to be confident when we approach Christ for forgiveness and help.
You see, we aren't dealing with your run-of-the-mill human being when it comes to Jesus.  We are dealing with a God brimming with infinite mercy and compassion. He is the Creator of all things and He loves you like nobody else does.  There is no hidden agenda, no points to be scored, and no harsh judgements.  He desires and wants to forgive you and help you in every which way possible. He is a God who has experienced the temptations, trials and troubles of every day life just like us, so He knows how difficult life can be. 
He is the ultimate best friend and he will always be there for us when we need him. Can you spare five minutes today to let him show you just how much he loves you and how much you matter to him?  Call out to him and he will respond.
/