Shopping Cart
Your Cart is Empty
There was an error with PayPal
Click here to try again
Thank you for your business!
You should be receiving an order confirmation from Paypal shortly.
Exit Shopping Cart
Calling Scotland's 841,000 Catholics to unite as one voice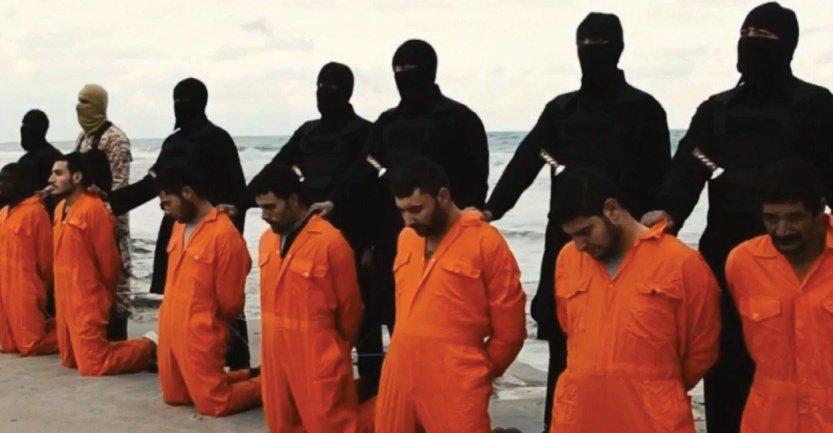 I am astonished and no less disappointed to see that few of the major UK news outlets have covered yesterday's House of Commons vote, when MPs voted 278 – 0 in favour of declaring ISIS/Daesh atrocities against Christians and Yazidis as genocide. 
If the Holocaust were to occur today, would the media recognise the atrocity and label it as genocide?  If the massacre of Srebrenica were to occur today, would the media recognise the suffering people of the city and label it as genocide?  And what about Rwanda in 1994?  Would today's media be prepared to state that this is genocide?
As I write I see that the Guardian, the Telegraph and Reuters are all at least now covering the story.  But still no BBC, no ITV, and no Sky News coverage among many others.  These outlets are no better than the Conservative government which has to date epically failed to declare the murder and violence wrought by ISIS as genocide.
Is it fear?  Is it an anti-Christian mentality?  Who knows?  But one thing is certain, if genocide isn't news we might as well all pack up and head for the hills.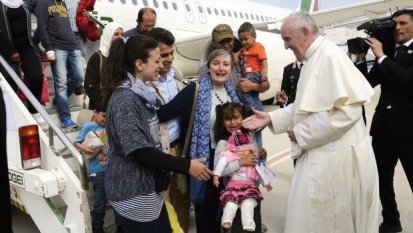 Pope Francis welcomes some of the migrants to Rome
Pope Francis has once again thrust the Catholic Church into the spotlight; this time by bringing a group of twelve Syrian migrants from the island of Lesbos to live in Rome.  The families travelled with the pope back to Italy after he made a visit to the small Greek island last weekend.  It is understood the three families, all Muslim, were fully prepped for the move ahead of the pope's visit.
The finer details of how all of this will pan out remain to be seen, but the gesture itself is one of great love and generosity on the part of Francis.  It is dynamic, reactive, and challenging.  In many respects it bears the hallmarks of Christ himself.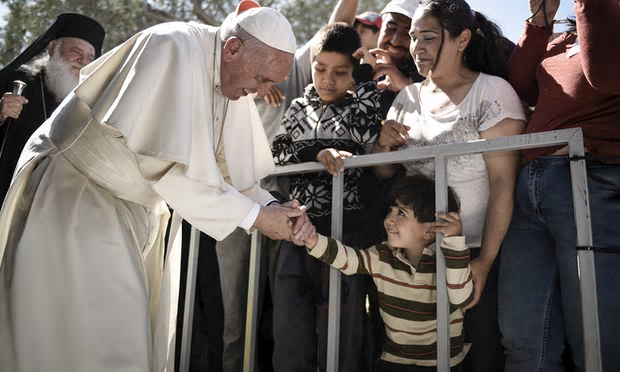 And while he had to leave huge numbers of migrants behind in Lesbos, Francis left them in no doubt that he loves each and every one of them as he told them: "you are not alone".  He later followed this up with a call to Western leaders to do more to accommodate the migrants.   
Yet the challenge set down by the pope is not just for political leaders.  Each one of us is called to rise to his challenge and to show similar love and compassion to the poor and needy in our communities.  So before we criticise others for their failure to act, we need to think about what we ourselves are doing for the good of humanity.  It might only be small gestures of love or kindness, but remember, each little gesture creates another building block for the Kingdom of God.
For all of the criticism Pope Francis attracts, particularly from his own household, he has the knack of showing great love to all people, especially to those in great need.  In all honesty, I wish I could have even a tiny percentage of the compassion, mercy and humility that this man clearly has in abundance.  He is, in many respects, a world leader in love.  Isn't that precisely what God's representative on earth should be?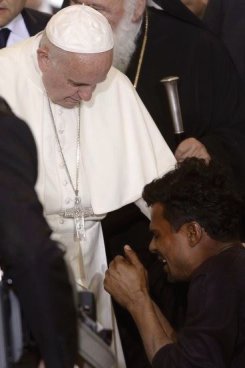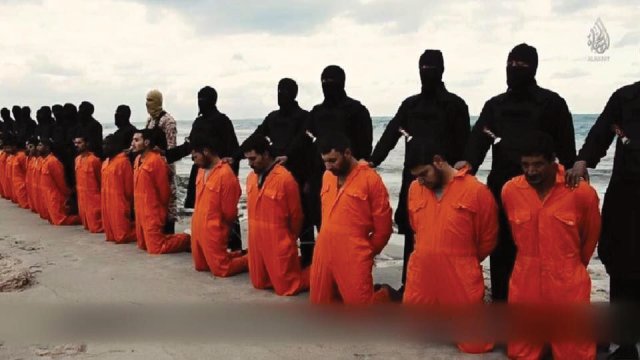 When will the West listen?
A motion is to be put before the UK Parliament next week calling on the House to recognise that Christians and other minority groups in the Middle East are facing genocide.
The terror being wrought by ISIS is well known to all, though the fact that it is mainly targeted towards Christians is not so well documented in the West.
This is an opportunity for the UK government to take a stand against ISIS by declaring their actions to be a genocide against Christians, Yazidis and other religious minorities.  As Pope Francis said: "It is wrong to look the other way, and remain silent."  We all know the situation in the Middle East, and now is our chance to act and to speak up.
Please, please contact your MP today and encourage them to take part in this debate which will take place in Parliament next Wednesday 20th April.  Aid to the Church in Need UK has helpfully drafted up a letter and included a link to obtain the contact details of your MP.  You can find it all by clicking
here
.
We can no longer allow innocent blood to flow under our feet while we do nothing.  We need to act to stop this murder.  Please, help the helpless and write to your MP today.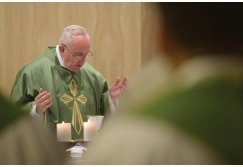 Pope Francis has urged people to more consistent in their faith, even to the point of martyrdom.  During his morning homily at Casa Santa Marta on Thursday the pope described the true Christian witness as someone who is "consistent" in what he says, what he does, and what he has received, namely the Holy Spirit. 
He continued: "It is the witness of our martyrs today – so many! – chased out of their homeland, driven away, having their throats cut, persecuted: they have the courage to confess Jesus even to the point of death.  It is the witness of those Christians who live their life seriously, and who say: 'I can't do this; I cannot do evil to another; I cannot cheat; I cannot lead life halfway, I have to give my witness'.  And the witness consists in saying what has been seen and heard in faith, namely the Risen Jesus, with the Holy Spirit that has been received as a gift."
The pope then went on to say that the Church today "needs witnesses, martyrs.  These are the witnesses, that is, the saints, the saints of everyday, of ordinary life, but life [lived with] consistency; and also the witness 'to the end', even to death.  These are the lifeblood of the Church; these are the ones that carry the Church forward, the witnesses who attest that Jesus is risen, that Jesus is alive, and they bear witness through the consistency of their life, with the Holy Spirit they received as a gift."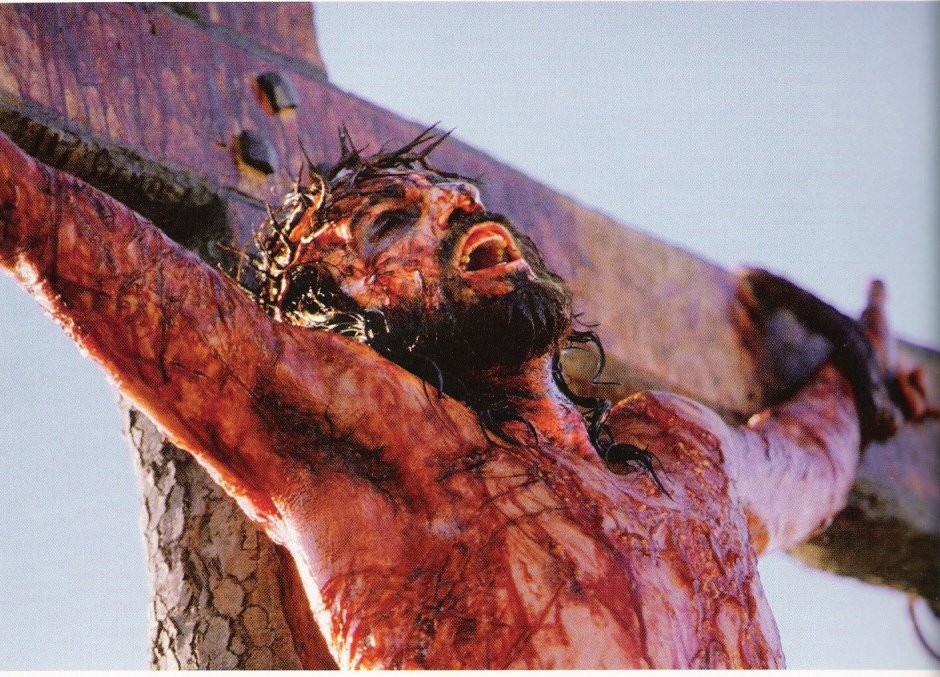 As we embark on another Holy Week we cast our hearts and minds back to Christ's persecution at the hands of his executioners.  Jesus' Passion was a horrific and exhausting episode filled with hate, violence, abuse, blood and gore.  All directed at one person.
The culmination of this hatred and violence was death on a cross.  Left to hang in shame, to be gawped at by the very people he loved and was sent to save.
But thankfully, this death on a cross was not the end.  Christ was to overcome the power of death to rise again and give all of us hope for eternal life.  He gave us proof that death need not be the end.
This Lent, keep it simple.  Praise and thank Jesus for the love he showed you and your family when he bore unimaginable abuse and violence in being beaten to the point of death. 
Praise and thank him for the love he showed you and your family when he carried the Cross through the streets of Jerusalem, struggling under its weight, in front of countless people who had once love him but who now hated him. 
Praise and thank Jesus for the love he showed you and your family when he had nails driven into his hands and feet and was left to hang on a cross to suffer the most excruciating death at the hands of people he loved. 
And finally, praise and thank Jesus for his determination to overcome death when he got on his feet, rolled back the tomb stone and walked out to eternal life.
This Lent, keep it simple: praise and thank a real hero in Jesus Christ.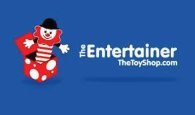 It was refreshing to see the House of Commons reject further relaxation of Sunday trading laws in England and Wales.  The government had hoped to allow councils to extend opening hours on a Sunday, but it was defeated by 317 votes to 286.  As a result, Sunday trading laws will remain as they are.
While the main thrust of the vote against relaxing the laws was undoubtedly down to protecting employees' rights to time off on a Sunday rather than observance of the Lord's Day, there is clearly an inclination among many of our politicians to give special credence to a Sunday.  This is to be encouraged.
In terms of the large supermarkets, it is understood that both Asda and Morrisons were in favour of relaxing the law while Tesco believed that the existing regulation was appropriate.  However, one retailer that will not be opening at all on a Sunday is kids' toy store
The Entertainer
.  Owned by born again Christian Gary Grant, The Entertainer is closed every Sunday and doesn't stock any items related to the occult or witchcraft such as wizard toys.  Mr Grant explains: "This business will never open on a Sunday whilst I'm a shareholder....If this business ever needs for its survival to trade on a Sunday, it's up for sale….if we were open I would expect we could probably take a million and a quarter". He then adds: "I'm accountable to God.... I'm not accountable to shareholders."
On the point about witchcraft and wizardry Mr Grant states: "I want to sell wholesome toys to children and therefore as a Christian I am concerned about anything that's to do with the occult, witchcraft. We just choose not to stock that."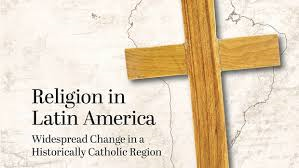 A Pew Research study into Christianity in Latin America has revealed some worrying differences between Catholics and Protestants in the way that they practice and live out their Christian faith.  Latin America is a significantly Christian region with 69% of the population identifying as Catholic, 19% as Protestant, and 9% as unaffiliated.  The region has, however, witnessed a fairly large number of conversions from Catholicism to Protestantism in recent years.
A link to the study can be found at the bottom of this page.  In the meantime, here are some interesting excerpts from the study:
"The new survey finds that
Protestants in Latin America tend to be more religiously observant than Catholics.
In nearly every country surveyed, Protestants say they go to church more frequently and pray more often than do Catholics; a regional median of 83% of Protestants report attending church at least once a month, compared with a median of 62% of Catholics. Protestants also are more likely than Catholics to read scripture outside of religious services, to approach the Bible literally and to believe that Jesus will return during their lifetime."
"For example, Protestants who participate in religious services at least once a week are somewhat more likely to oppose abortion and divorce – and considerably more likely to oppose homosexuality, sex outside of marriage and drinking alcohol – than are Catholics who attend Mass at least weekly.  These differing views on social issues may help explain why many former Catholics who have become Protestants say they were looking for a church that "places greater importance on living a moral life" (a median of 60%)."
"When asked what is the most important way Christians can help the poor and needy, Protestants are more likely than Catholics to point toward bringing the poor to Christ, while Catholics are more inclined to say that performing charity work for the poor is most important….Yet across the countries surveyed, a considerably higher share of Protestants than Catholics say that they themselves or the church they attend engage in charity work – helping people find jobs, providing food and clothing for those in need or organizing other community initiatives to help the poor."
"In every country surveyed, Protestants are more likely than Catholics to exhibit high levels of religious commitment – that is, to say they pray daily, attend worship services at least once a week and consider religion very important in their lives."
"Protestants generally display higher levels of religious commitment than Catholics in comparable demographic categories. For example, Protestant men report attending church more frequently than do Catholic men, and young Protestants report attending religious services more frequently than do young Catholics."
"In most Latin American countries, opposition to same-sex marriage is more pronounced among Protestants than among Catholics."
"Across Latin America, Protestants generally are more likely than Catholics and the unaffiliated to say that abortion should be illegal in all or most cases, that sex outside marriage and divorce are morally wrong and that a wife is always obligated to obey her husband."
 "In addition, among those who attend church, higher percentages of Protestants than Catholics say their house of worship helps people find jobs or provides food and clothing for those in need."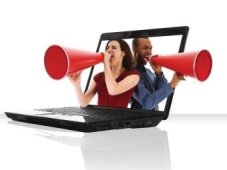 Do you speak openly about your faith to others?  Are you not afraid to be frank about how your religion shapes your moral code?  Do you even go as far as to try to bring others round to your way of thinking on social media sites such as Facebook and Twitter?
In the New Evangelisation just a few years back, Pope Benedict XVI encouraged us to get out into the world to preach the Good News of Jesus Christ.  And he wanted us to use every available platform at our disposal in order to do this.  He used the humble but powerful image of a mustard seed from the Gospel, suggesting that if used effectively a small seed of faith has the potential to bring people to God.  His words were: "I have a mustard seed, and I'm not afraid to use it".  In today's age we are blessed to have social media forums like Facebook to speak more openly about our faith and to tap into a seemingly infinite knowledge base.  While social media can often be a curse there is no doubt it has opened up new avenues of opportunity for spreading the Gospel.
Yet, while some people seem content to do this, many more are not.  In today's secular relativist world it is undoubtedly a big challenge for people to spread their faith by means of social media.  There is fear of criticism and mocking.  There is also fear of offending people or of compromising long-held friendships.  It is a significant problem for our faith and our Church.  And it is an even bigger problem for Jesus. 
While new age beliefs are thrust onto social media at an astounding rate, somehow managing to gather almost unanimous support in the process, Jesus is left to feed off the few scraps that are left.  People would rather post and read quotes about being true to oneself and looking after number one rather than the horrific thought of making love of God and neighbour our priority.  Quotes from famous authors or even the Dalai Lama have the potential to be of untold worth, but their value often pales in comparison to the Word of God or quotes from the Saints.
The Christian message is a tough one because it asks us to put ourselves in third place, behind God and all those around us.  It also asks us to take up our cross on a daily basis and follow Jesus, accepting the suffering that this will inevitably bring.  It also expects us to toe the line on controversial issues such as abortion and same-sex marriage.  It is, in all respects, a challenge of great proportions.  But it is not without its rewards.
And as if this challenge wasn't difficult enough we are also expected to take Jesus' message of love and mercy to all people.  Not just one or two, but to everyone.  Had Jesus not called the Disciples to his side and taught them his message, what hope would there be?  Had the Disciples not then taken that message of Jesus to others, what hope would we have today? 
You see our faith is a faith of action, full of energy and enthusiasm, drenched in positivity and hope.  We can't just settle for our own evangelisation or the evangelisation of those closest to us.  This is not the Christian way.  We must be prepared to carry Jesus and his Gospel message to as many people as we possibly can through our life.  We need to put Christ at the centre and be his voice to all nations, all peoples.  To be truly Christian we must do as the disciples did and carry Jesus and his message to all people, be it on social media, the internet, on the phone, or in person.  Had the disciples failed to do this we would have no Jesus in our lives.  Imagine how empty that life would be? 
Remember, your duty to spread the message of Jesus Christ is not just limited to the people close to you.  In fact, it isn't just limited to the entire human population of our world in your lifetime.  Like the disciples, your witness will hopefully carry the message of Christ well into the future so that another 2000 years from now people are talking about the great disciples of this time and how without their powerful witness the faith would be dead. 
Jesus told the apostles to "Go into the whole world and proclaim the Gospel to every creature".  We need to be disciples for Christ in today's world.  Let the future generations rave about your willingness to speak up for Jesus and how you never shied away from openness and honesty about his loving and merciful message.  Let your children and grandchildren see you stand up for something that will bring eternal life to millions and millions of people!  And remember, you don't need to be a great orator or writer to evangelise.  As Pope Francis has said:  "We evangelise not with grand words, or complicated concepts, but with the joy of the Gospel, which fills the hearts and lives of all who encounter Jesus".  So don't worry, let the joy of the Gospel speak for itself!
The phrase 'do not be afraid' appears often scripture.  It is a strong, powerful message from God about how we must feel when it comes to our faith.  In doing Christ's work and spreading his message we have no need to be afraid.  He is on our side!
Here's the challenge: let your life be a life of evangelisation.  Don't be afraid to share Christ's message with other people.  Let your work reverberate down through the generations where it has the potential to bring millions of lives to eternity with God.  Don't keep good news to yourself.  Use your mustard seed.  Evangelise.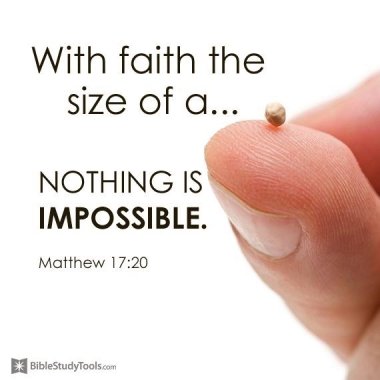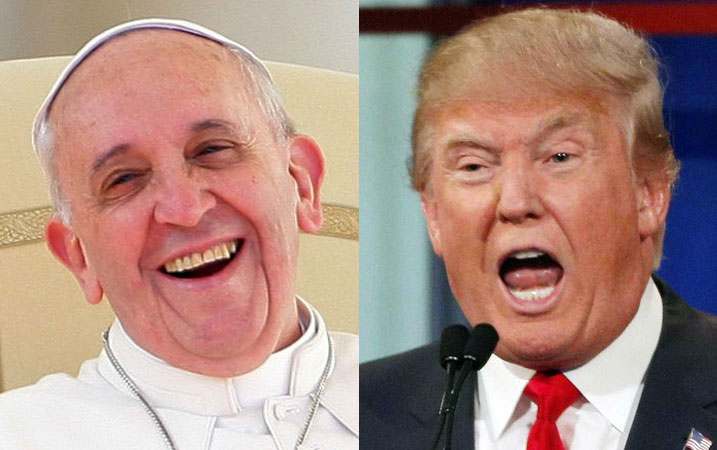 Some people may well believe that there is some sort of war of words brewing between Pope Francis and the outspoken Republican Presidential hopeful Donald Trump.  Trump hasn't shied away from criticising the pope's recent visit to Mexico, suggesting that the pope doesn't appreciate the problems of an open border between the United States and Mexico.  He has also claimed that the pontiff is becoming a "political person".
What Trump doesn't appreciate is that, while the pope may not appreciate the perceived difficulties Trump has with the lack of a concrete wall between Mexico and the US, he does appreciate the need for unity over division, even when this means we may lose a little as a result.  Pope Francis has already expressed caution about division when asked about the potential
independence of Catalonia, La Padania and Scotland in 2014
, stating that: "You have to study each case individually. There will be cases that are just and others that are unjust, but the secession of a nation without a history of forced unity has to be handled with tweezers and analysed case by case."  At the end of the day, as a man of Christ, Pope Francis wants unity.  He is not stupid enough to think that unity can be achieved in all cases.  He admits that much.  But in most cases unity will be the sensible option and I believe that this is the case with Mexico and the United States.  And while they may be two distinct countries, the building of some kind of grand concrete monstrosity between them seems archaic and almost childlike.  It's the type of kingdom building you expect to see in an X-box game, not in real life.
In terms of the pope as a "political person".  The pope must be politically astute as must the Church, especially in an increasingly secular relativist world where God is being increasingly pushed to the sidelines and beyond.  The pope must also have an opinion on political matters where the ideologies of our politicians threaten the good of humanity and our world.  Abortion is an example of this, as is unnecessary division between peoples, as is the case here.
While the pope hasn't to my knowledge directly referred to Donald Trump there is no doubt he has ruffled the businessman's feathers.  But then who hasn't?  Trump may well become the most powerful man in world politics and he may even fulfil his dream of building a wall between Mexico and his own land of the free (ironic isn't it?).  But so long as the Church established by the master of unity himself, Jesus Christ, is still in existence Mr Trump's divisive playground tactics will always be scrutinised and put firmly in their place.  As the pope said: ""a person who thinks only about building walls... and not of building bridges, is not Christian".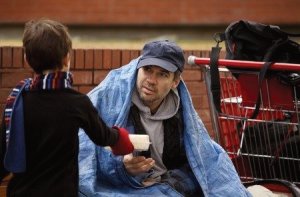 A number of weeks ago I saw a great post on Facebook about making up gift bags for the homeless.  I followed this up with my own post on the matter and it was warmly welcomed.  But as with a lot of these things the impetus faded and I never really got things properly off the ground.
But thank goodness for Lent!  The season for getting up off my backside and actually doing something positive for those in need is here and I feel the need to respond.  Our call to help the poor is, of course, a year round one but Lent is a great time to really kick-start a new initiative. 
So, I have set about making up a small, but hopefully useful, gift bag for some of the homeless around where I work.  And I wonder if you would like to do it too?  Now I appreciate we all have various commitments and there are so many of you out there who will already be giving so much of your time to the poor.  And I know that there are already countless wonderful people out in the streets on a daily basis doing incredibly selfless work for those in most need.  So this isn't for everybody.
But if you do feel the call to help, why not consider making up some bags of kindness and distributing them to a homeless person this Lent, and beyond?  I have decided to make up at least two each Friday during Lent and to take them out with me onto the streets, where I will hand it over to a couple of people in need.  All being well I will ask the person their name and introduce myself to them, so that I am not just thrusting a bag into their hand and saying 'see ya later'.  That seems a bit impersonal and rude.  It's nice to spend a bit of time with the homeless, even if it's just a minute or two.  Maybe they have something they would like to share with another person, or maybe they just need to feel loved.
Suggested items for your gift bag
Your gift bag will, of course, go a long way to making someone feel loved.  In terms of what to put in it, I have opted for the following:
Gloves, socks, toothbrush, toothpaste, deodorant, Kleenex tissues, water, cereal bar, chocolate, fruit, chewing gum, and a few pounds if you can spare it.
It's really up to you what you want to put in it.  The main thing is that you have gone to the effort of making it up and giving it to someone who needs it. 
And here's a thought….why not get your kids to help you?  It could be great fun to get the kids involved in making up the bags and perhaps they can assist you when you go out onto the streets.  It lets them see you engaging with the poor and encourages them to do the same as they get older.    
I fondly recall one of the first things Pope Francis said as pontiff, he said that we need to get close to the poor and "touch their wounds".  That has stuck with me ever since.  We need to "touch their wounds"!  That is an incredibly intimate and personal thing to do.  It's also frightening and distasteful for some.  But if we want to be like Jesus we need to get on our knees and we need to get the dirt on our hands.  We are the hope for our poor people, and this small act of love and kindness is a real opportunity to let Christ's love shine through us and out into the world.
/