Shopping Cart
Your Cart is Empty
There was an error with PayPal
Click here to try again
Thank you for your business!
You should be receiving an order confirmation from Paypal shortly.
Exit Shopping Cart
Calling Scotland's 841,000 Catholics to unite as one voice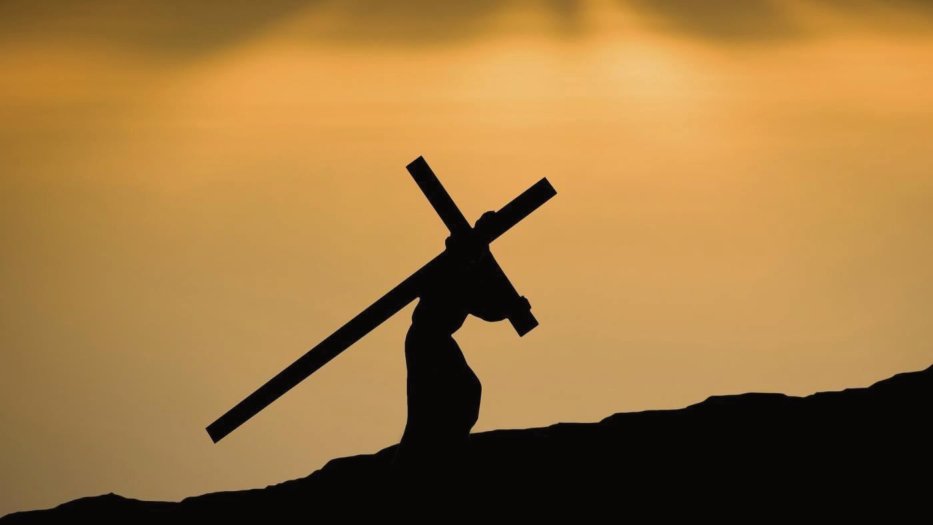 Today's Gospel (Luke 9:22-25):
'Jesus said to his disciples: 'The Son of Man is destined to suffer grievously, to be rejected by the elders and chief priests and scribes and to be put to death, and to be raised up on the third day.'

Then to all he said, 'If anyone wants to be a follower of mine, let him renounce himself and take up his cross every day and follow me. For anyone who wants to save his life will lose it; but anyone who loses his life for my sake, that man will save it. What gain, then, is it for a man to have won the whole world and to have lost or ruined his very self?''
Carrying a heavy, burdensome cross every day is a horrible thought, especially when you consider this in the context of a world that rejects suffering at every turn.  But Christ tells us that, in order to follow him, we need to do just that; we need to pick up our cross ever morning and carry it with us through the day.
Instead of lamenting our suffering perhaps we need to consider accepting the reality that suffering is essential to God's plan for salvation.  If He is prepared to send his only Son to suffer "grievously" then perhaps He expects a little suffering on our part too.  But our suffering need not be in vain.  Indeed suffering can bring much good.  When we see someone suffer it brings out our loving, caring and compassionate side.  As each of us carries our cross through the day we must look to one other with the love and compassion of Christ, offering a hand of help and solidarity.  And in this way the love of Christ is able to shine out in our world.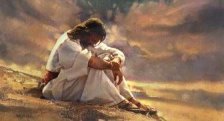 Do we take Jesus for granted?
Sunday's Gospel (Luke 4:21-30):
'Jesus began to speak in the synagogue: 'This text is being fulfilled today even as you listen.' And he won the approval of all, and they were astonished by the gracious words that came from his lips. They said, 'This is Joseph's son, surely?'
But he replied, 'No doubt you will quote me the saying, "Physician, heal yourself" and tell me, "We have heard all that happened in Capernaum, do the same here in your own countryside."' And he went on, 'I tell you solemnly, no prophet is ever accepted in his own country.
'There were many widows in Israel, I can assure you, in Elijah's day, when heaven remained shut for three years and six months and a great famine raged throughout the land, but Elijah was not sent to any one of these: he was sent to a widow at Zarephath, a Sidonian town. And in the prophet Elisha's time there were many lepers in Israel, but none of these was cured, except the Syrian, Naaman.'
When they heard this everyone in the synagogue was enraged. They sprang to their feet and hustled him out of the town; and they took him up to the brow of the hill their town was built on, intending to throw him down the cliff, but he slipped through the crowd and walked away.'
Familiarity breeds contempt.  It's quite a sinister saying but it does have some truth in it.  We have all felt that rush of excitement at something new and fresh in our lives, be it a new car or TV.  But those initial feelings of great excitement soon wear off, replaced by familiarity and a general malaise fuelled by an ever increasing willingness to take the item for granted.  What has happened is that the item has become a part of everyday life.  It's just another part of our routine.  It's not really that exciting any more.  The car, the TV, the tablet are all just items we pick up when we feel like it and drop when we get bored.
However, doing this with TVs and other material objects is not particularly damaging.  It's when we allow this familiarity and malaise to flow into our relationships with people and into our faith that the real damage is wrought.  Consider this: have we grown too familiar with Jesus in our lives?  Do we pick him up only when we think we need him, dropping him again when our needs are satisfied?  Do we only pray when death or serious illness strikes our families?  Do we attend Mass only periodically through the year?  Do we go to Confession once in a blue moon or not at all?  Do we avoid talking about Jesus in our daily lives, banishing him to the sidelines in order to avoid offending those who might not believe?
When Jesus said that 'no prophet is ever accepted in his own country' he wasn't just speaking in a geographical context.  He was also foreseeing the way he would be treated by the people who followed him and who fell silent at the critical moment of his arrest and subsequent torture.  Just think of St Peter, one of Jesus' most trusted friends and apostles.   Even he denied our Lord three times!
It is hard for us to stave off the onset of familiarity, as it takes away the newness and replaces it with a more run-of-the-mill feel.  We, like Peter, are only human and Jesus acknowledges our frailties and difficulties. 
But Jesus also makes 'all things new'.  So trust in him and resist the onset of familiarity when it comes to your relationships and your faith.  Don't be afraid to follow Jesus in every way.  Speak to him even when there is nothing on your mind.  Pick up your Bible when it is the last thing you want to do.  Consider attending Mass at a time other than a Sunday.  And never, ever be afraid to go to Confession.
Pope Francis told the youth in Brazil to "swim against the tide" of relativism and secularism.  Perhaps it's time for us to swim against the tide of familiarity and accept Jesus at all times and not just when feel like it.            
We are delighted to bring to you a new newsletter for families titled 'Handing on the Faith', produced by Dermot Grenham.
The newsletter considers the importance of handing on the Catholic faith to our children and explores the most effective ways of doing this within the family unit.  Relatively short and easy to understand, the text is full of excellent hints and tips for living a life of faith with those closest to us, suggesting that this can be the catalyst for family members to 'humanise' our world, bringing God's compassion and mercy to all. 
Please do read the article, especially if you have a young family.
You can access the article by clicking the pdf file, below: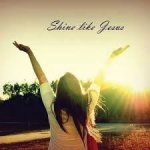 Surrender and let Jesus shine out of you
Sunday's (alternative) Second Reading (1 Corinthians 12:12-14,27):
'Just as a human body, though it is made up of many parts, is a single unit because all these parts, though many, make one body, so it is with Christ. In the one Spirit we were all baptised, Jews as well as Greeks, slaves as well as citizens, and one Spirit was given to us all to drink.
Nor is the body to be identified with any one of its many parts. Now you together are Christ's body; but each of you is a different part of it.'
Do you ever think of yourself being inextricably linked to Jesus?  We often talk about the ability of Jesus to be with us at every moment of the day, wherever we are, whatever we are doing.  We often imagine him by our side, walking with us through the trials and tribulations of life.  But today's reading gives us a slightly different perspective on our relationship with Jesus.
Today's reading tells us that we are actually a part of Jesus.  We are one with him.  Christ is often described as the head of the Church, and this reading confirms that truth.  Jesus is the head of the Church, and always will be.  And it is us, the people, who make up that Church.  Together, as the people of God, we are one with Christ.  It is the most beautiful union between the Creator and the created.  It is a link of unconditional pure and perfect love flowing from the one who was prepared to go through the agony of the Cross so that we would turn from sin and recognise and appreciate this powerful bond.
As we start another week perhaps we should consider taking some time out to contemplate this great bond with Jesus, remembering that each time we do wrong we are doing so in his presence.  But also remembering that each time we do good we are allowing him to take control.  There is a classic saying 'let go and let God'.  Maybe we should bear that in mind as we think about being one with Jesus. 
Perhaps it's time to let Jesus do a bit more in our lives.  Make it your goal this week to surrender to him and let him take over.  Let him take on your worries, troubles and daily difficulties.  What use being part of Jesus if you aren't prepared to use his perfect heart for love, his awesome mind for wisdom, and his most beautiful face to show how much you care?  What benefit is to be gained from receiving Christ in the Eucharist at Mass if we simply ignore the truth and goodness he brings to our very being?  You have the power to let Christ shine out of you, for you are one in him and he is one in you.  Be the loving Jesus.  Be the merciful Jesus.  Be the compassionate Jesus.  Be the Jesus who led others to the Truth.  Be the joyful Jesus!  Let it be.  Let Christ be.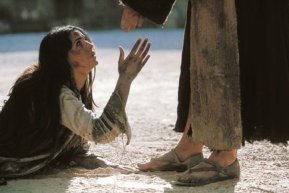 Jesus was compassionate but firm in the Truth
Pope Francis, during his Sunday Angelus, has spoken about the importance of Baptism and the role it plays in our lives.  Having earlier baptised 26 baby girls and boys at morning Mass, the pope was keen to impress upon the gathered faithful the critical nature of this sacrament.
The pope said that in Baptism the Holy Spirit "burns and destroys original sin, returning to baptism the beauty of divine grace."
The pope then stressed the importance of following Jesus and being obedient to the Truth whilst remaining true to Christ's qualities of tenderness and humility.  And here, I think, is the critical issue for us Christians today.  While we must speak the Truth we must do it in a spirit of tenderness and humility.  But similarly, while we must be tender and humble in our approach, we can never stray from the Truth.  It's not a balancing act because that would suggest compromising one or both aspects.  Instead we are called to deliver the Truth in its fullness and to do this in a fully humble and completely tender way.
In my experience people tend to be more inclined to do one more than the other.  For example, some people may reject certain elements of Christ's teaching with the aim of showing more compassion and tenderness to people.  This is because some elements of teaching are difficult to accept, especially set against the backdrop of an increasingly liberal and relativist society.  Others may be more determined to stick rigidly to the Truth but seem to lack that tenderness and humility, especially when they see a threat to Christ's teaching.
Ultimately we need to be firm in both elements.  We need to be firm in our faith, in the same way that Christ was and in the way that God calls us to be.  Jesus' disciples died unimaginable deaths because they were firm in their faith and didn't go along with the popular views of society.  They stuck to their beliefs even though everybody mocked them and thought they were talking nonsense.  They refused to reject the truth of Christ and the Church he established, preferring to invest their lives in being the men Jesus called them to be with the sure and certain hope of an eternal reward.  Similarly, we need to be firm in our tenderness and humility.  Jesus had an uncanny knack of being firm but also loving, gentle and kind.  When he prevented the prostitute from being stoned by the scribes and the Pharisees he was careful to tell her to "go and sin no more".  But he did this while telling her that he didn't condemn her.  He wanted her to stop sinning, to stick to the Truth.  But he also wanted her to know that she was loved and that mercy would be shown to her.
It's important for us to remain true to both aspects when it comes to our faith.  We must be true to Christ and his teaching and we must be tender and humble in remaining faithful to that teaching.  The Truth is what it is and it doesn't change.  It can be found in your copy of the
Catechism of the Catholic Church
.  And the tenderness and humility we need in order to take that Truth to others can be found in the loving person of Jesus Christ.
So, is it possible to be both faithful to the Truth and be tender and humble?  Yes.  Just look to the example of Jesus and in him you will find the perfection of fulfilling both aspects.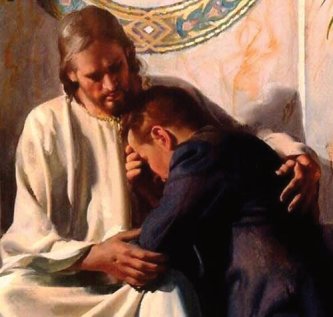 Jesus is waiting to embrace each and every one of us
"Come to me, all you who labour and are burdened, and I will give you rest" (Matthew 11:28).
It's often hard as human beings to admit we are tired or weary.  We have an in-built pride that means we often brush aside any notion of weakness and soldier on.  But sometimes we have to stop and appreciate that we do have limitations and that we do need help.
In the scripture passage above Jesus is giving us the option of going to him for that help.  You see, we all have the choice to go to the very top when we are feeling tired, weary, sad, upset, or lonely.  And it's an option that is free of judgement or hate, and full of love, mercy and compassion.  Nobody loves us like Jesus loves us.  And he is always there, waiting for us.
That's why we are so incredibly blessed this Christmas to have recently witnessed the start of the Jubilee Year of Mercy in the Catholic Church.  It presents an excellent opportunity for us to seek that offer of help from Jesus.  The Church doors are open and the Saviour is home.  He is waiting to spend time with each one of us, to hear our concerns, worries, anxieties and to pour out his mercy upon those who seek it.
This Christmas and beyond be sure to think about that invitation from Jesus.  Give it some consideration and decide if you want to take up his offer.  Unlike your new ipad, his love and mercy will never run dry.  It is eternal.  And it is completely free!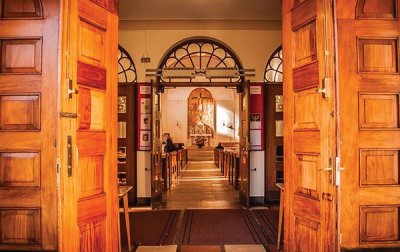 The door to God's house is open
For those of us who haven't entertained our faith for a while or who maybe aren't Christian perhaps this Christmas time is an opportunity to do something radical.  Maybe it's time to break free from the shackles of modern living, even just for an hour or so, and enter God's house where Jesus waits for us with open arms.  What have we to lose?  The truth is: we have absolutely nothing to lose and everything to gain.  And by everything we mean to feel valued, to feel special, to feel loved, and to feel part of something big.  Jesus can give us everything.  There is nothing he cannot do for us.  He can even give us eternal life!
This Christmas let's open ourselves up to the greatest present imaginable.  Let us receive the gift of the loving arms of Christ and the comfort of knowing that in him we will find our true home.
It has been reported that a group of Muslims protected Christians by refusing to allow themselves to be split up into groups when their bus was ambushed by gunmen.
The incident happened in the village of El Wak in Kenya, near to the country's border with Somalia.
This as an extremely brave gesture and we commend those who stood strong in the face of violence. We are all God's children and we must resist such despicable and unnecessary violence.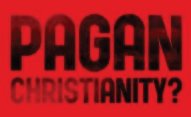 It's that time of year when we encounter the usual arguments over Christmas, in particular the argument over the origins of Christmas and its relation to pagan celebrations.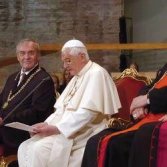 Pope Benedict at the University of Regensburg
When Pope Benedict started speaking at the University of Regensburg in 2006 there was little clue as to the controversy that was about to unfold.  The pope would use the lecture to respond sternly to increasing instances of violence by Islamic extremists across the globe, a move that many westerners felt most uncomfortable with.
While I would not wish to delve into the intricacies of Pope Benedict's lecture, his fundamental message with regard to Islam is that, unlike Christianity, Islam (or at least some of its members) does not appear to link God to reason.  This, Pope Benedict suggested, could lead to fundamentalism. He was quick to state that he was not saying the Muslim God is insane or irrational but, rather, that he is not bound by a reason accessible to human beings.
The pope, in an attempt to make sense of what he was teaching, used a late 14th century quotation from the Byzantine Emperor Manuel II Paleologus: "Show me just what Mohammed brought that was new, and there you will find things only evil and inhuman, such as his command to spread by the sword the faith he preached."
It's quite a quote!  But fast forward to this very day, in the wake of the horrific attacks in the city of Paris, and you begin to see what Pope Benedict was getting at.  Like so many popes before him, including Paul VI, John XXIII and John Paul II, Pope Benedict was not afraid to tackle the big issues head on and ultimately get it right. 
Of course, this isn't the whole story.  While the mainstream media were frantically thinking up headlines to make the pope look like some kind of anti-Islamic barbarian, he gave some crucial context to his use of the quote when he added more words of the Emperor Manuel.  He said: "The emperor goes on to explain in detail the reasons why spreading the faith through violence is something unreasonable….violence is incompatible with the nature of God and the nature of the soul." He then added: "God is not pleased by blood, and not acting reasonably is contrary to God's nature. Faith is born of the soul, not the body. Whoever would lead someone to faith needs the ability to speak well and to reason properly, without violence and threats. ... To convince a reasonable soul, one does not need a strong arm or weapons of any kind or any other means of threatening a person with death ..."
It is important to clarify, as Pope Benedict did, that the roots of such extremist violence come from a perversion of the Islamic faith and not from Islam's authentic theology.
And while so many in the western world cringed at the words of Pope Benedict, more than 100 Muslim scholars from around the world signed an open letter wherein they respectfully took on board the comments made in the pope's Regensburg lecture.  Perhaps even more remarkable is that King Abdullah of Saudi Arabia would visit Pope Benedict in Rome a year later and he would, in 2008, organise an interfaith conference to which he invited Christians, Muslims, Jews, Buddhists and Hindus in an effort to tackle religious extremism.
As Pope Benedict suggested in his lecture, the first victims of Islamic extremism are Muslim people themselves.  It then spreads to other peoples, other religions and other countries, and before we know it, every part of the world is on edge fearing the next attack.
No religion can justify the use of such violence as that being wrought by Islamic State at present, be it in Paris, Syria or Africa, where so much damage is done on a daily basis with little coverage from the western mainstream media.  We need strong leadership from religious leaders as well as from political leaders. We also need strong religion from those who profess their faith in a peaceful way, be they Muslim, Christian, Jewish, Buddhist, and also those of no faith who live by peaceful means. 
As Christians, we need to show the world what living a life of faith is really about.  For us, it is about praising God by loving Him and by loving all of our brothers and sisters with whom we share our planet.  And while we may often fail in that regard, we must never forget that this is what Christianity teaches us and that is the message we must take to the ends of the earth.  There is no place for violence in our religion.  Pope Benedict, despite being ridiculed and derided by many in the western world, wasn't afraid to stand up for peace by speaking out against violence. We should be similarly brave in our approach.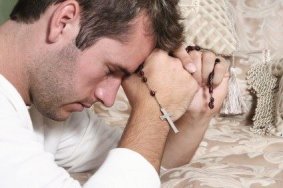 Guys: don't be afraid to pick up your Rosary beads
In our mixed up world of today we are frightfully obsessed with pitting men against women and women against men. For some strange reason the idea of men and women teaming up and complimenting each other has been lost in a society obsessed with competing with one another and forgetting our most basic call to love.
The Catholic Church is a great believer in the complimentary of the sexes and the need for man and woman to come together as one flesh. And why wouldn't it be? The whole of humanity hinges on it after all!
First we had Paul VI and his encyclical Humanae Vitae, then we had John Paul II and his talks on Theology of the Body. And now we have Bishop Olmsted of Phoenix giving his view on the matter, as he focuses on challenging Catholic men to be real men for the woman in their life. Too many Catholic husbands forget their marital obligation and fall into the trap of thinking that they are more important than their wife. Listen up guys....you are not more important than your wife. She is far more important than you!
The temptations of the world are put there by the devil to lure men away from the commitment they have made to their wives. He desperately prowls around laying traps to seduce men and take their gaze and attention away from their beloved.  And if he succeeds he will not only have lured those men from their wives, he will also have lured them away from God. And that is his main aim.
The sexual act is at the very centre of God's plan for humanity. His first instruction to mankind was to "be fruitful and multiply". Why do you think sex has become so distorted? Because it's critical to God's divine plan and is thus the devil's favourite point of attack!
With this in mind the call of Bishop Olmsted is one that is most timely and it is a call that all men would do well to take on board. While it may be hard to believe, the future of our society depends so much on strong men, especially strong Christian men rooted in Christ.  The Bishop suggests all Catholic men do the following on a daily basis: pray, go to Mass (where possible), read the Bible, and examine your conscience before bed.  He also suggests that men go to Confession on a monthly basis. All of this coupled with an unconditional and dedicated commitment to our wives would put the evil one well and truly on the back-foot. There is nothing satan hates more than a committed Catholic man, dedicated to his wife and family, who has every intention of sticking to God's divine plan.
The priority of every Catholic husband must be to ensure his wife and children get to Heaven. Everything else must take second place.  And so, in the words of St Paul, let us "put on the armour of God [and] stand firm against the tactics of the devil." 
/