Shopping Cart
Your Cart is Empty
There was an error with PayPal
Click here to try again
Thank you for your business!
You should be receiving an order confirmation from Paypal shortly.
Exit Shopping Cart
Calling Scotland's 841,000 Catholics to unite as one voice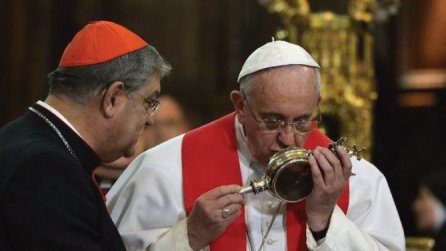 Pope Francis reacts to the miracle
Isn't it intriguing that the world pays little attention to supernatural miracles?  For example, if you were to put a no-hoper with the voice of a sick frog on the 'The Voice' and they ended up winning the coveted reality TV show's top prize, the world would proudly announce it to be a "miracle".  However, witnessing the sudden liquefying of the blood of a near 2,000 year old man or the sudden transformation of a communion wafer to real flesh is something that is given little attention.
Perhaps the most disappointing thing is that it is not only mainstream media and sceptics outside Catholicism who are guilty of ignoring such miracles.  Indeed the number of Catholic people who pay little heed to these miracles is quite voluminous.  It sadly means that God's visible intervention in our daily lives here on earth simply goes unnoticed.  Didn't that happen before, around 2,000 years ago?  You know, with the one they called Christ? 
Indeed, aren't those sceptics among us, especially the ones of a Catholic persuasion, simply following in the footsteps of the Sanhedrin in Jesus' time; rejecting any notion of God coming to earth and influencing our world.  They might ask: Why should I believe it?  God coming to earth to reveal Himself?  God making the scientifically impossible happen?  Are you mad?  But then, who would have thought a woman could conceive a child without sexual relations?  Who would have thought water could be turned to wine in an instant?  Who would have thought bread could be turned to flesh, and wine to blood?  Who would have thought a man could rise from the dead? 
God has been performing miracles for thousands of years, and He continues to perform them to this very day. In fact, you are a miracle!  You are a gift from God to this world. Without His intervention you wouldn't be here.  And without His intervention you wouldn't have the chance to take your place in Heaven for all eternity.  The Eucharist is another daily miracle given to us by God.  Indeed it is Jesus Christ truly present in all the tabernacles of the world; body, blood, soul and divinity! 
The reported miracle of St Januarius in Naples at the weekend is just one in a long list of God coming to earth to reveal His true power.  The fact that Pope Francis was present for the miracle has perhaps nudged it slightly more into the spotlight than would normally be the case (after all, this miracle of St Januarius has been taking place for years!).  But it gives us an opportunity to stop and consider how we feel about such miraculous events.  Why aren't we shouting from the rooftops and telling people about these great happenings? Why don't we tell the world that God has revealed Himself yet again and encourage them to believe?  Are we perhaps sceptical?  Does it just seem a bit too far-fetched?  If so, why?  Do we outright reject the supernatural?  Will we simply not be satisfied until we hear of authentic scientific evidence confirming that no scientific explanation can be given for the 'miracle'?
There are a lot of questions for us to consider when it comes to miracles such as this.  But consider this….what if the children of Fatima had simply rejected their vision of Our Lady as nonsense?  What if St Bernadette did the same at Lourdes?  And St Juan Diego in Guadalupe?  And what about the disciples when Jesus rose from the dead?  What if they simply considered it all to be scientifically impossible and thus false? 
Our role as Catholic people is to spread the Good News throughout the world.  This means taking the Gospel out into our daily lives and living out our faith in love for God and neighbour.  But it also means being full of joy, and what better excuse to be full of joy than to know that God still interacts with His people by performing miracles before our very eyes?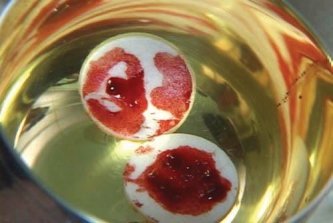 The Eucharistic miracle of Buenos Aires
Don't let the doubts creep into your mind.  Those doubts come from a sinister source; a source that does not want you to believe in God and His work.  Instead, be open to God's great power and just enjoy knowing that His presence is near!  Bask in the wonder of God's glory and His unbroken covenant with His people, with you!  He wants you to know that He is there for you!  Not one person is forgotten by God.  We are all His children and He wants us to experience His presence, His love.  It is for this reason that miracles happen.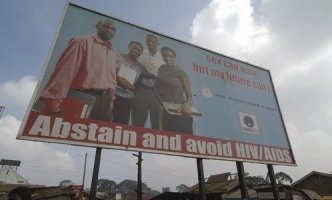 In the face of increased sexualisation and increased use of contraception across the world, some African nations are resorting to more traditional means of disease control.
In 2002, a
Harvard University Study
revealed how the east African nation of Uganda managed to significantly decrease the number of people suffering from the AIDS virus, and all because of abstinence.
The country started a programme in the late 1980's aimed at tackling AIDS through abstinence and the preservation of sexual relations for marriage.  The results were astounding.  By 2001, only 6.2% of pregnant women were infected with the virus.  This compared to 21.2% when the program started in the late 80's.
Compare this to other nations which sought to tackle the AIDS crisis by use of contraception.  In Botswana for example, where condoms were promoted as the answer to the AIDS crisis, 38% of pregnant women were found to be infected in 2001.  The success rate of contraception, as you would expect, lags miles behind the success rate of abstinence.
More recently, in Ghana, the Salesian movement (a Catholic movement founded by St John Bosco) has sought to encourage young people to live chaste lives and commit to abstinence until marriage.  And, despite what many western governments, secular groups and the media may say, the young people of Ghana are apparently hungry to become involved.  A Nigerian woman who took part in a recent
Catholic Answers
podcast, said that on a recent visit to Ghana to promote this project she was inundated with requests for pledge cards so that the youngsters could commit to live a chaste life.  It would appear that these young people are desperate to achieve a higher level of living rather than simply subscribing to western secular ways of 'putting a plaster on the problem'.
All of this is of course contrary to the contraception programme being supported by the United Nations and some western governments.  Increased contraception, it would seem, is the western world's way of alleviating hunger and controlling population in Africa.  This coupled with Melinda Gates (wife of Bill Gates) pledging $4.5 billion for contraception reveals just how shallow the west can be when it comes to issues of poverty, disease and deprivation in other countries.  Just spend a whole load of money on a whole load of condoms and that will soon fix it.  Fools.
As Patrick Coffin, host on Catholic Answers radio so eloquently put it: 'it's more a case of mouths to feed than hearts to love.'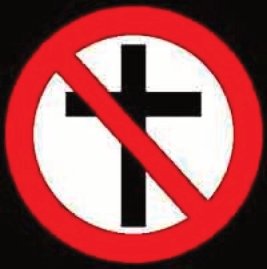 Aid to the Church in Need has released a report which it claims is a 'comprehensive assessment on the threat to religious liberty today'.
The report, which can be accessed using the link below, states that the fundamental right to religious freedom 'is the most critical need in a divided world where, in some parts there is a religious revival, and in others, a trend towards religious indifference and atheism.'
Of the 196 countries in the world, a total of 81 (or 41%) were identified as places where religious freedom is impaired or in decline.  A total of 35 countries, including the United Kingdom, were classified as having some religious freedom issues that are 'of concern' but with no deterioration in their status.
Of the top 20 countries where religious freedom is at highest risk, 14 experience religious persecution linked to extremist Islam, while in the remaining 6 the persecution is linked to authoritarian regimes.
A very interesting finding, and one which I think really hits the spot, particularly with regard to our experience here in the UK, is the rise of 'religious illiteracy among both Western policy makers and the international media' which is in turn 'hampering productive dialogue and effective policy making.'
Given the embarrassingly poor quality of reporting on religious matters by our mainstream media in the UK and the tendency to avoid the real issues in order to attack religion, and principally the Catholic Church, this finding is no real surprise.
The report also suggests a decline in consensus on the rights of conscience of religious believers while discrimination on the grounds of race, gender and sexuality increase.  It also notes a growing conflict between traditional religious and the 'progressive' liberal consensus on issues such as faith schools, homosexual marriage and euthanasia.  This, it is claimed, creates a 'hierarchy of rights' where the rights of homosexual or gender equality campaigners take precedence over the rights of religious believers.  The report cites the example of UK Catholic adoption agencies that refuse to place children with homosexual couples and ongoing attempts to force them to change their rules or close.
Western democracies are also seen as a significant contributor to the difficulties experienced by religious in our world today.  The report states that 'Western democracy - once so admired and emulated - is no longer automatically seen as the preferred role model for developing countries.  So the argument goes, if Western liberalism leads to abortion, contraception, immodesty, family breakdown, gay marriage and huge national and personal debt, then traditionally-minded religious groups want no part of it.'
In conclusion, the report calls on religious people to make a stand for religious freedom.  It states: 'The clear lesson from this research is that the urgent call to reverse the violence and oppression towards religious minorities must come, first and foremost, from within religious communities themselves....The necessity for religious leaders to use their pulpits and the media to loudly proclaim their opposition to religiously-inspired violence, and to re-affirm their support for religious tolerance, is becoming - in the present climate - ever more urgent.'
As Pope Francis says: 'Reason recognises that religious freedom is a fundamental right of man, reflecting his highest dignity.'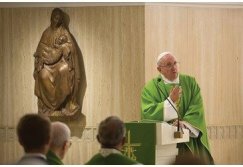 Pope Francis often talks about the devil.  Indeed, some argue that he talks about the devil more than any other recent pope!  Yet, many people won't be aware of this because the mainstream media tend to ignore anything the Church or the Pope says about critical issues such as satan.  Now, I wonder why the media doesn't like to report anything the pope says about the devil.  Why on earth would the media not reflect on this crucial aspect of Church teaching?  Was CS Lewis right when he suggested the devil actually uses the media as a tool to get to the faithful and turn them against God?  I think he was right on the money! 
Anyway, returning to the Pope and his reflection on the ongoing battle with the devil.  Here is what the Pope had to say in his homily on Thursday:
"From whom do I have to defend myself? What must I do?  Pauls tells us to put on God's full armour, meaning that God acts as a defence, helping us to resist Satan's temptations.  Is this clear?  No spiritual life, no Christian life is possible without resisting temptations, without  putting on God's armour which gives us strength and protects us."
"But in this generation, like so many others, people have been led to believe that the devil is a myth, a figure, an idea, the idea of evil. But the devil exists and we must fight against him.  Paul tells us this, it's not me saying it! The Word of God is telling us this.  But we're not all convinced of this.  And then Paul describes God's armour and which are the different types that make up this great armour of God.  And he says: 'So stand your ground,  with truth a belt around your waist.'  The truth is God's armour."
"Life is a military endeavour.  Christian life is a battle, a beautiful battle, because when God emerges victorious in every step of our life, this gives us joy, a great happiness: the joy that the Lord is the victor within us, with his free gift of salvation.  But we're all a bit lazy, aren't we, in this battle and we allow ourselves to get carried away by our passions, by various temptations. That's because we're sinners, all of us!  But don't get discouraged.  Have courage and strength because the Lord is with us."
Amen papa!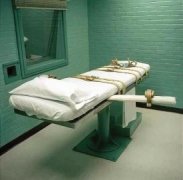 The Pope wants scenes like this to be a thing of the past
Pope Francis has urged those in authority to reconsider use of the death penalty and the imposition of life imprisonment. 
The Pope expressed his disbelief that states "cannot make use of another means than capital punishment to defend peoples' lives from an unjust aggressor." 
He also stated that: "All Christians and people of good will are thus called today to struggle not only for abolition of the death penalty, whether it be legal or illegal and in all its forms, but also to improve prison conditions, out of respect for the human dignity of persons deprived of their liberty. And this, I connect with life imprisonment," he said. "Life imprisonment is a hidden death penalty."
The Pope also expressed disquiet towards politicians and the media when he said that they promote "violence and revenge, public and private, not only against those responsible for crimes, but also against those under suspicion, justified or not."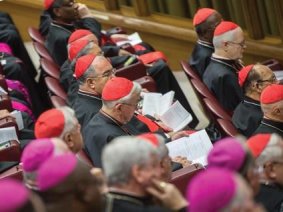 If I could sum up in one sentence what is contained in the Synod on Family Life's mid-term report - as presented by the Synod's General Reporter Cardinal Erdo - I would say: 'Imitating the loving gaze of Christ to appreciate the difficulties experienced by many people and recognising the need to offer them companionship, in the hope that together we may experience the joy of the Gospel of the family.'
There are numerous reports circulating about the document, many of which are suggesting a significant change in tone with the possibility of changes in Church doctrine.  While there is no real possibility of the latter it is fair to say that there is a change in tone.  The tone is definitely more understanding with a focus on healing rather than condemnation, all the while adhering to traditional Church teaching.
Perhaps we should firstly set out the context of this report.  To give it its proper title, relation post disceptationem, the document seeks to summarise the discussions held at the Synod thus far.  The document will be agreed by the Synod in the days ahead and the intention is then that the document, which contains a number of reflections on the discussions, will be used to 'raise questions and indicate perspectives that will have to be matured and made clearer by the reflection of the local Churches' in the year between now and the Ordinary General Assembly of the Synod of Bishops which will take place in October 2015.
The document covers many interesting topics around the central consideration of the synod; that of the family.  Divorce, homosexuality and contraception are but a few of the issues discussed and there are interesting reflections on all of these topics.  In this article we will consider the main points arising from the mid-term report and try to make sense of what is actually being said rather than going down the road of an over excitable tabloid reporter with the sole of intention of producing a headline grabbing story suggesting a sea change in Church doctrine.
Not to Condemn, but to Heal
In fleshing out the general theme of greater understanding, we can perhaps start with Cardinal Erdo's opening comment when he spoke of how Jesus Christ, 'the Truth, became incarnate in human fragility not to condemn it, but to heal it.'  He used the example of how Jesus taught that marriage was indissoluble but still showed understanding of those who didn't live up to this ideal.  The crux of this is that we must work to help others to be healed and accompany them on their journey with the hope that they will come to full appreciation and acceptance of the Gospel of the family.
Indeed, one outcome of the first week's discussions is to urgently address the need to more effectively proclaim the Gospel of the family.  The report states that the 'Church has to carry this out with the tenderness of a mother and the clarity of a teacher' and always bearing in mind the mercy of Christ.  It encourages all the faithful to spread this Good News stating 'Evangelising is the shared responsibility of all God's people, each according to his or her own ministry or charism.  Without the joyous testimonies of spouses and families, the announcement [of the Good News], even if correct, risks being misunderstood or submerged by the ocean of words that is a characteristic of our society.'
The report makes it clear that in proclaiming the Gospel of the family we must make known that it is a 'joy that fills the hearts and lives, because in Christ we are set free from sin, sorrow, inner emptiness, and loneliness'.  We are also encouraged to proclaim in a language that is meaningful and avoid simply 'presenting a set of regulations'.  Rather, we are invited to put forward values that will address people's real problems.
The Threat of Individualism
A significant threat expressed in the report is the threat of 'exasperated individualism' which the Synod suggests 'distorts family bonds'.  This, according to the Synod, leads to isolation of the various components which make up the family unit which in turn leads to the 'prevalence of an idea of the subject formed according to his or her own wishes, which are assumed as absolute'.  In a nutshell, there is a significant threat posed by narcissism and the modern ideal of individualism and selfishness.  This, the Synod suggests, is central to the modern day break up of the family unit.
In order to tackle this problem the Church, through this report, suggests a two pronged approach in supporting people in their search for God.  Firstly, it suggests making the teachings of the Church better known.  And secondly, this teaching should be accompanied by mercy.  In making this point the report refers to Jesus who 'looked upon the women and the men he met with love and tenderness, accompanying their steps with patience and mercy, in proclaiming the demands of the Kingdom of God'. 
To be fair, this direction isn't out of sync with current Church teaching though the benefit of reemphasising it at this time is obvious.
Marriage between One Man and One Woman
In turning to marriage the report refers to Jesus' reaffirmation of the indissoluble union between a man and a woman.  It then states 'God consecrates love between spouses and confirms its indissolubility, offering them help in living in fidelity and openness to life.  Therefore, the gaze of the Church turns not only to the couple, but to the family'.  Here we see the important link between marriage and the family.
The Synod did, however, acknowledge that new forms of union exist in our world and while the Church expresses 'the value and consistency of natural marriage' some members of the Synod have raised the possibility of 'recognising positive elements in the imperfect forms' of other unions.  For those who are in other forms of union, such as civil marriage or cohabitation, the report states that 'the Church turns respectfully to those who participate in her life in an incomplete and imperfect way, appreciating the positive values they contain rather than their limitations and shortcomings'.  So, while Church doctrine on Christian marriage between one man and one woman isn't going to change, the Church must increase its understanding of alternative forms of union and seek to find positives from them.  Indeed the Synod goes further to state that the Church must 'accept the reality of civil marriage and also cohabitation' while taking into account due differences between them and natural marriage.  However, this acceptance and understanding is always accompanied with the goal to bring such unions to the sacrament of marriage in the Church. 
The report states: 'Indeed, when a union reaches a notable level of stability through a public bond, is characterised by deep affection, responsibility with regard to offspring, and capacity to withstand tests, it may be seen as a germ to be accompanied in development towards the sacrament of marriage'. 
So, while the Church will likely continue to recognise only one form of union, the faithful must appreciate those other forms of union where the qualities of stability, deep affection, strength in unity, and a responsible attitude with regard to children are present.
Marriage and Cohabitation
In considering the importance of marriage, the Synod focused on the Church becoming more deeply involved in Christian marriages, especially those in their infancy.  It suggests a greater involvement of the whole Christian community with respect to marriage preparation, including pastoral accompaniment in the form of more experienced couples.  It also suggests the importance of couples being 'encouraged towards a fundamental welcome of the great gift of children' and the importance of 'family spirituality and prayer'. 
Further, the report suggests a move (where it doesn't already exist) toward more 'meaningful liturgies, devotional practices and the Eucharist celebrated for families'. 
While cohabitation remains an issue for the Church, the report sets out a clear understanding of the difficulties faced by couples such as financial difficulties.  While many couples simply reject the idea of Christian marriage, others wish for it but simply cannot afford to have it for one reason or another.  The Synod suggests pastoral accompaniment for such couples must start with the positive aspect that they desire a Christian marriage.
Separation and Divorce
Another significant issue is the separated, divorced, and the divorced who have remarried.  Firstly, the Synod has set out that 'Each damaged family first of all should be listened to with respect and love, becoming companions on the journey as Christ did with the disciples on the road to Emmaus'.  It suggests such accompaniment must be at a steady and reassuring pace which reflects our 'closeness and our compassionate gaze which also heals, liberates and encourages growth in the Christian life'.  It also states reassuringly that 'What needs to be respected above all is the suffering of those who have endured separation and divorce unjustly' and emphasises the need to avoid children becoming an 'object' to be fought over.
With respect to nullity a number of propositions were put forward by members of the Synod.  Among those put forward was the suggestion that the administrative responsibility for annulments could be under Diocesan Bishops and a proposed 'summary process' in the case of clear nullity.  All proposals will, of course, be considered in the months ahead but the report did state that in all cases with respect to annulment, the principal consideration is 'ascertaining the truth over the validity of the obstacle'. 
The report states that 'Divorced people who have not remarried should be invited to find in the Eucharist the nourishment they need to sustain them in their state'.  It then goes on to consider those who have been through divorce and remarried, saying such a situation 'demands a careful discernment and an accompaniment full of respect, avoiding any language or behaviour that might make them feel discriminated against'.  In a reassurance to Catholic tradition the report then states: 'For the Christian community looking after them [those who are divorced and remarried] is not a weakening of its faith and its testimony to the indissolubility of marriage, but rather it expresses precisely its charity in its caring'.  The suggestion here is that Church doctrine will not change on this issue but there is an undoubted call for the Church to provide respectful accompaniment and care to those affected.
In terms of divorced and remarried people sharing in the sacraments, the Synod members were in disagreement with a number of views being put forward.  However, the report suggests that 'fruit of discernment' could be applied on a case-by-case basis 'according to the law of gradualness, that takes into consideration the distinction between state of sin, state of grace and the attenuating circumstances'.  The aim here would appear to be to provide the support necessary to allow divorced and remarried faithful to grow in holiness over time with the possibility of future participation in the sacraments.  This, however, is not set in stone and the report suggests that a greater theological study may be undertaken to consider this issue in more detail.
Homosexuality
Homosexuality is a subject well known to the Catholic Church, particularly in recent times with the advent of same-sex marriage.  However, before we set out the views of the Synod on this topic it is important to note that the Church has not given (nor will it give) any indication that doctrine is about to change on this issue.  Indeed the Synod has stated that 'The Church furthermore affirms that unions between people of the same sex cannot be considered on the same footing as matrimony between man and woman'.  However, the report does state that 'Homosexuals have gifts and qualities to offer to the Christian community' and begs a number of questions to the Catholic faithful about how welcoming we are to people with same-sex attraction without compromising Catholic doctrine on the family and matrimony.  The report also seeks to take positives from same-sex unions while clearly stating there are moral problems connected to such unions.  It states: 'Without denying the moral problems connected to homosexual unions it has to be noted that there are cases in which mutual aid to the point of sacrifice constitutes a precious support in the life of the partners'. 
The Synod's discussions on homosexuality are perhaps worthy of the largest slice of our attention.  While there is no movement away from Church doctrine which states homosexuality as being 'disordered', there is a clear attempt to accentuate the potential positives which could be brought to bear by same-sex unions.  While it does not condone homosexual acts (as such acts close the sexual act to the gift of life), the Church appears to be acknowledging the support through sacrifice given by one partner to the other in same-sex unions.    
Perhaps this is a useful juncture to reinforce the Church's views on homosexuality.  While homosexual acts are sinful there is no sin in same-sex attraction. The Church believes such tendencies towards same-sex attraction are a trial in the same way a single person lives a trial by being called to live a chaste life. 
The report then tackles the matter of children living with same-sex couples, stating that 'The Church pays special attention to the children who live with couples of the same sex, emphasising that the needs and rights of the little ones must always be given priority'.  This is perhaps a suggestion that the sacraments will not be denied to children who live with same-sex couples.
Contraception
Contraception is a matter of great significance to the Church as the Church teaches that 'being open to life is an intrinsic requirement of married love'.  Contraception in any form is therefore deemed to be contrary to the Will of God as it closes off the possibility of receiving God-given life.  With this in mind the Synod suggests that 'what is required is a realistic language that is able to start from listening to people and acknowledging the beauty and truth of an unconditional opening to life as that which human life requires to be lived to its fullest'.  The report then continues, 'it is on this base that we can rest an appropriate teaching regarding natural methods'.  The Synod then reinforces the message of Paul VI in his encyclical Humanae Vitae which 'underlines the need to respect the dignity of the person in the moral evaluation of the methods of birth control'.
Sadly, I have already witnessed a considerable degree of misreporting on this section of the report.  It must be clear that the dignity of the person refers to humanity.  In this sense, the person we are speaking about is a potential new life.  So, birth control must be morally evaluated with the ideal of openness to new life at the core of any considerations.  It is not, as some media outlets have suggested, a call for the Church to respect the dignity of individuals using forms of birth control.  Contraception, in all its forms, will continue to be rejected by the Church.  The Church does, however, allow for Natural Family Planning as this method does not close off the possibility of life.  While it allows a couple to plan for pregnancy (and the Church allows for a certain degree of sensible planning with respect to the creation of new life) it is a method which is always open to the possibility of a child.  It never closes off that possibility and that is why the Synod has suggested that it should be taught more widely.
And so there we have it; the mid-term report of the Synod of Bishops on Family Life 2014.  The Synod will continue for a few more days and will then leave the issues raised to be considered by local Churches and faithful ahead of the Ordinary General Assembly of the Synod of Bishops which will take place in October 2015.
While we need to take these matters into our hearts and minds and ponder them, no decisions will be made until October of next year at the earliest.  There is, therefore, a lot of work still to be done and the initial excitement surrounding this report must be balanced with patience and appreciation for the long process being embarked upon.  However, that does not mean we cannot start to implement the spirit of understanding which runs throughout the report.  This spirit of understanding must fuel our work in the months ahead and, while we must continue to adhere to the beautiful teachings of the Church, our desire to enlighten the world to Truth should be accompanied by a tone of mercy and compassion. 
As the report concludes: 'the guidance of the Holy Spirit will lead us to find roads of truth and mercy for all'.  Amen.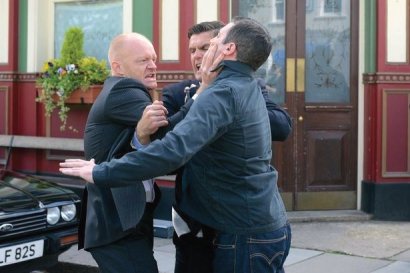 You won't find true love in Albert Square
Sunday's Second Reading (Romans 12:1-2):
Think of God's mercy, my brothers, and worship him, I beg you, in a way that is worthy of thinking beings, by offering your living bodies as a holy sacrifice, truly pleasing to God. Do not model yourselves on the behaviour of the world around you, but let your behaviour change, modelled by your new mind. This is the only way to discover the will of God and know what is good, what it is that God wants, what is the perfect thing to do.
It's quite difficult to not model ourselves on the behaviour of the world around us.  Everywhere we turn we hear voices and read texts telling us what it is to be normal and how we are to behave. 
For anyone who watches soap operas on a regular basis you will be familiar with the idea that showing hatred towards your family and friends is perfectly normal.  You will be familiar with the idea that sleeping with another person behind your partner's back is perfectly normal.  
While many may shrug off the misdemeanours of the residents of Albert Square and Weatherfield as being harmless; there can be little doubt that these performances are noted by children and young adults.  However, what is perhaps more worrying is the effect it appears to be having on adults who appear to be very inclined to buy into the nonsense. 
It isn't only soap operas that are to blame.  Most of what we now watch in TV land is filled with people fighting, people hating, people criticising, people gossiping and so on.  Add to that the influence of a secular media along with the hatred dished out on social media platforms such as Facebook and Twitter and you have all the ingredients of a war on Christ's fundamental commandment to love our neighbour. 
St Paul, in today's reading, is mindful of the nonsense that goes on around us.  While he may not have had the benefit of television, radio or social media, he was clearly aware of worldly influences encouraging people to do the wrong thing. 
Every day we are being encouraged to do the wrong thing.  The mainstream media, including TV news bulletins, are constantly blaming people for things gone wrong.  If it isn't the social worker's fault then it is definitely the fault of the psychiatrist, or is it the police?  Pope Francis has been persistent in his call to stop criticising, to stop gossiping, to stop complaining and to stop being divisive.  If you weren't aware of this then you don't listen to Pope Francis enough because he talks about these things all the time.
We need to be aware of what is going around us and how it influences us.  We should realise that true joy is found in the love we offer Christ and the love we offer our neighbour.  What you see on Eastenders and Coronation Street rarely passes for love.  What we see in the mainstream media rarely passes for love.  And when we gossip about people, are we not going against the commandment to love?  What about when we criticise or complain unjustly, aren't we also going against Christ's commandment?  Each time we do these things we do them to Jesus and that is not good.
True love cannot be found in a TV schedule nor can it be found on the front page of today's tabloid.  True love is found in Jesus Christ.  Listen to the words of St Paul when he encourages us to offer our living bodies as a holy sacrifice.  We must work hard to make our bodies pure so that they can be used by the Holy Spirit to spread the love of Christ.  It's not going to be easy but surely with perseverance we can succeed?  Why don't we start by studying the scriptures and studying Church teaching on all matters and immerse ourselves in Good News for a change?  Perhaps then we will discover the true will of God.  Perhaps then we will discover what is truly good.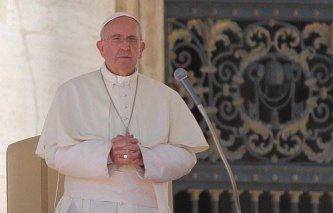 Pope Francis, during his morning homily in the chapel in the Vatican's Casa Santa Marta residence, spoke about the lack of media coverage given to bishops and priests who have performed great works of charity and who carry people forward.  He said that: "It is the same as always: a single falling tree makes more noise than a forest that grows".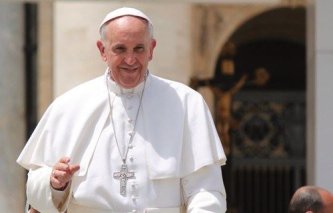 'Intellectuals and serious journalists frequently descend to crude and superficial generalisations in speaking of the shortcomings of religion, and often prove incapable of realising that not all believers – or religious leaders – are the same.'
Pope Francis
'A healthy pluralism, one which genuinely respects differences and values them as such, does not entail privatising religions in an attempt to reduce them to the quiet obscurity of the individual's conscience or to relegate them to the enclosed precincts of churches, synagogues or mosques. This would represent, in effect, a new form of discrimination and authoritarianism.'
Pope Francis
Despite the tide of secularism which has swept our societies, in many countries – even those where Christians are a minority – the Catholic Church is considered a credible institution by public opinion, and trusted for her solidarity and concern for those in greatest need.
Pope Francis
Here, in detail, is what Pope Francis has to say on these important issues:
'We should recognise how in a culture where each person wants to be bearer of his or her own subjective truth, it becomes difficult for citizens to devise a common plan which transcends individual gain and personal ambitions.
In the prevailing culture, priority is given to the outward, the immediate, the visible, the quick, the superficial and the provisional.'
'At times our media culture and some intellectual circles convey a marked scepticism with regard to the Church's message, along with a certain cynicism. As a consequence, many pastoral workers, although they pray, develop a sort of inferiority complex which leads them to relativise or conceal their Christian identity and convictions. This produces a vicious circle.
Today, our challenge is not so much atheism as the need to respond adequately to many people's thirst for God.
Unless these people find in the Church a spirituality which can offer healing and liberation, and fill them with life and peace, while at the same time summoning them to fraternal communion and missionary fruitfulness, they will end up by being taken in by solutions which neither make life truly human nor give glory to God.'
'The Catholic faith of many peoples is nowadays being challenged by the proliferation of new religious movements, some of which tend to fundamentalism while others seem to propose a spirituality without God.
These religious movements, not without a certain shrewdness, come to fill, within a predominantly individualistic culture, a vacuum left by secularist rationalism. We must recognise that if part of our baptised people lack a sense of belonging to the Church, this is also due to certain structures and the occasionally unwelcoming atmosphere of some of our parishes and communities, or to a bureaucratic way of dealing with problems, be they simple or complex, in the lives of our people. In many places an administrative approach prevails over a pastoral approach, as does a concentration on administering the sacraments apart from other forms of evangelisation.
The process of secularisation tends to reduce the faith and the Church to the sphere of the private and personal. Furthermore, by completely rejecting the transcendent, it has produced a growing deterioration of ethics, a weakening of the sense of personal and collective sin, and a steady increase in relativism. These have led to a general sense of disorientation, especially in the periods of adolescence and young adulthood which are so vulnerable to change.
Despite the tide of secularism which has swept our societies, in many countries – even those where Christians are a minority – the Catholic Church is considered a credible institution by public opinion, and trusted for her solidarity and concern for those in greatest need. Again and again, the Church has acted as a mediator in finding solutions to problems affecting peace, social harmony, the land, the defence of life, human and civil rights, and so forth.'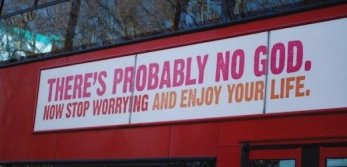 Secularist Advertising
'In other parts of our society, we see the growing attraction to various forms of a "spirituality of well-being" divorced from any community life, or to a "theology of prosperity" detached from responsibility for our brothers and sisters, or to depersonalised experiences which are nothing more than a form of self-centredness.
One important challenge is to show that the solution will never be found in fleeing from a personal and committed relationship with God which at the same time commits us to serving others.'
'It is no longer possible to claim that religion should be restricted to the private sphere and that it exists only to prepare souls for heaven.
We know that God wants his children to be happy in this world too, even though they are called to fulfilment in eternity, for he has created all things "for our enjoyment" (1 Tim 6:17), the enjoyment of everyone. It follows that Christian conversion demands reviewing especially those areas and aspects of life "related to the social order and the pursuit of the common good".
An authentic faith – which is never comfortable or completely personal – always involves a deep desire to change the world, to transmit values, to leave this earth somehow better that we found it. We love this magnificent planet on which God has put us, and we love the human family which dwells here, with all its tragedies and struggles, its hopes and aspirations, its strengths and weaknesses. The earth is our common home and all of us are brothers and sisters. If indeed "the just ordering of society and of the state is a central responsibility of politics", the Church "cannot and must not remain on the sidelines in the fight for justice".
Furthermore, neither the Pope nor the Church have a monopoly on the interpretation of social realities or the proposal of solutions to contemporary problems.'
'The Synod Fathers spoke of the importance of respect for religious freedom, viewed as a fundamental human right.
This includes "the freedom to choose the religion which one judges to be true and to manifest one's beliefs in public".
A healthy pluralism, one which genuinely respects differences and values them as such, does not entail privatising religions in an attempt to reduce them to the quiet obscurity of the individual's conscience or to relegate them to the enclosed precincts of churches, synagogues or mosques. This would represent, in effect, a new form of discrimination and authoritarianism.
The respect due to the agnostic or non-believing minority should not be arbitrarily imposed in a way that silences the convictions of the believing majority or ignores the wealth of religious traditions. In the long run, this would feed resentment rather than tolerance and peace.
When considering the effect of religion on public life, one must distinguish the different ways in which it is practiced. Intellectuals and serious journalists frequently descend to crude and superficial generalisations in speaking of the shortcomings of religion, and often prove incapable of realising that not all believers – or religious leaders – are the same. Some politicians take advantage of this confusion to justify acts of discrimination. At other times, contempt is shown for writings which reflect religious convictions, overlooking the fact that religious classics can prove meaningful in every age; they have an enduring power to open new horizons, to stimulate thought, to expand the mind and the heart. This contempt is due to the myopia of a certain rationalism. Is it reasonable and enlightened to dismiss certain writings simply because they arose in a context of religious belief? These writings include principles which are profoundly humanistic and, albeit tinged with religious symbols and teachings, they have a certain value for reason.
As believers, we also feel close to those who do not consider themselves part of any religious tradition, yet sincerely seek the truth, goodness and beauty which we believe have their highest expression and source in God. We consider them as precious allies in the commitment to defending human dignity, in building peaceful coexistence between peoples and in protecting creation.'
/