Shopping Cart
Your Cart is Empty
There was an error with PayPal
Click here to try again
Thank you for your business!
You should be receiving an order confirmation from Paypal shortly.
Exit Shopping Cart
Calling Scotland's 841,000 Catholics to unite as one voice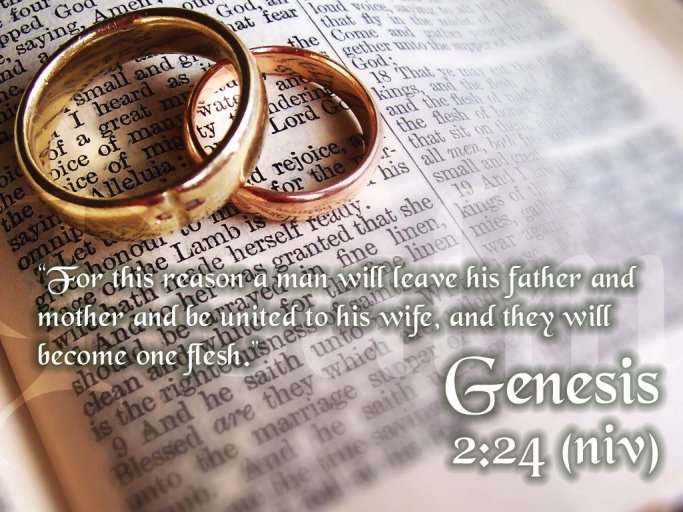 The plenary assembly of the Council of European Episcopal Conferences which recently met in the Holy land has reinforced the Church's view that marriage is between one man and woman.
The official text from the Bishops states: "The Church strongly believes in the family founded on marriage between a man and a woman: it is the basic cell of society and of the Christian community itself. It is difficult to see why different situations of coexistence should be treated in the same way."
The Bishops' statement is timely when you consider the second part of the Synod on Marriage and Family Life is just weeks away.  The statement is also most welcome in a society which is becoming increasingly confused on matters related to marriage.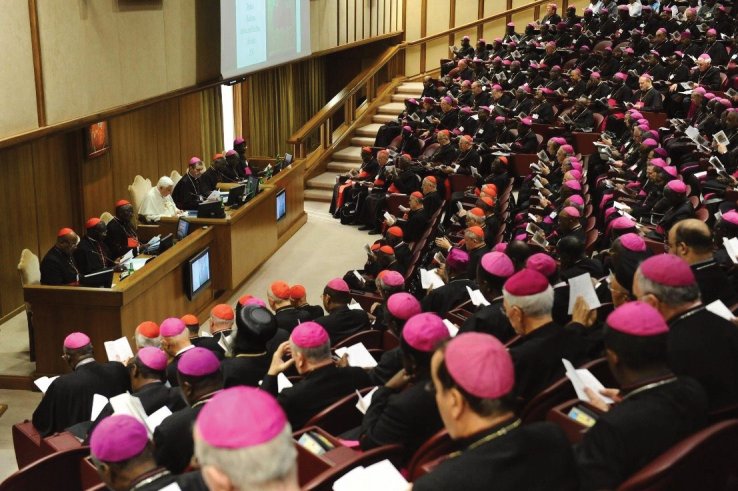 The TFP Student Action Group has set up a petition asking Pope Francis to reinforce Church teaching on marriage and the family at the upcoming Synod in Rome.
The petition has been started in response to some Bishops and also the mainstream media who are trying to force through change to fit with what society perceives as truth, as opposed to what Christ and his Church teaches as Truth.
Attacks on the family have been coming thick and fast over the last fifty or sixty years and this most basic yet most cherished aspect of life which has served us so well for so long is slowly being eroded to nothing.  Consider contraception, a moral evil which has perhaps served as the catalyst for so much evil that has followed since.  Consider abortion, where millions of innocent lives are destroyed every year across the world, all in the name of 'choice'.  And then there is the redefinition of marriage, a recent phenomenon where God's very own definition of marriage between one man and one woman has been torn up and thrown to the wind.  Add to that the ever increasing push to remove terms such as 'father' and 'mother' out of circulation and you have the most horrifying and testing time for the family unit since time began.
And what have we done about it?  What do we have to show for our efforts to stop these evils?  Pretty much nothing.  Nada.  1.2 billion Catholic people supposedly live on this earth and yet we struggle to uphold some of God's most basic truths, His most basic instructions. 
And the worst of it?  So many of our own brothers and sisters are defying God's Truth and supporting these concepts.  Contraception is seen as a necessity, abortion is seen as someone else's choice, and the redefinition of marriage just seems like the right thing to do. They say: 'to hell with what God and the Church might think, Jesus was a nice guy and he would want us to give the thumbs up to preventing procreation, to killing innocent babies and condoning sexual activity between people of the same sex.'   
Yes, Jesus would just love to see the ruination of the family unit; after all he didn't care a jot about his stepfather Joseph and his mother Mary!
No, Jesus is God.  And Jesus held firm to the Truth he himself gave to the world.  His manner of holding firm to the Truth is something we can and should take note of; full of love, compassion and kindness.  But also firm and determined.  Firm in the Truth he came to earth to reveal to us and which he subsequently entrusted to his Church, and determined to never let the devil have his way by destroying that Truth.
Brothers and sisters, please consider joining hundreds of thousands of Catholics who, like Jesus, are determined to hold firm to the Truth.  Will you be strong in your faith and reject any notion of allowing evil to creep into our society?  Are you prepared to let nothing stand in the way of you being true to God, just as the saints did? 
Let us rise determinedly as one body in Christ to protect his Truth and to allow the family to flourish.  Mother, father, brother, sister; this is God's divine plan.  
Please join a growing list of religious and civil leaders by signing the petition and let's encourage the Holy Father and the Bishops to remain faithful to God and His Church.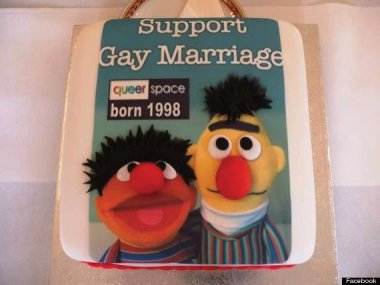 The cake Ashers refused to bake
While the law doesn't tend to agree, I still firmly believe that a business owner should have the right to decide not to provide a service which would be contrary to their devoutly held beliefs.  And this, for me, is key to the whole debate around Ashers bakery and the 'gay cake' furore in Northern Ireland. 
The bakery was told today that it discriminated against a homosexual customer for refusing to bake a cake with a slogan supporting homosexual marriage. 
Yet, despite the media spin, this is not about being homophobic.  And it is not about rejecting a person because they are homosexual.  This is about the desire of a bakery business not to create a cake which carries a message which is contrary to their strongly held beliefs.  Before this row erupted a homosexual man or woman could easily walk into Ashers bakery and order whatever they liked.  The difference with respect to this case is that Ashers were asked to create something which contained a message they just couldn't agree with.  Their response would have been the same had a heterosexual man or woman entered their shop and asked for the same cake.
And with this in mind, I do feel for Ashers.  They believe in something and they feel the need to live this out in every aspect of their life.  Indeed, as Christians, Christ compels them to do this. 
Yet the law won't have it. The law tells us that our personal belief and personal freedom means nothing as the state will ultimately dictate to us to what extent we can live out our Christian beliefs.  And such state dictatorship is not without its potential pitfalls.  For example, will Catholic Churches be forced to allow abortion providers to hold information days in their parish halls?  Will this website be shut down if it refuses the request by an abortion provider to advertise on its pages?  Will gay bars be forced to entertain concerts, rallies and fundraising events promoting traditional marriage?  Will bakeries run by homosexual people be expected to bake cakes containing slogans in support of traditional marriage between one man and woman?  With respect to this last question you would think yes, homosexual bakeries would be expected to bake cakes like this and that they would have no hesitation in doing so.  Yet this wasn't the experience of American Theodore Shoebat when he contacted thirteen homosexual-owned or pro-homosexual bakeries to order a cake with a slogan supporting traditional marriage and stating that 'gay marriage is wrong'.  Each bakery rejected his order and one even complained that the slogan 'went against their beliefs'.    
But it is important through all of this to remember that the desire for those opposed to homosexual marriage to be able to run their businesses in accordance with their beliefs is not a declaration of war on homosexuality.  This is the message sections of the media and certain secular groups want to put out there.  They want to draw a big line of division between homosexuals on one side and the so called 'homophobes' on the other.  Secularist groups in particular want this to be a nail in the coffin of religion.  It is, rather ironically, sheer intolerance on their part.
We as Christians must ensure that we do not get sucked into the hatred generated by the mainstream media and other groups intent on making capital from stories such as this.  This is not homophobia.  This is about whether an individual, or indeed a business, has the right to decline to create something or provide a service which is completely contrary to their own beliefs.  I believe that, while the law generally exists to protect, it is now at the stage where it is eroding the personal freedom of people to the point where their ability to make an honest living is compromised.  That cannot be right.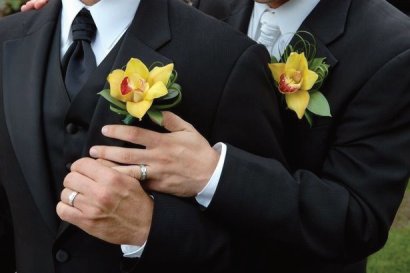 New Equality and Human Rights Commission guidance on how same-sex marriage should be taught in schools appears to offer protection to those who believe that marriage should only be between one man and one woman.
The guidance makes the following important points:
No school, or individual teacher, is under a duty to support, promote or endorse marriage of same sex couples.
Teachers and other school staff, parents and pupils are all free to hold personal opinions on the marriage of same sex couples, including a view that marriage should only be between a man and a woman. The Scottish Government considers the belief that marriage can only be between a man and a woman is a belief worthy of respect in a democratic society.
Individuals are free to express positive or negative views about the marriage of same sex couples.
This guidance must be viewed as something positive for those people who believe only in natural marriage; that is marriage between one man and one woman.  We as Catholics are among those people and this document sets a fairly positive tone for our Catholic schools and the freedom of our educators and pupils to express concern about other forms of marriage. 
The most important thing for our schools on the subject of marriage is that they promote marriage between one man and one woman and that this is put forward as the only form of marriage revealed by God and instituted by Christ as a Sacrament.  And while schools will still need to refer to the availability of same-sex marriage as provided under the new legislation, the ability of educators to promote the Church's view at the expense of other forms of marriage not accepted by the Church is not hindered.
That said, the Church continues to be a welcoming place for all people and accepts that many people have same-sex attraction.  And while detractors may suggest that the Church is not a welcoming place for all because it believes sexual relations between people of the same sex to be sinful, we must remember that sexual relations outside of marriage between heterosexual couples is similarly sinful as are acts of sexual self-gratification.  The Church teaches that there are two essential elements to marriage; the unitive aspect which is the complete giving of one to the other, and the procreative aspect of being open to the possibility of new life.  
Remember, the Church is a hospital for sinners not a club for saints.  A fundamental role of the Church is to bring people to Christ through the process of reconciliation, and this is a gift open to all.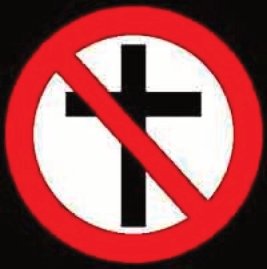 Aid to the Church in Need has released a report which it claims is a 'comprehensive assessment on the threat to religious liberty today'.
The report, which can be accessed using the link below, states that the fundamental right to religious freedom 'is the most critical need in a divided world where, in some parts there is a religious revival, and in others, a trend towards religious indifference and atheism.'
Of the 196 countries in the world, a total of 81 (or 41%) were identified as places where religious freedom is impaired or in decline.  A total of 35 countries, including the United Kingdom, were classified as having some religious freedom issues that are 'of concern' but with no deterioration in their status.
Of the top 20 countries where religious freedom is at highest risk, 14 experience religious persecution linked to extremist Islam, while in the remaining 6 the persecution is linked to authoritarian regimes.
A very interesting finding, and one which I think really hits the spot, particularly with regard to our experience here in the UK, is the rise of 'religious illiteracy among both Western policy makers and the international media' which is in turn 'hampering productive dialogue and effective policy making.'
Given the embarrassingly poor quality of reporting on religious matters by our mainstream media in the UK and the tendency to avoid the real issues in order to attack religion, and principally the Catholic Church, this finding is no real surprise.
The report also suggests a decline in consensus on the rights of conscience of religious believers while discrimination on the grounds of race, gender and sexuality increase.  It also notes a growing conflict between traditional religious and the 'progressive' liberal consensus on issues such as faith schools, homosexual marriage and euthanasia.  This, it is claimed, creates a 'hierarchy of rights' where the rights of homosexual or gender equality campaigners take precedence over the rights of religious believers.  The report cites the example of UK Catholic adoption agencies that refuse to place children with homosexual couples and ongoing attempts to force them to change their rules or close.
Western democracies are also seen as a significant contributor to the difficulties experienced by religious in our world today.  The report states that 'Western democracy - once so admired and emulated - is no longer automatically seen as the preferred role model for developing countries.  So the argument goes, if Western liberalism leads to abortion, contraception, immodesty, family breakdown, gay marriage and huge national and personal debt, then traditionally-minded religious groups want no part of it.'
In conclusion, the report calls on religious people to make a stand for religious freedom.  It states: 'The clear lesson from this research is that the urgent call to reverse the violence and oppression towards religious minorities must come, first and foremost, from within religious communities themselves....The necessity for religious leaders to use their pulpits and the media to loudly proclaim their opposition to religiously-inspired violence, and to re-affirm their support for religious tolerance, is becoming - in the present climate - ever more urgent.'
As Pope Francis says: 'Reason recognises that religious freedom is a fundamental right of man, reflecting his highest dignity.'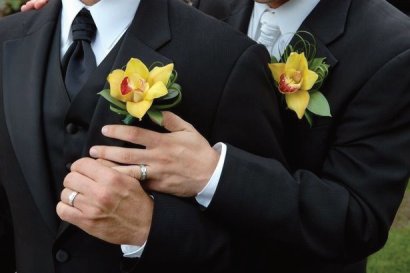 Robert P. George, McCormick Professor of Jurisprudence at Princeton University has argued that there can be no middle ground where gay marriage is allowed and the religious freedom of dissenters is supported.  He also suggests that the growing intolerence towards those who support traditional marriage is based on a lack of understanding of the reasons supporting that view.
Professor George said: "The whole [gay marriage] argument was and is that the idea of marriage as the union of husband and wife lacks a rational basis and amounts to nothing more than 'bigotry,' reflecting animus against a certain group of people," he said. "Therefore, no reasonable person of goodwill, we are told, can dissent from the liberal position on sex and marriage, any more than a reasonable person of goodwill could support racial segregation and subordination. You've heard the analogy drawn a thousand times. And this is because marriage, according to the re-definers, consists principally of companionship — the companionship of people committed to mutual affection and care. Any distinctions beyond this one they condemn as baseless."
George then added that same-sex marriage proponents "uncritically, then, not knowing what they're rejecting, not knowing what the alternative is, conceive marriage precisely as sexual-romantic companionship or domestic partnership, laying aside, ignoring altogether, its defining social purpose, imagining somehow, I suppose, that the law has some interest in people's romantic relationships just as such. What that interest could be, none of my friends on the other side have ever managed to actually express a view about. And yet, we are told, marriage must be 'expanded,' or, in truth, redefined, or, perhaps in greater truth, abolished or replaced with, a conception of 'marriage' as sexual romantic companionship or domestic partnership, because they can't fathom how any reasonable person of goodwill can understand it in any other way."
Click here to read the full article at the Christian Post: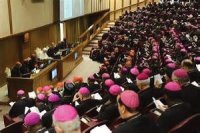 The fallout from the Synod on Family Life's mid-term report has been palpable over the last twenty four hours or so.  Some see it as a shift towards a more liberal Church and this has caused some gay rights groups to welcome the report.  This, in turn, has led to some people within the Catholic Church bemoaning the softer tone coming out of the gathering of some 200 bishops, and leaping to the defence of Church doctrine which has, and will thankfully continue to last, thousands of years.
Perhaps the biggest disappointment out of all of this is not so much the naïve reporting from the mainstream media; that is, after all, to be expected.  Rather the biggest disappointment is the somewhat elitist stance being taken by many Catholic people who claim to be conservative or traditional. While I myself endeavour at every turn to adhere to Church doctrine I'm afraid I inevitably fail. And it is this failure which is the very reason I belong to the Church. I belong to the Church because I myself am a sinner!
People who are criticising the Synod for suggesting a more merciful and compassionate approach to homosexuality and divorce must surely recognise the log in their own eye before claiming the moral high ground over anyone else. We are all sinners in need of God's mercy. Every last one of us! What the Synod is considering is highly unlikely to change thousands of years of Church teaching, and this is a blessing. However, to suggest we ignore the plight of certain groups of people simply because they commit a certain sin or because we feel superior to them is not Christian; it is not befitting of the body of Christ, which is what we are. 
To those who are inclined to criticise....we need to ask ourselves what it is that entitles us to look straight past the log in our own eye so as to criticise others? Take homosexual acts for example. We know it is disordered from the natural order of God's plan for humanity. We know it's a sin. And that is why we must acknowledge our mission to spread the Good News of the Gospel and the teaching of the Church to those who are in sinful situations.  But we must do this in a spirit of forgiveness and healing. Our job is not to glory in the sinful actions of others or mock them. This is not our mission.  Our mission is to bring the forgiving grace offered by Christ's Church to all people and to accompany them with love on that journey.  If we can benefit from God's forgiveness, why can't they? 
It is not a compromise of faith or of Church doctrine, it is a compromise of the heart.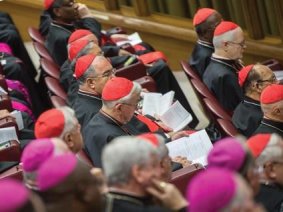 If I could sum up in one sentence what is contained in the Synod on Family Life's mid-term report - as presented by the Synod's General Reporter Cardinal Erdo - I would say: 'Imitating the loving gaze of Christ to appreciate the difficulties experienced by many people and recognising the need to offer them companionship, in the hope that together we may experience the joy of the Gospel of the family.'
There are numerous reports circulating about the document, many of which are suggesting a significant change in tone with the possibility of changes in Church doctrine.  While there is no real possibility of the latter it is fair to say that there is a change in tone.  The tone is definitely more understanding with a focus on healing rather than condemnation, all the while adhering to traditional Church teaching.
Perhaps we should firstly set out the context of this report.  To give it its proper title, relation post disceptationem, the document seeks to summarise the discussions held at the Synod thus far.  The document will be agreed by the Synod in the days ahead and the intention is then that the document, which contains a number of reflections on the discussions, will be used to 'raise questions and indicate perspectives that will have to be matured and made clearer by the reflection of the local Churches' in the year between now and the Ordinary General Assembly of the Synod of Bishops which will take place in October 2015.
The document covers many interesting topics around the central consideration of the synod; that of the family.  Divorce, homosexuality and contraception are but a few of the issues discussed and there are interesting reflections on all of these topics.  In this article we will consider the main points arising from the mid-term report and try to make sense of what is actually being said rather than going down the road of an over excitable tabloid reporter with the sole of intention of producing a headline grabbing story suggesting a sea change in Church doctrine.
Not to Condemn, but to Heal
In fleshing out the general theme of greater understanding, we can perhaps start with Cardinal Erdo's opening comment when he spoke of how Jesus Christ, 'the Truth, became incarnate in human fragility not to condemn it, but to heal it.'  He used the example of how Jesus taught that marriage was indissoluble but still showed understanding of those who didn't live up to this ideal.  The crux of this is that we must work to help others to be healed and accompany them on their journey with the hope that they will come to full appreciation and acceptance of the Gospel of the family.
Indeed, one outcome of the first week's discussions is to urgently address the need to more effectively proclaim the Gospel of the family.  The report states that the 'Church has to carry this out with the tenderness of a mother and the clarity of a teacher' and always bearing in mind the mercy of Christ.  It encourages all the faithful to spread this Good News stating 'Evangelising is the shared responsibility of all God's people, each according to his or her own ministry or charism.  Without the joyous testimonies of spouses and families, the announcement [of the Good News], even if correct, risks being misunderstood or submerged by the ocean of words that is a characteristic of our society.'
The report makes it clear that in proclaiming the Gospel of the family we must make known that it is a 'joy that fills the hearts and lives, because in Christ we are set free from sin, sorrow, inner emptiness, and loneliness'.  We are also encouraged to proclaim in a language that is meaningful and avoid simply 'presenting a set of regulations'.  Rather, we are invited to put forward values that will address people's real problems.
The Threat of Individualism
A significant threat expressed in the report is the threat of 'exasperated individualism' which the Synod suggests 'distorts family bonds'.  This, according to the Synod, leads to isolation of the various components which make up the family unit which in turn leads to the 'prevalence of an idea of the subject formed according to his or her own wishes, which are assumed as absolute'.  In a nutshell, there is a significant threat posed by narcissism and the modern ideal of individualism and selfishness.  This, the Synod suggests, is central to the modern day break up of the family unit.
In order to tackle this problem the Church, through this report, suggests a two pronged approach in supporting people in their search for God.  Firstly, it suggests making the teachings of the Church better known.  And secondly, this teaching should be accompanied by mercy.  In making this point the report refers to Jesus who 'looked upon the women and the men he met with love and tenderness, accompanying their steps with patience and mercy, in proclaiming the demands of the Kingdom of God'. 
To be fair, this direction isn't out of sync with current Church teaching though the benefit of reemphasising it at this time is obvious.
Marriage between One Man and One Woman
In turning to marriage the report refers to Jesus' reaffirmation of the indissoluble union between a man and a woman.  It then states 'God consecrates love between spouses and confirms its indissolubility, offering them help in living in fidelity and openness to life.  Therefore, the gaze of the Church turns not only to the couple, but to the family'.  Here we see the important link between marriage and the family.
The Synod did, however, acknowledge that new forms of union exist in our world and while the Church expresses 'the value and consistency of natural marriage' some members of the Synod have raised the possibility of 'recognising positive elements in the imperfect forms' of other unions.  For those who are in other forms of union, such as civil marriage or cohabitation, the report states that 'the Church turns respectfully to those who participate in her life in an incomplete and imperfect way, appreciating the positive values they contain rather than their limitations and shortcomings'.  So, while Church doctrine on Christian marriage between one man and one woman isn't going to change, the Church must increase its understanding of alternative forms of union and seek to find positives from them.  Indeed the Synod goes further to state that the Church must 'accept the reality of civil marriage and also cohabitation' while taking into account due differences between them and natural marriage.  However, this acceptance and understanding is always accompanied with the goal to bring such unions to the sacrament of marriage in the Church. 
The report states: 'Indeed, when a union reaches a notable level of stability through a public bond, is characterised by deep affection, responsibility with regard to offspring, and capacity to withstand tests, it may be seen as a germ to be accompanied in development towards the sacrament of marriage'. 
So, while the Church will likely continue to recognise only one form of union, the faithful must appreciate those other forms of union where the qualities of stability, deep affection, strength in unity, and a responsible attitude with regard to children are present.
Marriage and Cohabitation
In considering the importance of marriage, the Synod focused on the Church becoming more deeply involved in Christian marriages, especially those in their infancy.  It suggests a greater involvement of the whole Christian community with respect to marriage preparation, including pastoral accompaniment in the form of more experienced couples.  It also suggests the importance of couples being 'encouraged towards a fundamental welcome of the great gift of children' and the importance of 'family spirituality and prayer'. 
Further, the report suggests a move (where it doesn't already exist) toward more 'meaningful liturgies, devotional practices and the Eucharist celebrated for families'. 
While cohabitation remains an issue for the Church, the report sets out a clear understanding of the difficulties faced by couples such as financial difficulties.  While many couples simply reject the idea of Christian marriage, others wish for it but simply cannot afford to have it for one reason or another.  The Synod suggests pastoral accompaniment for such couples must start with the positive aspect that they desire a Christian marriage.
Separation and Divorce
Another significant issue is the separated, divorced, and the divorced who have remarried.  Firstly, the Synod has set out that 'Each damaged family first of all should be listened to with respect and love, becoming companions on the journey as Christ did with the disciples on the road to Emmaus'.  It suggests such accompaniment must be at a steady and reassuring pace which reflects our 'closeness and our compassionate gaze which also heals, liberates and encourages growth in the Christian life'.  It also states reassuringly that 'What needs to be respected above all is the suffering of those who have endured separation and divorce unjustly' and emphasises the need to avoid children becoming an 'object' to be fought over.
With respect to nullity a number of propositions were put forward by members of the Synod.  Among those put forward was the suggestion that the administrative responsibility for annulments could be under Diocesan Bishops and a proposed 'summary process' in the case of clear nullity.  All proposals will, of course, be considered in the months ahead but the report did state that in all cases with respect to annulment, the principal consideration is 'ascertaining the truth over the validity of the obstacle'. 
The report states that 'Divorced people who have not remarried should be invited to find in the Eucharist the nourishment they need to sustain them in their state'.  It then goes on to consider those who have been through divorce and remarried, saying such a situation 'demands a careful discernment and an accompaniment full of respect, avoiding any language or behaviour that might make them feel discriminated against'.  In a reassurance to Catholic tradition the report then states: 'For the Christian community looking after them [those who are divorced and remarried] is not a weakening of its faith and its testimony to the indissolubility of marriage, but rather it expresses precisely its charity in its caring'.  The suggestion here is that Church doctrine will not change on this issue but there is an undoubted call for the Church to provide respectful accompaniment and care to those affected.
In terms of divorced and remarried people sharing in the sacraments, the Synod members were in disagreement with a number of views being put forward.  However, the report suggests that 'fruit of discernment' could be applied on a case-by-case basis 'according to the law of gradualness, that takes into consideration the distinction between state of sin, state of grace and the attenuating circumstances'.  The aim here would appear to be to provide the support necessary to allow divorced and remarried faithful to grow in holiness over time with the possibility of future participation in the sacraments.  This, however, is not set in stone and the report suggests that a greater theological study may be undertaken to consider this issue in more detail.
Homosexuality
Homosexuality is a subject well known to the Catholic Church, particularly in recent times with the advent of same-sex marriage.  However, before we set out the views of the Synod on this topic it is important to note that the Church has not given (nor will it give) any indication that doctrine is about to change on this issue.  Indeed the Synod has stated that 'The Church furthermore affirms that unions between people of the same sex cannot be considered on the same footing as matrimony between man and woman'.  However, the report does state that 'Homosexuals have gifts and qualities to offer to the Christian community' and begs a number of questions to the Catholic faithful about how welcoming we are to people with same-sex attraction without compromising Catholic doctrine on the family and matrimony.  The report also seeks to take positives from same-sex unions while clearly stating there are moral problems connected to such unions.  It states: 'Without denying the moral problems connected to homosexual unions it has to be noted that there are cases in which mutual aid to the point of sacrifice constitutes a precious support in the life of the partners'. 
The Synod's discussions on homosexuality are perhaps worthy of the largest slice of our attention.  While there is no movement away from Church doctrine which states homosexuality as being 'disordered', there is a clear attempt to accentuate the potential positives which could be brought to bear by same-sex unions.  While it does not condone homosexual acts (as such acts close the sexual act to the gift of life), the Church appears to be acknowledging the support through sacrifice given by one partner to the other in same-sex unions.    
Perhaps this is a useful juncture to reinforce the Church's views on homosexuality.  While homosexual acts are sinful there is no sin in same-sex attraction. The Church believes such tendencies towards same-sex attraction are a trial in the same way a single person lives a trial by being called to live a chaste life. 
The report then tackles the matter of children living with same-sex couples, stating that 'The Church pays special attention to the children who live with couples of the same sex, emphasising that the needs and rights of the little ones must always be given priority'.  This is perhaps a suggestion that the sacraments will not be denied to children who live with same-sex couples.
Contraception
Contraception is a matter of great significance to the Church as the Church teaches that 'being open to life is an intrinsic requirement of married love'.  Contraception in any form is therefore deemed to be contrary to the Will of God as it closes off the possibility of receiving God-given life.  With this in mind the Synod suggests that 'what is required is a realistic language that is able to start from listening to people and acknowledging the beauty and truth of an unconditional opening to life as that which human life requires to be lived to its fullest'.  The report then continues, 'it is on this base that we can rest an appropriate teaching regarding natural methods'.  The Synod then reinforces the message of Paul VI in his encyclical Humanae Vitae which 'underlines the need to respect the dignity of the person in the moral evaluation of the methods of birth control'.
Sadly, I have already witnessed a considerable degree of misreporting on this section of the report.  It must be clear that the dignity of the person refers to humanity.  In this sense, the person we are speaking about is a potential new life.  So, birth control must be morally evaluated with the ideal of openness to new life at the core of any considerations.  It is not, as some media outlets have suggested, a call for the Church to respect the dignity of individuals using forms of birth control.  Contraception, in all its forms, will continue to be rejected by the Church.  The Church does, however, allow for Natural Family Planning as this method does not close off the possibility of life.  While it allows a couple to plan for pregnancy (and the Church allows for a certain degree of sensible planning with respect to the creation of new life) it is a method which is always open to the possibility of a child.  It never closes off that possibility and that is why the Synod has suggested that it should be taught more widely.
And so there we have it; the mid-term report of the Synod of Bishops on Family Life 2014.  The Synod will continue for a few more days and will then leave the issues raised to be considered by local Churches and faithful ahead of the Ordinary General Assembly of the Synod of Bishops which will take place in October 2015.
While we need to take these matters into our hearts and minds and ponder them, no decisions will be made until October of next year at the earliest.  There is, therefore, a lot of work still to be done and the initial excitement surrounding this report must be balanced with patience and appreciation for the long process being embarked upon.  However, that does not mean we cannot start to implement the spirit of understanding which runs throughout the report.  This spirit of understanding must fuel our work in the months ahead and, while we must continue to adhere to the beautiful teachings of the Church, our desire to enlighten the world to Truth should be accompanied by a tone of mercy and compassion. 
As the report concludes: 'the guidance of the Holy Spirit will lead us to find roads of truth and mercy for all'.  Amen.      
/