Shopping Cart
Your Cart is Empty
There was an error with PayPal
Click here to try again
Thank you for your business!
You should be receiving an order confirmation from Paypal shortly.
Exit Shopping Cart
Calling Scotland's 841,000 Catholics to unite as one voice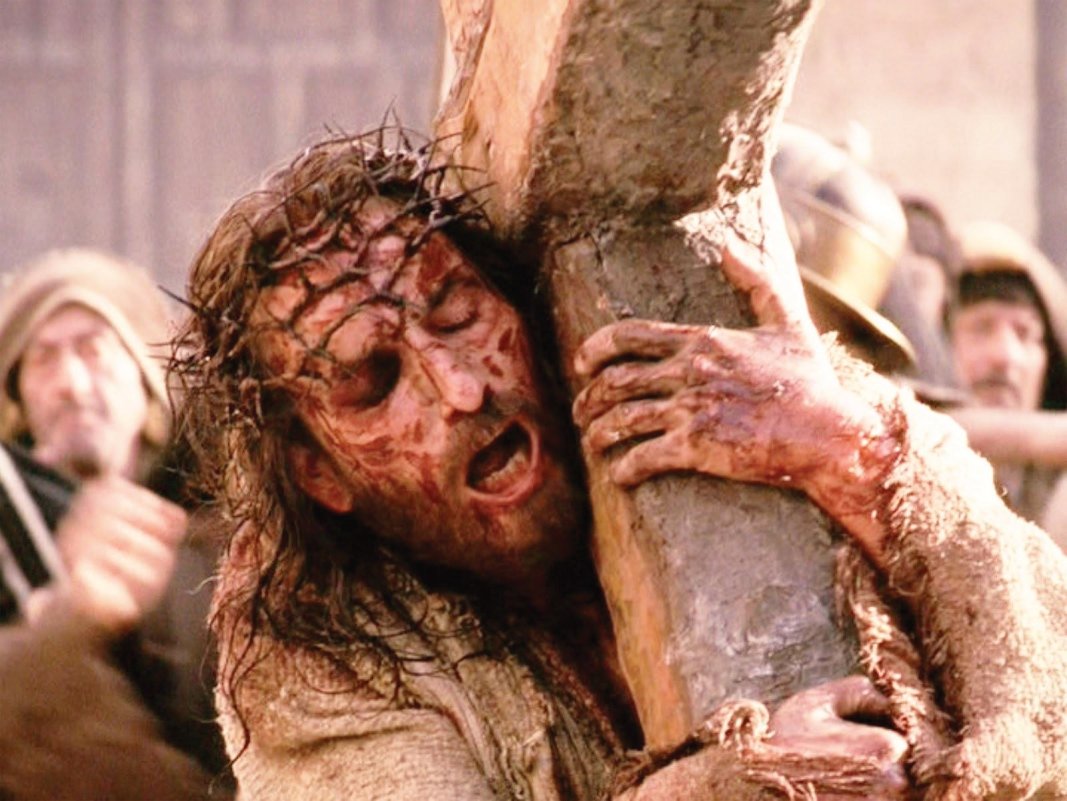 Today's First Reading(Wisdom 2: 1.12-22):


'The godless say to themselves, with their misguided reasoning:
"Let us lie in wait for the virtuous man, since he annoys us
and opposes our way of life,
reproaches us for our breaches of the law
and accuses us of playing false to our upbringing.
He claims to have knowledge of God,
and calls himself a son of the Lord.
Before us he stands, a reproof to our way of thinking,
the very sight of him weighs our spirits down;
his way of life is not like other men's,
the paths he treads are unfamiliar.
In his opinion we are counterfeit;
he holds aloof from our doings as though from filth;
he proclaims the final end of the virtuous as happy
and boasts of having God for his father.
Let us see if what he says is true,
let us observe what kind of end he himself will have.
If the virtuous man is God's son, God will take his part
and rescue him from the clutches of his enemies.
Let us test him with cruelty and with torture,
and thus explore this gentleness of his
and put his endurance to the proof.
Let us condemn him to a shameful death
since he will be looked after – we have his word for it.'
This is the way they reason, but they are misled,
their malice makes them blind.
They do not know the hidden things of God,
they have no hope that holiness will be rewarded,
they can see no reward for blameless souls.'
This passage from the book of Wisdom is a perfect insight into the persecution of Jesus Christ that is to come a few hundred years later.  It is also an incredible insight into the minds of Jesus' persecutors.  It highlights, in a striking way, the beauty of the Word of God.  The way the Old Testament and New Testament link up is well known in the Catholic Church; we see it each and every day in the Mass liturgy.  But there is something even more incredible about this passage.  It gets to the very heart of the matter.  It gets right to the root of the salvation of mankind; that is, the condemnation, persecution and sentencing to death of the Son of God.
Spend a few moments just reading through the passage again.  Consider the way they talk about Jesus.  Consider their language.  Consider the contempt, the hatred they have for this 'virtuous man'. 
Then consider if you are ever held in contempt or even persecuted for speaking up for God, as Jesus did.  Do people make fun of you when you speak about your faith?  Do they scoff at your faith and suggest you are living in a fantasy land or deluded?  Do they shoot you down straight away because you are unable to provide the evidence they require? 
If any of this applies to you, remember that Jesus had these trials too.  Yes, he suffered on a much greater scale.  But what you do have in common is that you are suffering for the cause of right.  You are suffering for the ultimate good.  You are suffering for God, and that is beautiful.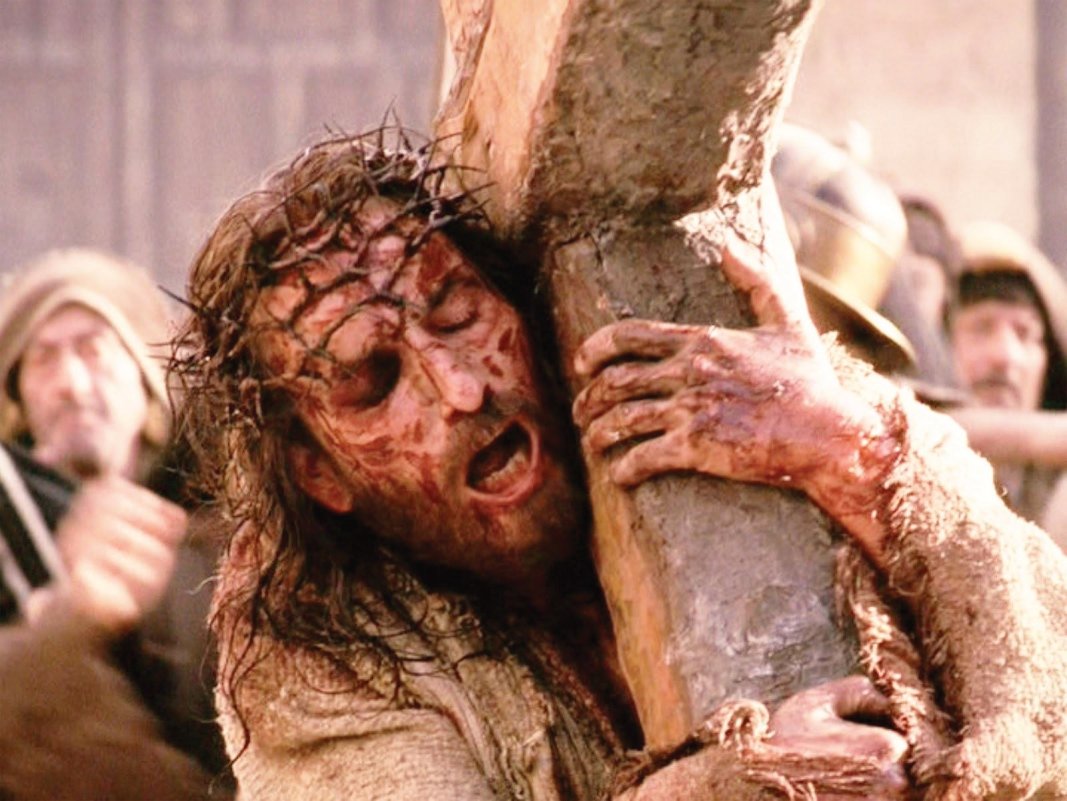 From today's Gospel (Luke 9:22-25):
'Jesus said to his disciples: 'The Son of Man is destined to suffer grievously, to be rejected by the elders and chief priests and scribes and to be put to death, and to be raised up on the third day.'
Then to all he said, 'If anyone wants to be a follower of mine, let him renounce himself and take up his cross every day and follow me.''
Jesus tells his disciples about the immense suffering he will soon endure and he invites those who want to follow him to also be prepared to suffer. 
Suffering is hard to take.  Nobody wants to suffer in any way, shape or form.  In today's world there are a lot of new age religions and movements that call for an end to suffering.  We Catholic people, however, are always harping on that suffering is necessary!  Why?  Because Jesus said so! 
Jesus didn't say 'I am destined to suffer grievously for you so that you may follow me and live a good, happy, carefree, perfect life where everything is just rosy and you never have to worry about anything.'
No, he encourages us to take up our cross because he knows there will be struggles, and he knows there will be difficult times. 
The important thing is that, in taking up that cross, we do exactly what Jesus commands us; that is to follow him.  If we are following him then it means we are always with him; we are always by his side.  And if he is always by our side then we are never alone in our suffering; never alone in our difficulties.
So, although we need to take up our cross and bear the strain of difficult and painful times, we are never far from the loving arms of Christ as we walk. 
Trust in Jesus as you meander through life, and trust in his mercy and compassion when the time comes for him to call you home for your reward will be great and your sufferings long forgotten.
Taken from today's Gospel (Luke 13:31-35)
'Jerusalem, Jerusalem, you that kill the prophets and stone those who are sent to you! How often have I longed to gather your children, as a hen gathers her brood under her wings, and you refused! So be it! Your house will be left to you. Yes, I promise you, you shall not see me till the time comes when you say:
'Blessings on him who comes in the name of the Lord!'
After a few days focusing on the letters of St Paul today we turn back to the words of Jesus in the Gospel. 
And it comes with a serious warning from Jesus for the people of Jerusalem.  They have already rejected the prophets and he knows that the time is coming when they will reject him and crucify him.  Yet Jesus, being the Son of God, is so full of confidence in the Father's love and the Resurrection that he promises the people that there will  come a time when they will bow down to him and glorify him.
And this is still the case today for those who reject Christ.  There will come a time when, alongside the faithful, they will bow down before him and glorify him.  Of that we can be absolutely certain.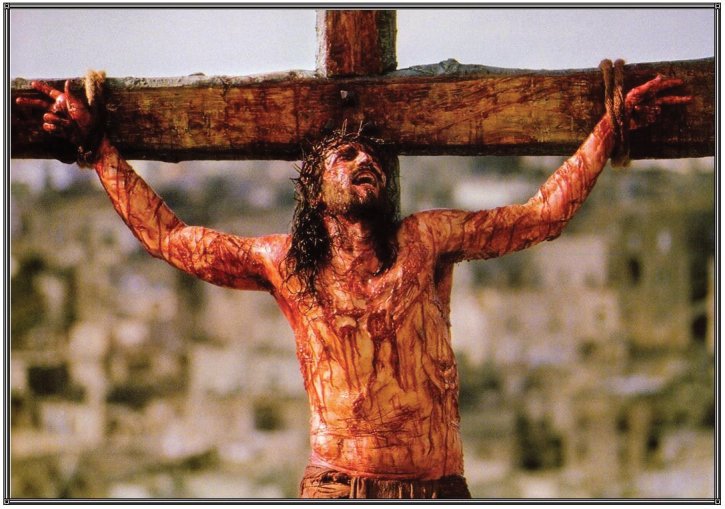 From today's reading (Romans 6:19-23)
'For the wage paid by sin is death; the present given by God is eternal life in Christ Jesus our Lord.'
Those Catholic people, always going on about sin and how we are all sinners and that we need to be reconciled to God.  Blah, blah, blah….
Well, yeah, we do go on about sin a bit don't we?  Even St Paul in this reading is talking about sin.  In fact Paul is a master when it comes to talking about sin!  In fact, he is almost obsessed by it!  But why?  Well, sin is evil, it is a wrong.  It is something which is against the order of God; that is, the order He created in those first days of the existence of our world. 
So, it is against the Order of God, so what??  He is an all loving and forgiving God, I'm safe.  I will just say I'm sorry when I stand before Him and then all will be well.  Maybe it will be alright and maybe it will be okay but, in doing this, we are using God and we are failing to stick to the commandment taught to us by Christ when he said 'You shall love the Lord your God from all your heart, and with all your soul and with all your mind.  This is the greatest and first commandment.'  God Himself is telling us that we should love Him.  We can't love Him if we just use him to suit our needs whenever we feel like it.
Sin is dangerous.  It separates us from God every time yet we continue to commit sin time after time, after time.  Look at Pope Francis and his obsession with complaining and gossip.  He tells us that we shouldn't do these things.  Why?  Because it hurts God and it hurts other people!  It is sinful!  That is why we must be warned about it so often.  If we stopped being sinful then maybe the Church wouldn't need to warn us all of the time but it is rife! 
But there is an alternative, as Paul suggests in the reading.  It is a great gift from God; it is Christ crucified!  By his life, death and resurrection Jesus has reconciled the entire world and gives us the gift of eternal life!  The only question is….do we want it…..?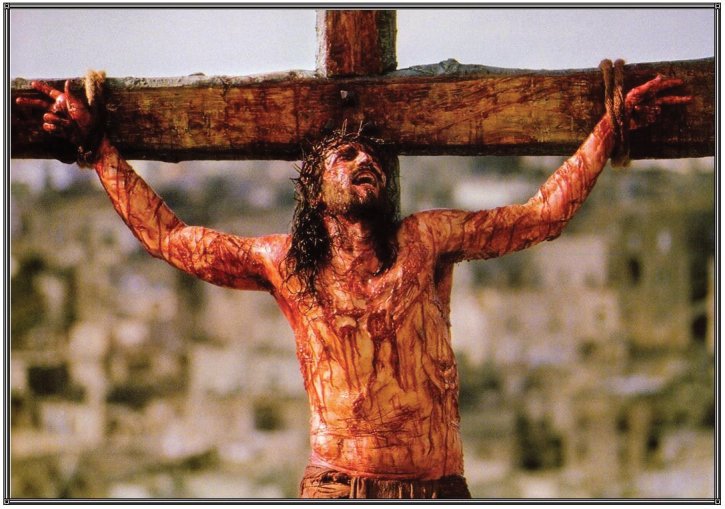 From today's Reading (Romans 5:12,15,17-21)
'As by one man's disobedience many were made sinners, so by one man's obedience many will be made righteous.'
In today's reading St Paul describes how Jesus came to undo all the evil that exists in our world.  In the passage we have picked out, above, he talks about the disobedience of Adam and the subsequent fall, and how all that was lost has been recovered by Jesus on the Cross.  Jesus' obedience to the Father in doing His Will and not his own has saved all of us.  Yet, we still have the option to trust in that saving grace or to reject it. 
Put simply, we are saved if we want to be saved.  Jesus has done what he can for us.  He underwent the most horrific pain and suffering on the Cross so that we may live.  Not just live here on earth; but to live for all eternity!  Jesus suffered and died so that we can live forever and ever with the Father. 
Only one person has ever been born to die.  That person was Jesus.  And he did it for you.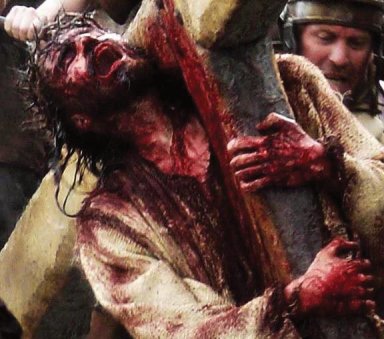 Suffering.  It's a nasty thought.  Nobody wants to suffer, whichever form that suffering may take.
But do we have to suffer?  And do we have to embrace our suffering?  Today's world suggests suffering is a bad thing and is to be avoided at all costs.  Nobody should have to suffer; we should be free from any suffering. 
The Christian view is, as we will discover, quite different.  Let us first consider this text from St Peter:
'My dear people, you must not think it unaccountable that you should be tested by fire. There is nothing extraordinary in what has happened to you. If you can have some share in the sufferings of Christ, be glad, because you will enjoy a much greater gladness when his glory is revealed. It is a blessing for you when they insult you for bearing the name of Christ, because it means you have the Spirit of glory, the Spirit of God resting on you....If anyone of you should suffer for being a Christian, then he is not to be ashamed of it; he should thank God that he has been called one.' (1 Peter 4:12-16)
St Peter tells us to embrace our suffering.  We are to be glad of our suffering because we 'will enjoy a much greater gladness when his [Christ's] glory is revealed.'  So our suffering, suggests Peter, will not be without reward.
Let us also consider St Paul in his second letter to the Corinthians:
'When we suffer for Jesus, it works out for your healing and salvation. If we are treated well, given a helping hand and encouraging word, that also works to your benefit, spurring you on, face forward, unflinching. Your hard times are also our hard times.  When we see that you're just as willing to endure the hard times as to enjoy the good times, we know you're going to make it, no doubt about it.' (2 Corinthians 1:6-7)
So, we are going to 'make it' if we endure the hard times as much as we enjoy the good times.  And our suffering for Jesus will assist us in our healing and salvation. 
So, rewards, healing, and salvation; so far so good!
Now what about Jesus himself, what did he say about suffering?  Well, perhaps his most well know reference is this beatitude:
'Happy are you when people abuse you and persecute you and speak all kinds of calumny against you on my account. Rejoice and be glad, for your reward will be great in Heaven; this is how they persecuted the prophets before you.' (Matthew 5:11-12)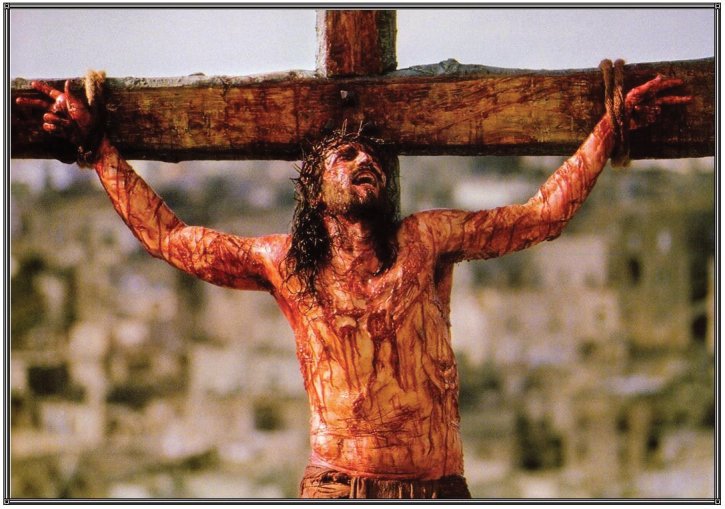 The Cross: a sign of pain and suffering; but also a sign of reconciliation and salvation 
We also have the following examples of Jesus speaking about our need to suffer:
Matthew 10:38 - Jesus said, "he who does not take up his cross and follow me is not worthy of me."
Matthew 16:24; Mark 8:34 - Jesus said, "if any man would come after me, let him deny himself and take up his cross and follow me."
Luke 14:27 - Jesus said, "whoever does not bear his own cross and come after me, cannot be my disciple."
There is no getting away from it.  Jesus himself says we have to take up our cross.  And what is the cross?  It is a sign of suffering and pain; yet it is also a sign of reconciliation and salvation.  So through our pain and suffering comes a deep spiritual cleansing and salvation.
Add to this the words of Our Lady at Fatima who asked the three shepherd children, "Do you wish to offer yourselves to God, to endure all the suffering that He may please to send you, as an act of reparation for the sins by which He is offended, and to ask for the conversion of sinners?"  Once the children had said yes, Our Lady responded, "You will have to suffer a lot, but the grace of God will be your comfort."  
The need for suffering in our Christian faith is in no doubt.  To seek freedom from suffering contrary to the Will of God is not going to help us to eternal life.  We need to accept suffering as part of God's Will and trust in His infinite mercy.  That is what the three little children of Fatima did.  That is what St Peter and St Paul did.  That is what Jesus himself had to do.  And now he is asking us to do the same.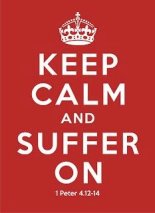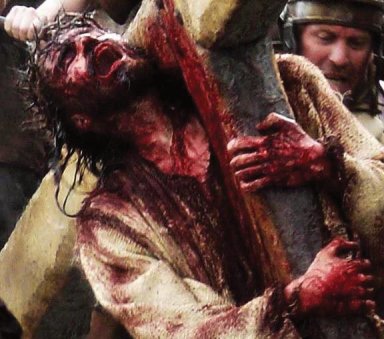 From today's Gospel passage (Luke 9:18-22):
''The Son of Man' he said 'is destined to suffer grievously, to be rejected by the elders and chief priests and scribes and to be put to death, and to be raised up on the third day.'
Here Jesus reveals to his disciples the extent of what he must suffer but that this suffering is not the end.  In fact, it is the new beginning.  Jesus, the new Adam, is going to reconcile the world again to the Father and overcome death itself. 
By this act of love we too will overcome death.  And by following Jesus we can join in the glory and splendour of the heavenly Kingdom. 
By following Jesus we too will experience suffering.  He himself said that this would be the case.  But we must never lose hope and never lose faith because the reward in Heaven will be beyond our wildest dreams.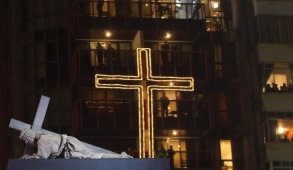 Picture: Catholic Herald
To say Friday evening's Way of the Cross (or Via Crucis) in Rio was moving would be an understatement of the very highest order.
To watch thousands of young people follow in the footsteps of Christ's Passion, solemnly joined by their Holy Father, Pope Francis, was a most humbling experience.
The World Youth Day Cross (the same one given to the youth in St Peter's Square in 1984 by John Paul II) was reverently carried down the street alongside Copacabana Beach, stopping at thoughtful sets, each posing as one of the fourteen stations.  Each set was designed in such a way as to convey a message about the specific station it represented and each one was full of life, with the young people stamping their artistic mark on the set.  One of the youth would introduce the meaning of the station and then another would tell a personal story; aligning their own life experience to the message of that station. 
If I can perhaps focus briefly on two of these stations worthy of note.  At the seventh station a young couple spoke of how they were dating and asked for Jesus to be with them on their journey, wherever it may take them.  They asked for the courage to never let their passions stray from the ultimate aim of procreation and, in a request evidently borne from society's increasing indifference towards marriage and family life they said: "teach us to start building from the foundations Lord, and not from the roof."
Finally, they said a most beautiful thing that all couples would do well to consider; they said: "If we fall Lord, let us never be far from you."
Then, at the twelfth station (Jesus dies on the Cross) another incredible moment of faith from a young person.  A young man with terminal cancer told the millions gathered and those watching on television about his own suffering at this time.  He said that this sickness "was his cross now" and admits that "as it takes me, I prepare to meet you Lord." 
There is a lot you could say about this young man's incredible act of faith.  Going in front of all those people in a world where secularism and atheism often should the loudest, and speaking of his personal illness and deepest faith.  This is courage!  This is faith!  This is love for God and trust in His mercy and compassion!
After the stations Pope Francis addressed the estimated 2 million crowd and spoke about how "Jesus, with his Cross, walks with us and takes upon himself our fears, our problems, and our sufferings, even those which are deepest and most painful.  With the Cross, Jesus unites himself to the silence of the victims of violence, those who can no longer cry out, especially the innocent and the defenceless."
He continued: "On the Cross, he is united with every person who suffers from hunger in a world where tons of food are thrown out each day; on the Cross, Jesus is united with those who are persecuted for their religion, for their beliefs or simply for the colour of their skin; on the Cross, Jesus is united with so many young people who have lost faith in political institutions, because they see in them only selfishness and corruption; he unites himself with these young people who have lost faith in the Church, or even in God because of the counter-witness of Christians and ministers of the Gospel."
But Jesus, the Pope says, tells us to "have courage!  You do not have to carry your cross alone! I carry it with you."
How true are these words!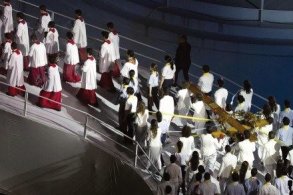 Youth carry the Cross by which the world has been redeemed
Picture: Catholic Herald
The Pope then described how the Cross of Christ contains "all the love of God" and that this is a love in which we can "place all our trust, in which we can believe."
He continued with an invitation to the young people to entrust themselves to Jesus; to give themselves entirely to him where we can all find salvation and redemption.  Jesus, the Pope said, has "transformed the Cross from an instrument of hate, defeat and death into a sign of love, victory and life."
The Cross, he says, "teaches us always to always look upon others with mercy and tenderness, especially those who suffer, who are in need of help, who need a word or a concrete action which requires us to step outside ourselves to meet them and to extend a hand to them."
In referring to Jesus' Passion, Pope Francis said "sometimes we can be like Pilate, who did not have the courage to go against the tide to save Jesus' life, and instead washed his hands.  Dear friends, the Cross of Christ teaches us to be like Simon of Cyrene, who helped Jesus carry that heavy wood; it teaches us to be like Mary and the other women, who were not afraid to accompany Jesus all the way to the end, with love and tenderness."
"And you?" he asked.
"Who are you like?  Like Pilate?  Like Simon?  Like Mary?"

"Dear friends, let us bring to Christ's Cross our joys, our sufferings and our failures.  There we will find a Heart that is open to us and understands us, forgives us, loves us and calls us to bear this love in our lives, to love each person, each brother and sister, with the same love. Amen!"
/