Shopping Cart
Your Cart is Empty
There was an error with PayPal
Click here to try again
Thank you for your business!
You should be receiving an order confirmation from Paypal shortly.
Exit Shopping Cart
Calling Scotland's 841,000 Catholics to unite as one voice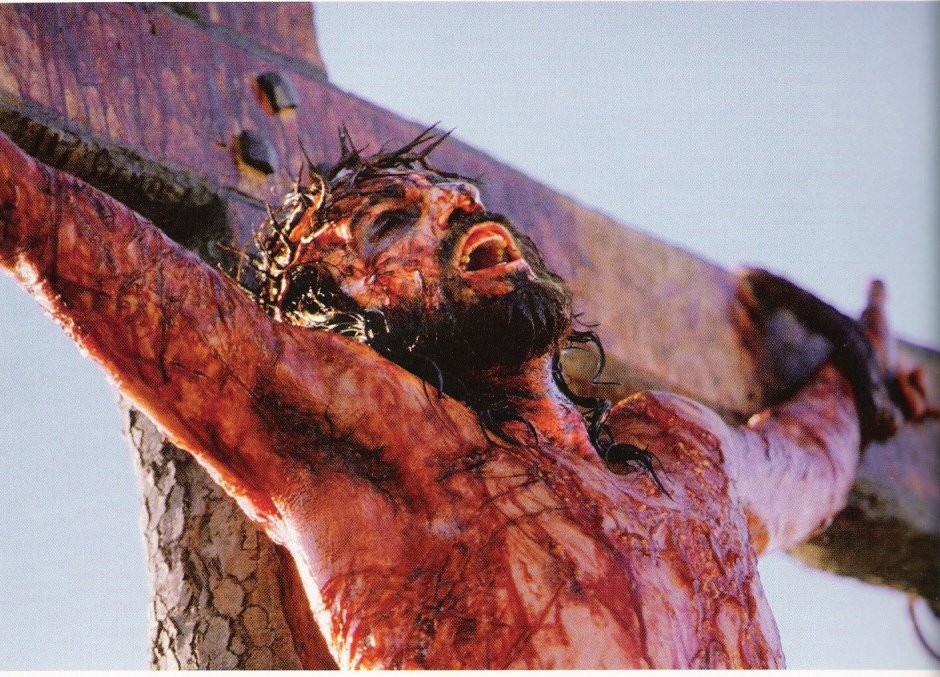 As we journey with Christ through his Passion and Crucifixion it is worth bearing in mind some of the little things we as human beings are drawn to but that are contrary to God's desire for our lives.
The intolerable pain and suffering taken on by Jesus as he was abused, spat upon, mocked, and beaten is something we must all think about over these next few days.  Having large nails driven into your hands and feet and being attached to a cross is something we simply can't imagine. 
Jesus' suffering and crucifixion was not some kind of crazy act designed to impress.  It was essential.  It was needed in order to reconcile each and every human being to God.  Each and every sin against God is represented by a drop of blood shed by Christ or by a nail driven into his bones.  Yet was it really worth it?  Do we really appreciate the freedom Christ gave us when he undertook this most loving, selfless act?   
Consider this…
Jesus didn't suffer so that I could hate.
Jesus didn't suffer so that I could be violent or persecute.

Jesus didn't suffer so that I could hold grudges.
Jesus didn't suffer so that I could gossip, complain or criticise.
Jesus didn't suffer so that I could lie and be unfaithful.
Jesus didn't suffer so that I would forget about him and never talk to him in prayer.
Jesus didn't suffer so that I would rather do something else than spend time with him at Holy Mass and the Sacraments.
Jesus didn't suffer for a select few.  He suffered for me.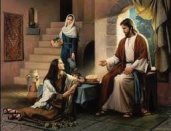 Today's Gospel: (John 12: 1-11)
'Six days before the Passover, Jesus went to Bethany, where Lazarus was, whom he had raised from the dead. They gave a dinner for him there; Martha waited on them and Lazarus was among those at table. Mary brought in a pound of very costly ointment, pure nard, and with it anointed the feet of Jesus, wiping them with her hair; the house was full of the scent of the ointment. Then Judas Iscariot – one of his disciples, the man who was to betray him – said, 'Why wasn't this ointment sold for three hundred denarii, and the money given to the poor?' He said this, not because he cared about the poor, but because he was a thief; he was in charge of the common fund and used to help himself to the contributions. So Jesus said, 'Leave her alone; she had to keep this scent for the day of my burial. You have the poor with you always, you will not always have me.'
Meanwhile a large number of Jews heard that he was there and came not only on account of Jesus but also to see Lazarus whom he had raised from the dead. Then the chief priests decided to kill Lazarus as well, since it was on his account that many of the Jews were leaving them and believing in Jesus.'
It's hard to imagine what went through Jesus' mind as he sat at table in the home of his friend Lazarus.  He was just days from that most horrific persecution, when his detractors would finally have their wicked way with him and he would be hung on a cross and left to die.  Yet here he is, sitting with his friend while the busy Martha scurries about waiting on them, and the more relaxed Mary pours an expensive fragrance over his feet.
The question often arises: are you a Martha or are you a Mary?  Would you be too busy rushing around to appreciate the King in your presence, or would you recognise him immediately and desire to be at his side?  Martha's role in this episode is not without purpose.  Her waiting on the Lord is a noble act and one deserving of praise.  Mary's actions are quite different.  There is something quite beautiful about the simplicity of Mary making a beeline for Jesus with the jar of expensive ointment.  Her focus is not so much to make everything perfect for Jesus as seems to be the case with Martha.  Rather, Mary's focus is to simply be by his side and spoil him with gifts. 
Mary simply wanted to be close to Jesus and to show him how much she loved him.  Martha undoubtedly loved Jesus too and she spent considerable effort in order to show this love.  But she didn't get close enough to him.  Perhaps she kept what she thought was a 'respectful' distance, only periodically getting close in order to serve him his meal.  But Jesus doesn't just want us to flit in and out of his life.  He wants something more concrete.  He wants the closeness shown by Mary.  If we are busy running around we perhaps forget the most important thing when it comes to our faith.  That is, being close to Jesus.  There is no need for a respectful distance.  While Jesus is a King, he is a King with a difference.  Unlike the many Kings and Queens of our world, Jesus does not care for pomp and ceremony in order for his people to get close to him.  He is accessible 24/7 and he wants all people to come to him, from the lowest of the low to the greatest.  We are all his children.
This Holy Week, think about your relationship with Jesus and how you can develop it for the better.  Don't get too caught up in the chores of the day at the expense of spending some time with Jesus, and be careful not to fall into the trap of thinking that Jesus isn't accessible to you.  He is right there by your side, right now!  So stop and talk to him.  Tell him what you think of him; tell him all your joys as well as your troubles and difficulties.  And if you haven't been to Mass for a while, consider coming back to be in the presence of Jesus in the Eucharist, where he is truly present…. body, blood, soul and divinity. 
Jesus loves you more than anyone else and he just wants a little love back.  So give him it.  Be more Mary.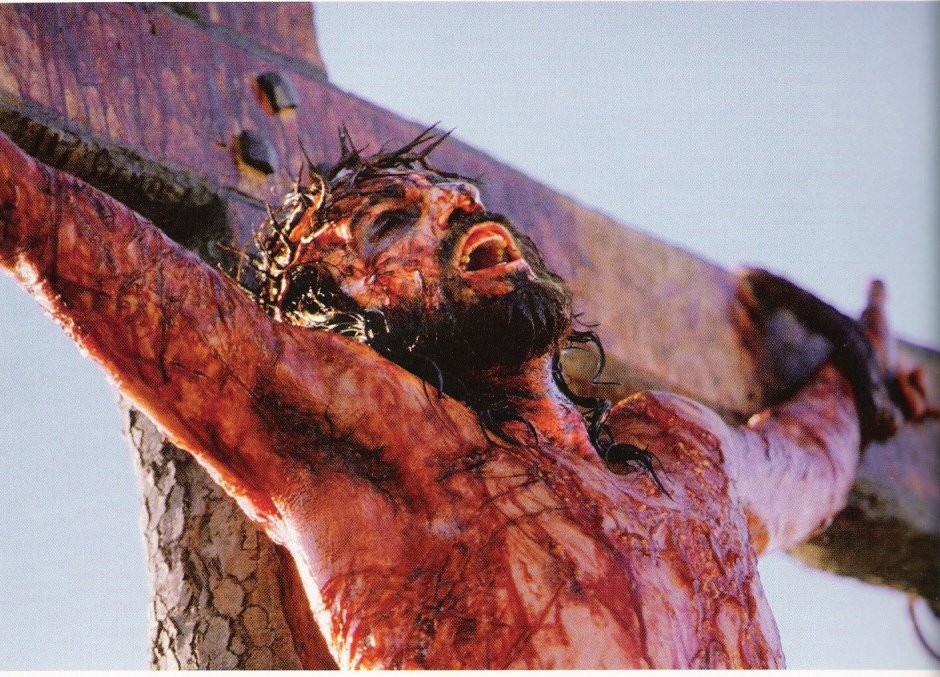 As we embark on another Holy Week we cast our hearts and minds back to Christ's persecution at the hands of his executioners.  Jesus' Passion was a horrific and exhausting episode filled with hate, violence, abuse, blood and gore.  All directed at one person.
The culmination of this hatred and violence was death on a cross.  Left to hang in shame, to be gawped at by the very people he loved and was sent to save.
But thankfully, this death on a cross was not the end.  Christ was to overcome the power of death to rise again and give all of us hope for eternal life.  He gave us proof that death need not be the end.
This Lent, keep it simple.  Praise and thank Jesus for the love he showed you and your family when he bore unimaginable abuse and violence in being beaten to the point of death. 
Praise and thank him for the love he showed you and your family when he carried the Cross through the streets of Jerusalem, struggling under its weight, in front of countless people who had once love him but who now hated him. 
Praise and thank Jesus for the love he showed you and your family when he had nails driven into his hands and feet and was left to hang on a cross to suffer the most excruciating death at the hands of people he loved. 
And finally, praise and thank Jesus for his determination to overcome death when he got on his feet, rolled back the tomb stone and walked out to eternal life.
This Lent, keep it simple: praise and thank a real hero in Jesus Christ.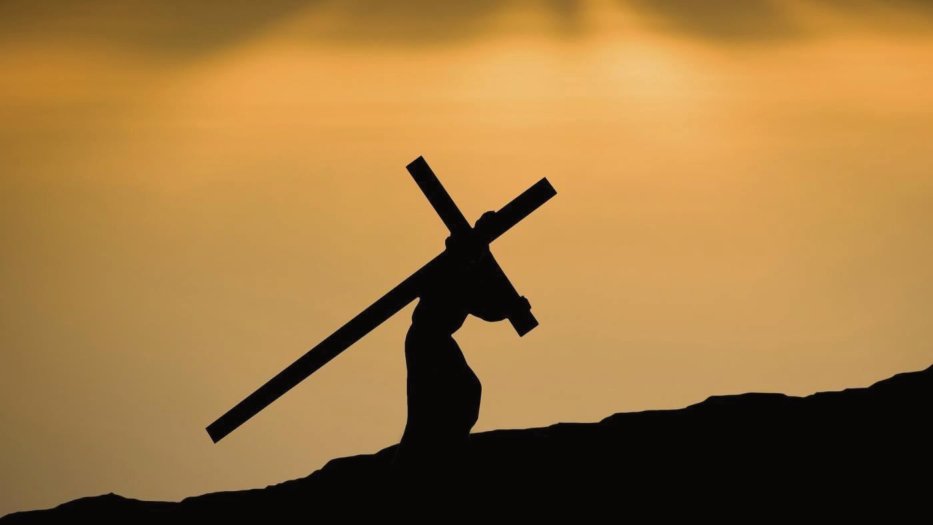 Today's Gospel (Luke 9:22-25):
'Jesus said to his disciples: 'The Son of Man is destined to suffer grievously, to be rejected by the elders and chief priests and scribes and to be put to death, and to be raised up on the third day.'

Then to all he said, 'If anyone wants to be a follower of mine, let him renounce himself and take up his cross every day and follow me. For anyone who wants to save his life will lose it; but anyone who loses his life for my sake, that man will save it. What gain, then, is it for a man to have won the whole world and to have lost or ruined his very self?''
Carrying a heavy, burdensome cross every day is a horrible thought, especially when you consider this in the context of a world that rejects suffering at every turn.  But Christ tells us that, in order to follow him, we need to do just that; we need to pick up our cross ever morning and carry it with us through the day.
Instead of lamenting our suffering perhaps we need to consider accepting the reality that suffering is essential to God's plan for salvation.  If He is prepared to send his only Son to suffer "grievously" then perhaps He expects a little suffering on our part too.  But our suffering need not be in vain.  Indeed suffering can bring much good.  When we see someone suffer it brings out our loving, caring and compassionate side.  As each of us carries our cross through the day we must look to one other with the love and compassion of Christ, offering a hand of help and solidarity.  And in this way the love of Christ is able to shine out in our world.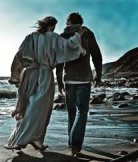 Sunday's Gospel (John 17:11-19):

'Jesus raised his eyes to heaven and said:

'Holy Father,
keep those you have given me true to your name,
so that they may be one like us.
While I was with them,
I kept those you had given me true to your name.
I have watched over them
and not one is lost
except the one who chose to be lost,
and this was to fulfil the scriptures.
But now I am coming to you
and while still in the world I say these things
to share my joy with them to the full.
I passed your word on to them,
and the world hated them,
because they belong to the world
no more than I belong to the world.
I am not asking you to remove them from the world,
but to protect them from the evil one.
They do not belong to the world
any more than I belong to the world.
Consecrate them in the truth;
your word is truth.
As you sent me into the world,
I have sent them into the world,
and for their sake I consecrate myself
so that they too may be consecrated in truth.''



Do you feel lost?  Do you sometimes feel that Jesus isn't there?
These are common feelings experienced by all human beings, even those who have a deep and vibrant faith.


Yet Jesus tells us that we needn't feel lost.  As Jesus says in this Gospel - by using the example of Judas - the only reason we become lost is because we choose to be lost.  Being lost is turning our backs on Jesus; being lost is denying him; being lost is not trusting in him and his love.  It is our decision to be lost.  It is not Jesus' decision.  It is our own. 
And sometimes the reasons for feeling lost are completely genuine.  We may have lost a close relative to a horrific disease or illness.  We may have lost our best friend in a car accident.  We may even have suffered the loss of a little child at the very beginning of their life.


Yet whatever troubles we may have, Jesus tells us that we need not be lost.  He encourages us to seek him out and to put all of our troubles on him.  Remember, Jesus has already carried all of your troubles on his back.  Every anxiety, every tear, every ounce of pain you feel in your life was borne two thousand years ago by Jesus as he carried the Cross through the streets of Jerusalem.  He then took that suffering of yours and mine with him as he was nailed to the Cross and offered it up to the Father.  And what happened next?  Our suffering died with Jesus on the Cross.  And while Jesus rose again, our suffering did not. 
Brothers and Sisters, Jesus has personally felt our pain and suffering.  He acknowledges our anguish because it was he who carried it and it was he who banished it.
As human beings we will continue to shed tears, feel pain, anxiety, distress and anguish.  It's in our nature.  But never forget that Jesus is there for you.  He completely understands your suffering because he has already suffered it for you.  If you do one thing this day, try to surrender a little more to Jesus.  Keep close to him by talking to him and letting him know your thoughts.  Pray to him and become more and more obsessed with him.  That way you will never stray from his side.  That way you will never be lost.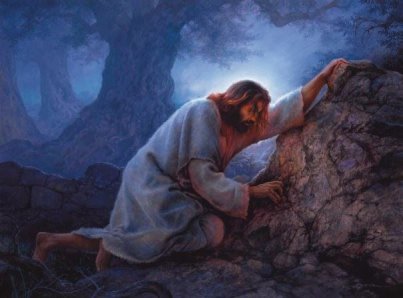 'My soul is sad, my heart is breaking tonight
Could you not watch and comfort me until light?
Am I alone, surrounded only by night?
Could you not watch one hour with me?

Could you not keep awake for one hour with me?
Is it so hard that you should do this for me?
I die for you that you might always be free.
Could you not watch one hour with me?

And so I weep, and there is no-one to hear,
I am in pain; will on-one witness my tears?
I am your God, and as my passion draws near,
Could you not watch one hour with me?'
These are the words of Jesus.  He desperately wants your love.  So, what will you do in response?  Will you commit to spending more time with him in the coming days and beyond....?
This is the Passion, death and Resurrection of Christ as you've never seen it before.  While depicting this earth shattering event using Lego may, on the face of it, seem inappropriate, this is certainly not the case.
Indeed this is a very useful way to show children the story of the Passion.  You may even want to watch it with your children now.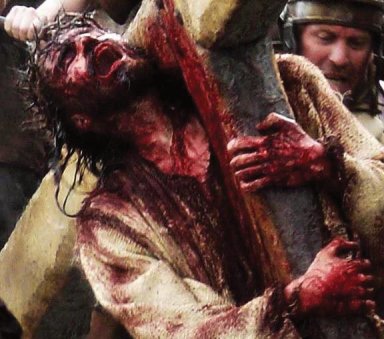 'I'm doing this for you, and all because I love you'
This Sunday is Palm Sunday.  A day when we commemorate Christ's journey into Jerusalem, where the very same people who were to betray him just days later, welcomed him with great joy and excitement.
And it is also the occasion when we are asked to listen to a more lengthy Gospel passage, recounting the story of Jesus' passion and death.
For some people this day is a difficult one.  I have heard complaints first hand from people when it comes to having to endure listening to the last hours of Jesus' life.  They are all for Jesus being our Saviour and all that, but do we really need to stand and listen to the Word of God for that long??    
I suppose the answer is no, you don't need to.  So we then need to ask ourselves...do I want to stand and listen to this reading?  Do I want to hear once again that two thousand years ago a man was ridiculed, abused, spat on and hung from a cross, all because he loved me?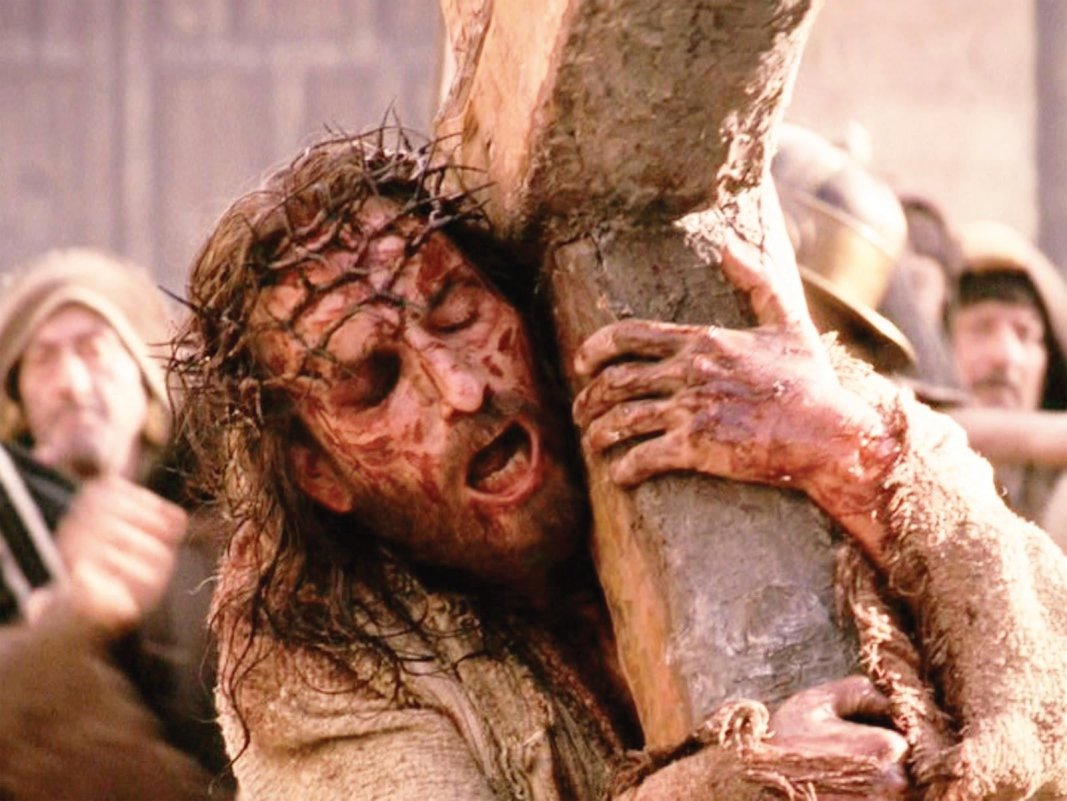 Jesus Christ: truly heroic
Sunday's First Reading (Genesis 22:1-2,9-13,15-18):
'God put Abraham to the test. 'Abraham, Abraham' he called. 'Here I am' he replied. 'Take your son,' God said 'your only child Isaac, whom you love, and go to the land of Moriah. There you shall offer him as a burnt offering, on a mountain I will point out to you.'
When they arrived at the place God had pointed out to him, Abraham built an altar there, and arranged the wood. Then he bound his son Isaac and put him on the altar on top of the wood. Abraham stretched out his hand and seized the knife to kill his son.
But the angel of the Lord called to him from heaven. 'Abraham, Abraham' he said. 'I am here' he replied. 'Do not raise your hand against the boy' the angel said. 'Do not harm him, for now I know you fear God. You have not refused me your son, your only son.' Then looking up, Abraham saw a ram caught by its horns in a bush. Abraham took the ram and offered it as a burnt-offering in place of his son.
The angel of the Lord called Abraham a second time from heaven. 'I swear by my own self – it is the Lord who speaks – because you have done this, because you have not refused me your son, your only son, I will shower blessings on you, I will make your descendants as many as the stars of heaven and the grains of sand on the seashore. Your descendants shall gain possession of the gates of their enemies. All the nations of the earth shall bless themselves by your descendants, as a reward for your obedience.''
This is perhaps one of the most difficult passages in scripture for us to understand.  Can you imagine if you picked up the paper to read that a man took his son up a mountain to sacrifice him for God??  To say there would be an outcry would be a huge understatement.  Thankfully God didn't want Abraham to actually sacrifice Isaac; rather, God wanted to see if he was prepared to do it.  And he was.  Out of fear and respect Abraham was prepared to do whatever God asked of him.
So how can we align this to today and our own lives?  Can we class ourselves as an Abraham, willing to entrust our children to God?  Perhaps the first thing to do is to think about who our children really are.  Do we consider our children to be gifts from God, entrusted to us by their true Father in Heaven?  And in response to this great gift from the Father do we praise and glorify Him and teach our children to do the same?  If the answer is yes to both of these questions then you are on your way to being a modern day Abraham!  You accept that your children belong to God and you delight that He has chosen you to look after his little ones! 
But there's more; and while the following is relevant to all parents, perhaps it is most relevant to the fathers among us.  As Catholic fathers we are all called to be Abraham.  We must always remember that God created our children and it is to Him that they will hopefully one day return.  God wants His children returned to Him and He has entrusted you with the task of shaping His child and developing that child into a tabernacle in which the Holy Spirit can flourish for all eternity.  You aren't just raising your child so that they have a nice life, visit lots of places, experience lots of thrills and die at a respectable 80 or 90 years of age.  You are raising your child so that they will live forever in Paradise!  What responsibility!  And while western society is making a very good job of trying to dispense with the need for fathers in our world, nobody can deny that every child has one.  So, can you be like Abraham and do whatever God tells you to do?  Can you be the ultimate father to your child?   
Jesus, when he died on the Cross, was the sacrifice God was preparing the world for when he sent Abraham up the mountain to sacrifice Isaac.  God, in His love for us, didn't hesitate to spare Isaac when he realised what faith Abraham had in Him.  But years later, and on another mountain (Calvary), it was God's own son who would be sacrificed.  And it would be the sacrifice to end all sacrifices; a sacrifice to bring an end to death itself and open the gates to eternal life in Heaven.  And while many may criticise God for having done this to His own son, He did it out of love for all of His children; that is, every human being who has ever lived and is to live. 
God doesn't want you to take your child up a mountain so that you can offer them up as a human sacrifice.  But He does want you to respond to His call to raise that child to be like His own son, Jesus Christ.  He wants your child to share in the perfect life of Jesus and to make Jesus the ultimate role model.  No footballers, no movie stars, no musicians.  Jesus. And the first step to ensuring Christ is the role model of choice for our children?  We must make him our role model too.
So let us all accept the great gift of children from the Father and let us put in the effort to give them the best chance of eternal life.  And may all of us, especially the dads, make Jesus our role model so that our children will know that following Jesus is the best way to live their life. Remember, Jesus is 'the way, the truth, and the life'.  He is the only way to the Father.  While Lionel Messi and Cristiano Ronaldo may provide you with great goals, and Johnny Depp may deliver a flawless big screen performance, none of them can possibly give you eternal life. By all means enjoy what talents these guys have to offer; they are, after all, gifts from God.  But when your child asks you who your role model is and who they should aspire to be, only one name should fall from your lips: the name of Jesus Christ, the Saviour of the world.  So man up all you fathers out there, and don't be afraid to tell your kids who the real hero is!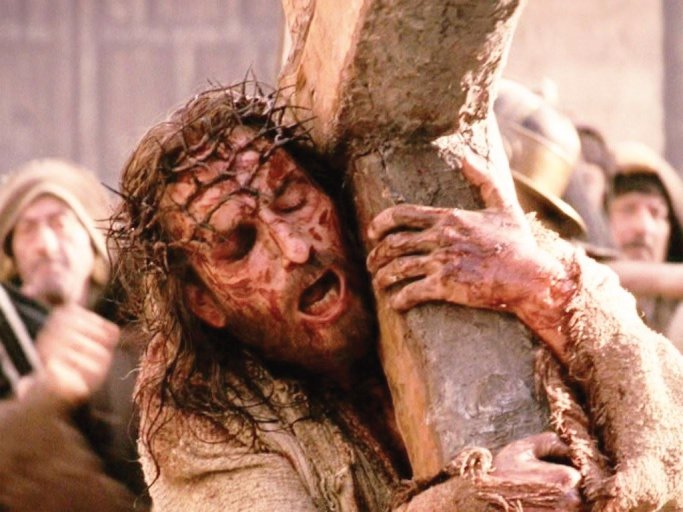 The ultimate act of love
Sunday's Second Reading (1 Corinthians 10: 31-11:1):
'Whatever you eat, whatever you drink, whatever you do at all, do it for the glory of God. Never do anything offensive to anyone – to Jews or Greeks or to the Church of God; just as I try to be helpful to everyone at all times, not anxious for my own advantage but for the advantage of everybody else, so that they may be saved. Take me for your model, as I take Christ.'
This text from St Paul's first letter to the Corinthians is a real affirmation of Christ's call to love God and to love our neighbour.
If we do everything for the glory of God then we are showing Him that we love Him above all else.  And if we never do anything to offend and always try to be helpful to others, not because we want to derive some advantage from it but because we want the other person to benefit, then we will be loving our neighbour.
And while it might sometimes be hard to love God and to love our neighbour, these requirements are not negotiable. 
Yet, even though they are non-negotiable they should not be seen as a hindrance.  In fact, they are anything but a hindrance!  They are a joy because they seek the glorifying and praising of Almighty God and they elevate Him to top spot in our lives; where He belongs.  Further, they are a joy because they are a call to love others and to treat them with great respect, kindness and mercy.
Too often we see these calls to love as a cross to bear and too often we begrudge putting in the effort to love, opting instead to make life easy on ourselves and slot into society's ways of idle gossip and cynicism.  And in our self-centredness we fail to see that the cross of love is something that Christ has already carried on his shoulders and he did it so that we could love freely.
Brothers and sisters, we have been given a great gift; the gift to love God and to love one another without condition and without asking for anything in return.  Christ has already borne the cross of unimaginable pain and has purchased for us the gift of a pure and spotless love.  All we need to do is enjoy giving it to others. 
/