Shopping Cart
Your Cart is Empty
There was an error with PayPal
Click here to try again
Thank you for your business!
You should be receiving an order confirmation from Paypal shortly.
Exit Shopping Cart
Calling Scotland's 841,000 Catholics to unite as one voice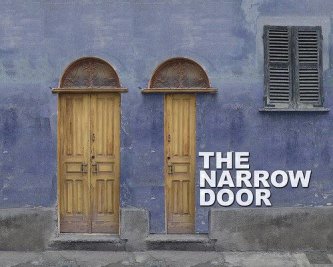 We must aim for the narrow door
'Through towns and villages Jesus went teaching, making his way to Jerusalem. Someone said to him "Sir, will there be only a few saved?" He said to them, "Try your best to enter by the narrow door, because, I tell you, may will try to enter and will not succeed"'
This year the pass rate for Higher Grades in Scotland was 77.2%. The chances of winning the UK National Lottery is 1 in 45 million. As humans, we love statistics and take comfort in them. They help us feel like we know where we stand, what the likelihood is that we will succeed and fail.  In today's Gospel passage Jesus is asked a seemingly straightforward question: what is the success rate of people getting to Heaven?  Wouldn't it be great to know the answer to that question?  Knowing the exact proportion of people who 'make it' might just give us the comfort we need to know that our future rests with God.  But the Lord, in His infinite wisdom, does not give an easy answer to the question posed to him as he makes his way to Jerusalem. Instead he uses it as a training opportunity; his message seems to be that we should not compare ourselves with others, and that we should focus and strive for the Kingdom, aiming for the narrow door.  We may tremble at the seemingly harsh and sobering reply Jesus gives; and so perhaps we should.  But a healthy fear of the Lord is important and a great virtue. We can also take comfort in today's second reading:
'My son, when the Lord corrects you, do not treat it lightly; but do not get discouraged when He reprimands you. For the Lord trains the ones He loves and He punishes all those that He acknowledges as His sons"'
It would do no good for an athlete to know the statistical chances of obtaining a gold medal in his or her sport, but instead a good coach would push them hard to reach that top prize regardless of statistics. Similarly, we need the same push to win the greatest prize of all. We should not fall into despair and resign ourselves to being one of those locked out of the Kingdom, and we should not doubt God's unfathomable mercy. But neither should we grow complacent and lazily take our salvation for granted. Jesus shows us the narrow door. He is the way we must follow, bearing our crosses and sufferings as He did, using them to shape us into saints, and all for God's glory.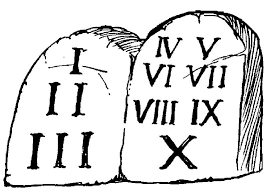 The Ten Commandments were written on two tablets of stone
Sunday's Gospel (Luke 10:25-37):
'There was a lawyer who, to disconcert Jesus, stood up and said to him, 'Master, what must I do to inherit eternal life?' He said to him, 'What is written in the Law? What do you read there?' He replied, 'You must love the Lord your God with all your heart, with all your soul, with all your strength, and with all your mind, and your neighbour as yourself.' 'You have answered right,' said Jesus 'do this and life is yours.'
But the man was anxious to justify himself and said to Jesus, 'And who is my neighbour?' Jesus replied, 'A man was once on his way down from Jerusalem to Jericho and fell into the hands of brigands; they took all he had, beat him and then made off, leaving him half dead. Now a priest happened to be travelling down the same road, but when he saw the man, he passed by on the other side. In the same way a Levite who came to the place saw him, and passed by on the other side. But a Samaritan traveller who came upon him was moved with compassion when he saw him. He went up and bandaged his wounds, pouring oil and wine on them. He then lifted him on to his own mount, carried him to the inn and looked after him. Next day, he took out two denarii and handed them to the innkeeper. "Look after him," he said "and on my way back I will make good any extra expense you have." Which of these three, do you think, proved himself a neighbour to the man who fell into the brigands' hands?' 'The one who took pity on him' he replied. Jesus said to him, 'Go, and do the same yourself.''
Eternal life in Heaven is where we all want to be.  And even for those who do not believe, the idea of living in comfortable and joyful surroundings forever is a fantastic thought! 
But how do we get there?  Well, Jesus gives us two very straightforward commands.  He tells us that we must love God with everything we've got and we must also love our neighbour.  Looks simple on paper doesn't it?  And in a way it is.  It is, however, important to avoid oversimplifying these commandments in order to suit our own busy lifestyles and agendas.  For example, we can't simply state that we love God and we love all other people and never follow this up with words and actions to support our claim.  If we are going to follow Jesus' commands we need to act upon them, and act with conviction; a conviction that tells the world: 'this guy really does love God and he really does love other people!'
Jesus' commandments are a perfect summing up of the Ten Commandments (or Decalogue) given to Moses by God.  They are not a watering down of the Ten Commandments and they are certainly not an attempt to abolish and replace the Ten Commandments.  What Jesus does is present to us the Ten Commandments in a new way in order to aid our understanding of them.  He invites us to rediscover the beauty and truth of God's perfect law.  It is worth remembering that the first three Commandments concern love of God and the other seven concern love of neighbour, hence Christ's summing up of them by referring to love of God and love of neighbour.  This is also why God presented the Commandments to Moses using two tablets of stone rather than one; so as to distinguish between the call to love God and the call to love our neighbour.
In order to obtain eternal life our words and actions must be in keeping with the Ten Commandments.  We must respect God's clear instructions and, in a spirit of humility and love, encourage others to do the same.
The Ten Commandments:
I am the LORD your God:
you shall not have
strange Gods before me.
You shall not take
the name of the LORD your God in vain.
Remember to keep holy the LORD'S Day.
Honour your father and your mother.
You shall not kill.
You shall not commit adultery.
You shall not steal.
You shall not bear false witness
against your neighbour.
You shall not covet
your neighbour's wife.
You shall not covet
your neighbour's goods.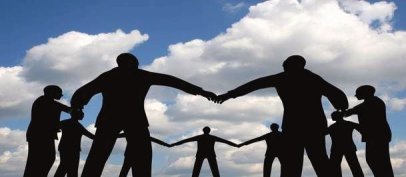 Sunday's Second Reading (Galatians 3:26-29):
'You are, all of you, sons of God through faith in Christ Jesus. All baptised in Christ, you have all clothed yourselves in Christ, and there are no more distinctions between Jew and Greek, slave and free, male and female, but all of you are one in Christ Jesus. Merely by belonging to Christ you are the posterity of Abraham, the heirs he was promised.'
This Sunday's second reading reveals a teaching that is fundamental to the Christian life, that of unity.  Jesus Christ unites.  He doesn't desire to separate or divide.  Rather, his intention is to bring all people together in his name so that he can one day bring them to share in the glory of the Kingdom of God.
Do we unify people?  Do we seek to be at one with others as we go about our daily lives?  Or do we create divisions through pride, selfishness and cynicism? 
Christ's love demands unity, not division.  If we love as Christ loves, we will unite.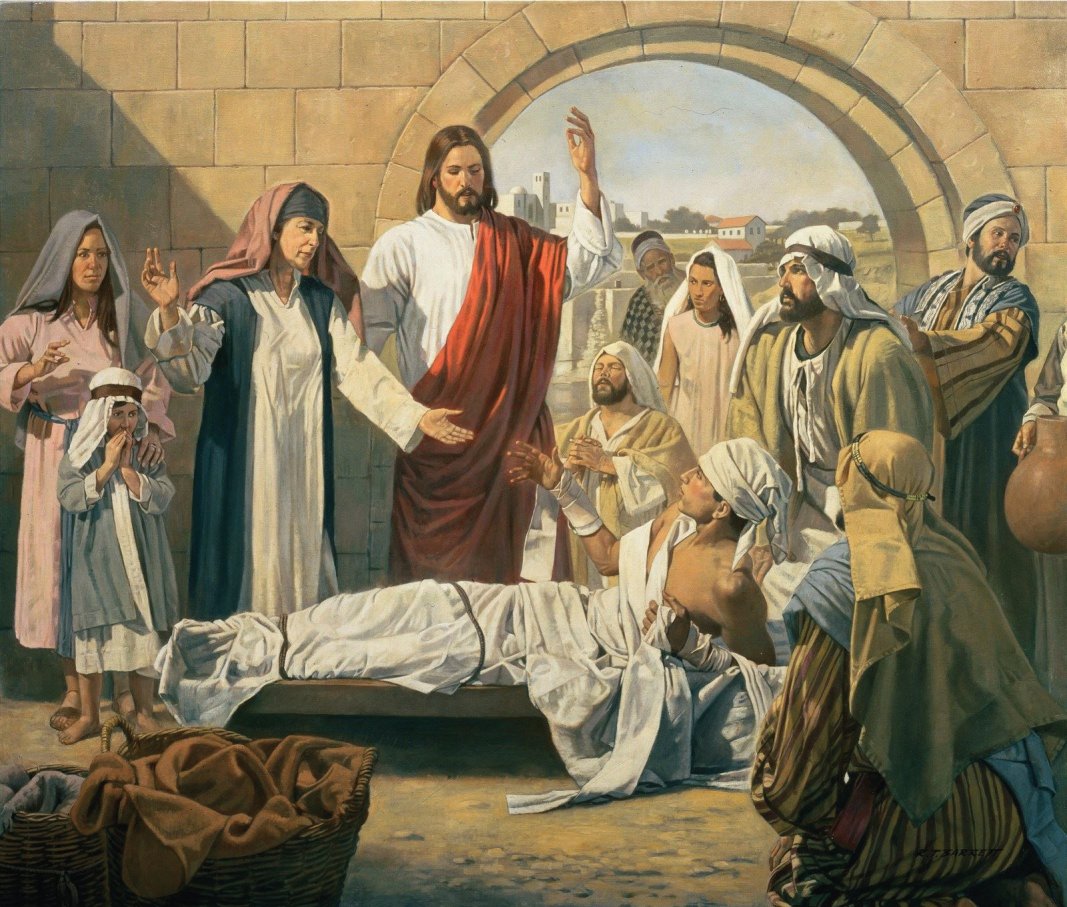 Sunday's Gospel (Luke 7:1-17):
'Jesus went to a town called Nain, accompanied by his disciples and a great number of people. When he was near the gate of the town it happened that a dead man was being carried out for burial, the only son of his mother, and she was a widow. And a considerable number of the townspeople were with her. When the Lord saw her he felt sorry for her. 'Do not cry' he said. Then he went up and put his hand on the bier and the bearers stood still, and he said, 'Young man, I tell you to get up.' And the dead man sat up and began to talk, and Jesus gave him to his mother. Everyone was filled with awe and praised God saying, 'A great prophet has appeared among us; God has visited his people.' And this opinion of him spread throughout Judaea and all over the countryside.'
The miracle performed by Jesus in this Gospel passage is one of great hope.  The woman, a widow, had lost her only son.  Can you imagine the grief and sorrow that this woman must have been experiencing?  Can you imagine how alone she must have felt watching her only family being carried away for burial?  She must have felt that nothing could take away the extreme pain that was now drilling through her heart.  Yet moments later she would witness the resurrection of her son from the dead.  Just when all had seemed to be lost, along came Jesus. 
We must never lose hope when death comes knocking at our door.  Whilst it is perfectly natural for us to grieve and to feel sorrow when a loved one dies, we must always have confidence in the one who makes all things new.  Jesus' death on the Cross was not a pointless exercise.  It was necessary so that our sins could be wiped away and we could have eternal life. 
When your loved one dies, remember that Jesus is there.  He has come down from the Cross and is standing ready at the gates of Paradise, waiting to put his hand on your loved one, waiting to bring them back to life.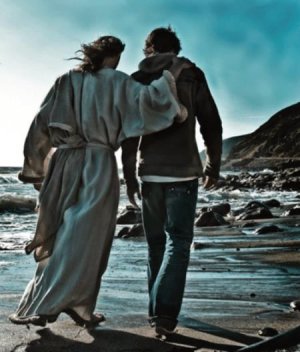 Accompaniment.  Could this be one of the most important words in the life of the Church today? 
One thing above all else struck me in reading Pope Francis' recent exhortation Amoris Laetitia.  It is the call to accompaniment.  While we are well aware of our call to love and to be merciful towards all people, do we know how to achieve this?  Think about those who live in ways or relationships that do not entirely accord with God's divine plan, such as same-sex unions, cohabitation and the divorced and remarried.  Pope Francis refers to these ways/relationships as 'irregular' and he suggests a need for accompaniment for people in such situations.  Not just the need to love and be merciful; but the need to commit to actual one-to-one accompaniment. 
I don't intend going into the fine detail of Amoris Laetitia as there have been numerous commentaries on the document and many different views expressed.  For me, I would sum up the document as being insightful in many ways, but especially when it comes to the love we are expected to show our spouse and our children.  I found it incredibly helpful, directing me towards being more patient and understanding in family life.  It is in many ways a challenge to live a holy and wholesome home life. 
But like a fine thread running through the document, there is this call to accompaniment.  The Pope isn't advocating anything that is contrary to the teaching of the Church.  There is no call to change doctrine and this is confirmed in the Pope's own words: ""To show understanding in the face of exceptional circumstances never implies dimming the light of the fuller ideal, or proposing less than what Jesus offers to the human being."  Quite simply, Church doctrine continues to stand strong and will always do so.  But perhaps the Pope's call to "show understanding" is something we should dwell on for a moment.
The Church has always called its people to be loving, compassionate and merciful; to understand the difficulties experienced by others.  It is after all a hospital for sinners.  So, in that sense, there is nothing new here.  The truth is, we should already be accompanying people in their difficulties and bringing them to Christ. 
Sadly, however, the reality is somewhat different.  Too often the Church (that is, the Catholic people) is seen as being judgmental, lacking compassion with a tendency to take the moral high ground.  We are often quick to go on the defensive, preferring to argue rather than listen.  Whether these accusations are justified is not something we should waste our time arguing about.  The important thing is to focus our minds on accompanying all people, whatever their circumstances, and to show them the loving face of Jesus.  We need to stop being defensive and, instead, be positive.  If we come across someone in an irregular situation; be it a same-sex union, or perhaps someone who is divorced and remarried, we are first and foremost called to show that person what it is like to meet the loving Christ, to feel the closeness of his endless love and his unfailing mercy.  We must accompany them.
Only by imitating the love of Christ and accompanying our brothers and sisters can we hope to bring them ever closer to Christ and his teaching.  In essence we are offering them an alternative to what the world offers them.  The world, with all its riches and ill-thought-out 'freedoms' offers people what they want, whenever they want it, seemingly satisfying every desire they could ever wish for.  Yet this is never the case.  People always want more.  Always.  The truth is this: people are never satisfied with what the world can give them.
Our patient, loving accompaniment may offer an alternative to the world's failure to satisfy.  By understanding the difficulties experienced by people and walking with them as Christ would we can bring them closer to the One who can satisfy the longings of each and every heart.
Our mission as Disciples of Christ is to bring people to know him and to know his Truth.  If we want to succeed in this we must first and foremost accept and act on our call to accompaniment.  That must be our first step.  Only then, once we have established a loving, trusting relationship, can we hope to change hearts to acknowledge and perhaps even accept the Truth; a truth that brings real love, real mercy, and ultimately, real freedom. 
If we want to build God's Kingdom in our world today, we must take people by the hand and walk with them.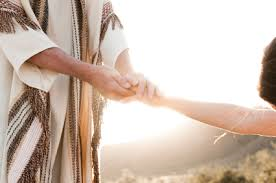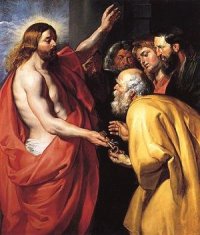 Today's Gospel (Matthew 16:13-19):
'When Jesus came to the region of Caesarea Philippi he put this question to his disciples, 'Who do people say the Son of Man is?' And they said, 'Some say he is John the Baptist, some Elijah, and others Jeremiah or one of the prophets.' 'But you,' he said 'who do you say I am?' Then Simon Peter spoke up, 'You are the Christ,' he said 'the Son of the living God.' Jesus replied, 'Simon son of Jonah, you are a happy man! Because it was not flesh and blood that revealed this to you but my Father in heaven. So I now say to you: You are Peter and on this rock I will build my Church. And the gates of the underworld can never hold out against it. I will give you the keys of the kingdom of heaven: whatever you bind on earth shall be considered bound in heaven; whatever you loose on earth shall be considered loosed in heaven.''
In 1870, Vatican I declared that this Gospel passage was clear biblical support for the primacy of Peter and successive popes.  The Council's interpretation touches on the following five points of doctrine:
The Magisterium built upon Peter is instituted by Jesus Christ;
Peter is given a unique role as chief teacher and ruler over the Church;
Peter is the visible head of the Church;
Peter's authority is passed on through successors; and
through Peter, Christ himself assures the infallible preservation of the gospel in the Church.
While it may sometimes be tough to be Catholic, especially in today's secular relativist world which seeks to discredit the Church at every turn, we still have every reason to be joyful.  Why?  Because this is a Church that was established by the saviour of the world, Jesus Christ!  Indeed, it is the only church established by Jesus Christ. 
But Jesus didn't leave it at that.  In addition to establishing a church he knew that the Church needed help from above to protect it from evil and to ensure its ongoing safety and wellbeing in protecting the gospel with which it is entrusted.  So he promised the Church that he will always be with it, ensuring that the gates of death, deception and destruction will never overcome it.  He then proceeds to give his close disciple Simon Peter the authority to make binding decisions with respect to the Church and gives him the keys to the kingdom of heaven.
Jesus, in just a few short sentences, establishes the Catholic Church, promises to sustain it, and even gives a mere mortal being the authority to be its chief teacher and chief administrator on earth.  So we can say with confidence that through the authority of Peter (often referred to as the 'Chair of Peter') and his successors, heaven governs the Church on earth. 
So be confident and joyful in your Church, and trust her authority always, for she is being guided by Christ who ensures her safe passage through time to that moment when he will come again on the clouds to be fully united with her.  And it is at that moment that our Lord will gather in his chosen people to take them to Paradise to be with him forever. 
The keys to Heaven are in the hands of the Church where they have been for the last 2000 years, from the moment Jesus entrusted them to Peter.  No matter how tough or testing it may sometimes feel to be part of the Catholic Church there is no denying that she is the surest way to Heaven and to Jesus.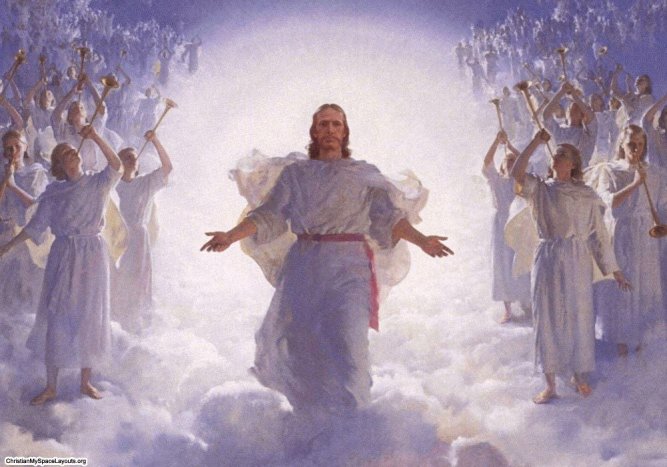 Today's Gospel (Luke 21:20-28):
'Jesus said to his disciples, 'When you see Jerusalem surrounded by armies, you must realise that she will soon be laid desolate. Then those in Judaea must escape to the mountains, those inside the city must leave it, and those in country districts must not take refuge in it. For this is the time of vengeance when all that scripture says must be fulfilled. Alas for those with child, or with babies at the breast, when those days come!
'For great misery will descend on the land and wrath on this people. They will fall by the edge of the sword and be led captive to every pagan country; and Jerusalem will be trampled down by the pagans until the age of the pagans is completely over.
'There will be signs in the sun and moon and stars; on earth nations in agony, bewildered by the clamour of the ocean and its waves; men dying of fear as they await what menaces the world, for the powers of heaven will be shaken. And then they will see the Son of Man coming in a cloud with power and great glory. When these things begin to take place, stand erect, hold your heads high, because your liberation is near at hand.''
Today's Gospel paints a really depressing picture.  The world, it seems, will one day succumb to an ultimate and deadly destruction, something that is hard to equate with a loving and merciful God. 
But our loving and merciful God always has an answer, and that answer is Jesus.  For Christ himself will come on the clouds to save those who trust in him and to set them free. 
We have everything to gain by trusting and believing in Christ and loving as he loves.  We have everything to lose by rejecting him.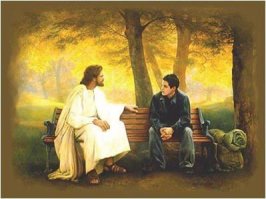 We need to listen to Jesus
From Sunday's Gospel (Mark 10:17-30):
'Jesus was setting out on a journey when a man ran up, knelt before him and put this question to him, 'Good master, what must I do to inherit eternal life?' Jesus said to him, 'Why do you call me good? No one is good but God alone. You know the commandments: You must not kill; You must not commit adultery; You must not steal; You must not bring false witness; You must not defraud; Honour your father and mother.''
It's always difficult to listen to someone telling you what to do and to do so with an open mind and an open heart.  Goodness knows I have struggled with it many times in my life!  But what if that person was Jesus?  Would it change your attitude?  
In this Gospel Jesus reminds us of some of the Commandments as he tries to steer a man towards the Kingdom of Heaven and eternal life.  He speaks with great clarity and no little authority as he tells us not to kill, not to commit adultery, not to steal, not to lie, not to deceive, and to honour our parents.
As the Synod on the Family in Rome closes its first week of meetings and discussions, we are called to remind ourselves of these words of Christ, especially when we think about hot topics like abortion, contraception, marriage and, of course, the family.  While people may surmise the potential for change or reform in the Church, the Church fathers will always turn to the one who knows best….Jesus.
There is a need for all of us to get back to basics on issues such as abortion, contraception and marriage.  That's why we need to listen to Jesus and take in what he is telling us.  Only then, with the Truth embedded in our hearts and minds, can we build a better world.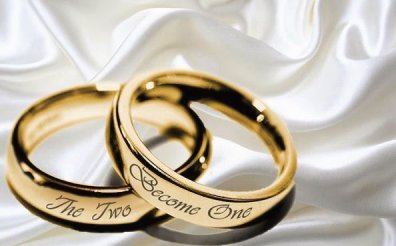 Sunday's First Reading (Genesis 2:18-24):
'The Lord God said, 'It is not good that the man should be alone. I will make him a helpmate.' So from the soil the Lord God fashioned all the wild beasts and all the birds of heaven. These he brought to the man to see what he would call them; each one was to bear the name the man would give it. The man gave names to all the cattle, all the birds of heaven and all the wild beasts. But no helpmate suitable for man was found for him. So the Lord God made the man fall into a deep sleep. And while he slept, he took one of his ribs and enclosed it in flesh. The Lord God built the rib he had taken from the man into a woman, and brought her to the man. The man exclaimed:
'This at last is bone from my bones,
and flesh from my flesh!
This is to be called woman,
for this was taken from man.'
This is why a man leaves his father and mother and joins himself to his wife, and they become one body.'
Excerpt from Sunday's Gospel (Mark 10:2-16):
'Then Jesus said to them, 'It was because you were so unteachable that he wrote this commandment for you. But from the beginning of creation God made them male and female. This is why a man must leave father and mother, and the two become one body. They are no longer two, therefore, but one body. So then, what God has united, man must not divide.''
In these passages of scripture both God and God made man (Jesus) reveal the Truth of God's plan for mankind.  It is a Truth that will mirror the beauty and splendour of the loving relationship which exists among the Trinity (Father, Son, and Holy Spirit). The revealed Truth is that a man and woman are to come together, united through the sacrament of marriage, to become one. Not just one with each other but also one with Christ who is an integral part of the marriage relationship. 
Just as the three persons of the Trinity are one, so too do husband, wife and Christ become one through marriage.  Thus they become their own trinity, reflecting the most Holy Trinity of Heaven. 
And just as Christ came to earth to establish and grow his Church, husband and wife are called to establish and grow their own Church by being open to the precious gift of children.
And in marriage we are also called to mirror Christ on the Cross, by giving ourselves completely in sacrificial love to God and to one another, just as he did.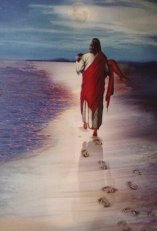 Following Jesus will satisfy the longings of our heart
First Reading (Daniel 7:9-10,13-14):
'As I watched:
Thrones were set in place
and one of great age took his seat.
His robe was white as snow,
the hair of his head as pure as wool.
His throne was a blaze of flames,
its wheels were a burning fire.
A stream of fire poured out,
issuing from his presence.
A thousand thousand waited on him,
ten thousand times ten thousand stood before him.
A court was held
and the books were opened.
And I saw, coming on the clouds of heaven,
one like a son of man.
He came to the one of great age
and was led into his presence.
On him was conferred sovereignty,
glory and kingship,
and men of all peoples, nations and languages became his servants.
His sovereignty is an eternal sovereignty
which shall never pass away,
nor will his empire ever be destroyed.'
There have been many interpretations of this passage through the years and two of the most common are that the passage relates to either Christ's Ascension to Heaven or to his Second Coming. The Church, through the Catechism, believes that the latter part of the passage is referring to Christ's Ascension.
But whatever way this passage is interpreted there can be absolutely no doubt about the incredible power and majesty of that which it reveals. It simply never fails to knock me sideways! It is a glimpse of the reality of Heaven and it is a further glimpse of the reality of God beyond that which we have already learned in the person of Jesus Christ. I suppose the big question for us is: are we ready to be a part of it all?
I always think that this passage clears some of the mist which comes from cynical views of the Church, especially when it comes to the Sacrament of Reconciliation and the reality of Purgatory. Many people don't see a need for the forgiveness of sins, yet when we read this passage we can see that it makes complete sense to be completely clean and free of all sin before we are graced with the presence of God. The enormity of being in the presence of God is something we will only appreciate if we are granted the grace to experience it. But, at the end of the day, we have an inherent need to experience it because it is that moment, and that moment alone, which will satisfy all the desires and longings of our heart.
We roam around the world endlessly seeking that which will completely satisfy our hearts; be it in relationships, through material goods, or perhaps in traveling to other parts of the globe. But we are never truly satisfied. Our hearts always seem to be longing for something else, no matter what we may achieve or accomplish in life. And the truth is, we will never be completely satisfied, not until we are face to face with God. For God, who created each one of us, has etched in our hearts a desire to return to Him.
Our challenge, should we accept it, is to acknowledge God's desire for us to return to Him and to follow that path laid down by Jesus Christ. For it is the way of Christ that will lead us home.
/