Shopping Cart
Your Cart is Empty
There was an error with PayPal
Click here to try again
Thank you for your business!
You should be receiving an order confirmation from Paypal shortly.
Exit Shopping Cart
Calling Scotland's 841,000 Catholics to unite as one voice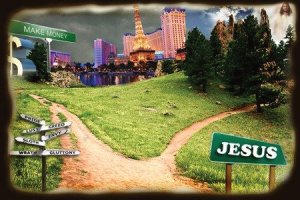 We must take the narrow path to Christ
Today's First Reading (1 Timothy 6:2-12):
'This is what you are to teach the brothers to believe and persuade them to do. Anyone who teaches anything different, and does not keep to the sound teaching which is that of our Lord Jesus Christ, the doctrine which is in accordance with true religion, is simply ignorant and must be full of self-conceit – with a craze for questioning everything and arguing about words. All that can come of this is jealousy, contention, abuse and wicked mistrust of one another; and unending disputes by people who are neither rational nor informed and imagine that religion is a way of making a profit. Religion, of course, does bring large profits, but only to those who are content with what they have. We brought nothing into the world, and we can take nothing out of it; but as long as we have food and clothing, let us be content with that. People who long to be rich are a prey to temptation; they get trapped into all sorts of foolish and dangerous ambitions which eventually plunge them into ruin and destruction. 'The love of money is the root of all evils' and there are some who, pursuing it, have wandered away from the faith, and so given their souls any number of fatal wounds.
But, as a man dedicated to God, you must avoid all that. You must aim to be saintly and religious, filled with faith and love, patient and gentle. Fight the good fight of the faith and win for yourself the eternal life to which you were called when you made your profession and spoke up for the truth in front of many witnesses.'
It's hard for Catholic people to remain true to Jesus Christ and the Traditions of the Catholic Church, especially in this day and age when religion is often frowned upon for one reason or another.  Yet that doesn't make it any less true or relevant.
St Paul's letter to Timothy encourages us to remain true to Christ and his teaching and to remain true to the teaching of the Church he himself founded; the Roman Catholic Church which continues to exist to this very day.
St Paul warns us about those who stray from this teaching, and in true St Paul style, he doesn't mince his words!  He says that those who do things differently to that taught by Christ and his Church are "simply ignorant and must be full of self-conceit – with a craze for questioning everything and arguing about words."  Isn't it interesting that St Paul should specifically refer to arguments about words?  Consider the abortion debate and how pro-choice activists often try to use words and phrases to argue that abortion is okay. They use (albeit wrongly) terms such as 'embryo', 'foetus', 'collection of cells' and 'personhood' to try to make their point. Consider how Pope Francis' words are so often used against him by those who misinterpret him or those who fail to understand his bigger message.  Other examples of this can be found in debates around contraception and the redefinition of marriage.
The tragedy of all this is that Catholic people, including myself, continually stray from Christ's teaching and the teaching of his Church.  I fall into the traps of the secular relativist society and I become that ignorant person full of self-conceit that St Paul is referring to. But thankfully Christ and his Church give me the Sacrament of Reconciliation where I can go and be forgiven for straying from the Truth.
At the end of the day, there will be many times in our lives when we will stray from the right path. But the key is to turn back, as the prodigal son did, into the loving arms of the Father.  While we may turn our back on Him there will never be a time when He turns His back on us.  He is always standing there, watching and waiting for us to return; to return to the path of Truth which He himself created when He gave us His only Son and gave us His Church.
Brother and sisters, we must do as St Paul says and "Fight the good fight of the faith" by speaking up for the truth with love, patience and gentleness before all people, even when it makes us feel a little uncomfortable.  Remember, it is unlikely we will ever be made to feel as uncomfortable as the early disciples who suffered immeasurable pain, including death, in standing up for the Truth.   
And even though we may well feel a little uncomfortable we must remember that we were not made for this world; that our destiny is in Heaven to be one with the Father, with Christ our Saviour, our Blessed Mother Mary, and with all the Saints and Angels.  Surely that is worth fighting for?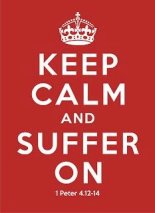 Last Sunday's Gospel (Mark 8:27-35):
'Jesus and his disciples left for the villages round Caesarea Philippi. On the way he put this question to his disciples, 'Who do people say I am?' And they told him. 'John the Baptist,' they said 'others Elijah; others again, one of the prophets.' 'But you,' he asked 'who do you say I am?' Peter spoke up and said to him, 'You are the Christ.' And he gave them strict orders not to tell anyone about him.
And he began to teach them that the Son of Man was destined to suffer grievously, to be rejected by the elders and the chief priests and the scribes, and to be put to death, and after three days to rise again; and he said all this quite openly. Then, taking him aside, Peter started to remonstrate with him. But, turning and seeing his disciples, he rebuked Peter and said to him, 'Get behind me, Satan! Because the way you think is not God's way but man's.'
He called the people and his disciples to him and said, 'If anyone wants to be a follower of mine, let him renounce himself and take up his cross and follow me. For anyone who wants to save his life will lose it; but anyone who loses his life for my sake, and for the sake of the gospel, will save it.'
Jesus was swift to chastise Peter because of his failure to understand God's grand plan for humanity. What Peter failed to understand is that suffering was a necessary part of salvation.  Peter's crime is to let the ways of man creep into his mind so that he tries to resist any notion of suffering.  It's natural to try to resist suffering, especially in today's society with the significant advances being made in science and healthcare.  But as Christians we are called to accept suffering as part of God's Divine plan for our salvation. 
Consider Christ's words immediately after he rebukes Peter: "If anyone wants to be a follower of mine, let him renounce himself and take up his cross and follow me."  To follow Christ will entail suffering.  There is simply no getting away from it.  If we want to be true Christian people and followers of Christ then we must be prepared to take up our cross and accept any suffering that comes our way, trusting that God will use that suffering for the overall good of His kingdom and for the overall good of humanity.
Christ's lesson is indeed rather timely when you consider the current predicament of the Catholic Church in Scotland, with a lack of priests and lack of vocations to the priesthood.  Parishes are now in a situation where they need to look at alternative models if they are to continue serving their local community; otherwise, they face the sad reality of closure.  The ways of man allow ourselves to become accustomed to having a priest at our beck and call 24/7 and to be used to having such 'pleasures' as daily Mass and daily Confession.  We despair at the thought of our parish closing or of having to share a priest with another nearby church.  We, like Peter, become upset at the thought of having to suffer.
But we must resist the temptation to think as men do and instead trust the Father, knowing that any suffering He asks us to endure is for the greater good of all people.  We must be prepared to think big and accept the cross of suffering with open arms.  To delight in suffering is a crazy concept to mere mortals, but then we aren't mere mortals.  We are a people made in the image and likeness of God, a people destined for bigger and better things.
We must listen to Jesus and not think as men do but trust completely in God's plan for us.  The next time we suffer let us turn to God, and with the helplessness and trust of a little child, let us say: "Father, let thy will be done."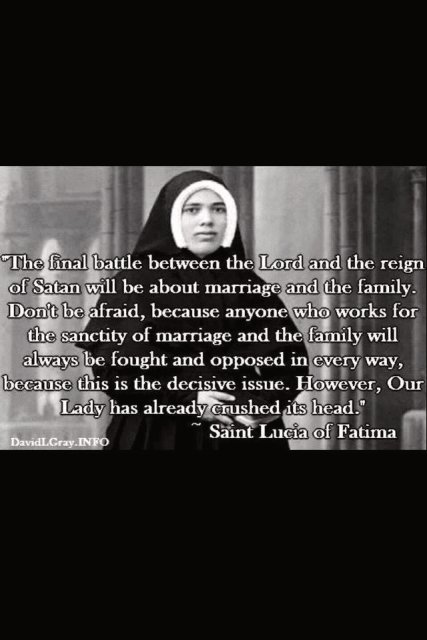 Sister Lucia dos Santos
As we approach the second and final part of the Synod on Marriage and Family Life it is important for us to remember these words of Sister Lucia of Fatima, one of three children who were visited by Our Blessed Mother Mary during the twentieth century.
Lucia describes how the final battle between the Lord and Satan will be about marriage and the family, but that anyone who stands for the sanctity of marriage and the family should not fear as "Our Lady has already crushed its head".
It should be no surprise to us to hear that there is an ongoing battle with the father of lies over marriage and family life.  Just consider contraception, abortion and the redefinition of marriage and you can see precisely where the devil is attacking God's divine plan for mankind. 
We are, in all respects, in the battlefield for the very last battle between the devil and the Lord.  But which side are we on?  Are we with the world; a world that is increasingly subject to the contol of the devil with all his lies and attacks on our faith?  Or are we with Christ and his Church, standing firm to the Truth and God's divine plan with which comes the promise eternal salvation?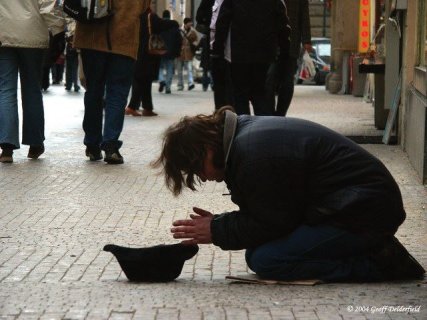 Could this man help you find God? 
Sunday's Second Reading (James 2:1-5):
'My brothers, do not try to combine faith in Jesus Christ, our glorified Lord, with the making of distinctions between classes of people. Now suppose a man comes into your synagogue, beautifully dressed and with a gold ring on, and at the same time a poor man comes in, in shabby clothes, and you take notice of the well-dressed man, and say, 'Come this way to the best seats'; then you tell the poor man, 'Stand over there' or 'You can sit on the floor by my foot-rest.' Can't you see that you have used two different standards in your mind, and turned yourselves into judges, and corrupt judges at that?
Listen, my dear brothers: it was those who are poor according to the world that God chose, to be rich in faith and to be the heirs to the kingdom which he promised to those who love him.'
It's quite fitting that this scripture passage should come up following the events of the last week.  The refugee crisis has now grabbed the attention of the world and many are doing remarkable things to help those in great need.  It is a tale of sadness tinged with hope in the human race. But as we help those in need, be they refugees, the homeless or people simply living in poverty, are we missing something important with respect to our own salvation?
St James gets at a very important point in today's reading.  He suggests we give everyone a place in our lives.  It doesn't matter who they are, what they're worth, how they look, or what their social status or class happens to be.  We are called to love all people.
The most valuable thing anyone on earth can own is faith.  Faith in God, granted with His grace, is the most beautiful, most perfect gift, yet it is not necessarily appreciated by everyone.  So often people with wealth have so many material possessions and distractions that they forget about the real meaning of life and what really matters. 
But for those facing the torment of continuous poverty, day after day, it is often a different story. Having spoken with a number of homeless in my own city I am often astonished by the strength and depth of their faith. Belief and trust in God is almost a given, despite having to beg and forage for food on a daily basis and having to set up camp in underpasses and bin sheds in order to get a night's sleep. Their faith is as strong as anything I have witnessed and it comes not from being blessed with good fortune and material riches, but rather from accepting the poverty and deprivation God has handed them and trusting in His mercy to give them something greater in return. 
We are called to do all we can to help the poorest in our world.  We can give them comfort, food, and perhaps we can even give them a bed for the night.  But maybe we need to stop for a minute and rather than focus on all the things we can do for them, think about what they can do for us.  They are, in many respects, people of great faith.  We can learn from them.  We can learn how to love and trust God in even the most abject circumstances by speaking to those in poverty and affording them our ears for a few moments. Remember, they are the heirs to the kingdom of God, not us.  So learn from them and don't be afraid to let them take the lead in showing us the way to God.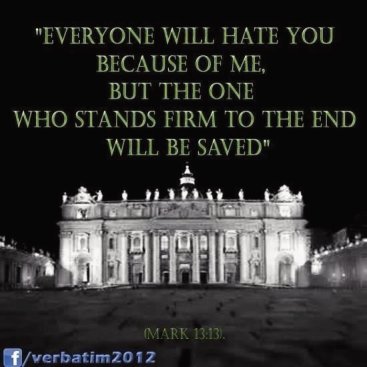 Sunday's Gospel (John 6:60-69)
'After hearing his doctrine many of the followers of Jesus said, 'This is intolerable language. How could anyone accept it?' Jesus was aware that his followers were complaining about it and said, 'Does this upset you? What if you should see the Son of Man ascend to where he was before?
'It is the spirit that gives life,
the flesh has nothing to offer.
The words I have spoken to you are spirit
and they are life.
'But there are some of you who do not believe.' For Jesus knew from the outset those who did not believe, and who it was that would betray him. He went on, 'This is why I told you that no one could come to me unless the Father allows him.' After this, many of his disciples left him and stopped going with him.
Then Jesus said to the Twelve, 'What about you, do you want to go away too?' Simon Peter answered, 'Lord, who shall we go to? You have the message of eternal life, and we believe; we know that you are the Holy One of God.''
In today's Gospel we hear of how a number of Jesus' followers began to leave him because of his teaching.  The teaching was, in essence, too challenging for them to come to terms with and would have taken them out of their comfort zone.  As a result they claimed that his language was intolerable and questioned whether anyone could accept it.  Jesus' response was to ask them if what he says is upsetting to them which, judging by their sudden departure appears to be the case.  And is Jesus ready to offer them comfort and consolation in their lack of faith? Not at all!  Jesus' reaction is to simply tell them what's what, to tell them the plain and simple truth.  He then turns away from them and challenges the twelve disciples on whether they are prepared to stick with him.
And Simon Peter's response to this challenge is crucial.  Crucial because it is a response we should all have in our hearts when it comes to Christ's teaching, be it through the Word or through the Tradition of His Church.  Peter says, "Lord, who shall we go to?  You have the message of eternal life, and we believe; we know that you are the Holy One of God."
There is no one to go to but Christ.  Jesus Christ is the only way to God.  He is the only one who has the message of eternal life.  His words are spirit and they are life itself (his own words). Our challenge is to utter those words of Peter and admit that Christ is the Holy One of God.  Our challenge is to admit that Christ's teaching, entrusted to the Church he himself founded, is truth itself and free from defect and it is held and protected by the Church until the end of time.  Our challenge is to join the Church and to follow Christ through thick and thin, even if we are hated for doing so.  As Christ himself said: 'Blessed are you when men revile you and persecute you and utter all kinds of evil against you falsely on my account. Rejoice and be glad, for your reward is great in heaven.'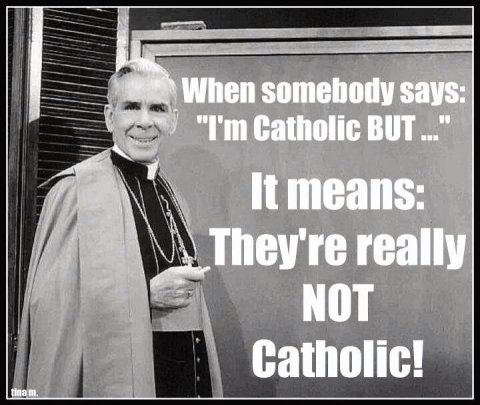 Venerable Fulton Sheen
Isn't it fair to say that our Catholic faith is under attack from many angles in our world today?  The growth of relativism, aggressive secularism, and even attacks from within our own ranks, by people who suggest that Church teaching is wrong on certain matters.
In my own experience it is becoming abundantly clear that more and more self-proclaimed Christians (especially Catholics) are attaching less and less importance to the role of faith, and ultimately Christ, in their lives.  It brings to mind a quote of Venerable Fulton Sheen when he said "When somebody says: 'I'm Catholic but…' it means: they're really not Catholic!"  There are so many examples of people saying 'I'm Catholic but…' in our world today.  Indeed it is a daily occurrence on social media forums.  'I'm Catholic but I don't go to Mass'; 'I'm Catholic but I don't go to Confession, I just go direct to God'; 'I'm Catholic but I don't think we should interfere with a woman's choice when it comes to abortion'; 'I'm Catholic but I believe that same-sex marriage is okay because two people love each other'.
And while those who propagate the view 'I'm Catholic but…' don't seem to care much for the effect it has on the more traditional, conservative Catholic lay people around them; they don't seem to appreciate the effect this has on the one who really matters….Jesus Christ.
It is often difficult to comprehend certain Truths taught by the Catholic Church; the Church's stance on homosexual acts perhaps being the most relevant example.  Nothing seems to stoke the flames as much as this issue. And even when the natural law, Sacred Scripture or the Catechism of the Catholic Church is quoted in defence of the Church's position, it still isn't enough to eradicate the view that the Church is out of touch and living in the past.
Yet what is the Church? Is it really a bunch of decrepit old men as is often argued?  Certainly not.  The Church is an assembly brought together by the Word of God, forming the People of God; a people nourished and sustained by the Eucharist.  And by receiving this nourishment from Christ's Body we too become the Body of Christ.  The Church is the community of believers in Christ and his Truth.  It is a people, stemming from Peter and the apostles through the ages to the present day.  It is a people charged with the task of not only proclaiming the Truth but protecting it so that it may continue to live on through time, penetrating the hearts of countless peoples through the ages.  And perhaps the most important component of the Church is its head; for it is Jesus Christ who is head of the Church.  Not the pope, not the Bishops nor her priests.  No, it is Christ; for it is Christ who formed the Church and it is Christ who promised to be with the Church until the end of time so that the gates of hell would never prevail against her.
When he formed the Church Jesus promised to be with her forever; and he remains with her to this day. And his Truth continues to exist to this very day because it has been protected by his Church.  Just think of the apostles and how they, as a relatively small number, carried that Truth with them, taking it to everyone they met so that they might come to know Christ as they knew him.  Think of how they changed hearts and minds with this Truth and how they were even prepared to take it to their excruciatingly painful deaths.  Yet despite this, the Truth continued to penetrate time, through the early Church Fathers, the Saints, and through converts to the faith.  And so it continued on and two thousand years later it remains with us today; that same Truth proclaimed by Jesus Christ and his apostles.  And it is here because he promised it would be here. Jesus promised to be with his Church, and so his Truth lives on; protected and preserved by a people who love him and who trust completely in him.
While it can be incredibly difficult to live a life of faith in today's world, especially a life of faith in a Catholic sense, we must remember that we are preserving the Truth of Christ, the one who created us and who loves us more than any other.
Another beautiful way to look at the Church is to see her as Christ's bride.  She waits for him to return to earth so that they, the bride and groom, can be completely united as one.  If we let go of the Truth there will be no bride waiting for Jesus at the end of time. That is why it is so important for us to be true to our faith, every last bit of it.  I have heard it said that the rib taken from Adam to create Eve was symbolic of Christ and the Church.  That is how close Christ is to his Church!  And when Christ died on the Cross on Calvary and his side was pierced by the roman soldier, the significance of Adam's rib became even more apparent.  For in the blood and water which poured forth from Christ's side came his forgiveness; a forgiveness that he would soon thereafter charge to his disciples and to his Church.  And the first person to fully appreciate the significance of the blood and water pouring from Christ's side and who proclaimed him to be the 'Son of God'?  The Roman soldier Longinus (now St Longinus) who pierced his side.  Many claim that he was the first convert to the Christian faith.  So, the Church, the creation of which was foretold by the removal of Adam's (Jesus) rib to create Eve (the Church), can now be seen pouring out of Christ's side and reaching out to his created people, calling them to conversion and to come to know the Truth.
St Longinus would never dream of saying 'I'm Catholic but….'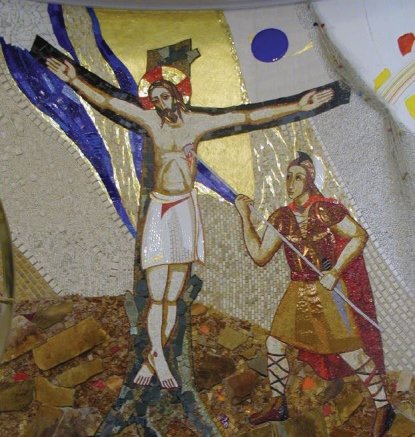 Longinus pierces Christ's side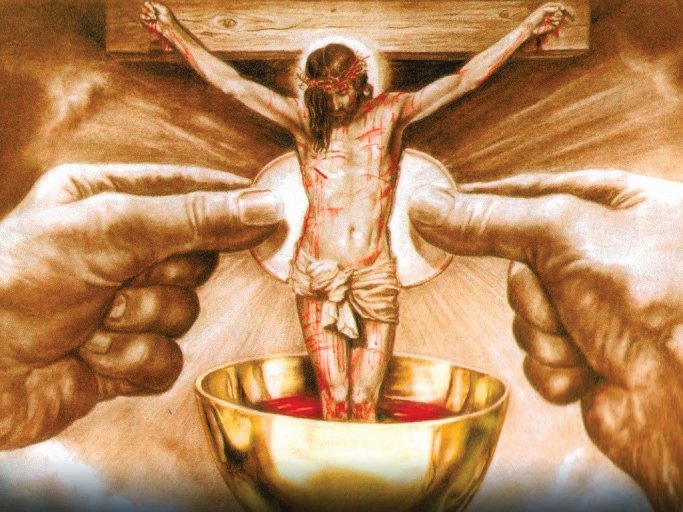 From Sunday's Gospel (John 6:24-35):
'Jesus answered:
'I tell you most solemnly,
it was not Moses who gave you bread from heaven,
it is my Father who gives you the bread from heaven,
the true bread;
for the bread of God
is that which comes down from heaven
and gives life to the world.'
'Sir,' they said 'give us that bread always.'
Jesus answered:
'I am the bread of life.
He who comes to me will never be hungry;
he who believes in me will never thirst.''
Reading this Gospel passage and, in particular, the words of Jesus leave us in no doubt.  He is the bread of life.  He is the way, the truth, and the life.  He is the only way to God.  Yes it is true!  In the Eucharist we receive Jesus Christ body, blood, soul and divinity!  Just as the bread came from Heaven in order to feed the Israelites so Jesus comes to us in the form of bread to feed, nourish and sustain us.
Jesus is offering himself to all of us.  He is offering us the chance of eternal life with him in Heaven.  Will we be like the disciples and say to Jesus: 'Sir, give us that bread always'?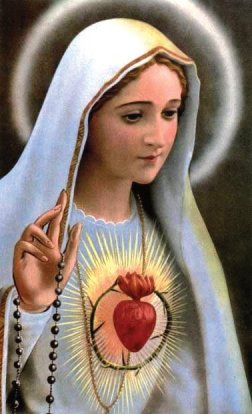 The First Saturday Devotion to the Immaculate Heart of Mary is an incredibly rich, and ultimately rewarding, devotion to Our Blessed Mother Mary. 
Please try to participate in this most incredible act of devotion and allow Jesus to pour his abundant graces upon you.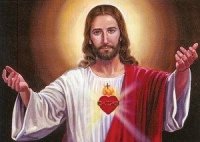 Only this man has the power to save us
Sunday's First Reading (Acts 4:8-12):
Filled with the Holy Spirit, Peter said: 'Rulers of the people, and elders! If you are questioning us today about an act of kindness to a cripple, and asking us how he was healed, then I am glad to tell you all, and would indeed be glad to tell the whole people of Israel, that it was by the name of Jesus Christ the Nazarene, the one you crucified, whom God raised from the dead, by this name and by no other that this man is able to stand up perfectly healthy, here in your presence, today. This is the stone rejected by you the builders, but which has proved to be the keystone. For of all the names in the world given to men, this is the only one by which we can be saved.'
Only Jesus Christ can save us.  Only Jesus Christ can save us. Only Jesus Christ can save us. Only Jesus Christ can save us…. 
Has it sunk in yet?? It's quite incredible to think that each one of us can be saved from sin and death and brought to eternal life.  It's even more incredible to think that all this is achieved through one man!  Can you imagine being that one man?  Can you imagine if you were the key to Heaven; the key to eternal life?  Wouldn't it be quite a responsibility?  It certainly would; but it would be worth all of that responsibility to see wave after wave of people coming back to you because they trust in you and because they believe in you and believe in the Church you founded. Yet conversely, wouldn't it be so sad to know that not all of your created people are coming back to you?  Wouldn't it be sad to be rejected by your very own creation?  Rejected despite coming to earth to spread the message of a perfect love; rejected despite performing miracle after miracle to help the poor and the needy; rejected despite suffering greatly at the hands of your oppressors who humiliated you and abused you before nailing you to a cross; rejected despite rising from the dead and revealing yourself to those close to you who then took that great news to the ends of the earth.  After all of that and still you are rejected!  How breathtakingly sad must that be for Jesus? 
It would seem that no matter how often we are told Christ is the only way to God and the only way to salvation, we still don't quite take it in.  Even Jesus himself told us that he was the way, the truth and the life and that nobody can get to the Father except through him; yet many still doubt.  So here is St Peter, the rock upon which Christ's Church is built, telling us once more that Christ is the only one who can save us. 
So, are we prepared to really let this sink in?  And even more importantly, are we prepared to take this message to the ends of the earth no matter what?  You see, we can't possibly just keep this to ourselves or within the confines of our families and close friends.  An increasingly aggressive secularism tells you to keep it to yourself, but Jesus tells you to take it to the ends of the earth!  So let's get out there and tell the world that Jesus is the only way!  It is Jesus Christ, the most perfect, most beautiful, most glorious, most incredible man who ever walked this earth who can give us the gift of eternal life.  It is the most precious Jesus, that man who took on unbearable pain on our behalf, who is the key to our salvation.  Trust him, love him and surrender to him.  And encourage others to do the same.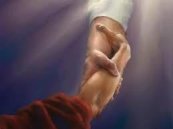 The next few days are simply fascinating!  The future of every human being has already been affected by what is about to unfold as our Lenten journey comes to an end and we find ourselves immersed in the incredible reality of Christ's Passion, death and Resurrection. 
With the exception of reading this article, stop whatever you are doing right now.  Take a moment to ponder the reality of what you are about to read and let it really sink in....
Around two thousand years ago a man was brutally beaten and killed.  He died before numerous witnesses, including his own mother and friends.  He was taken from the cross on which he limply hung and buried.  It was just another death followed by just another burial.  Except that several hours later this man woke up and walked out of his burial place.  That's right, he simply got up and he walked.  
Just think about that for a moment....
My dear friends, Jesus is the man who can give us eternal life.  He even said himself that he was "the way, the truth and the life".  And how can we argue with him?  We can't!  We just can't argue with a man who gets up and walks out of his own burial place!  
When all seemed to be lost and when a dark shadow hung over the reality of yet another poor soul lost to the ground this man did the impossible and got up!  Not only that, he went on to live forever!  
And if you think that's special it ain't half as special as him wanting us to join him!  He wants you and me to rise again just as he did!  Isn't that really something?  Isn't that the greatest piece of news you could ever wish to hear?  
Of course it is!  So let's rejoice in it!  Let's delight in this reality and follow Christ and his Commandments!  And let's tell others about this wonderful story of our salvation!  This is the kind of good news you won't find in the newspapers or on the news bulletins.  No, this is the kind of good news you hear on the streets; from people who are willing to share the news of our salvation with others so that they too may find joy in it.  It's not something we should keep to ourselves.  That's what secular society tells us to do.  But Jesus challenges us to share the reality of his Resurrection with everyone!    
Jesus died and rose again so that we too may rise after we die.  My brothers and sisters, death is not the end.  Jesus is offering us his outstretched hand of love with a promise of eternal life.  We just need to accept it and then be prepared to go out and encourage others to do the same.    
/