Shopping Cart
Your Cart is Empty
There was an error with PayPal
Click here to try again
Thank you for your business!
You should be receiving an order confirmation from Paypal shortly.
Exit Shopping Cart
Calling Scotland's 841,000 Catholics to unite as one voice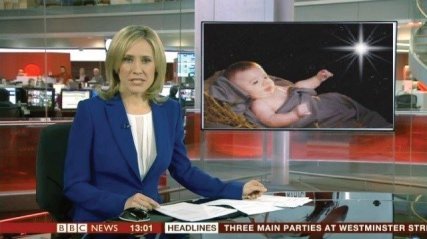 After Jesus had been born at Bethlehem in Judea during the reign of King Heron, some wise men came to Jerusalem from the east. "Where is the infant king of the Jews?" they asked. "We saw his star as it rose and have come to do him homage."
Today's Gospel (Matthew 2:1-12):
'After Jesus had been born at Bethlehem in Judaea during the reign of King Herod, some wise men came to Jerusalem from the east. 'Where is the infant king of the Jews?' they asked. 'We saw his star as it rose and have come to do him homage.' When King Herod heard this he was perturbed, and so was the whole of Jerusalem. He called together all the chief priests and the scribes of the people, and enquired of them where the Christ was to be born. 'At Bethlehem in Judaea,' they told him 'for this is what the prophet wrote:
And you, Bethlehem, in the land of Judah,
you are by no means least among the leaders of Judah,
for out of you will come a leader
who will shepherd my people Israel.'
Then Herod summoned the wise men to see him privately. He asked them the exact date on which the star had appeared, and sent them on to Bethlehem. 'Go and find out all about the child,' he said 'and when you have found him, let me know, so that I too may go and do him homage.' Having listened to what the king had to say, they set out. And there in front of them was the star they had seen rising; it went forward, and halted over the place where the child was. The sight of the star filled them with delight, and going into the house they saw the child with his mother Mary, and falling to their knees they did him homage. Then, opening their treasures, they offered him gifts of gold and frankincense and myrrh. But they were warned in a dream not to go back to Herod, and returned to their own country by a different way.'
In contrast to the wise men in today's Gospel, we live in a world of instant access to news.  Through television and the internet, we have access to the most up-to-date news of all genres 24 hours a day.  Indeed we are bombarded by news from across the world and it is difficult to disconnect from this stream even with concerted efforts.  The wise men were likely men of contemplation. Before setting out on a long and arduous journey, carrying with them precious belongings, they would have spent much time noticing and pondering the meaning of the star rising in the west.  They likely discussed this at length between them, having their own doubts and misgivings about their quest.  How puzzled would they have been to find their journey's end, not in a palace, but in a stable – had they got this right? And there, in the silence of the night, their efforts and faith were rewarded as they saw the wondrous sight.  They saw that which prophets had long foretold and nations sighed for.  The Lord at his birth.
What would we be willing to do or sacrifice to see this sight?  To us, Jesus' birth may seem like "old news".  Repeated re-enactments and a multitude of nativity images can numb us to the awe we should rightly feel when contemplating this scene.  We face different challenges from the magi in our time. Theirs was a time of quiet and contemplation, of expectation and hope.  They saw this wondrous sight for the first time, having no idea what they would see.  Our is a time of noise, instant gratification and cynicism. We have 'seen it all before'.  Plus Christmas is really over now isn't it? It's time to move on to a new year! But like the wise men we are asked in the readings today to search in the silence for signs of our Saviour's coming and to remain open minded about where and when we might encounter Jesus.  Taking the promptings of our innermost soul and no little share of faith, Jesus will guide us through uncertainty and darkness, to behold His face in all its glory.  It is worth spending time contemplating what the wise men saw and asking God to give us the grace to see this scene anew, so that we can honour and praise him with all our hearts as they did.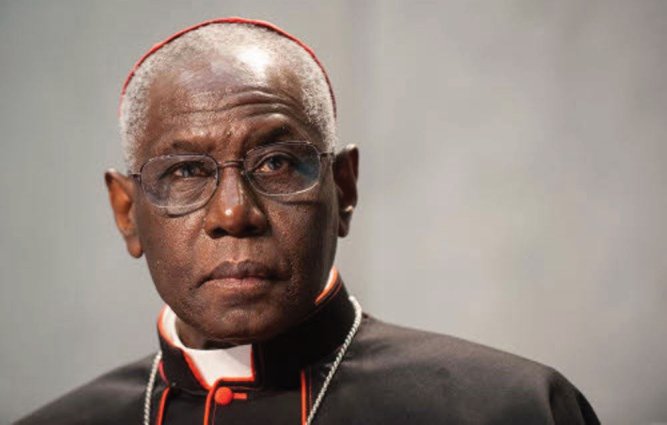 This talk by Cardinal Robert Sarah took place earlier this year at the National Prayer Breakfast in Washington DC.
It is essential reading for anyone trying to make sense of the ongoing assault on and subsequent destruction of the family in our so called 'progressive' world.  Cardinal Sarah also considers what we, as Christians, can do to respond.
Here is the text of Cardinal Sarah's address:
Thank you for inviting me to this remarkable gathering, in the company of such a distinguished audience.
As you well know, what happens in the United States has repercussions everywhere. The entire globe looks to you, waiting and praying, to see what America resolves on the pressing challenges the world faces today. Such is your influence and responsibility.
I do not say this lightly, because we find ourselves in such portentous times.
1. The Situation of the World and the Mission of the Church
Rapid social and economic development in the past half century has not been accompanied by an equally fervent spiritual progress, as we witness what Pope Francis calls "globalized indifference."
It is the result of giving in to the delusion that we are self-sufficient, that man is his own measure in a pervasive individualism. It is manifested in the fear of suffering in our societies, our closing our eyes and hearts to the poor and vulnerable, and, in a very despicable way, in how we discard the unborn and the elderly.
When he prophetically announced the Second Vatican Council in the Apostolic Constitution Humanae Salutis,Saint John XXIII remarked that the human community was in "turmoil" as it sought to establish a new world order where humanity relies entirely on technical and scientific solutions instead of God.
Today we are witnessing the next stage – and the consummation – of the efforts to build a utopian paradise on earth without God. It is the stage of denying sin and the fall altogether. But the death of God results in the burial of good, beauty, love and truth. Good becomes evil, beauty is ugly, love becomes the satisfaction of sexual primal instincts, and truths are all relative. 
So all manner of immorality is not only accepted and tolerated today in advanced societies, but even promoted as a social good. The result is hostility to Christians, and, increasingly, religious persecution.
Nowhere is this clearer than in the threat that societies are visiting on the family through a demonic "gender ideology," a deadly impulse that is being experienced in a world increasingly cut off from God through ideological colonialism.
Saint Pope John XXIII observed in 1962:
"Tasks of immense gravity and amplitude await the Church, as in the most tragic periods of her history. The Church must now inject the vivifying and perennial energies of the gospel into the veins of the human community."
This remains the challenge that the Church is facing presently, more even than in 1962, and it is our task today. This is what I spoke of in my book 
God or Nothing
:
"Today the Church must fight against prevailing trends, with courage and hope, and not be afraid to raise her voice to denounce the hypocrites, the manipulators, and the false prophets. For two thousand years, the Church has faced many contrary winds but at the end of the most difficult journey, the victory was always won."
2. The Family
"The future of the world and the Church passes through the family." These prophetic words of Saint John Paul II show how the Church, in our time, must, above all, defend and promote the beauty of the Christian family in fidelity to God's design. In his post-synodal Exhortation on the Family, Amoris Lætitia ("The Joy of Love"), Pope Francis states clearly: "In no way must the Church desist from proposing the full ideal of marriage, God's plan in all its grandeur … proposing less than what Jesus offers to the human being." 
This is why the Holy Father openly and vigorously defends Church teaching on contraception, abortion, homosexuality, reproductive technologies, the education of children and much more. In my first five years as Archbishop of Conakry (Guinea, Africa), I made it my task to dedicate all of my pastoral letters to the family. Perhaps only the beauty of the family can reawaken the longing for God in the innermost recesses of the conscience of our brothers and sisters, and heal the wounds inflicted on our humanity by sin.
Saint John Paul, the Pope of the new evangelization, describes in Familiaris Consortio how the family is the first place where the Gospel is welcomed and is also the first herald of the Gospel. How true this is!
The generous and responsible love of spouses, made visible through the self-giving of parents, who welcome and nurture children as a gift of God, makes love visible in our generation. It makes present the perfect charity of the Trinity. "If you see charity, you see the Trinity," wrote Saint Augustine.
From the beginning of creation, God, who is a communion of persons – Father, Son and Holy Spirit, three different Persons, yet one – has built a Trinitarian structure into our very nature. In the continent of my origin, Africa, we declare: "Man is nothing without woman, woman is nothing without man, and the two are nothing without a third element, which is the child." The Triune God dwells within each of us and imbues our whole being: God's own image and likeness.
Every human being, like the persons of the Trinity, has the capacity to be united with other persons in communion through the vinculum caritatis – the bond of charity – of the Holy Spirit. The family is a natural preparation and anticipation of the communion that is possible when we are united with God. The family, as it were, is a natural praeparatio evangelica – written into our nature.
This is why the devil is so intent on destroying the family. If the family is destroyed, we lose our God-given, anthropological foundations and so find it more difficult to welcome the saving Good News of Jesus Christ: self-giving, fruitful love.
St. John Paul explained: if it is true that the family is the place where more than anywhere else human beings can flourish and truly be themselves, it is also a place where human beings can be humanly and spiritually wounded.
The rupture of the foundational relationships of someone's life – through separation, divorce or distorted impositions of the family, such as cohabitation and same sex unions – is a deep wound that closes the heart to self-giving love unto death, and even leads to cynicism and despair.
These situations cause damage to little children through inflicting upon them a deep existential doubt about love. They are a scandal – a stumbling block – that prevents the most vulnerable from believing in such love, and a crushing burden that can prevent them from opening to the healing power of the Gospel.
Advanced societies, including – I regret – this nation have done and continue to do everything possible to legalize such situations. But this can never be a truthful solution. It is like putting bandages on an infected wound. It will continue to poison the body until antibiotics are taken.
Sadly, the advent of artificial reproductive technologies, surrogacy, so-called homosexual "marriage", and other evils of gender ideology, will inflict even more wounds in the midst of the generations we live with.
This is why it is so important to fight to protect the family, the first cell of the life of the Church and every society. This is not about abstract ideas. It is not an ideological war between competing ideas. This is about defending ourselves, children and future generations from a demonic ideology that says children do not need mothers and fathers. It denies human nature and wants to cut off entire generations from God.
3. Religious Freedom
I encourage you to truly make use of the freedom willed by your founding fathers, lest you lose it. In so many other countries, on almost a daily basis, we hear of merciless beheadings, futile bombings of churches, torching of orphanages and ruthless expulsions of entire families from homes that religious minorities suffer worldwide simply because of their beliefs. Even in this yet young twenty-first century of barely 16 years, one million people have been martyred around the world because of their belief in Jesus Christ.
Yet the violence against Christians is not just physical, it is also political, ideological and cultural. This form of religious persecution is equally damaging, yet more hidden. It does not destroy physically but spiritually; it demolishes the teaching of Jesus and His Church and, hence, the foundations of faith by leading souls astray. By this violence, political leaders, lobby groups and mass media seek to neutralize and depersonalize the conscience of Christians so as to dissolve them in a fluid society without religion and without God.  This is the will of the Evil One: to close Heaven … out of envy.
Do we not see signs of this insidious war in this great nation of the United States? In the name of "tolerance," the Church's teachings on marriage, sexuality and the human person are dismantled. The legalization of same sex marriage, the obligation to accept contraception within health care programs, and even "bathroom bills" that allow men to use the women's restrooms and locker rooms. Should not a biological man use the men's restroom? How simpler can that concept be?
How low we are sinking for a nation built on a set of moral claims about God, the human person, the meaning of life, and the purpose of society, given by America's first settlers and founders! God is named in your founding documents as "Creator" and "Supreme Judge" over individuals and government. The human person endowed with God-given and therefore inalienable rights to "life, liberty, and the pursuit of happiness." George Washington wrote that "the establishment of Civil and Religious Liberty was the motive that induced me to the field of battle."
Today, we find ourselves before the battle of a sickness that has pervaded our world. I repeat: the battle of a sickness. That is what we face. I call this sickness "the liquidation, the eclipse of God." Pope Francis describes the causes of this "sickness."
I quote: "Religious liberty is not only that of thought or private worship. It is freedom to live according to ethical principles consequent upon the truth found, be it privately or publicly. This is a great challenge in the globalized world, where weak thought – which is like a sickness – also lowers the general ethical level, and in the name of a false concept of tolerance ends up by persecuting those who defend the truth about man and the ethical consequences."
What are the remedies to this sickness? What should we do to protect the family, religious freedom, and marriage – as revealed to us by God?
Concluding Remarks
Before such a distinguished gathering, I offer three humble suggestions.
1.       First: Be prophetic. The Book of Proverbs tells us: "Where there is no vision, discernment, the people perish" (29, 18). Discern carefully – in your lives, your homes, your workplaces – how, in your nation, God is being eroded, eclipsed, liquidated. Blessed Paul VI saw that in 1968 when, for the Church, he so courageously wrote Humanae Vitae. What are the threats to Christian identity and the family today? ISIS, the growing influence of China, the colonization of ideologies such as gender? How do we react? 
2.       Be faithful. This is my second suggestion. Specifically for you, as men and women called to influence even the political sphere you have a mission of bringing Divine Revelation to bear in the lives of your fellow citizens. Uphold the wise principles of your founding fathers. Do not be afraid to proclaim the truth with love, especially about marriage according to God's plan, just as courageously as Saint John the Baptist, who risked his life to proclaim the truth. The battle to preserve the roots of mankind is perhaps the greatest challenge that our world has faced since its origins. In the words of Saint Catherine of Siena: "Proclaim the truth and do not be silent through fear."
3.       Third: Pray. Sometimes, in front of happenings in the world, our nation or even the Church, the results of our prayer might tempt us to become discouraged. Like Sisyphus in the Greek myth: condemned to roll a large boulder uphill, only to see it roll down again as soon as he had reached the top. Pope Benedict XVI in Deus Caritas Est  encourages us : "People who pray are not wasting their time, even though the situation appears desperate and seems to call for action alone."
Whether in doctrine or morality or everyday decisions, the heart of prayer is to discern God's will. This can only happen in prolonged moments of silence where, like Elijah before the horrendous threats of Queen Jezebel, we allow the "gentle breeze" of God to enlighten us and confirm us along our journey to do God's will. Such was the virginal silence of the Blessed Mother. At a marriage, the wedding feast of Cana, when for a new family "they have no wine," Mary our Mother trusted in the grace given by Jesus to bestow the joy of love overflowing – Amoris Lætitia. She pronounced her very last words, "Do whatever He tells you" (John 2: 1-12).Then she remained silent.
Be prophetic. Be faithful. Pray. That is why I came to this prayer breakfast. To encourage you. Be prophetic. Be faithful. And, above all, pray. These three suggestions make present that the battle for the soul of America, and the soul of the world, is primarily spiritual. They show that the battle is fought firstly with our own conversion to God's will every day.
And so I wholly welcome this initiative, and join you in prayer that this great country may experience a new great "spiritual awakening", and help stem the tide of evil that is spreading in the world. I am confident that your efforts will no doubt contribute to protecting human life, strengthening the family, and safeguarding religious freedom not only here in these United States, but everywhere in the world.
For in the end: it is "God or nothing."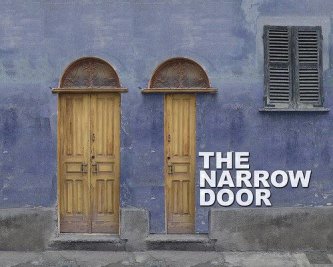 We must aim for the narrow door
'Through towns and villages Jesus went teaching, making his way to Jerusalem. Someone said to him "Sir, will there be only a few saved?" He said to them, "Try your best to enter by the narrow door, because, I tell you, may will try to enter and will not succeed"'
This year the pass rate for Higher Grades in Scotland was 77.2%. The chances of winning the UK National Lottery is 1 in 45 million. As humans, we love statistics and take comfort in them. They help us feel like we know where we stand, what the likelihood is that we will succeed and fail.  In today's Gospel passage Jesus is asked a seemingly straightforward question: what is the success rate of people getting to Heaven?  Wouldn't it be great to know the answer to that question?  Knowing the exact proportion of people who 'make it' might just give us the comfort we need to know that our future rests with God.  But the Lord, in His infinite wisdom, does not give an easy answer to the question posed to him as he makes his way to Jerusalem. Instead he uses it as a training opportunity; his message seems to be that we should not compare ourselves with others, and that we should focus and strive for the Kingdom, aiming for the narrow door.  We may tremble at the seemingly harsh and sobering reply Jesus gives; and so perhaps we should.  But a healthy fear of the Lord is important and a great virtue. We can also take comfort in today's second reading:
'My son, when the Lord corrects you, do not treat it lightly; but do not get discouraged when He reprimands you. For the Lord trains the ones He loves and He punishes all those that He acknowledges as His sons"'
It would do no good for an athlete to know the statistical chances of obtaining a gold medal in his or her sport, but instead a good coach would push them hard to reach that top prize regardless of statistics. Similarly, we need the same push to win the greatest prize of all. We should not fall into despair and resign ourselves to being one of those locked out of the Kingdom, and we should not doubt God's unfathomable mercy. But neither should we grow complacent and lazily take our salvation for granted. Jesus shows us the narrow door. He is the way we must follow, bearing our crosses and sufferings as He did, using them to shape us into saints, and all for God's glory.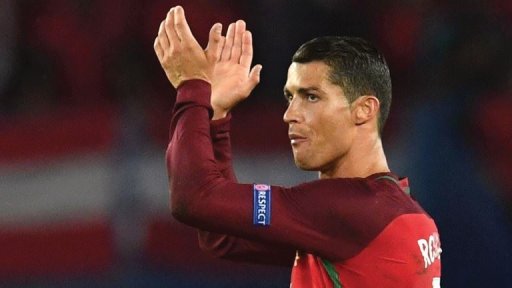 Cristiano Ronaldo
First it was Ronaldo encouraging team-mate Joao Moutinho to take a penalty and telling him that the outcome is "in God's hands".  Now we have Ronaldo and the Portugal head coach Fernando Santos thanking the Creator.
Ronaldo, who was stretchered off injured after just 25 minutes of the Euro 2016 final against France, told journalists after the game that he "asked God for another chance", a reference to previous failed attempts to win a major title with Portugal. 
Fernando Santos
His boss Santos was no less enthusiastic about God's part in Portugal's success, stating that "I'm very happy, of course.  First of all I would like to thank God for being with us, my wife, my mother, my grandson, my father - wherever he is, he is probably having a few beers."
This type of witness should never be underestimated.  God should always be on our minds, day in, day out, no matter what we are doing.  Whether we are in Church, sitting at our work desk, or even on a football pitch, He must always be first.  While I wouldn't pretend to know the depth of faith of these two men, one thing is clear: they both have God at the forefront of their minds and they aren't ashamed to admit it.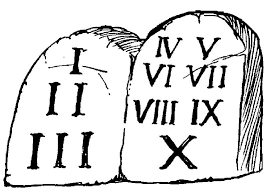 The Ten Commandments were written on two tablets of stone
Sunday's Gospel (Luke 10:25-37):
'There was a lawyer who, to disconcert Jesus, stood up and said to him, 'Master, what must I do to inherit eternal life?' He said to him, 'What is written in the Law? What do you read there?' He replied, 'You must love the Lord your God with all your heart, with all your soul, with all your strength, and with all your mind, and your neighbour as yourself.' 'You have answered right,' said Jesus 'do this and life is yours.'
But the man was anxious to justify himself and said to Jesus, 'And who is my neighbour?' Jesus replied, 'A man was once on his way down from Jerusalem to Jericho and fell into the hands of brigands; they took all he had, beat him and then made off, leaving him half dead. Now a priest happened to be travelling down the same road, but when he saw the man, he passed by on the other side. In the same way a Levite who came to the place saw him, and passed by on the other side. But a Samaritan traveller who came upon him was moved with compassion when he saw him. He went up and bandaged his wounds, pouring oil and wine on them. He then lifted him on to his own mount, carried him to the inn and looked after him. Next day, he took out two denarii and handed them to the innkeeper. "Look after him," he said "and on my way back I will make good any extra expense you have." Which of these three, do you think, proved himself a neighbour to the man who fell into the brigands' hands?' 'The one who took pity on him' he replied. Jesus said to him, 'Go, and do the same yourself.''
Eternal life in Heaven is where we all want to be.  And even for those who do not believe, the idea of living in comfortable and joyful surroundings forever is a fantastic thought! 
But how do we get there?  Well, Jesus gives us two very straightforward commands.  He tells us that we must love God with everything we've got and we must also love our neighbour.  Looks simple on paper doesn't it?  And in a way it is.  It is, however, important to avoid oversimplifying these commandments in order to suit our own busy lifestyles and agendas.  For example, we can't simply state that we love God and we love all other people and never follow this up with words and actions to support our claim.  If we are going to follow Jesus' commands we need to act upon them, and act with conviction; a conviction that tells the world: 'this guy really does love God and he really does love other people!'
Jesus' commandments are a perfect summing up of the Ten Commandments (or Decalogue) given to Moses by God.  They are not a watering down of the Ten Commandments and they are certainly not an attempt to abolish and replace the Ten Commandments.  What Jesus does is present to us the Ten Commandments in a new way in order to aid our understanding of them.  He invites us to rediscover the beauty and truth of God's perfect law.  It is worth remembering that the first three Commandments concern love of God and the other seven concern love of neighbour, hence Christ's summing up of them by referring to love of God and love of neighbour.  This is also why God presented the Commandments to Moses using two tablets of stone rather than one; so as to distinguish between the call to love God and the call to love our neighbour.
In order to obtain eternal life our words and actions must be in keeping with the Ten Commandments.  We must respect God's clear instructions and, in a spirit of humility and love, encourage others to do the same.
The Ten Commandments:
I am the LORD your God:
you shall not have
strange Gods before me.
You shall not take
the name of the LORD your God in vain.
Remember to keep holy the LORD'S Day.
Honour your father and your mother.
You shall not kill.
You shall not commit adultery.
You shall not steal.
You shall not bear false witness
against your neighbour.
You shall not covet
your neighbour's wife.
You shall not covet
your neighbour's goods.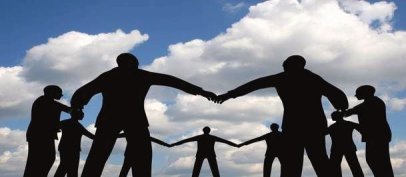 Sunday's Second Reading (Galatians 3:26-29):
'You are, all of you, sons of God through faith in Christ Jesus. All baptised in Christ, you have all clothed yourselves in Christ, and there are no more distinctions between Jew and Greek, slave and free, male and female, but all of you are one in Christ Jesus. Merely by belonging to Christ you are the posterity of Abraham, the heirs he was promised.'
This Sunday's second reading reveals a teaching that is fundamental to the Christian life, that of unity.  Jesus Christ unites.  He doesn't desire to separate or divide.  Rather, his intention is to bring all people together in his name so that he can one day bring them to share in the glory of the Kingdom of God.
Do we unify people?  Do we seek to be at one with others as we go about our daily lives?  Or do we create divisions through pride, selfishness and cynicism? 
Christ's love demands unity, not division.  If we love as Christ loves, we will unite.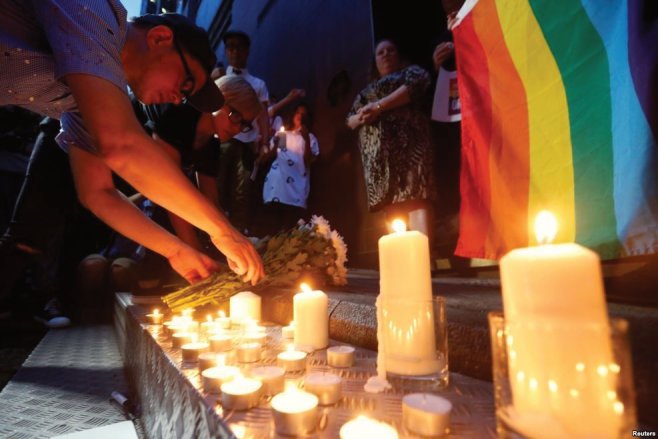 People gather to mourn the dead

The tragic events in Orlando provide yet another glaring example of man's inhumanity to man.  Very few of us can even begin to imagine what was going through the minds of the hundreds of young partygoers in Pulse nightclub as the horrid truth about what was unfolding became clear.  It wasn't a case of exuberant pyrotechnics or sophisticated indoor fireworks.  It was the crackling of gunfire and the flash of bullets as one hate-filled individual felt compelled to walk into the club and shoot dead 49 innocent people and injure many others.
Islamic State militants have claimed that Omar Mateen acted on their instruction.  Whether he did or not is perhaps not important because, at the end of the day, both Islamic State and Omar Mateen are callous murderers, with no consideration for their fellow man and woman, and little thought to the pain and hurt that their actions cause.
The cries of parents, siblings, and friends have rung out from the devastated city of Orlando ever since Mateen decided to walk into the Pulse nightclub early on Sunday morning and shoot unashamedly at his unsuspecting victims.  The world has joined them in mourning their precious loved ones who have been taken so suddenly and without warning.  Little did they know that when they waved the young revellers off on Saturday night, it would be the last time they would see them alive.  It is truly horrific.
At this time of great uncertainty with no little hate flowing through our world it is important that we Christians stand firm with all people of goodwill to continue to promote peace.  There is no life that isn't precious in God's eye.  This is our fundamental belief and we must fight hard to promote the sanctity of human life, be it the unborn child, the frail old woman, or the young lad enjoying quality time with his friends in a nightclub.  All life is precious and worthy of protection.
We pray for the peaceful repose of the souls of the dead, and we pray for their families that they will find some comfort in knowing that their loved ones are at the mercy of a loving Father. 
We also pray for those who are inclined to such violence, that their hearts be changed to see the inherent value of all people, even if some of them do not conform to their own beliefs.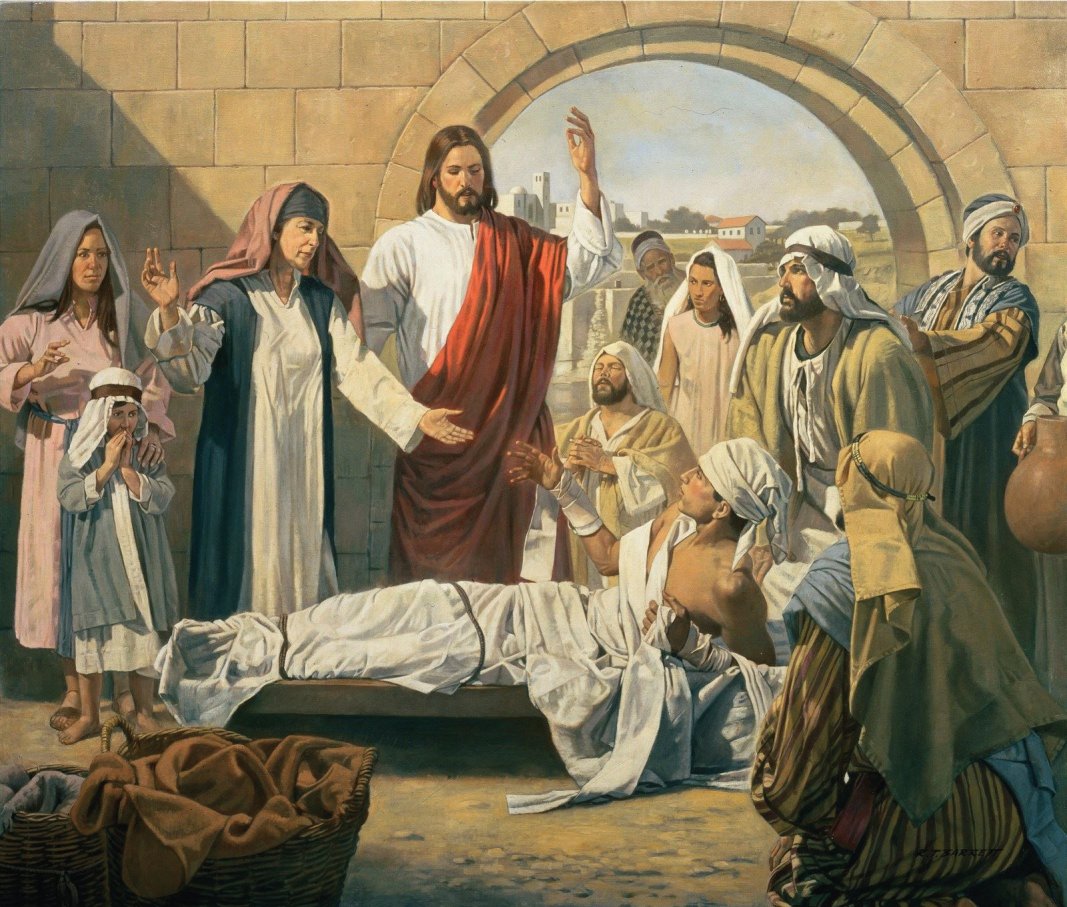 Sunday's Gospel (Luke 7:1-17):
'Jesus went to a town called Nain, accompanied by his disciples and a great number of people. When he was near the gate of the town it happened that a dead man was being carried out for burial, the only son of his mother, and she was a widow. And a considerable number of the townspeople were with her. When the Lord saw her he felt sorry for her. 'Do not cry' he said. Then he went up and put his hand on the bier and the bearers stood still, and he said, 'Young man, I tell you to get up.' And the dead man sat up and began to talk, and Jesus gave him to his mother. Everyone was filled with awe and praised God saying, 'A great prophet has appeared among us; God has visited his people.' And this opinion of him spread throughout Judaea and all over the countryside.'
The miracle performed by Jesus in this Gospel passage is one of great hope.  The woman, a widow, had lost her only son.  Can you imagine the grief and sorrow that this woman must have been experiencing?  Can you imagine how alone she must have felt watching her only family being carried away for burial?  She must have felt that nothing could take away the extreme pain that was now drilling through her heart.  Yet moments later she would witness the resurrection of her son from the dead.  Just when all had seemed to be lost, along came Jesus. 
We must never lose hope when death comes knocking at our door.  Whilst it is perfectly natural for us to grieve and to feel sorrow when a loved one dies, we must always have confidence in the one who makes all things new.  Jesus' death on the Cross was not a pointless exercise.  It was necessary so that our sins could be wiped away and we could have eternal life. 
When your loved one dies, remember that Jesus is there.  He has come down from the Cross and is standing ready at the gates of Paradise, waiting to put his hand on your loved one, waiting to bring them back to life.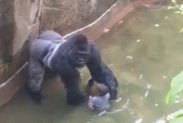 It's a terrifying thought: finding yourself being dragged along in shallow water by a monster and being at their mercy.  Okay, so perhaps it's slightly far-fetched to refer to Harambe the gorilla as a monster, but one thing we do know for certain is that he is, or was, a wild animal. 
Like most people I am a lover of animals, and I am not particularly keen on many of the limited enclosures wild animals find themselves in, be it in zoos or in those horrid environments they call circuses.  Sure, there are some zoos and safari parks that do a good job in protecting animals, especially endangered species, and this work is important for the wellbeing of life on our planet.   But broadly speaking, it is unfortunate when an animal is removed from its natural habitat and finds itself stuck in an enclosure for humans to gawp at.
Harambe the gorilla is an unfortunate case.  How the four year old lad got into the enclosure is still to be made clear, but one thing is certain: he did get in there and he was at the mercy of a wild animal.  It's interesting to hear some animal 'experts' coming out and defending the gorilla, suggesting that the boy was in no danger because the gorilla was not "beating its chest" and that he was actually holding the boy's hand.  It doesn't matter how many times a dog owner tells me "it's okay, he loves children" as my little one inquisitively ambles towards their pooch; I am still reluctant to let them get too close.  First, because a dog is an instinctively defensive animal that is unable to reason and could turn nasty at any given moment in time.  And second, I know of too many instances where children have either been killed or seriously injured as a result of an animal attack. 
It would be interesting if instead of a gorilla a pit-bull or Rottweiler had been dragging the little boy across a park.  Would people feel similarly reluctant to harm the dog in order to save the child?
It is unfortunate that this little boy found himself in Harambe's enclosure, and I'm sure the role of his parents and zoo staff will correctly be scrutinised as a result.  But the bottom line is this: a little human child was in an enclosure with a large wild animal that had seen fit to recklessly drag him across a shallow pool of water and then stand over him.  Nobody knew for certain what was going to happen next.  The staff at the zoo had little choice but to put the interests of the child's safety first, as they should.  There was no room or time for risk taking.
A surge in animal welfare stories to the detriment of more pressing matters such as the Planned Parenthood abortion scandal suggests that our society is getting dangerously close to putting the welfare of animals before the wellbeing of humanity.  Sure, we must work to look after the world God has gifted to us, including the birds of the air, the fish of the sea and the multitude of animals that roam the land.  But we should not devalue human life in the process.  Animals always have been and always will be inferior to human beings, as it is only humans that are made in the image and likeness of God.  

/