Shopping Cart
Your Cart is Empty
There was an error with PayPal
Click here to try again
Thank you for your business!
You should be receiving an order confirmation from Paypal shortly.
Exit Shopping Cart
Calling Scotland's 841,000 Catholics to unite as one voice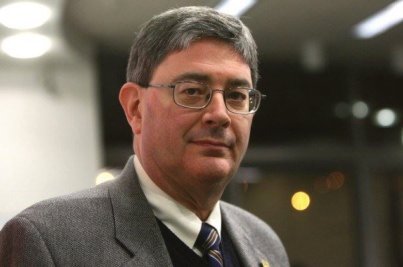 George Weigel, the Distinguished Senior Fellow of the Ethics and Public Policy Center, has claimed that democracy is likely to become brittle, crack and fail unless society consists of "men and women committed to the dignity of the human person as the first principle of just governance and dedicated to the pursuit of the common good." 
Weigel, in response to the assertion that those who believe that truths about the human person and human community are essential to democracy are actually on an authoritarian mission, says: "it is the radical moral relativists for whom there is no "truth," but only expressions of personal preference and will, who are busily enforcing their judgments on society in the name of "tolerance"."
At 7pm on Tuesday October 4th, George Weigel is speaking at St Mary's Metropolitan Cathedral in Edinburgh on the topic of "Converting the Culture: The New Evangelisation and the Future of the West". 
Read the full article in The Scotsman here: http://www.scotsman.com/news/opinion/is-faith-the-missing-ingredient-that-can-make-western-democracy-work-1-4240413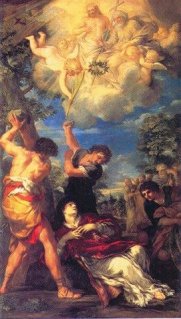 Sunday's First Reading (Acts 7: 55-60)
'Stephen, filled with the Holy Spirit, gazed into heaven and saw the glory of God, and Jesus standing at God's right hand. 'I can see heaven thrown open' he said 'and the Son of Man standing at the right hand of God.' At this all the members of the council shouted out and stopped their ears with their hands; then they all rushed at him, sent him out of the city and stoned him. The witnesses put down their clothes at the feet of a young man called Saul. As they were stoning him, Stephen said in invocation, 'Lord Jesus, receive my spirit.' Then he knelt down and said aloud, 'Lord, do not hold this sin against them'; and with these words he fell asleep.'
While sitting at my desk at work earlier this week a conversation about religion was struck up among my colleagues.  Religious chat is generally taboo these days and where it does exist it tends to take the form of an attack on whatever religion happens to be in the spotlight.  This time it was the Catholic faith; my faith.  I was asked to explain the Catholic Church's belief in the Eucharist.  No easy task in a very secular environment I can assure you.  But I tried my best to explain it in terms acceptable to the ears of my audience.
My colleagues listened to what I had to say and once I had finished a stony silence followed.  This was followed soon thereafter by a change of subject, diverting away from the ridiculous notion that a piece of bread and a cup of wine could be turned into the body and blood of a two thousand year old Jew.  The truth is, my colleagues probably felt not only confused but also a little uncomfortable by all the body and blood chat.  And I can assure you that I most certainly felt uncomfortable with having to explain it to a cynical crowd. 
Yet our discomfort at explaining our faith can never match the discomfort that must have been experienced by the Christian martyrs.  In today's first reading St Stephen shows incredible courage as he stands before a cynical crowd and tells them that he has seen 'heaven thrown open' and that he has also seen 'the Son of Man sitting at the right hand of God'.  Despite knowing that such words would likely lead to his death he was still not afraid to speak them.  And he even echoed the words of Christ on the Cross when he begged God to forgive those who were killing him.  Like any human being in that situation he would have been absolutely terrified, but he never once denied his faith in order to save his earthly life.
It's not easy to talk about our faith to others.  We can feel embarrassed, afraid, and even silly.  But thankfully the UK is not like the world St Stephen lived in.  It is a place where, despite some arguments to the contrary, people are generally free to talk openly about their faith.  We must not be afraid to use this freedom, but to do it sensibly and proportionately.  Our world needs a message of love, mercy and peace; a message that was so profoundly illustrated in the words and actions of St Stephen just before his death.  We can give the world hope with our message; a message that comes in the shape of one man….Jesus Christ.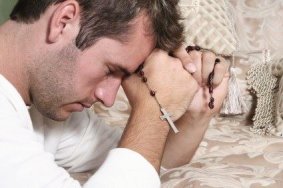 A call to Catholic men to right the wrongs of a broken society
Here's a question for Catholic men: did you know that you have the power to mend our broken society?  All the sadness and despair, the lies and deceit, the selfishness and infidelity; you have the answer to all of these problems.  The future of our world; a future of beauty, goodness and truth is in your hands! 
Confused?  Don't be.  Consider for a moment when the perfect world God created changed.  It was in the Garden of Eden, when Eve was tempted by the serpent to eat the fruit from the tree of the knowledge of good and evil, and both she and Adam ate the fruit.  This is the moment everything started to go wrong.  This is the moment sin and death entered into our world.  But what if you could help to right the wrong? 
Jesus, through his passion and Resurrection, redeemed that fatal mistake made by our forefathers in Eden, yet too many in the world reject the redemption Jesus offers them; preferring to ignore it and to continue buying into the relativist culture that tells them anything goes.  A culture that encourages selfishness for the sake of one's own wants and desires.
So is there something we Catholic men can do to bring people to accept Christ's redemption on the Cross?  How can we play a part in helping to heal the wounds of the single biggest mistake made by humanity?  A good starting point is to identify Adam's first mistake.  If we take ourselves back to the Garden of Eden, at the very moment the serpent persuades Eve to eat the fruit and she obliges.  Where is Adam at this point?  Why is he not protecting his wife from the cunning serpent and telling her to do as God instructed and not eat the fruit from the tree? 
This example of Adam failing to protect and care for his wife is all too prevalent in our world today.  And such a failure has serious repercussions.  Adam, after eating the fruit, suddenly realised that he and his wife were naked and he no longer saw her as God intended him to see her.  Rather, it was her body alone that he could see.  His eyes could no longer appreciate Eve's purity in her soul, that part of her which is the very core of her being.  Instead he looked upon her as an object for pleasure and gratification.  Does this ring any bells?  Is this not an accurate reflection of how many men view women in our world today?  Adam, created to have dominion over all the animals of the world and to be protector-in-chief of God's creation, including his wife, had gone from a soldier for God to a man of weakness; a wretch with no backbone.
And so it is with us men today.  Instead of protecting our wives and ensuring their safety and security in this world of sin, we have let them become the object of our own selfish desires and gratification.  We, like Adam, have taken our eye off the ball and have failed our women.  We have failed them badly.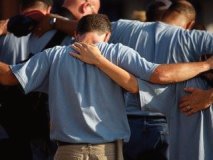 Catholic men can rebuild our broken society
Everywhere we turn there is infidelity, adultery, divorce, pornography, selfishness, violence, hate and intolerance.  The world is in ruins because of relativist ideals, especially those borne out of the sexual revolution.  But we Catholic men have been charged with making something out of those ruins; to take them and to build a pillar of love for the whole world to see.  We are called to succeed where Adam failed.  We have a duty to carry out God's original plan for His Creation; that is to serve, protect and defend all that God has entrusted to our care, especially our wives and children.
We must see our wives as God intended; with a perfect love.  That is, the same perfect love we witness when we see Christ hanging from the Cross.  This, brothers, is the love we are called to show our wives.  It is not lustful, it is not selfish.  It is pure sacrifice.  We, like Christ, must be prepared to lay down our lives for our wives and our children, putting their needs before our own.  Only in living out this kind of love will we be able to repair the wounds in our society; a society that is broken, having lost all sense of what it really means to be in love. 
Our world today is full of love built on sand.  We have love built on lies, we have love built on selfish desires, we have love built on one night stands, and we have love built on adultery.  The result of this is broken relationships, broken families, and ultimately broken children who have never experienced the love they need in order to thrive.  Society needs strong leaders in love.  It needs an authentic, unselfish and unconditional love that is free from the horrid pain of selfishness and lies.  The sexual revolution encourages people to dip in and out of relationships as and when they please.  There is no attempt to encourage staying power, no attempt to encourage true fidelity.  It is every man and woman for themselves.  Yet as Catholic men we are called to be much better than this, much better!  We are called to be soldiers for God, bringing His perfect love to the world by living it out in our homes and in our everyday lives, setting an example for our broken society.  God is looking down at the earth and asking "Where have all my Catholic men gone?  Where are my soldiers?  Where are the men my Son died for?"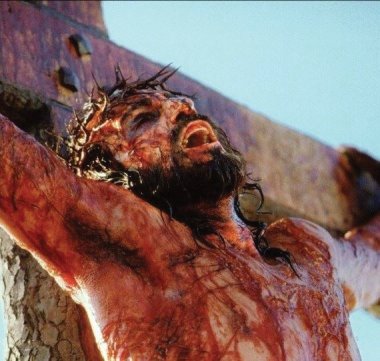 Christ's broken body is the example we are called to follow 
Brothers, let us be true.  True to God, true to our wives, true to our children, and true to our world.  Let us use our call to greatness, our call to be saints, to make a real difference to our world.  Let us never tire of striving to show the kind of love that Christ showed on the Cross, when he gave everything he had, shedding every last drop of blood for his people.  We too are called to give everything we have.  So, with a deep sense of prayer and trust in the Holy Spirit, let us go forth and be true protectors of God's creation.  Let us be sure to love our wives and families with that perfect love so unselfishly evidenced by the broken body of Jesus Christ hanging on the Cross.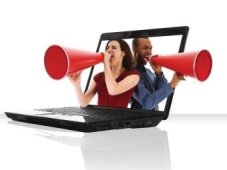 Do you speak openly about your faith to others?  Are you not afraid to be frank about how your religion shapes your moral code?  Do you even go as far as to try to bring others round to your way of thinking on social media sites such as Facebook and Twitter?
In the New Evangelisation just a few years back, Pope Benedict XVI encouraged us to get out into the world to preach the Good News of Jesus Christ.  And he wanted us to use every available platform at our disposal in order to do this.  He used the humble but powerful image of a mustard seed from the Gospel, suggesting that if used effectively a small seed of faith has the potential to bring people to God.  His words were: "I have a mustard seed, and I'm not afraid to use it".  In today's age we are blessed to have social media forums like Facebook to speak more openly about our faith and to tap into a seemingly infinite knowledge base.  While social media can often be a curse there is no doubt it has opened up new avenues of opportunity for spreading the Gospel.
Yet, while some people seem content to do this, many more are not.  In today's secular relativist world it is undoubtedly a big challenge for people to spread their faith by means of social media.  There is fear of criticism and mocking.  There is also fear of offending people or of compromising long-held friendships.  It is a significant problem for our faith and our Church.  And it is an even bigger problem for Jesus. 
While new age beliefs are thrust onto social media at an astounding rate, somehow managing to gather almost unanimous support in the process, Jesus is left to feed off the few scraps that are left.  People would rather post and read quotes about being true to oneself and looking after number one rather than the horrific thought of making love of God and neighbour our priority.  Quotes from famous authors or even the Dalai Lama have the potential to be of untold worth, but their value often pales in comparison to the Word of God or quotes from the Saints.
The Christian message is a tough one because it asks us to put ourselves in third place, behind God and all those around us.  It also asks us to take up our cross on a daily basis and follow Jesus, accepting the suffering that this will inevitably bring.  It also expects us to toe the line on controversial issues such as abortion and same-sex marriage.  It is, in all respects, a challenge of great proportions.  But it is not without its rewards.
And as if this challenge wasn't difficult enough we are also expected to take Jesus' message of love and mercy to all people.  Not just one or two, but to everyone.  Had Jesus not called the Disciples to his side and taught them his message, what hope would there be?  Had the Disciples not then taken that message of Jesus to others, what hope would we have today? 
You see our faith is a faith of action, full of energy and enthusiasm, drenched in positivity and hope.  We can't just settle for our own evangelisation or the evangelisation of those closest to us.  This is not the Christian way.  We must be prepared to carry Jesus and his Gospel message to as many people as we possibly can through our life.  We need to put Christ at the centre and be his voice to all nations, all peoples.  To be truly Christian we must do as the disciples did and carry Jesus and his message to all people, be it on social media, the internet, on the phone, or in person.  Had the disciples failed to do this we would have no Jesus in our lives.  Imagine how empty that life would be? 
Remember, your duty to spread the message of Jesus Christ is not just limited to the people close to you.  In fact, it isn't just limited to the entire human population of our world in your lifetime.  Like the disciples, your witness will hopefully carry the message of Christ well into the future so that another 2000 years from now people are talking about the great disciples of this time and how without their powerful witness the faith would be dead. 
Jesus told the apostles to "Go into the whole world and proclaim the Gospel to every creature".  We need to be disciples for Christ in today's world.  Let the future generations rave about your willingness to speak up for Jesus and how you never shied away from openness and honesty about his loving and merciful message.  Let your children and grandchildren see you stand up for something that will bring eternal life to millions and millions of people!  And remember, you don't need to be a great orator or writer to evangelise.  As Pope Francis has said:  "We evangelise not with grand words, or complicated concepts, but with the joy of the Gospel, which fills the hearts and lives of all who encounter Jesus".  So don't worry, let the joy of the Gospel speak for itself!
The phrase 'do not be afraid' appears often scripture.  It is a strong, powerful message from God about how we must feel when it comes to our faith.  In doing Christ's work and spreading his message we have no need to be afraid.  He is on our side!
Here's the challenge: let your life be a life of evangelisation.  Don't be afraid to share Christ's message with other people.  Let your work reverberate down through the generations where it has the potential to bring millions of lives to eternity with God.  Don't keep good news to yourself.  Use your mustard seed.  Evangelise.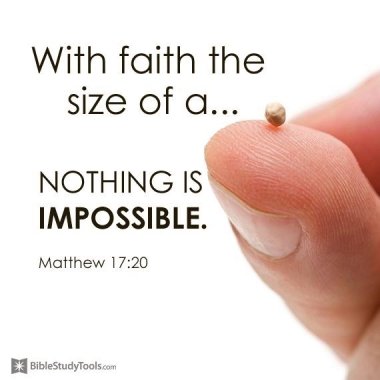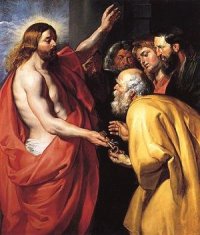 Today's Gospel (Matthew 16:13-19):
'When Jesus came to the region of Caesarea Philippi he put this question to his disciples, 'Who do people say the Son of Man is?' And they said, 'Some say he is John the Baptist, some Elijah, and others Jeremiah or one of the prophets.' 'But you,' he said 'who do you say I am?' Then Simon Peter spoke up, 'You are the Christ,' he said 'the Son of the living God.' Jesus replied, 'Simon son of Jonah, you are a happy man! Because it was not flesh and blood that revealed this to you but my Father in heaven. So I now say to you: You are Peter and on this rock I will build my Church. And the gates of the underworld can never hold out against it. I will give you the keys of the kingdom of heaven: whatever you bind on earth shall be considered bound in heaven; whatever you loose on earth shall be considered loosed in heaven.''
In 1870, Vatican I declared that this Gospel passage was clear biblical support for the primacy of Peter and successive popes.  The Council's interpretation touches on the following five points of doctrine:
The Magisterium built upon Peter is instituted by Jesus Christ;
Peter is given a unique role as chief teacher and ruler over the Church;
Peter is the visible head of the Church;
Peter's authority is passed on through successors; and
through Peter, Christ himself assures the infallible preservation of the gospel in the Church.
While it may sometimes be tough to be Catholic, especially in today's secular relativist world which seeks to discredit the Church at every turn, we still have every reason to be joyful.  Why?  Because this is a Church that was established by the saviour of the world, Jesus Christ!  Indeed, it is the only church established by Jesus Christ. 
But Jesus didn't leave it at that.  In addition to establishing a church he knew that the Church needed help from above to protect it from evil and to ensure its ongoing safety and wellbeing in protecting the gospel with which it is entrusted.  So he promised the Church that he will always be with it, ensuring that the gates of death, deception and destruction will never overcome it.  He then proceeds to give his close disciple Simon Peter the authority to make binding decisions with respect to the Church and gives him the keys to the kingdom of heaven.
Jesus, in just a few short sentences, establishes the Catholic Church, promises to sustain it, and even gives a mere mortal being the authority to be its chief teacher and chief administrator on earth.  So we can say with confidence that through the authority of Peter (often referred to as the 'Chair of Peter') and his successors, heaven governs the Church on earth. 
So be confident and joyful in your Church, and trust her authority always, for she is being guided by Christ who ensures her safe passage through time to that moment when he will come again on the clouds to be fully united with her.  And it is at that moment that our Lord will gather in his chosen people to take them to Paradise to be with him forever. 
The keys to Heaven are in the hands of the Church where they have been for the last 2000 years, from the moment Jesus entrusted them to Peter.  No matter how tough or testing it may sometimes feel to be part of the Catholic Church there is no denying that she is the surest way to Heaven and to Jesus.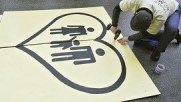 Slovenia voted to protect the family
Slovenia has rejected same-sex marriage following a referendum.  Around two thirds of those who voted rejected a bill which proposed to redefine marriage as being between two consenting adults.

Ales Primc, from the group Children at Stake, said that "this result presents a victory for our children".  The country's conservative groups were also reportedly backed by Pope Francis who urged Slovenians to "back the family as the structural reference point for the life of society".
While the more liberal, secular nations across Europe have had no difficulty in redefining marriage, it is clear that there are still a number of nations resistant to any change.  Indeed the vast majority of countries across the globe continue to embrace marriage as being between one man and woman.
It's important that marriage (between one man and one woman) be protected for the sake of the family.  Marriage is a critical public interest structure for the common good of society.  It is the only structure capable of procreating and bringing about new life.  Without it, none of us would exist.    

Catholics are becoming increasingly liberal on important moral issues
A YouGov poll carried out in the summer has revealed that Catholics are split on the issue of same-sex marriage.  While 40% of the 863 Catholics polled said that they opposed same-sex marriage, a significant 50% said that they supported it.  Given the Church's clear teaching on homosexual acts this should be quite surprising, yet set against the backdrop of an ever increasing aggresive liberal relativist and anti-religious society where many Catholics are losing sight of the faith, the results are not really that much of a shock.
The poll also revealed that while 48% of Catholics were opposed to euthanasia, 42% of Catholics support it.  Again, the teaching of Christ and the Church appears to have fallen on deaf ears.
Finally, in terms of abortion, 69% of Catholics polled said that there needed to be more restrictions with regard to the procedure, while 17% said that there was no need for further restrictions. 
If we, as Catholics, are being true to Christ and true to his Church these figures should be very straightforward.  It should in essence read that 100% of Catholic oppose same-sex marriage; 100% of Catholic oppose euthanasia; and 100% of Catholic are in favour of more restrictions when it comes to abortion(actually, 100% of Catholic should support a complete ban on abortion).
We need to start being true to Christ and to the Church he founded above all else.  The figures revealed by this poll are nothing short of despicable.  We need real leadership from our Bishops and priests, but perhaps more importantly we need authentic Catholic witness from parents and families across the Catholic community.  We are all charged with upholding the Truth and encouraging others to do the same, for we will all be answerable to the Lord.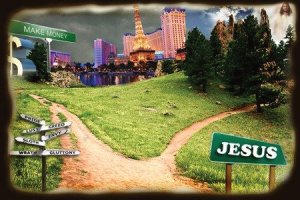 We must take the narrow path to Christ
Today's First Reading (1 Timothy 6:2-12):
'This is what you are to teach the brothers to believe and persuade them to do. Anyone who teaches anything different, and does not keep to the sound teaching which is that of our Lord Jesus Christ, the doctrine which is in accordance with true religion, is simply ignorant and must be full of self-conceit – with a craze for questioning everything and arguing about words. All that can come of this is jealousy, contention, abuse and wicked mistrust of one another; and unending disputes by people who are neither rational nor informed and imagine that religion is a way of making a profit. Religion, of course, does bring large profits, but only to those who are content with what they have. We brought nothing into the world, and we can take nothing out of it; but as long as we have food and clothing, let us be content with that. People who long to be rich are a prey to temptation; they get trapped into all sorts of foolish and dangerous ambitions which eventually plunge them into ruin and destruction. 'The love of money is the root of all evils' and there are some who, pursuing it, have wandered away from the faith, and so given their souls any number of fatal wounds.
But, as a man dedicated to God, you must avoid all that. You must aim to be saintly and religious, filled with faith and love, patient and gentle. Fight the good fight of the faith and win for yourself the eternal life to which you were called when you made your profession and spoke up for the truth in front of many witnesses.'
It's hard for Catholic people to remain true to Jesus Christ and the Traditions of the Catholic Church, especially in this day and age when religion is often frowned upon for one reason or another.  Yet that doesn't make it any less true or relevant.
St Paul's letter to Timothy encourages us to remain true to Christ and his teaching and to remain true to the teaching of the Church he himself founded; the Roman Catholic Church which continues to exist to this very day.
St Paul warns us about those who stray from this teaching, and in true St Paul style, he doesn't mince his words!  He says that those who do things differently to that taught by Christ and his Church are "simply ignorant and must be full of self-conceit – with a craze for questioning everything and arguing about words."  Isn't it interesting that St Paul should specifically refer to arguments about words?  Consider the abortion debate and how pro-choice activists often try to use words and phrases to argue that abortion is okay. They use (albeit wrongly) terms such as 'embryo', 'foetus', 'collection of cells' and 'personhood' to try to make their point. Consider how Pope Francis' words are so often used against him by those who misinterpret him or those who fail to understand his bigger message.  Other examples of this can be found in debates around contraception and the redefinition of marriage.
The tragedy of all this is that Catholic people, including myself, continually stray from Christ's teaching and the teaching of his Church.  I fall into the traps of the secular relativist society and I become that ignorant person full of self-conceit that St Paul is referring to. But thankfully Christ and his Church give me the Sacrament of Reconciliation where I can go and be forgiven for straying from the Truth.
At the end of the day, there will be many times in our lives when we will stray from the right path. But the key is to turn back, as the prodigal son did, into the loving arms of the Father.  While we may turn our back on Him there will never be a time when He turns His back on us.  He is always standing there, watching and waiting for us to return; to return to the path of Truth which He himself created when He gave us His only Son and gave us His Church.
Brother and sisters, we must do as St Paul says and "Fight the good fight of the faith" by speaking up for the truth with love, patience and gentleness before all people, even when it makes us feel a little uncomfortable.  Remember, it is unlikely we will ever be made to feel as uncomfortable as the early disciples who suffered immeasurable pain, including death, in standing up for the Truth.   
And even though we may well feel a little uncomfortable we must remember that we were not made for this world; that our destiny is in Heaven to be one with the Father, with Christ our Saviour, our Blessed Mother Mary, and with all the Saints and Angels.  Surely that is worth fighting for?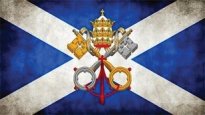 A year-long research project commissioned by Transforming Scotland has found that a majority of Scots have a positive view of the Christian faith. 
Despite the most recent Scottish Household Survey suggesting that a fairly large minority of 47.3% of Scottish people have no faith, the view of Christianity is broadly positive. Alan McWilliam of Transforming Scotland said: "The research has shown that a significant number of the Scottish public think the church is a good thing for a community, because it strengthens and cares for those within it, and acts as a positive influence for young people.  The fact that people still see the church as a positive contribution to society is hugely encouraging."
In the South of Scotland 67% of people had a favourable impression of Christianity.  In the Lothians this figure was 54% with 62% stating that they believe Christianity has good principles and good values.  In Glasgow 54% had a favourable impression of Christianity with 49% saying it was a faith they respect.
Bizarelly, in covering the outcome of this report the Herald saw fit to ask the Scottish Secular Society for its opinion. Knowing the Scottish Secular Society and what it stands for I'm amazed the Herald would stoop so low as to ask them for an opinion on this report.  They are an organisation which continually spews out deeply bigoted views, particularly in relation to Christianity, and most of what they produce on their website and social media pages is nothing short of hatred as they lay out attack after attack on all things Christian.  I'm now certain that they do not represent the views of most secular people in Scotland, something that this report seems to prove.  Indeed members of the group have recently discussed whether or not they need to change their ways in order to be more appealing.  We can but hope and pray that they will one day join the majority of our Scottish brothers and sisters in seeing Christianity as a positive thing for our country. 
Thankfully most of Scotland does appreciate what Christianity brings to the table and are willing to admit that this is the case.  Christianity is without doubt a cause for good and something incredibly positive. It is the light which can bring us all out of the darkness.  While Scotland may have said no to independence, it most certainly says yes to Christianity.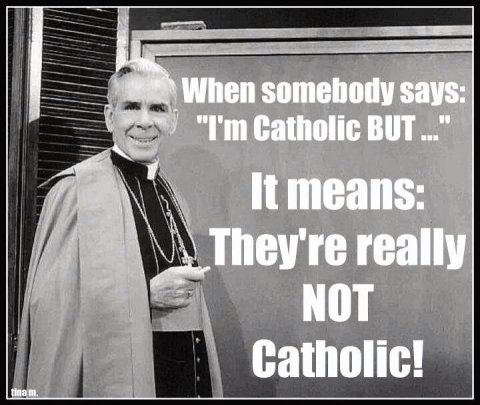 Venerable Fulton Sheen
Isn't it fair to say that our Catholic faith is under attack from many angles in our world today?  The growth of relativism, aggressive secularism, and even attacks from within our own ranks, by people who suggest that Church teaching is wrong on certain matters.
In my own experience it is becoming abundantly clear that more and more self-proclaimed Christians (especially Catholics) are attaching less and less importance to the role of faith, and ultimately Christ, in their lives.  It brings to mind a quote of Venerable Fulton Sheen when he said "When somebody says: 'I'm Catholic but…' it means: they're really not Catholic!"  There are so many examples of people saying 'I'm Catholic but…' in our world today.  Indeed it is a daily occurrence on social media forums.  'I'm Catholic but I don't go to Mass'; 'I'm Catholic but I don't go to Confession, I just go direct to God'; 'I'm Catholic but I don't think we should interfere with a woman's choice when it comes to abortion'; 'I'm Catholic but I believe that same-sex marriage is okay because two people love each other'.
And while those who propagate the view 'I'm Catholic but…' don't seem to care much for the effect it has on the more traditional, conservative Catholic lay people around them; they don't seem to appreciate the effect this has on the one who really matters….Jesus Christ.
It is often difficult to comprehend certain Truths taught by the Catholic Church; the Church's stance on homosexual acts perhaps being the most relevant example.  Nothing seems to stoke the flames as much as this issue. And even when the natural law, Sacred Scripture or the Catechism of the Catholic Church is quoted in defence of the Church's position, it still isn't enough to eradicate the view that the Church is out of touch and living in the past.
Yet what is the Church? Is it really a bunch of decrepit old men as is often argued?  Certainly not.  The Church is an assembly brought together by the Word of God, forming the People of God; a people nourished and sustained by the Eucharist.  And by receiving this nourishment from Christ's Body we too become the Body of Christ.  The Church is the community of believers in Christ and his Truth.  It is a people, stemming from Peter and the apostles through the ages to the present day.  It is a people charged with the task of not only proclaiming the Truth but protecting it so that it may continue to live on through time, penetrating the hearts of countless peoples through the ages.  And perhaps the most important component of the Church is its head; for it is Jesus Christ who is head of the Church.  Not the pope, not the Bishops nor her priests.  No, it is Christ; for it is Christ who formed the Church and it is Christ who promised to be with the Church until the end of time so that the gates of hell would never prevail against her.
When he formed the Church Jesus promised to be with her forever; and he remains with her to this day. And his Truth continues to exist to this very day because it has been protected by his Church.  Just think of the apostles and how they, as a relatively small number, carried that Truth with them, taking it to everyone they met so that they might come to know Christ as they knew him.  Think of how they changed hearts and minds with this Truth and how they were even prepared to take it to their excruciatingly painful deaths.  Yet despite this, the Truth continued to penetrate time, through the early Church Fathers, the Saints, and through converts to the faith.  And so it continued on and two thousand years later it remains with us today; that same Truth proclaimed by Jesus Christ and his apostles.  And it is here because he promised it would be here. Jesus promised to be with his Church, and so his Truth lives on; protected and preserved by a people who love him and who trust completely in him.
While it can be incredibly difficult to live a life of faith in today's world, especially a life of faith in a Catholic sense, we must remember that we are preserving the Truth of Christ, the one who created us and who loves us more than any other.
Another beautiful way to look at the Church is to see her as Christ's bride.  She waits for him to return to earth so that they, the bride and groom, can be completely united as one.  If we let go of the Truth there will be no bride waiting for Jesus at the end of time. That is why it is so important for us to be true to our faith, every last bit of it.  I have heard it said that the rib taken from Adam to create Eve was symbolic of Christ and the Church.  That is how close Christ is to his Church!  And when Christ died on the Cross on Calvary and his side was pierced by the roman soldier, the significance of Adam's rib became even more apparent.  For in the blood and water which poured forth from Christ's side came his forgiveness; a forgiveness that he would soon thereafter charge to his disciples and to his Church.  And the first person to fully appreciate the significance of the blood and water pouring from Christ's side and who proclaimed him to be the 'Son of God'?  The Roman soldier Longinus (now St Longinus) who pierced his side.  Many claim that he was the first convert to the Christian faith.  So, the Church, the creation of which was foretold by the removal of Adam's (Jesus) rib to create Eve (the Church), can now be seen pouring out of Christ's side and reaching out to his created people, calling them to conversion and to come to know the Truth.
St Longinus would never dream of saying 'I'm Catholic but….'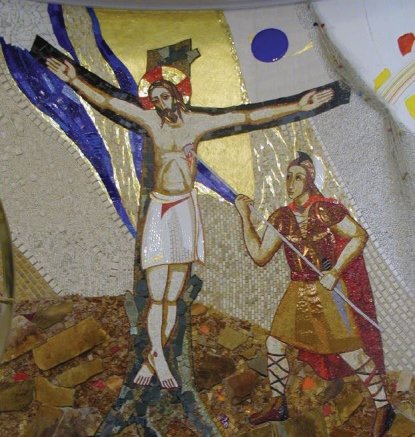 Longinus pierces Christ's side
/