Shopping Cart
Your Cart is Empty
There was an error with PayPal
Click here to try again
Thank you for your business!
You should be receiving an order confirmation from Paypal shortly.
Exit Shopping Cart
Calling Scotland's 841,000 Catholics to unite as one voice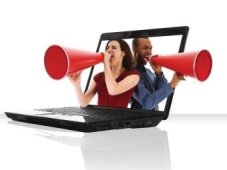 Do you speak openly about your faith to others?  Are you not afraid to be frank about how your religion shapes your moral code?  Do you even go as far as to try to bring others round to your way of thinking on social media sites such as Facebook and Twitter?
In the New Evangelisation just a few years back, Pope Benedict XVI encouraged us to get out into the world to preach the Good News of Jesus Christ.  And he wanted us to use every available platform at our disposal in order to do this.  He used the humble but powerful image of a mustard seed from the Gospel, suggesting that if used effectively a small seed of faith has the potential to bring people to God.  His words were: "I have a mustard seed, and I'm not afraid to use it".  In today's age we are blessed to have social media forums like Facebook to speak more openly about our faith and to tap into a seemingly infinite knowledge base.  While social media can often be a curse there is no doubt it has opened up new avenues of opportunity for spreading the Gospel.
Yet, while some people seem content to do this, many more are not.  In today's secular relativist world it is undoubtedly a big challenge for people to spread their faith by means of social media.  There is fear of criticism and mocking.  There is also fear of offending people or of compromising long-held friendships.  It is a significant problem for our faith and our Church.  And it is an even bigger problem for Jesus. 
While new age beliefs are thrust onto social media at an astounding rate, somehow managing to gather almost unanimous support in the process, Jesus is left to feed off the few scraps that are left.  People would rather post and read quotes about being true to oneself and looking after number one rather than the horrific thought of making love of God and neighbour our priority.  Quotes from famous authors or even the Dalai Lama have the potential to be of untold worth, but their value often pales in comparison to the Word of God or quotes from the Saints.
The Christian message is a tough one because it asks us to put ourselves in third place, behind God and all those around us.  It also asks us to take up our cross on a daily basis and follow Jesus, accepting the suffering that this will inevitably bring.  It also expects us to toe the line on controversial issues such as abortion and same-sex marriage.  It is, in all respects, a challenge of great proportions.  But it is not without its rewards.
And as if this challenge wasn't difficult enough we are also expected to take Jesus' message of love and mercy to all people.  Not just one or two, but to everyone.  Had Jesus not called the Disciples to his side and taught them his message, what hope would there be?  Had the Disciples not then taken that message of Jesus to others, what hope would we have today? 
You see our faith is a faith of action, full of energy and enthusiasm, drenched in positivity and hope.  We can't just settle for our own evangelisation or the evangelisation of those closest to us.  This is not the Christian way.  We must be prepared to carry Jesus and his Gospel message to as many people as we possibly can through our life.  We need to put Christ at the centre and be his voice to all nations, all peoples.  To be truly Christian we must do as the disciples did and carry Jesus and his message to all people, be it on social media, the internet, on the phone, or in person.  Had the disciples failed to do this we would have no Jesus in our lives.  Imagine how empty that life would be? 
Remember, your duty to spread the message of Jesus Christ is not just limited to the people close to you.  In fact, it isn't just limited to the entire human population of our world in your lifetime.  Like the disciples, your witness will hopefully carry the message of Christ well into the future so that another 2000 years from now people are talking about the great disciples of this time and how without their powerful witness the faith would be dead. 
Jesus told the apostles to "Go into the whole world and proclaim the Gospel to every creature".  We need to be disciples for Christ in today's world.  Let the future generations rave about your willingness to speak up for Jesus and how you never shied away from openness and honesty about his loving and merciful message.  Let your children and grandchildren see you stand up for something that will bring eternal life to millions and millions of people!  And remember, you don't need to be a great orator or writer to evangelise.  As Pope Francis has said:  "We evangelise not with grand words, or complicated concepts, but with the joy of the Gospel, which fills the hearts and lives of all who encounter Jesus".  So don't worry, let the joy of the Gospel speak for itself!
The phrase 'do not be afraid' appears often scripture.  It is a strong, powerful message from God about how we must feel when it comes to our faith.  In doing Christ's work and spreading his message we have no need to be afraid.  He is on our side!
Here's the challenge: let your life be a life of evangelisation.  Don't be afraid to share Christ's message with other people.  Let your work reverberate down through the generations where it has the potential to bring millions of lives to eternity with God.  Don't keep good news to yourself.  Use your mustard seed.  Evangelise.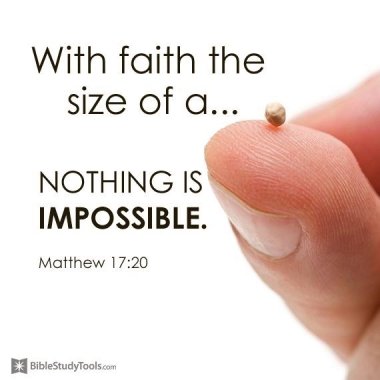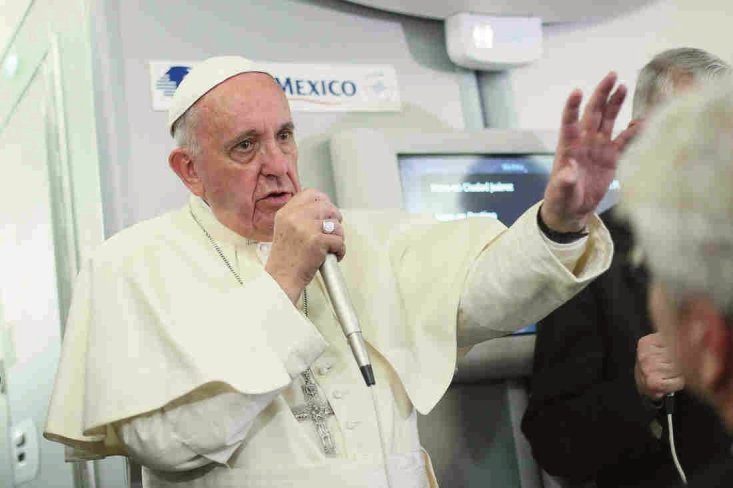 Pope Francis didn't just talk about Donald Trump's value as a Christian and contraception on his latest flight home to Rome.  There is so much more that the mainstream media has failed to cover.  So here it is....the stuff you probably haven't yet heard about:
Pope Francis on paedophilia in the Church and the part played by Pope Benedict XVI to eradicate it:
"First, a bishop who moves a priest to another parish when a case of pedophilia is discovered is a reckless [inconsciente] man and the best thing he can do is to present his resignation. Is that clear?
Cardinal Ratzinger deserves an applause. Yes, an applause for him. He had all of the documentation. He's a man who as the prefect of the Congregation for the Doctrine of the Faith had everything in his hands. He conducted all the investigations, and went on, went on, went on, until he couldn't go any further. But, if you remember, 10 days before the death of St. John Paul II, in that Via Crucis of Holy Friday, he said to the whole Church that it needed to clean up the dirt of the Church. And in the Pro-Eligendo Pontefice Mass, despite knowing that he was a candidate, he wasn't stupid, he didn't care to "make-up" his answer, he said exactly the same thing. He was the brave one who helped so many open this door. So, I want to remember him because sometimes we forget about this hidden works that were the foundations for "taking the lid off the pot."
And, the final thing I would like to say that it's a monstrosity, because a priest is consecrated to lead a child to God, and he eats him in a diabolical sacrifice. He destroys him."


Pope Francis on same-sex unions and adoption by same-sex couples:
"I think what the Church has always said about this. "
"On people of the same sex, I repeat what I said on the trip to Rio di Janeiro. It's in the Catechism of the Catholic Church."


Pope Francis on abortion:

"Abortion is not the lesser of two evils. It is a crime. It is to throw someone out in order to save another. That's what the Mafia does. It is a crime, an absolute evil.
Abortion is not a theological problem, it is a human problem, it is a medical problem. You kill one person to save another, in the best-case scenario. Or to live comfortably, no?  It's against the Hippocratic oaths doctors must take. It is an evil in and of itself, but it is not a religious evil in the beginning, no, it's a human evil. Then obviously, as with every human evil, each killing is condemned."


Pope Francis on the European Union:
"I like this idea of the re-foundation of the European Union, maybe it can be done, because Europe — I do not say is unique, but it has a force, a culture, a history that cannot be wasted, and we must do everything so that the European Union has the strength and also the inspiration to make it go forward. That's what I think."


Pope Francis on the reintegration into the Church of re-married persons:
"Integrating in the Church doesn't mean receiving Communion. I know married Catholics in a second union who go to church, who go to church once or twice a year and say I want communion, as if joining in Communion were an award. It's a work towards integration, all doors are open, but we cannot say, "from here on they can have Communion." This would be an injury also to marriage, to the couple, because it wouldn't allow them to proceed on this path of integration. And those two were happy. They used a very beautiful expression: we don't receive Eucharistic Communion, but we receive communion when we visit hospitals and in this and this and this. Their integration is that. If there is something more, the Lord will tell them, but it's a path, a road."

On Pope John Paull II's friendship with Ana Teresa Tymieniecka:
"In my own experience, including when I ask for advice, I would ask a collaborator, a friend, I also like to hear the opinion of a woman because they have such wealth. They look at things in a different way. I like to say that women are those who form life in their wombs — and this is a comparison I make — they have this charism of giving you things you can build with. A friendship with a woman is not a sin. [It's] a friendship. A romantic relationship with a woman who is not your wife, that is a sin. Understand?
But the Pope is a man. The Pope needs the input of women, too. And the Pope, too, has a heart that can have a healthy, holy friendship with a woman. There are saint-friends — Francis and Clare, Teresa and John of the Cross — don't be frightened. But women are still not considered so well; we have not understood the good that a woman do for the life of a priest and of the church in the sense of counsel, help of a healthy friendship."

And finally, what did the pope ask for in Guadalupe?
"I asked for the world, for peace, so many things. The poor thing ended up with her head like this (raises arms around head). I asked forgiveness, I asked that the Church grows healthy, I asked for the Mexican people. And another thing I asked a lot for: that priests to be true priests, and sisters true sisters, and bishops true bishops. As the Lord wants. This I asked a lot for, but then, the things a child tells his mother are a bit of a secret."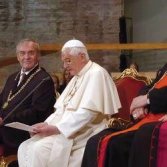 Pope Benedict at the University of Regensburg
When Pope Benedict started speaking at the University of Regensburg in 2006 there was little clue as to the controversy that was about to unfold.  The pope would use the lecture to respond sternly to increasing instances of violence by Islamic extremists across the globe, a move that many westerners felt most uncomfortable with.
While I would not wish to delve into the intricacies of Pope Benedict's lecture, his fundamental message with regard to Islam is that, unlike Christianity, Islam (or at least some of its members) does not appear to link God to reason.  This, Pope Benedict suggested, could lead to fundamentalism. He was quick to state that he was not saying the Muslim God is insane or irrational but, rather, that he is not bound by a reason accessible to human beings.
The pope, in an attempt to make sense of what he was teaching, used a late 14th century quotation from the Byzantine Emperor Manuel II Paleologus: "Show me just what Mohammed brought that was new, and there you will find things only evil and inhuman, such as his command to spread by the sword the faith he preached."
It's quite a quote!  But fast forward to this very day, in the wake of the horrific attacks in the city of Paris, and you begin to see what Pope Benedict was getting at.  Like so many popes before him, including Paul VI, John XXIII and John Paul II, Pope Benedict was not afraid to tackle the big issues head on and ultimately get it right. 
Of course, this isn't the whole story.  While the mainstream media were frantically thinking up headlines to make the pope look like some kind of anti-Islamic barbarian, he gave some crucial context to his use of the quote when he added more words of the Emperor Manuel.  He said: "The emperor goes on to explain in detail the reasons why spreading the faith through violence is something unreasonable….violence is incompatible with the nature of God and the nature of the soul." He then added: "God is not pleased by blood, and not acting reasonably is contrary to God's nature. Faith is born of the soul, not the body. Whoever would lead someone to faith needs the ability to speak well and to reason properly, without violence and threats. ... To convince a reasonable soul, one does not need a strong arm or weapons of any kind or any other means of threatening a person with death ..."
It is important to clarify, as Pope Benedict did, that the roots of such extremist violence come from a perversion of the Islamic faith and not from Islam's authentic theology.
And while so many in the western world cringed at the words of Pope Benedict, more than 100 Muslim scholars from around the world signed an open letter wherein they respectfully took on board the comments made in the pope's Regensburg lecture.  Perhaps even more remarkable is that King Abdullah of Saudi Arabia would visit Pope Benedict in Rome a year later and he would, in 2008, organise an interfaith conference to which he invited Christians, Muslims, Jews, Buddhists and Hindus in an effort to tackle religious extremism.
As Pope Benedict suggested in his lecture, the first victims of Islamic extremism are Muslim people themselves.  It then spreads to other peoples, other religions and other countries, and before we know it, every part of the world is on edge fearing the next attack.
No religion can justify the use of such violence as that being wrought by Islamic State at present, be it in Paris, Syria or Africa, where so much damage is done on a daily basis with little coverage from the western mainstream media.  We need strong leadership from religious leaders as well as from political leaders. We also need strong religion from those who profess their faith in a peaceful way, be they Muslim, Christian, Jewish, Buddhist, and also those of no faith who live by peaceful means. 
As Christians, we need to show the world what living a life of faith is really about.  For us, it is about praising God by loving Him and by loving all of our brothers and sisters with whom we share our planet.  And while we may often fail in that regard, we must never forget that this is what Christianity teaches us and that is the message we must take to the ends of the earth.  There is no place for violence in our religion.  Pope Benedict, despite being ridiculed and derided by many in the western world, wasn't afraid to stand up for peace by speaking out against violence. We should be similarly brave in our approach.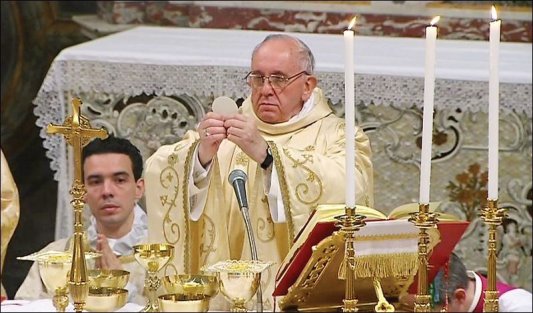 Millions flock to see Pope Francis
Around one million people turned out for the first papal Mass of Pope Francis' visit to Latin America yesterday.  The city of Guayaquil, Ecuador was the venue and it brought to mind the incredible scenes from World Youth Day 2013 in Rio, when approximately 4 million swamped the Copacobana to join the Holy Father for Mass.
It's quite an interesting fact that so many turn out to see the Holy Father and to celebrate Mass with him. Here in Scotland, when Pope Emeritus Benedict XVI said Mass in Glasgow in 2010, approximately 80,000 turned out; a healthy number when you consider the gradual decline in Mass attendance in Scotland in recent years.
And it's this point in particular which intrigues me.  I often wonder how many people going to see the pope celebrate Mass actually go to Mass in their own parish on a regular basis.  It may be that they all do, though I suspect the reality is that a number are simply turning up because it is the pope.  And that in itself is understandable to a degree.  He is, after all, a very high profile figure, and someone most people would love to see in the flesh. 
But is it right that some people pull out all the stops to see the pope and don't put in the effort to attend their parish for Sunday Mass?  I would have thought that it is not.  After all, it is Jesus we respond to when we attend Holy Mass, accepting his invitation to join him on Calvary and to share in his Passion and Resurrection.
By all means, we should rejoice when the pope comes to visit; he is a great holy man and an inspiration to all.  But at the end of the day it is Jesus who is our reason for attending Holy Mass.  It is Jesus who deserves our undivided attention for it is he who suffered and died for us.  It is Jesus who took on unimaginable pain for you and me so that we may live.  If we can't do it for Jesus who can we do it for?  Pope Francis would agree.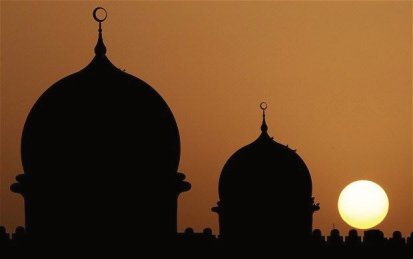 Tim Stanley suggests that secular Europe and its lack of understanding of religion may be a major issue as Paris feels the full brunt of militant Islam.
As he looks back at Emeritus Benedict XVI's Regensburg address in 2006, a speech which brought about great criticism for the then pontiff, he considers how Benedict made two useful observations for Europe and its need to harmonise communities with different beliefs.
Stanley comments that harmonisation of these different cultures is difficult and stresses the importance of dialogue.  However, he states that 'we cannot have such a dialogue if Islamists refuse to listen a secularists treat blasphemy like high art'.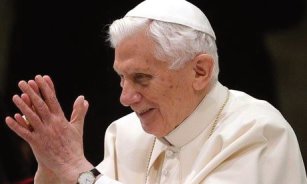 I thought it may be interesting to consider this article from the Catholic Herald, published in February of last year, where Pope Emeritus talks about the "dictatorship of relativism" and his concern tolerance is being abolished "in the name of tolerance".
The article and indeed the pope's quotes came at a time when same-sex marriage was being pushed through Westminster which was not too long after the same-sex marriage bill was approved here in Scotland.  While this seems like such a long time ago it is hard to forget the Scottish government's undemocratic forcing through of the bill which flew square in the face of two thirds of those who took part in the public consultation and who clearly stated that they did not want marriage to be re-defined.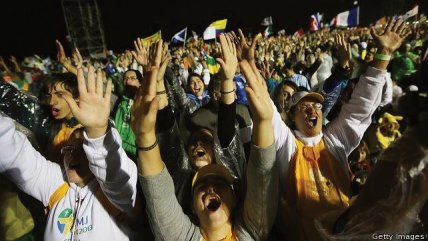 Picture: RTE
To say the formal opening ceremony of World Youth Day 2013 in Brazil was a sight to behold would be an understatement on a grand scale.  With approximately one million young people gathered on the Copacabana beach (which is believed to be named after Our Lady of Copacabana, the patroness of neighbouring Bolivia), the Pope took some time meandering through those who had lined the road to see him arrive in his pope-mobile. 
During this journey the Holy Father blessed just about everyone he passed, kissed the heads of countless babies, gave away his white cap, and even had time to take a drink that someone kindly offered to share with him.  His boundless energy is something to behold and it is often easy to forget that this man is elderly and has had a part of one lung removed.
Once he had finally arrived at the massive stage constructed for the event it was evident that he wasn't particularly keen on taking the seat clearly set aside for him.  No, this Pope wants to have fun; he wants to be with the people; he wants to be connecting with souls at every turn and spreading the love of Christ! 
And boy did he spread the love of Christ last night.  Though, it would be doing a disservice to the one million young Catholic folk to fail to recognise their contribution on this front.  They were phenomenal; shouting and cheering, crying and clapping, singing and dancing.  Unconditional joy; the way Jesus would want it I expect. 
Hundreds of Brazilian youth put on performances for the Pope, who would sit respectfully to watch the show and then stand up to applaud at the end of each spectacle.  Other youngsters carried the flags of all the nations represented at the event, 180 in all; and five young people, including one girl who just couldn't fight off the tears, represented each of the populated continents and presented gifts to the Holy Father.  There was, of course, no better person to comfort the young girl than Pope Francis.  He took her in his arms and spoke to her gently and in an evidently comforting manner.  No better person other than Jesus himself, of course.  But then this Pope is so close to Jesus.  His unrivalled joy and unconditional love for everyone is Jesus working in him.  You can imagine Jesus being filled with wonder and delight in the presence of these young people, just as Pope Francis is.
It is so true to say that the events on the Copacabana beach only reinforced the view that Jesus' suffering and death on the Cross was not for nothing.  The Faith he himself entrusted to the world looks more vibrant, more colourful, more joyful, more youthful and more alive than ever!!
As the Pope said, "In you I see the beauty of Christ's young face and I am filled with joy."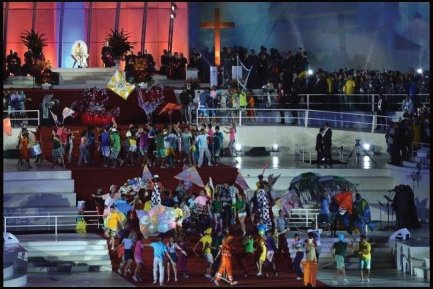 Picture: Global Post

Here is the full text of the Pope's address to the world and also his homily on the Copacabana beach in Rio on Thursday night:
General Address

'Dear Young Friends
 
Good evening! In you I see the beauty of Christ's young face and I am filled with joy. I recall the first World Youth Day on an international level. It was celebrated in 1987 in Argentina, in my home city of Buenos Aires. I still cherish the words of Blessed John Paul II to the young people on that occasion: "I have great hope in you! I hope above all that you will renew your fidelity to Jesus Christ and to his redeeming Cross" (Address to Young People, Buenos Aires, 11 April 1987).Before I continue, I would like to call to mind the tragic accident in French Guiana in which young Sophie Morinière was killed and other young people were wounded. I invite all of you to observe a minute's silence and to pray for Sophie, for the wounded, and for their families.

This year, World Youth Day comes to Latin America for the second time. And you, young people, have responded in great number to the invitation extended by Pope Benedict XVI to celebrate this occasion. We express to him our heartfelt thanks. I am looking at the large crowd before me – there are so many of you! And you have come from every continent! In many cases you have come from afar, not only geographically, but also existentially, culturally, socially and humanly. But today you are all here, or better yet, we are all here together as one, in order to share the faith and the joy of an encounter with Christ, of being his disciples. This week Rio has become the centre of the Church, its heart both youthful and vibrant, because you have responded generously and courageously to the invitation that Christ has made to you to be with him and to become his friends. The train of this World Youth Day has come from afar and has travelled across all of Brazil following the stages of the project entitled "Bota fé – put on faith!" Today the train has arrived at Rio de Janeiro. From Corcovado, Christ the Redeemer embraces us and blesses us. Looking out to this sea, the beach and all of you gathered here, I am reminded of the moment when Jesus called the first disciples to follow him by the shores of Lake Tiberias. Today Christ asks each of us again: Do you want to be my disciple? Do you want to be my friend? Do you want to be a witness to my Gospel? In the spirit of The Year of Faith, these questions invite us to renew our commitment as Christians. Your families and local communities have passed on to you the great gift of faith, Christ has grown in you. I have come today to confirm you in this faith, faith in the living Christ who dwells within you, but I have also come to be confirmed by the enthusiasm of your faith!

I greet you with great affection. To all of you assembled here from the five continents and, through you, to all young people of the world, and in particular to those who have not been able to come to Rio de Janeiro but who are following us by means of radio, television and internet, I say: Welcome to this immense feast of faith! In several parts of the world, at this very moment, many young people have come together to share this event: let us all experience the joy of being united with each other in friendship and faith. And be sure of this: my pastoral heart embraces all of you with universal affection. From the summit of the mountain of Corcovado, Christ the Redeemer welcomes you to this beautiful city of Rio!I wish to extend greetings to the President of the Pontifical Council for the Laity, the dear and tireless Cardinal Stanisław Ryłko, and to all who work with him. I thank Archbishop Orani João Tempesta, of São Sebastião do Rio de Janeiro, for the warm welcome given to me and for the considerable work of preparation for this World Youth Day, together with the many Dioceses of this vast country of Brazil. I would also like to express my gratitude to all the national, state and local authorities and to those who have worked to make possible this unique moment of celebration of unity, faith and fraternity. Thank you to my brother Bishops, to the priests, seminarians, consecrated persons and the lay faithful that have accompanied the young from various parts of the world on their pilgrimage to Jesus. To each and every one of you I offer my affectionate embrace in the Lord.

Brothers and sisters, dear friends, welcome to the XXVIII World Youth Day in this marvellous city of Rio de Janeiro!'

It is good for us to be here! Peter cries out after seeing the Lord Jesus transfigured in glory. Do we want to repeat these words with him? I think the answer is yes, because here today, it is good for all of us to be gathered together around Jesus! It is he who welcomes us and who is present in our midst here in Rio. In the Gospel we have heard God the Father say: "This is my Son, my chosen one; listen to him!" (Lk 9:35). If it is Jesus who welcomes us, we too ought to welcome him and listen to his words; it is precisely through the welcome we give to Jesus Christ, the Word made flesh, that the Holy Spirit transforms us, lights up our way to the future, and enables us joyfully to advance along that way with wings of hope (cf. Lumen Fidei, 7).

But what can we do? "Bota fé – put on faith". The World Youth Day Cross has proclaimed these words throughout its pilgrimage in Brazil. "Put on faith": what does this mean? When we prepare a plate of food and we see that it needs salt, well, we "put on" salt; when it needs oil, then you "put on" oil. "To put on", that is, to place on top of, to pour over. And so it is in our life, dear young friends: if we want it to have real meaning and fulfilment, as you want and as you deserve, I say to each one of you, "Put on faith", and your life will take on a new flavour, it will have a compass to show you the way; "put on hope" and every one of your days will be enlightened and your horizon will no longer be dark, but luminous; "put on love", and your life will be like a house built on rock, your journey will be joyful, because you will find many friends to journey with you. Put on faith, put on hope, put on love!

But who can give us all this? In the Gospel we have just heard the answer: Christ. "This is my Son, my chosen one. Listen to him!" Jesus is the one who brings God to us and us to God. With him, our life is transformed and renewed, and we can see reality with new eyes, from Jesus' standpoint, with his own eyes (cf. Lumen Fidei, 18). For this reason, I want to insist with you today: "Put on Christ!" in your life, and you will find a friend in whom you can always trust; "put on Christ" and you will see the wings of hope spreading and letting you journey with joy towards the future; "put on Christ" and your life will be full of his love; it will be a fruitful life.

Today, I would like each of us to ask sincerely: in whom do we place our trust? In ourselves, in material things, or in Jesus? We are all tempted to put ourselves at the centre, to think that we alone build our lives or that our life can only be happy if built on possessions, money, or power. But it is not so. Certainly, possessions, money and power can give a momentary thrill, the illusion of being happy, but they end up possessing us and making us always want to have more, never satisfied. "Put on Christ" in your life, place your trust in him and you will never be disappointed! You see how faith accomplishes a revolution in us, one which we can call Copernican, because it removes us from the centre and restores it to God; faith immerses us in his love and gives us security, strength, and hope. To all appearances, nothing has changed; yet, in the depths of our being, everything is different. Peace, consolation, gentleness, courage, serenity and joy, which are all fruits of the Holy Spirit (cf. Gal 5:22), find a home in our heart, and our very being is transformed; our way of thinking and acting is made new, it becomes Jesus' own, God's own, way of thinking and acting. During the Year of Faith, this World Youth Day is truly a gift offered to us to draw us closer to the Lord, to be his disciples and his missionaries, to let him renew our lives.

Dear young people: "Put on Christ" in your lives. In these days, Christ awaits you in his word; listen carefully to him and your heart will be warmed by his presence; "Put on Christ": he awaits you in the sacrament of Penance, to heal by his mercy the wounds caused by sin. Do not be afraid to ask God's forgiveness! He never tires of forgiving us, like a father who loves us. God is pure mercy! "Put on Christ": he is waiting for you in his flesh in the Eucharist, the sacrament of his presence and his sacrifice of love, and in the humanity of the many young people who will enrich you with their friendship, encourage you by their witness to the faith, and teach you the language of charity, goodness and service.

You too, dear young people, can be joyful witnesses of his love, courageous witnesses of his Gospel, carrying to this world a ray of his light.
"It is good for us to be here", putting on Christ in our lives, putting on the faith, hope and love which he gives us. Dear friends, in this celebration we have welcomed the image of Our Lady of Aparecida. With Mary, may we be disciples and missionaries. Like her, may we say "Yes" to God. Let us ask that her maternal heart intercede for us, so that our hearts may be open to loving Jesus and making others love him. He is waiting for us, and he is counting on us. Amen.'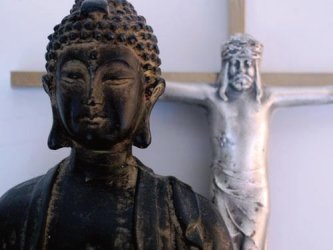 Picture: beliefnet
Scots Catholic is delighted to bring to you the true story of a man who was baptised a Christian but whose heart became hardened causing him to embark on a mission to reveal what he thought was the 'real' truth about Christianity.
However, despite his hardened heart, the 'pull' of Christianity was too great in the end and he returned to the Faith.
It is a very interesting read and gives an interesting perspective on the Christian faith from someone who, at one point in his life, had very little time for it!
/