Shopping Cart
Your Cart is Empty
There was an error with PayPal
Click here to try again
Thank you for your business!
You should be receiving an order confirmation from Paypal shortly.
Exit Shopping Cart
Calling Scotland's 841,000 Catholics to unite as one voice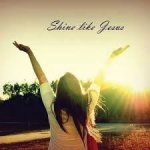 Surrender and let Jesus shine out of you
Sunday's (alternative) Second Reading (1 Corinthians 12:12-14,27):
'Just as a human body, though it is made up of many parts, is a single unit because all these parts, though many, make one body, so it is with Christ. In the one Spirit we were all baptised, Jews as well as Greeks, slaves as well as citizens, and one Spirit was given to us all to drink.
Nor is the body to be identified with any one of its many parts. Now you together are Christ's body; but each of you is a different part of it.'
Do you ever think of yourself being inextricably linked to Jesus?  We often talk about the ability of Jesus to be with us at every moment of the day, wherever we are, whatever we are doing.  We often imagine him by our side, walking with us through the trials and tribulations of life.  But today's reading gives us a slightly different perspective on our relationship with Jesus.
Today's reading tells us that we are actually a part of Jesus.  We are one with him.  Christ is often described as the head of the Church, and this reading confirms that truth.  Jesus is the head of the Church, and always will be.  And it is us, the people, who make up that Church.  Together, as the people of God, we are one with Christ.  It is the most beautiful union between the Creator and the created.  It is a link of unconditional pure and perfect love flowing from the one who was prepared to go through the agony of the Cross so that we would turn from sin and recognise and appreciate this powerful bond.
As we start another week perhaps we should consider taking some time out to contemplate this great bond with Jesus, remembering that each time we do wrong we are doing so in his presence.  But also remembering that each time we do good we are allowing him to take control.  There is a classic saying 'let go and let God'.  Maybe we should bear that in mind as we think about being one with Jesus. 
Perhaps it's time to let Jesus do a bit more in our lives.  Make it your goal this week to surrender to him and let him take over.  Let him take on your worries, troubles and daily difficulties.  What use being part of Jesus if you aren't prepared to use his perfect heart for love, his awesome mind for wisdom, and his most beautiful face to show how much you care?  What benefit is to be gained from receiving Christ in the Eucharist at Mass if we simply ignore the truth and goodness he brings to our very being?  You have the power to let Christ shine out of you, for you are one in him and he is one in you.  Be the loving Jesus.  Be the merciful Jesus.  Be the compassionate Jesus.  Be the Jesus who led others to the Truth.  Be the joyful Jesus!  Let it be.  Let Christ be.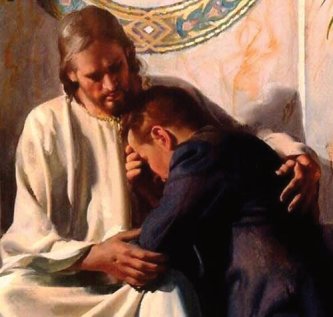 Jesus is waiting to embrace each and every one of us
"Come to me, all you who labour and are burdened, and I will give you rest" (Matthew 11:28).
It's often hard as human beings to admit we are tired or weary.  We have an in-built pride that means we often brush aside any notion of weakness and soldier on.  But sometimes we have to stop and appreciate that we do have limitations and that we do need help.
In the scripture passage above Jesus is giving us the option of going to him for that help.  You see, we all have the choice to go to the very top when we are feeling tired, weary, sad, upset, or lonely.  And it's an option that is free of judgement or hate, and full of love, mercy and compassion.  Nobody loves us like Jesus loves us.  And he is always there, waiting for us.
That's why we are so incredibly blessed this Christmas to have recently witnessed the start of the Jubilee Year of Mercy in the Catholic Church.  It presents an excellent opportunity for us to seek that offer of help from Jesus.  The Church doors are open and the Saviour is home.  He is waiting to spend time with each one of us, to hear our concerns, worries, anxieties and to pour out his mercy upon those who seek it.
This Christmas and beyond be sure to think about that invitation from Jesus.  Give it some consideration and decide if you want to take up his offer.  Unlike your new ipad, his love and mercy will never run dry.  It is eternal.  And it is completely free!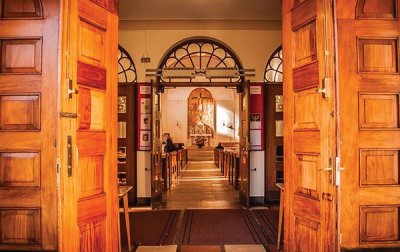 The door to God's house is open
For those of us who haven't entertained our faith for a while or who maybe aren't Christian perhaps this Christmas time is an opportunity to do something radical.  Maybe it's time to break free from the shackles of modern living, even just for an hour or so, and enter God's house where Jesus waits for us with open arms.  What have we to lose?  The truth is: we have absolutely nothing to lose and everything to gain.  And by everything we mean to feel valued, to feel special, to feel loved, and to feel part of something big.  Jesus can give us everything.  There is nothing he cannot do for us.  He can even give us eternal life!
This Christmas let's open ourselves up to the greatest present imaginable.  Let us receive the gift of the loving arms of Christ and the comfort of knowing that in him we will find our true home.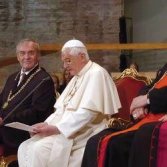 Pope Benedict at the University of Regensburg
When Pope Benedict started speaking at the University of Regensburg in 2006 there was little clue as to the controversy that was about to unfold.  The pope would use the lecture to respond sternly to increasing instances of violence by Islamic extremists across the globe, a move that many westerners felt most uncomfortable with.
While I would not wish to delve into the intricacies of Pope Benedict's lecture, his fundamental message with regard to Islam is that, unlike Christianity, Islam (or at least some of its members) does not appear to link God to reason.  This, Pope Benedict suggested, could lead to fundamentalism. He was quick to state that he was not saying the Muslim God is insane or irrational but, rather, that he is not bound by a reason accessible to human beings.
The pope, in an attempt to make sense of what he was teaching, used a late 14th century quotation from the Byzantine Emperor Manuel II Paleologus: "Show me just what Mohammed brought that was new, and there you will find things only evil and inhuman, such as his command to spread by the sword the faith he preached."
It's quite a quote!  But fast forward to this very day, in the wake of the horrific attacks in the city of Paris, and you begin to see what Pope Benedict was getting at.  Like so many popes before him, including Paul VI, John XXIII and John Paul II, Pope Benedict was not afraid to tackle the big issues head on and ultimately get it right. 
Of course, this isn't the whole story.  While the mainstream media were frantically thinking up headlines to make the pope look like some kind of anti-Islamic barbarian, he gave some crucial context to his use of the quote when he added more words of the Emperor Manuel.  He said: "The emperor goes on to explain in detail the reasons why spreading the faith through violence is something unreasonable….violence is incompatible with the nature of God and the nature of the soul." He then added: "God is not pleased by blood, and not acting reasonably is contrary to God's nature. Faith is born of the soul, not the body. Whoever would lead someone to faith needs the ability to speak well and to reason properly, without violence and threats. ... To convince a reasonable soul, one does not need a strong arm or weapons of any kind or any other means of threatening a person with death ..."
It is important to clarify, as Pope Benedict did, that the roots of such extremist violence come from a perversion of the Islamic faith and not from Islam's authentic theology.
And while so many in the western world cringed at the words of Pope Benedict, more than 100 Muslim scholars from around the world signed an open letter wherein they respectfully took on board the comments made in the pope's Regensburg lecture.  Perhaps even more remarkable is that King Abdullah of Saudi Arabia would visit Pope Benedict in Rome a year later and he would, in 2008, organise an interfaith conference to which he invited Christians, Muslims, Jews, Buddhists and Hindus in an effort to tackle religious extremism.
As Pope Benedict suggested in his lecture, the first victims of Islamic extremism are Muslim people themselves.  It then spreads to other peoples, other religions and other countries, and before we know it, every part of the world is on edge fearing the next attack.
No religion can justify the use of such violence as that being wrought by Islamic State at present, be it in Paris, Syria or Africa, where so much damage is done on a daily basis with little coverage from the western mainstream media.  We need strong leadership from religious leaders as well as from political leaders. We also need strong religion from those who profess their faith in a peaceful way, be they Muslim, Christian, Jewish, Buddhist, and also those of no faith who live by peaceful means. 
As Christians, we need to show the world what living a life of faith is really about.  For us, it is about praising God by loving Him and by loving all of our brothers and sisters with whom we share our planet.  And while we may often fail in that regard, we must never forget that this is what Christianity teaches us and that is the message we must take to the ends of the earth.  There is no place for violence in our religion.  Pope Benedict, despite being ridiculed and derided by many in the western world, wasn't afraid to stand up for peace by speaking out against violence. We should be similarly brave in our approach.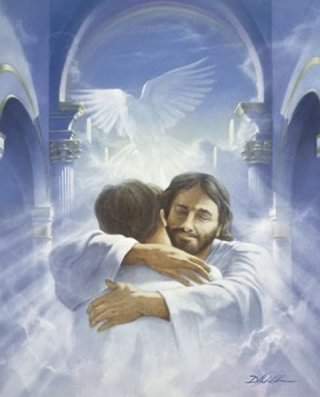 This guy really, really loves you!
Sunday's Second Reading (Hebrews 4:14-16):
'Since in Jesus, the Son of God, we have the supreme high priest who has gone through to the highest heaven, we must never let go of the faith that we have professed. For it is not as if we had a high priest who was incapable of feeling our weaknesses with us; but we have one who has been tempted in every way that we are, though he is without sin.
Let us be confident, then, in approaching the throne of grace, that we shall have mercy from him and find grace when we are in need of help.'
It's hard to admit that we did wrong and to apologise to the person we have wronged.  It's also hard to ask other people for help.  But while this may be the case in our day-to-day dealings with the average joe on the street, this needn't be the case when it comes to Jesus.  St Paul, in this letter to the Hebrews, is urging us to be confident when we approach Christ for forgiveness and help.
You see, we aren't dealing with your run-of-the-mill human being when it comes to Jesus.  We are dealing with a God brimming with infinite mercy and compassion. He is the Creator of all things and He loves you like nobody else does.  There is no hidden agenda, no points to be scored, and no harsh judgements.  He desires and wants to forgive you and help you in every which way possible. He is a God who has experienced the temptations, trials and troubles of every day life just like us, so He knows how difficult life can be. 
He is the ultimate best friend and he will always be there for us when we need him. Can you spare five minutes today to let him show you just how much he loves you and how much you matter to him?  Call out to him and he will respond.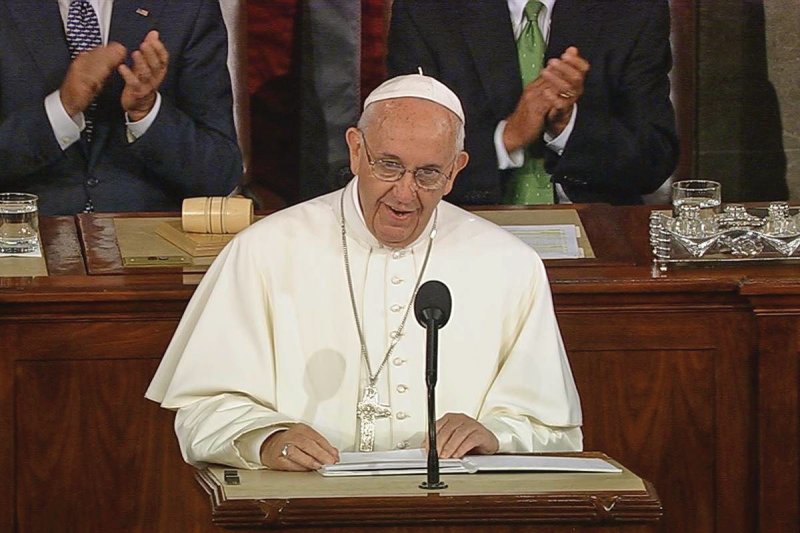 The pope received several standing ovations in Congress
Pope Francis, in his historic address to US Congress, has urged the world to follow Christ's Commandment of love.  The pope used the opportunity to tackle critical issues such as the dignity of human life, the death penalty and the refugee crisis.  He also addressed recent attacks on marriage and family life, and his concerns that the very basis of the family and marriage is being called into question. 
Here are the main quotes from the pope's address to USC ongress this afternoon:
Pope Francis on the golden rule:
"Let us remember the golden rule: do unto others as you would have them do unto you."
On the dignity of human life:
We must "protect by means of the law, the image and likeness fashioned by God in every human life."
We must recognise the "transcendent dignity of the human being".
"The golden rule [to do unto others as you would have done unto you] also reminds us of our responsibility to protect and defend human life at every stage of its development."
On the family:
"The family should be a recurrent theme….how essential the family has been to the building of this country.  I cannot hide my concern for the family which is threatened, perhaps as never before from within and without.  The very basis of the family and marriage is being called into question."
"I can only reiterate the importance and, above all, the richness and the beauty of family life."
"I would like to call attention to those family members who are most vulnerable, the young.  Their problems are our problems.  Our young people are precious."
"We live in a culture that threatens young people not to start a family."
On the death penalty:
"Let's abolish the death penalty here and everywhere. No punishment should exclude hope or the possibility of conversion."
On politics and society:
"Preserve and defend the dignity of your fellow citizens in pursuit of the common good."
"We are all worried by the disturbing social and political situation of the world today."
"It can be no more us vs them. We must confront every kind of polarisation. Our response must be hope and healing, peace and justice."
"Safeguard religious freedom, intellectual freedom, and individual freedom.  We must be specially attentive to every type of fundamentalism."
"Politics must be used to build the common good."
"It's my duty to build bridges and help all men and women to do the same."
"We have to ask ourselves: why are deadly weapons being sold to those who plan to inflict untold suffering on individuals and society?"
"It is our duty to confront the problem and stop the arms trade."
On the elderly:
The elderly are the "storehouse of wisdom".
On the refugee crisis:
"We must view them as persons, seeing their faces, listening to their stories, and try to respond as best we can."
On poverty:
"The fight against poverty and hunger must be fought constantly and on many fronts, especially in its causes."
On business:
"Business is a noble vocation, especially in its creation of jobs to the common good."
On the environment:
"I'm convinced that we can make a difference, I'm sure."
"We have an obligation to our future generations. The time is now."
A migrant crawls along a Spanish beach in front of holidaymakers
The most senior Catholic in England and Wales has urged the UK to be more "generous" in the way it deals with the current refugee crisis in Europe. Cardinal Vincent Nichols, speaking to ITV News said that the British public had told him "it was a disgrace that we were letting people die and seeing bodies on the beaches when together Europe is such a wealthy place." 
The Cardinal continued: "It's people who are desperate for the sake of their families, their elderly, their youngsters, their children, and the more we see that the more the opportunity for a political response that's a bit more generous is growing.  What is screaming out is the human tragedy of this problem."
The Cardinal's comments are most welcome and I completely agree with him that our response to this must be more generous.  We are, in many respects, a wealthy country, and we are blessed by not having to cope with the fear of wars and widespread violence. 
Our parish was blessed recently with the presence of a Nigerian priest who covered our parish while our own priest was on pilgrimage and on holiday.  I recall that in one of his homilies he spoke about the great joy he and his people would feel when they woke up in the morning, simply because they were still alive. Their country is beset by violent clashes and the threat of Boko Haram is an ongoing fear for all, especially Christians.
In Syria and in North Africa there is the threat of ISIS who are persecuting Christians and driving people from their homes.  And now, in Europe, we are starting to see the sad consequences of these wars as people arrive on our shores desperate for safety and to give their children a chance. And this, I feel, is the nub of it. Can we really deny people a place of safety?  Can we really deny little children a chance to live?
The horrific reality of this crisis
Our own resources are finite and we must try to ensure our country remains financially stable.  We get this.  But greater than this, much greater than this, is our call to love our neighbour. Our brothers and sisters are in dire need of our comfort and love.  They beg us to give them a place of safety.  They are on their knees, in the frozen waters of our shores, desperately pleading to each and every one of us to give them even just a little of what we have.
I sincerely hope the words of Cardinal Nichols will be heard and taken seriously by our governors (both in the UK and across all of Europe) and indeed by each one of us.  I hope we all find it in our hearts to be more generous and to give more people a chance. We have the power and we have the resources.  Now all we need is the will.
Here are four ways we can help:
And of course, pray. Please pray for all refugees, perhaps by saying one Hail Mary and asking Our Blessed Mother to intercede with the Father on their behalf.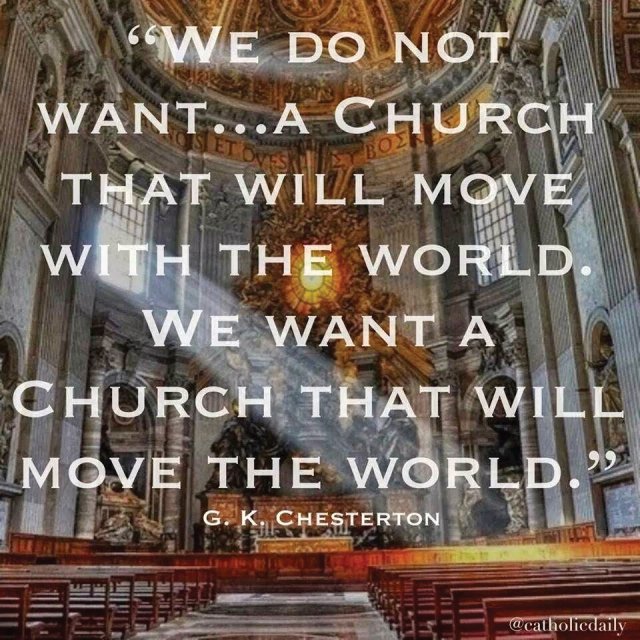 GK Chesterton's powerful quote could be our inspiration
I had cause to be in a Catholic secondary school recently and was immediately struck by the show of faith in the school's main halls.  Numerous crucifixes hung from the walls and there were posters detailing the Beatitudes and other teachings of the Catholic faith.
And perhaps the most striking thing about all of this was simply the incredible beauty of our faith and how lucky and blessed we are to have it.  As I looked up at the multitude of posters I realised that they were all carrying very similar messages.  Indeed, they often repeated the same words over and over again.  Words like love, compassion, forgiveness, humility, service, honesty, peace and friendship, to name a few.
It immediately struck me that we are incredibly lucky to have a faith with these values, especially when you set it against the backdrop of the modern, relativist age where the constant message from the multitude of media outlets is so often about bettering yourself and being happy with your own life.  The values set out on these school walls are the complete opposite of this modern relativist ideology.  These values challenge and encourage people to think of others and to bring the message of Christ to the world; a message of love, compassion, forgiveness, humility, service, honesty, peace and friendship.  These are all values that we, as Catholic Christians, are expected to evidence each and every day of our lives.
If we cannot hold these values close to our hearts and be proper witnesses to them by our words and deeds, how then can others possibly be convinced that it is the right and proper way to live? 
And this is where prayer can be our help. It is through prayer that we can receive the graces to bring Christ's message, and the beautiful faith which he has entrusted to us, to others.  This prayer can take many forms: one-to-one time with Jesus, a Rosary, reading Scripture or the Catechism, reading or listening to the liturgy of the hours, attending the sacrament of Confession, and of course Holy Mass. 
There is an incredible richness to our faith; a richness we would all do well to explore as much as we possibly can.  By immersing ourselves in our faith we are learning the way to love, the way to forgive, and the way to peace.  Only Jesus Christ can deliver true peace to our troubled world.  And what better way for us to partake in that mission than to bring to the world the true beauty of Christ's very own Church. 
Brother and sisters, our faith is something beautiful, something incredible.  It is a faith that simply must be shared.  Consider those values stuck to the wall of that secondary school: love, compassion, forgiveness, humility, service, honesty, peace, and friendship.  Aren't they the complete opposite of all the heartache we witness in our world today; the wars and terrorism, the unnecessary deaths of innocent children, the poverty, the greed, the envy and the harmful gossip? 
Our faith is everything the world is not.  It is love, it is compassion, it is forgiving, and it is peaceful.  Let us make sure the world knows the truth of our faith. Let us immerse ourselves in the true beauty of our faith and the undying love of Jesus Christ, and never be afraid to let it shine out of us like a beacon of hope for the world.  Go on, get out there and be Catholic!  Let's move the world!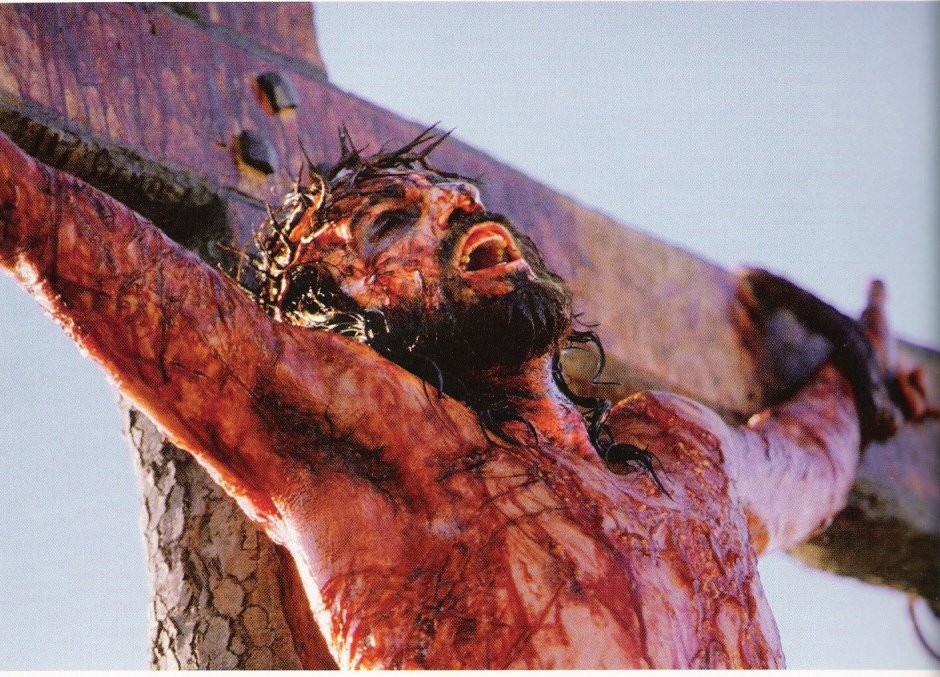 This is what you call 'real love'
Sunday's Second Reading (Ephesians 4:30-5:2):
'Do not grieve the Holy Spirit of God who has marked you with his seal for you to be set free when the day comes. Never have grudges against others, or lose your temper, or raise your voice to anybody, or call each other names, or allow any sort of spitefulness. Be friends with one another, and kind, forgiving each other as readily as God forgave you in Christ.
Try, then, to imitate God as children of his that he loves and follow Christ loving as he loved you, giving himself up in our place as a fragrant offering and a sacrifice to God.'
Ever think that to be a Christian in today's world is hard?  Are you often accused of living in the past and being intolerant of the views of others?  Do people suggest that the Christian message is one of a harsh God who wreaks havoc on anyone who doesn't believe in Him? 
If this is your experience then perhaps this short passage from St Paul's letter to the Ephesians is the most appropriate response to these accusations.  The Christian way is to 'never have grudges against others'. The Christian way is to never 'lose your temper' or 'raise your voice to anybody'.  The Christian way is to never 'call each other names or allow any sort of spitefulness'.  The Christian way is to 'be friends with one another, and kind, forgiving each other as readily as God forgave you in Christ'.
The Christian way is to love. And if ever there was an example of how great this love is and how we as Christians are expected to love, just look to the battered, bruised, bloodied, sacrificial body of Jesus Christ on the Cross. That, brothers and sisters, is Christian love. 
In a world where life has increasingly little value (consider abortion, euthanasia, and the devastating havoc wrought by ISIS), people are crying out for the Christian message of love.  It is our message of love that can bring peace to the world.  Don't be fooled into thinking that we can achieve peace without Christ.  We can't.  Christ is our only hope. 
Let us never be afraid to spread the Christian message of love to the four corners of the world, and let us continue to pray hard that the hearts of all people will be touched by the love of Christ.  Only love, the Christian way, will bring true peace.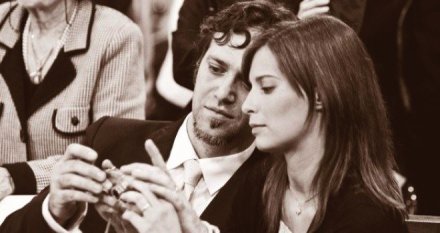 Enrico and Chiara Petrillo
If you haven't yet read the story of Chiara Corbella Petrillo and her husband Enrico then now is perhaps a good time for you to compose yourself and prepare to be blown away.  Because what this couple had to endure is perhaps the most difficult, most tragic situation anyone could imagine.  Yet, in spite of this, they found great joy, peace and hope.  Why?  Because of their unconditional faith in God; because of their trust in His infinite love for every single human being He created; and because of their eternal perspective on all matters of life. 
So, rather than give the entire story away, I will leave you to read it and digest it, and perhaps spend a little time meditating on the faith exhibited by these two extraordinary people and consider if you too could exhibit such strength of faith.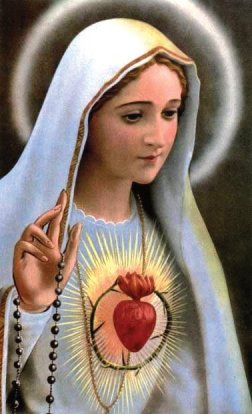 The First Saturday Devotion to the Immaculate Heart of Mary is an incredibly rich, and ultimately rewarding, devotion to Our Blessed Mother Mary. 
Please try to participate in this most incredible act of devotion and allow Jesus to pour his abundant graces upon you.
/