Shopping Cart
Your Cart is Empty
There was an error with PayPal
Click here to try again
Thank you for your business!
You should be receiving an order confirmation from Paypal shortly.
Exit Shopping Cart
Calling Scotland's 841,000 Catholics to unite as one voice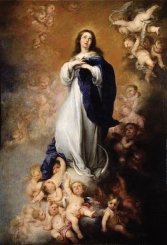 Catholic Answers Director of Apologetics and Evangelisation Tim Staples takes a fascinating look at the beautiful teaching that Mary was conceived without sin and considers the various links between the Old and New Testament with respect to our Blessed Mother.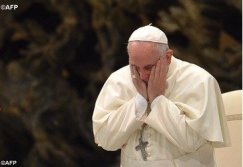 Pope Francis said the institution of Christian marriage has never been attacked so much as nowadays where a temporary or throw-away culture has become widespread. He said marriage should not be seen just a social rite and urged priests to stay close to couples and especially children experiencing the trauma of a family break-up. The Pope was replying to questions put to him on a range of topics during an audience with more than 7000 pilgrims belonging to the Schoenstatt movement, an international Marian and apostolic organization that is celebrating the 100th anniversary of its founding in Germany.  The movement now embraces members, both lay and clerics, from dozens of nations around the world.
Mistaken views about marriage and its true meaning, our temporary or throw-away culture, the need to be courageous and daring, Mary's missionary role, the disunity of the Devil and why the concept of solidarity is under attack.  These were just some of the wide-ranging issues which Pope Francis spoke about in his off-the-cuff remarks during the question and answer session with the Schoenstatt pilgrims held in the Vatican's Paul VI Audience Hall on Saturday.
Asked about marriage and what advice he can offer to those who don't feel welcome in the Church, Pope Francis stressed the need for priests to stay close to each one of their flock without becoming scandalized over what takes place within the family.   He said a bishop during the recent Synod on the family asked whether priests are aware of what children feel and the psychological damage caused when their parents separate.  The Pope noted how sometimes in these cases the parent who is separating ends up living at home only part-time with the children which he described as a "new and totally destructive" form of co-habitation.
He said the Christian family and marriage have never been so attacked as they are nowadays because of growing relativism over the concept of the sacrament of marriage.  When it comes to preparing for marriage, Pope Francis said all too often there is a misunderstanding over the difference between the sacrament of marriage and the social rite. Marriage is for ever, he said, but in our present society there is a temporary or throw-away culture that has become widespread. 
Turning to the missionary role of Mary, the Pope reminded people that nobody can search for faith without the help of Mary, the Mother of God, saying a Church without Mary is like an orphanage. When questioned as to how he maintains a sense of joy and hope despite the many problems and wars in our world, Pope Francis replied that he uses prayer, trust, courage and daring. To dare is a grace, he said, and a prayer without courage or daring is a prayer that doesn't work.   
Asked about reform of the Church, the Pope said people describe him as a revolutionary but went on to point out that the Church has always been that way and is constantly reforming itself.  He stressed that the first revolution or way of renewing the Church is through inner holiness and that counts far more than more external ways such as reforming the Curia and the Vatican bank. Pope Francis also spoke about the importance of having a freedom of spirit and warned against closing ourselves up in a mass of rules and regulations, thus becoming a caricature of the doctors of law.
The theme of our throw-away society was also touched on again by the Pope in another reply when he said our present-day culture is one that destroys the human bonds that bind us together. And in this context, he continued, one word that is at risk of dying in our society is 'solidarity' and this is also a symptom of our inability to forge alliances. Pope Francis also warned about the Devil, stressing that he exists and that his first weapon is disunity.
(Article from news.va)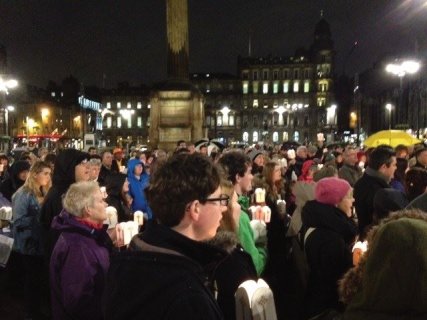 Hundreds braved the cold to stand up for life
Glasgow once again bore witness to the pro-life movement as the annual pro-life torchlight procession took to its streets on Thursday night. 
At least 300 people attended this year's event which is slightly more than last year and must be seen as a positive step in the right direction.  Perhaps the most pleasing thing about the event was the number of young people in attendance.  I have suggested before that there is an undercurrent of Catholic and pro-life youth steadily growing in Scotland, and this was very much in evidence at this event.
The event, which takes place every October, marks the passing of the Abortion Act 1967 and encourages those in attendance to pray for its repeal.
Once again, as in previous years, there was a beautiful recitation of the Rosary in George Square followed by a solemn procession through the busy city streets to St Andrew's Cathedral on Clyde Street .  And while I don't want to go into too much detail about the beauty of the event in George Square, as I believe people should just get off their backsides (health and other commitments permitting) and experience it for themselves, the sound of 'Immaculate Mary' echoing through the centre of Glasgow was an incredible and uplifting experience.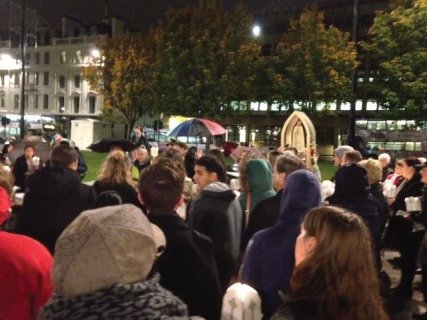 A statue of Our Lady of Fatima was carried through the city streets 
After last year's battle cry from Bishop John Keenan it was left to another priest from the Diocese of Paisley, Monsignor John Tormey, to lead the celebration of Mass in the Cathedral.  Monsignor Tormey was careful to acknowledge the difficulties experienced by people in and around abortion and how a new life can sometimes be seen as a threat and can bring about fear, especially for younger women.  Yet, while abortion is one solution, Monsignor Tormey wanted to make it clear that 'we suggest an alternative solution'.
That alternative solution is, of course, life, but it relies on one very important thing.  It relies on the availability of support for mother and baby and extended family.  If we can ensure that support is available then we can put forward life as a real alternative solution to abortion for many hundreds of women.  As a Catholic people we must embrace our mission to spread the Gospel of Life and to be prepared to debate it with others.  But we must be able do this with great confidence in the support available for mothers encountering the most difficult decision they will ever face. 
Thankfully, and by the Grace of God, there is help available.  Even in Glasgow there are dedicated resources for mothers, as well as fathers and other family members, struggling with pregnancy and the thought of a little child in their lives.  Please be sure to check out our Abortion page by
clicking this link
.  There you will find a number of resources for people who may find themselves struggling with the decision of whether to abort or whether to keep their baby. 
Now, in the days leading up to Thursday's pro-life event in Glasgow, I set out a pro-life challenge to try and encourage people to attend.  While numbers were up we still fell way short of what I know we can achieve.  However, what's done is done and we can only hope that next year our numbers will increase again.  But before that, it's time for another challenge.  In the year ahead we may well come across someone who is considering having an abortion.  You may hear of it from the mother herself or from her partner or perhaps just a family friend.  Whatever the circumstances, please consider your mission to stand up for life.  Suggest that there is an alternative solution and that help is available.  Point them in the direction of the organisations listed on our Abortion page.  Tell them that there are people willing to listen to their problems and difficulties, whatever they may be.  Just give them that alternative.  And then pray; pray very hard for them.  Pray that their hearts may soften to the opportunity of new life in their lives.  It may be that your gentle nudge in the direction of help and support allied with your prayer brings a new life into the world and creates a loving family full of joy.
Please, do not feel limited as to what you can achieve in the cause of life.  Every little prayer helps.  And even your own positive witness to the great joys of life can change hearts and minds.  Don't waste an opportunity to help someone who is considering abortion, you might just save a life.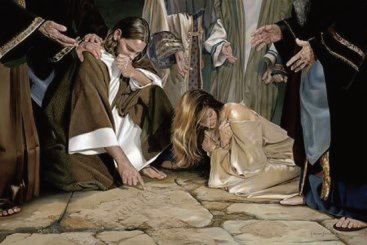 Consider this Gospel passage (John 8:1-11):
And Jesus went to the Mount of Olives.  At daybreak he appeared in the Temple again; and as all the people came to him, he sat down and began to teach them.  The scribes and Pharisees brought a woman along who had been caught committing adultery; and making her stand there in the middle they said to Jesus, 'Master, this woman was caught in the very act of committing adultery, and in the Law Moses has ordered us to stone women of this kind.  What have you got to say?'  They asked him this as a test, looking for an accusation to use against him.  But Jesus bent down and started writing on the ground with his finger.  As they persisted with their question, he straightened up and said, 'Let the one among you who is guiltless be the first to throw a stone at her.'  Then he bent down and continued writing on the ground.  When they heard this they went away one by one, beginning with the eldest, until the last one had gone and Jesus was left alone with the woman, who remained in the middle.  Jesus again straightened up and said, 'Woman, where are they?  Has no one condemned you,' said Jesus.  'Go away, and from this moment sin no more.' 
Nobody knows what Jesus wrote in the sand in this Gospel passage.  Some suggest it was the sins of the scribes and the Pharisees.  Others suggest Jesus was making the point that the sins of the scribes and the Pharisees were as many as the grains of sand on the ground.  But whatever it was, it made them walk away from their intended execution of the adulterous woman.
This passage is perhaps relevant when we consider the recent furore around the Church's Synod on Family Life.  The Synod has been established as a forum for Church fathers to consider important issues around family life such as marriage, divorce, cohabitation, contraception and homosexuality.  The furore, as I have so delicately put it, centres around the publication of the Synod's mid-term report, the language of which has made some Catholic people quiver at the prospect of changes to Church teaching. 
While any change in Church doctrine is, thankfully, very unlikely, the document contains a clear undertone which suggests a certain sympathy or understanding with people in sinful situations.  There were positives drawn from people living in same-sex relationships and cohabiting couples.  There was talk of further consideration of the issue of participation in the sacraments for divorced and remarried people.  It appears the Church is not going to shirk from discussing the big issues.
For me, the report, rather than setting out a threat to Church teaching, has brought about an opportunity to consider how we treat sinners.  It is more about what we do with sinners rather than drilling down to what is actually a sin.  And this is where the Gospel is so relevant. 
The Synod report is a working document which will be subject to change as the first gathering of the Synod comes to a close this week.  Further, even when this work is done the report will not be an authoritative document.  No significant decisions will be made until October 2015 when the Synod gathers again to finalise its views.
In the meantime, we are all asked to consider the content of the Synod's discussions.  Content which for me suggests the Church is encouraging careful consideration of how we treat people in sinful situations.  It's all well and good saying that there is a simple answer to sin in the form of the sacrament of reconciliation.  However, it is a whole different ball game getting people there.  Indeed, many people who consider themselves to be practising Catholics probably don't go to confession as often as they should.  Consider Pope Francis and his fortnightly visit to the sacrament.  If he needs it twice per month, how often do I need it??
So, how do we get people to confession?  How do we get people to engage more with the Church?  That is, after all, where we want sinners to be; in the Church!  I know I am a sinner; that's why I am Catholic, that's why I go to Mass every week.  I need the grace of God to sustain me and to help me.  I am, in truth, no different to the adulterous woman in the Gospel and I need the same grace of God as she did.    
I feel that the Synod has thus far been an extremely useful exercise for the Church.  I think it is an opportunity for the Catholic Church to seriously consider how we reach out to people.  I think it is an opportunity to reaffirm the beautiful teaching of the Church but to perhaps take a slightly different tact in how we share it with people.  It's not about watering down Church teaching; it's about how we wrap our arms around people who need God's forgiveness.  It's about how we lead them and their families to the Church and to participation in the sacraments.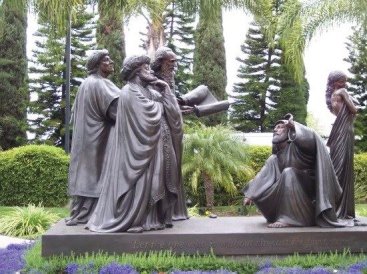 Who do you want to be….the loving Jesus coming to the aid of someone in need, or the self-righteous Pharisees, ever willing to condemn at the first hint of sin?  Jesus forgave the adulterous woman.  But before he did this, he chastised those who tried to claim the moral high ground and who condemned her.  He told them: 'Let the one among you who is guiltless be the first to throw a stone at her.'  Nobody threw a stone.  Why?  Because nobody is guiltless.  The only two people to walk the earth without guilt and sin were Jesus and our Blessed Mother, Mary.  Everyone else carries guilt and carries sin.  Everyone else needs the forgiveness of God. 
If we took fellow sinners in our loving, compassionate arms as Jesus did, couldn't we bring many more people to the Church and to God? 
The next time you stand before a sinner, think of this Gospel and drop the stone in your hand.  Be more like Jesus and come to their aid.  Wrap your arms around them and show them the love and compassion that awaits them in Christ's Church.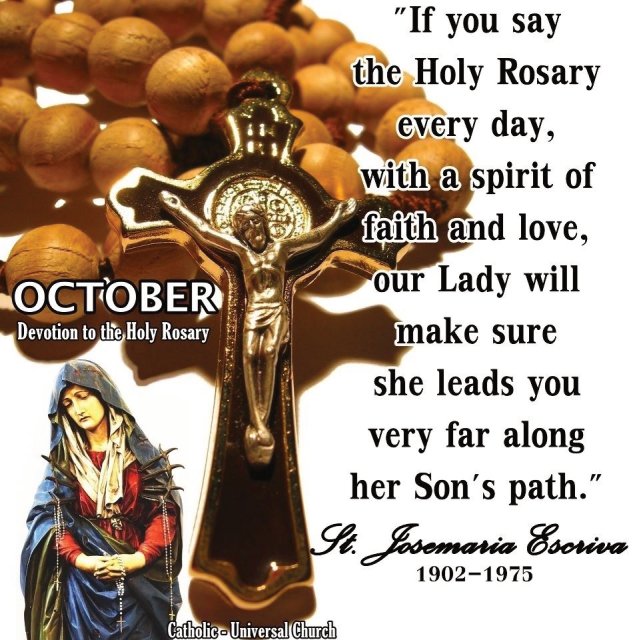 While we should always strive to say the Rosary as often as we can (daily if possible) it is not always so easy to do.  Thankfully the Church gives us the month of October to get our act together!
The month of October is the month of the Holy Rosary and must be seen as an opportunity to develop our knowledge of this most precious devotion and to develop our relationship with Jesus, our Saviour, and Mary, our mother.  Personally, I cannot overstate the graces received as a result of saying the Rosary.  It genuinely works miracles.
If you don't know what the Rosary is or are unsure how to say it, then look no further than our own brief introduction to walk you through the devotion.  You can find it by
clicking this link
.
Please consider picking up your Rosary beads today and enjoy taking the hand of your mother and journey with her as you contemplate the mysteries of her Son's life.  The graces will soon begin to flow....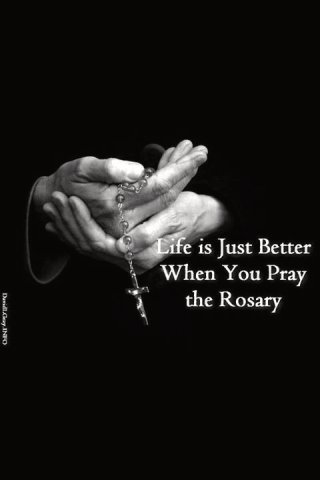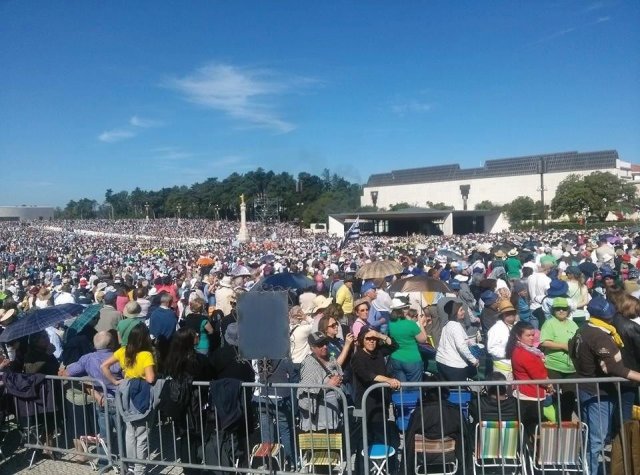 Sheep following the Good Shepherd in Fatima today
From today's Gospel (John 10:22-30):
'The sheep that belong to me listen to my voice;
I know them and they follow me.
I give them eternal life;'
In today's Gospel Jesus is once again emphasising the great gift he has given us: the gift of himself so that we may have eternal life.  Jesus was crucified, died and rose again to save us from sin and to show us that he really is the Son of God.  Those who listen to him and believe in him are truly blessed.  Look at St Paul who, on the road to Damascus where he fully intended to persecute Christians, was met by Christ and suddenly realised that he was wrong to deny the Christian faith.  In that moment St Paul became one of Christ's sheep and was granted the gift of eternal life. 
Do we consider ourselves sheep belonging to Christ?  Are we prepared to listen to his voice and follow him? 
We are so blessed to have so many ways to interact with Jesus.  We have the glory of Holy Mass, we have prayers and devotions, we have the Word of God, and we have simple quiet time in the presence of Jesus, especially in the Blessed Sacrament.  These are all opportunities to interact with Jesus and to listen to his voice. 
Listen and follow….two simple acts of witness to Christ.  We are asked today to listen to Jesus and to follow him and in so doing we may be blessed with the gift of eternal life.

Today's Gospel (Luke 1:26-38):
'The angel Gabriel was sent by God to a town in Galilee called Nazareth, to a virgin betrothed to a man named Joseph, of the House of David; and the virgin's name was Mary. He went in and said to her, 'Rejoice, so highly favoured! The Lord is with you.' She was deeply disturbed by these words and asked herself what this greeting could mean, but the angel said to her, 'Mary, do not be afraid; you have won God's favour. Listen! You are to conceive and bear a son, and you must name him Jesus. He will be great and will be called Son of the Most High. The Lord God will give him the throne of his ancestor David; he will rule over the House of Jacob for ever and his reign will have no end.' Mary said to the angel, 'But how can this come about, since I am a virgin?' 'The Holy Spirit will come upon you' the angel answered 'and the power of the Most High will cover you with its shadow. And so the child will be holy and will be called Son of God. Know this too: your kinswoman Elizabeth has, in her old age, herself conceived a son, and she whom people called barren is now in her sixth month, for nothing is impossible to God' 'I am the handmaid of the Lord,' said Mary 'let what you have said be done to me.' And the angel left her.'
Nothing is impossible with God.  Mary, despite being a virgin, found herself to be with child.  And not any old child; Mary was pregnant with the 'Son of the Most High' as described by the angel Gabriel.  The impossible had suddenly become possible.  The surreal had become real.
And then the Saviour of the world was born.  Jesus, the Lord, came to save us from our sins and to give us the gift of eternal life.  Yet none of this would have been possible had Mary not said 'yes' to God. 
How many of us would say yes to God as Mary did?  Are we prepared to put God and others first before ourselves for the greater good, as Mary did?  Are we prepared to sacrifice our lives in service to God and to others, as Mary did?  Do we have a deep, unconditional love for God as well as a child-like trust which means we are always ready to say 'yes' to Him when he calls us to do His work, as Mary did?
Mary is our guiding light.  It is Mary who shows us the way to complete faith in God.  It is Mary who shows us the type of unconditional love and trust we must have in God.  It is Mary who shows us the way to that deep humility in our daily lives; always putting God and others first.  It is Mary who shows us how we should live our lives; respecting others and ensuring we are never boastful of our achievements.  Mary never boasted that she gave birth to the Son of God.  How then can we ever boast about our achievements?   
Mary is our light.  On this great Solemnity of the Annunciation let us ask Mary to show us the way to Jesus.  Let us ask Mary to intercede for us so that we too can have the grace to say 'yes' when God is calling us to do His work.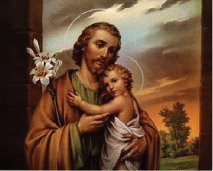 Today's Gospel (Matthew 1:16,18-21,24):
'Jacob was the father of Joseph the husband of Mary; of her was born Jesus who is called Christ.
  This is how Jesus Christ came to be born. His mother Mary was betrothed to Joseph; but before they came to live together she was found to be with child through the Holy Spirit. Her husband Joseph; being a man of honour and wanting to spare her publicity, decided to divorce her informally. He had made up his mind to do this when the angel of the Lord appeared to him in a dream and said, 'Joseph son of David, do not be afraid to take Mary home as your wife, because she has conceived what is in her by the Holy Spirit. She will give birth to a son and you must name him Jesus, because he is the one who is to save his people from their sins.' When Joseph woke up he did what the angel of the Lord had told him to do.'
Isn't Joseph such an inspiration to all?  When Mary was found to be with child Joseph's first thought was to spare Mary the indignity of public outrage about her pregnancy.  He wanted to protect his wife, to make sure she would not be judged and persecuted for being pregnant after having taken a vow of perpetual virginity. 
And then, when the angel appeared to him to tell him that Mary had conceived by the Holy Spirit and that he should still take her as his wife, what then did he do?  He did precisely what the angel told him!  He didn't think I must be going crazy or this is ridiculous; he did exactly what the angel told him.  With his great faith Joseph knew he had been visited by an angel of the Lord and that he must do as the angel says.  He didn't hesitate to do the Will of God.
And that is our challenge; to become less hesitant in doing the Will of God.  Can we be more like Joseph and trust in God, always reacting positively to the little signs He puts before us?  Are we prepared to put our own interests to one side and focus on the needs of others around us, just as Joseph did with Mary and the child Jesus in her womb?  Joseph was a real man!  He put his family first and made sure they were safe.  Yet this wasn't any old family, this was the Holy Family.  This family included Jesus Christ, God made man!  It included Mary, the Mother of God and Mother of all!  What strength in faith must Joseph have had to carry this huge responsibility? 
To all the dads and would-be dads out there: look to St Joseph as you set about the task of raising and looking after your family.  He had a very simple way of looking at life.  He put God first, others second, and himself third.  That way he gave his family the best chance of surrendering to God's plan for their lives.  Our job is to help our families recognise God's plan for us and to submit ourselves to that plan.  Dads, your family needs you to be strong in faith; your family needs you to lead them to holiness here on earth so that your eternal home will be in Heaven with the Father of all.
/