Shopping Cart
Your Cart is Empty
There was an error with PayPal
Click here to try again
Thank you for your business!
You should be receiving an order confirmation from Paypal shortly.
Exit Shopping Cart
Calling Scotland's 841,000 Catholics to unite as one voice
Today is the feast day of Our Lady of Guadalupe. We remember that the Blessed Virgin appeared in a familiar form, as a pregnant native woman dressed in everyday clothing.  Accepting the Good News means changing your life and orienting your heart towards Christ, but we also remember that God and His heavenly messengers come down to meet us in our everyday lives. Jesus came to set us free to worship him in our own way, within our own culture.  With this in mind we consider the venerable images of Our Lady depicted around the world and remember that she is the Mother of us all.  Below are some images of Our Lady from around the world along with a prayer to each.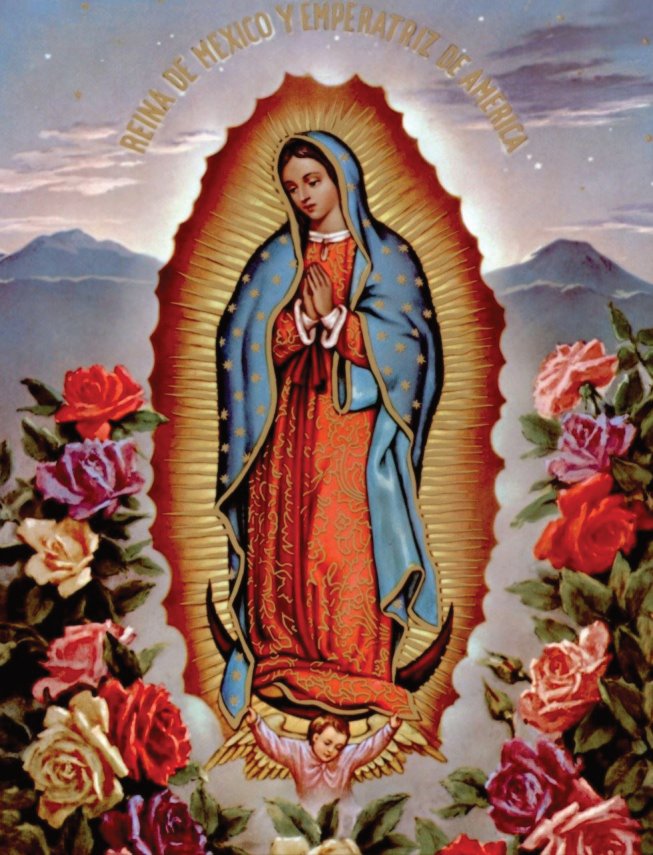 Our Lady of Guadalupe
'Remember O most gracious Virgin of Guadalupe, that in your apparitions on Mount Tepeyac you promised to show pity and compassion to all who, loving and trusting you, seek your help and protection. Accordingly, listen now to our supplications and grant us consolation and relief. We are full of hope that, relying on your help, nothing can trouble or affect us. As you have remained with us through your admirable image, so now obtain for us the graces we need. Amen'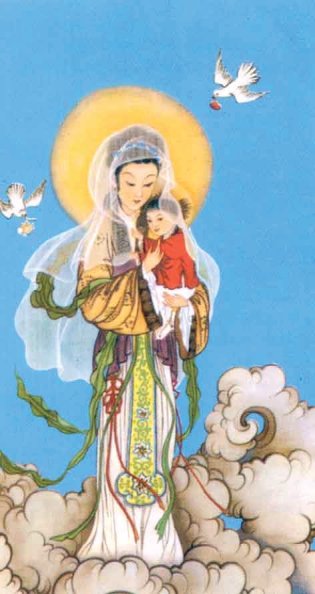 Our Lady of China
John Lu Hung Nein (Peking 1914)
'Almighty and eternal God, Comforter of the afflicted and Strength of the Suffering, grant that our brothers of China who share our faith, may obtain, through the intercession of the Blessed Virgin Mary and our Holy Martyrs, peace in Thy service, strength in the time of trial and grace to glorify Thee, through Jesus Christ Our Lord. Amen'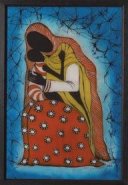 Our Lady of Africa
Felix Msalu (Tanzania)
'Our Lady off Africa, Mother of us all, be specially mindful of the peoples of Africa. Gather together all those who follow Jesus Christ. May they be one in the Church of your Son. May all those who have not yet recognised Jesus as the Son of the Father be drawn by his light. May all those who have been seized by Christ proclaim the Good News by their whole life. Our Lady of Africa, Queen of Peace, obtain the gift of peace for all nations torn apart by hatred, resentment and racism. May your Son's law of Love win over and unite all hearts, so that together we may sing the Glory of the Father, the Son and the Holy Spirit. Amen'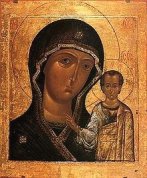 Our Lady of Kazan, Russia
Russian orthodox Icon (Kazan 16 Century)
Fatima Prayer – 'By your pure and Immaculate Conception, O Mary, obtain the conversion of Russia, Spain, Portugal, Europe and the whole world! Sweet heart of Mary, be the salvation of Russia and the whole world'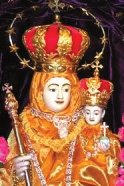 Our Lady of Vailankanni, India
(Vailankanni, India – 16 Century)
'O Most Holy Virgin! You were chosen by the most adorable Trinity from all eternity to be the most pure Mother of Jesus. O Tender Mother of the afflicted, grant me under my present necessities a special protection. O Mother of God accept my salutations in union with the respect with which the angel Gabriel first hailed you 'full of grace'. Amen'
Our Lady of Knock, Ireland
'Our Lady of Knock, Queen of Ireland, you gave hope to our people in a time of distress and comforted them in sorrow. You have inspired countless pilgrims to pray with confidence to your divine Son, remembering his promise 'Ask and you shall receive, seek and you shall find'. Help me to remember that we are all pilgrims on the road to heaven. Fill me with love and concern for my brothers and sisters in Christ, especially those who live with me.  Comfort me when I am sick or lonely or depressed. Teach me how to take part ever more reverently in the holy Mass. Pray for me now and at the hour of my death. Amen'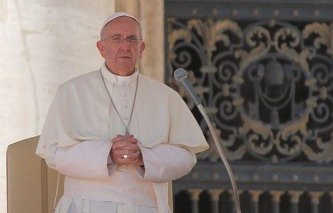 'Jesus left us his mother to be our mother. Only after doing so did Jesus know that "all was now finished" (Jn 19:28).
At the foot of the cross, at the supreme hour of the new creation, Christ led us to Mary.'
Pope Francis
Here is what Pope Francis says about Mary:
'With the Holy Spirit, Mary is always present in the midst of the people. She joined the disciples in praying for the coming of the Holy Spirit (Acts 1:14) and thus made possible the missionary outburst which took place at Pentecost. She is the Mother of the Church which evangelizes, and without her we could never truly understand the spirit of the new evangelization.
Jesus left us his mother to be our mother. Only after doing so did Jesus know that "all was now finished" (Jn 19:28).
At the foot of the cross, at the supreme hour of the new creation, Christ led us to Mary.
"…Christ dwelt for nine months in the tabernacle of Mary's womb. He dwells until the end of the ages in the tabernacle of the Church's faith. He will dwell forever in the knowledge and love of each faithful soul". Blessed Isaac of Stella
As she did with Juan Diego, Mary offers them maternal comfort and love, and whispers in their ear: "Let your heart not be troubled… Am I not here, who am your Mother?"
We implore her maternal intercession that the Church may become a home for many peoples, a mother for all peoples, and that the way may be opened to the birth of a new world.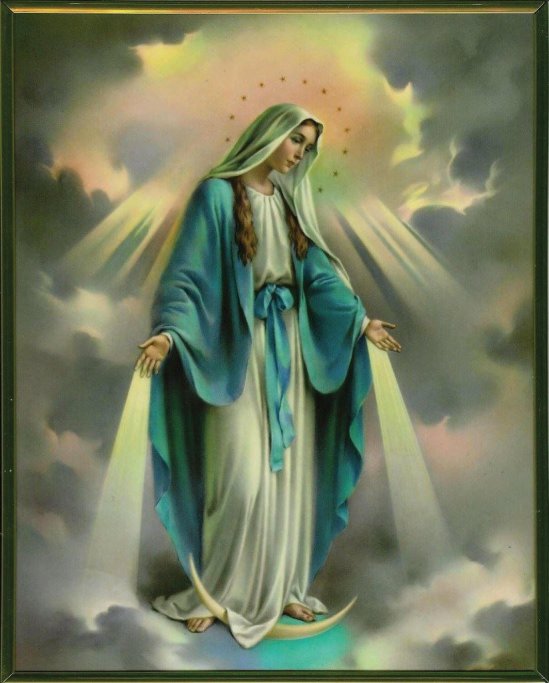 With Mary we advance confidently towards the fulfilment of this promise, and to her we pray:
Mary, Virgin and Mother,
you who, moved by the Holy Spirit,
welcomed the word of life
in the depths of your humble faith:
as you gave yourself completely to the Eternal One,
help us to say our own "yes"
to the urgent call, as pressing as ever,
to proclaim the good news of Jesus.
Filled with Christ's presence,
you brought joy to John the Baptist,
making him exult in the womb of his mother.
Brimming over with joy,
you sang of the great things done by God.
Standing at the foot of the cross
with unyielding faith,
you received the joyful comfort of the resurrection,
and joined the disciples in awaiting the Spirit
so that the evangelizing Church might be born.
Obtain for us now a new ardour born of the resurrection,
that we may bring to all the Gospel of life
which triumphs over death.
Give us a holy courage to seek new paths,
that the gift of unfading beauty
may reach every man and woman.
Virgin of listening and contemplation,
Mother of love, Bride of the eternal wedding feast,
pray for the Church, whose pure icon you are,
that she may never be closed in on herself
or lose her passion for establishing God's kingdom.
Star of the new evangelization,
help us to bear radiant witness to communion,
service, ardent and generous faith,
justice and love of the poor,
that the joy of the Gospel
may reach to the ends of the earth,
illuminating even the fringes of our world.
Mother of the living Gospel,
wellspring of happiness for God's little ones,
pray for us.
Amen. Alleluia!'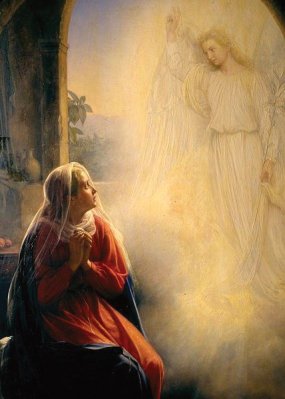 Today's Gospel (Luke 1:26-38):
'The angel Gabriel was sent by God to a town in Galilee called Nazareth, to a virgin betrothed to a man named Joseph, of the House of David; and the virgin's name was Mary. He went in and said to her, 'Rejoice, so highly favoured! The Lord is with you.' She was deeply disturbed by these words and asked herself what this greeting could mean, but the angel said to her, 'Mary, do not be afraid; you have won God's favour. Listen! You are to conceive and bear a son, and you must name him Jesus. He will be great and will be called Son of the Most High. The Lord God will give him the throne of his ancestor David; he will rule over the House of Jacob for ever and his reign will have no end.' Mary said to the angel, 'But how can this come about, since I am a virgin?' 'The Holy Spirit will come upon you' the angel answered 'and the power of the Most High will cover you with its shadow. And so the child will be holy and will be called Son of God. Know this too: your kinswoman Elizabeth has, in her old age, herself conceived a son, and she whom people called barren is now in her sixth month, for nothing is impossible to God' 'I am the handmaid of the Lord,' said Mary 'let what you have said be done to me.' And the angel left her.'
The faith of Mary is astounding; simply astounding.  She trusts completely in God's will and His plan for her life.  There must have been all sorts of things going through Mary's mind at this time yet all she asks is….how is it possible.  No hint of anger or frustration, no selfish thoughts.  Just a genuine curiosity as to how this could come about.
And as soon as the angel offers an explanation it is accepted with reverence and trust as Mary declares 'I am the handmaid of the Lord….let what you have said be done unto me.' 
And so it is with us.  We are all handmaids of the Lord.  Do we, like Mary, trust God sufficiently to let his Will be done unto us?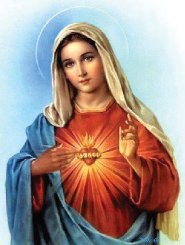 Our Blessed Mother, Mary
'The Church acknowledges the indispensable contribution which women make to society through the sensitivity, intuition and other distinctive skill sets which they, more than men, tend to possess. I think, for example, of the special concern which women show to others, which finds a particular, even if not exclusive, expression in motherhood. I readily acknowledge that many women share pastoral responsibilities with priests, helping to guide people, families and groups and offering new contributions to theological reflection. But we need to create still broader opportunities for a more incisive female presence in the Church. Because 'the feminine genius is needed in all expressions in the life of society, the presence of women must also be guaranteed in the workplace' (from the Pontifical Council for Justice and Peace) and in the various other settings where important decisions are made, both in the Church and in social structures.
Demands that the legitimate rights of women be respected, based on the firm conviction that men and women are equal in dignity, present the Church with profound and challenging questions which cannot be lightly evaded. The reservation of the priesthood to males, as a sign of Christ the Spouse who gives himself in the Eucharist, is not a question open to discussion, but it can prove especially divisive if sacramental power is too closely identified with power in general. It must be remembered that when we speak of sacramental power [as John Paul II says]: "we are in the realm of function, not that of dignity or holiness". The ministerial priesthood is one means employed by Jesus for the service of his people, yet our great dignity derives from baptism, which is accessible to all. The configuration of the priest to Christ the head – namely, as the principal source of grace – does not imply an exaltation which would set him above others. In the Church, functions "do not favour the superiority of some vis-à-vis the others"
Indeed, a woman, Mary, is more important than the bishops.'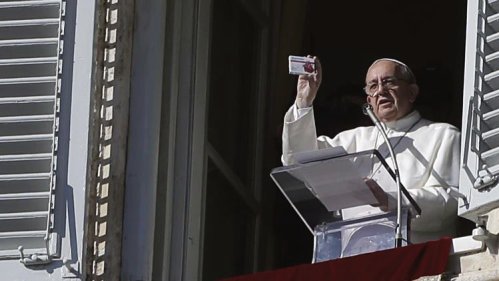 During his Sunday Angelus Pope Francis offered some medicine to the 80,000 strong crowd gathered in St Peter's Square.  Holding up a small medicine box upon which an anatomical drawing of a human heart could be seen, the Pope said: "I want to recommend some medicine for all of you.  It's spiritual medicine."
He then confirmed that the medicine box didn't contain any pills but that it actually contained a set of rosary beads and said, "Don't forget to take it.  It's good for your heart, for your soul, for your whole life."
Around 20,000 of the little medicine boxes containing a rosary, prayer card and medical instruction sheet were then handed out to the faithful.  The information sheet confirmed that 'no negative side affects have been reported' and recommends daily use of the rosary beads, though it also states that repetitive use is permitted.
So if you haven't already done so, remember to take your medicine today!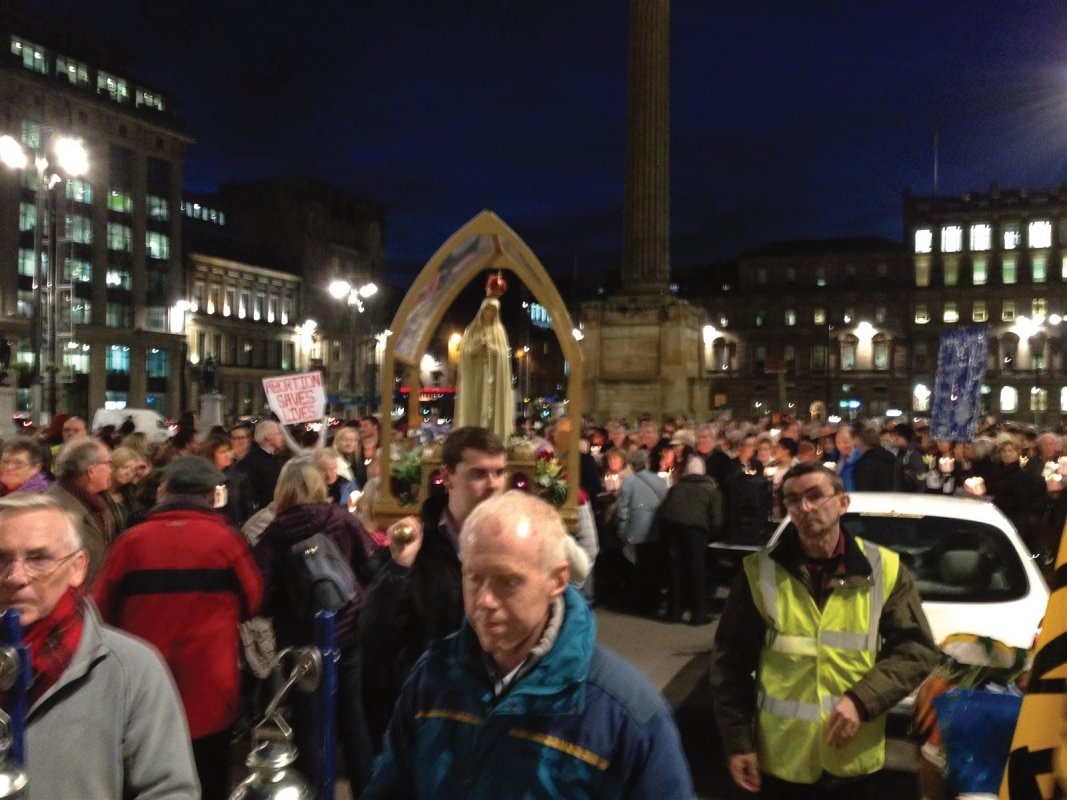 Our Lady's statue is carried through Glasgow
Last night the centre of Glasgow witnessed the joy and splendour of life, wrapped up in a beautiful Rosary, dignified procession, and passionate celebration of the Mass.
It was pro-life night and the people of Glasgow took to the streets to spread the Good News of life.  Around 300 people were present in George Square and it was evident that numbers were slightly up on last year which was encouraging. 
The Rosary, led by Father John Keenan of the University of Glasgow and St Patrick's, Anderston, was a beautiful show of devotion and honour to Our Blessed Mother whose statue, held ably aloft by two young volunteers, looked lovingly over the crowd as it prayed.  Candles lit the faces of pro-life people from around the country, as they held their Rosary beads firmly in their hands.  There were babies, schoolchildren, priests, nuns, people with disabilities, people with special needs, the elderly, and, of course, the youth element which seems to be growing at a pace in Scotland these days.  I mention all of these groups individually not to differentiate them from the normal because that is not the case.  I mention them to highlight the various characters who make up the pro-life movement, many of whom may not be here had their parents not been pro-life.  Thank God for that grace that they are given the opportunity to live, an opportunity we have ALL experienced.  We are all alive today because we were not aborted.  Yet many are not afforded such an opportunity in today's culture of death.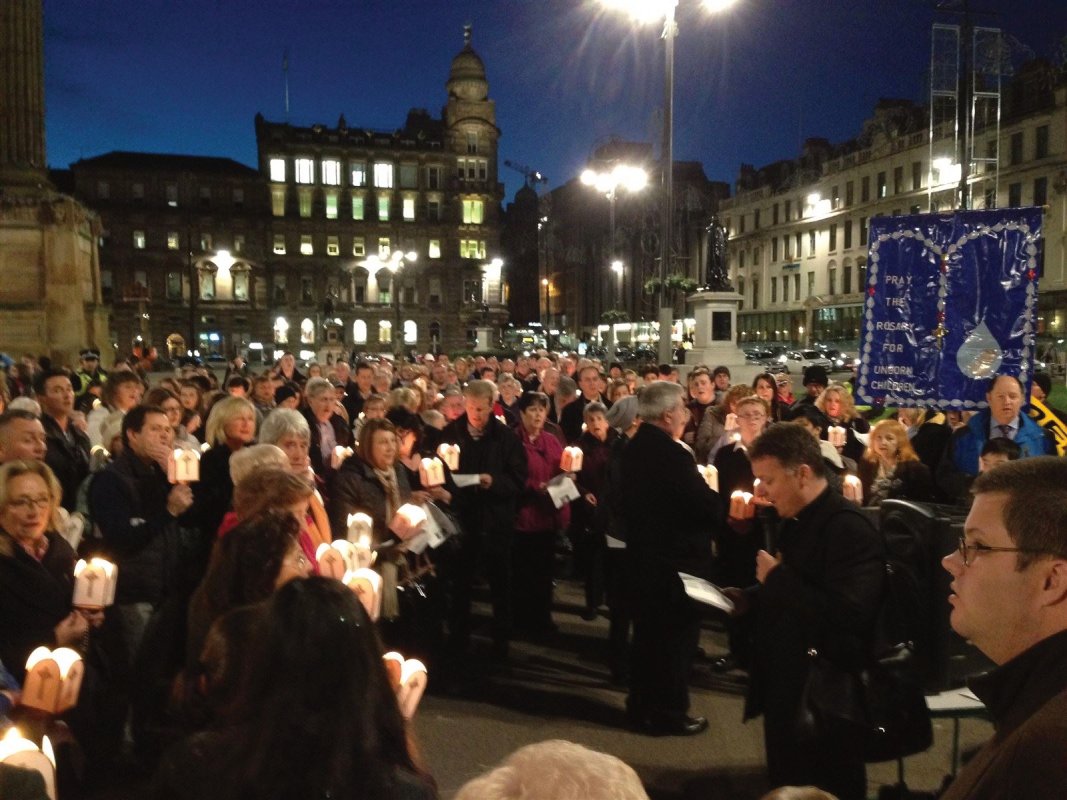 Father Keenan leads the Rosary 
As we were told prior to the Rosary, 200,000 babies have been aborted in the last year since the last such event in 2012.  In one day 500 babies are aborted in the UK.  Do we really take in these figures?  I mean, do we REALLY take them in?  Some people argue that this is justified in the name of women's rights.  Yet these people disregard the single most natural, amazing and precious gift a woman can have and give....another life!   
Either side of the Rosary there was beautiful singing of hymns and during the Rosary the Fatima 'Ave' was belted out with real passion and fervour.  The group then proceeded to walk gently and reverently to the Cathedral on Clyde Street, blazing a trail of fire behind Our Lady's statue at one point spanning the full length of Glassford Street.  It was a beautiful time, an opportunity to reflect on what we were really doing here.  Praying for an end to abortion.  Praying for all affected by this sad and barbaric attack on defenceless children and vulnerable women.  Praying for the fathers, many of whom don't have a say.  Praying for the grandparents, aunts, and uncles, for cousins and close family friends.  Praying for the medics, the doctors and midwives who carry out abortions on a daily basis.  Praying for those who are pro-abortion for them to be enlightened to the beauty and splendour of new life, and to trust in God's providence.  Praying for our governors that they may be similarly enlightened.  And, of course, praying for the pro-life movement, that it will continue to stand for life and never tire of fervently praying for the innocents.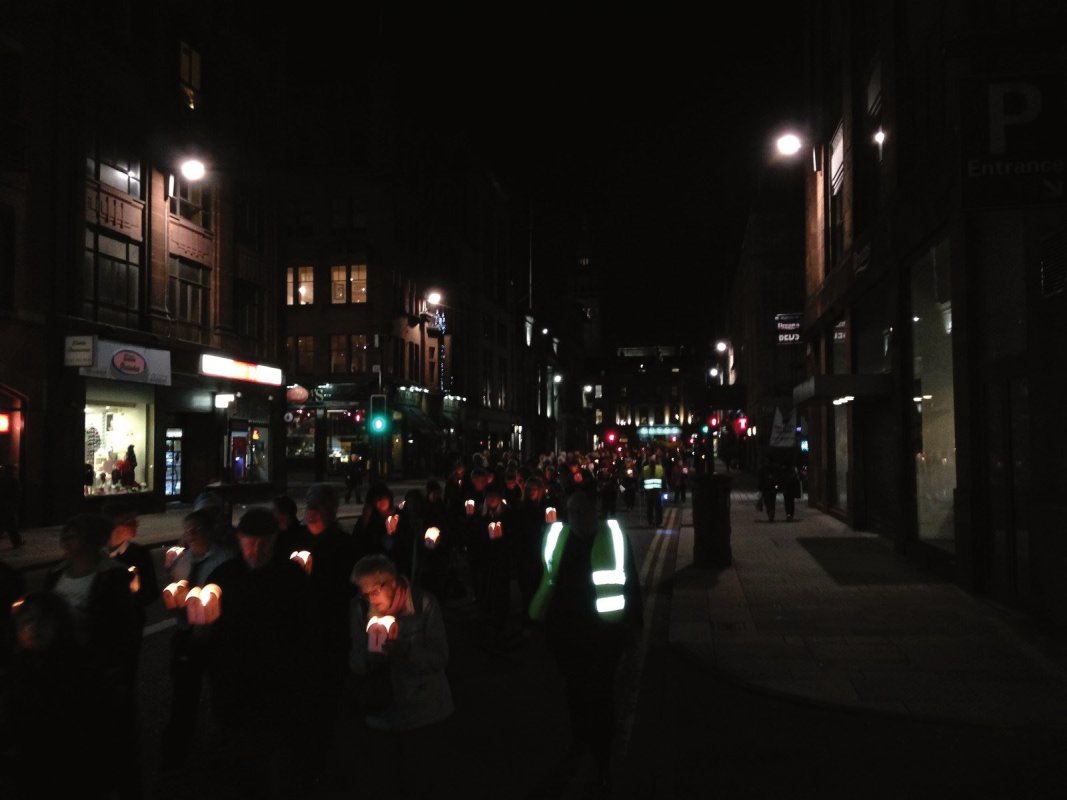 The pro-life movement blaze a trail through Glasgow 
At the Cathedral, the gathered faithful were treated to a beautiful Mass, interspersed with beautiful music and singing from the St Ninian's choir, and a roof-raising homily by Father Keenan.  It was around 15-20 minutes long and I have to admit that I hung on to EVERY word.  The Reading and Gospel of the day didn't perhaps, at first glance, appear to be a fit for the occasion.  But God never lets us down and Father Keenan made sure we were left in no doubt that these readings were perfect for the pro-life cause.
In his letter to the Romans St Paul talks about putting 'your bodies at the service of vice and immorality' and how we must instead 'put them at the service of righteousness for sanctification.'  In George Square a small group of pro-abortion protesters continually chanted about "my body, my choice".  There were a few other expletives in among these chants but the general theme was one of 'my body, my choice'.  As Father Keenan suggested, it is always "me, me, me".
So what is our view on the other side of the fence?  What is the pro-life stance?  Father Keenan pointed us in the direction of Mary suggesting that Mary holds the key to what we must do.  When confronted by the Angel Gabriel and told that she would conceive a child, the Son of God, Mary said, "Let it be done to me according to your word".  Mary did not selfishly state that it was her body and reject the child she was suddenly to bear!  Mary accepted God's Will and God's Divine Plan.  It was an act of complete faith.  It was true love.  It was Mary saying "My body, for you".  Not 'my body, my choice' but 'my body, for you'!
And this is the Christian message.  We don't live for ourselves.  We live for God and for others!  Everyone else comes before us.  That is the way we must live and that is why we are pro-life.  God's Will grants mothers the grace to bear His children.  We must have the faith of Mary and bear these children, and present them back to God, by raising them to glorify Him and to put Him and others first.  What an amazing world we would live in if everybody did this!!  What love!! 
Father Keenan then turned to the Gospel and spoke about how Jesus wished the earthly fire were "blazing already"!  The witness last night, out on the busy streets of Glasgow, was the fire.  That public witness is the blaze Jesus is speaking of.  Witnessing to the faith on the streets!  As Father Keenan suggested, "many people are pro-life on the brain" but they don't do anything about it.  That isn't good enough!  Jesus wants us to get out there to witness for these little ones!  What good is keeping the pro-life cause to ourselves?  It is no good!  Nothing will change if we keep it to ourselves. 
Father Keenan challenged everyone present in the Cathedral to bring another person with them next year.  That way our numbers will double.  That is the challenge to the pro-life people of Scotland, particularly those in the Glasgow area.  The recent census in 2011 confirmed that there are around 841,000 Catholic people in Scotland (an increase on the 2001 census), with the vast majority of them in the Glasgow, Lanarkshire and Inverclyde areas!!  Is 300 people representative of this huge number?  I think not.  It's hugely disappointing.  So the challenge is being thrown down right here, right now.  The same event will be taking place at the same time next year and we want to AT LEAST double our numbers.  This isn't just about Catholic people marching through the streets of our city.  This is about life.  It is about affording little babies the same opportunity we are all so blessed to have received, the opportunity to live.     
From today's First Reading (Romans 3:21-30)  
'So what becomes of our boasts?  There is no room for them.  What sort of law excludes them?  The sort of law that tells us what to do?  On the contrary, it is the law of faith, since, as wee see it, a man is justified by faith and not by doing something the Law tells him to do.'  
Do we boast?  Is that a trait we find in our own character?  St Paul suggests there is no room for boasting and he justifies this, not by the law of the land, but by the law of faith.  It is faith that tells us not to boast. 
True love, as we know from another scripture passage, 'is not boastful.' Rather, we need to be humble.  By following the example of our Mother, Mary, we can clothe ourselves in humility and avoid the boasting alluded to in St Paul's letter.  Humility must win over boasting at all times.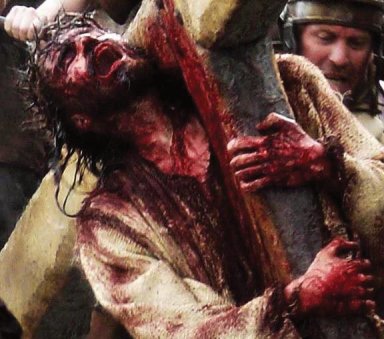 Suffering.  It's a nasty thought.  Nobody wants to suffer, whichever form that suffering may take.
But do we have to suffer?  And do we have to embrace our suffering?  Today's world suggests suffering is a bad thing and is to be avoided at all costs.  Nobody should have to suffer; we should be free from any suffering. 
The Christian view is, as we will discover, quite different.  Let us first consider this text from St Peter:
'My dear people, you must not think it unaccountable that you should be tested by fire. There is nothing extraordinary in what has happened to you. If you can have some share in the sufferings of Christ, be glad, because you will enjoy a much greater gladness when his glory is revealed. It is a blessing for you when they insult you for bearing the name of Christ, because it means you have the Spirit of glory, the Spirit of God resting on you....If anyone of you should suffer for being a Christian, then he is not to be ashamed of it; he should thank God that he has been called one.' (1 Peter 4:12-16)
St Peter tells us to embrace our suffering.  We are to be glad of our suffering because we 'will enjoy a much greater gladness when his [Christ's] glory is revealed.'  So our suffering, suggests Peter, will not be without reward.
Let us also consider St Paul in his second letter to the Corinthians:
'When we suffer for Jesus, it works out for your healing and salvation. If we are treated well, given a helping hand and encouraging word, that also works to your benefit, spurring you on, face forward, unflinching. Your hard times are also our hard times.  When we see that you're just as willing to endure the hard times as to enjoy the good times, we know you're going to make it, no doubt about it.' (2 Corinthians 1:6-7)
So, we are going to 'make it' if we endure the hard times as much as we enjoy the good times.  And our suffering for Jesus will assist us in our healing and salvation. 
So, rewards, healing, and salvation; so far so good!
Now what about Jesus himself, what did he say about suffering?  Well, perhaps his most well know reference is this beatitude:
'Happy are you when people abuse you and persecute you and speak all kinds of calumny against you on my account. Rejoice and be glad, for your reward will be great in Heaven; this is how they persecuted the prophets before you.' (Matthew 5:11-12)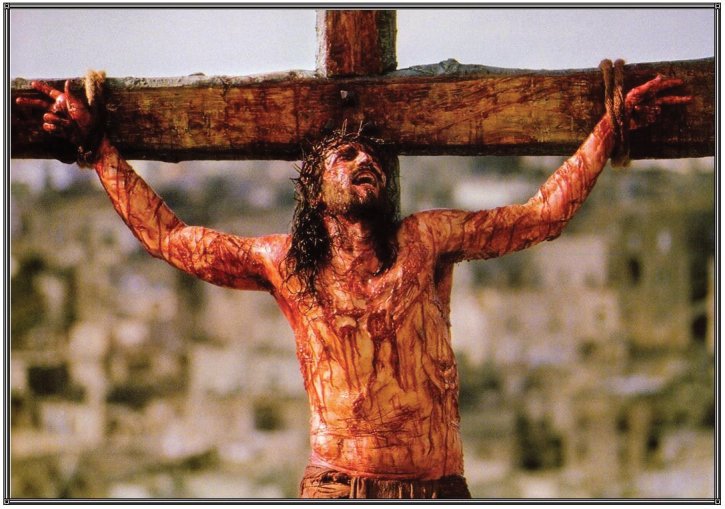 The Cross: a sign of pain and suffering; but also a sign of reconciliation and salvation 
We also have the following examples of Jesus speaking about our need to suffer:
Matthew 10:38 - Jesus said, "he who does not take up his cross and follow me is not worthy of me."
Matthew 16:24; Mark 8:34 - Jesus said, "if any man would come after me, let him deny himself and take up his cross and follow me."
Luke 14:27 - Jesus said, "whoever does not bear his own cross and come after me, cannot be my disciple."
There is no getting away from it.  Jesus himself says we have to take up our cross.  And what is the cross?  It is a sign of suffering and pain; yet it is also a sign of reconciliation and salvation.  So through our pain and suffering comes a deep spiritual cleansing and salvation.
Add to this the words of Our Lady at Fatima who asked the three shepherd children, "Do you wish to offer yourselves to God, to endure all the suffering that He may please to send you, as an act of reparation for the sins by which He is offended, and to ask for the conversion of sinners?"  Once the children had said yes, Our Lady responded, "You will have to suffer a lot, but the grace of God will be your comfort."  
The need for suffering in our Christian faith is in no doubt.  To seek freedom from suffering contrary to the Will of God is not going to help us to eternal life.  We need to accept suffering as part of God's Will and trust in His infinite mercy.  That is what the three little children of Fatima did.  That is what St Peter and St Paul did.  That is what Jesus himself had to do.  And now he is asking us to do the same.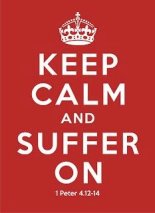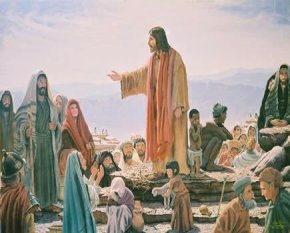 From today's Gospel (Luke 11:29-32)
'The crowds got even bigger and Jesus addressed them, 'This is a wicked generation; it is asking for a sign. The only sign it will be given is the sign of Jonah.''
Why is our generation so desperate for a sign?  You see, our generation is no different from the one Jesus refers to in this Gospel passage.  Why is it that something which directly touches our senses will bring us closer to having complete faith in God? 
True, a positive sign of God's existence would help our faith.  But do we need it?  Don't we have enough already?  Let me suggest some of the evidence we already have to date. 
We have the lives of the prophets, as described in the Old Testament in great detail.  We even have the very beginning of time described in quite amazing detail through Genesis, including God's very first commandment to mankind....go forth and multiply.  We have the life of Jesus Christ and his disciples through the New Testament.  We also have written evidence from non-Christian/non-religious scholars and writers who wrote about the life of Christ thus ensuring he is not some manifestation of Christianity.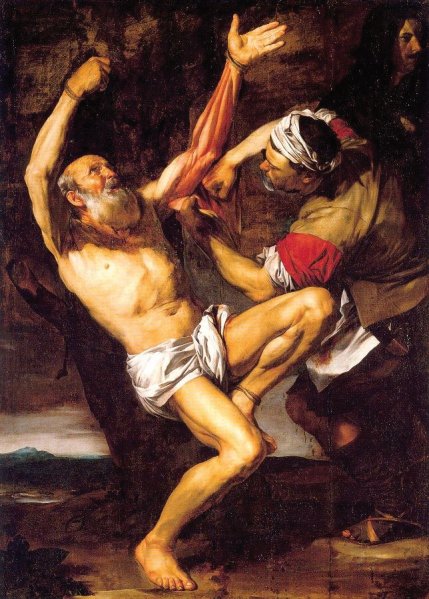 St Bartholomew was skinned alive for refusing to denounce Jesus 
Further, we have the lives of the disciples, who were martyred for their faith.  They died for Jesus.  They had the choice not to die, to live; but they were so certain of Jesus' life, death and resurrection that they simply could not deny it!  This included St Bartholomew who was skinned alive for refusing to denounce Christ as the Son of God. 
We have the Acts of the Apostles in the New Testament which provides evidence of life after death when Christ appeared to the Apostles over a period of 40 days.
We also have the succession of Peter, evidenced today by Pope Francis.  This line of papal succession not only goes all the way back to Peter, but to Christ himself.  It is unbroken for over 2,000 years.
What about the apparitions, particularly those of Our Blessed Mother Mary at Fatima, Lourdes and Guadalupe?  At Fatima, three little children gave up their entire lives to serve God after Our Lady appeared to them in 1917.  She foretold that two of them would die very soon and that the other would live on for some time longer.  A prediction that would, of course, become truth.  Three children giving up their entire lives to say the Rosary every day, to give away their lunch to the poor every day, to pray endlessly for the poor souls in purgatory after Our Lady showed them a vision of hell.  There is of course more.  Our Lady, on 13th October 1917, during her last apparition to the children, showed the thousands who had gathered there, a miracle of the sun.  The sun moved round and round in a circular motion and danced, finally hurtling towards earth at the end of the miracle.  However, before it struck the earth, it stopped and was returned to its normal position.  Thousands witnessed this miracle.  And thousands also witnessed the fact that the ground beneath them which was soggy after prolonged rain had suddenly become completely dry after the miracle.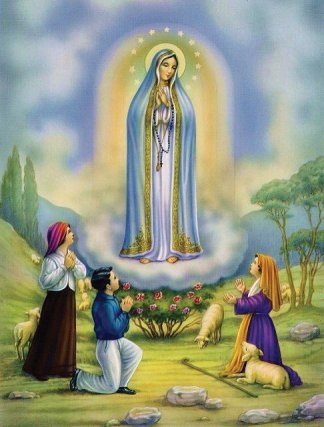 Our Lady appearing to three little children at Fatima
Of course, the miracle at Fatima was not only witnessed in one small area; rather, it was witnessed over an area of some 600sq miles.  It is also interesting to note that, should this be a hoax of grand proportions by either all of these witnesses or the Church, why didn't the people say they saw Our Lady like the children did?  That is, after all, what they had hoped to see. 
Further at Fatima, we have the incredible evidence that Jacinta Marto (the youngest of the Fatima children), when her body was exhumed to move it to different locations some 15 and then 30 years after her death, her body was found to be incorrupt.  It hadn't decayed like a body should.  This, of course, has happened to many saints over the years, including St Anthony and St Catherine.
All of this evidence, along with the countless billions of believers through the years, is our sign.  This is not to mention the numerous Eucharistic miracles, and numerous healings and intercessions. 
At the end of the day, we have more than enough signs to satiate our need.  This is why Jesus appears to be frustrated at the crowd asking for a sign!  Perhaps it was especially frustrating back then when they had the Son of Man right there in front of them performing miracle after miracle, yet they still wanted more!
The bottom line is this; we do not NEED a sign.  We have enough.  The evidence is stacking up with each and every passing day and each and every prayer and Mass.  If we are struggling with our faith and feel we need a sign, why not read about some of the evidence considered in this text?  Why not look deeply at the miracle of Fatima or the Acts of the Apostles?  Look at the lives of the martyrs who sacrificed their lives because they trusted so much in Jesus and knew He would save them.  Or go into your local Catholic Church and contemplate the Tabernacle, wherein rests Christ himself. 
It is still the Year of Faith, still the New Evangelisation.  Let's learn about our Faith and see the evidence before us, and let's dispense with the notion that we need a sign to believe.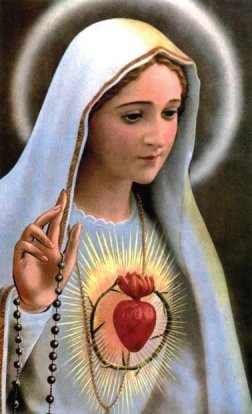 Our Lady of Fatima
The word 'Rosary' comes from Latin and means 'garland of roses'.  The Rosary is a devotion in honour of our Mother, the Blessed Virgin Mary and contemplates the life of Christ through the eyes of Mary.  It is a most beautiful devotion and I can attest to it delivering many graces to those who pray it. 
It is understood St Dominic gave us the Rosary as we now know it, after being moved by a vision of Our Lady; and he and Blessed Alan de la Roche revealed fifteen promises by Our Lady for those who pray the Rosary.  They are as follows:
Whoever shall faithfully serve me by the recitation of the Rosary, shall receive signal graces.
I promise my special protection and the greatest graces to all who shall recite the Rosary.
The Rosary shall be a powerful armor against hell, it will destroy vice, decrease sin, and defeat heresies.
It will cause virtue and good works to flourish; it will obtain for souls the abundant mercy of God; it will withdraw the hearts of men from the love of the world and its vanities, and will lift them to the desire of eternal things. Oh, that souls would sanctify themselves by this means.
The soul which recommends itself to Me by the recitation of the Rosary, shall not perish.
Whoever shall recite the Rosary devoutly, applying himself to the consideration of its sacred mysteries, shall never be conquered by misfortune. God will not chastise him in His justice, he shall not perish by an unprovided death; if he be just he shall remain in the grace of God, and become worthy of eternal life.
Whoever shall have a true devotion for the Rosary shall not die without the Sacraments of the Church.
Those who are faithful in reciting the Rosary shall have during their life and at their death the light of God and the plenitude of His graces; at the moment of death they shall participate in the merits of the saints in paradise.
I shall deliver from purgatory, those who have been devoted to the Rosary.
The faithful children of the Rosary shall merit a high degree of glory in Heaven.
You shall obtain all you ask of me by the recitation of the Rosary.
All those who propagate the holy Rosary shall be aided by Me in their necessities.
I have obtained from My Divine Son, that all the advocates of the Rosary shall have for intercessors, the entire celestial court during their life and at the hour of death.
All who recite the Rosary are My sons, and brothers of my only son Jesus Christ.
Devotion to my Rosary is a great sign of predestination.
These promises were further emphasised to the world when Our Lady appeared to three shepherd children in Fatima in the early twentieth century and told them to pray the Rosary often for poor sinners and poor souls and for peace in the world. 
So now, let's say it!!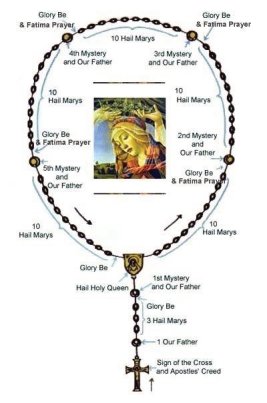 Picture: rosaryprayerguide.com
Saying the Rosary:
Section 1
1.  Take your Rosary beads and use the Crucifix to bless yourself 'In the name of the Father….'
2.  Then, still on the Crucifix, say the Apostles Creed.
Section 2 – These prayers are for the Holy Father's prayer intentions 
1.  On the very first bead (closest to the Crucifix), say an Our Father
2.  Then on the next three beads say a Hail Mary on each bead
3.  On the next bead say a Glory Be. 
Section 3 – This is the main part of the Rosary.  Select the appropriate set of Mysteries (below) and then proceed as follows:
1.  On the first bead of each decade say an 'Our Father'; then say a 'Hail Mary' on each of the following ten beads; then say one 'Glory Be'; and finally, say the Fatima prayer.
2.  You then continue in this manner until you have said 5 decades, covering each mystery of the relevant set of Mysteries.
3.  Finish your Rosary by saying the Hail Holy Queen (Salve Regina), the Final Prayer (both set out below) and making a sign of the Cross with your Crucifix.
4.  You have said your Rosary!!  Just wait for the graces to flow!!
Here are the prayers if you aren't sure of them....
The Apostles Creed: I believe in God, the Father Almighty, Creator of heaven and earth and in Jesus Christ, His only Son, our Lord; Who was conceived by the Holy Spirit, born of the Virgin Mary, suffered under Pontius Pilate, was crucified, died, and was buried, He descended into hell; the third day He arose again from the dead; He ascended into Heaven, sitteth at the right hand of God, the Father Almighty, from thence He shall come to judge the living and the dead. I believe in the Holy Spirit, the Holy Catholic Church, the communion of saints, the forgiveness of sins, the resurrection of the body, and life everlasting. Amen.
The Our Father: Our Father, Who art in Heaven, hallowed be Thy name; Thy Kingdom come, Thy will be done on earth as it is in Heaven.  Give us this day our daily bread; and forgive us our trespasses as we forgive those who trespass against us; and lead us not into temptation, but deliver us from evil.   Amen.
The Hail Mary: Hail Mary, full of grace, the Lord is with thee, blessed art thou amongst women and blessed is the fruit of thy womb, Jesus. Holy Mary Mother of God, pray for us sinners now and at the hour of our death. Amen.
The Glory Be (Doxology): Glory be to the Father, and to the Son, and to the Holy Spirit.  As it was in the beginning is now and ever shall be, world without end.  Amen.
The Fatima Prayer: O my Jesus, forgive us our sins. Save us from the fires of hell. Lead all souls to heaven, especially those in most need of thy mercy.
Hail Holy Queen (Salve Regina): Hail Holy Queen, Mother of Mercy, hail our life our sweetness and our hope.  To thee do we cry, poor banished children of Eve; To thee do we send up our sighs, mourning and weeping in this veil of tears.  Turn then, most gracious advocate, thine eyes of mercy toward us and after this our exile show unto us the blessed fruit of thy womb, Jesus.  O clement, O loving, O sweet Virgin Mary!
V: Pray for us, O Holy Mother of God
R: That we may be made worthy of the promises of Christ.
Final Prayer: O God, by the life, death and resurrection of Your only begotten Son, has purchased for us the rewards of eternal salvation; grant, we beseech thee that by meditating on these mysteries of the most Holy rosary of the Blessed Virgin Mary, we may both imitate what they contain and obtain what they promise through the same Christ our Lord. Amen.
Mysteries
In saying your Rosary, contemplate these mysteries for each decade (selecting the appropriate set of mysteries for the day on which you say your Rosary):
The Joyful Mysteries (Monday, Saturday): The Annunciation, The Visitation, The Nativity, The Presentation of the Child Jesus in the Temple, The Finding of the Child Jesus in the Temple.
The Sorrowful Mysteries (Tuesday, Friday): The Agony in the Garden, The Scourging at the Pillar, The Crowning of Thorns, The Carrying of the Cross, The Crucifixion.
The Glorious Mysteries (Sunday, Wednesday): The Resurrection, The Ascension, The Descent of the Holy Spirit, The Assumption of the Blessed Virgin Mary, The Crowning of the Blessed Virgin Mary as Queen of Heaven.
The Luminous Mysteries (Thursday): The Baptism in the Jordan, The Wedding Feast at Cana, The Proclamation of the Kingdom of God and Repentance for Sin, The Transfiguration, The Institution of the Holy Eucharist.
/