Shopping Cart
Your Cart is Empty
There was an error with PayPal
Click here to try again
Thank you for your business!
You should be receiving an order confirmation from Paypal shortly.
Exit Shopping Cart
Calling Scotland's 841,000 Catholics to unite as one voice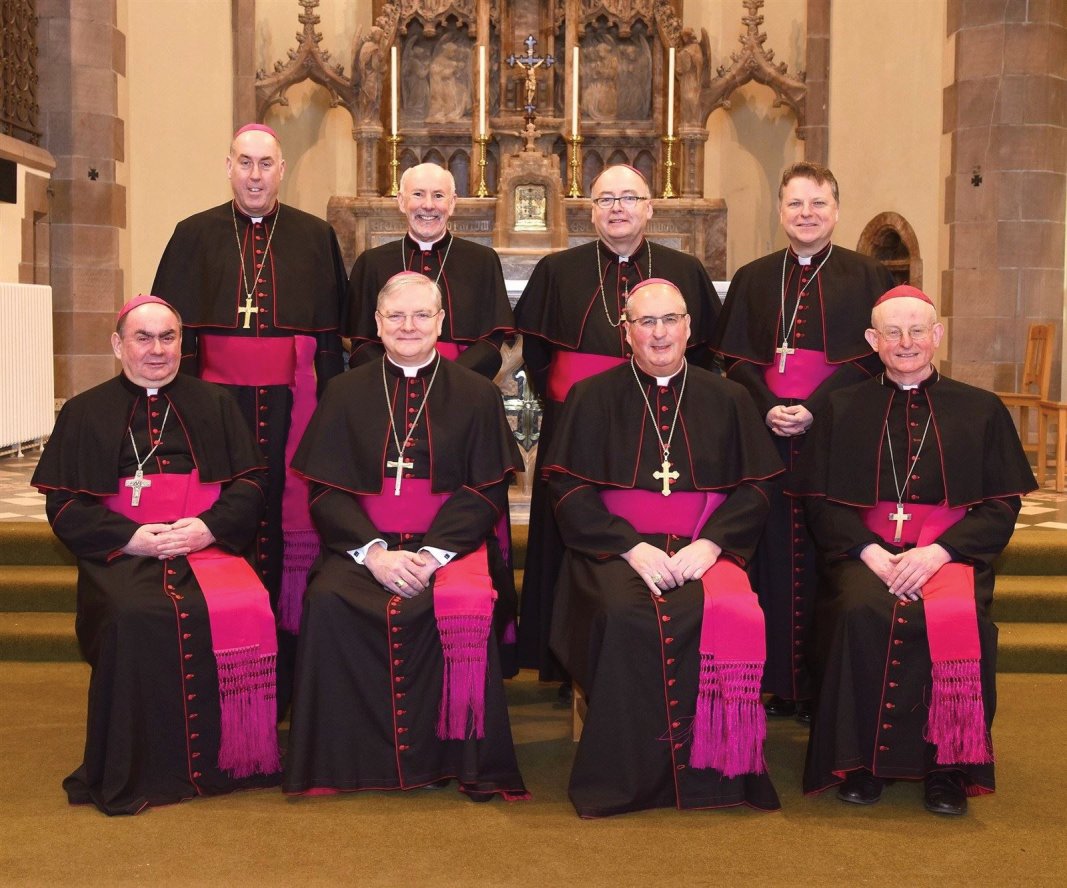 In a pastoral letter which will be read at all 500 Catholic churches in Scotland this weekend (20/21 May) Scotland's Catholic Bishops, will urge parishioners to participate in the 2017 General Election and to be informed by the teachings of the Church.
The detailed statement will invite Catholic voters to consider a number of key issues ahead of casting their vote at the election on June 8th.
Commenting on the letter, the Director of the Catholic Parliamentary Office, Anthony Horan said; "This General election provides an opportunity for Catholics to take their beliefs into the polling station and elect members of parliament who share their concerns."
The full text of the letter is as follows:
This General Election presents us with an opportunity to reflect on Catholic social teaching. As Christians, we have a civic and moral duty to engage with our democracy. As Catholics, we believe that the primary goal of society should be the common good; that is the good of all people and of the whole person. Indeed, the common good is the very reason political authority exists.
This election provides an opportunity to reflect on the beauty and goodness of Church teaching and to keep that teaching at the forefront of our minds as we engage with candidates across all parties. During elections, a range of issues compete for your attention; we highlight some of them here in the hope that you will reflect on them and raise them with your candidates.
Human Life
Human life at every stage of development is precious and must be protected.  Any laws which permit the wilful ending of life must always be rejected as reprehensible and unjust. We must create a culture of life where the most vulnerable are valued and their dignity respected. The undeniable value of human life, created in the image and likeness of God, is fundamental to the Catholic faith. We should remind our politicians that abortion, assisted suicide and euthanasia are always morally unacceptable.
Marriage and the Family
Society relies on the building block of the family to exist. The love of man and woman in marriage and their openness to new life is the very basic cell upon which society is built. The wellbeing of society depends on the flourishing and health of family life and those in authority should respond to this with policies that create economic and other advantages for families with children.
Poverty
Sadly, poverty continues to be a scourge for many at home and abroad. Too many people still struggle to make ends meet. This sad reality cannot and should not endure in our country in the twenty-first century. Our concerns should also extend to providing international assistance, while ensuring that aid is not used to support immoral practices such as those which compromise the basic right to life.
Refugees, Asylum Seekers and Immigration The United Kingdom should be a place where the most vulnerable are welcomed and given the resources necessary to rebuild their lives. At the same time, we should provide for those people living in and around conflict zones, and commit to working towards the peaceful resolution of conflict.
Living in Europe
There are millions of EU citizens living in the UK and millions of UK citizens living across the EU.  Mindful of the uncertainty affecting them, candidates should commit to working towards delivering stability and security for them in future.  Our politicians should forge and renew international partnerships and establish rights for those who wish to work in the UK, in a spirit of cooperation and friendship.
Freedom of Religion and Conscience
Millions of people worldwide are persecuted for their beliefs. People of faith, including Christians, should be able to freely practise their faith and bear witness to it in their lives, without fear of prejudice, intolerance, abuse or violence. Candidates should be committed to the right of people not to be forced to act against their conscience.
Nuclear Weapons and the Arms Trade
The use of any weapon that causes more than individual and proportionate harm to civilians is immoral and, thus, rejected by the Church. The use of weapons of mass destruction is a serious crime against God and against humanity. While states are entitled to possess the means required for legitimate defence, this must not become an excuse for an excessive accumulation of weaponry which becomes a considerable threat to stability and freedom.
Respectful Politics
Often, politicians are tempted to score points or resort to insults. We need politicians who are willing to change this and to take politics in a new direction, where dialogue is respectful, and where different points of view, including those of a religious nature, are tolerated.
As we cast our votes this election, let us bear in mind the words of Pope Francis when he said, "The greatness of any nation is revealed in its effective care of society's most vulnerable members." Our nation, our Parliament, and our Government will be judged on how it treats its poorest and most vulnerable citizens.
Yours devotedly in Christ,
Philip Tartaglia, President, Archbishop of Glasgow
Leo Cushley, Archbishop of St. Andrews and Edinburgh
Joseph Toal, Vice-President, Bishop of Motherwell
Hugh Gilbert, Episcopal Secretary,
Bishop of Aberdeen
Stephen Robson, Bishop of Dunkeld
John Keenan, Bishop of Paisley
William Nolan, Bishop of Galloway
Brian McGee, Bishop of Argyll and the Isles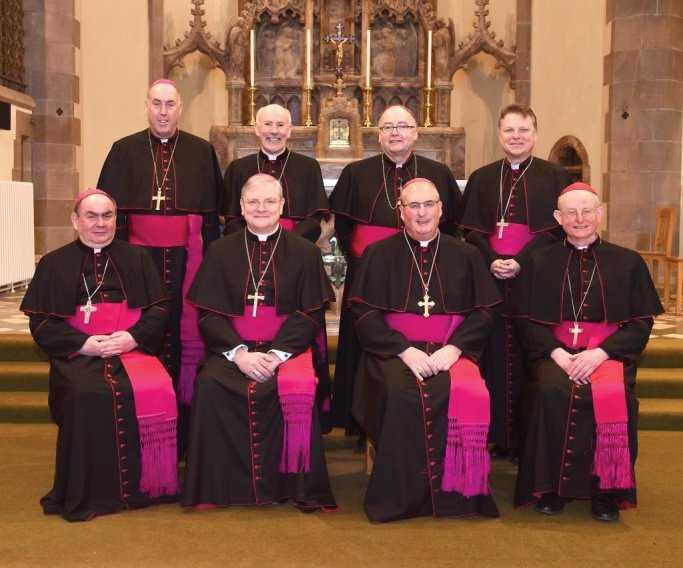 The eight Catholic Bishops of Scotland
Statement of the Catholic Bishops of Scotland on nuclear weapons:
The Bishops of Scotland have for a long time pointed out the immorality of the use of strategic nuclear weapons due to the indiscriminate destruction of innocent human life that their use would cause.
The renewal of Trident is questioned not just by those concerned with the morality of nuclear weapons themselves but also by those concerned about the use of scarce financial resources.
Lives are being lost now because money that could be spent on the needy and the poor is tied up in nuclear arsenals. We endorse the words of Pope Francis: "Spending on nuclear weapons squanders the wealth of nations".
The United Kingdom, permanent member of the UN Security Council and declared nuclear power, signed the Nuclear Non-Proliferation Treaty in 1968. That treaty binds signatories who do not have nuclear weapons not to acquire them, but it also binds those who do have nuclear weapons to work towards the disposing and elimination of all nuclear weapons. Britain should take more decisive and courageous steps to revive that aspect of the treaty and not seek to prolong the status quo.
Signed
+ Philip Tartaglia, President of the Bishops' Conference of Scotland, Archbishop of Glasgow+ Joseph Toal, Vice-President, Bishop of Motherwell+ Hugh Gilbert, Episcopal Secretary, Bishop of Aberdeen+ Leo Cushley, Archbishop of St Andrews and Edinburgh+ Stephen Robson, Bishop of Dunkeld+ John Keenan, Bishop of Paisley+ William Nolan, Bishop of Galloway+ Brian McGee, Bishop of Argyll and The Isles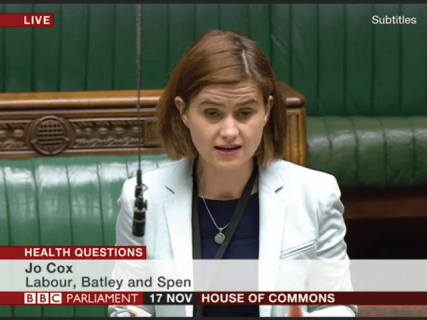 Jo Cox in the House of Commons
The death of Labour MP Jo Cox has shocked not only the world of politics in which she worked, but also the British nation as a whole.  The horror of what happened in the town of Birstall last Thursday will be a permanent scar for the MP's family and is something they will have to live with for the rest of their lives.
But what does it mean for the relationship between MPs and the general public?  Scottish Secretary David Mundell, who has himself received death threats, lamented the influence of social media in relations between the public and MPs, criticising the "vitriol" that is often expressed towards politicians.  I for one agree with him.  Whilst our elected representatives' role in public life is such that they are very much open to criticism, that criticism should be constructive and measured, and it should be expressed with politeness.  It should not be unjust or whimsical, and it should not be expressed with any degree of hatred or be threatening in any way.  Politicians have the right to do their job in safety and without abuse.  Isn't that the legal right of every worker?  Why should politicians be any different? 
Very few politicians are actually in the job to make people worse off or to act selfishly.  They are in politics because they genuinely want to make a difference.  Yes, there will be bad apples in there; just like there is in any walk of life.  But as with any bad apple, we need to pray for them and we need to trust that our peaceful system of democracy will ultimately win the day.
The hate directed at poor Jo Cox as she walked through her constituency last week was of the worst kind.   It took her life and has thus caused immeasurable pain to her family, friends and colleagues.  But underneath all of that is an unhealthy undercurrent of hate and cynicism which exists throughout our country and is often directed at many in officialdom, including politicians.  This is especially the case on social media, where the abuse and hatred spewed forth has the potential to fuel the anger in certain individuals predisposed to dangerous actions. 
Jesus Christ called us to love all people; even those that we perceive to be our enemies.  Our politicians need our support and prayers.  They work in an incredibly testing environment in which they are under increasing fear for their own safety and wellbeing. 
May the sad and unnecessary passing of Jo Cox herald a change in attitude across our nation so that we come together as one, and in a spirit of brotherly love may we work with and support our politicians in striving for peace, equality, tolerance and prosperity for all people.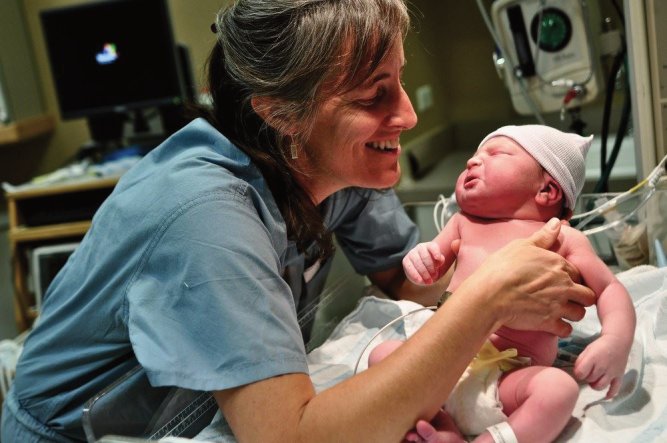 Children should be safe in the hands of midwives
The Chief Executive of the Royal College of Midwives (RCM) is facing calls to resign after announcing that the organisation supported the removal of the 24 week time limit for abortions in the UK.  Cathy Marwick has caused consternation among RCM members, many of whom have signed an online petition seeking to distance themselves from the RCM's stance.  They have also accused her of failing to consult on the issue. 
Marwick, who is the chair of the UK's biggest abortion provider BPAS (British Pregnancy Advisory Service), has not surprisingly been accused of a conflict of interest given her two roles.  One midwife from Northern Ireland said: 'Anyone advocating allowing abortion up to birth, I think is so sad and tragic, but to have my own representative body coming out in support of this extreme view is very disappointing. I know she's our chief, but there is clearly a conflict of interest. On something as big as this, she should have consulted us.'
Dr Peter Saunders, head of the Christian Medical Fellowship, said: 'It is bitterly ironic that the RCM, the supposed champion of safe childbirth and antenatal care, should be backing a campaign seeking to legalise the killing of unborn children up until birth. It is even more extraordinary that their chief executive, who also chairs BPAS, should be spearheading this initiative without apparently even consulting her membership. It is an extraordinary abuse of power.'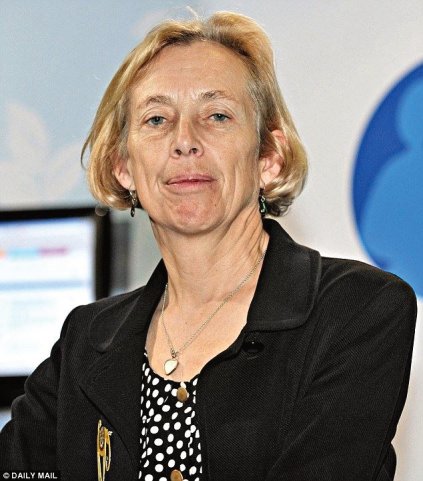 Cathy Marwick
Democratic Unionist MP, Jim Shannon, has vowed to raise the matter in Parliament this week.  He said: 'I will ask the Secretary of State for Health what discussions he has had, or will have, with the RCM and BPAS. My concern is that scrapping the 24-week cut-off would be absolutely disgraceful. I would have thought the RCM should be protecting unborn life. Its chief executive has this dual position and many people would say you can't have that.'
It is deeply disturbing that the very people who have for hundreds of years facilitated the safe passage of new life into our world are now being encouraged to compromise that ethos and be prepared to kill off that life.  Indeed, medical advances are strongly indicating that the abortion time limit should be reduced as a result of the increased survival rate of babies before the 24 week mark.  There is absolutely no indication that the abortion time limit should be increased, never mind scrapped altogether.  Any attempt to increase or abolish the 24 week limit flies in the face of scientific and medical fact, and it once again raises the question as to whether the wilful destruction of innocent human life by abortion should be allowed at all.
Our smallest, youngest, most vulnerable children should be safe in the hands of our midwives.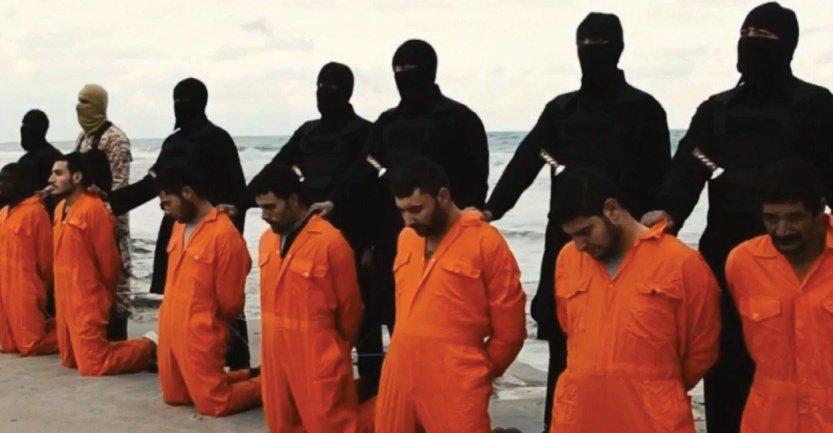 I am astonished and no less disappointed to see that few of the major UK news outlets have covered yesterday's House of Commons vote, when MPs voted 278 – 0 in favour of declaring ISIS/Daesh atrocities against Christians and Yazidis as genocide. 
If the Holocaust were to occur today, would the media recognise the atrocity and label it as genocide?  If the massacre of Srebrenica were to occur today, would the media recognise the suffering people of the city and label it as genocide?  And what about Rwanda in 1994?  Would today's media be prepared to state that this is genocide?
As I write I see that the Guardian, the Telegraph and Reuters are all at least now covering the story.  But still no BBC, no ITV, and no Sky News coverage among many others.  These outlets are no better than the Conservative government which has to date epically failed to declare the murder and violence wrought by ISIS as genocide.
Is it fear?  Is it an anti-Christian mentality?  Who knows?  But one thing is certain, if genocide isn't news we might as well all pack up and head for the hills.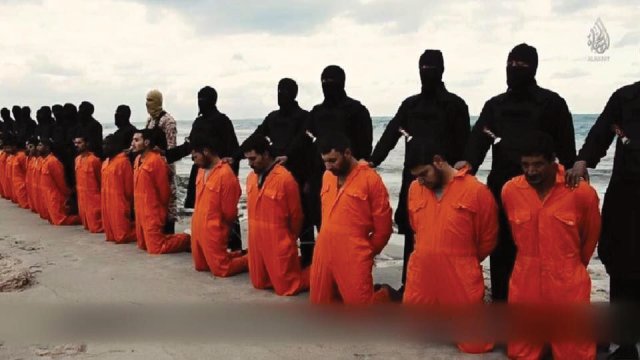 When will the West listen?
A motion is to be put before the UK Parliament next week calling on the House to recognise that Christians and other minority groups in the Middle East are facing genocide.
The terror being wrought by ISIS is well known to all, though the fact that it is mainly targeted towards Christians is not so well documented in the West.
This is an opportunity for the UK government to take a stand against ISIS by declaring their actions to be a genocide against Christians, Yazidis and other religious minorities.  As Pope Francis said: "It is wrong to look the other way, and remain silent."  We all know the situation in the Middle East, and now is our chance to act and to speak up.
Please, please contact your MP today and encourage them to take part in this debate which will take place in Parliament next Wednesday 20th April.  Aid to the Church in Need UK has helpfully drafted up a letter and included a link to obtain the contact details of your MP.  You can find it all by clicking
here
.
We can no longer allow innocent blood to flow under our feet while we do nothing.  We need to act to stop this murder.  Please, help the helpless and write to your MP today.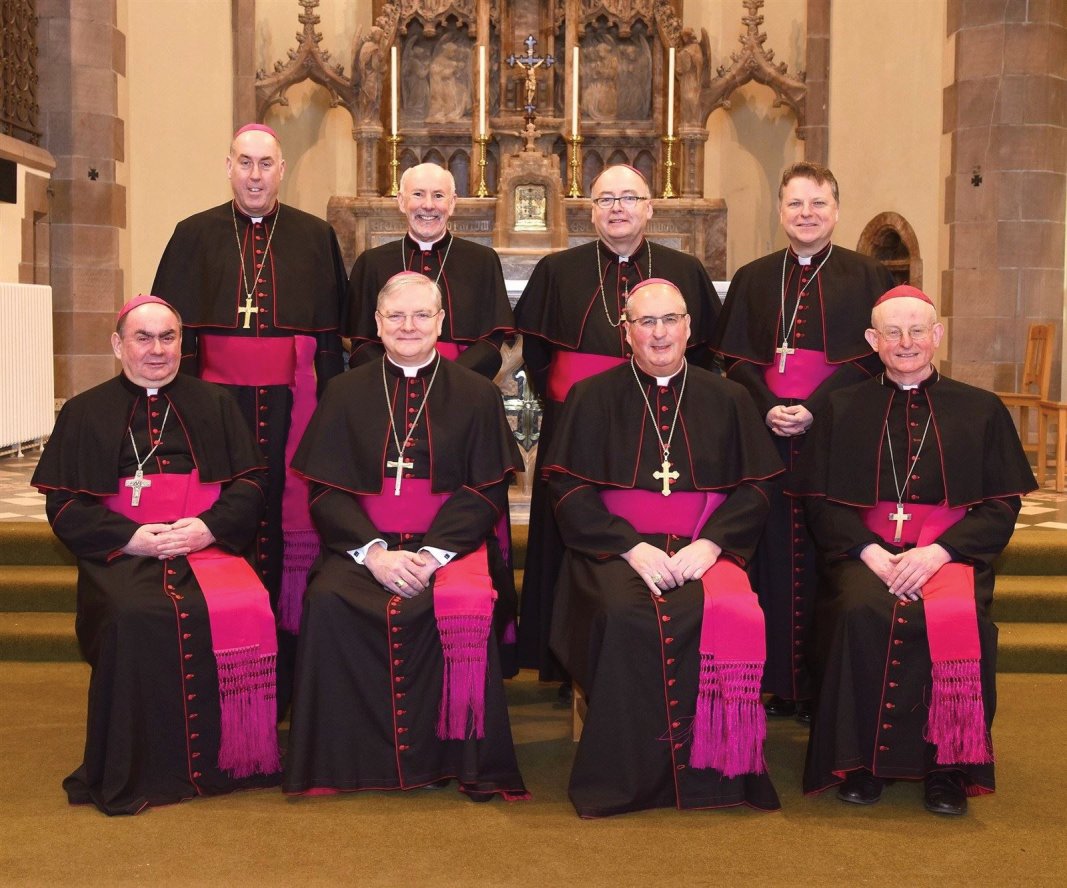 The Catholic Bishops of Scotland
The Catholic Bishops of both Scotland and Poland have been busy making a case for the protection of the unborn this week.  The Polish Bishops have been pushing for legislative change to bring about a total ban on abortions and they, along with the Polish government, appear to have mustered more than enough support to ensure the law is passed.
Meanwhile, in Scotland, the Catholic Bishops have released their traditional statement ahead of the May election for the Scottish Parliament.  In the letter, the Bishops encourage Catholics to vote with Christian values at the forefront of their minds, including the right to life from conception until natural death.  This encouragement is timely given that abortion is soon to be devolved to the Scottish Parliament from its current home in Westminster. 
Yet the motives of these holy men has been called into question by sceptics and much of the media, as they try to suggest something other than love of life and a desire to protect the most vulnerable is at play.  But let's be frank, while these men are devoutly Catholic and follow the teaching of the Church to the letter, they do not need to reference Church teaching in order to call for the protection of unborn babies.  It is something that is imprinted in each and every one of our DNA.  No decent, law-abiding citizen of planet earth wants or wills the destruction of other human beings.  It's a basic human quality and one we should be immensely proud of.
The Catholic Bishops of Scotland and Poland are speaking from the heart when they call for all unborn children to have the chance to live.  Yes their Church expects, and even demands, them to take this stance, but they do not need the Church to tell them that all human life is intrinsically valuable and worthy of protection.  They are not anti-woman and they are not anti-choice.  Neither are they religious fanatics.  They are simply human beings seeking the protection of the law for other, more vulnerable, human beings.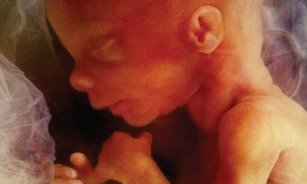 A parliamentary question in the House of Lords has revealed a frightening statistic about late-term abortions in the UK.  Labour peer Lord Moonie asked the government how many babies had been aborted at 23 weeks or later in the UK in 2014.  The government's response was to confirm that 682 such abortions had been carried out.  That's 13 babies every week.
While abortion at any stage is to be regarded as wrong as it takes away the life of an unborn child, abortions at this late stage - when the baby is fully formed in the womb - is nothing short of deplorable. 
Indeed, thanks to medical advances, many babies born at 23 weeks are now able to survive.  How then can we allow for a baby at one end of the maternity unit to be given life-saving treatment while a baby at the other end is legally killed?  It simply makes no sense.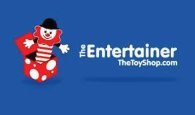 It was refreshing to see the House of Commons reject further relaxation of Sunday trading laws in England and Wales.  The government had hoped to allow councils to extend opening hours on a Sunday, but it was defeated by 317 votes to 286.  As a result, Sunday trading laws will remain as they are.
While the main thrust of the vote against relaxing the laws was undoubtedly down to protecting employees' rights to time off on a Sunday rather than observance of the Lord's Day, there is clearly an inclination among many of our politicians to give special credence to a Sunday.  This is to be encouraged.
In terms of the large supermarkets, it is understood that both Asda and Morrisons were in favour of relaxing the law while Tesco believed that the existing regulation was appropriate.  However, one retailer that will not be opening at all on a Sunday is kids' toy store
The Entertainer
.  Owned by born again Christian Gary Grant, The Entertainer is closed every Sunday and doesn't stock any items related to the occult or witchcraft such as wizard toys.  Mr Grant explains: "This business will never open on a Sunday whilst I'm a shareholder....If this business ever needs for its survival to trade on a Sunday, it's up for sale….if we were open I would expect we could probably take a million and a quarter". He then adds: "I'm accountable to God.... I'm not accountable to shareholders."
On the point about witchcraft and wizardry Mr Grant states: "I want to sell wholesome toys to children and therefore as a Christian I am concerned about anything that's to do with the occult, witchcraft. We just choose not to stock that."
As taxpayers we contribute to 91% of all abortions in the UK.  Our money is used to assist in the killing of innocent children which in turn causes immeasurable pain and suffering to mothers.
We want our money better spent on helping both women and their babies to live.
Please sign the petition which can be accessed by
clicking this link
, and spread the word.
/