Shopping Cart
Your Cart is Empty
There was an error with PayPal
Click here to try again
Thank you for your business!
You should be receiving an order confirmation from Paypal shortly.
Exit Shopping Cart
Calling Scotland's 841,000 Catholics to unite as one voice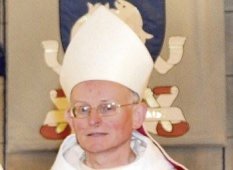 Bishop Gilbert apologised to victims
Bishop Hugh Gilbert of Aberdeen has apologised on behalf of the Church for the abuse of children at a Catholic boarding school in the north of Scotland.  This follows an earlier apology by the Benedictine order which previosuly ran the school.
Monks at Fort Augustus Abbey School allegedly abused children over a number of years.
The Bishop spoke of his horror and shame at the abuse and has already stated that the Church will cooperate fully with police who have confirmed they will be investigating the matter.  He also spoke of having to acknowledge the sins and failures of the Church and committed to working hard to make sure it does not happen again.  He invited people to pray for the victims.
A detailed report is currently being prepared by the Church which will detail historical cases of abuse dating back to the 1950's.  The report should be available sometime next year.
The Pope has this week taken steps to modernise the Vatican's legal code by explicitly listing certain acts as crimes and enabling the Holy See to prosecute any of its officials who commit crimes outside its walls.  The list of crimes includes crimes of torture, genocide and also further defines the list of crimes against children.  As a result the following crimes are all explicitly covered in the new regulations: the sale of children, child prostitution, sexual violence and sexual acts with children, and child pornography.
In addition, the Pope has decided to expand the prosecution of crimes by Vatican employees or representatives of the Vatican beyond its walls; meaning any such person who commits a crime outside the Vatican can be indicted by the Holy See for that crime.  Previously, only the state in which the crime took place could indict the alleged perpetrator.  This is a significant step for the Holy Father and the Holy See and highlights just how seriously the Church is taking its responsibility to prosecute those officials and Church representatives who are guilty of crime, wherever they may be.
The move to update the Vatican's legal framework was started by Pope Benedict XVI back in 2010 as he attempted to make the Vatican state's laws compatible with the challenges presented to it by modern society.   This includes tackling the evolution of crime which results in a broader base of criminal activities that society now has to contend with.
/