Shopping Cart
Your Cart is Empty
There was an error with PayPal
Click here to try again
Thank you for your business!
You should be receiving an order confirmation from Paypal shortly.
Exit Shopping Cart
Calling Scotland's 841,000 Catholics to unite as one voice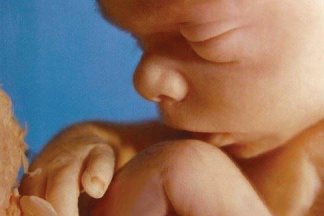 A new poll out today (Sunday 21 May) shows that most people (60%) would like to see time limits for abortions reduced, among women the figure is 70%. ComRes interviewed 2,008 British adults online between 12th and 14th May 2017. Data was weighted to be representative of all GB adults. 
61% of Scottish respondents opposed any moves towards making it mandatory for doctors to have to participate in abortion procedures against their will, while 51% oppose moves to compel pharmacists to prescribe a pill against their will, if they believe that pill will end the life of an unborn child.
The poll also showed overwhelming support (76%) for the proposal that doctors, should "verify in person that a patient seeking an abortion is not under pressure from a third party to undergo the abortion". 65% oppose tax-payer money being spent on abortions overseas, while 82% of Scots believe, the law should require a waiting period of five days between an initial consultation with a doctor and an abortion taking place, in order to ensure that the mother has had enough time to consider all of the options available to her.
Responding to the findings, Archbishop Philip Tartaglia, President of the Bishops' Conference of Scotland said;
"This weekend (20/21 May) in parishes across Scotland a letter from the Catholic Bishops will be read at all Masses, urging voters to engage with our democracy and to remember that human life at every stage of development is precious and must be protected. As we remind our politicians that abortion is always morally unacceptable, it is heartening to see that a majority of our fellow citizens do not support the current abortion laws."
Archbishop Tartaglia added:
"I welcome the fact that not only is there no demand for time limits to be raised but 70% of women would like to see them reduced, that 82% of Scots would like to see a statutory waiting period introduced after a consultation and before an abortion takes place and that over half of Scottish respondents do not believe that doctors (61%) or pharmacists (51%) should be compelled to participate in abortion procedures."
"These findings are both sobering and heartening, they undermine the shrill calls of the so-called pro-choice movement that abortion laws should be loosened. They send a powerful message to Scotland's politicians at a time when the Scottish Parliament has been given control over this legislation and they remind us that the pro-life cause is alive and well in our country."
The poll results have been released to coincide with the launch of the "Where Do They Stand" website. The site will allow voters, to find out where your local candidates stand on life issues - abortion, assisted suicide and embryo research - by visiting
www.wheredotheystand.org.uk
Headline results
• Only 1% want the abortion time limit raised to birth
• 70% of women would like the current time limit for abortion to be lowered.
• 59% of women would like the abortion time limit lowered to 16 weeks or lower.
• 65% oppose UK taxpayer money being spent on abortions overseas.
• 93% of women want independent abortion counselling introduced.
• 91% of women want a sex-selective abortion ban.
• 79% of general population want a five-day consideration period before abortion.
• 84% of women want improved pregnancy support for women in crisis.
• 76% of population want introduction of doctors verifying women not coerced.
• 70% of parents want introduction of parental consent for girls 15 and under to get abortions.
Results by question
Parental or guardian consent should be required for girls aged 15 or under to undergo an abortion
• 65% general population agree (21% disagree) ("just under ⅔")
• 70% of parents with children 18 or under in household agree (16% disagree)
• 73% Conservative voters agree (16% disagree)
Doctors should be required by new legislation to verify in person that a patient seeking an abortion is not under pressure from a third party to undergo the abortion
• 76% general population agree (11% disagree)
• 77% females agree (11% disagree)
• 77% 18-24 age agree (12% disagree)
• 81% Conservative voters agree (10% disagree)
In Great Britain the upper time limit for abortion is 24 weeks or approximately six months' gestation. By comparison, in most other EU countries the limit for most abortions is 12 weeks or lower. In light of this difference what do you think the time limit should be in Britain?
• General population
o 1% - It should be extended to birth
o 1% - It should be extended above 24 weeks
o 20% - It should remain at 24 weeks
o 10% - It should be reduced to 20 weeks
o 17% - It should be reduced to 16 weeks
o 21% - It should be reduced to 12 weeks (biggest group)
o 12% - It should be reduced to below 12 weeks
• Females
o 1% - It should be extended to birth
o 1% - It should be extended above 24 weeks
o 17% - It should remain at 24 weeks
o 11% - It should be reduced to 20 weeks
o 18% - It should be reduced to 16 weeks
o 24% - It should be reduced to 12 weeks (biggest group)
o 17% - It should be reduced to below 12 weeks
• Political
o It should be extended to birth
§ Below 1% - Labour
o It should be reduced to 20 weeks or lower
§ 60% - Conservatives
§ 60% - Labour
§ 65% - Liberal Democrats
• Parents with children 18 or under in household agree
o 69% - It should be reduced to 20 weeks or lower
Where a doctor believes abortion to be the intentional killing of a human being, would you support or oppose the Government making it mandatory for doctors to have to participate in abortion procedures against their will, if they want to remain in their profession?
• 56% general population oppose (22% don't know, 22% support) "only 1/5 of the population support"
• 61% Scottish oppose (23% don't know, 15% support)
• 66% of Liberal Democrat voters oppose (19% don't know, 16% disagree)
In your opinion, would you support or oppose requiring a pharmacist to prescribe a pill against their will, if they believe that pill will end the life of an unborn child?
• 45% oppose (23% don't know, 32% support)
• 51% Scottish oppose (22% don't know, 27% support)
Over the past five years, abortion provider Marie Stopes International have been given more than £160 million of taxpayer money to spend overseas, some of which has been used directly to fund abortions. Do you support or oppose tax-payer money going to fund abortions overseas?
• General population
o 65% oppose tax-payer money being spent on abortions overseas (20% support)
§ 46% oppose and feel this money would be better spent back in the UK on other Government priorities
§ 19% oppose and feel this money should be instead spent on other areas of need in developing countries such as basic health care and education
• Political
o 79% Conservatives oppose tax-payer money being spent on abortions overseas
In the Netherlands, the law requires a waiting period of five days between an initial consultation with a doctor and an abortion taking place, in order to ensure that the mother has had enough time to consider all of the options available to her. To what extent, if at all, do you agree or disagree that in this respect British law should be brought into line with the Netherlands?
• 79% general population agree (12% disagree)
• 82% Scottish agree (8% disagree)
A woman considering abortion should have a legal right to independent counselling from a source that has no financial interest in her decision.
• 89% general population agree (4% disagree)
• 93% women agree (2% disagree)
Women who want to continue with their pregnancies, but are under financial pressure to have an abortion, should be given more support to help them through their crisis
• 79% general population agree (10% disagree)
• 84% women agree (7% disagree)
• Younger cohorts have highest support
o 18-24 - 84%
o 35-44 - 83%
o 45-54 - 81%
o 55-64 - 74%
o 65+ - 76%
• 86% of parents with children 18 or under in household agree (7% disagree)
• 90% of Labour supporters agree (4% disagree)
Aborting babies because of their gender should be explicitly banned by the law
• 89% general population agree (5% disagree)
• 91% females agree (4% disagree)
• 93% Scottish agree (4% disagree)
ComRes is a member of the British Polling Council and abides by its rules.
This text was taken from the Catholic Parliamentary Office Facebook page.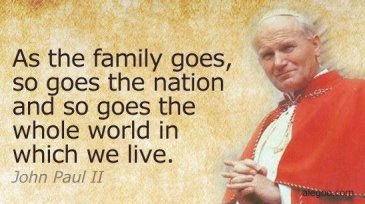 The prophetic words of John Paul II
It's a real wake up call. Jesus is losing his influence in Europe. Christianity is dying out.
We've known for some time now that Christianity is on the decline in Europe, but recent data released by the
Pew Research Center
reveals just how stark that decline is.
Indeed, it is the only decline in any religion in any part of the world between 2010 and 2015. But for Christianity's decline in Europe, every religion across all continents witnessed an increase in numbers, including Christianity itself, which is growing rapidly in Sub-Saharan Africa and Latin America. Islam is also growing rapidly in Sub-Saharan Africa as well as Asia Pacific.
But it is in Europe where the real story lies. An astonishing drop of 5.6 million Christian births to deaths has seen the religion plummet across the continent. There are many reasons for this, not least a much greater prevalence of lukewarm Christianity and an increasingly secular culture.
Across the world Islam will continue to grow in greater numbers than Christianity, with a fertility rate of 2.9 compared to 2.6 for Christians. Islam also has the youngest median age in terms of adherents to the faith, at just 24. Hindus are at 27 with Christians at 30.
We have known for some time that Islam would eventually catch up with Christianity in terms of numbers, and within twenty years births to women of Islamic faith will outnumber Christian births. But it is in Europe where there must be deep concern for Christians. Why is the faith struggling so much in that continent?
For European Christians there is undoubtedly a crisis when it comes to the family. Europe's secular influence, with its liberal laws around contraception, abortion and marriage, has chipped away at the hearts and minds of the faithful, giving them an excuse to focus on the self and to set aside the call of Christ to first and foremost love God and neighbour. Families now come in all different shapes and sizes; their constitution often based on the ideological whim of selfish individuals. The idea that a young man and a young woman can look lovingly into one another's eyes, establish a firm and beautiful friendship that leads to the great sacrament of marriage and the bearing of fruit through the birth of new life is dumbed down by the culture of want. And we have all bought into it. It is a sad reflection on our lack of faith.
As Pope John Paul II said, "As the family goes, so goes the nation and so goes the whole world in which we live."
We Christians have let down the family, and Europe is the nation Pope John Paul refers to. It is going and if we don't reclaim it the world will eventually go with it.

Europe, to coin a famous song, is most definitely losing its religion and losing Christ. If it is to recover, radical change in attitude is required. Starting with the family.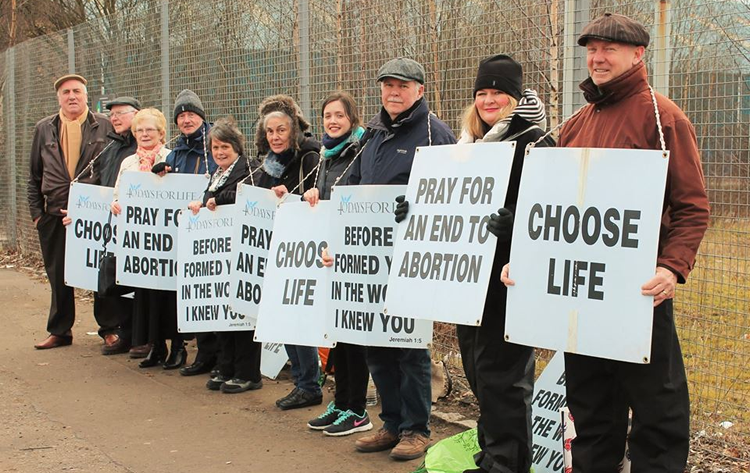 During the season of Lent, a number of people will gather outside four hospitals in Scotland in quiet, prayerful vigil to stand up for the inherent dignity and value of human life. The 40 Days for Life vigils will be held outside the grounds of the Queen Elizabeth University Hospital in Glasgow, the Royal Infirmaries in Edinburgh and Aberdeen, and Ninewells in Dundee. It is peaceful, it is calm, and there is certainly no aggression or scare tactics adopted, despite what the mainstream media try to portray.
For those who claim that the 40 Days for Life event is anything but peaceful and prayerful, I urge them to attend the event and to see for themselves precisely the manner in which this so called 'protest' is undertaken by those involved. There is no desire to harass anyone, and there is certainly no desire to be abusive. It is better to witness first hand the reality of the situation, rather than buy the lies of those who would prefer that this vigil was something that it clearly isn't.
There will, of course, be times when someone has recently undergone an abortion or suffered a miscarriage and, in coming across the vigil, they experience distress and upset. I don't think anyone attending the event would feel anything but sympathy and compassion for those in such a situation. The pro-life movement would not be in keeping with its belief that all human life is precious if it did not feel for those who suffer and did not offer them support and consolation. The question is then whether or not, given these instances of distress, the vigil is appropriate. We can put forward a number of arguments for and against, and this will tend to be guided by which side of the abortion debate we sit on. But the reality is this…science is almost entirely settled on the fact that a distinct new human being with their own DNA comes into existence from the moment of conception. This human being is alive and is growing. The baby's brain, spinal cord, heart and other organs begin to form a mere 2/3 weeks following conception. This is why people participate in the 40 Days for Life vigils. They genuinely do not think that it is acceptable for the state to allow for the untimely death of an innocent, defenceless human being at its most vulnerable stage in life.
These vigils are peaceful and the only desire of participants is to see that all human life is given a chance. A chance to be someone: to see their very first sun rise; to feel the first snowflake on their hand; to experience the nervous excitement of that first day in school; to get behind the wheel of their first car; to find the love of their life; to perhaps even have children of their own. They may even be lucky enough to grow old and enjoy the perfect smiles of their grandchildren at Christmas time. This is life and this is what we seek to protect.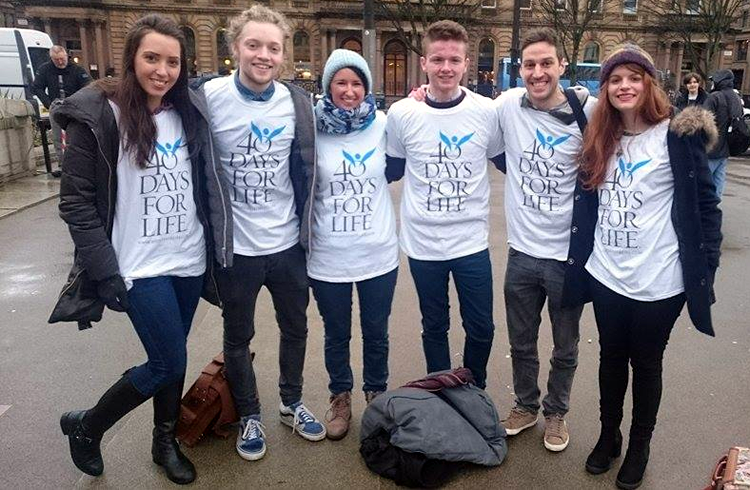 Because the state supports the killing of unwanted children in the womb, 8.7 million human beings in the UK never got the chance to experience these simple, yet poignant moments in life. No matter how much we try to deny or distance ourselves from that reality, we can never hide from the truth that abortion extinguishes the life of a beautiful, precious little human being who simply wants to be loved.
The 40 Days for Life is a worldwide movement and it will take place at the four Scottish hospitals throughout Lent from 1 March until 9 April. There will also be official opening and closing events, including one in George Square, Glasgow on 25 February. Click
here
for full details.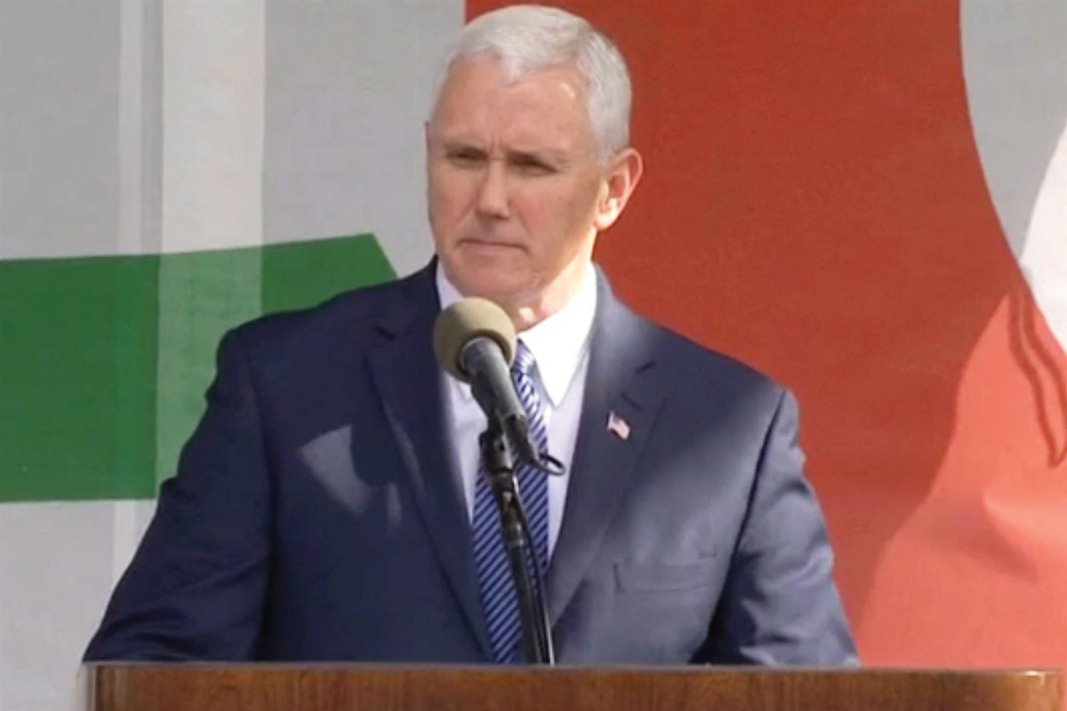 Mike Pence at March for Life
Today Vice President Mike Pence spoke to hundreds of thousands of pro-life advocates gathered for the annual March for Life on the National Mall. He is the first Vice President to address the March in person. Counselor to the President Kellyanne Conway also spoke at today's March.
Vice President Pence's remarks reflected his deep roots in the pro-life movement and the Trump-Pence Administration's commitments to the right to life cause:
"Today, because of all of you and the many thousands who stand with us in marches like this all across the nation, life is winning again in America. That is evident in the election of pro-life majorities in the Congress of the United States of America. But it is no more evident in any way than in the historic election of a president who stands for a stronger America, a more prosperous America, and a president who I proudly say stands for the right to life, President Donald Trump. "President Trump actually asked me to be here with you today. He asked me to thank you for your support – to thank you for your stand for life and for your compassion for the women and children of America.

…

"At 1600 Pennsylvania Avenue we are in the promise-keeping business. That's why on Monday President Trump reinstated the Mexico City Policy to prevent foreign aid from funding organizations that promote abortion worldwide. That's why this administration will work with the Congress to end taxpayer funding of abortion and abortion providers, and we will devote those resources to health care services for women across America. And that's why next week, President Donald Trump will announce a Supreme Court nominee who will uphold the God-given liberties enshrined in our Constitution.

…

"I have long believed a society can be judged by how we care for our most vulnerable: the aged, the infirm, the disabled and the unborn.

…

"Life is winning through the steady advance of science that illuminates when life begins more and more every day. Life is winning through the generosity of millions of adopted families who open their hearts and homes to children in need. Life is winning through the compassion of caregivers and volunteers at crisis pregnancy centers and faith-based organization who minister to women in the cities and towns across this country. And life is winning through the quiet councils between mothers and daughters, grandmothers and granddaughters, between friends across kitchen tables and over coffee at college campuses. The truth is being told. Compassion is overcoming convenience and hope is defeating despair. In a word: life is winning in America because of all of you."



Kellyanne Conway said:
"It is such an honor to stand with the Vice President of the United States and with so many leaders, families, and students from places near and far to defend the unborn. Your courage, your conviction, your resolve and your faith are impressive and consequential. . . . It is no coincidence that the first right stated in the Declaration of Independence is the right to life. It is not a privilege. It is not a choice. It is God-given. . . . This is a new day, a new dawn for life. . . . To the March for Life 2017, allow me to make it very clear: we hear you, we see you, we respect you, and we look forward to working with you. And, yes, we walk, we march, we run, and we endeavor forward with you."



Susan B. Anthony List President Marjorie Dannenfelser, onsite at the March for Life, offered the following comment in response:
"Today's pro-life march is a very clear and unified call to protect unborn children and mothers. It comes from a diverse group: conservative, liberal, young, old, believers, non-believers. It grew organically over decades out of frustration with the Roe v Wade and Doe v Bolton mandate of abortion on-demand, up until birth. The March for Life is not a singular burst of energy. It is a consistent and persistent insistence that our government live up to our nation's promises to the vulnerable and those who live in the shadows.




"We are so proud of our friends and longtime allies Vice President Pence and presidential adviser Kellyanne Conway. Being pro-life and speaking out for the voiceless is part of their core beings. Their leadership in the White House is an outward sign of the strength of the pro-life movement. It is why pro-life grassroots nationwide worked so hard to elect this administration. Together, we are in position to make great gains, but only if we see the mission through. President Trump has made four

commitments

 to the pro-life movement but all require the continued involvement of activists across the country, calling on their representatives and Senators, to make it happen. The mandate laid out at the election must continually be repeated."




(from Susan B Anthony List)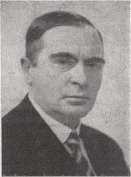 If only there were more Dr Halliday Sutherlands today.  Perhaps he would have the courage to stand up for the rights of those who are under threat from the increasing prevalence of assisted suicide in our world.  Perhaps he would have the courage to stand up for the rights of the preborn child under threat of death by abortion.
Dr Halliday Sutherland, born in Glasgow in 1882, was a man who stood up for the people society felt unworthy of life.  He lived in a time when the middle and upper classes of Britain fought for the legal right to sterilise the poor and the seemingly unworthy.  The rich felt more and more threatened by the higher birth rate among the poorer classes compared to their deteriorating birth rate.  They also felt threatened by the seeming prevalence of tuberculosis among the poor.  There was even talk of using a lethal chamber at one stage.
According to
this article
, Sutherland was "appalled by the popularity of eugenics among Britain's middle and upper classes" and set about fighting for the rights of the vulnerable.  He argued with the Professor of Eugenics at London University who claimed that tuberculosis was primarily caused by heredity and argued that the disease be cured by breeding out those considered to be at risk (the poor).  In a speech made in 1917, Sutherland called Britain's eugenists "race breeders with the souls of cattle breeders" and argued that "in preventing disease you are not preserving the weak but conserving the strong." 
Sutherland also decried the actions of a eugenist who, in 1921, began dispensing 'pro-race' contraceptives to women in poorer parts of London.  Sutherland described this as a social "experiment" that would lead to a "servile state".  He also argued that 'if ordinary Britons were legally prevented from having children, they would have no societal role other than to work.'
Marie Stopes was also criticised by Sutherland after she revealed her eugenic vision for society in 1921.  She revealed details of her "ardent dream" of "human stock represented only by well-formed, desired and well-endowed beautiful men and women."  The dangers of this frightening and callous point of view are obvious.
Halliday Sutherland would be appalled at the direction of travel of western society today.  Not only have we cow-towed to the contraceptive mentality, completely ignoring any notion of the true meaning of our sexuality, but we now routinely kill our own preborn children through abortion and threaten the vulnerable with a premature death by way of assisted suicide.
We need more Halliday Sutherlands in our world today.  We need more people to stand up for the poor, the marginalised, and the vulnerable.  Dr Sutherland was a Catholic and it is important that we as a Church follow his example and be absolutely clear on the wrongs of abortion and assisted suicide.  Not only that, but we must also resist the assumption that contraception is a simple and harmless solution that allows people to have sexual relations without the 'threat' of new life.  As a Catholic people we value life from the very moment it starts right up until its natural conclusion on death.  Contraception interrupts the natural process by killing off new life.  It also encourages people to use others as objects of desire, their sole purpose being to satisfy their own selfish cravings devoid of the threat of responsibility for a new life.   
We have lost the true meaning of the sexual encounter and we have lost the meaning of the value of life.  Our world needs to hear that there is an alternative to the throwaway culture of death; an alternative that values all life and that gives the sexual act the respect it truly deserves.  Dr Halliday Sutherland would be willing to speak up for these values.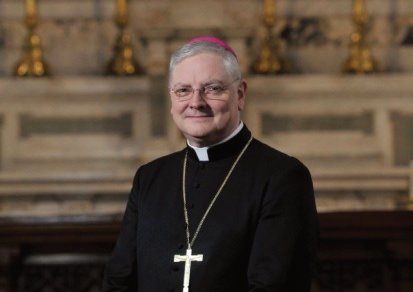 Archbishop of St Andrews and Edinburgh Leo Cushley celebrates the 125 anniversary of Pope Leo XIII's landmark encyclical 'Rerum Novarum'
Archbishop Leo Cushley has marked the 125 anniversary of the papal encyclical Rerum Novarum by re-proposing its social teaching for the common good of Scottish society.  The encyclical by Pope Leo XIII is arguably the Church's most important when it comes to social justice and the Archbishop can clearly see positives in once again bringing it to the forefront of our minds.
Writing in today's Scotsman Archbishop Cushley said: "At the foundation of Pope Leo's vision is an unshakeable belief in the intrinsic value of every man, woman and child.  The degree to which it threatened or enhanced the life and dignity of the human person", he says, "is the measure of any political, moral or economic order".  It is clear, therefore, that the encyclical has at its very core the belief that human life must be at the centre of all decisions made by authority.  It is about standing shoulder to shoulder with the most vulnerable in society, including the poor, the sick, the elderly, and the unborn.
Pope Leo, who rejected unbridled capitalism as well as state socialism, argued that neither central government nor larger society should substitute itself for the initiative and responsibility of individuals and intermediary bodies within civil society.  Archbishop Cushley cited the example of Fife, which has gone from having 82 councils in 1930 to just one today, to illustrate the renewed appetite to revisit the issue of local empowerment.
The Archbishop also referred to the importance of the family in society.  He said: "The twofold purpose of this [the family] micro-community is traditionally defined as the good of the spouses and the procreation and education of children.  For this reason, nearly all societies – not just those informed by Christianity – have founded family life upon marriage.  Even now, the best sociological evidence tends to suggest that children generally do best in life when they grow up with a mum and a dad who are married to each other.  The married family, if you like, is the first, best and cheapest department of health, welfare and education."  He then quoted Pope John Paul II as he tried to encapsulate the effect of the erosion of a marriage-based culture: "As the family goes, so goes the nation, and so goes the whole world in which we live."
However, the Archbishop also referred to Pope Francis' call to appreciate those people for whom the ideal family is not possible, saying that these people "achieve remarkable things in the most difficult of circumstances".  He then reiterated Pope Francis' call to sympathise with and support those in difficult circumstances.
In a world fraught with significant challenges to the family as we know it, the Archbishop's consideration of one of the great social encyclicals is timely.  As he said: "The Church does not seek to impose its social teaching upon Scottish society.  We can only propose it as our vision to anybody seeking new paths towards the common good."
Archbishop Cushley has proposed what he feels is the fundamental consideration for the common good of society and offered it to the people of Scotland.  It is now up to us lay Catholics to do the same.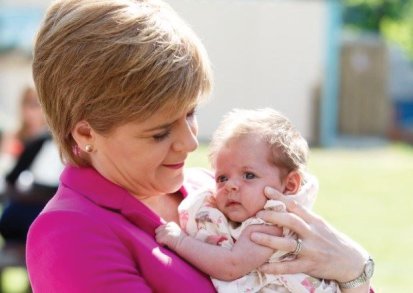 Nicola Sturgeon appreciating the beauty of new life
It is wonderful to hear Scotland's First Minister Nicola Sturgeon announce that, from Spring 2017, all pregnant women will receive free vitamins in order to help give their children the best possible start in life.
In addition to making vitamins freely available the Scottish Government will also be introducing the following initiatives:
Every newborn baby to receive a 'baby box' of essential items
500 more health visitors will be recruited to improve child health and wellbeing
The Family Nurse Partnership to be extended to support teenage mothers
Childcare will be doubled to 30 hours per week for all three and four year olds and vulnerable two year olds
Ms Sturgeon said that "every child deserves a fair and equal chance and offering all pregnant women vitamins sends a strong signal that, right from the very start of life, we are doing all we can to help.  There is strong evidence that taking vitamins in pregnancy improves both the mother and baby's health and providing free vitamins, to all pregnant women, has the widespread support of healthcare professionals."
Any government policy which seeks to assist women in pregnancy to look after both themselves and their baby must be welcomed.  It is a positive step by the Scottish government and it is hoped that many people will benefit from the new initiatives.
The introduction of free vitamins for all pregnant women is real and positive recognition by the Scottish Government of the importance of the unborn child.  The unborn child should be entitled to the same rights as any born child and this must include the right to the best possible health care and treatment.  While the rights of the unborn child are not yet fully protected in our country, primarily because of the availability of abortion, this type of initiative is a step in the right direction; a small but important step towards equality of rights for all children, irrespective of whether they happen to be inside or outside of the womb.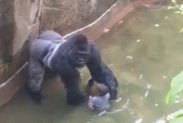 It's a terrifying thought: finding yourself being dragged along in shallow water by a monster and being at their mercy.  Okay, so perhaps it's slightly far-fetched to refer to Harambe the gorilla as a monster, but one thing we do know for certain is that he is, or was, a wild animal. 
Like most people I am a lover of animals, and I am not particularly keen on many of the limited enclosures wild animals find themselves in, be it in zoos or in those horrid environments they call circuses.  Sure, there are some zoos and safari parks that do a good job in protecting animals, especially endangered species, and this work is important for the wellbeing of life on our planet.   But broadly speaking, it is unfortunate when an animal is removed from its natural habitat and finds itself stuck in an enclosure for humans to gawp at.
Harambe the gorilla is an unfortunate case.  How the four year old lad got into the enclosure is still to be made clear, but one thing is certain: he did get in there and he was at the mercy of a wild animal.  It's interesting to hear some animal 'experts' coming out and defending the gorilla, suggesting that the boy was in no danger because the gorilla was not "beating its chest" and that he was actually holding the boy's hand.  It doesn't matter how many times a dog owner tells me "it's okay, he loves children" as my little one inquisitively ambles towards their pooch; I am still reluctant to let them get too close.  First, because a dog is an instinctively defensive animal that is unable to reason and could turn nasty at any given moment in time.  And second, I know of too many instances where children have either been killed or seriously injured as a result of an animal attack. 
It would be interesting if instead of a gorilla a pit-bull or Rottweiler had been dragging the little boy across a park.  Would people feel similarly reluctant to harm the dog in order to save the child?
It is unfortunate that this little boy found himself in Harambe's enclosure, and I'm sure the role of his parents and zoo staff will correctly be scrutinised as a result.  But the bottom line is this: a little human child was in an enclosure with a large wild animal that had seen fit to recklessly drag him across a shallow pool of water and then stand over him.  Nobody knew for certain what was going to happen next.  The staff at the zoo had little choice but to put the interests of the child's safety first, as they should.  There was no room or time for risk taking.
A surge in animal welfare stories to the detriment of more pressing matters such as the Planned Parenthood abortion scandal suggests that our society is getting dangerously close to putting the welfare of animals before the wellbeing of humanity.  Sure, we must work to look after the world God has gifted to us, including the birds of the air, the fish of the sea and the multitude of animals that roam the land.  But we should not devalue human life in the process.  Animals always have been and always will be inferior to human beings, as it is only humans that are made in the image and likeness of God.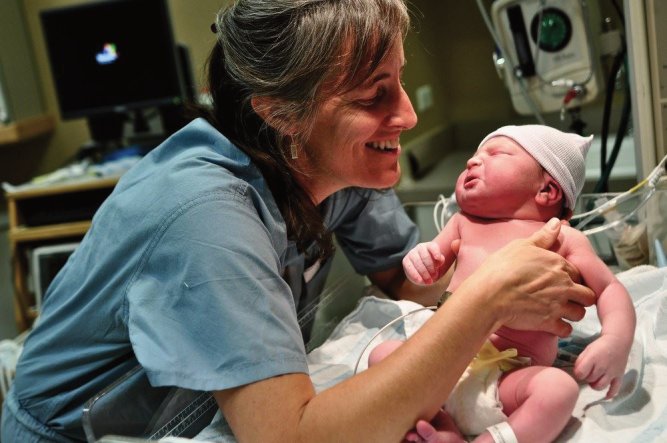 Children should be safe in the hands of midwives
The Chief Executive of the Royal College of Midwives (RCM) is facing calls to resign after announcing that the organisation supported the removal of the 24 week time limit for abortions in the UK.  Cathy Marwick has caused consternation among RCM members, many of whom have signed an online petition seeking to distance themselves from the RCM's stance.  They have also accused her of failing to consult on the issue. 
Marwick, who is the chair of the UK's biggest abortion provider BPAS (British Pregnancy Advisory Service), has not surprisingly been accused of a conflict of interest given her two roles.  One midwife from Northern Ireland said: 'Anyone advocating allowing abortion up to birth, I think is so sad and tragic, but to have my own representative body coming out in support of this extreme view is very disappointing. I know she's our chief, but there is clearly a conflict of interest. On something as big as this, she should have consulted us.'
Dr Peter Saunders, head of the Christian Medical Fellowship, said: 'It is bitterly ironic that the RCM, the supposed champion of safe childbirth and antenatal care, should be backing a campaign seeking to legalise the killing of unborn children up until birth. It is even more extraordinary that their chief executive, who also chairs BPAS, should be spearheading this initiative without apparently even consulting her membership. It is an extraordinary abuse of power.'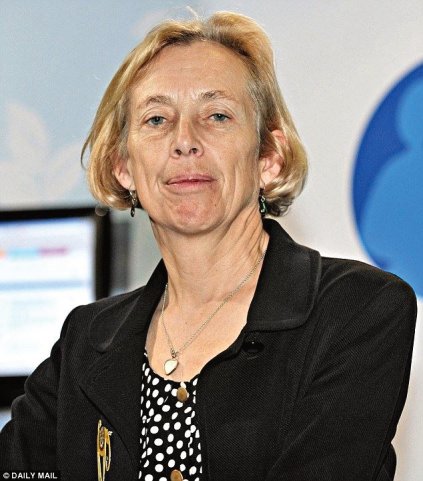 Cathy Marwick
Democratic Unionist MP, Jim Shannon, has vowed to raise the matter in Parliament this week.  He said: 'I will ask the Secretary of State for Health what discussions he has had, or will have, with the RCM and BPAS. My concern is that scrapping the 24-week cut-off would be absolutely disgraceful. I would have thought the RCM should be protecting unborn life. Its chief executive has this dual position and many people would say you can't have that.'
It is deeply disturbing that the very people who have for hundreds of years facilitated the safe passage of new life into our world are now being encouraged to compromise that ethos and be prepared to kill off that life.  Indeed, medical advances are strongly indicating that the abortion time limit should be reduced as a result of the increased survival rate of babies before the 24 week mark.  There is absolutely no indication that the abortion time limit should be increased, never mind scrapped altogether.  Any attempt to increase or abolish the 24 week limit flies in the face of scientific and medical fact, and it once again raises the question as to whether the wilful destruction of innocent human life by abortion should be allowed at all.
Our smallest, youngest, most vulnerable children should be safe in the hands of our midwives.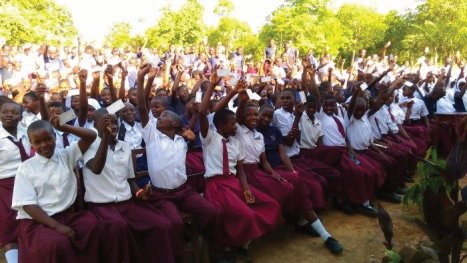 These youngsters have taken the chastity pledge
The World Health Organisation has, in its latest report, confirmed that 25% of worldwide pregnancies ended in abortion between 2010 and 2014. The report also states that "around 22 million unsafe abortions are estimated to take place worldwide each year, almost all in developing countries."
While this news must be greeted with great sadness at the millions of lives lost in an incredibly short period of time, the WHO has a solution.  It states that: "Almost every abortion death and disability could be prevented through sexuality education, use of effective contraception, provision of safe, legal induced abortion, and timely care for complications." 
It's interesting that the WHO avoids any talk of chastity or abstinence in their report.  This, as we know, is the most effective means by which to prevent a pregnancy if indeed that is what someone desires.  Contraception has been heralded as the saviour when it comes to having sexual relations without the 'nuisance' of a child.  But, in reality, contraception has merely become a 'get out of jail free card' for individuals - mostly men - who simply want to use and abuse a member of the opposite sex for their own selfish desires.  Contraception encourages people to engage in the most intimate manner with another human being and then to discard them once the deed is done.  There is no account for feelings, no account for wellbeing.  It is simply the act of using another for selfish desires.  And while not all people can be accused of using another individual through the use of contraception, there is no denying that in using contraception a person is not giving themselves entirely to the other.  It is a way of saying "I love you, but I'm not giving you 100% of my love".  Is this the kind of love we want for our children?
While it is natural for secular organisations like the WHO to raise unsafe abortion as an issue, the distinction between safe and unsafe abortions is inherently flawed.  This is because it is only concerned with the wellbeing of one party in order to distinguish whether an abortion is safe or unsafe.  Abortion, as we know and as science affirms, involves two distinct human beings.  When abortion results in the injury or death of one of those human beings it must be considered unsafe.  Therefore all abortions are unsafe.  There is no such thing as safe abortion.
While more must be done to ensure people are educated on sexual matters there is a real need to ensure that such education is not simply a pandering to the increasingly wayward sexual revolution and the deep pockets of huge, influential pharmaceutical companies.  Increased availability of 'safe' abortion is not the answer.  Nor is the increased availability of contraception.  These remedies simply take us down another road of self-destruction in our society and they quite clearly fail to solve the big issue, which is the widely held view that sex is a basic right to be enjoyed by anyone, with anyone and without the very natural consequence that is another human being.
In many African countries there is a growing movement (University Chastity Education or UCE Missionaries of Chastity) among young adults where they sign a pledge card, pledging a vow of chastity until they meet that special someone and marry them.  This is not the stuff of fairy-tales.  This is real life.  Isn't this a much more appropriate, measured, and natural solution to the pregnancy 'problem' than those proposed by the World Health Organisation?  Doesn't this solution encourage the kind of love you desire for your son or daughter?
/