Shopping Cart
Your Cart is Empty
There was an error with PayPal
Click here to try again
Thank you for your business!
You should be receiving an order confirmation from Paypal shortly.
Exit Shopping Cart
Calling Scotland's 841,000 Catholics to unite as one voice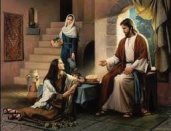 Today's Gospel: (John 12: 1-11)
'Six days before the Passover, Jesus went to Bethany, where Lazarus was, whom he had raised from the dead. They gave a dinner for him there; Martha waited on them and Lazarus was among those at table. Mary brought in a pound of very costly ointment, pure nard, and with it anointed the feet of Jesus, wiping them with her hair; the house was full of the scent of the ointment. Then Judas Iscariot – one of his disciples, the man who was to betray him – said, 'Why wasn't this ointment sold for three hundred denarii, and the money given to the poor?' He said this, not because he cared about the poor, but because he was a thief; he was in charge of the common fund and used to help himself to the contributions. So Jesus said, 'Leave her alone; she had to keep this scent for the day of my burial. You have the poor with you always, you will not always have me.'
Meanwhile a large number of Jews heard that he was there and came not only on account of Jesus but also to see Lazarus whom he had raised from the dead. Then the chief priests decided to kill Lazarus as well, since it was on his account that many of the Jews were leaving them and believing in Jesus.'
It's hard to imagine what went through Jesus' mind as he sat at table in the home of his friend Lazarus.  He was just days from that most horrific persecution, when his detractors would finally have their wicked way with him and he would be hung on a cross and left to die.  Yet here he is, sitting with his friend while the busy Martha scurries about waiting on them, and the more relaxed Mary pours an expensive fragrance over his feet.
The question often arises: are you a Martha or are you a Mary?  Would you be too busy rushing around to appreciate the King in your presence, or would you recognise him immediately and desire to be at his side?  Martha's role in this episode is not without purpose.  Her waiting on the Lord is a noble act and one deserving of praise.  Mary's actions are quite different.  There is something quite beautiful about the simplicity of Mary making a beeline for Jesus with the jar of expensive ointment.  Her focus is not so much to make everything perfect for Jesus as seems to be the case with Martha.  Rather, Mary's focus is to simply be by his side and spoil him with gifts. 
Mary simply wanted to be close to Jesus and to show him how much she loved him.  Martha undoubtedly loved Jesus too and she spent considerable effort in order to show this love.  But she didn't get close enough to him.  Perhaps she kept what she thought was a 'respectful' distance, only periodically getting close in order to serve him his meal.  But Jesus doesn't just want us to flit in and out of his life.  He wants something more concrete.  He wants the closeness shown by Mary.  If we are busy running around we perhaps forget the most important thing when it comes to our faith.  That is, being close to Jesus.  There is no need for a respectful distance.  While Jesus is a King, he is a King with a difference.  Unlike the many Kings and Queens of our world, Jesus does not care for pomp and ceremony in order for his people to get close to him.  He is accessible 24/7 and he wants all people to come to him, from the lowest of the low to the greatest.  We are all his children.
This Holy Week, think about your relationship with Jesus and how you can develop it for the better.  Don't get too caught up in the chores of the day at the expense of spending some time with Jesus, and be careful not to fall into the trap of thinking that Jesus isn't accessible to you.  He is right there by your side, right now!  So stop and talk to him.  Tell him what you think of him; tell him all your joys as well as your troubles and difficulties.  And if you haven't been to Mass for a while, consider coming back to be in the presence of Jesus in the Eucharist, where he is truly present…. body, blood, soul and divinity. 
Jesus loves you more than anyone else and he just wants a little love back.  So give him it.  Be more Mary.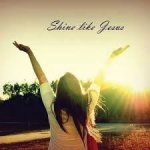 Surrender and let Jesus shine out of you
Sunday's (alternative) Second Reading (1 Corinthians 12:12-14,27):
'Just as a human body, though it is made up of many parts, is a single unit because all these parts, though many, make one body, so it is with Christ. In the one Spirit we were all baptised, Jews as well as Greeks, slaves as well as citizens, and one Spirit was given to us all to drink.
Nor is the body to be identified with any one of its many parts. Now you together are Christ's body; but each of you is a different part of it.'
Do you ever think of yourself being inextricably linked to Jesus?  We often talk about the ability of Jesus to be with us at every moment of the day, wherever we are, whatever we are doing.  We often imagine him by our side, walking with us through the trials and tribulations of life.  But today's reading gives us a slightly different perspective on our relationship with Jesus.
Today's reading tells us that we are actually a part of Jesus.  We are one with him.  Christ is often described as the head of the Church, and this reading confirms that truth.  Jesus is the head of the Church, and always will be.  And it is us, the people, who make up that Church.  Together, as the people of God, we are one with Christ.  It is the most beautiful union between the Creator and the created.  It is a link of unconditional pure and perfect love flowing from the one who was prepared to go through the agony of the Cross so that we would turn from sin and recognise and appreciate this powerful bond.
As we start another week perhaps we should consider taking some time out to contemplate this great bond with Jesus, remembering that each time we do wrong we are doing so in his presence.  But also remembering that each time we do good we are allowing him to take control.  There is a classic saying 'let go and let God'.  Maybe we should bear that in mind as we think about being one with Jesus. 
Perhaps it's time to let Jesus do a bit more in our lives.  Make it your goal this week to surrender to him and let him take over.  Let him take on your worries, troubles and daily difficulties.  What use being part of Jesus if you aren't prepared to use his perfect heart for love, his awesome mind for wisdom, and his most beautiful face to show how much you care?  What benefit is to be gained from receiving Christ in the Eucharist at Mass if we simply ignore the truth and goodness he brings to our very being?  You have the power to let Christ shine out of you, for you are one in him and he is one in you.  Be the loving Jesus.  Be the merciful Jesus.  Be the compassionate Jesus.  Be the Jesus who led others to the Truth.  Be the joyful Jesus!  Let it be.  Let Christ be.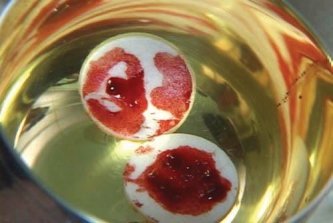 The Eucharistic Miracle of Buenos Aires
The National Catholic Register has reported a possible Eucharistic miracle in the Diocese of Salt Lake City, USA. 
It is reported that a host started to bleed at St Francis Xavier Church in Kearns, Utah during November.
As is standard in such situations, the substance will be subjected to a simple blood test to establish whether the blood is human.  The Church, which adopts a cautious reverence in the case of possible miracles, will then proceed to instruct further tests to ensure that there are no other explanations.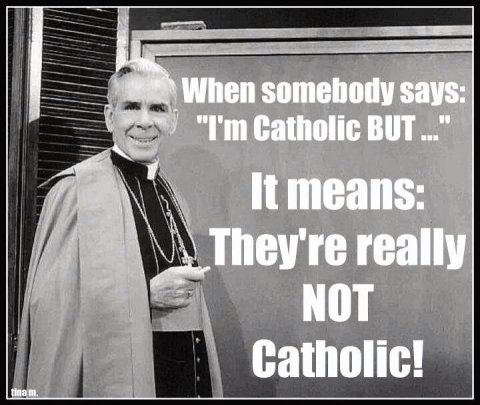 Venerable Fulton Sheen
Isn't it fair to say that our Catholic faith is under attack from many angles in our world today?  The growth of relativism, aggressive secularism, and even attacks from within our own ranks, by people who suggest that Church teaching is wrong on certain matters.
In my own experience it is becoming abundantly clear that more and more self-proclaimed Christians (especially Catholics) are attaching less and less importance to the role of faith, and ultimately Christ, in their lives.  It brings to mind a quote of Venerable Fulton Sheen when he said "When somebody says: 'I'm Catholic but…' it means: they're really not Catholic!"  There are so many examples of people saying 'I'm Catholic but…' in our world today.  Indeed it is a daily occurrence on social media forums.  'I'm Catholic but I don't go to Mass'; 'I'm Catholic but I don't go to Confession, I just go direct to God'; 'I'm Catholic but I don't think we should interfere with a woman's choice when it comes to abortion'; 'I'm Catholic but I believe that same-sex marriage is okay because two people love each other'.
And while those who propagate the view 'I'm Catholic but…' don't seem to care much for the effect it has on the more traditional, conservative Catholic lay people around them; they don't seem to appreciate the effect this has on the one who really matters….Jesus Christ.
It is often difficult to comprehend certain Truths taught by the Catholic Church; the Church's stance on homosexual acts perhaps being the most relevant example.  Nothing seems to stoke the flames as much as this issue. And even when the natural law, Sacred Scripture or the Catechism of the Catholic Church is quoted in defence of the Church's position, it still isn't enough to eradicate the view that the Church is out of touch and living in the past.
Yet what is the Church? Is it really a bunch of decrepit old men as is often argued?  Certainly not.  The Church is an assembly brought together by the Word of God, forming the People of God; a people nourished and sustained by the Eucharist.  And by receiving this nourishment from Christ's Body we too become the Body of Christ.  The Church is the community of believers in Christ and his Truth.  It is a people, stemming from Peter and the apostles through the ages to the present day.  It is a people charged with the task of not only proclaiming the Truth but protecting it so that it may continue to live on through time, penetrating the hearts of countless peoples through the ages.  And perhaps the most important component of the Church is its head; for it is Jesus Christ who is head of the Church.  Not the pope, not the Bishops nor her priests.  No, it is Christ; for it is Christ who formed the Church and it is Christ who promised to be with the Church until the end of time so that the gates of hell would never prevail against her.
When he formed the Church Jesus promised to be with her forever; and he remains with her to this day. And his Truth continues to exist to this very day because it has been protected by his Church.  Just think of the apostles and how they, as a relatively small number, carried that Truth with them, taking it to everyone they met so that they might come to know Christ as they knew him.  Think of how they changed hearts and minds with this Truth and how they were even prepared to take it to their excruciatingly painful deaths.  Yet despite this, the Truth continued to penetrate time, through the early Church Fathers, the Saints, and through converts to the faith.  And so it continued on and two thousand years later it remains with us today; that same Truth proclaimed by Jesus Christ and his apostles.  And it is here because he promised it would be here. Jesus promised to be with his Church, and so his Truth lives on; protected and preserved by a people who love him and who trust completely in him.
While it can be incredibly difficult to live a life of faith in today's world, especially a life of faith in a Catholic sense, we must remember that we are preserving the Truth of Christ, the one who created us and who loves us more than any other.
Another beautiful way to look at the Church is to see her as Christ's bride.  She waits for him to return to earth so that they, the bride and groom, can be completely united as one.  If we let go of the Truth there will be no bride waiting for Jesus at the end of time. That is why it is so important for us to be true to our faith, every last bit of it.  I have heard it said that the rib taken from Adam to create Eve was symbolic of Christ and the Church.  That is how close Christ is to his Church!  And when Christ died on the Cross on Calvary and his side was pierced by the roman soldier, the significance of Adam's rib became even more apparent.  For in the blood and water which poured forth from Christ's side came his forgiveness; a forgiveness that he would soon thereafter charge to his disciples and to his Church.  And the first person to fully appreciate the significance of the blood and water pouring from Christ's side and who proclaimed him to be the 'Son of God'?  The Roman soldier Longinus (now St Longinus) who pierced his side.  Many claim that he was the first convert to the Christian faith.  So, the Church, the creation of which was foretold by the removal of Adam's (Jesus) rib to create Eve (the Church), can now be seen pouring out of Christ's side and reaching out to his created people, calling them to conversion and to come to know the Truth.
St Longinus would never dream of saying 'I'm Catholic but….'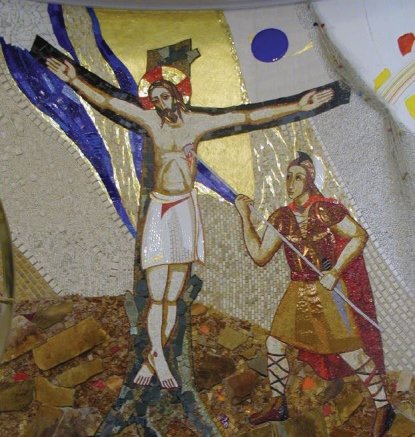 Longinus pierces Christ's side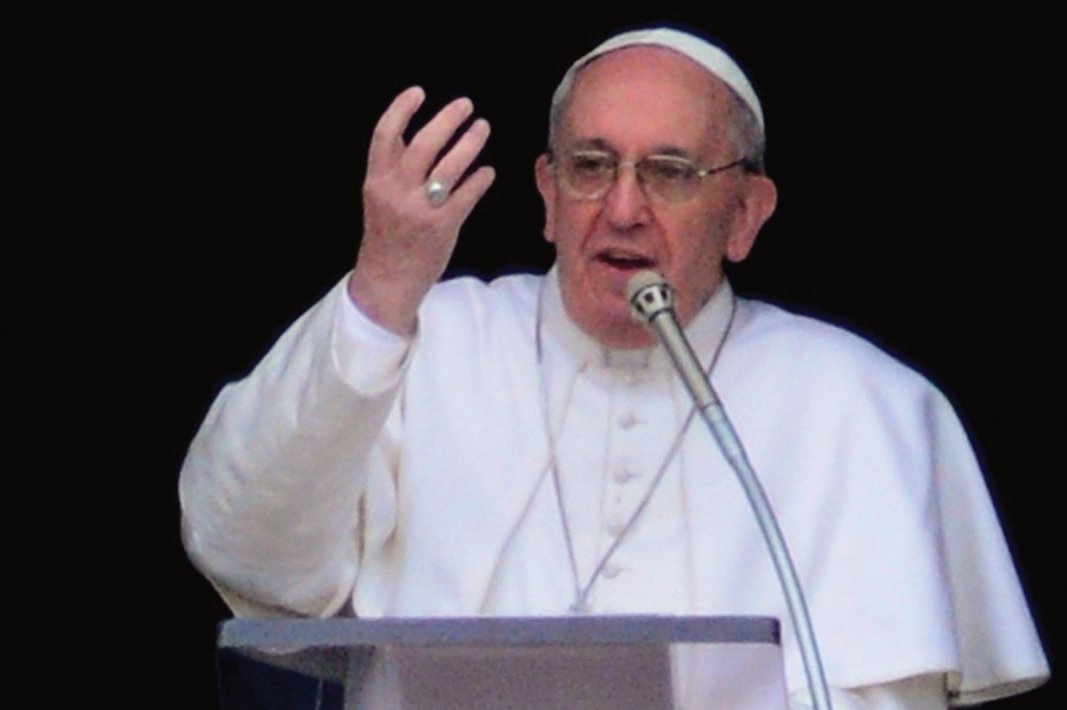 Pope Francis, at his weekly General Audience on Wednesday, urged the faithful not to be slaves to their work but instead to master it.  The pope said, "We must never be slaves to work but rather its master." However, he added that "we know that millions of men and women, even children, are slaves to work.  The obsession with economic profit and technical efficiency puts the human rhythms of life at risk."
The pope then focussed on the need to rest, especially on Sundays, saying "Moments of rest, especially on Sunday, are sacred because in them we find God."
The pope concluded his General Audience with a prayer: "May we always recognise the family as the privileged place to understand, guide and sustain the gifts which arise from our celebrations, especially the Sunday Eucharist."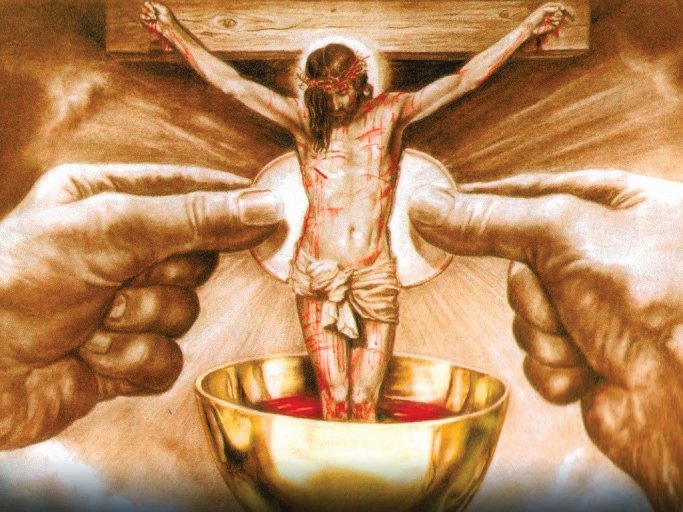 From Sunday's Gospel (John 6:24-35):
'Jesus answered:
'I tell you most solemnly,
it was not Moses who gave you bread from heaven,
it is my Father who gives you the bread from heaven,
the true bread;
for the bread of God
is that which comes down from heaven
and gives life to the world.'
'Sir,' they said 'give us that bread always.'
Jesus answered:
'I am the bread of life.
He who comes to me will never be hungry;
he who believes in me will never thirst.''
Reading this Gospel passage and, in particular, the words of Jesus leave us in no doubt.  He is the bread of life.  He is the way, the truth, and the life.  He is the only way to God.  Yes it is true!  In the Eucharist we receive Jesus Christ body, blood, soul and divinity!  Just as the bread came from Heaven in order to feed the Israelites so Jesus comes to us in the form of bread to feed, nourish and sustain us.
Jesus is offering himself to all of us.  He is offering us the chance of eternal life with him in Heaven.  Will we be like the disciples and say to Jesus: 'Sir, give us that bread always'?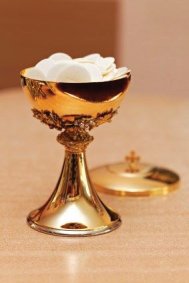 Sunday's Gospel (John 6: 1-15):
'Jesus went off to the other side of the Sea of Galilee – or of Tiberias – and a large crowd followed him, impressed by the signs he gave by curing the sick. Jesus climbed the hillside, and sat down there with his disciples. It was shortly before the Jewish feast of Passover.
Looking up, Jesus saw the crowds approaching and said to Philip, 'Where can we buy some bread for these people to eat?' He only said this to test Philip; he himself knew exactly what he was going to do. Philip answered, 'Two hundred denarii would only buy enough to give them a small piece each.' One of his disciples, Andrew, Simon Peter's brother, said, 'There is a small boy here with five barley loaves and two fish; but what is that between so many?' Jesus said to them, 'Make the people sit down.' There was plenty of grass there, and as many as five thousand men sat down. Then Jesus took the loaves, gave thanks, and gave them out to all who were sitting ready; he then did the same with the fish, giving out as much as was wanted. When they had eaten enough he said to the disciples, 'Pick up the pieces left over, so that nothing gets wasted.' So they picked them up, and filled twelve hampers with scraps left over from the meal of five barley loaves. The people, seeing this sign that he had given, said, 'This really is the prophet who is to come into the world.' Jesus, who could see they were about to come and take him by force and make him king, escaped back to the hills by himself.'
Did you know that a barley loaf was considered to be the bread of the poor?  God chose the food of the poor in order to satisfy the hunger of His created people.  He could have chosen to feed them with a grand banquet fit for a king but no, he chose a simple loaf of bread.
Yet this simple loaf represents something truly great; something more satisfying than a grand banquet.  It is the means by which God has chosen to come to us and to develop His relationship with us. 
Through a simple piece of bread God shows His great love for us and showers us with graces.  Why He decided to do this is a great mystery and it is a mystery that may well be revealed to us one day.  But the intricacies of this mystery is not something we need concern ourselves with right now.  Our concern must be the bread with which He feeds us….the Eucharist.  It is through the Eucharist, given to us in Holy Mass, that we are truly satisfied.  It is through the Eucharist that we receive the graces we need to live our daily lives. It is through the Eucharist that God comes to us in love, inviting us to an ever deeper relationship with Him, and encouraging us to never tire of trusting in Him.  And it is through the Eucharist that we will be saved; saved by the blood of Christ who sacrificed himself on a Cross so that we may live forever.
Yet even though we receive this great gift from God, there are still many basketfulls left over.  Our job, brothers and sisters, is to go out to the world and find a home for this bread.  God doesn't just want a few willing participants to come to Him and receive Him in the Eucharist.  He wants all of His created people to take part!  There are so many basketfulls of bread left over after we receive the Eucharist!  Let us find more homes for God to shine His great light in our world.  Let us be open to speaking highly of this great gift of God so that others may come to share in it.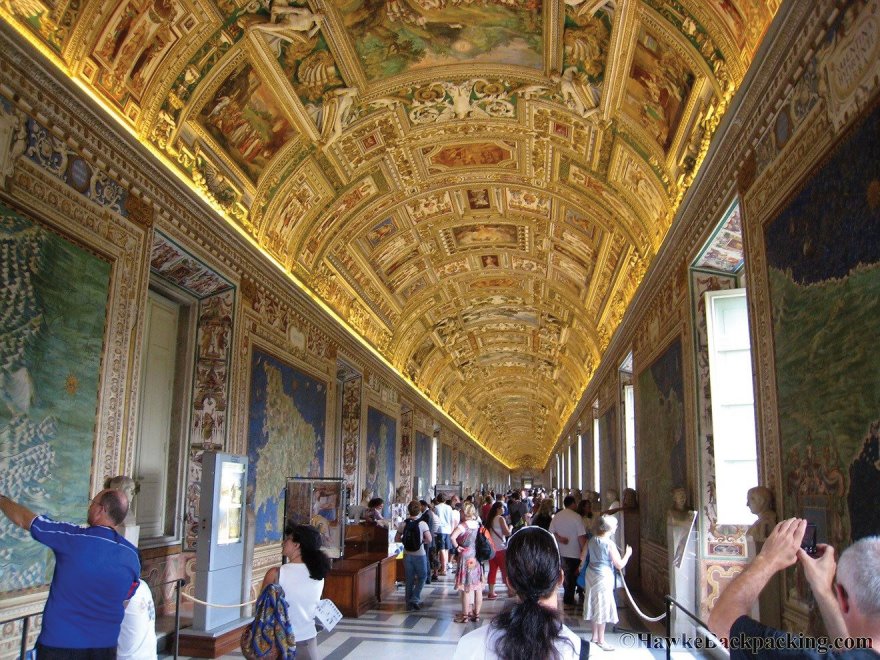 It's fairly common to be asked the following questions when you run an online Catholic apostolate: why doesn't your church sell off its valuable assets to feed the poor?  Wouldn't Jesus balk at the amount of wealth the Church has today?  Wouldn't he give it all to the poor?
I do think these are all very valid questions and I believe there are also very good answers to them. But before we begin looking at those answers, perhaps it would be prudent to give the matter of Church wealth a bit of context.  The Vatican City is a unique economy in that it relies on the contributions of its worldwide Catholic congregations and also tourists visiting its attractions to support it.  This, in a nutshell, is the income received by the Catholic Church.
But what is this money spent on?  Well, the Catholic Church, like any other large organisation, has huge bills to pay such as as wages, utilities, and paying contractors, suppliers etc.  But the Church is also known to be the largest charitable organisation in the world.  With charities such as Missio, CAFOD, SCIAF to name only a few, the Church spends billions in providing assistance to those in need and has been doing so for thousands of years.  Indeed, at last count, the Catholic Church was home to a confederation of some 164 relief agencies providing essential care and relief to people in two hundred of the world's poorest countries.
The Church is also the largest non-governmental provider of healthcare in the world, managing one quarter of the world's healthcare facilities.
Further, the Church is one of the largest providers of welfare and education in the world, especially in developing countries where the provision of such services is most lacking.
But could the Church sell some of its assets and put the extra cash generated to good use?  Well, yes, the Church would certainly put any cash it may make to good use like it has done for thousands of years.  That is a given.  But what isn't a given is whether there is actually a market for the Church's most valuable assets and whether it would be worthwhile in the long run to shed those assets in this way. 
Taking the first point, do we really believe there to be sufficient interest in centuries old basilicas and churches for the church to generate reasonable income from a sale?  Would these big, old, a-listed buildings with massive overhead costs really tempt the market to come in with a tasty offer to take them from Church hands?  Perhaps they could be bought and torn down to make way for new, lucrative housing schemes.  But wouldn't this be a defeat for the Church and a defeat for God?  Surely part of our work here on earth is to ensure a suitable home for Jesus in the Blessed Sacrament?  Surely we are duty bound to create and maintain a place where God's people can come to Him and give him glory and praise in the company of others of like mind?  Wouldn't signing off the death warrant of these buildings be an offence against God?
And what about the art treasures holed up in the Vatican museums?  Couldn't those be sold off for billions of pounds and the money given to the poor?  Well, yes, these treasures could be sold off and the money given to the poor.  But once sold and in the hands of a new owner they would be gone for good and would no longer serve as an attraction to bring millions of visitors to the Vatican.  This would affect the number of visitors to the Vatican which in turn would affect the amount of money generated to feed the poor and care for the needy.
But if the Church did decide to sell off its assets and use the money to feed the poor, the big question we must ask ourselves is how long that feeding could be sustained.   The truth is, not very long.  More privileged societies plough millions, possibly billions, of pounds into charitable organisations every month in order to help the needy around the world. If the Catholic Church decided to sell its assets in order to look after the needy it would only be able to do so for a very short amount of time, probably just a few months, before the cash realised would dry up. Not only that but the Church itself would disappear because it could no longer pay its bills.  The end of the Catholic Church would create an enormous black hole in worldwide charitable giving and healthcare provision, the likes of which we have never witnessed.  At the end of the day, the results of a flash sale in Vatican assets would create a quick fix for a few, but it would also create a lifetime of poverty and destitution for many.
The Church - if it is to sustain its significantly high level of charitable giving and healthcare provision - must retain its valuable assets in order to continue to generate the income necessary to tend to the poor, needy and sick.  The consequences of failing to retain these assets simply doesn't bear thinking about.
Another point many people make is Jesus' attitude to the Church's wealth.  But again these points are made without seeing the bigger picture of the Church as an organisation with bills like anyone else.  More crucially, it fails to recognise the Church's status as the biggest provider of food to the starving in the world.  It fails to recognise the Church's status when it comes to the provision of healthcare.  And perhaps most crucially, it fails to recognise Christ's own personal attitude to how God should be glorified. 
Consider the occasion when Jesus ate at the house of a Pharisee and Mary of Bethany approached him with an alabaster jar of costly fragrant oil, proceeding to pour the oil over him. The house was in uproar because of Mary's supposed wastefulness.  People even suggested that she should have kept the oil and sold it, giving the proceeds to the poor.  Jesus' response to this?  He said that Mary had done a good deed.  Indeed he went even further than this saying: "The poor you will always have with you. But you will not always have me."  Jesus did not believe Mary had done the wrong thing by not using the oil in order to help the poor.  His need was greater and he was grateful of this simple act of great love towards him.  And so we must consider this when we look at the Church and how it glorifies God.  A beautiful Church is not a contradiction to the Church's mission to care for the poor.  Indeed it is quite the opposite.  It is a gesture of our love for God and a real, tangible example of our need to glorify Him, just as Mary's simple gesture of love was a real and tangible act of glorifying God.    
Consider also when Jesus entered the temple to find the money changers doing their dealings in his Father's house.  Wasn't he extremely angry with them?  Didn't he make whips out of some cord and chase them out?  But why did Jesus do this?  He did it because they were profaning the house of God.  The actual dealings of those in the temple weren't the cause of Jesus' anger.  It was the fact that they were taking place in God's house.  And so Jesus places huge importance on church buildings and our need to have them to glorify God.  
But what about when the man who has kept all the Commandments approaches Jesus and asks him what he must do to inherit eternal life?  Jesus tells him to sell all he has and give to the poor.  Doesn't this contradict what we have already discovered?  No it doesn't and here is why.  This man was very rich and his reaction to Christ's call was telling.  He went away sorrowful because of what he was  expected to do.  There was no obvious willingness on the part of the man to do as Jesus says. He was a man who did not give anything to the poor and, despite Jesus' best efforts, he wasn't about to start. This is different to the Church which already gives billions to the poor every year.  Not only that but it spends time with the poor through missionary work and putting at risk the lives of those priests, religious and volunteers who do such work.  Charitable work isn't just about throwing money at something, it's about giving up the comfortable life and spending a little time with those in most need.  The man described above is not only unwilling to give any of his wealth away but he is also unwilling to devote any time to the poor.   This is the complete opposite of what the Church does.
Ultimately, if the Church wishes to maintain its status as the bride of Christ it must ensure that it is a fitting bride.  It must be beautiful and glorious, but it must also be in the trenches tending to those in most need.  As Catholic people we believe in Christ's promise that he will be with the Church until the end of time, and it is with this promise in mind that we can be confident that the Church has struck the perfect balance of being the perfect bride and of being the beacon of hope to the billions of people in our world who suffer from poverty, deprivation and illness.
Remember, God is love and the Church is the physical, earthly presence charged with the task of bringing that love to all people.  And what is love?  Latin for love is caritas, which means 'charity'.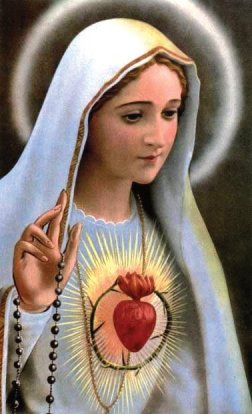 The First Saturday Devotion to the Immaculate Heart of Mary is an incredibly rich, and ultimately rewarding, devotion to Our Blessed Mother Mary. 
Please try to participate in this most incredible act of devotion and allow Jesus to pour his abundant graces upon you.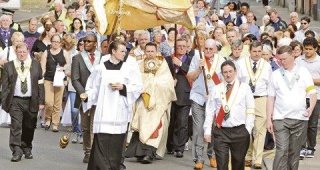 The West End Corpus Christi procession has grown in recent years
This Sunday the Church celebrates the great solemnity of Corpus Christi.  It is an occasion for us to celebrate the beauty and truth of the Eucharist; the real body and blood of our Lord Jesus Christ.
The solemnity is often marked by a procession led by the Blessed Sacrament and Catholics around the country are encouraged to join in.  In Glasgow the West End Corpus Christi Procession has become increasingly popular in recent years with hundreds participating.  This year the procession will leave from the University of Glasgow and travel to St Peter's, Partick.  Events start at 11.30am with Holy Mass in the University's Turnbull Hall. 
If you are unable to attend one of the larger processions please try to join in one in your local area.  Your parish might even be having one so check your bulletin or ask your parish priest.
The importance of the Eucharist cannot be overstated.  It is the centre of our faith.  It is Jesus, truly present among us.  Please try to support a Corpus Christi procession in your area this Sunday, and encourage others to do the same.  Let us be witnesses to our faith and let us be witnesses to Christ crucified, Christ risen, and Christ present in the Blessed Sacrament.
/