Shopping Cart
Your Cart is Empty
There was an error with PayPal
Click here to try again
Thank you for your business!
You should be receiving an order confirmation from Paypal shortly.
Exit Shopping Cart
Calling Scotland's 841,000 Catholics to unite as one voice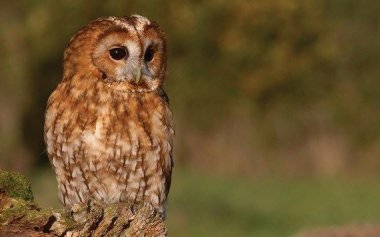 The owl: undeniably beautiful, but not human
Walking through the centre of Edinburgh last week I was struck by a large crowd gathered on the pavement.  As I approached I noticed that the crowd, made up mostly of tourists, were gawping at a rather large, impressive owl that was perched on its keeper's arm. 
The crowd pointed, smiled, laughed and took a vast amount of photographs with their mobile phones and state-of-the-art digital cameras.  It was all very pleasing to the owl's keeper who must have been licking his lips at the prospect of a bumper pay day should even a fraction of those gathered be brave enough to get up close and personal with the beautiful feathered creature and let it sit on their arm. 
And as I got closer to the scene I noticed that there was something else sitting in the corner, propped up against the wall of one of the buildings.  It sat just to the left of the man holding the owl.  It was nothing remarkable; at least it was unremarkable in the sense that the crowd didn't seem particularly bothered by it.  It just sat there, motionless.  That 'it' was a beggar.
I was amazed at how helpless this man looked set against this excited and comparatively wealthy crowd of people straining to catch a glimpse of an owl.  He sought and drew no attention whatsoever and he may as well have been invisible for all the owl mob cared.  But for my own respect for the gentleman beggar I would have been tempted to take a photograph of the scene to highlight just how preposterous it all looked.
It's a sad day when an owl is deemed more interesting, more important and more deserving than a poor, helpless human being stuck in the gutter.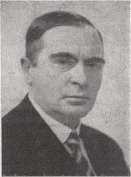 If only there were more Dr Halliday Sutherlands today.  Perhaps he would have the courage to stand up for the rights of those who are under threat from the increasing prevalence of assisted suicide in our world.  Perhaps he would have the courage to stand up for the rights of the preborn child under threat of death by abortion.
Dr Halliday Sutherland, born in Glasgow in 1882, was a man who stood up for the people society felt unworthy of life.  He lived in a time when the middle and upper classes of Britain fought for the legal right to sterilise the poor and the seemingly unworthy.  The rich felt more and more threatened by the higher birth rate among the poorer classes compared to their deteriorating birth rate.  They also felt threatened by the seeming prevalence of tuberculosis among the poor.  There was even talk of using a lethal chamber at one stage.
According to
this article
, Sutherland was "appalled by the popularity of eugenics among Britain's middle and upper classes" and set about fighting for the rights of the vulnerable.  He argued with the Professor of Eugenics at London University who claimed that tuberculosis was primarily caused by heredity and argued that the disease be cured by breeding out those considered to be at risk (the poor).  In a speech made in 1917, Sutherland called Britain's eugenists "race breeders with the souls of cattle breeders" and argued that "in preventing disease you are not preserving the weak but conserving the strong." 
Sutherland also decried the actions of a eugenist who, in 1921, began dispensing 'pro-race' contraceptives to women in poorer parts of London.  Sutherland described this as a social "experiment" that would lead to a "servile state".  He also argued that 'if ordinary Britons were legally prevented from having children, they would have no societal role other than to work.'
Marie Stopes was also criticised by Sutherland after she revealed her eugenic vision for society in 1921.  She revealed details of her "ardent dream" of "human stock represented only by well-formed, desired and well-endowed beautiful men and women."  The dangers of this frightening and callous point of view are obvious.
Halliday Sutherland would be appalled at the direction of travel of western society today.  Not only have we cow-towed to the contraceptive mentality, completely ignoring any notion of the true meaning of our sexuality, but we now routinely kill our own preborn children through abortion and threaten the vulnerable with a premature death by way of assisted suicide.
We need more Halliday Sutherlands in our world today.  We need more people to stand up for the poor, the marginalised, and the vulnerable.  Dr Sutherland was a Catholic and it is important that we as a Church follow his example and be absolutely clear on the wrongs of abortion and assisted suicide.  Not only that, but we must also resist the assumption that contraception is a simple and harmless solution that allows people to have sexual relations without the 'threat' of new life.  As a Catholic people we value life from the very moment it starts right up until its natural conclusion on death.  Contraception interrupts the natural process by killing off new life.  It also encourages people to use others as objects of desire, their sole purpose being to satisfy their own selfish cravings devoid of the threat of responsibility for a new life.   
We have lost the true meaning of the sexual encounter and we have lost the meaning of the value of life.  Our world needs to hear that there is an alternative to the throwaway culture of death; an alternative that values all life and that gives the sexual act the respect it truly deserves.  Dr Halliday Sutherland would be willing to speak up for these values.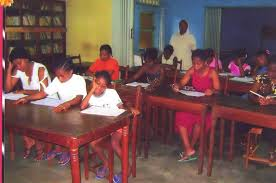 Madagascar is a country riddled with debt, where the basic right of a child to an education is far down the list of government priorities and public expenditure on children is a paltry £31 per year, leaving very little for a basic, let alone decent, education.
The situation is especially grim for girls who are often denied any form of education so as to allow male siblings to benefit from the opportunity to learn.  Boys, it seems, are best placed to go to school to learn.  Girls, it seems, are better off at home.
Thankfully, Missio Scotland, the official mission aid agency of the Catholic Church, is doing what it can to help girls in Madagascar obtain some form of education.  Missio has supported the Catholic Home for Girls in Ambanja, run by the Franciscan Sisters of Mary, since 2004.  The home accommodates around 40 poor and orphaned girls at any given time and is a place where the girls can be educated and allow their faith to flourish in a safe, loving environment.
Sister Suzanne Mahavita, who manages the home, says: "Our girls are from poor families where there's no money for school fees.  Even if there was money, boys get educated at the expense of their sisters.  Girls usually stay at home, caring for younger siblings and do household chores until they are of an age when they can marry.  In this sense female illiteracy far exceeds that of males.  But our local families do support the ideal of education for girls.  Our intention is to bring education to as many of the disadvantaged as we can.  We strongly believe it is every child's right to be literate and numerate."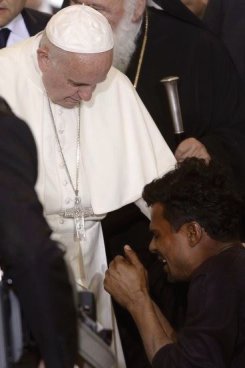 Pope Francis, during his weekly general audience, has slated those who turn their backs on the poor, suggesting that their ignorance means that they despise God.
The pope stressed that in the poor "we find Jesus himself: whatever you did to the least brothers of mine, you did to me".
The message is clear: we are called to wake up to the plight of the poor and to make sure we never ignore them.  I recall one of Pope Francis' early comments on the poor.  He said that we must get close to them as Jesus did, and touch their wounds.  Touch their wounds!  It sounds strange that we would put ourselves in a position to touch the cuts or sores, or even the diseased body of a stranger.  We may wince at the idea of shaking the hand of a homeless person, knowing full well that those hands could be carrying all sorts of germs that could make us ill.  But that is what we are called to do!  We are called to get close, because by getting close to the poor and the needy we are getting close to Jesus.  And we all know that Jesus will not cause us any harm or give us anything we cannot deal with by his grace.
It is also worth remembering that when Pope Francis refers to the poor he is not just talking about the homeless or the financially impoverished.  He is also talking about the poor in spirit; those who have perhaps lost their way in faith or who fail to recognise the Goodness of God.  We are also called to accompany these people, as well as those who suffer a more typical form of poverty.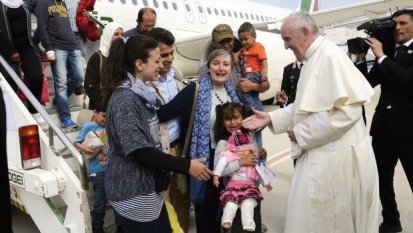 Pope Francis welcomes some of the migrants to Rome
Pope Francis has once again thrust the Catholic Church into the spotlight; this time by bringing a group of twelve Syrian migrants from the island of Lesbos to live in Rome.  The families travelled with the pope back to Italy after he made a visit to the small Greek island last weekend.  It is understood the three families, all Muslim, were fully prepped for the move ahead of the pope's visit.
The finer details of how all of this will pan out remain to be seen, but the gesture itself is one of great love and generosity on the part of Francis.  It is dynamic, reactive, and challenging.  In many respects it bears the hallmarks of Christ himself.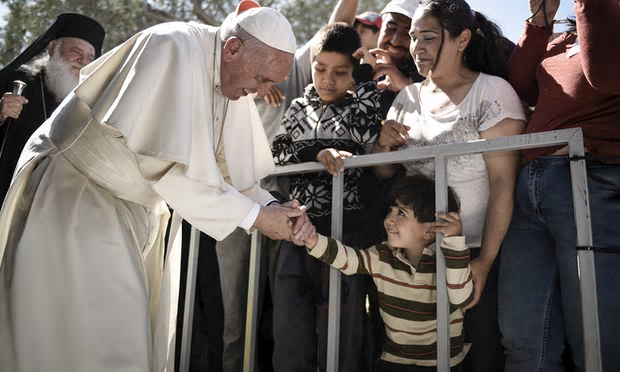 And while he had to leave huge numbers of migrants behind in Lesbos, Francis left them in no doubt that he loves each and every one of them as he told them: "you are not alone".  He later followed this up with a call to Western leaders to do more to accommodate the migrants.   
Yet the challenge set down by the pope is not just for political leaders.  Each one of us is called to rise to his challenge and to show similar love and compassion to the poor and needy in our communities.  So before we criticise others for their failure to act, we need to think about what we ourselves are doing for the good of humanity.  It might only be small gestures of love or kindness, but remember, each little gesture creates another building block for the Kingdom of God.
For all of the criticism Pope Francis attracts, particularly from his own household, he has the knack of showing great love to all people, especially to those in great need.  In all honesty, I wish I could have even a tiny percentage of the compassion, mercy and humility that this man clearly has in abundance.  He is, in many respects, a world leader in love.  Isn't that precisely what God's representative on earth should be?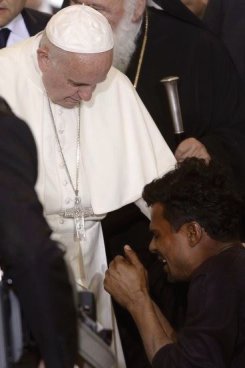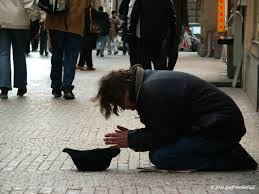 The posters erected around Nottingham City Centre urging people not to give to beggars is quite concerning.  Is poverty so abhorrent that it is to be brushed out altogether from our streets?  Is it really appropriate to punish the poor and homeless even more by encouraging the public to refrain from giving them a few pounds that we are able to spare?  One of the posters features a man smoking and urges people not to "watch your money go up in smoke".
It would be fair to say that there may be some beggars who are not necessarily homeless or financially unsound.  Indeed, many of them may have no need whatsoever to beg on the streets.  But is it fair to encourage a blanket ban on giving to the poor in order to deprive the fraudsters?
The governors at Nottingham City Council clearly feel the need to combat what they term "aggressive" begging in their city.  True, it isn't pleasant if a beggar harasses you to hand over your hard earned cash.  But is this really our experience when we walk through our city streets?  Are they really so aggressive that we feel threatened?  Or is it the case that we simply cannot be bothered with the inconvenience as we go about our daily business?  Sure, maybe it is inconvenient for some.  But is it as inconvenient as having to sit on a cold, hard concrete surface for hours at a time?  Is it as inconvenient as having to beg other human beings for assistance just so that you can buy some food to keep you going?  Is it as inconvenient as having to find a suitable place beneath a motorway bridge or a quiet lane to rest up for the night?  Is it as inconvenient as having to experience the stare of hate as people look down at you with repulsion?  The answer to all of these questions is a resounding no.
Sure, nobody should need to put up with aggression from anyone as they go about their daily routine.  But we must be careful not to demonise those who really are in need of our generosity.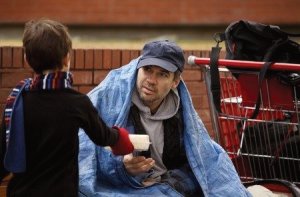 A number of weeks ago I saw a great post on Facebook about making up gift bags for the homeless.  I followed this up with my own post on the matter and it was warmly welcomed.  But as with a lot of these things the impetus faded and I never really got things properly off the ground.
But thank goodness for Lent!  The season for getting up off my backside and actually doing something positive for those in need is here and I feel the need to respond.  Our call to help the poor is, of course, a year round one but Lent is a great time to really kick-start a new initiative. 
So, I have set about making up a small, but hopefully useful, gift bag for some of the homeless around where I work.  And I wonder if you would like to do it too?  Now I appreciate we all have various commitments and there are so many of you out there who will already be giving so much of your time to the poor.  And I know that there are already countless wonderful people out in the streets on a daily basis doing incredibly selfless work for those in most need.  So this isn't for everybody.
But if you do feel the call to help, why not consider making up some bags of kindness and distributing them to a homeless person this Lent, and beyond?  I have decided to make up at least two each Friday during Lent and to take them out with me onto the streets, where I will hand it over to a couple of people in need.  All being well I will ask the person their name and introduce myself to them, so that I am not just thrusting a bag into their hand and saying 'see ya later'.  That seems a bit impersonal and rude.  It's nice to spend a bit of time with the homeless, even if it's just a minute or two.  Maybe they have something they would like to share with another person, or maybe they just need to feel loved.
Suggested items for your gift bag
Your gift bag will, of course, go a long way to making someone feel loved.  In terms of what to put in it, I have opted for the following:
Gloves, socks, toothbrush, toothpaste, deodorant, Kleenex tissues, water, cereal bar, chocolate, fruit, chewing gum, and a few pounds if you can spare it.
It's really up to you what you want to put in it.  The main thing is that you have gone to the effort of making it up and giving it to someone who needs it. 
And here's a thought….why not get your kids to help you?  It could be great fun to get the kids involved in making up the bags and perhaps they can assist you when you go out onto the streets.  It lets them see you engaging with the poor and encourages them to do the same as they get older.    
I fondly recall one of the first things Pope Francis said as pontiff, he said that we need to get close to the poor and "touch their wounds".  That has stuck with me ever since.  We need to "touch their wounds"!  That is an incredibly intimate and personal thing to do.  It's also frightening and distasteful for some.  But if we want to be like Jesus we need to get on our knees and we need to get the dirt on our hands.  We are the hope for our poor people, and this small act of love and kindness is a real opportunity to let Christ's love shine through us and out into the world.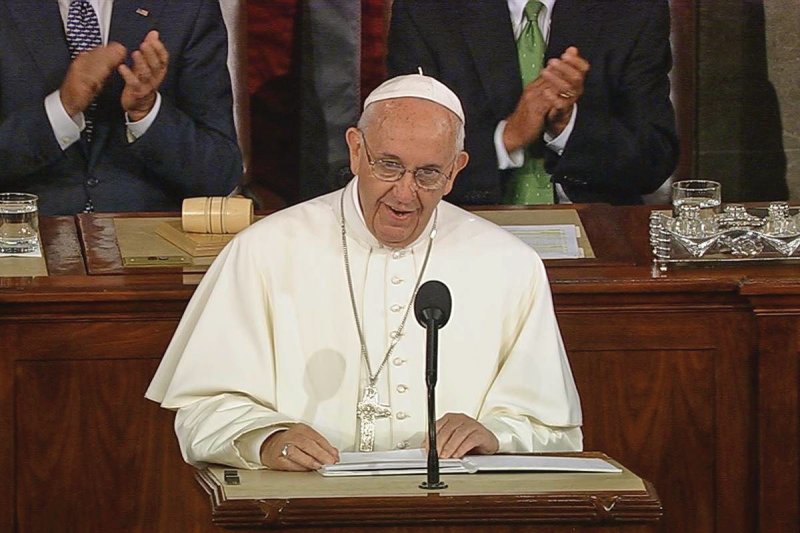 The pope received several standing ovations in Congress
Pope Francis, in his historic address to US Congress, has urged the world to follow Christ's Commandment of love.  The pope used the opportunity to tackle critical issues such as the dignity of human life, the death penalty and the refugee crisis.  He also addressed recent attacks on marriage and family life, and his concerns that the very basis of the family and marriage is being called into question. 
Here are the main quotes from the pope's address to USC ongress this afternoon:
Pope Francis on the golden rule:
"Let us remember the golden rule: do unto others as you would have them do unto you."
On the dignity of human life:
We must "protect by means of the law, the image and likeness fashioned by God in every human life."
We must recognise the "transcendent dignity of the human being".
"The golden rule [to do unto others as you would have done unto you] also reminds us of our responsibility to protect and defend human life at every stage of its development."
On the family:
"The family should be a recurrent theme….how essential the family has been to the building of this country.  I cannot hide my concern for the family which is threatened, perhaps as never before from within and without.  The very basis of the family and marriage is being called into question."
"I can only reiterate the importance and, above all, the richness and the beauty of family life."
"I would like to call attention to those family members who are most vulnerable, the young.  Their problems are our problems.  Our young people are precious."
"We live in a culture that threatens young people not to start a family."
On the death penalty:
"Let's abolish the death penalty here and everywhere. No punishment should exclude hope or the possibility of conversion."
On politics and society:
"Preserve and defend the dignity of your fellow citizens in pursuit of the common good."
"We are all worried by the disturbing social and political situation of the world today."
"It can be no more us vs them. We must confront every kind of polarisation. Our response must be hope and healing, peace and justice."
"Safeguard religious freedom, intellectual freedom, and individual freedom.  We must be specially attentive to every type of fundamentalism."
"Politics must be used to build the common good."
"It's my duty to build bridges and help all men and women to do the same."
"We have to ask ourselves: why are deadly weapons being sold to those who plan to inflict untold suffering on individuals and society?"
"It is our duty to confront the problem and stop the arms trade."
On the elderly:
The elderly are the "storehouse of wisdom".
On the refugee crisis:
"We must view them as persons, seeing their faces, listening to their stories, and try to respond as best we can."
On poverty:
"The fight against poverty and hunger must be fought constantly and on many fronts, especially in its causes."
On business:
"Business is a noble vocation, especially in its creation of jobs to the common good."
On the environment:
"I'm convinced that we can make a difference, I'm sure."
"We have an obligation to our future generations. The time is now."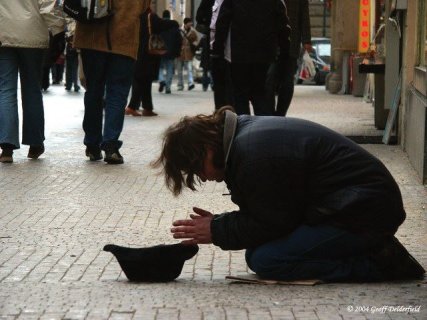 Could this man help you find God? 
Sunday's Second Reading (James 2:1-5):
'My brothers, do not try to combine faith in Jesus Christ, our glorified Lord, with the making of distinctions between classes of people. Now suppose a man comes into your synagogue, beautifully dressed and with a gold ring on, and at the same time a poor man comes in, in shabby clothes, and you take notice of the well-dressed man, and say, 'Come this way to the best seats'; then you tell the poor man, 'Stand over there' or 'You can sit on the floor by my foot-rest.' Can't you see that you have used two different standards in your mind, and turned yourselves into judges, and corrupt judges at that?
Listen, my dear brothers: it was those who are poor according to the world that God chose, to be rich in faith and to be the heirs to the kingdom which he promised to those who love him.'
It's quite fitting that this scripture passage should come up following the events of the last week.  The refugee crisis has now grabbed the attention of the world and many are doing remarkable things to help those in great need.  It is a tale of sadness tinged with hope in the human race. But as we help those in need, be they refugees, the homeless or people simply living in poverty, are we missing something important with respect to our own salvation?
St James gets at a very important point in today's reading.  He suggests we give everyone a place in our lives.  It doesn't matter who they are, what they're worth, how they look, or what their social status or class happens to be.  We are called to love all people.
The most valuable thing anyone on earth can own is faith.  Faith in God, granted with His grace, is the most beautiful, most perfect gift, yet it is not necessarily appreciated by everyone.  So often people with wealth have so many material possessions and distractions that they forget about the real meaning of life and what really matters. 
But for those facing the torment of continuous poverty, day after day, it is often a different story. Having spoken with a number of homeless in my own city I am often astonished by the strength and depth of their faith. Belief and trust in God is almost a given, despite having to beg and forage for food on a daily basis and having to set up camp in underpasses and bin sheds in order to get a night's sleep. Their faith is as strong as anything I have witnessed and it comes not from being blessed with good fortune and material riches, but rather from accepting the poverty and deprivation God has handed them and trusting in His mercy to give them something greater in return. 
We are called to do all we can to help the poorest in our world.  We can give them comfort, food, and perhaps we can even give them a bed for the night.  But maybe we need to stop for a minute and rather than focus on all the things we can do for them, think about what they can do for us.  They are, in many respects, people of great faith.  We can learn from them.  We can learn how to love and trust God in even the most abject circumstances by speaking to those in poverty and affording them our ears for a few moments. Remember, they are the heirs to the kingdom of God, not us.  So learn from them and don't be afraid to let them take the lead in showing us the way to God.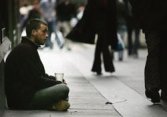 It's a fabulous thing that a number of people have decided to commit to helping the thousands of refugees seeking safety and security in the UK.  Some people have even agreed to house some of the refugees until they get themselves on their feet and secure their own accommodation.  It is a truly remarkable gesture and together with David Cameron's promise to bring thousands more refugees to the UK, heralds a shift in both the perception of refugees and the way we are willing to treat them.
But I think it is also important not to lose sight of the impoverished of our own country as we seek to help those from overseas.  As well as helping them we might also consider what more we can do for the countless homeless living on the dirty streets of our towns and cities. Can we make more space in both our hearts and homes for them?
/