Shopping Cart
Your Cart is Empty
There was an error with PayPal
Click here to try again
Thank you for your business!
You should be receiving an order confirmation from Paypal shortly.
Exit Shopping Cart
Calling Scotland's 841,000 Catholics to unite as one voice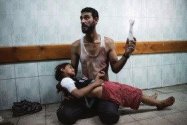 A Palestinian man holds an injured child after her school came under attack
SCIAF has launched an emergency appeal to help the people of Gaza.  They are hoping to raise funds in order to pass it to their sister charity Caritas Jerusalem so that they can provide urgent medical care, food and blankets, and other basic essentials to those affected by the ongoing conflict.
Please consider a donation.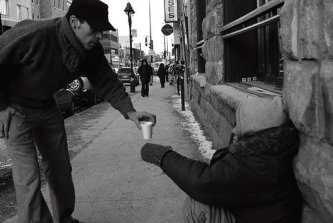 From today's Gospel (Matthew 5:13-16):
'….In the same way your light must shine in the sight of men, so that, seeing your good works, they may give the praise to your Father in Heaven.'
Don't we just love to be praised for our good deeds?  Doesn't a little bit of praise just make our day and bring a little smile to our face?  After all, it tends to mean we are doing something right which can't be a bad thing!
But what if someone told you that it would be even better for you if you deflected that praise onto someone else?  What if someone said 'Well done, you did such a wonderful thing there and I am grateful to you, but if I am being honest, it wasn't really down to you was it?'?  Ouch!
Yet Jesus is encouraging us to think this way in today's Gospel. 
When we do good works, we are only doing them by the grace of God.  Good works come from love.  And what is love?  God is love.  So our good works come from God working through us, and it is He who is deserving of praise for this.
But what about me?  What about the part I played??  Well, if you didn't allow God's love to shine through you it would not be possible for Him to do His good work.  We do have free will after all and we could easily decide to not show God's love to others, so in allowing God to work through us we are showing the Father that we are willing to surrender to His Will.  This is a great gift!  It is this most important, most beautiful gift that we need to recognise when we do good works.  We don't need to be praised.  God needs to be praised.  We simply need to recognise that we are surrendering to God's divine plan.  That is what is in it for us.  And it is in surrendering to God's plan that we acknowledge Him and develop our relationship with Him.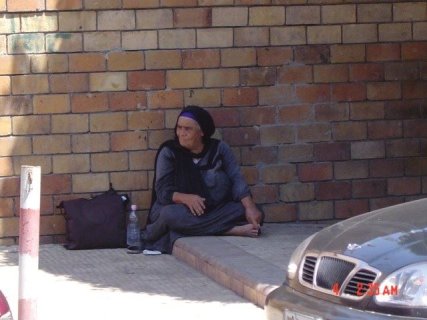 We can help the poor by our fasting
From today's reading (Isaiah 58:1-9):
'Fasting like yours today
  will never make your voice heard on high.
Is that the sort of fast that pleases me,
  a truly penitential day for men?
Hanging your head like a reed,
  lying down on sackcloth and ashes?
Is that what you call fasting,
  a day acceptable to the Lord?
Is not this the sort of fast that pleases me
 – it is the Lord who speaks –
to break unjust fetters and
  undo the thongs of the yoke,
to let the oppressed go free,
  and break every yoke,
to share your bread with the hungry,
  and shelter the homeless poor,
to clothe the man you see to be naked
  and not turn from your own kin?
Then will your light shine like the dawn
  and your wound be quickly healed over.
Your integrity will go before you
  and the glory of the Lord behind you.
Cry, and the Lord will answer;
  call, and he will say, 'I am here.''
In today's reading God gives us an insight into what He expects of us, in a practical sense, when we fast.    
Freeing the opressed, feeding the hungry, giving shelter to the homeless, giving clothing to those who have none.  These are all practical things we can do to help others and, in turn, please God.
Yet while they are practical, they are also prayerful.  What a beautiful way to pray to God; to do a great deed such as feeding a hungry person in the street or giving them warm clothes to wear. 
This passage from Isaiah is very much in keeping with Pope Francis' drive to be a Church of mission where we are not afraid to become dirty and wounded in our Christian living.  To not be afraid to touch the wounds of the poor, needy and sick in our world.
We are all being called to reach out to our fellow men, women and children, especially those most in need of our help.  They desperately need our help, and also our love. 
These are the things Jesus offers to all of us but sometimes, particularly during times of great poverty, despair and difficulty, it is hard to experience that love of Christ.  And that is where we come in.  We can bring that love of Christ to people through our charitable works.  We can let Christ shine through us by our good deeds and love for others.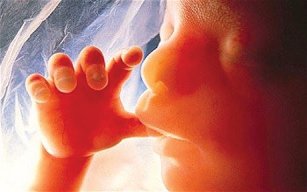 From today's reading (James 5:1-6):
'An answer for the rich. Start crying, weep for the miseries that are coming to you. Your wealth is all rotting, your clothes are all eaten up by moths. All your gold and your silver are corroding away, and the same corrosion will be your own sentence, and eat into your body. It was a burning fire that you stored up as your treasure for the last days. Labourers mowed your fields, and you cheated them – listen to the wages that you kept back, calling out; realise that the cries of the reapers have reached the ears of the Lord of hosts. On earth you have had a life of comfort and luxury; in the time of slaughter you went on eating to your heart's content. It was you who condemned the innocent and killed them; they offered you no resistance.'
St James has some harsh words for us today, spelling out a serious warning to those with great wealth; those who fail to adequately reward the efforts of others; and those who have no care for the most innocent and vulnerable in our society.
Being comfortable in life is no crime against God.  We are entitled to our comforts and to those elements of life that give us joy, even when they are material elements.  But the challenge for us is not to allow those things to take over from God.  And neither can we allow them to get in the way of our obligation to love our neighbour.  It is also important that we don't get carried away with our wealth, storing up vast quantities for ourselves when we could be sharing it with others.  As St James tells us, this wealth will rot away and the gold and silver will corrode.  Essentially, it will not last.  Unlike the Love of God which lasts for all eternity.
We must also be aware of our duty to other people; to treat them with respect and love.  We must treat other people as we would wish to be treated and we must never stray from this commandment.  If we do not treat people in this way our failings will reach "the ears of the Lord of hosts" and we shall be judged on those failings.
Similarly, we must protect the most innocent and vulnerable in our society.  As you read this, countless babies, unable to offer any resistance, are being condemned to death and killed in the womb.  These children need our protection so that they can be afforded the same opportunity to live that each and every one of us was blessed to receive.  Why should I live and that little child die?  Why should my life be more valuable than theirs?  What have they done to deserve such a brutal sentence? 
St James is giving us a real 'heads up' in this passage.  We have a duty to ensure God remains number one in our lives, even before our husband or wife or children.  We need to love Him and love our neighbour.  And we must heed the call to look after the most vulnerable in our society, the unborn; the little children of God who can offer no resistance.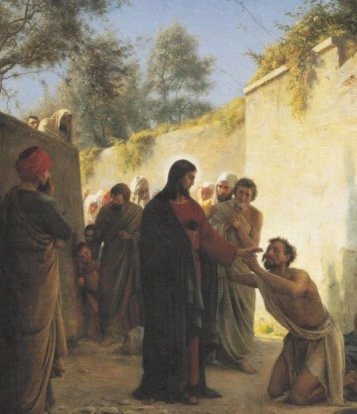 From today's Gospel (Mark 1:40-45):
'A leper came to Jesus and pleaded on his knees: 'If you want to' he said 'you can cure me.' Feeling sorry for him, Jesus stretched out his hand and touched him. 'Of course I want to!' he said. 'Be cured!' And the leprosy left him at once and he was cured.'
What does Jesus do in order to heal the leper?  He touches him.  Touching a leper would have been unthinkable in those days.  Lepers were left on the margins of society, devoid of any social benefits, adrift of family and friends and, crucially, without love.
Yet here is Love itself.  Unconditional love.  Real love.  True love. 
Jesus' love is not the kind of love we are accustomed to in our society.  It is a love for everyone; no matter what you may have done, no matter what you may believe.  Our love today is fraught with cynicism and riddled with conditions.  How often do we say that we love someone and then proceed to add a 'but'?  With Jesus there is never a 'but'. 
Jesus, his arms stretched on the Cross, is a sign to everyone that his love is for everyone.  Not one person is excluded from his love.
When we love someone, we should aspire to love as Jesus loved.  He did, after all, tell us that this is how we should love.  So, whenever we say that we love someone (and we should love everyone!), try not to add in a 'but'.  Try to be positive about all of the people around you.  Remember that Jesus loves them as much as he loves you and he would die again for them. 
Make your love unconditional and reach out to all, especially those in most need.  Never be afraid to throw your arms around someone as a sign of love.  Jesus' arms were nailed to the Cross so that ours could be free to hold others in his love.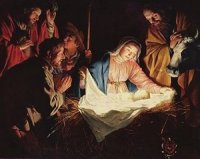 From today's Psalm (Psalm 88):
'I will sing forever of your love, O Lord'
Sing!  Rejoice!  Dance!  Because the Lord our Saviour, our hope and our light, is coming! 
Sin had made its way in the world, and people were becoming desperate.  Poverty and disease were rife.  Inequality spanned the globe and hatred stretched to the four corners of the earth.  Where honour was bestowed on one man, jealousy rose in another.  Where riches were left to one family, poverty was inevitably passed down to another.  The devil had been working hard in the world and humanity was not at one.
Yet, a star rises in the East.  A star to herald the coming of a little child; a child that is to be born to change the world!  Foretold by the prophets for hundreds of years, he comes to give hope to all. 
This is the story of the Nativity.  The coming of the Saviour, the Messiah!  Yet here he was, coming into the world like any other child.  Not many people expected this and they certainly didn't expect him to be born into such poverty!  Yet he was.  With no suitable accommodation available, the Saviour was born among animals in a stable.  And over two thousand years on we still celebrate this momentous occasion, the birth of a little baby boy in a stable. 
Sadly, however, not everyone feels the need to celebrate.  Yet this event was for everyone.  At that very moment Jesus was born, he was born for each and every person who has ever lived and who is yet to live.  Mary, in giving birth to Jesus, not only gave birth to the one who would save the world; she gave birth to the whole world.  The whole of humanity was already secure in the heart of that little child as it lay in the manger, wrapped in cloth, surrounded by animals and hay.  Not one person was forgotten. 
You see, this child was born to save.  He wasn't born to lead the kind of life many of us are blessed to have.  He, unlike us, was born to die.  This beautiful, innocent, little child cradled in his loving mother's arms and gazed upon by his doting step-father, will still have each and every one of us secure in his heart many years later when he is nailed to a cross on Calvary.  And on the third day, when he rises to Heaven, he takes each and every one of us with him in his heart to the Father.  This is no ordinary child.  This child was born for you, and this child died for you.  This child wants you to follow him to the Father; he wants you to follow him to the Kingdom of Heaven.  So, rejoice!  Join in the celebrations and let us praise Jesus and delight in his great gift of true freedom and eternal life for all!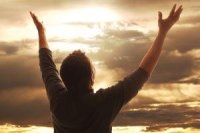 From Today's Psalm (Psalm 24):
'Stand erect, hold your heads high, because your liberation is near at hand.'
Jesus came to liberate us; to free us.  A lot of people can't quite grasp that concept, especially in today's world.  Where is this freedom when Christ's Church claims homosexuality to be disordered?  Where is this freedom when women's rights are seemingly put to one side in favour of an unborn child?
Yet the freedom Jesus brings is true freedom.  It's not freedom to do as we please, when we please, how we please.  That's the messed up kind of freedom we have become accustomed to as selfish human beings.  No, the freedom Jesus brings is a freedom to love, a freedom to be completely embroiled in God's Love.  It is a freedom from sin.
Let us consider what the Catechism of the Catholic Church says on this matter.  Para 1730 of the Catechism states: 'God created man a rational being, conferring on him the dignity of a person who can initiate and control his own actions. "God willed that man should be 'left in the hand of his own counsel,' so that he might of his own accord seek his Creator and freely attain his full and blessed perfection by cleaving to him.' 
So God made us like Him; that is, He made us as rational beings.  And, crucially, He made us to seek Him!  In that way we are 'free' to seek Him and become perfect by 'cleaving to him'; that is to stick to God, to remain faithful to Him.  But how do we cleave to God on a practical level?  Well, listening to Him would be a good start.  Listen to what God tells us in Sacred Scripture; through the Prophets and in Jesus who is God made man!  Hang onto every word.  Love each and every syllable and believe in it! 
By using our freedom to listen to God and to cleave completely to Him we cannot do wrong.  We cannot sin.  However, when we are not completely faithful to God 'there is the possibility of choosing between good and evil, and thus of growing in perfection or of failing and sinning' as stated in the Catechism (para 1732).  This is where most of us are.  We are not entirely faithful to God and so we are constantly choosing between good and evil and, inevitably, we will on occasion choose evil.  Para 1733 of the Catechism goes on to state: 'The more one does what is good, the freer one becomes. There is no true freedom except in the service of what is good and just. The choice to disobey and do evil is an abuse of freedom and leads to "the slavery of sin."'
So, while we are perhaps not completely at one with God and we are not entirely faithful to Him, the more good we do, the more we grow in freedom.  Each act of goodness brings with it more freedom.  But 'true' freedom can only be found in being completely and unconditionally faithful to God.  By listening to Him through Sacred Scripture and obeying His commands without condition, we can obtain true freedom.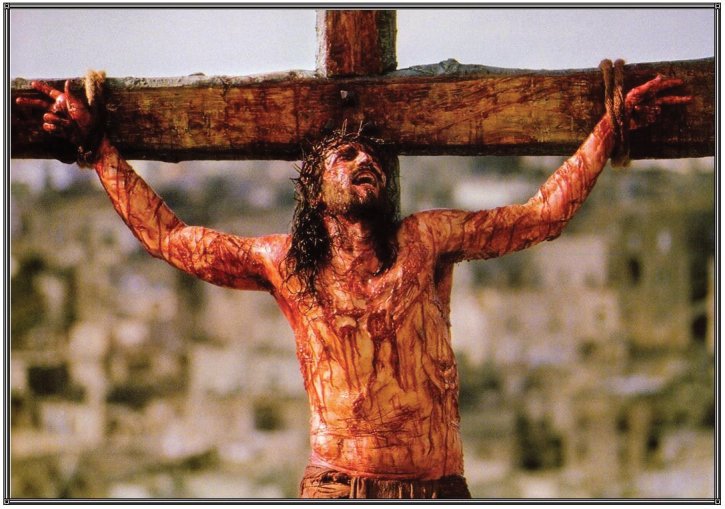 Yet surely by doing what God tells me to do cannot possibly be 'true' freedom?  Well, consider the Catechism (para 1740) when it states: 'The exercise of freedom does not imply a right to say or do everything. It is false to maintain that man, "the subject of this freedom," is "an individual who is fully self-sufficient and whose finality is the satisfaction of his own interests in the enjoyment of earthly goods."'  You see, doing what YOU want is never going to bring about true freedom for you.  Only by trusting in and living out God's plan for your life will you get anywhere close to achieving freedom. 
Para 1740 continues: 'By deviating from the moral law man violates his own freedom, becomes imprisoned within himself, disrupts neighbourly fellowship, and rebels against divine truth.'  The Catechism tells us that self satisfaction - a real favourite of society today - is not freedom.  In fact it is the complete opposite.  It leads to self-imprisonment!  Consider sex.  The whole world is a slave to sex and the true meaning of sex has been lost.  Sex as a means of self-satisfaction is everywhere on television, in adverts, and in conversation.  Many people in Western society even believe children as young as 4 or 5 should be educated in sex.  We are imprisoned because of our own desires.  We are imprisoned because we don't always choose Good.
Even consider the status achieved through power, honour and money in our world today.  Many people will receive honour in today's world for their achievements.  Yet, while one person is honoured for their achievements, many are left out.  It is the same with money and power.  Where one man is rich, another is poor.  Where one woman has power, another is weak.  Earthly status, the kind of status we seek each and every day of our lives brings inequality.  But God brings equality.  He brings a love for everyone.  His love is unconditional and he calls us to do the same.  We are called to love one another as God has loved us.
And even though we often fail to choose Good over Evil, God has given us the Sacrament of Reconciliation to free us from our slavery and self-imprisonment.  God Himself comes to us in this sacrament and makes us completely clean, allowing us to attach ourselves completely to Him in His infinite Goodness; to cleave to Him faithfully and without a single selfish thought.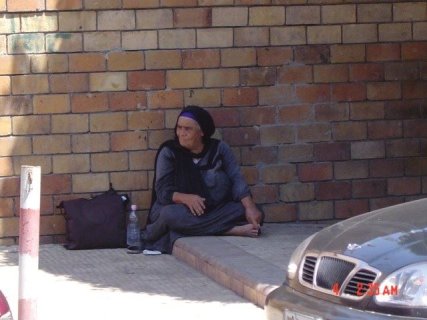 Today's Gospel (Luke 21:1-4):
'As Jesus looked up, he saw rich people putting their offerings into the treasury; then he happened to notice a poverty-stricken widow putting in two small coins, and he said, "I tell you truly, this poor widow has put in more than any of them; for these have all contributed money they had over, but she from the little she had has put in all she had to live on."'
A real lesson in charity is contained within this Gospel passage!  The poor widow gives everything she has to others.  How hard that is for us today; to give up everything.  How hard it is even to give over a little more than we usually do!  Yet this widow shows the way.
Consider, for a moment, what this Gospel might mean in a spiritual sense.  Setting aside the financial implications of the reading there is a considerable faith on show from the poor widow.  It's almost as if she is giving everything over to God, leaving nothing for herself.  It is complete trust in the Father; a total giving over of the self to the Creator to allow Him to take over and take care of her needs.  What else do we truly need? 
And how often do we see this in our daily lives; the poorest in society with great faith?  It is very evident.  Why?  Because they have been forced down a route where they have to completely trust in God's love and mercy.  Rejected by others and, in some case by their own loved ones, they only have one place to turn to.  It's a lesson to us all.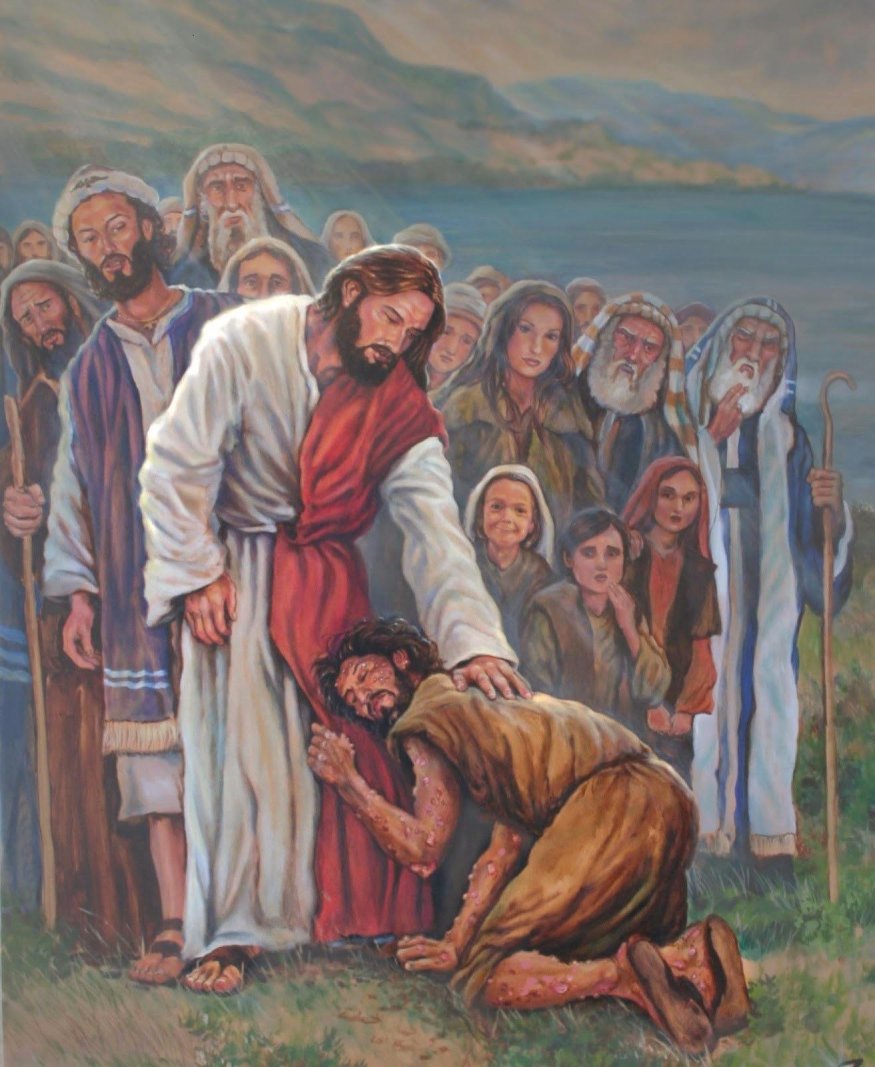 Today's Gospel (Luke 17:11-19):
'On the way to Jerusalem Jesus travelled along the border between Samaria and Galilee. As he entered one of the villages, ten lepers came to meet him. They stood some way off and called to him, 'Jesus! Master! Take pity on us.' When he saw them he said, 'Go and show yourselves to the priests.' Now as they were going away they were cleansed. Finding himself cured, one of them turned back praising God at the top of his voice and threw himself at the feet of Jesus and thanked him. The man was a Samaritan. This made Jesus say, 'Were not all ten made clean? The other nine, where are they? It seems that no one has come back to give praise to God, except this foreigner.' And he said to the man, 'Stand up and go on your way. Your faith has saved you.''
Perhaps the other nine were simply so overjoyed that they forgot everything else at that moment.  Perhaps later they gave praise to God.  Maybe they praised God when they showed themselves to the priest. 
Yet there is a vital message in this passage.  In amongst the celebrations of a joyful occasion, healing, or cleansing, we must never forget the source of that joy, healing or cleansing.  God is that source.  None of it is possible without Him; He that is the source of all life and all joy. 
The man who fell at the feet of Jesus and thanked him remembered this most important fact in his joy….that it came from God.  And with that realisation came a desire to thank and praise God for this gift he has received, for this joy he now feels.  His reward for this act?  Jesus tells him that he is saved!  Salvation comes to those who put God first and who give praise and thanks to Him! 
We are all called to be holy people and to love God.  By putting God first and remembering that He is the source of all our joy we can be saved, just like the man in today's Gospel.  That man got his priorities spot on.
From today's Gospel (Luke 14:12-14):
No; when you have a party, invite the poor, the crippled, the lame, the blind; that they cannot pay you back means that you are fortunate, because repayment will be made to you when the virtuous rise again.'
Jesus tells us that we must be kind to the poor and not just the hoi polloi in society or those with whom we are friends.  We need to open up ourselves to the poor and as Pope Francis has already suggested we must get close to the poor, even touching their wounds as Jesus did.  We can't just rest on our laurels and give alms though this is obviously helpful.  But we should be doing more to engage with the homeless, the sick, the frail and the elderly in our society.      
/