Shopping Cart
Your Cart is Empty
There was an error with PayPal
Click here to try again
Thank you for your business!
You should be receiving an order confirmation from Paypal shortly.
Exit Shopping Cart
Calling Scotland's 841,000 Catholics to unite as one voice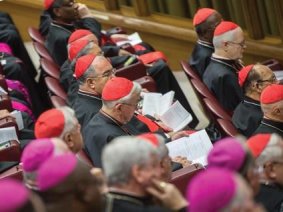 If I could sum up in one sentence what is contained in the Synod on Family Life's mid-term report - as presented by the Synod's General Reporter Cardinal Erdo - I would say: 'Imitating the loving gaze of Christ to appreciate the difficulties experienced by many people and recognising the need to offer them companionship, in the hope that together we may experience the joy of the Gospel of the family.'
There are numerous reports circulating about the document, many of which are suggesting a significant change in tone with the possibility of changes in Church doctrine.  While there is no real possibility of the latter it is fair to say that there is a change in tone.  The tone is definitely more understanding with a focus on healing rather than condemnation, all the while adhering to traditional Church teaching.
Perhaps we should firstly set out the context of this report.  To give it its proper title, relation post disceptationem, the document seeks to summarise the discussions held at the Synod thus far.  The document will be agreed by the Synod in the days ahead and the intention is then that the document, which contains a number of reflections on the discussions, will be used to 'raise questions and indicate perspectives that will have to be matured and made clearer by the reflection of the local Churches' in the year between now and the Ordinary General Assembly of the Synod of Bishops which will take place in October 2015.
The document covers many interesting topics around the central consideration of the synod; that of the family.  Divorce, homosexuality and contraception are but a few of the issues discussed and there are interesting reflections on all of these topics.  In this article we will consider the main points arising from the mid-term report and try to make sense of what is actually being said rather than going down the road of an over excitable tabloid reporter with the sole of intention of producing a headline grabbing story suggesting a sea change in Church doctrine.
Not to Condemn, but to Heal
In fleshing out the general theme of greater understanding, we can perhaps start with Cardinal Erdo's opening comment when he spoke of how Jesus Christ, 'the Truth, became incarnate in human fragility not to condemn it, but to heal it.'  He used the example of how Jesus taught that marriage was indissoluble but still showed understanding of those who didn't live up to this ideal.  The crux of this is that we must work to help others to be healed and accompany them on their journey with the hope that they will come to full appreciation and acceptance of the Gospel of the family.
Indeed, one outcome of the first week's discussions is to urgently address the need to more effectively proclaim the Gospel of the family.  The report states that the 'Church has to carry this out with the tenderness of a mother and the clarity of a teacher' and always bearing in mind the mercy of Christ.  It encourages all the faithful to spread this Good News stating 'Evangelising is the shared responsibility of all God's people, each according to his or her own ministry or charism.  Without the joyous testimonies of spouses and families, the announcement [of the Good News], even if correct, risks being misunderstood or submerged by the ocean of words that is a characteristic of our society.'
The report makes it clear that in proclaiming the Gospel of the family we must make known that it is a 'joy that fills the hearts and lives, because in Christ we are set free from sin, sorrow, inner emptiness, and loneliness'.  We are also encouraged to proclaim in a language that is meaningful and avoid simply 'presenting a set of regulations'.  Rather, we are invited to put forward values that will address people's real problems.
The Threat of Individualism
A significant threat expressed in the report is the threat of 'exasperated individualism' which the Synod suggests 'distorts family bonds'.  This, according to the Synod, leads to isolation of the various components which make up the family unit which in turn leads to the 'prevalence of an idea of the subject formed according to his or her own wishes, which are assumed as absolute'.  In a nutshell, there is a significant threat posed by narcissism and the modern ideal of individualism and selfishness.  This, the Synod suggests, is central to the modern day break up of the family unit.
In order to tackle this problem the Church, through this report, suggests a two pronged approach in supporting people in their search for God.  Firstly, it suggests making the teachings of the Church better known.  And secondly, this teaching should be accompanied by mercy.  In making this point the report refers to Jesus who 'looked upon the women and the men he met with love and tenderness, accompanying their steps with patience and mercy, in proclaiming the demands of the Kingdom of God'. 
To be fair, this direction isn't out of sync with current Church teaching though the benefit of reemphasising it at this time is obvious.
Marriage between One Man and One Woman
In turning to marriage the report refers to Jesus' reaffirmation of the indissoluble union between a man and a woman.  It then states 'God consecrates love between spouses and confirms its indissolubility, offering them help in living in fidelity and openness to life.  Therefore, the gaze of the Church turns not only to the couple, but to the family'.  Here we see the important link between marriage and the family.
The Synod did, however, acknowledge that new forms of union exist in our world and while the Church expresses 'the value and consistency of natural marriage' some members of the Synod have raised the possibility of 'recognising positive elements in the imperfect forms' of other unions.  For those who are in other forms of union, such as civil marriage or cohabitation, the report states that 'the Church turns respectfully to those who participate in her life in an incomplete and imperfect way, appreciating the positive values they contain rather than their limitations and shortcomings'.  So, while Church doctrine on Christian marriage between one man and one woman isn't going to change, the Church must increase its understanding of alternative forms of union and seek to find positives from them.  Indeed the Synod goes further to state that the Church must 'accept the reality of civil marriage and also cohabitation' while taking into account due differences between them and natural marriage.  However, this acceptance and understanding is always accompanied with the goal to bring such unions to the sacrament of marriage in the Church. 
The report states: 'Indeed, when a union reaches a notable level of stability through a public bond, is characterised by deep affection, responsibility with regard to offspring, and capacity to withstand tests, it may be seen as a germ to be accompanied in development towards the sacrament of marriage'. 
So, while the Church will likely continue to recognise only one form of union, the faithful must appreciate those other forms of union where the qualities of stability, deep affection, strength in unity, and a responsible attitude with regard to children are present.
Marriage and Cohabitation
In considering the importance of marriage, the Synod focused on the Church becoming more deeply involved in Christian marriages, especially those in their infancy.  It suggests a greater involvement of the whole Christian community with respect to marriage preparation, including pastoral accompaniment in the form of more experienced couples.  It also suggests the importance of couples being 'encouraged towards a fundamental welcome of the great gift of children' and the importance of 'family spirituality and prayer'. 
Further, the report suggests a move (where it doesn't already exist) toward more 'meaningful liturgies, devotional practices and the Eucharist celebrated for families'. 
While cohabitation remains an issue for the Church, the report sets out a clear understanding of the difficulties faced by couples such as financial difficulties.  While many couples simply reject the idea of Christian marriage, others wish for it but simply cannot afford to have it for one reason or another.  The Synod suggests pastoral accompaniment for such couples must start with the positive aspect that they desire a Christian marriage.
Separation and Divorce
Another significant issue is the separated, divorced, and the divorced who have remarried.  Firstly, the Synod has set out that 'Each damaged family first of all should be listened to with respect and love, becoming companions on the journey as Christ did with the disciples on the road to Emmaus'.  It suggests such accompaniment must be at a steady and reassuring pace which reflects our 'closeness and our compassionate gaze which also heals, liberates and encourages growth in the Christian life'.  It also states reassuringly that 'What needs to be respected above all is the suffering of those who have endured separation and divorce unjustly' and emphasises the need to avoid children becoming an 'object' to be fought over.
With respect to nullity a number of propositions were put forward by members of the Synod.  Among those put forward was the suggestion that the administrative responsibility for annulments could be under Diocesan Bishops and a proposed 'summary process' in the case of clear nullity.  All proposals will, of course, be considered in the months ahead but the report did state that in all cases with respect to annulment, the principal consideration is 'ascertaining the truth over the validity of the obstacle'. 
The report states that 'Divorced people who have not remarried should be invited to find in the Eucharist the nourishment they need to sustain them in their state'.  It then goes on to consider those who have been through divorce and remarried, saying such a situation 'demands a careful discernment and an accompaniment full of respect, avoiding any language or behaviour that might make them feel discriminated against'.  In a reassurance to Catholic tradition the report then states: 'For the Christian community looking after them [those who are divorced and remarried] is not a weakening of its faith and its testimony to the indissolubility of marriage, but rather it expresses precisely its charity in its caring'.  The suggestion here is that Church doctrine will not change on this issue but there is an undoubted call for the Church to provide respectful accompaniment and care to those affected.
In terms of divorced and remarried people sharing in the sacraments, the Synod members were in disagreement with a number of views being put forward.  However, the report suggests that 'fruit of discernment' could be applied on a case-by-case basis 'according to the law of gradualness, that takes into consideration the distinction between state of sin, state of grace and the attenuating circumstances'.  The aim here would appear to be to provide the support necessary to allow divorced and remarried faithful to grow in holiness over time with the possibility of future participation in the sacraments.  This, however, is not set in stone and the report suggests that a greater theological study may be undertaken to consider this issue in more detail.
Homosexuality
Homosexuality is a subject well known to the Catholic Church, particularly in recent times with the advent of same-sex marriage.  However, before we set out the views of the Synod on this topic it is important to note that the Church has not given (nor will it give) any indication that doctrine is about to change on this issue.  Indeed the Synod has stated that 'The Church furthermore affirms that unions between people of the same sex cannot be considered on the same footing as matrimony between man and woman'.  However, the report does state that 'Homosexuals have gifts and qualities to offer to the Christian community' and begs a number of questions to the Catholic faithful about how welcoming we are to people with same-sex attraction without compromising Catholic doctrine on the family and matrimony.  The report also seeks to take positives from same-sex unions while clearly stating there are moral problems connected to such unions.  It states: 'Without denying the moral problems connected to homosexual unions it has to be noted that there are cases in which mutual aid to the point of sacrifice constitutes a precious support in the life of the partners'. 
The Synod's discussions on homosexuality are perhaps worthy of the largest slice of our attention.  While there is no movement away from Church doctrine which states homosexuality as being 'disordered', there is a clear attempt to accentuate the potential positives which could be brought to bear by same-sex unions.  While it does not condone homosexual acts (as such acts close the sexual act to the gift of life), the Church appears to be acknowledging the support through sacrifice given by one partner to the other in same-sex unions.    
Perhaps this is a useful juncture to reinforce the Church's views on homosexuality.  While homosexual acts are sinful there is no sin in same-sex attraction. The Church believes such tendencies towards same-sex attraction are a trial in the same way a single person lives a trial by being called to live a chaste life. 
The report then tackles the matter of children living with same-sex couples, stating that 'The Church pays special attention to the children who live with couples of the same sex, emphasising that the needs and rights of the little ones must always be given priority'.  This is perhaps a suggestion that the sacraments will not be denied to children who live with same-sex couples.
Contraception
Contraception is a matter of great significance to the Church as the Church teaches that 'being open to life is an intrinsic requirement of married love'.  Contraception in any form is therefore deemed to be contrary to the Will of God as it closes off the possibility of receiving God-given life.  With this in mind the Synod suggests that 'what is required is a realistic language that is able to start from listening to people and acknowledging the beauty and truth of an unconditional opening to life as that which human life requires to be lived to its fullest'.  The report then continues, 'it is on this base that we can rest an appropriate teaching regarding natural methods'.  The Synod then reinforces the message of Paul VI in his encyclical Humanae Vitae which 'underlines the need to respect the dignity of the person in the moral evaluation of the methods of birth control'.
Sadly, I have already witnessed a considerable degree of misreporting on this section of the report.  It must be clear that the dignity of the person refers to humanity.  In this sense, the person we are speaking about is a potential new life.  So, birth control must be morally evaluated with the ideal of openness to new life at the core of any considerations.  It is not, as some media outlets have suggested, a call for the Church to respect the dignity of individuals using forms of birth control.  Contraception, in all its forms, will continue to be rejected by the Church.  The Church does, however, allow for Natural Family Planning as this method does not close off the possibility of life.  While it allows a couple to plan for pregnancy (and the Church allows for a certain degree of sensible planning with respect to the creation of new life) it is a method which is always open to the possibility of a child.  It never closes off that possibility and that is why the Synod has suggested that it should be taught more widely.
And so there we have it; the mid-term report of the Synod of Bishops on Family Life 2014.  The Synod will continue for a few more days and will then leave the issues raised to be considered by local Churches and faithful ahead of the Ordinary General Assembly of the Synod of Bishops which will take place in October 2015.
While we need to take these matters into our hearts and minds and ponder them, no decisions will be made until October of next year at the earliest.  There is, therefore, a lot of work still to be done and the initial excitement surrounding this report must be balanced with patience and appreciation for the long process being embarked upon.  However, that does not mean we cannot start to implement the spirit of understanding which runs throughout the report.  This spirit of understanding must fuel our work in the months ahead and, while we must continue to adhere to the beautiful teachings of the Church, our desire to enlighten the world to Truth should be accompanied by a tone of mercy and compassion. 
As the report concludes: 'the guidance of the Holy Spirit will lead us to find roads of truth and mercy for all'.  Amen.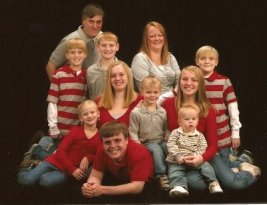 What is the significance of the child in a marriage?
A child is a creature and a gift of God, which comes to earth through the love of his parents. True love does not desire a couple to be self-contained. Love opens up in the child. A child that has been conceived and born is not something "made", nor is he the sum of his paternal and maternal genes. He is a completely new and unique creature of God, equipped with his own soul. The child therefore does not belong to the parents and is not their property.  
How many children should a Christian married couple have?
A Christian married couple has as many children as God gives them and as they can take responsibility for. All children whom God sends are a grace and a great blessing. That does not mean that a Christian couple is not supposed to consider how many children they can raise responsibly, given the health of each spouse and their economic or social situation. When a child comes "nevertheless", that child should be welcomed with joy and willingness and accepted with great love. By trusting in God, many Christian couples find the courage to have a large family.
May a Christian married couple regulate the number of children they have?
Yes, a Christian married couple may and should be responsible in using the gift and privilege of transmitting life. Sometimes social, psychological, and medical conditions are such that in the given circumstances an additional child would be a big, almost superhuman challenge for the couple. Hence there are clear criteria that the married couple must observe: Regulating births, in the first place, must not mean that the couple is avoiding conception as a matter of principle. Second, it must not mean avoiding children for selfish reasons. Third, it must not mean that external coercion is involved (if, for example, the State were to decide how many children a couple could have). Fourth, it must not mean that any and every means may be used.  
Why are all methods of preventing the conception of a child not equally good?
The Church recommends the refined methods of self-observation and natural family planning (NFP) as methods of deliberately regulating conception. These are in keeping with the dignity of man and woman; they respect the innate laws of the female body; they demand mutual affection and consideration and therefore are a school of love. The Church pays careful attention to the order of nature and sees in it a deep meaning. For her it is therefore not a matter of indifference whether a couple manipulates the woman's fertility or instead makes use of the natural alternation of fertile and infertile days. It is no accident that Natural Family Planning is called natural: it is ecological, holistic, healthy, and an exercise in partnership. On the other hand, the Church rejects all artificial means of contraceptionnamely, chemical methods ("the Pill"), mechanical methods (for example, condom, intra-uterine device, or IUD), and surgical methods (sterilization)since these attempt to separate the sexual act from its procreative potential and block the total self-giving of husband and wife. Such methods can even endanger the woman's health, have an abortifacient effect (cause a very early abortion), and in the long run be detrimental to the couple's love life.
What can a childless couple do?
Married couples who suffer from infertility can accept any medical assistance that does not contradict the dignity of the human person, the rights of the child to be conceived, and the holiness of the sacrament of Matrimony. There is no absolute right to have a child. Every child is a gift from God. Married couples to whom this gift has been denied, even though they have exhausted all permissible medical means of assistance, can take in foster children or adopt children or become socially involved in some other way, for instance, by caring for abandoned children.
(From the Catholic Youth Catechism)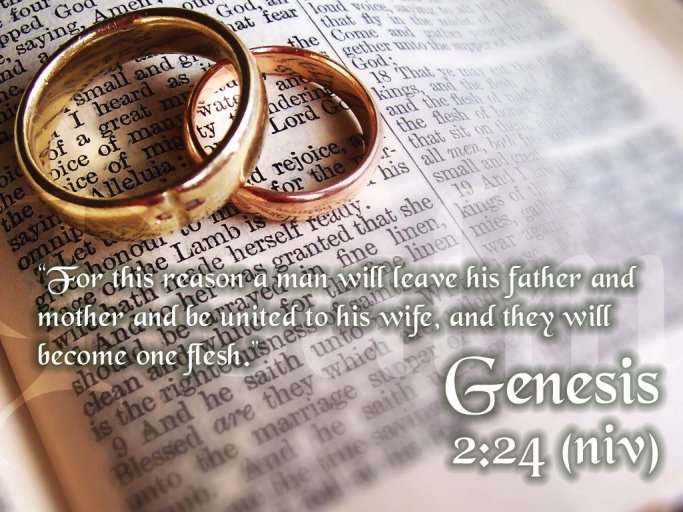 What are the essential elements of Christian marriage?
(1) Unity: Marriage is a covenant that by its very nature brings about bodily, intellectual, and spiritual union between a man and a woman;
(2) Indissolubility: Marriage lasts "until death do us part";
(3) Openness to offspring: Every marriage must be open to children;
(4) Commitment to the spouse's welfare.
If one of the two spouses deliberately excludes one of the four points listed above at the time of their wedding, the sacrament of Matrimony does not take place.
What significance does the sexual encounter have within marriage?
According to God's will, husband and wife should encounter each other in bodily union so as to be united ever more deeply with one another in love and to allow children to proceed from their love. In Christianity, the body, pleasure, and erotic joy enjoy a high status: "Christianity ... believes that matter is good, that God Himself once took on a human body, that some kind of body is going to be given to us even in Heaven and is going to be an essential part of our happiness, our beauty and our energy. Christianity has glorified marriage more than any other religion: and nearly all the greatest love poetry in the world has been produced by Christians. If anyone says that sex, in itself, is bad, Christianity contradicts him at once" (C. S. Lewis). Pleasure, of course, is not an end in itself. When the pleasure of a couple becomes self-enclosed and is not open to the new life that could result from it, it no longer corresponds to the nature of love.
(From the Catholic Youth Catechism)
Next week we will look in more detail at the role of children in Christian marriage...
What does the Catholic Church say about using condoms to fight AIDS?
Apart from the fact that condoms provide no absolutely safe protection against contagion, the Church rejects their use as a one-sided, mechanical method of fighting AIDS epidemics and advocates above all a new culture of human relationships and a change in social consciousness. Only practicing fidelity and refraining from casual sexual contacts can provide lasting protection from AIDS and teach a holistic approach to love. Respect for the equal dignity of women and men, concern about the health of the family, responsibility in dealing with one's urges and desires, and also refraining (at appropriate times) from sexual union are all part of it. In the countries of Africa where societal campaigns have promoted such behavior, the rates of infection have decreased significantly. Besides that the Catholic Church does all she can to help people who are afflicted with AIDS.
(From the Catholic Youth Catechism, question 414)
What is chaste love? Why should a Christian live a chaste life?
A chaste love is a love that defends itself against all the internal and external forces that might destroy it. That person is chaste who has consciously accepted his sexuality and integrated it well into his personality. Chastity and continence are not the same thing. Someone who has an active sex life in marriage must be chaste, too. A person acts chastely when his bodily activity is the expression of dependable, faithful love. Chastity must not be confused with prudishness. A person who lives chastely is not the plaything of his lusts but, rather, lives his sexuality deliberately, motivated by love, and as an expression of that love. Unchaste behaviour weakens love and obscures its meaning. The Catholic Church advocates a holisticecological approach to sexuality. This includes sexual pleasure, which is something good and beautiful; personal love; and fruitfulness, which means openness to having children. It is the understanding of the Catholic Church that these three aspects of sexuality belong together. Now if a man has one woman for sexual pleasure, a second to whom he writes love poetry, and a third with whom to have children, then he is exploiting all three and really loves none of them. (YOUCAT questions 403-404)
How can anyone live a chaste life? What can help?
Someone lives chastely when he is free to be loving and is not the slave of his drives and emotions. Anything, therefore, that helps one to become a more mature, freer, and more loving person and to form better relationships helps that person to love chastely, also. One becomes free to be loving through self-discipline, which one must acquire, practice, and maintain at every stage of life. It is helpful for me in this regard to obey God's commandments in all situations, to avoid temptations and any form of double life or hypocrisy, and to ask God for protection against temptations and to strengthen me in love. Being able to live out a pure and undivided love is ultimately a grace and a wonderful gift of God.
Does everybody have to be chaste, even married people?
Yes, every Christian should be loving and chaste, whether he is young or old, lives alone or is married. Not everyone is called to marriage, but everyone is called to love. We are destined to give our lives away; many do so in the form of marriage, others in the form of voluntary celibacy for the sake of the kingdom of heaven, others by living alone and yet being there for others. All human life finds its meaning in love. To be chaste means to love with an undivided heart. The unchaste person is torn and not free. Someone who loves authentically is free, strong, and good; he can devote himself in love. Thus Christ, who gave himself up completely for us and at the same time devoted himself completely to his Father in heaven, is a model of chastity, because he is the original model of strong love.
(From the Catholic Youth Catechism)
What is love?
Love is the free self-giving of the heart. To have a heart full of love means to be so pleased with something that one emerges from oneself and devotes oneself to it. A musician can devote himself to a masterpiece. A kindergarten teacher can be there wholeheartedly for her charges. In every friendship there is love. The most beautiful form of love on earth, however, is the love between man and woman, in which two people give themselves to each other forever. All human love is an image of divine love, in which all love is at home. Love is the inmost being of the Triune God. In God there is continual exchange and perpetual self-giving. Through the overflowing of divine love, we participate in the eternal love of God. The more a person loves, the more he resembles God. Love should influence the whole life of a person, but it is realized with particular depth and symbolism when man and woman love one another in marriage and become "one flesh" (Gen 2:24).
How is sexuality related to love?
Sexuality must not be separated from love; they must go together. The sexual encounter requires the framework of a true, dependable love. When sexuality is separated from love and is sought only for the sake of satisfaction, one destroys the meaning of the sexual union of man and woman. Sexual union is the most beautiful bodily, sensual expression of love. People who look for sex without love are lying, because the closeness of their bodies does not correspond to the closeness of their hearts. Someone who does not take his own body language at its word does lasting damage to body and soul. Sex then becomes inhuman; it is degraded to a means of obtaining pleasure and degenerates into a commodity. Only committed, enduring love in marriage creates a space for sexuality that is experienced in a human way and brings lasting happiness.
(From the Catholic Youth Catechism)
What is peace?
Peace is the consequence of justice and the sign of love put into action. Where there is peace, "every creature can come to rest in good order" (Thomas Aquinas). Earthly peace is the image of the peace of Christ, who reconciled heaven and earth. Peace is more than the absence of war, more than a carefully maintained balance of powers ("balance of terror"). In a state of peace, people can live securely with their legitimately earned property and freely exchange goods with one another. In peace the dignity and the right of self-determination of individuals and of peoples are respected. In peace human coexistence is characterized by brotherly solidarity.
How does a Christian deal with anger?
Paul says, "Be angry but do not sin; do not let the sun go down on your anger" (Eph 4:26). Anger is initially a natural emotion, a reaction to perceived injustice. If anger becomes hatred, however, and someone has ill-will toward his neighbor, this normal feeling becomes a serious offense against charity. All uncontrolled anger, especially thoughts of revenge, are detrimental to peace and destroy "the tranquility of order".  
What does Jesus think about nonviolence?
Jesus places a high value on nonviolent action. He commands his disciples: "Do not resist one who is evil. But if any one strikes you on the right cheek, turn to him the other also" (Mt 5:39). He rebukes Peter, who wants to defend him with force: "Put your sword into its sheath" (Jn 18:11). Jesus does not call his disciples to take up weapons. He remains silent before Pilate. His way is to take the part of the victims, to go to the Cross, to redeem the world through love, and to call the peacemakers blessed. Therefore the Church, too, respects people who for reasons of conscience refuse to be part of the armed services but place themselves at the service of society in some other way.
Must Christians be pacifists?
The Church strives for peace but does not preach radical pacifism. Indeed, no one can deny either the individual citizen or particular governments and alliances the fundamental right of armed self-defence. War is morally justifiable only as a last resort. The Church unmistakably says No to war. Christians should do everything possible to avoid war before it starts: They oppose the stockpiling of arms and trafficking in weapons; they fight against racial, ethnic, and religious discrimination; they work to put an end to economic and social injustice and thus promote peace. 
(From the Catholic Youth Catechism)
Christians treat the corpse of a dead person respectfully and lovingly, realizing that God has called him to the resurrection of the dead. It is a traditional part of Christian funeral customs for the remains of a dead person to be buried in a dignified manner in the earth and for the grave to be decorated and tended. Today the Church also accepts other funeral arrangements (for instance, cremation), as long as they are not interpreted in a way contrary to the belief in the resurrection of the dead.
(Catholic Youth Catechism, question 394)
Is organ donation important?

Donating organs can lengthen life or improve the quality of life, and therefore it is a genuine service to one's neighbor, provided no one is forced to do it. It must be certain that the donor during his lifetime gave his free and deliberate consent and that he was not killed for the purpose of removing the organ(s). Donation by living donors is also possible, for example, in bone marrow transplants or in the donation of one kidney. Organ donation from a cadaver presupposes a certain determination of death and the consent of the donor during his lifetime or else of his representative.
(Catholic Youth Catechism, question 391)
/