Shopping Cart
Your Cart is Empty
There was an error with PayPal
Click here to try again
Thank you for your business!
You should be receiving an order confirmation from Paypal shortly.
Exit Shopping Cart
Calling Scotland's 841,000 Catholics to unite as one voice
Interesting article from the Integrated Catholic Life website considering how we, as Catholic parents, can develop a more balanced lifestyle where faith is the centre of an increasingly technological age.
Click here to read the article: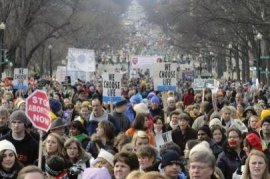 Braving snow and freezing temperatures, thousands of pro-lifers gathered yesterday in Washington's The Mall, preparing to make their annual pilgrimage to the steps of the Supreme Court.  The march takes place on the day when abortion was made widely available across the US in 1973, following the infamous court decision of Roe v Wade.
EWTN provided live coverage of the event throughout the day and, despite the ice, it was evident that numbers were good and people were in great spirits.  Although the numbers were down on last year's 500,000 estimate given the conditions.
One young man from Philapdelphia, when asked why he was in attendance, simply said: "I'm pro-life because my mum chose life."  How simple yet incredibly true and poignant.  As former President Ronald Reagan once famously said: "I've noticed that everybody that is for abortion has already been born."  These are the kind of quotes that perfectly sum up the pro-life cause.  It's not getting wrapped up in varying definitions and muddying the waters to try and justify abortion as many people who are pro-abortion do.  It is simply stating the facts as we see it.  Straightforward, simplistic terminology and ideas that surely ring true for anyone interested in protecting life.
As the vast crowd made its way down to the Supreme Court, many were praying silently for the 56 million plus who have succumbed to the country's policy on abortion since 1973.  56 million wasted lives is just unthinkable, yet it is the reality that our society presents to us today.
Indeed, US President Barack Obama praised the Roe v Wade decision yesterday, presenting it "as an opportunity to fulfil dreams".  This type of speak can only be described as abhorrent and frightening.  To so lightly brush aside the lives of so many little ones is incomprehensible and does his credibility no good whatsoever, especially in a country that many claim is now pro-life (with a recent poll indicating 62% of Americans want a change in the law to restrict abortion).
The culture of death is on the way out.  It is a slow process but people are finally responding to the call of God to protect His little ones.  In a message from Pope Francis, read out by the Papal Nuncio at yesterday's event, the Pope urged the crowd to "speak out for those who cannot speak for themselves." 
The world has had enough.  It is now heeding this call and abortion is slowly being restricted across the globe.  The young pro-lifers are on the march and they are not afraid to speak up.  They are not afraid to be ridiculed, to be mocked, to be threatened with violence.  Their cause is right and it is good. 
Why this increase in momentum in the pro-life movement?  Well, you have to remember that pro-lifers, despite the availability of abortion, have continued to give birth to their babies.  Those babies have now grown up, and they have a voice.
To read more on this please check out the following articles from lifesitenews.com and lifenews.com: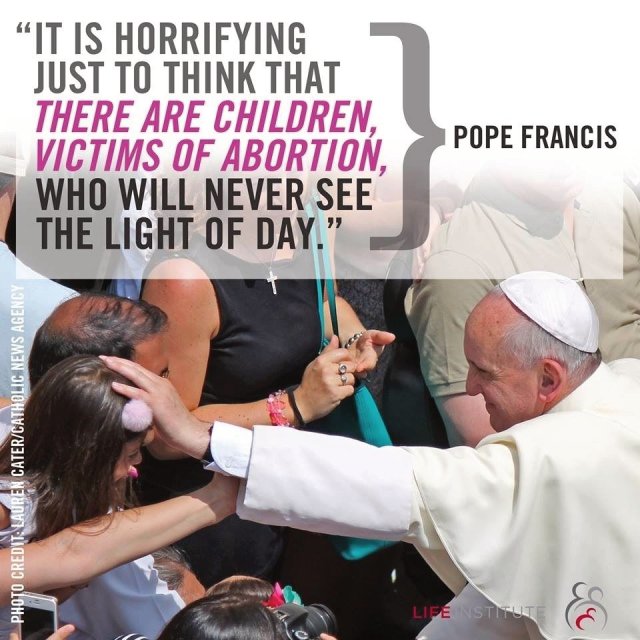 Today's Gospel (Mark 3:1-6):
'Jesus went again into a synagogue, and there was a man there who had a withered hand. And they were watching him to see if he would cure him on the sabbath day, hoping for something to use against him. He said to the man with the withered hand, 'Stand up out in the middle!' Then he said to them, 'Is it against the law on the sabbath day to do good, or to do evil; to save life, or to kill?' But they said nothing. Then, grieved to find them so obstinate, he looked angrily round at them, and said to the man, 'Stretch out your hand.' He stretched it out and his hand was better. The Pharisees went out and at once began to plot with the Herodians against him, discussing how to destroy him.'
It is appropriate that this Gospel passage should appear on this day.  Today is the day when abortion was effectively legalised across the United States following the landmark ruling in the case of Roe v Wade in 1973.
Thousands of people will descend on the US capital Washington DC today protesting against abortion and arguing for the cause of life.
Jesus also makes an argument for the cause of life in today's Gospel passage.  He makes the distinction between good and evil and then draws parallels with these terms, suggesting that to save a life is to do good and killing is to do evil.  This should be obvious to everyone.  Yet given the number of deaths as a result of abortion, this is clearly not the case.
Human beings are dying every day in our world because society has made them so easy to dispense with.  How can this be happening?  What are we doing to our children?  In the UK we afford more protection to baby birds as they grow in their eggs than we do to unborn human beings.  And this is no exaggeration.
Jesus, in front of the Pharisees in the synagogue, was not afraid to heal the man with the withered hand.  He was not afraid to speak up for life in the face of criticism.  Today, thousands of people will march for life and speak up for it as Jesus did.  Each day in our world there is a growing number of young people standing up for the cause of life.  In the UK and Ireland organisations such as Abort67, SPUC, and Youth Defence are standing up for little children who just never get the chance.  The chance to live.  If we cannot stand up for that, then what can we stand for?
If you are able, please spare a prayer today (or even better, a Rosary) for those unborn children.  Spare a prayer for their mothers, their fathers, and their families.  Spare a prayer for the medical staff who are involved in abortions.  Spare a prayer for our governors, that they may be moved to give life a chance.  And spare a prayer for those who are marching in Washington and who, across the world, are working hard to fight for justice for those little ones who have done no wrong.
In addition, if you feel compelled to get involved in one of the above groups or other pro-life campaigns then please do so!  You will find you are not alone.  The worldwide pro-life campaign is on a charge and it is growing by the day.  We will win this.  We will win the right to life for the little ones.  
Jesus, in today's passage, has given us a choice: we can either save life, or we can kill it.  What is your choice?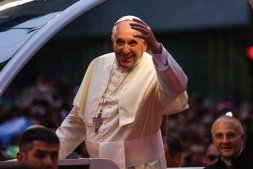 Pope Francis on the youth of our world:
'The rise and growth of associations and movements mostly made up of young people can be seen as the work of the Holy Spirit, who blazes new trails to meet their expectations and their search for a deep spirituality and a more real sense of belonging.
How beautiful it is to see that young people are "street preachers" (callejeros de la fe), joyfully bringing Jesus to every street, every town square and every corner of the earth!'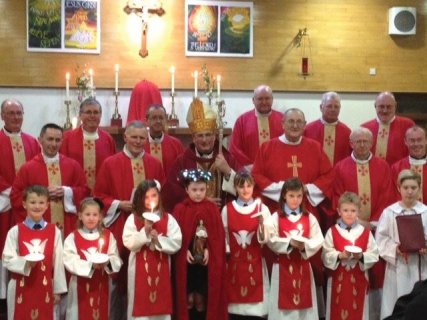 The Catholic parish of St Lucy's, Cumbernauld shone brightly on Friday night as it celebrated its 40th anniversary.

Philip Tartaglia, Archbishop of the Archdiocese of Glasgow, was the principal celebrant of the Mass.  He was joined by parish priest Father Joseph McAuley, former parish priests, and other dignatories and religious including local MSP Jamie Hepburn, local Councillor Elizabeth Irvine and Reverand David Nicholson of Kildrum Parish Church.  
The congregation enjoyed every moment of the occasion, as they sang as one in joyous song, giving praise to God and showing gratitude for the 40 years of parish life that had gone before.

Speaking during the Mass, Archbishop Tartaglia used the example of St Lucy, commenting on how young she was when she was martyred.  He held up her love and devotion to Jesus as being an inspiration to all people, especially children.
The Archbishop also took some time to remember the many priests and parishioners who had "built up" St Lucy's over the years, including the first parish priest, Father Anthony McHugo.
 
The Mass ended with a beautiful candlelit procession, led by a number of young children of the parish, including some of the those who had recently received the Sacrament of Confirmation.  They walked around the Church, showing a deep reverence and respect that defied their tender years.  As they walked the congregation belted out Santa Lucia in honour of their patron; their singing ably assisted by beautiful music from the parish's own choir and music group.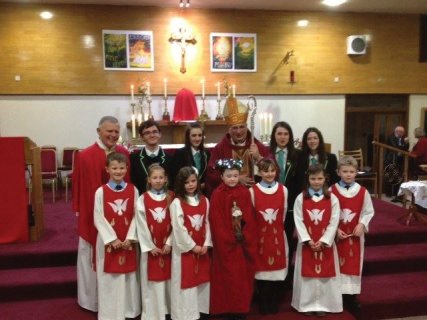 The congregation, priests and dignatories then gathered in the hall for some tea, coffee and no small amount of tasty treats in order to continue the festivities!  A big screen TV entertained those gathered with photographs depicting every generation of parish life, with images of many people, young and old, enjoying the life of the Church as the centre of community life.
 
The importance of events like this for both the local and wider Church simply cannot be overstressed.  Our parishes must be beacons of light, shining through the community, leading people firstly to God, and secondly, being a source of light and hope for the whole community, particularly the poor and vulnerable.
Through the photographs shown to us it was evident St Lucy's has achieved this and more throughout the last 40 years.  The hope must be that this will continue and that fresh energy can be found to take the parish on for another 40 years.  The number of young people in attendance, both from St Lucy's Primary School and Our Lady's High School, is a source of great hope for all.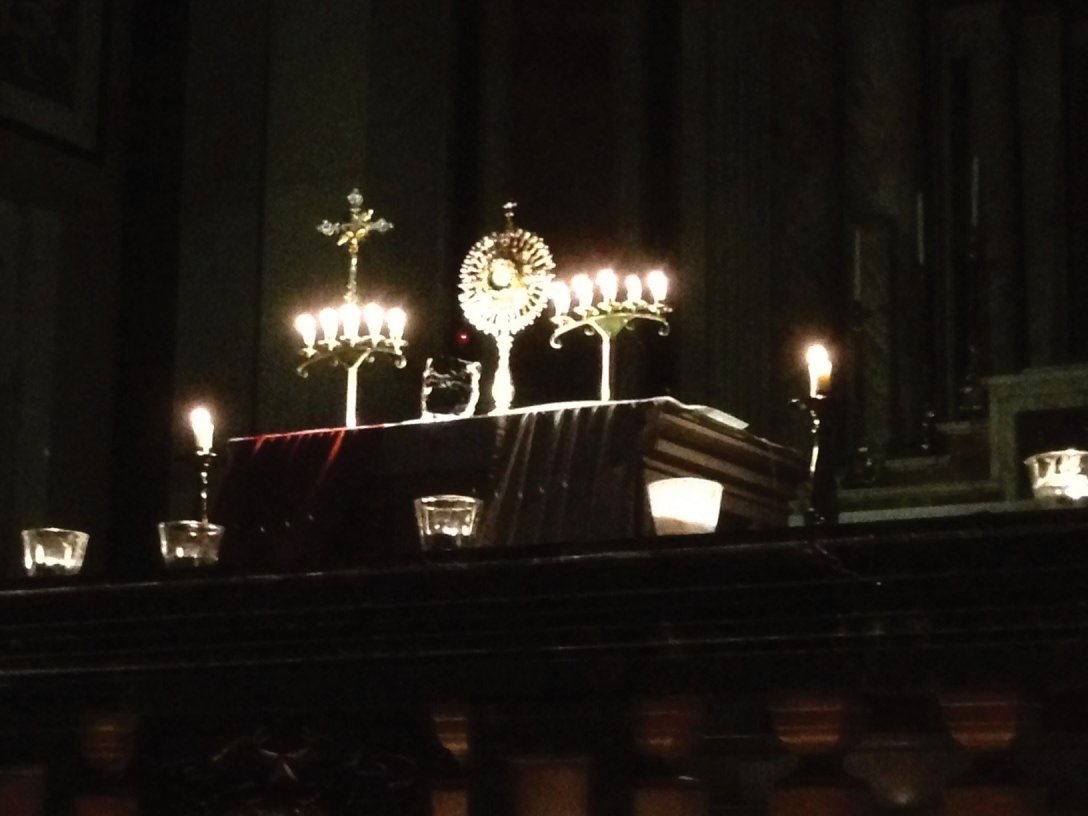 Nightfever Glasgow hit the heights on Saturday night with yet another beautiful night of adoration to the Blessed Sacrament.
The music was beautiful, the singing perfect, and the public participation was significant!
So many people came off the busy streets of Glasgow to join in and to honour Christ in the Blessed Sacrament. This included what seemed to me to be a record number of young children; all coming forward and showing reverence to our Lord in their own little way. It gave me goosebumps! 
Well done once again to the organisers, volunteers and to St Aloysius for everything they put in.
Looking forward to the next one!!  Keep checking our
Events Diary
so that you don't miss the next instalment of Nightfever.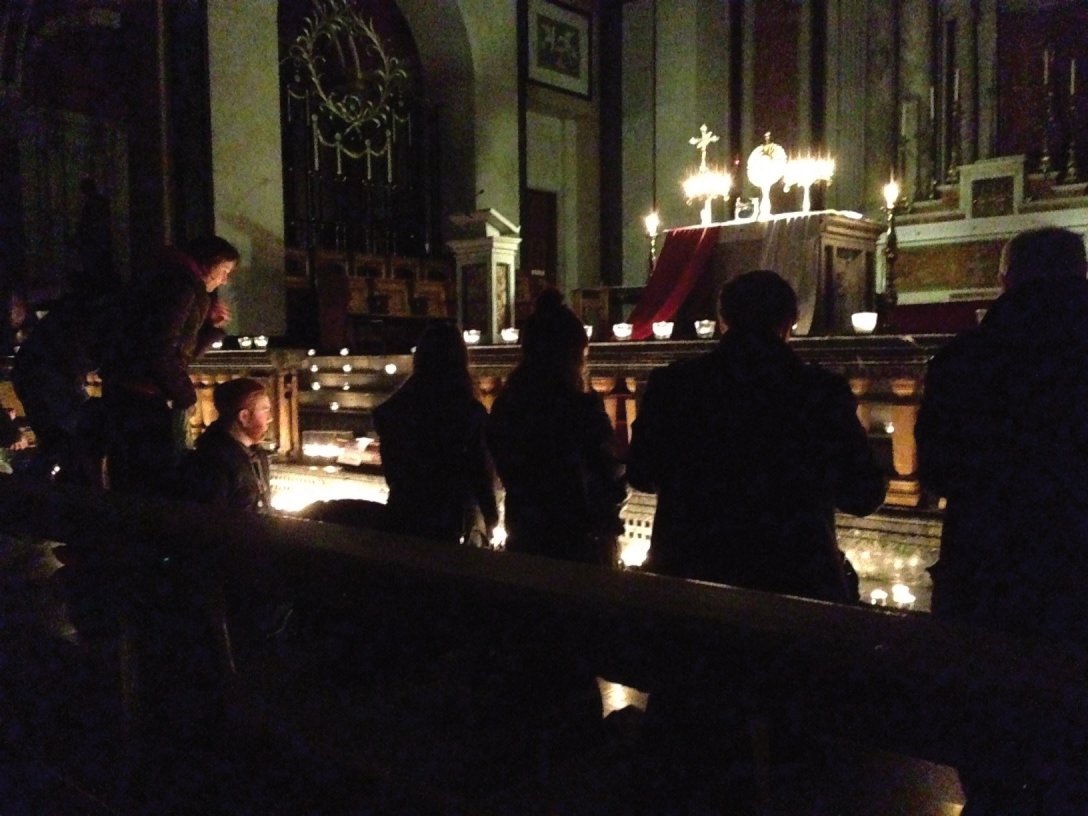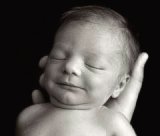 A child is a creature and a gift of God, which comes to earth through the love of his parents.
True love does not desire a couple to be self contained.  Love opens up in the child.  A child that has been conceived and born is not something "made", nor is he the sum of his paternal and maternal genes.  He is a completely new and unique creature of God, equipped with his own soul.  The child therefore does not belong to the parents and is not their property.
(From the Catholic Youth Catechism)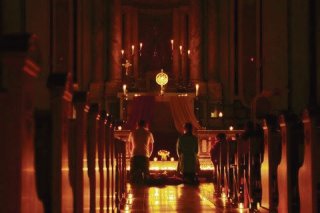 Health Warning: this event will be detrimental to the health of those who are convinced the Catholic Church is either dead or in terminal decline in Scotland!
This Saturday sees the return of Nightfever to the city of Glasgow.
If you haven't yet experienced this uplifting event then you must take a little time out of your Saturday night to pop into St Aloysius Church on Rose Street (just off Sauchiehall Street ). (
Click here for a map
)
The Church will be plunged into darkness except for the runway of candles the length of the centre aisle leading all the way up to the altar where the main attraction, Jesus in the Blessed Sacrament, waits for his children to approach.
There will be uplifting music tugging at your emotions and an opportunity for confession. Cushions will be neatly placed in front of the altar to allow people to sit or kneel comfortably in prayerful contemplation of the Eucharist and whatever else happens to come to mind.
And all the while the Nightfever volunteers will be out on the city streets inviting people into the Church. Those who accept the invitation are given a candle to take to the altar and light it, with an opportunity to pray for their own intentions before Jesus in the Sacrament. They can even write their intention down on a piece of paper and leave it in front of the altar.  They come to the altar to open themselves up to receive the unconditional love of Jesus our Lord and Saviour, and to give as much as they can in return.
Having attended a number of these events it is quite incredible to see so many people, mostly youth, coming into the Church from the street, many of them dolled up for a night out.  To say it is heartening is a massive understatement.
Everyone is welcome to pop into the Church.  Everyone.
Nightfever is a phenomenon.  It is beautiful.  It is uplifting.  It is awesome.  It is inspiring.  It is right here, in Glasgow.
Be warned….this event will change your life.
Mass starts at 5.45pm followed by Eucharistic Adoration, Confession and Music until 11pm.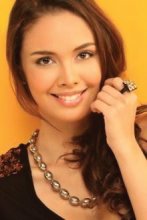 In a frank interview to a local broadcaster, the 2013 Miss World Megan Lynn Young (pictured), revealed a number of truths about her own beliefs on some of the most important topics in our world today.
In an interview likely to send shockwaves throughout an increasingly secular western world, 23 year old Miss Young from the Philippines boldly expressed her firm belief that abortion is wrong and that sex is something sacred to the sacrament of marriage.
When asked about the subject of abortion, Miss Young stated, "Abortion is wrong....I'm pro-life....and if it means killing someone who's already there, then I'm against that, of course."
On the subject of sex Miss Young, going against the grain of much of society today, boldly stated, "Sex is for marriage, that's my belief."
And when the interviewer challenged her about how a woman as gorgeous as her could say no to sex she simply replied, "You say no." 
Thanks for confirming that Miss Young because, yes, it really is that simple!  Despite what others may say and despite what you might read in your newspaper or magazine, or see on television, or even hear from the government, it really is as simple as saying no.  If Miss World can do it, I gather most of the rest of us can too!
Miss Young also offered some advice to those who are reluctant to have sexual relations saying, "If they try to push you, you step away, because that person doesn't value you, doesn't value the relationship as much....if the guy is willing to sacrifice that, it means a lot."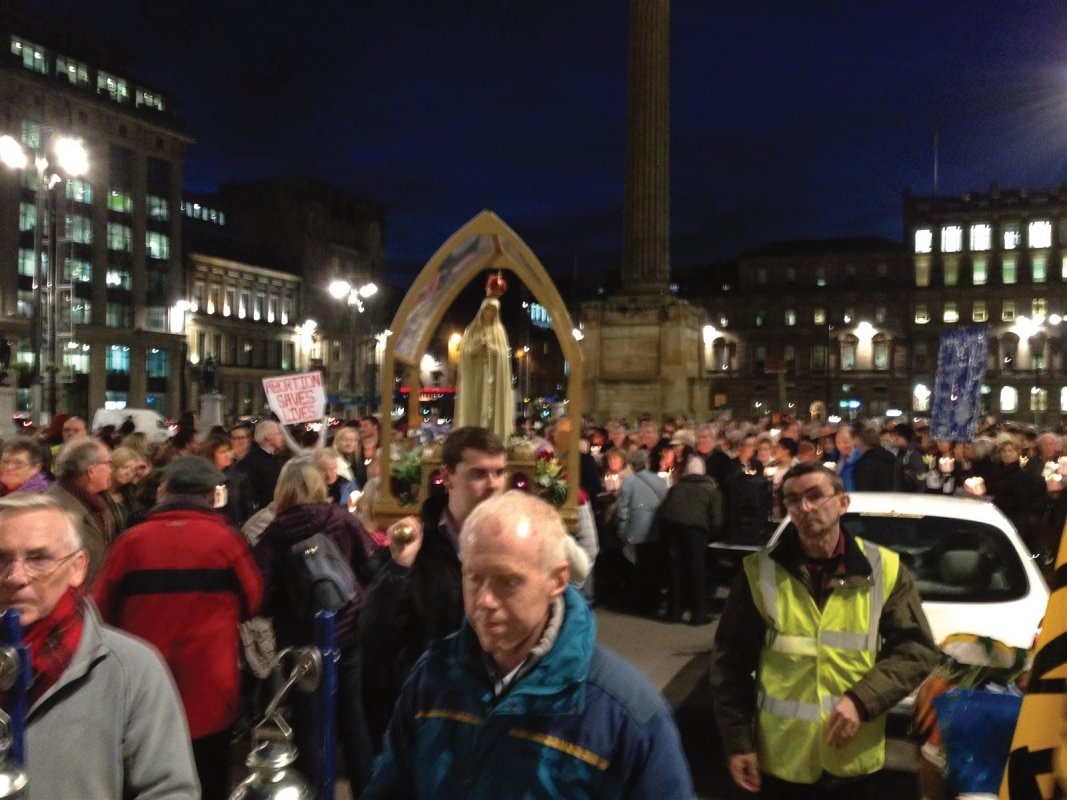 Our Lady's statue is carried through Glasgow
Last night the centre of Glasgow witnessed the joy and splendour of life, wrapped up in a beautiful Rosary, dignified procession, and passionate celebration of the Mass.
It was pro-life night and the people of Glasgow took to the streets to spread the Good News of life.  Around 300 people were present in George Square and it was evident that numbers were slightly up on last year which was encouraging. 
The Rosary, led by Father John Keenan of the University of Glasgow and St Patrick's, Anderston, was a beautiful show of devotion and honour to Our Blessed Mother whose statue, held ably aloft by two young volunteers, looked lovingly over the crowd as it prayed.  Candles lit the faces of pro-life people from around the country, as they held their Rosary beads firmly in their hands.  There were babies, schoolchildren, priests, nuns, people with disabilities, people with special needs, the elderly, and, of course, the youth element which seems to be growing at a pace in Scotland these days.  I mention all of these groups individually not to differentiate them from the normal because that is not the case.  I mention them to highlight the various characters who make up the pro-life movement, many of whom may not be here had their parents not been pro-life.  Thank God for that grace that they are given the opportunity to live, an opportunity we have ALL experienced.  We are all alive today because we were not aborted.  Yet many are not afforded such an opportunity in today's culture of death.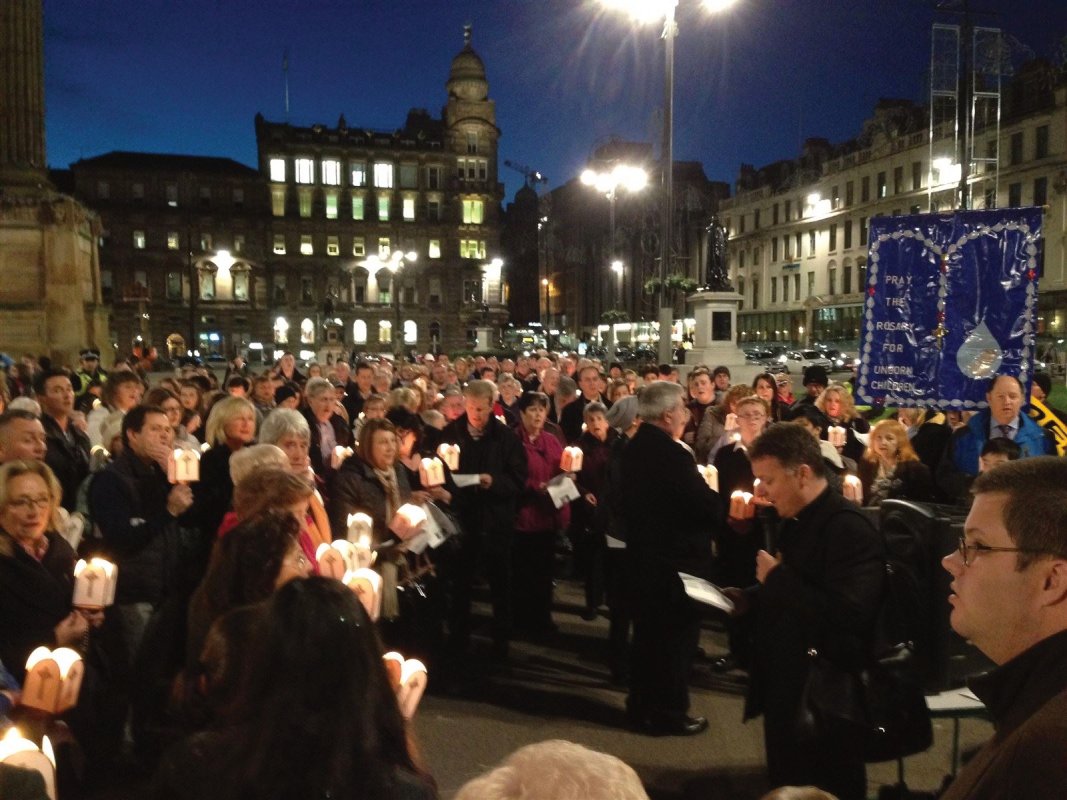 Father Keenan leads the Rosary 
As we were told prior to the Rosary, 200,000 babies have been aborted in the last year since the last such event in 2012.  In one day 500 babies are aborted in the UK.  Do we really take in these figures?  I mean, do we REALLY take them in?  Some people argue that this is justified in the name of women's rights.  Yet these people disregard the single most natural, amazing and precious gift a woman can have and give....another life!   
Either side of the Rosary there was beautiful singing of hymns and during the Rosary the Fatima 'Ave' was belted out with real passion and fervour.  The group then proceeded to walk gently and reverently to the Cathedral on Clyde Street, blazing a trail of fire behind Our Lady's statue at one point spanning the full length of Glassford Street.  It was a beautiful time, an opportunity to reflect on what we were really doing here.  Praying for an end to abortion.  Praying for all affected by this sad and barbaric attack on defenceless children and vulnerable women.  Praying for the fathers, many of whom don't have a say.  Praying for the grandparents, aunts, and uncles, for cousins and close family friends.  Praying for the medics, the doctors and midwives who carry out abortions on a daily basis.  Praying for those who are pro-abortion for them to be enlightened to the beauty and splendour of new life, and to trust in God's providence.  Praying for our governors that they may be similarly enlightened.  And, of course, praying for the pro-life movement, that it will continue to stand for life and never tire of fervently praying for the innocents.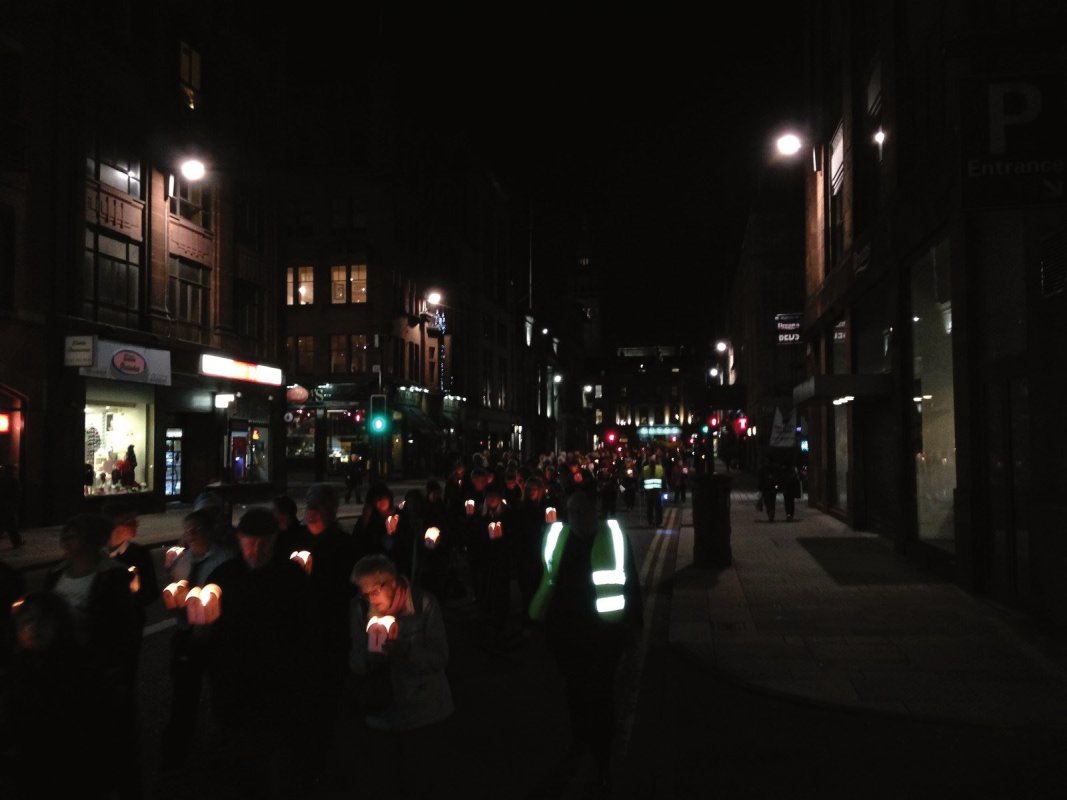 The pro-life movement blaze a trail through Glasgow 
At the Cathedral, the gathered faithful were treated to a beautiful Mass, interspersed with beautiful music and singing from the St Ninian's choir, and a roof-raising homily by Father Keenan.  It was around 15-20 minutes long and I have to admit that I hung on to EVERY word.  The Reading and Gospel of the day didn't perhaps, at first glance, appear to be a fit for the occasion.  But God never lets us down and Father Keenan made sure we were left in no doubt that these readings were perfect for the pro-life cause.
In his letter to the Romans St Paul talks about putting 'your bodies at the service of vice and immorality' and how we must instead 'put them at the service of righteousness for sanctification.'  In George Square a small group of pro-abortion protesters continually chanted about "my body, my choice".  There were a few other expletives in among these chants but the general theme was one of 'my body, my choice'.  As Father Keenan suggested, it is always "me, me, me".
So what is our view on the other side of the fence?  What is the pro-life stance?  Father Keenan pointed us in the direction of Mary suggesting that Mary holds the key to what we must do.  When confronted by the Angel Gabriel and told that she would conceive a child, the Son of God, Mary said, "Let it be done to me according to your word".  Mary did not selfishly state that it was her body and reject the child she was suddenly to bear!  Mary accepted God's Will and God's Divine Plan.  It was an act of complete faith.  It was true love.  It was Mary saying "My body, for you".  Not 'my body, my choice' but 'my body, for you'!
And this is the Christian message.  We don't live for ourselves.  We live for God and for others!  Everyone else comes before us.  That is the way we must live and that is why we are pro-life.  God's Will grants mothers the grace to bear His children.  We must have the faith of Mary and bear these children, and present them back to God, by raising them to glorify Him and to put Him and others first.  What an amazing world we would live in if everybody did this!!  What love!! 
Father Keenan then turned to the Gospel and spoke about how Jesus wished the earthly fire were "blazing already"!  The witness last night, out on the busy streets of Glasgow, was the fire.  That public witness is the blaze Jesus is speaking of.  Witnessing to the faith on the streets!  As Father Keenan suggested, "many people are pro-life on the brain" but they don't do anything about it.  That isn't good enough!  Jesus wants us to get out there to witness for these little ones!  What good is keeping the pro-life cause to ourselves?  It is no good!  Nothing will change if we keep it to ourselves. 
Father Keenan challenged everyone present in the Cathedral to bring another person with them next year.  That way our numbers will double.  That is the challenge to the pro-life people of Scotland, particularly those in the Glasgow area.  The recent census in 2011 confirmed that there are around 841,000 Catholic people in Scotland (an increase on the 2001 census), with the vast majority of them in the Glasgow, Lanarkshire and Inverclyde areas!!  Is 300 people representative of this huge number?  I think not.  It's hugely disappointing.  So the challenge is being thrown down right here, right now.  The same event will be taking place at the same time next year and we want to AT LEAST double our numbers.  This isn't just about Catholic people marching through the streets of our city.  This is about life.  It is about affording little babies the same opportunity we are all so blessed to have received, the opportunity to live.     
/