Shopping Cart
Your Cart is Empty
There was an error with PayPal
Click here to try again
Thank you for your business!
You should be receiving an order confirmation from Paypal shortly.
Exit Shopping Cart
Calling Scotland's 841,000 Catholics to unite as one voice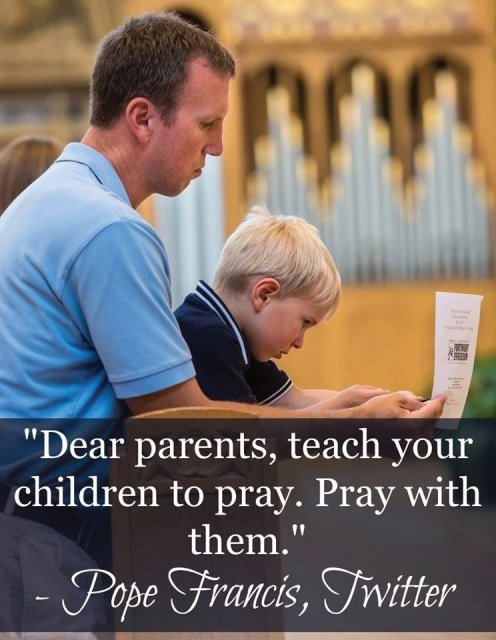 Pope Francis has urged parents to teach their children to pray, saying that children should learn prayer with the same spontaneity as when they learn to say "daddy" and "mummy". The pope made the remarks during his latest General Audience in St Peter's Square on Wednesday.
He said: "There are children who have not learned to make the Sign of the Cross.  You, mother, father: teach your children how to pray, how to make the Sign of the Cross."
The pope continued: "It is beautiful when mothers teach their little children to blow a kiss to Jesus or to Our Lady.  What tenderness there is in this.  In that moment, the child's heart is transformed into a place of prayer.  And this is a gift of the Holy Spirit."
The pope also encouraged families to pray the Gospel every day.
While it is easy for us to become lazy when it comes to prayer, it is surely an injustice to deprive our children of it.  There are so many material things used by society to entertain our children, whether it's the latest toy or gadget, the television, or even social media.  And while these may very well have a role to play, they cannot give our children true joy, nor can they give them eternal life; and surely eternal life is what we ultimately want for our children?
The importance of building a lasting relationship between our children and Jesus cannot be overstated.  We have a duty to bring our children to the Truth of Christ's teaching and to raise them in Christ's own Church where they will receive the Sacraments.  It is mothers, fathers, grandparents, aunts, uncles, cousins who will lay the foundations of every child's relationship with Christ.  And even if our own relationship with Christ has floundered, do we really want to compromise the relationship our children could have with the saviour of the world?
We have a duty to set a holy example to our kids. If a child sees someone else kneeling in prayer, saying grace before meals, kissing a Crucifix, or going to Confession regularly, how much more likely are they to do the same?
Helping to build our childrens' relationship with Jesus is the most important thing we can do for them. It will set them out on the road to eternal life.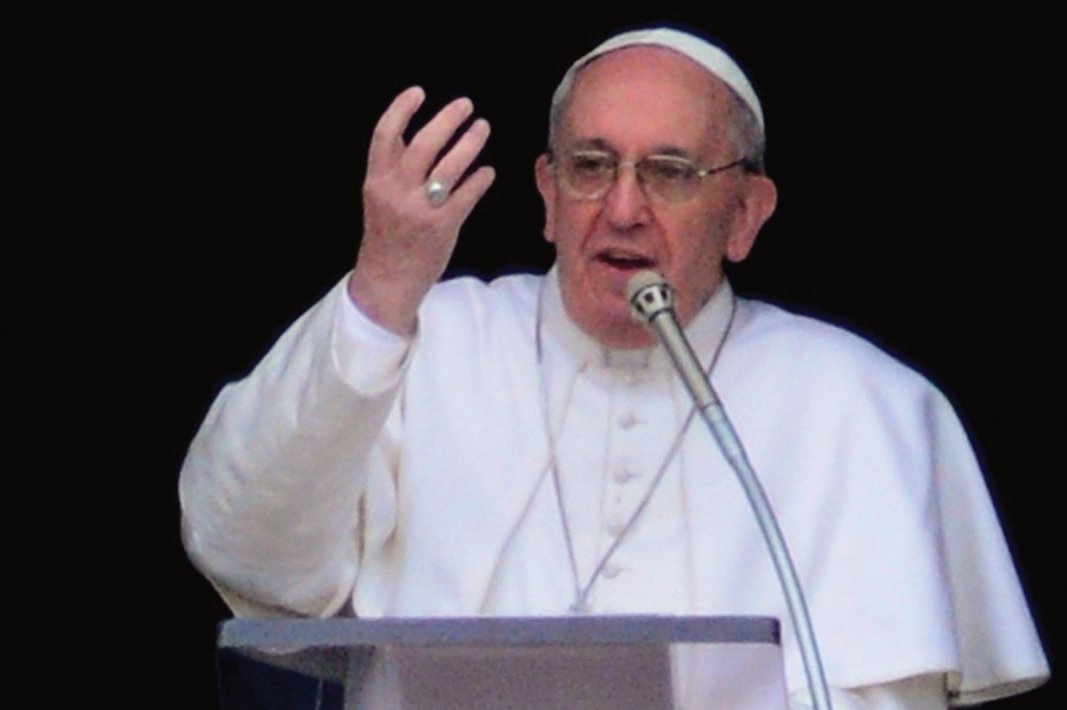 Pope Francis, at his weekly General Audience on Wednesday, urged the faithful not to be slaves to their work but instead to master it.  The pope said, "We must never be slaves to work but rather its master." However, he added that "we know that millions of men and women, even children, are slaves to work.  The obsession with economic profit and technical efficiency puts the human rhythms of life at risk."
The pope then focussed on the need to rest, especially on Sundays, saying "Moments of rest, especially on Sunday, are sacred because in them we find God."
The pope concluded his General Audience with a prayer: "May we always recognise the family as the privileged place to understand, guide and sustain the gifts which arise from our celebrations, especially the Sunday Eucharist."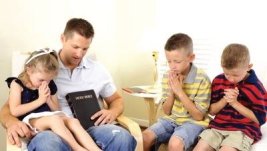 Pope Francis wants more good fathers
Pope Francis, in his weekly general audience, has called on fathers to spend more time with their families.
The Pope's words are critically important to the future of the family and indeed the future of our society.  The role of fathers has gradually been chipped away in recent years, particularly in western secular societies where the role of father is seen as something that is no longer necessarily critical to the development of children.
This degrading of fatherhood has also been keenly felt within Christianity and Catholicism where a lack of strong fathers and leaders in faith has led to a significant decline in Church attendances.  Young people often no longer have an example of faith in their home to guide them in the ways of faith and to show them how to live a good, holy life.  While this isn't always the case - indeed many fathers and mothers provide a beautiful example of how to live a life of faith - there can be little doubt that a father with no keen interest in the faith could lead children to seek something other than God.
In addition to a weak faith, the absence of a father due to other commitements such as work only exacerbates the problem.  And while this is often inevitable because of a need to ensure the family can eat and have a roof over their head, it doesn't always need to be the case.
Pope Francis, who refers to this absence as 'the crisis of fatherhood', said that: "without father figures, young people often feel 'orphaned', left adrift at a critical moment in their growth and development." 
He then called on fathers to be more responsible for their children, saying that fathers are necessaary as examples and guides for our children in wisdom and virtue.
The Pope then invited all people to ask Jesus "to deepen and renew our appreciation of fatherhood and to raise up good fathers for the benefit of our families, our Church and our world."
The importance of fatherhood stretches way beyond the four walls of our family home.  It is a fundamental part of our society.  God gave us all a father and a mother.  It is His will that every child have a father and a mother because both bring different qualities to the family unit.  There is a great need today for strong fathers, particularly in the Catholic Church.  It is the father who must lead his family in faith and all for the greater glory of God.  It is God who has entrusted fathers with this crucially important role and it is God who has entrusted fathers with the care of His very own children. 
For all fathers, consider yourself to be a savings account into which God has deposited something very, very precious and valuable.  That precious thing is a child.  And while God delights in that child at the very moment He entrusts them to your care, He wants some interest on His investment.  He wants a child that will follow the ways of Christ, living a life of love, mercy and compassion for every human being; a life that is consistent with His Commandments; a life that glorifies Him and gives Him praise at every turn.  These are just some of the qualities God wants to see in each of us.  This is the kind of interest God wants in return for the gift of a beautiful little child.  The role of the parent is to build up that interest as much as possible by setting an example by which that child can live a life of love and ultimately enter into the glory of Heaven to be reunited with the Father of all Fathers.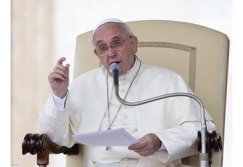 Pope Francis, during his General Assembly on Wednesday morning, called all people to a life of holiness, stating that holiness is not something that is exclusive to bishops, priests and religious.
The pope said: "We are all called to be saints...it is by living with love and offering Christian witness that we are called to become saints… Always and everywhere you can become a saint, that is, by being receptive to the grace that is working in us and leads us to holiness."
The pope also had yet another warning for those inclined to gossip, suggesting that where people meet and the conversation descends into gossip we must resist and say "No, no, no I will not gossip about anyone."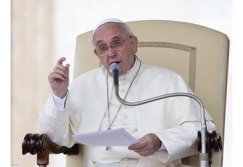 Today, in his General Audience, Pope Francis asked for the prayers of the faithful for the Church's Synod of Bishops which will start on Sunday.  The Pope also spoke of the value of the gifts of the Holy Spirit which continue to be poured out on the Church and spoke of St Therese of Lisieux's deep love for the Church.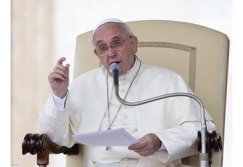 Pope Francis, at today's General Audience in St Peter's Square, praised the people of Albania for co-existing with each other despite their various religious affiliations and despite a long period of oppression by an 'atheistic and inhuman regime'.  The pope also praised the Albanian people for avoiding the lure of relativism.
He spoke about the strength of the Church being the love of Christ and he described it as 'a strength that sustains us in times of trouble and inspires the daily apostolic action to offer to all goodness and forgiveness; thus testifying to the mercy of God.'
Click here to read the full General Audience address: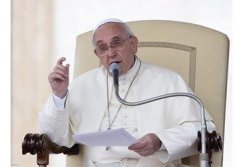 Pope Francis says, 'May we always live in solidarity with all of humanity, and never close in on ourselves.'
It's interesting that this comment comes a day before Scotland goes to the polls to vote in independence, a move the pope has already expressed concern about.
Click here to read the pope's full address: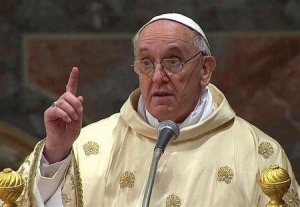 Pope Francis, in his general audience of 27th August, has once again warned the faithful about gossiping, especially where it occurs in our parishes.
The pope has continually warned people not to gossip; stating that it is a sin and that we simply must not do it.
During the audience the pope said: "Everyone can fall into the traps of gossip.  Just think about all the gossiping that goes on in parishes.  Is this good?  Is it?  If someone is elected president of an association, he's criticised.  If someone is elected head of catechesis, they are also targeted.  This is not the Church.  This shouldn't happen."
While the pope uses the example of specific parish groups, the message is no doubt directed at all types of gossip.  All gossip is simply unacceptable and must not happen.
The pope has previously commented on how damaging gossip can be in our lives.  If we stop and think about it for a few moments we can be left in no doubt about the dangers of gossip and the damage it causes.  It causes cynicism, division, even hatred.  It festers in the mind and even one simple 'throwaway' comment can cause an unnecessary rift in relations.
The pope also said that division is a "grave sin" that is the "work of the devil, who is by definition the one who separates."
As we consider the words of our Holy Father it is abundantly clear that both gossip and division should not be tolerated if we are to live like Christ and be one with the Church.
/