Shopping Cart
Your Cart is Empty
There was an error with PayPal
Click here to try again
Thank you for your business!
You should be receiving an order confirmation from Paypal shortly.
Exit Shopping Cart
Calling Scotland's 841,000 Catholics to unite as one voice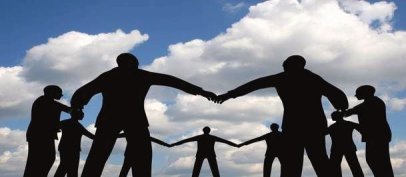 Sunday's Second Reading (Galatians 3:26-29):
'You are, all of you, sons of God through faith in Christ Jesus. All baptised in Christ, you have all clothed yourselves in Christ, and there are no more distinctions between Jew and Greek, slave and free, male and female, but all of you are one in Christ Jesus. Merely by belonging to Christ you are the posterity of Abraham, the heirs he was promised.'
This Sunday's second reading reveals a teaching that is fundamental to the Christian life, that of unity.  Jesus Christ unites.  He doesn't desire to separate or divide.  Rather, his intention is to bring all people together in his name so that he can one day bring them to share in the glory of the Kingdom of God.
Do we unify people?  Do we seek to be at one with others as we go about our daily lives?  Or do we create divisions through pride, selfishness and cynicism? 
Christ's love demands unity, not division.  If we love as Christ loves, we will unite.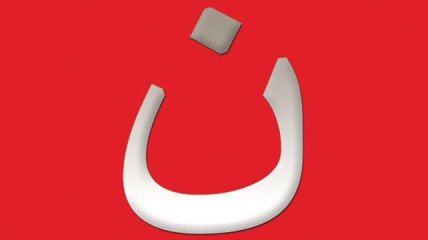 Aid to the Church in Need, an organisation which helps persecuted Christians around the world through prayer, information and action, is inviting Catholic High Schools and Universities from all over Scotland to gather in Carfin on 11th June in a show of solidarity with persecuted Christians.
The event, which will take place at Carfin Grotto near Motherwell, is expected to be the largest ever gathering of young Catholics in Scotland.
Beginning with the midday Angelus, the event will then play host to a programme of Adoration, music and guest speakers. 
The plight of persecuted Christians cannot be overstated in our world today.  You only need to consider the crises in Syria and Nigeria to see the brutality of Christian persecution.  Christianity is the most persecuted religion in our world today.  Please show your support for our Christian brothers and sisters by attending this event.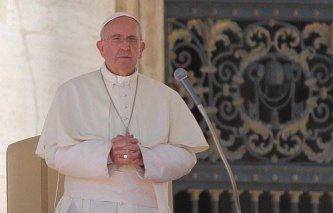 Pope Francis on Christian Unity:
'We must never forget that we [Christians] are pilgrims journeying alongside one another. This means that we must have sincere trust in our fellow pilgrims, putting aside all suspicion or mistrust, and turn our gaze to what we are all seeking: the radiant peace of God's face.
How many important things unite us! If we really believe in the abundantly free working of the Holy Spirit, we can learn so much from one another! It is not just about being better informed about others, but rather about reaping what the Spirit has sown in them, which is also meant to be a gift for us.'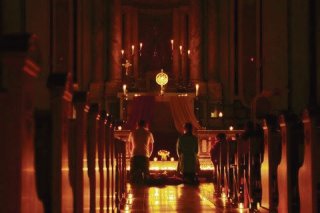 Health Warning: this event will be detrimental to the health of those who are convinced the Catholic Church is either dead or in terminal decline in Scotland!
This Saturday sees the return of Nightfever to the city of Glasgow.
If you haven't yet experienced this uplifting event then you must take a little time out of your Saturday night to pop into St Aloysius Church on Rose Street (just off Sauchiehall Street ). (
Click here for a map
)
The Church will be plunged into darkness except for the runway of candles the length of the centre aisle leading all the way up to the altar where the main attraction, Jesus in the Blessed Sacrament, waits for his children to approach.
There will be uplifting music tugging at your emotions and an opportunity for confession. Cushions will be neatly placed in front of the altar to allow people to sit or kneel comfortably in prayerful contemplation of the Eucharist and whatever else happens to come to mind.
And all the while the Nightfever volunteers will be out on the city streets inviting people into the Church. Those who accept the invitation are given a candle to take to the altar and light it, with an opportunity to pray for their own intentions before Jesus in the Sacrament. They can even write their intention down on a piece of paper and leave it in front of the altar.  They come to the altar to open themselves up to receive the unconditional love of Jesus our Lord and Saviour, and to give as much as they can in return.
Having attended a number of these events it is quite incredible to see so many people, mostly youth, coming into the Church from the street, many of them dolled up for a night out.  To say it is heartening is a massive understatement.
Everyone is welcome to pop into the Church.  Everyone.
Nightfever is a phenomenon.  It is beautiful.  It is uplifting.  It is awesome.  It is inspiring.  It is right here, in Glasgow.
Be warned….this event will change your life.
Mass starts at 5.45pm followed by Eucharistic Adoration, Confession and Music until 11pm.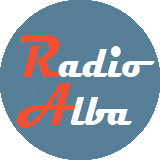 At last we have a Christian radio broadcast based in Scotland! 
Radio Alba seeks to bring morning prayers (including school prayers) to the nation, to focus on good news stories, and also provide opportunities for reflection on topics of interests as well as scripture.
Broadcasting will start this Friday 1st November (All Saints Day)!
Remember to tune in!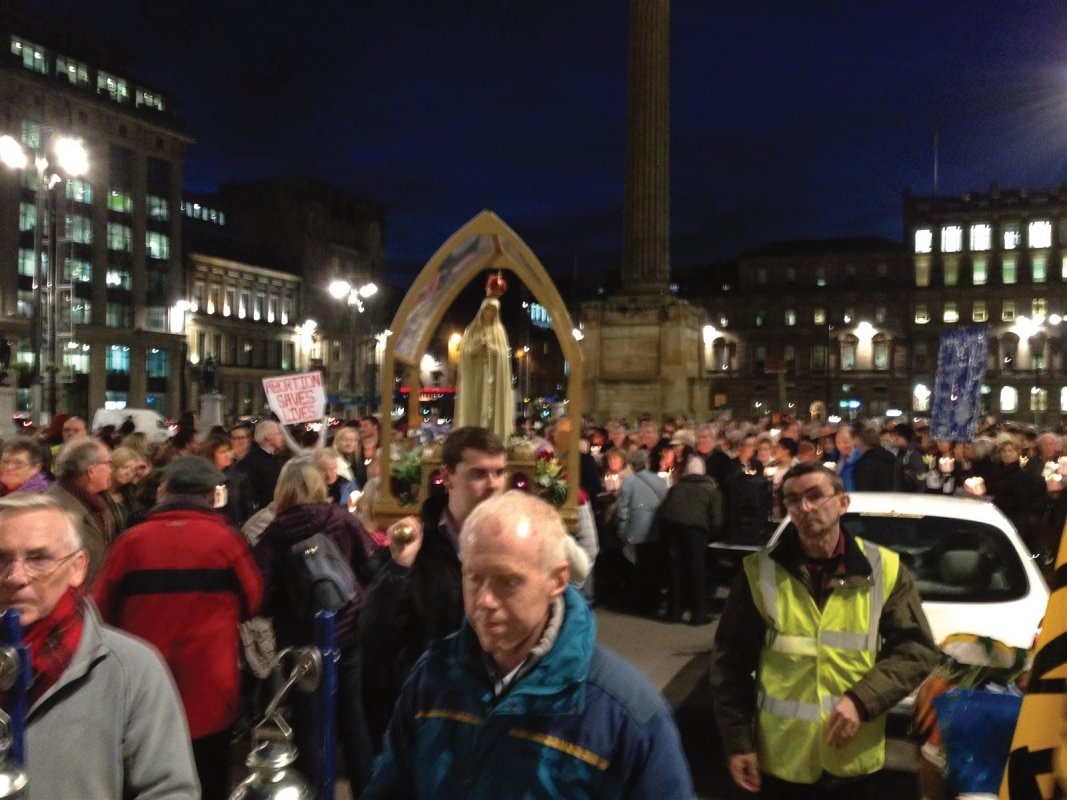 Our Lady's statue is carried through Glasgow
Last night the centre of Glasgow witnessed the joy and splendour of life, wrapped up in a beautiful Rosary, dignified procession, and passionate celebration of the Mass.
It was pro-life night and the people of Glasgow took to the streets to spread the Good News of life.  Around 300 people were present in George Square and it was evident that numbers were slightly up on last year which was encouraging. 
The Rosary, led by Father John Keenan of the University of Glasgow and St Patrick's, Anderston, was a beautiful show of devotion and honour to Our Blessed Mother whose statue, held ably aloft by two young volunteers, looked lovingly over the crowd as it prayed.  Candles lit the faces of pro-life people from around the country, as they held their Rosary beads firmly in their hands.  There were babies, schoolchildren, priests, nuns, people with disabilities, people with special needs, the elderly, and, of course, the youth element which seems to be growing at a pace in Scotland these days.  I mention all of these groups individually not to differentiate them from the normal because that is not the case.  I mention them to highlight the various characters who make up the pro-life movement, many of whom may not be here had their parents not been pro-life.  Thank God for that grace that they are given the opportunity to live, an opportunity we have ALL experienced.  We are all alive today because we were not aborted.  Yet many are not afforded such an opportunity in today's culture of death.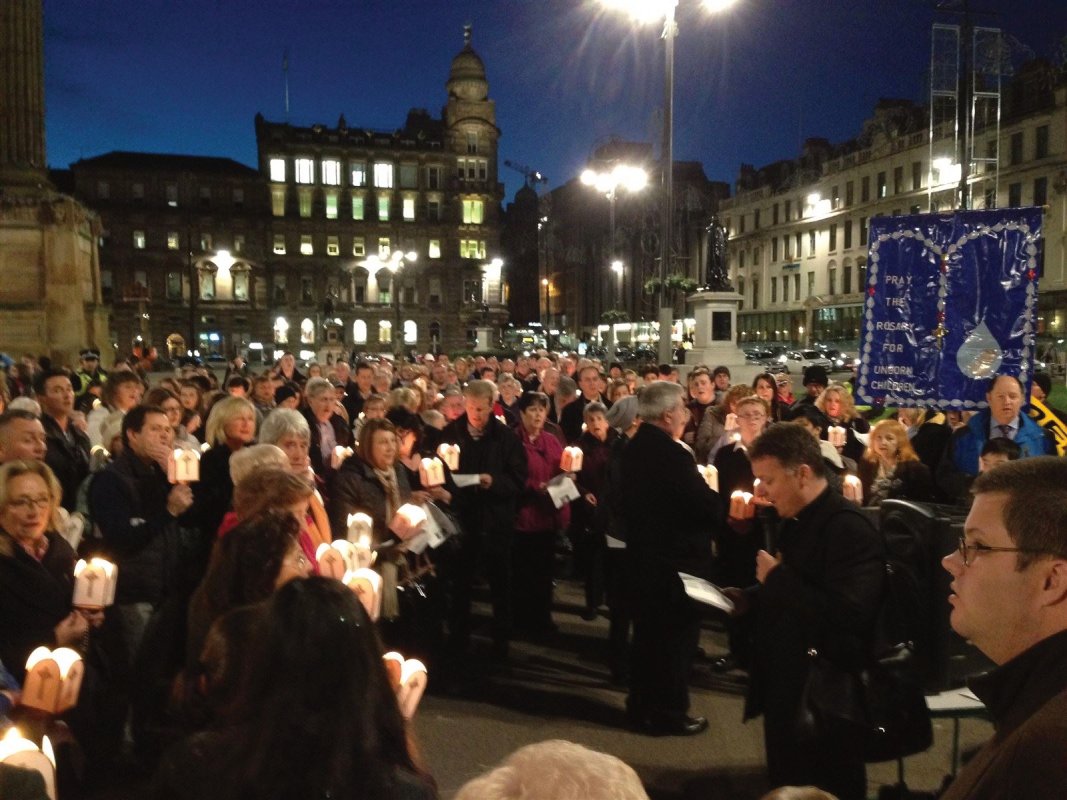 Father Keenan leads the Rosary 
As we were told prior to the Rosary, 200,000 babies have been aborted in the last year since the last such event in 2012.  In one day 500 babies are aborted in the UK.  Do we really take in these figures?  I mean, do we REALLY take them in?  Some people argue that this is justified in the name of women's rights.  Yet these people disregard the single most natural, amazing and precious gift a woman can have and give....another life!   
Either side of the Rosary there was beautiful singing of hymns and during the Rosary the Fatima 'Ave' was belted out with real passion and fervour.  The group then proceeded to walk gently and reverently to the Cathedral on Clyde Street, blazing a trail of fire behind Our Lady's statue at one point spanning the full length of Glassford Street.  It was a beautiful time, an opportunity to reflect on what we were really doing here.  Praying for an end to abortion.  Praying for all affected by this sad and barbaric attack on defenceless children and vulnerable women.  Praying for the fathers, many of whom don't have a say.  Praying for the grandparents, aunts, and uncles, for cousins and close family friends.  Praying for the medics, the doctors and midwives who carry out abortions on a daily basis.  Praying for those who are pro-abortion for them to be enlightened to the beauty and splendour of new life, and to trust in God's providence.  Praying for our governors that they may be similarly enlightened.  And, of course, praying for the pro-life movement, that it will continue to stand for life and never tire of fervently praying for the innocents.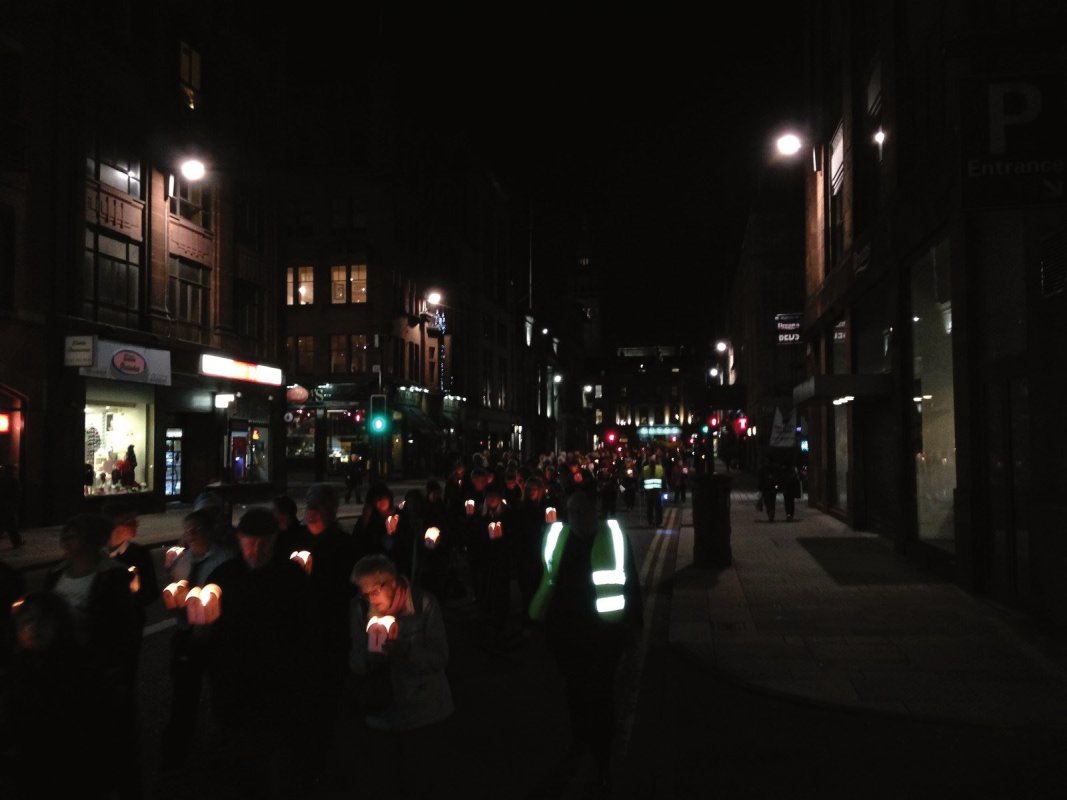 The pro-life movement blaze a trail through Glasgow 
At the Cathedral, the gathered faithful were treated to a beautiful Mass, interspersed with beautiful music and singing from the St Ninian's choir, and a roof-raising homily by Father Keenan.  It was around 15-20 minutes long and I have to admit that I hung on to EVERY word.  The Reading and Gospel of the day didn't perhaps, at first glance, appear to be a fit for the occasion.  But God never lets us down and Father Keenan made sure we were left in no doubt that these readings were perfect for the pro-life cause.
In his letter to the Romans St Paul talks about putting 'your bodies at the service of vice and immorality' and how we must instead 'put them at the service of righteousness for sanctification.'  In George Square a small group of pro-abortion protesters continually chanted about "my body, my choice".  There were a few other expletives in among these chants but the general theme was one of 'my body, my choice'.  As Father Keenan suggested, it is always "me, me, me".
So what is our view on the other side of the fence?  What is the pro-life stance?  Father Keenan pointed us in the direction of Mary suggesting that Mary holds the key to what we must do.  When confronted by the Angel Gabriel and told that she would conceive a child, the Son of God, Mary said, "Let it be done to me according to your word".  Mary did not selfishly state that it was her body and reject the child she was suddenly to bear!  Mary accepted God's Will and God's Divine Plan.  It was an act of complete faith.  It was true love.  It was Mary saying "My body, for you".  Not 'my body, my choice' but 'my body, for you'!
And this is the Christian message.  We don't live for ourselves.  We live for God and for others!  Everyone else comes before us.  That is the way we must live and that is why we are pro-life.  God's Will grants mothers the grace to bear His children.  We must have the faith of Mary and bear these children, and present them back to God, by raising them to glorify Him and to put Him and others first.  What an amazing world we would live in if everybody did this!!  What love!! 
Father Keenan then turned to the Gospel and spoke about how Jesus wished the earthly fire were "blazing already"!  The witness last night, out on the busy streets of Glasgow, was the fire.  That public witness is the blaze Jesus is speaking of.  Witnessing to the faith on the streets!  As Father Keenan suggested, "many people are pro-life on the brain" but they don't do anything about it.  That isn't good enough!  Jesus wants us to get out there to witness for these little ones!  What good is keeping the pro-life cause to ourselves?  It is no good!  Nothing will change if we keep it to ourselves. 
Father Keenan challenged everyone present in the Cathedral to bring another person with them next year.  That way our numbers will double.  That is the challenge to the pro-life people of Scotland, particularly those in the Glasgow area.  The recent census in 2011 confirmed that there are around 841,000 Catholic people in Scotland (an increase on the 2001 census), with the vast majority of them in the Glasgow, Lanarkshire and Inverclyde areas!!  Is 300 people representative of this huge number?  I think not.  It's hugely disappointing.  So the challenge is being thrown down right here, right now.  The same event will be taking place at the same time next year and we want to AT LEAST double our numbers.  This isn't just about Catholic people marching through the streets of our city.  This is about life.  It is about affording little babies the same opportunity we are all so blessed to have received, the opportunity to live.     
From today's Gospel (Luke 12:54-59)
'when you go to court with your opponent, try to settle with him on the way, or he may drag you before the judge and the judge hand you over to the bailiff and the bailiff have you thrown into prison. I tell you, you will not get out till you have paid the very last penny.'
Is holding a grudge something we find easy to do?  It's probably fair to say that we have held a grudge at some point in our lives, we may even be holding a grudge right now.  You may even think you have good reason to hold your grudge because someone has been nasty or cruel to you. 
Such thoughts, however, are selfish ones.  They are all about you.  Remember what we said a few weeks ago, when we quoted Father Larry Richards when he said we should stick a note on our mirror which says 'God first, others second, you third'?
Don't hold a grudge.  Never let an argument or disagreement fester.  Always settle differences with people.  Even if they are unwilling it's important that you do the Christian thing and lead by example.  Do as Jesus says and try to settle the matter before it gets too serious.  The prison Jesus speaks of is purgatory.  And he tells us that we won't see the Kingdom of Heaven until we have paid every last penny of such things as grudges against our brothers and sisters. 
Taken from St Paul's Letter to the Romans (Romans 2:1-11)
'Your stubborn refusal to repent is only adding to the anger God will have towards you on that day of anger when his just judgements will be made known.  He will repay each one as his works deserve.  For those who sought renown and honour and immortality by always doing good there will be eternal life; for the unsubmissive who refused to take truth for their guide and took depravity instead, there will be anger and fury.'
'He will repay each one as his works deserve.'  If you were to die today do you think God will pay you well?  It's an interesting thought and one to ponder.
St Paul suggests that always doing good will bring us to eternal life.  But for those who do not do good and who do not submit themselves to the Truth, there will be anger and fury. 
Many in our world today believe that it is a risk worth taking; to not submit oneself to the Truth.  Put God to one side, or perhaps not believe in Him at all and just get on with life.  This is a significant risk.  In fact it is the most significant risk anyone could take.  It's potentially the difference between eternal life and eternal damnation.  It is not a risk worth taking, ever! 
It is the job of the Christian to spread the Good News, to spread that Truth of God to all people. 
It's a harsh message, to suggest we have a choice between eternal life and eternal damnation.  It is very harsh, but it is the truth; it is reality.  But done in a spirit of love and compassion we can change peoples minds.  We can bring them to the Truth and, God-willing, save souls.
The best way of spreading this Good News and the Truth is by example.  By living good holy lives - free of judgement, hate, distrust, gossip and complaining - we can show people that true joy can be found in Christ.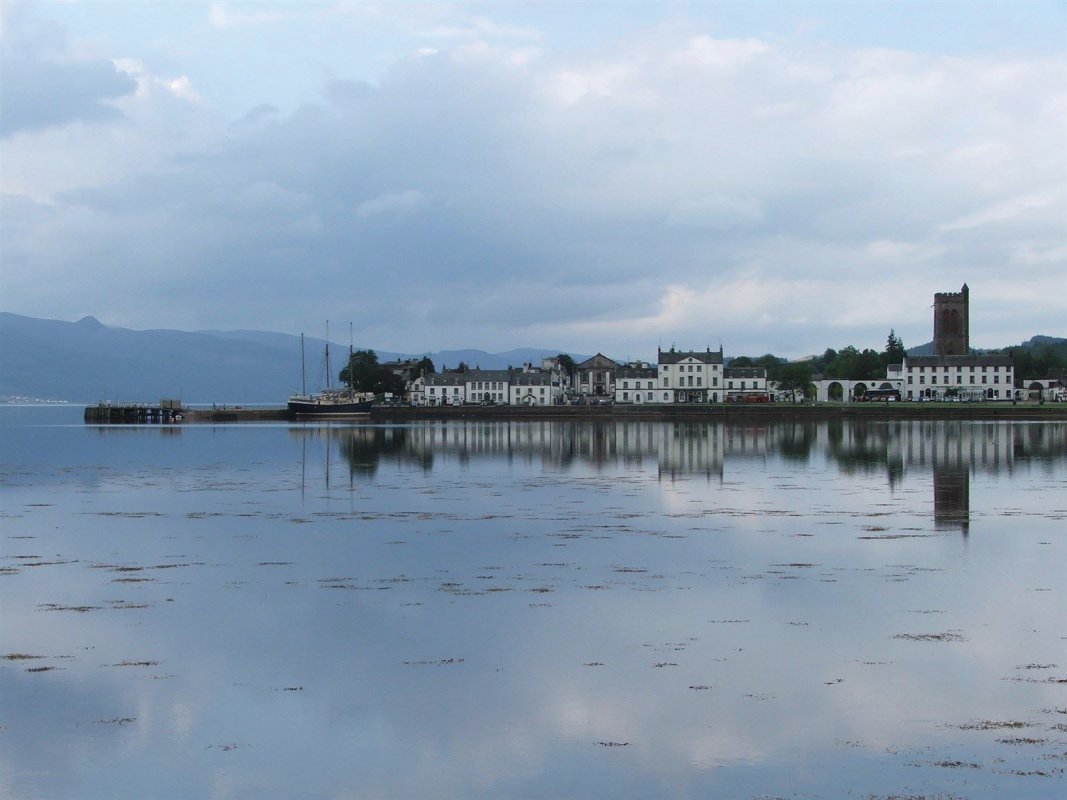 Inverarary
We have to express sincere gratitude to Father David and the congregation for the beautiful Mass celebrated in All Saints Church, Inverarary at 12.30pm on Sunday.
Father David, Parish Priest of St Margaret's, Lochgilphead, travels to Inverarary each Sunday to celebrate Mass with the faithful there and it really is a beautiful community and the Catholic congregation appears to be thriving as there weren't enough seats for everyone!

May God bless them in their service to God and may He sustain them through their Ministry.
/