Shopping Cart
Your Cart is Empty
There was an error with PayPal
Click here to try again
Thank you for your business!
You should be receiving an order confirmation from Paypal shortly.
Exit Shopping Cart
Calling Scotland's 841,000 Catholics to unite as one voice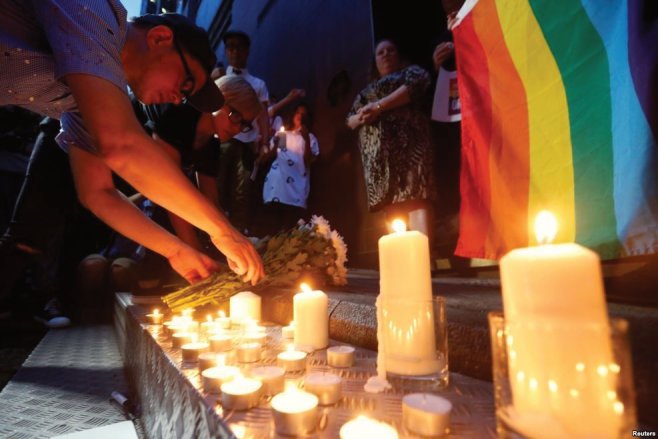 People gather to mourn the dead

The tragic events in Orlando provide yet another glaring example of man's inhumanity to man.  Very few of us can even begin to imagine what was going through the minds of the hundreds of young partygoers in Pulse nightclub as the horrid truth about what was unfolding became clear.  It wasn't a case of exuberant pyrotechnics or sophisticated indoor fireworks.  It was the crackling of gunfire and the flash of bullets as one hate-filled individual felt compelled to walk into the club and shoot dead 49 innocent people and injure many others.
Islamic State militants have claimed that Omar Mateen acted on their instruction.  Whether he did or not is perhaps not important because, at the end of the day, both Islamic State and Omar Mateen are callous murderers, with no consideration for their fellow man and woman, and little thought to the pain and hurt that their actions cause.
The cries of parents, siblings, and friends have rung out from the devastated city of Orlando ever since Mateen decided to walk into the Pulse nightclub early on Sunday morning and shoot unashamedly at his unsuspecting victims.  The world has joined them in mourning their precious loved ones who have been taken so suddenly and without warning.  Little did they know that when they waved the young revellers off on Saturday night, it would be the last time they would see them alive.  It is truly horrific.
At this time of great uncertainty with no little hate flowing through our world it is important that we Christians stand firm with all people of goodwill to continue to promote peace.  There is no life that isn't precious in God's eye.  This is our fundamental belief and we must fight hard to promote the sanctity of human life, be it the unborn child, the frail old woman, or the young lad enjoying quality time with his friends in a nightclub.  All life is precious and worthy of protection.
We pray for the peaceful repose of the souls of the dead, and we pray for their families that they will find some comfort in knowing that their loved ones are at the mercy of a loving Father. 
We also pray for those who are inclined to such violence, that their hearts be changed to see the inherent value of all people, even if some of them do not conform to their own beliefs.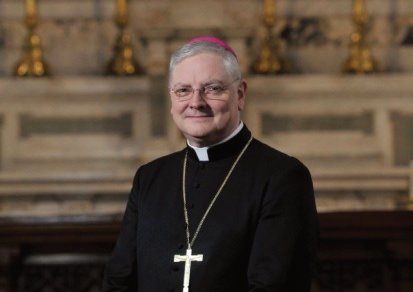 Archbishop of St Andrews and Edinburgh Leo Cushley celebrates the 125 anniversary of Pope Leo XIII's landmark encyclical 'Rerum Novarum'
Archbishop Leo Cushley has marked the 125 anniversary of the papal encyclical Rerum Novarum by re-proposing its social teaching for the common good of Scottish society.  The encyclical by Pope Leo XIII is arguably the Church's most important when it comes to social justice and the Archbishop can clearly see positives in once again bringing it to the forefront of our minds.
Writing in today's Scotsman Archbishop Cushley said: "At the foundation of Pope Leo's vision is an unshakeable belief in the intrinsic value of every man, woman and child.  The degree to which it threatened or enhanced the life and dignity of the human person", he says, "is the measure of any political, moral or economic order".  It is clear, therefore, that the encyclical has at its very core the belief that human life must be at the centre of all decisions made by authority.  It is about standing shoulder to shoulder with the most vulnerable in society, including the poor, the sick, the elderly, and the unborn.
Pope Leo, who rejected unbridled capitalism as well as state socialism, argued that neither central government nor larger society should substitute itself for the initiative and responsibility of individuals and intermediary bodies within civil society.  Archbishop Cushley cited the example of Fife, which has gone from having 82 councils in 1930 to just one today, to illustrate the renewed appetite to revisit the issue of local empowerment.
The Archbishop also referred to the importance of the family in society.  He said: "The twofold purpose of this [the family] micro-community is traditionally defined as the good of the spouses and the procreation and education of children.  For this reason, nearly all societies – not just those informed by Christianity – have founded family life upon marriage.  Even now, the best sociological evidence tends to suggest that children generally do best in life when they grow up with a mum and a dad who are married to each other.  The married family, if you like, is the first, best and cheapest department of health, welfare and education."  He then quoted Pope John Paul II as he tried to encapsulate the effect of the erosion of a marriage-based culture: "As the family goes, so goes the nation, and so goes the whole world in which we live."
However, the Archbishop also referred to Pope Francis' call to appreciate those people for whom the ideal family is not possible, saying that these people "achieve remarkable things in the most difficult of circumstances".  He then reiterated Pope Francis' call to sympathise with and support those in difficult circumstances.
In a world fraught with significant challenges to the family as we know it, the Archbishop's consideration of one of the great social encyclicals is timely.  As he said: "The Church does not seek to impose its social teaching upon Scottish society.  We can only propose it as our vision to anybody seeking new paths towards the common good."
Archbishop Cushley has proposed what he feels is the fundamental consideration for the common good of society and offered it to the people of Scotland.  It is now up to us lay Catholics to do the same.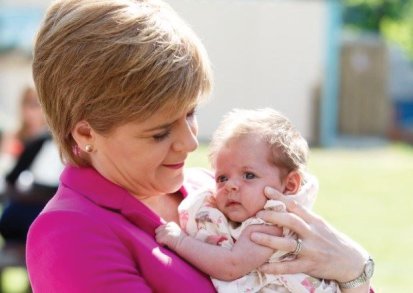 Nicola Sturgeon appreciating the beauty of new life
It is wonderful to hear Scotland's First Minister Nicola Sturgeon announce that, from Spring 2017, all pregnant women will receive free vitamins in order to help give their children the best possible start in life.
In addition to making vitamins freely available the Scottish Government will also be introducing the following initiatives:
Every newborn baby to receive a 'baby box' of essential items
500 more health visitors will be recruited to improve child health and wellbeing
The Family Nurse Partnership to be extended to support teenage mothers
Childcare will be doubled to 30 hours per week for all three and four year olds and vulnerable two year olds
Ms Sturgeon said that "every child deserves a fair and equal chance and offering all pregnant women vitamins sends a strong signal that, right from the very start of life, we are doing all we can to help.  There is strong evidence that taking vitamins in pregnancy improves both the mother and baby's health and providing free vitamins, to all pregnant women, has the widespread support of healthcare professionals."
Any government policy which seeks to assist women in pregnancy to look after both themselves and their baby must be welcomed.  It is a positive step by the Scottish government and it is hoped that many people will benefit from the new initiatives.
The introduction of free vitamins for all pregnant women is real and positive recognition by the Scottish Government of the importance of the unborn child.  The unborn child should be entitled to the same rights as any born child and this must include the right to the best possible health care and treatment.  While the rights of the unborn child are not yet fully protected in our country, primarily because of the availability of abortion, this type of initiative is a step in the right direction; a small but important step towards equality of rights for all children, irrespective of whether they happen to be inside or outside of the womb.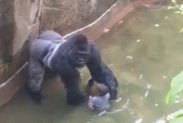 It's a terrifying thought: finding yourself being dragged along in shallow water by a monster and being at their mercy.  Okay, so perhaps it's slightly far-fetched to refer to Harambe the gorilla as a monster, but one thing we do know for certain is that he is, or was, a wild animal. 
Like most people I am a lover of animals, and I am not particularly keen on many of the limited enclosures wild animals find themselves in, be it in zoos or in those horrid environments they call circuses.  Sure, there are some zoos and safari parks that do a good job in protecting animals, especially endangered species, and this work is important for the wellbeing of life on our planet.   But broadly speaking, it is unfortunate when an animal is removed from its natural habitat and finds itself stuck in an enclosure for humans to gawp at.
Harambe the gorilla is an unfortunate case.  How the four year old lad got into the enclosure is still to be made clear, but one thing is certain: he did get in there and he was at the mercy of a wild animal.  It's interesting to hear some animal 'experts' coming out and defending the gorilla, suggesting that the boy was in no danger because the gorilla was not "beating its chest" and that he was actually holding the boy's hand.  It doesn't matter how many times a dog owner tells me "it's okay, he loves children" as my little one inquisitively ambles towards their pooch; I am still reluctant to let them get too close.  First, because a dog is an instinctively defensive animal that is unable to reason and could turn nasty at any given moment in time.  And second, I know of too many instances where children have either been killed or seriously injured as a result of an animal attack. 
It would be interesting if instead of a gorilla a pit-bull or Rottweiler had been dragging the little boy across a park.  Would people feel similarly reluctant to harm the dog in order to save the child?
It is unfortunate that this little boy found himself in Harambe's enclosure, and I'm sure the role of his parents and zoo staff will correctly be scrutinised as a result.  But the bottom line is this: a little human child was in an enclosure with a large wild animal that had seen fit to recklessly drag him across a shallow pool of water and then stand over him.  Nobody knew for certain what was going to happen next.  The staff at the zoo had little choice but to put the interests of the child's safety first, as they should.  There was no room or time for risk taking.
A surge in animal welfare stories to the detriment of more pressing matters such as the Planned Parenthood abortion scandal suggests that our society is getting dangerously close to putting the welfare of animals before the wellbeing of humanity.  Sure, we must work to look after the world God has gifted to us, including the birds of the air, the fish of the sea and the multitude of animals that roam the land.  But we should not devalue human life in the process.  Animals always have been and always will be inferior to human beings, as it is only humans that are made in the image and likeness of God.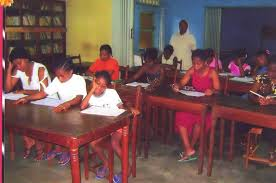 Madagascar is a country riddled with debt, where the basic right of a child to an education is far down the list of government priorities and public expenditure on children is a paltry £31 per year, leaving very little for a basic, let alone decent, education.
The situation is especially grim for girls who are often denied any form of education so as to allow male siblings to benefit from the opportunity to learn.  Boys, it seems, are best placed to go to school to learn.  Girls, it seems, are better off at home.
Thankfully, Missio Scotland, the official mission aid agency of the Catholic Church, is doing what it can to help girls in Madagascar obtain some form of education.  Missio has supported the Catholic Home for Girls in Ambanja, run by the Franciscan Sisters of Mary, since 2004.  The home accommodates around 40 poor and orphaned girls at any given time and is a place where the girls can be educated and allow their faith to flourish in a safe, loving environment.
Sister Suzanne Mahavita, who manages the home, says: "Our girls are from poor families where there's no money for school fees.  Even if there was money, boys get educated at the expense of their sisters.  Girls usually stay at home, caring for younger siblings and do household chores until they are of an age when they can marry.  In this sense female illiteracy far exceeds that of males.  But our local families do support the ideal of education for girls.  Our intention is to bring education to as many of the disadvantaged as we can.  We strongly believe it is every child's right to be literate and numerate."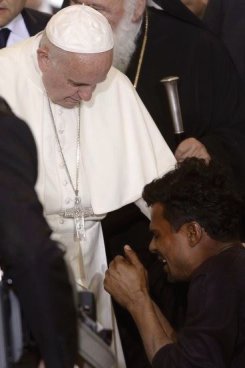 Pope Francis, during his weekly general audience, has slated those who turn their backs on the poor, suggesting that their ignorance means that they despise God.
The pope stressed that in the poor "we find Jesus himself: whatever you did to the least brothers of mine, you did to me".
The message is clear: we are called to wake up to the plight of the poor and to make sure we never ignore them.  I recall one of Pope Francis' early comments on the poor.  He said that we must get close to them as Jesus did, and touch their wounds.  Touch their wounds!  It sounds strange that we would put ourselves in a position to touch the cuts or sores, or even the diseased body of a stranger.  We may wince at the idea of shaking the hand of a homeless person, knowing full well that those hands could be carrying all sorts of germs that could make us ill.  But that is what we are called to do!  We are called to get close, because by getting close to the poor and the needy we are getting close to Jesus.  And we all know that Jesus will not cause us any harm or give us anything we cannot deal with by his grace.
It is also worth remembering that when Pope Francis refers to the poor he is not just talking about the homeless or the financially impoverished.  He is also talking about the poor in spirit; those who have perhaps lost their way in faith or who fail to recognise the Goodness of God.  We are also called to accompany these people, as well as those who suffer a more typical form of poverty.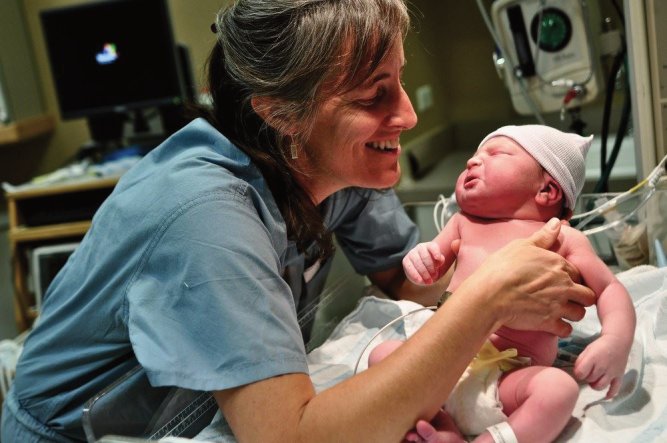 Children should be safe in the hands of midwives
The Chief Executive of the Royal College of Midwives (RCM) is facing calls to resign after announcing that the organisation supported the removal of the 24 week time limit for abortions in the UK.  Cathy Marwick has caused consternation among RCM members, many of whom have signed an online petition seeking to distance themselves from the RCM's stance.  They have also accused her of failing to consult on the issue. 
Marwick, who is the chair of the UK's biggest abortion provider BPAS (British Pregnancy Advisory Service), has not surprisingly been accused of a conflict of interest given her two roles.  One midwife from Northern Ireland said: 'Anyone advocating allowing abortion up to birth, I think is so sad and tragic, but to have my own representative body coming out in support of this extreme view is very disappointing. I know she's our chief, but there is clearly a conflict of interest. On something as big as this, she should have consulted us.'
Dr Peter Saunders, head of the Christian Medical Fellowship, said: 'It is bitterly ironic that the RCM, the supposed champion of safe childbirth and antenatal care, should be backing a campaign seeking to legalise the killing of unborn children up until birth. It is even more extraordinary that their chief executive, who also chairs BPAS, should be spearheading this initiative without apparently even consulting her membership. It is an extraordinary abuse of power.'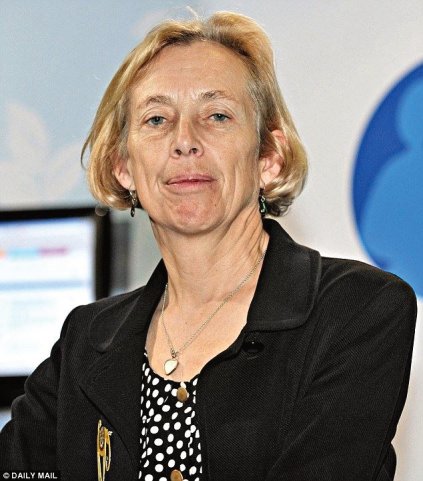 Cathy Marwick
Democratic Unionist MP, Jim Shannon, has vowed to raise the matter in Parliament this week.  He said: 'I will ask the Secretary of State for Health what discussions he has had, or will have, with the RCM and BPAS. My concern is that scrapping the 24-week cut-off would be absolutely disgraceful. I would have thought the RCM should be protecting unborn life. Its chief executive has this dual position and many people would say you can't have that.'
It is deeply disturbing that the very people who have for hundreds of years facilitated the safe passage of new life into our world are now being encouraged to compromise that ethos and be prepared to kill off that life.  Indeed, medical advances are strongly indicating that the abortion time limit should be reduced as a result of the increased survival rate of babies before the 24 week mark.  There is absolutely no indication that the abortion time limit should be increased, never mind scrapped altogether.  Any attempt to increase or abolish the 24 week limit flies in the face of scientific and medical fact, and it once again raises the question as to whether the wilful destruction of innocent human life by abortion should be allowed at all.
Our smallest, youngest, most vulnerable children should be safe in the hands of our midwives.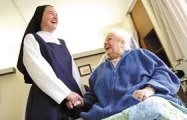 In the first of our new series of Catholic Love in the Community we pick up the story of a group of Dominican nuns caring for the terminally ill in New York.
The New York Times has this week published a beautiful story about a group of Dominican nuns who care for the dying at their Rosary Hill nursing home situated in the small town of Hawthorne on the outskirts of New York City.
The home, which is essentially a hospice, was founded in 1901, 'long before the mainstream medical community embraced hospice care and during a time when some doctors still thought cancer was contagious.'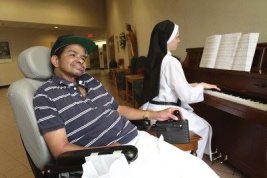 The nuns care for people of all faiths and none and abide by the words of its founder Rose Hawthorne Lathrop: "We cannot cure our patients, but we can assure the dignity and value of their final days, and keep them comfortable and free of pain."
Their work is highly thought of in the area and Gillian Laub - whose mother-in-law was cared for at the home after her family discovered that insurance could not cover the care she required – said that she was 'struck by their [the nuns] tenderness with the dying, how they painted women's fingernails and combed their hair, changed them into fresh nightgowns and arranged flowers in their rooms.'  Laub suggested that "this is how dying should be."
Please pray for these nuns and for all who work to care for the poor and needy in our society.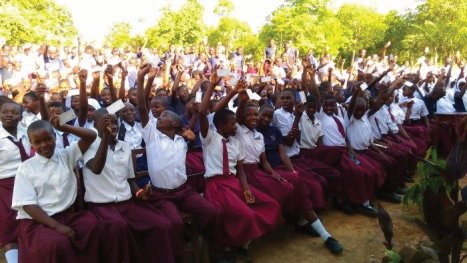 These youngsters have taken the chastity pledge
The World Health Organisation has, in its latest report, confirmed that 25% of worldwide pregnancies ended in abortion between 2010 and 2014. The report also states that "around 22 million unsafe abortions are estimated to take place worldwide each year, almost all in developing countries."
While this news must be greeted with great sadness at the millions of lives lost in an incredibly short period of time, the WHO has a solution.  It states that: "Almost every abortion death and disability could be prevented through sexuality education, use of effective contraception, provision of safe, legal induced abortion, and timely care for complications." 
It's interesting that the WHO avoids any talk of chastity or abstinence in their report.  This, as we know, is the most effective means by which to prevent a pregnancy if indeed that is what someone desires.  Contraception has been heralded as the saviour when it comes to having sexual relations without the 'nuisance' of a child.  But, in reality, contraception has merely become a 'get out of jail free card' for individuals - mostly men - who simply want to use and abuse a member of the opposite sex for their own selfish desires.  Contraception encourages people to engage in the most intimate manner with another human being and then to discard them once the deed is done.  There is no account for feelings, no account for wellbeing.  It is simply the act of using another for selfish desires.  And while not all people can be accused of using another individual through the use of contraception, there is no denying that in using contraception a person is not giving themselves entirely to the other.  It is a way of saying "I love you, but I'm not giving you 100% of my love".  Is this the kind of love we want for our children?
While it is natural for secular organisations like the WHO to raise unsafe abortion as an issue, the distinction between safe and unsafe abortions is inherently flawed.  This is because it is only concerned with the wellbeing of one party in order to distinguish whether an abortion is safe or unsafe.  Abortion, as we know and as science affirms, involves two distinct human beings.  When abortion results in the injury or death of one of those human beings it must be considered unsafe.  Therefore all abortions are unsafe.  There is no such thing as safe abortion.
While more must be done to ensure people are educated on sexual matters there is a real need to ensure that such education is not simply a pandering to the increasingly wayward sexual revolution and the deep pockets of huge, influential pharmaceutical companies.  Increased availability of 'safe' abortion is not the answer.  Nor is the increased availability of contraception.  These remedies simply take us down another road of self-destruction in our society and they quite clearly fail to solve the big issue, which is the widely held view that sex is a basic right to be enjoyed by anyone, with anyone and without the very natural consequence that is another human being.
In many African countries there is a growing movement (University Chastity Education or UCE Missionaries of Chastity) among young adults where they sign a pledge card, pledging a vow of chastity until they meet that special someone and marry them.  This is not the stuff of fairy-tales.  This is real life.  Isn't this a much more appropriate, measured, and natural solution to the pregnancy 'problem' than those proposed by the World Health Organisation?  Doesn't this solution encourage the kind of love you desire for your son or daughter?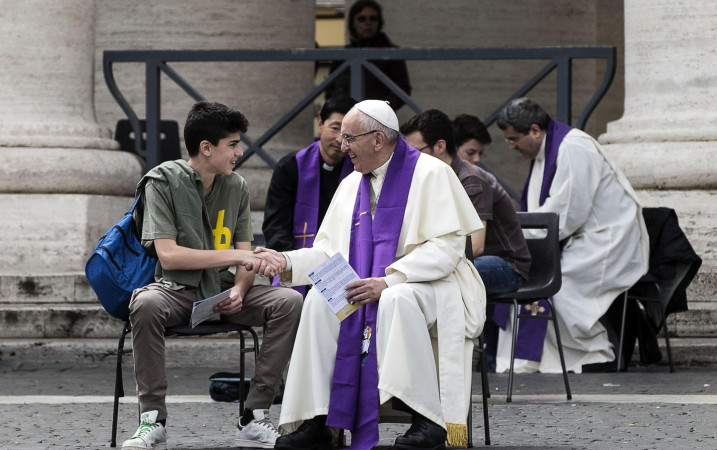 Pope Francis heard Confessions in the days leading up to the Mass
Pope Francis has given a lesson in love and freedom during his homily at the Jubilee Mass for Young People in Rome.
The Pope, speaking to thousands of youth in St Peter's Square, said that Jesus himself declared that Christians would be known "by the way they love one another."  The Pope continued saying, "love, in other words, is the Christian's identity card."
The Pope then tackled the meaning of love, stating that love is something you give.  He also added: "it [love] is caring for others, respecting them, protecting them, and waiting for them."
Francis then challenged the young people on the true meaning of freedom, stating that "freedom is not the ability to simply do what I want.  This makes us self-centred and aloof."
"Freedom" he said "is the gift of being able to choose the good: this is true freedom. The free person is the one who chooses what is good, what is pleasing to God, even if it requires effort, even if it is not easy."
He then called on the young people to grow in love and told them how they could do this: "the secret, once again, is the Lord: Jesus gives us himself in the Mass, he offers us forgiveness and peace in Confession."
The Pope's call to the young people can be summed up nicely in the term 'free love'.  He wants Christians to give themselves freely to others in love, and he wants us to choose to do this as it is pleasing to God.  He then tells us that the nourishment we need for this task can be found in the Holy Mass and in the Sacrament of Confession. 
Let us be under no illusions.  Our mission as Christians is to spread the love of Christ throughout the world.  We must let his Truth be known to all people and we must deliver this Truth in a spirit of love; a love that is freely given and that always has the other person's best interests at its core.  This message is not just for our young, but for all Christian people. 
The Christian message is one of great hope, mercy and peace for all people.  But, above all, it is a message of love.
/